1. Overview of apartment interiors
If you are one of the residents of an apartment, the apartment trend is indeed increasingly mushrooming in Indonesian society, including small apartments whose size is not large and mediocre. As you know, there are several advantages to choosing to live in an apartment. You can get lower rental costs, a strategic location in the city center, and also the charm of a warm minimalist space. Then, if you are good at decorating it properly, you and your partner will feel like in a small palace. Then your relationship becomes more intimate.
In principle, small apartment decoration aims to find a beautiful between function and comfortable design. Then prioritize furniture that is highly efficient but also with a personal design aesthetic. Well, you are ready to find out more about the secrets of decorating a small apartment that is simple but looks luxurious and aesthetic. Therefore, let's look at some examples of attractive decorations below.
2. Some examples of attractive decorations
Decorating an apartment is a fun activity. If you are renting it for the long term, make sure the apartment where you live has a beautiful appearance and makes you feel more comfortable. Therefore, we provide recommendations for the best apartment designs ranging from small decorations to repairs.
. Then, to ensure that your apartment design looks aesthetic, fun, and luxurious, let's follow some aesthetic apartment designs below. Welcome to our review!
Holistic living room design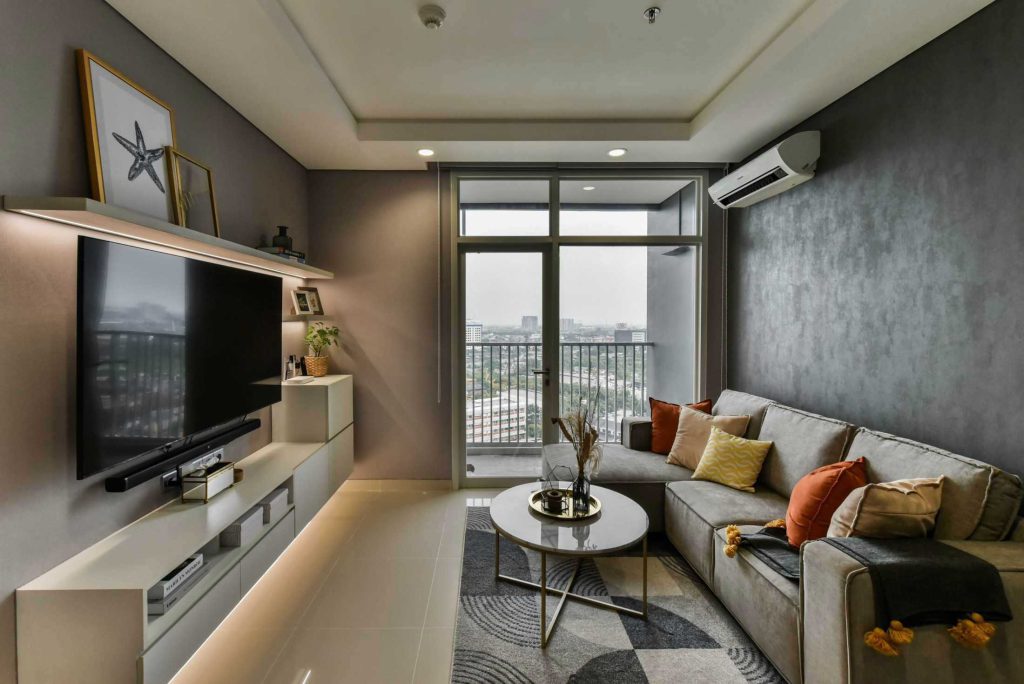 Most apartments have a living room with no windows, so they only get natural light from the front and back rooms. So, if you want to set up a separate room, please consider a design that doesn't block natural light.
For this, you can make a sliding door with frosted glass because it will not block the sunlight enter the room but still give you comfort. Then, to make it look more attractive, you can add a long sofa, a small round table, a wall shelf, and a television. With the addition of furniture like this, your small apartment design will look more attractive.
Create a contrasting apartment design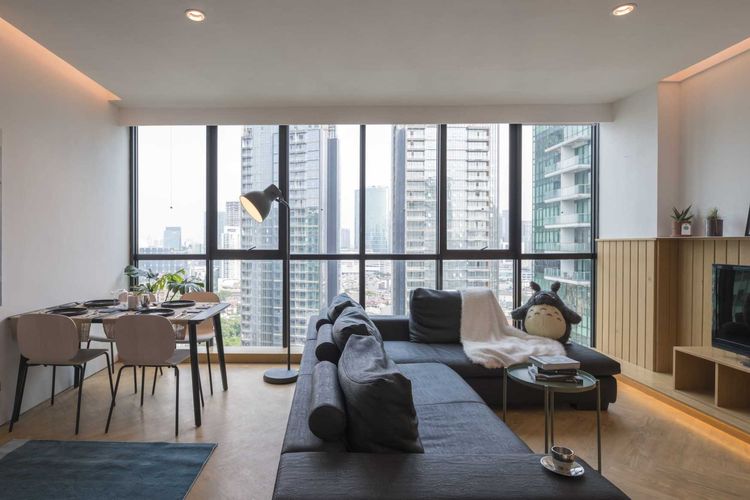 The simplest way to design this one living room is to use an accent wall and large glass windows. If you can't paint the walls of your apartment, look for removable wallpaper to change the color of the walls without damaging them. However, if you don't want to change the look of the walls, design them with attractive wooden decorations.
To appear brighter, use window film on the glass window. That way, the sunlight will easily enter the room. Then, add a sofa set, a dining table and chairs, spotlights on the ceiling, and decorative lights to beautify the living room design. That way, your living room will look neat and bright.
Choose furniture with dual functions
Every inch of a small apartment deserves consideration. Maximize the space in your tiny apartment by choosing multifunctional furniture that can play a double role. For that, please choose modern furniture. That way, you can save a lot of space in the small apartment.
We recommend applying double-role furniture that can be used for sleeping. To organize it, you can start with a bed that can be folded into a seat. Then use a minimalist cabinet with hidden storage to make a beautiful room decor. That way, your mini apartment can have maximum function for gathering with family.
Most effective use of space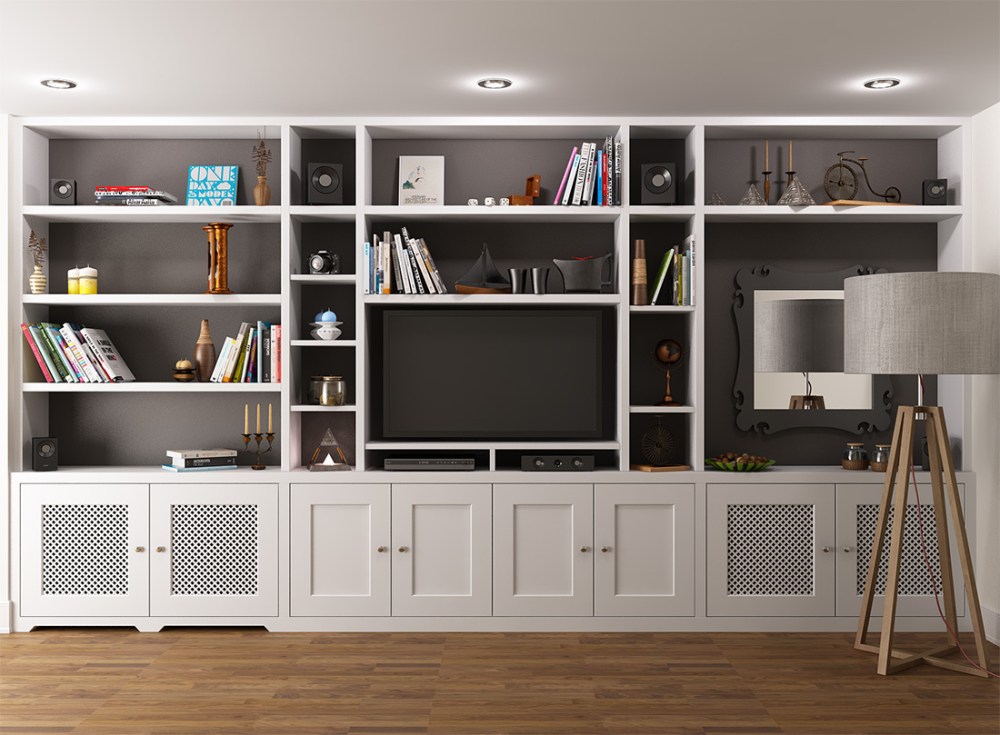 When entering the apartment, you will see that is rarely room used and ineffective. Therefore, you can arrange shelves that look messy such as in the picture above. Then, look at the room as a whole. With a new perspective, you can read about arranging parts of the apartment that are not being used properly.
Then, to rearrange it, use the minimalist windows of a large apartment as inspiration for a bright work area and spotlights. That way, the room will look bright. Then, don't add extra items because it can make the apartment look claustrophobic and make you uncomfortable.
Vertical storage concept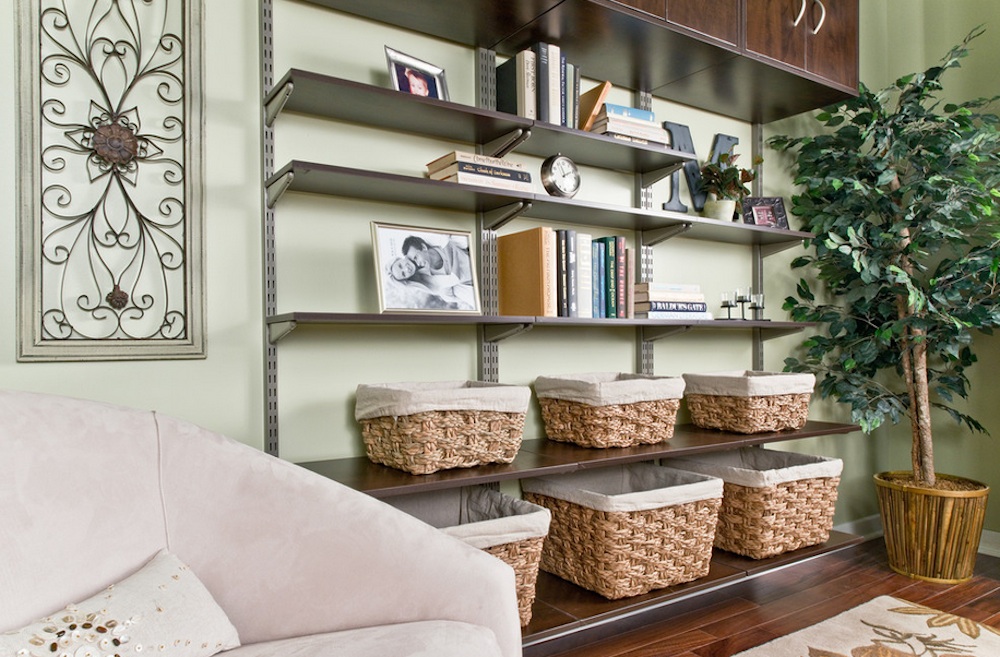 When you choose furniture for storage, you must choose a vertical shape or extend upwards. The vertical storage model is the best space-saving solution, especially for small apartments that lack space. Then, maximize the walls of the room with the ceiling by building wall shelves in the apartment. Don't forget a few touches of cozy apartment-style decor, such as warm and attractive wicker baskets, wall hangings, and ornamental plants. That way, the interior design of your room will look aesthetic.
Create a practical way of storage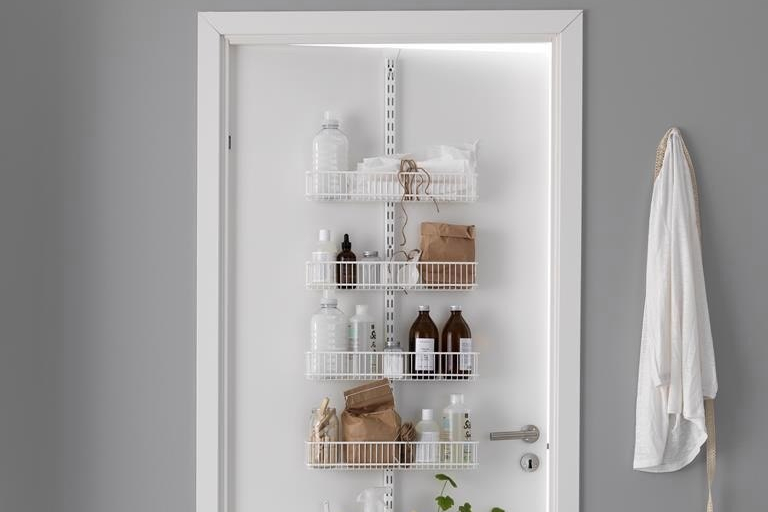 If you live in a small apartment, there is no longer a term for being lazy with your belongings. To keep the apartment looking clean, create a storage system that is practical, concise, and efficient. An effective storage system makes it easy for you to pick up the item when you need it. Therefore, choose a storage and organizer that can help you store your objects carefully.
Also, take advantage of the back of the apartment door with an iron wall shelf. Then, tuck bottles and kitchen cleaning accessories behind the kitchen shelf door. After that, make sure you also create a habit of returning things to their original position. In this way, you will get convenience when you need the item.
Arrange the dining room and living room in one room
Designing several interior apartments into one room can save space. You can do this decoration in a small apartment that must refer to the function of space. Therefore, you can design in a stylish style like other modern homes to make it look practical and attractive.
In principle, decorating a small apartment is to find a balance between function and comfortable design. Prioritize highly efficient furniture, such as a green sofa set as a dining room and living room divider, floor rugs with colorful motifs, and wooden shelves as a place to store goods and documents. In addition, add a painting with a different motif between the living room and dining room. That way, the interior design of your apartment looks more aesthetic and practical.
Arrange the bedroom into the other room
Many apartment owners choose the open space concept for their small apartments. It can make the interior of an apartment feel more spacious and spacious. But this open space concept often makes the room not well-organized, messy, and unsightly.
For the concept of open space in a small apartment like the one above, you still have to determine the boundaries between one room and another. Then, each space must have a specific role that is important to be clearly defined. The trick is to put a space-saving partition or room divider, such as a bookcase or medium to large-sized pots. Thus, the apartment has a clear transition without having to be rigidly insulated. To make it look more attractive, design furniture and interesting knick-knacks. That way, the interior of your apartment feels more comfortable.
Choose a neutral or light color palette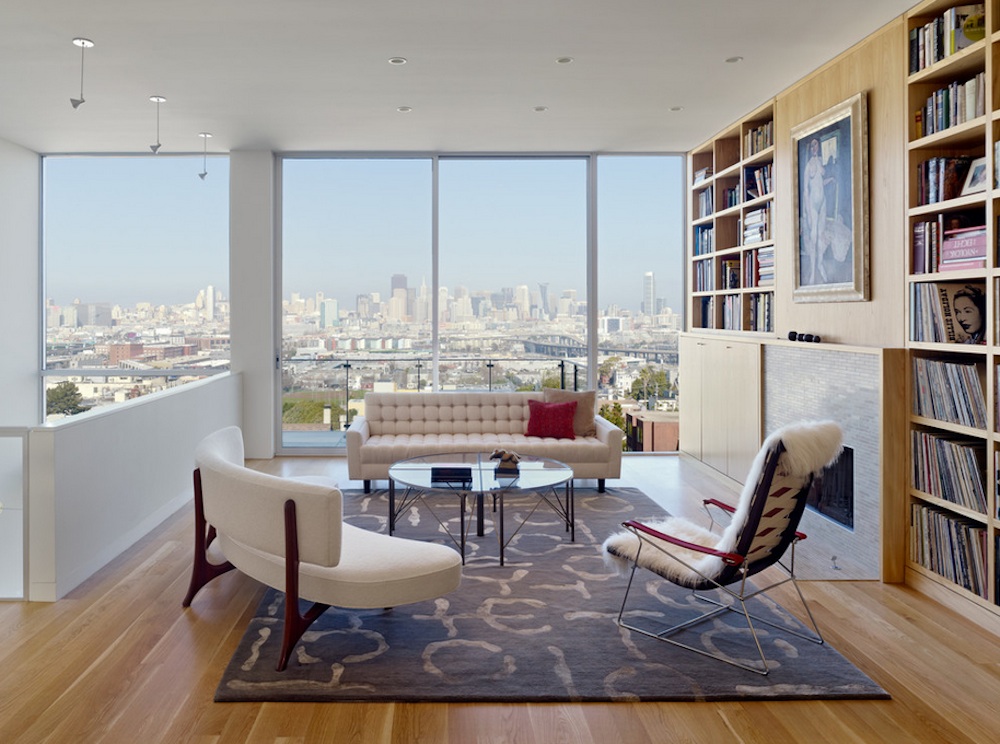 If you want to make a small apartment look more spacious and airy, choose neutral or light colors that are comfortable. Light colors like white, cream, or light gray will look bright and airy compared to dark colors that create a narrow dark visually. But If you like dark color accents, choose one corner of the room to be painted with your favorite dark color. But add light-colored furniture for a nice contrast.
Like the picture above, this apartment living room has equipped with beige guest chairs, a round glass table to save space, dark floor carpet, wall hangings, and wooden shelves for storing documents, books, and knick-knacks designed on the walls. That way, the design of the living room will look beautiful and
Play with furniture contours and dining room design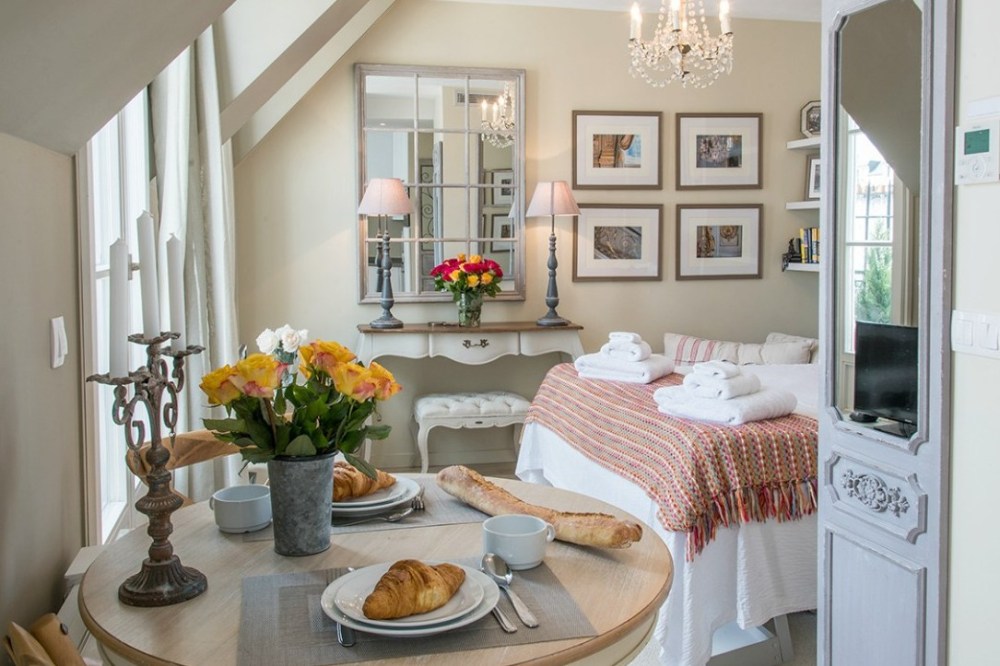 The interior of a tiny apartment is often glued to rigid straight lines. Therefore, add beautiful contours through the application of additional furniture and designs. Contours such as curves on furniture can eliminate the monotony of a small space in your apartment, for example, a round dining table or sofa and guest table with oval corner accents.
Other natural forms also can be obtained from placing home accessories such as mirrors on the wall, recliner chairs, wall decorations, hanging lamps, table lamps, and flower pots. With this design, your apartment will look aesthetic and not rigid in shape.
Experiment with layer designs
If you want to have an apartment that looks warm and lively, focus on the design layers for a neat three-dimensional impression. An example is making a layered wall shelf with contrasting colored home accessories. Then, choose a thick carpet to cover the empty floor and walls.
In addition, add a long sofa, recliner, ornamental plants, small decorative pillows, and blanket accessories or a bedroom in the apartment. This layering effect will look even more beautiful if you are smart in choosing certain textures, materials, and sizes of accessories. That way, your living room design will look beautiful and elegant.
Cool workspace floating style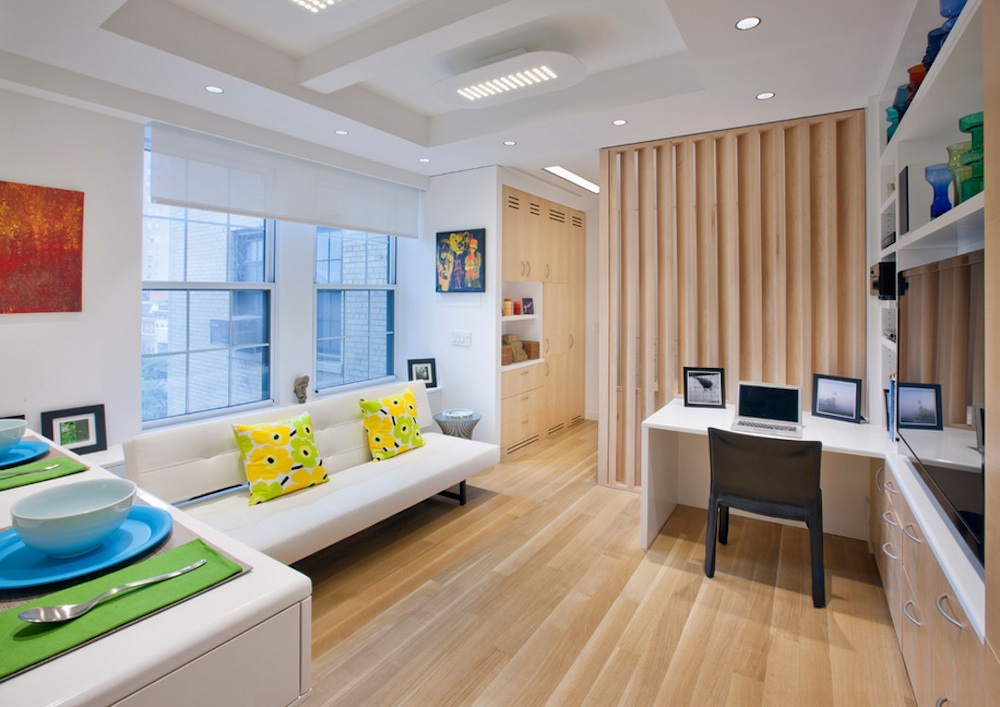 The design of a comfortable workspace can make you more excited to complete your work. Therefore, variations between ordinary furniture and a unique floating style will create a more optimal and comfortable apartment arrangement to live in.
To make it look more fashionable, add a long sofa bed, yellow sofa cushions, work tables and chairs, wall hangings, and wooden wall shelves. Don't forget to add a wood motif vinyl floor to make it look more natural. That way, you will feel at home and comfortable in your workspace.
Clean and tidy living room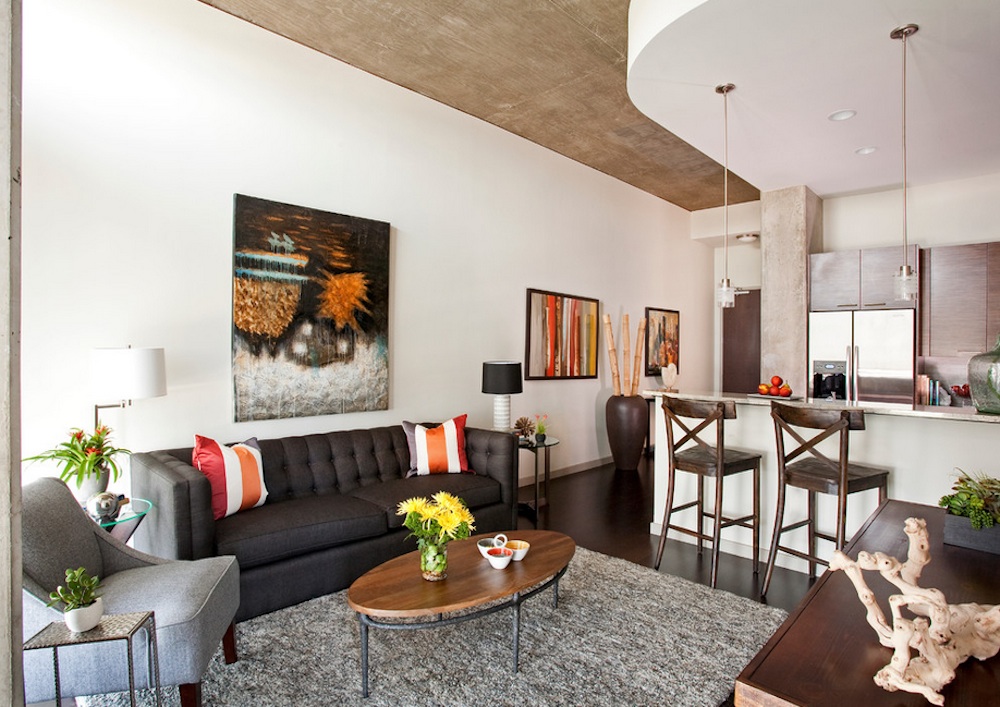 The last important trick for your tiny apartment is to be diligent about cleaning the room. The trick is to regularly clean the furniture in the room, take out the trash, and always look for the most ideal storage space for the objects that are added to the room. Try to clean once a month.
hen, re-evaluate what objects are worth keeping and which ones should be removed. Undoubtedly, your small apartment will still feel like the most comfortable tiny palace for families. Hopefully, that way, you will be diligent and routinely clean your apartment. As the saying goes, cleaning is healthy and makes people happier.
Minimalist apartment design but looks luxurious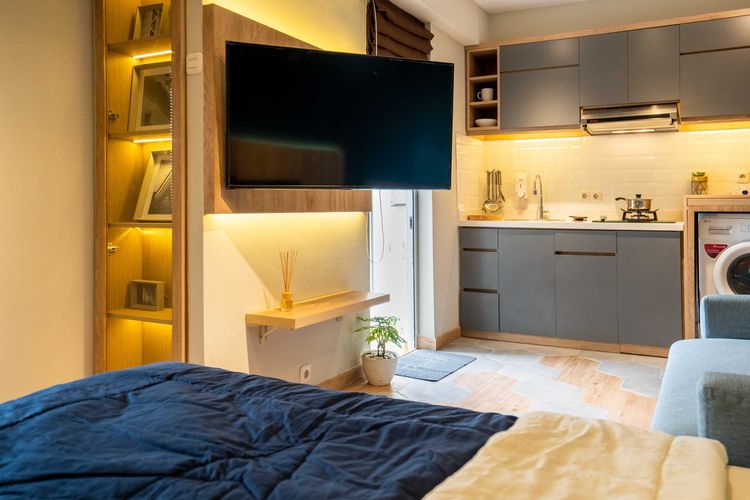 Luxury minimalist apartment designs don't have to be expensive or complicated. Then, to amaze guests and give a touch of artistic talent, you can make it like in the picture above. Using a mix of glossy and matte finishes to create subtle contrasts that transcend color is often key. By displaying some abstract artworks, there is nothing wrong with giving the impression of being in a luxury gallery.
Then, to look more fashionable, add a television, a level shelf on the wall, and interesting knick-knacks. But to save the pace, design a kitchen set and kitchen table with a matching color. That way, the interior design of your room and kitchen will amaze you.
3. Conclusion
Designing a minimalist apartment is not difficult. For that, you can get inspiration from the pictures that we provide. We hope our review can help you to decorate the interior of your room according to your needs.
Then, to look more attractive, take components from your existing design and combine them your way. That way, you will get the aesthetic value of the apartment interior design you want. Don't forget, also equip your apartment with quality furniture. Then, find a variety of attractive accessories. Hopefully, this review can be useful for you. Happy decorating!