1.

What is the bohemian design
Bohemian-style design is synonymous with the use of various colors and layers of textures and accents. The uniqueness of the bohemian design is the freedom to be creative because there are no binding rules in the design.
You can use three colors at once in one room or use furniture in various patterns. For decoration, this bohemian design usually uses small plants, lights, and lively wall accessories that hang down.
2. Modern Bohemian Design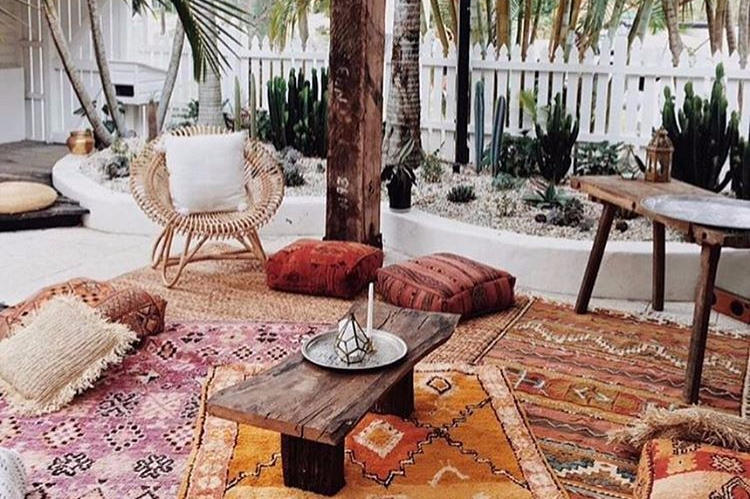 If the bohemian design itself can be said to be eccentric, full of decorations, and there are no rules, then the combination of modern bohemian designs is more natural and simple. Decorations on the walls are kept to a minimum. The color combination is also more muted and clean. If you are ready to remodel your old apartment design, you can apply a modern bohemian-style apartment design to your apartment.
3. About bohemian
When you want to make changes in the house, there must be one room that is prioritized. Usually, this area is a private space that not everyone can enter it.But if you are bored with the same interior feel, you can apply a relaxed and unique design such as the bohemian style. For example, the selection of accessories in the style of shabby chic, as well as eclectic combined with idealistic and theatrical works of art.
In addition, boho is usually a reflection of the lifestyle of someone who appreciates works of art and contrasting colors, creative, adventurous, and has a free spirit. No wonder this style often represents the lifestyle of today's millennial generation.
Enrich your bedroom with art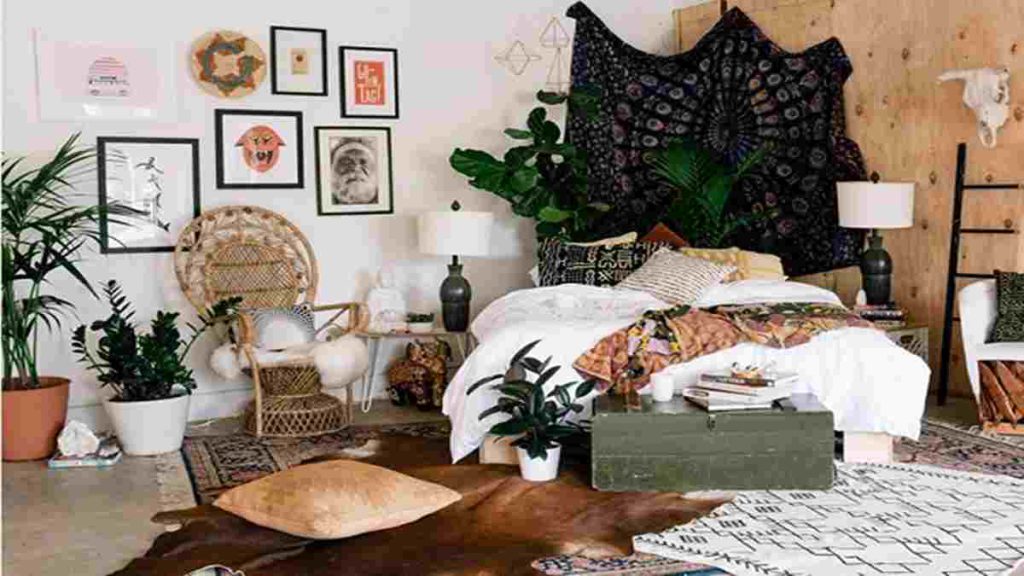 Plain walls do not convey a bohemian impression. Therefore, you should start collecting some accessories to decorate the room. The trick is to put a wall painting or pillowcase with a screen printing motif. By giving a bohemian design, your decor will relate to artists, musicians, writers, and designers. So you can easily find inspiration on the internet.
We understand that bohemian is synonymous with warm soft light. Therefore, you can bring a night light that emits a romantic reflection throughout the room. Or it could be with twinkling decorative lights wrapped around the walls.
Then, if you have trouble finding vintage shabby chic style furniture, head to the flea market to get some of the collections you want. If necessary, polish it with paint to make it look new. That way, your living room design will look unique and antique.
Create a comfortable and beautiful bedroom to relax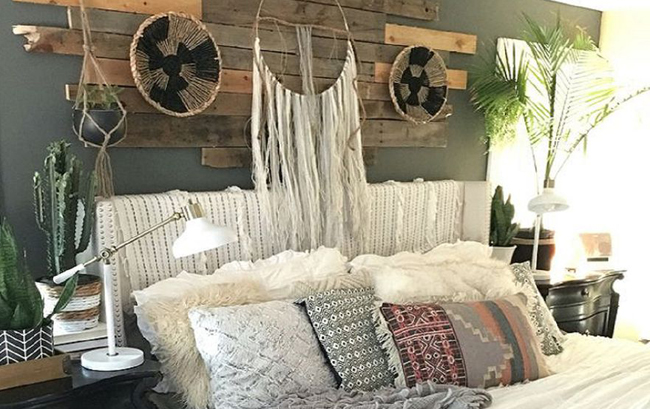 Think of the bedroom as a work of art that you create yourself. You can start from the soft carpet-covered floor to soft pillows. Then, make sure there is a touch of color and pattern that makes you happy to see. That way, you will feel more comfortable.
Then, also pay attention to the design of the headboard or bed rest which can be added as a backdrop or curtain to make it look more Instagrammable. Leave an area in the bedroom for writing, sketching, design, or anything that channels your art hobby. In addition, you can display the artwork you made so that it can complete the room decor. Then, to look more attractive, add decorative lights, wall accessories, and ornamental plants to make it look perfect.
Modern bohemian dining room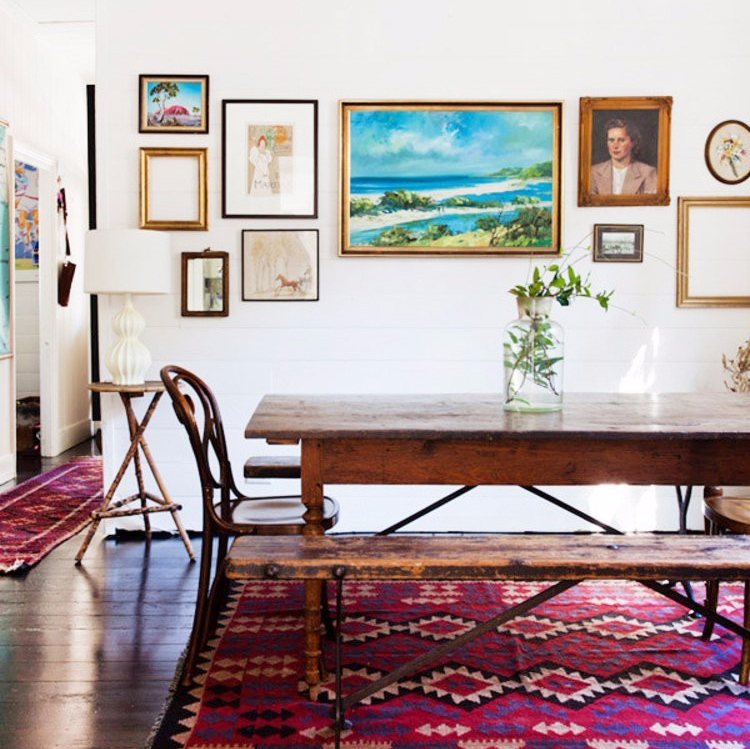 The main key to the modern bohemian style apartment design is the selection of dining chairs with large backrests. Please Equipped with floral motifs of soft colors, the furniture provides a contrast to this all-white dining room. With a design like this, you don't need to put the dining chair in large quantities and then combine it with other models of chairs.
So that white walls don't look boring, hang simple wall decorations with bright colors, wall paintings, and decorative lights, and don't forget to place flower vases on the dining table and kitchen island to enhance their appearance.
Bohemian style bedroom design with ornamental plants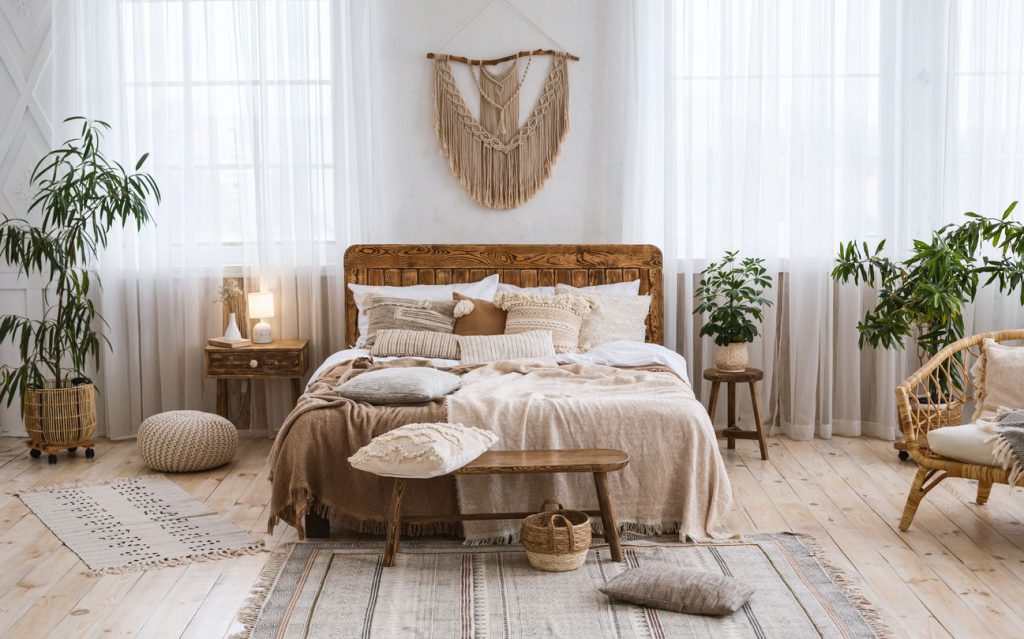 For those of you who want to try a modern bohemian-style apartment design with bolder wall colors such as blue, you can imitate the image above. So that the bohemian and modern elements are well divided, let the walls with white curtains look simple and only with some wall decorations, floor rugs, small nightstands, night lights, and ornamental plants. Then you can bring out the bohemian element in pillowcases, blankets, and dresser chair motifs. Do not use too many colors. So that the quality of sleep is not disturbed.
Beautiful backyard with soft sofa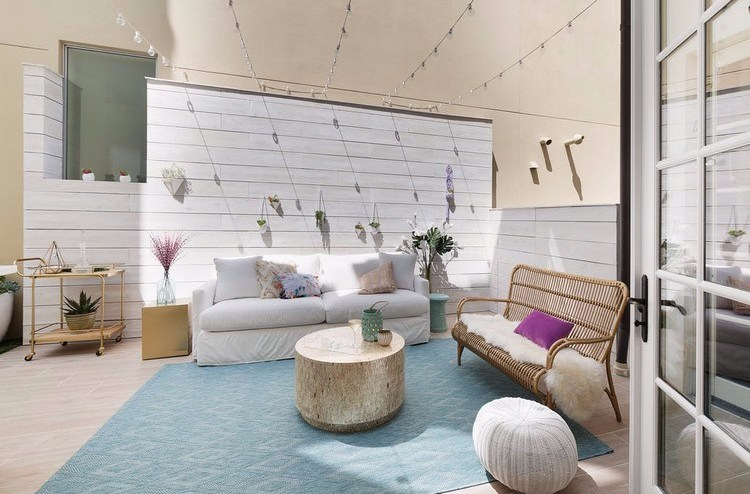 The next modern bohemian-style apartment design is to make the apartment backyard suitable as a place to relax or even hold a small party with your closest people. Using a light blue carpet with geometric motifs combined with a modern sofa, rattan chair, and a cylindrical table will make the atmosphere more cheerful. The all-white sofa comes alive with an attractive combination of motifs. That way, the rattan upholstery looks more modern.
The wall with white exposed brick can use as decoration with several small ornamental plant pots that are hung by ropes. Then, don't forget to hang a small lamp at the top as lighting at night. That way, your apartment design will look comfortable and romantic.
Gray curtain and Tosca chair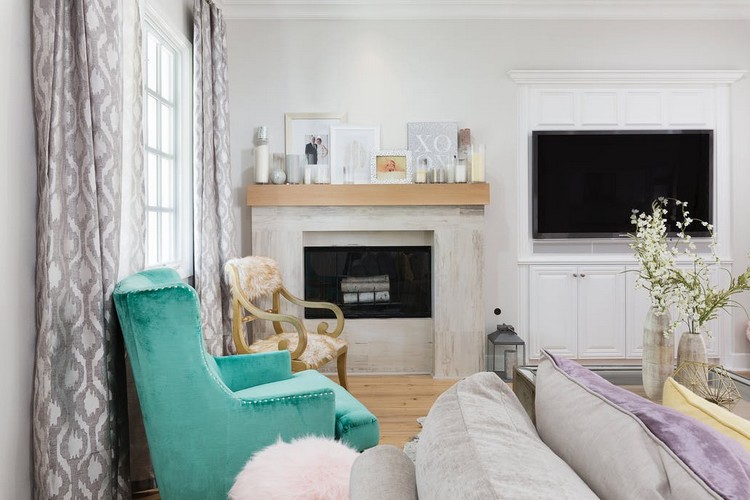 You can decorate the beauty of the room by mixing and matching colors. It doesn't seem to apply to modern bohemian-style apartment designs. In this apartment design, you can combine two colors and two colliding motifs. Like the apartment design above, which combines gray curtains with turquoise chairs and even a light brown furry chair in the other corner. Then, to add to the festive atmosphere in the room, add ornamental plant pots, floor lamps, a television on the wall, and accessory shelves. That way, your living room design will look aesthetic.
Modern bohemian apartment design with neutral shades
If you don't dare to experiment with colliding colors and motifs, just try applying a modern bohemian-style apartment design in neutral shades like this. You can see the living room of this apartment has dominated by a combination of white and brown.
Then, a wooden table with abstract pieces and a terrarium will make your apartment design feel more natural. To create warmth when gathering with family, use fluffy rugs and throw blankets made of knitwear. The selection of a black sofa cushion and an old-fashioned lamp with a tripod stand will strengthen the core of the modern bohemian-style apartment design.
Colorful Pillowcases for bedroom
If you don't want to bother choosing new furniture or overhauling the look of the living room walls, you can design your apartment bedroom like the picture above. For a modern bohemian apartment design, leave the walls turquoise green and change your sofa cushion cover. Choose pillowcases with beautiful motifs and different colors. This is the easiest way to change the design of your bedroom. With an arrangement like this, you will not be bothered with arranging your bedroom.
Modern bohemian style apartment for small living room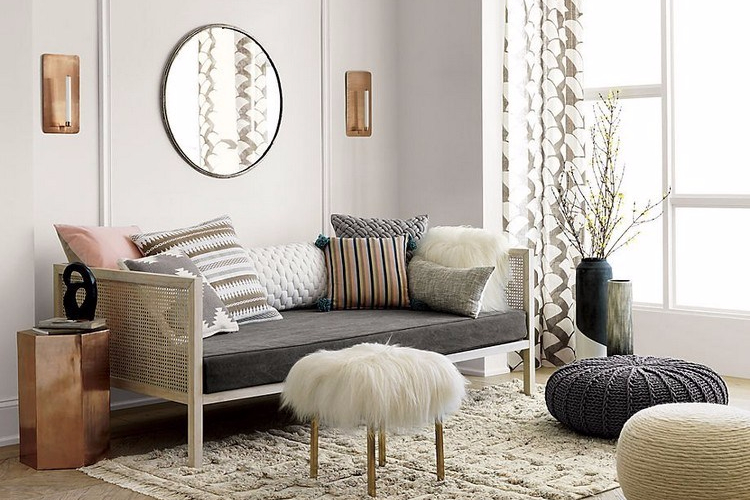 Some apartments generally do not have a large area. Of course, you have to consider when you want to choose what apartment design is identical to your apartment design. But if you are happy with some decorations and various motifs, you can apply a bohemian design like this picture and even if you have a minimalist living room design.
But if you want to apply a modern bohemian-style apartment design, make sure you don't use a lot of furniture in this small family room. Choose versatile furniture that is the main point in the room, such as rattan loungers, hairy footrests, floor carpets, floor pillows, patterned sofa cushions, dressing mirrors, wall lamps, and unique knick-knacks.
An attractive touch of bohemian style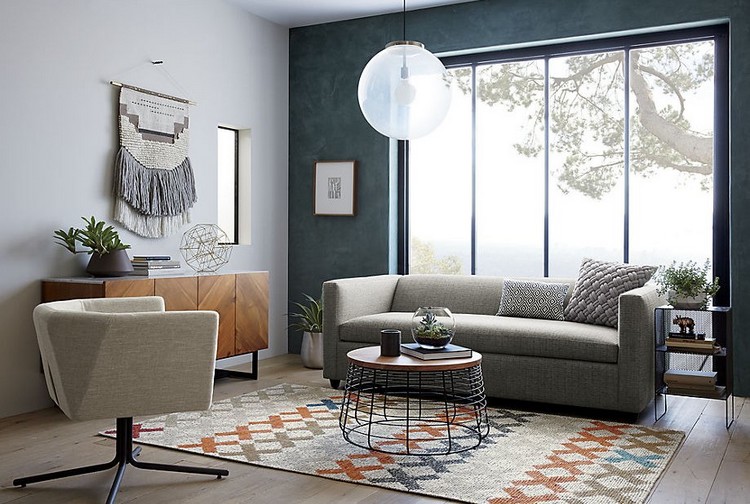 This living room design looks beautiful and neat. When viewed from the selection of furniture, the inspiration for this modern bohemian-style apartment design is not too prominent. As you can see, the modern bohemian element is actually seen in the use of decorations such as bright geometric patterned carpets and tasseled hanging decorations.
In addition, there is also a small plant pot that creates a natural impression in the room. Then, to add to the beauty of the living room, they decorated it with sofa sets, sofa cushions with matching colors, round iron tables, wall hangings, hanging decorative lights, and ornamental plants in small pots. Therefore, this apartment design inspiration is suitable for those of you who want to remodel the apartment design without spending a lot of money.
Modern bohemian design with a monochrome touch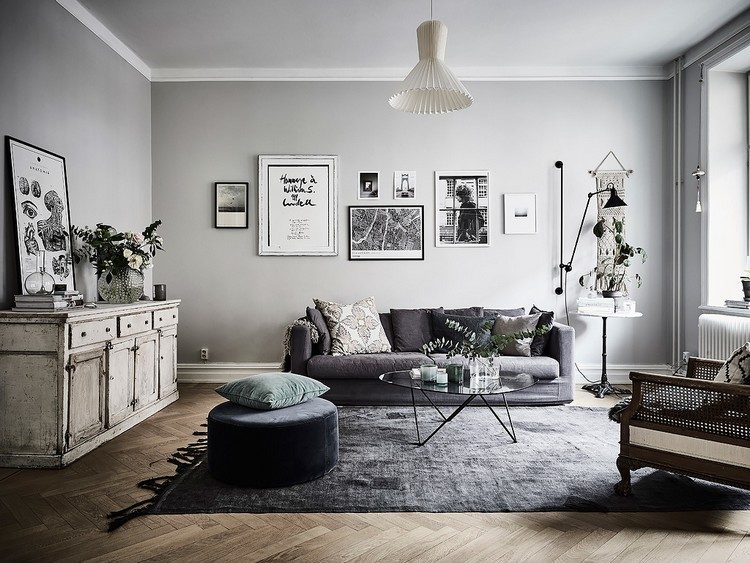 Modern bohemian-style apartment design inspiration is suitable for lovers of monochrome colors. Gray is known as a monochrome color that is modern and simple. Then, to highlight the bohemian element in this apartment design, use a fabric rug with tassels on both sides. That way, this living room design doesn't look like a minimalist design.
Next, place furniture such as sofa sets, wooden chairs, round glass iron tables, short buffets, as well as several sofa cushions with covers of various motifs. But don't forget, to look more attractive, hang photo frames in different sizes to decorate the walls, decorative lights in the corner of the room, and fake ornamental plants to make it look green. With this arrangement, you create a natural and natural impression in the living room.
A bohemian-style kitchen that looks different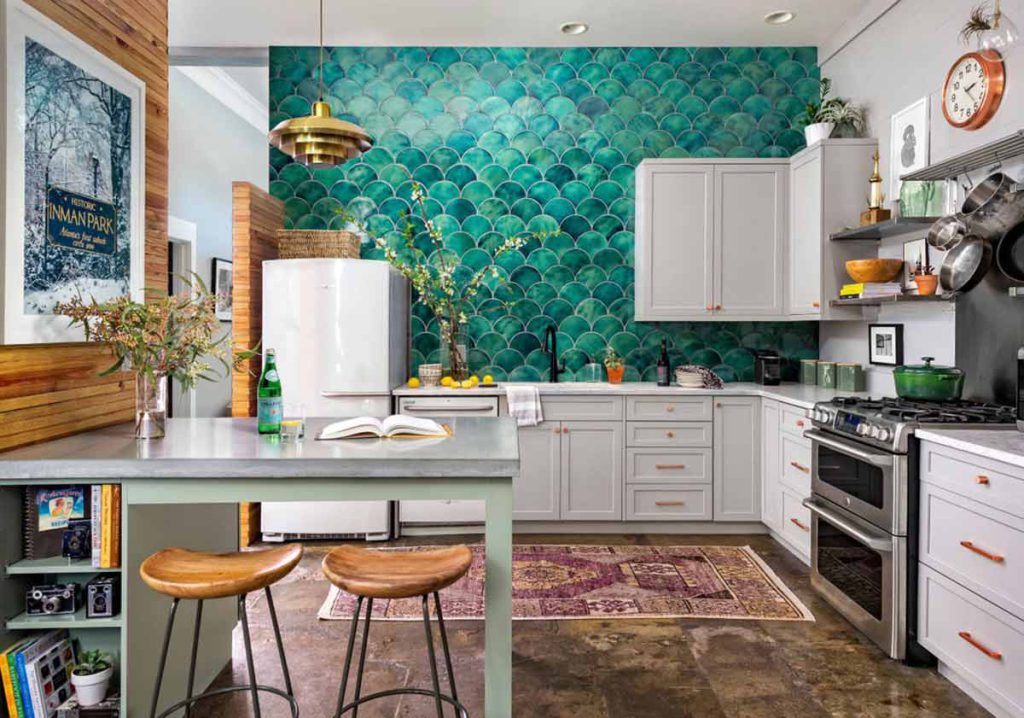 When arranging a kitchen design, usually only some people dare to express a unique style. Most kitchens are designed in a minimalist style that tends to be easy to arrange and timeless. But the bohemian design concept is no less stunning to apply to your beautiful kitchen.
Bohemian designs can be made into many forms, such as gray walls, chairs made of solid wood or rattan, middle eastern rugs, to open windows with upholstered fabrics on the surface. In addition, the bohemian style is also suitable to be combined with other designs such as rustic, minimalist, or Scandinavian. Its easy integration makes it easy to mix and match with your existing kitchen.
But if you want to change the interior of your small kitchen with a bohemian touch, you can make it like the picture above. But don't forget to arrange the dining table furniture with colors that match the kitchen set and table. Then, add some attractive bohemian accessories, decorative lights, and bohemian-style floor rugs. That way, your kitchen will look unique and looks different from the others.
Bohemian kitchen with plant design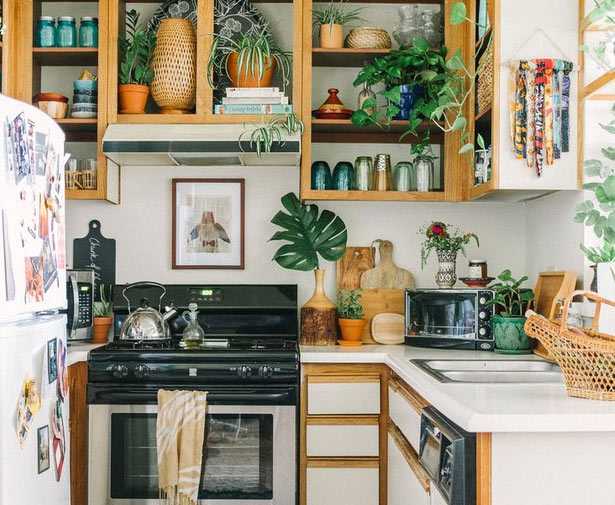 Apartment kitchen designs are always made with limited space. But you can design this kitchen in a classic bohemian style with wooden natural materials. So it looks beautiful. Then, natural design is not only limited to wood materials. But you can put such as ornamental plants.
In the bohemian kitchen design above, you can see, they tried to make pots filled with greenery as a charming finishing touch. Then, decorate the kitchen with tiered wooden shelves, kitchen tables, gas stove sets, and kitchen accessories. By renovating the kitchen in a bohemian style, you can channel ideas by placing plants in these various corners to make the room feel fresh.
Bohemian-style wooden balcony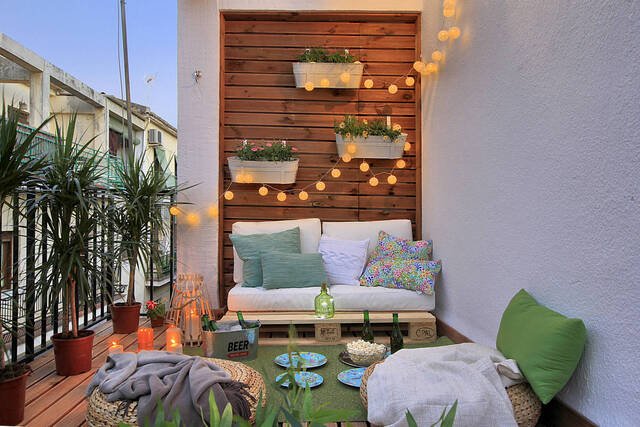 A small balcony design that has added natural elements through wood material will look natural. The natural elements make your morning fresher when you open the balcony door and let the sun in. To make it look more beautiful, you can add wood accents to a small balcony by installing wooden boards near the veranda. Then, add a soft sofa cushion to support your comfort in this place. With this design, you can use this area to relax, read a book, or sip your favorite coffee.
Don't forget to make sure the wood material you use is a waterproof type. Therefore, you can use ironwood, Bengkirai, rosewood, and several types of waterproof wood that you can choose for a strong and durable outdoor arrangement. Therefore. Your small apartment will also look more aesthetic and make you feel at home.
Beautiful bohemian style apartment balcony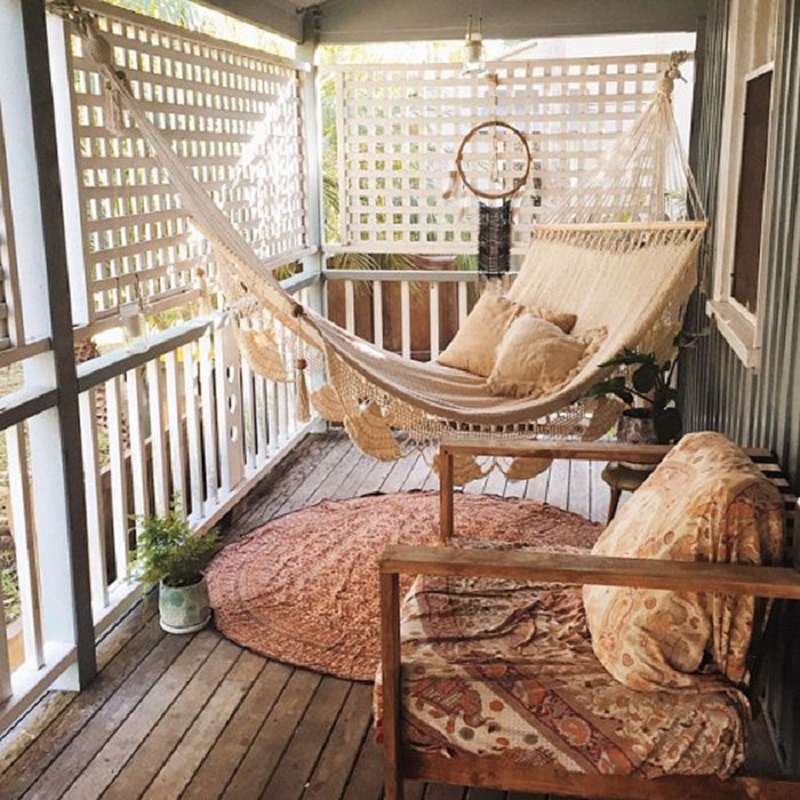 As we know, every apartment must have a balcony. Therefore, to create a beautiful and comfortable place, you can add some beautiful decorations. In addition, this place can be used as an additional room in your apartment. Therefore, design this place as comfortable as possible to relax and chat with family.
Well, bohemian or boho style can be a source of inspiration to decorate your balcony design. We know this decorating concept is different from others because there is a mix of vintage, hippies, and artsy. Happy decorating!
4. Conclusion
Many people in the capital prefer to live in apartments because they have difficulty with land to build a house. Therefore, some home management companies have switched to building apartments to accommodate their needs.
In this review, we provide some examples of apartment room interior designs that can be an inspiration for you. We hope this design above can suit your taste and can make your apartment look aesthetic, beautiful, attractive, luxurious, and comfortable. Hopefully, this review is useful for you and your family. Happy decorating!