1. Overview of traditional bedrooms
Amid popularity and minimalist style trends, traditional bedroom interior design styles have never lost popularity. The distinctiveness and uniqueness that it brings, make this iconic interior style seem as if it can adapt to all ages.
The traditional interior design style has a unique and distinctive appearance. Even with a little modern touch, traditional styles can transform into an interior style that can exceed the minimalist-style bedroom. As far as we know, Traditional bedrooms still maintain their uniqueness. So many people are happy with this design. Therefore, the traditional bedroom design is one of the top interior style choices.
As far as we know, Indonesia and Japan have unique and well-known traditional bedroom interior design styles such as Balinese, Javanese, Yogyakarta, and Sundanese design styles. Likewise, the Japanese design bedroom is famous for its uniqueness. Therefore, each country must have its own distinctiveness.
2. Ethnic design satisfaction for the bedroom
The bedroom must be accommodated and facilitate the need for rest, so the body becomes refreshed and active again. Then, to get a fresh and calming atmosphere in the bedroom area, there are many ways you can do it. One of the best is the choice of interior design and decoration style. But keep in mind, you have to keep the aesthetics of the bedroom design.
For most people, the bedroom is the most private area where they spend most of their time enjoying entertainment. Therefore, make a bedroom design that is comfortable so that you feel at home in it.
The comfort of the bedroom space will always be a major consideration when you design and organize it. But don't forget about aesthetics. Without aesthetics, the comfort of the room will not feel optimal. Then having a traditional bedroom design, with furniture and all the unique ornaments and decorative elements, will give satisfaction to the appearance and function of the space. Therefore, satisfaction is the goal of interior design.
3. Bedroom interior design ideas
If you want to make a home that can provide comfort and can make you feel more relaxed and refreshed. You can get ideas, especially ideas for decorating the house. Then, specifically for the bedroom, there are a lot of ideas for designing a bedroom, be it a minimalist, modern, classic, or other design. However, if you are bored with the design of your bedroom that is just like that, you can start trying other designs, such as ethnic designs.
The ethnic design in the bedroom makes the room look unique, and the cultural feel is very pronounced. Ethnic design in the bedroom is still rarely used because most people use interior designs that are currently trending. However, the bedrooms with ethnic designs still look cool and have many fans. Therefore, let's discuss it below. Then, we hope you are happy with this design.
4. How to design an ethnic bedroom
For the first step, you will discuss how to design an ethnic-style bedroom. For you to know, the first thing is to determine what ethnicity you will use Balinese, Javanese, Sundanese or Japanese, and others. Then, decide on a white wall color that can make your design look perfect. But not only that, the colors of window frames and doors can use in brown. This demo aims to make ethnic nuances more pronounced.
Then the choice of bed, do you want to use a wooden bed or a minimalist bed? The most important thing is to use natural colors or wood colors, as well as the body of the bed can use brown. Don't forget to use patterned pillowcases and bedcovers. Then use a uniform motif on the pillowcase and bedcover. That way, you will get an ethnic design in your bedroom. Let's follow our review below!
Balinese traditional bedroom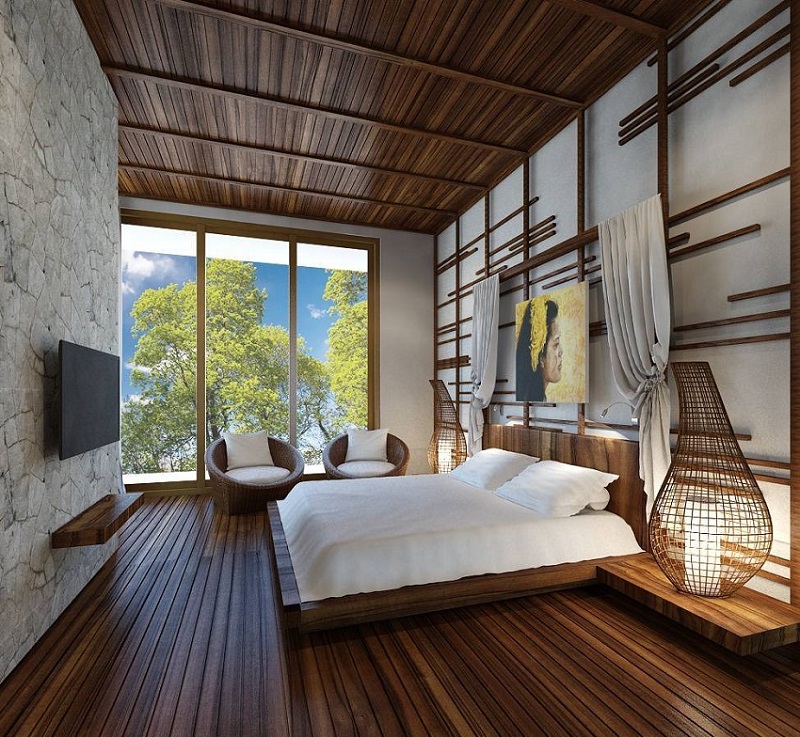 A Balinese-style bedroom design can be your inspiration to get a comfortable resting place. If you are bored with a minimalist bedroom interior design, you can change the design of this room with a Balinese design.
The choice of a traditional Balinese style bedroom design will add beauty to the aesthetics of a modern minimalist tropical home. This bedroom model can also be an alternative if you want to change the appearance of a minimalist bedroom design.
In addition, traditional Balinese-style bedroom decorations generally highlight a natural feel. Therefore, it's time for you to apply this bedroom inspiration so it can make busyness and fatigue. Happy decorating!
Traditional Javanese artistic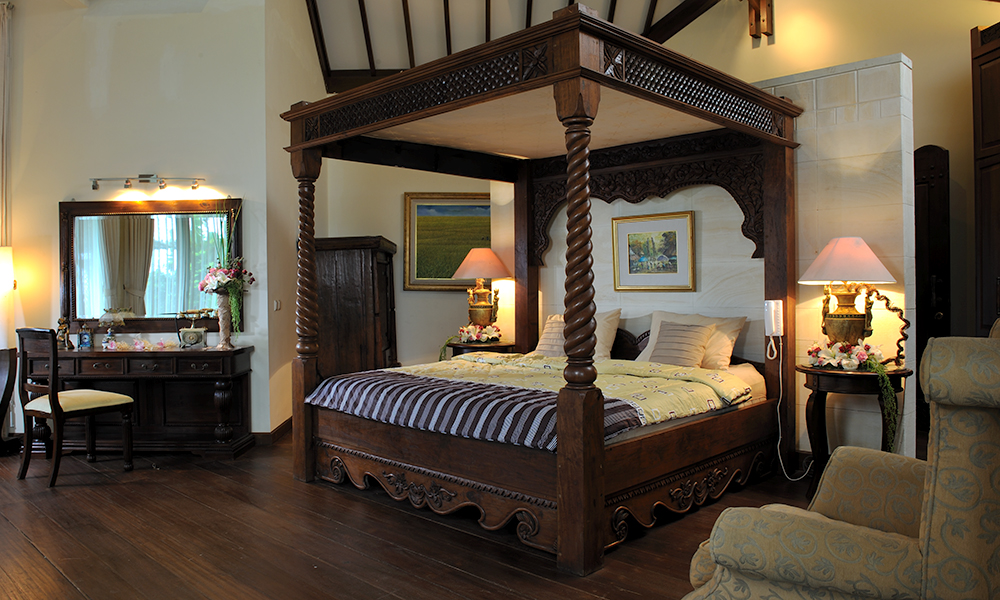 Javanese traditional style can display the atmosphere of space with balance which is the goal of Javanese culture. The interior is to present a warm and soothing atmosphere. That is why many hotel bedroom designs and decorations use traditional interior styles. The basic idea is maximum super comfort for their guests. Then, to look more attractive, they added a bed made of teak wood, a mirror set, decorative lamps, lounge chairs, and some paintings with Javanese cultural images. That way, the atmosphere in the room will be warmer.
Unique Sundanese traditional bedroom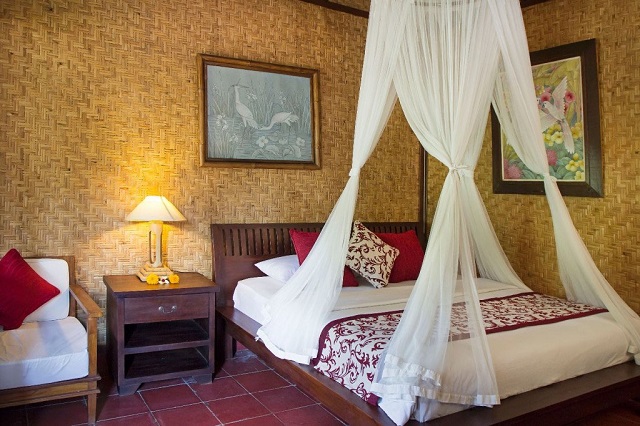 Traditional bedroom designs should not leave aesthetics. This is one of the advantages of interior styles. Then, this interior design carries that aesthetic from birth and eventually becomes a culture. By combining elements of culture and traditional interiors, the bedroom can look luxurious and elegant. Like the picture above, the Indonesian Sundanese bedroom design has a unique and distinctive appearance.
Javanese traditional bedroom from Jogjakarta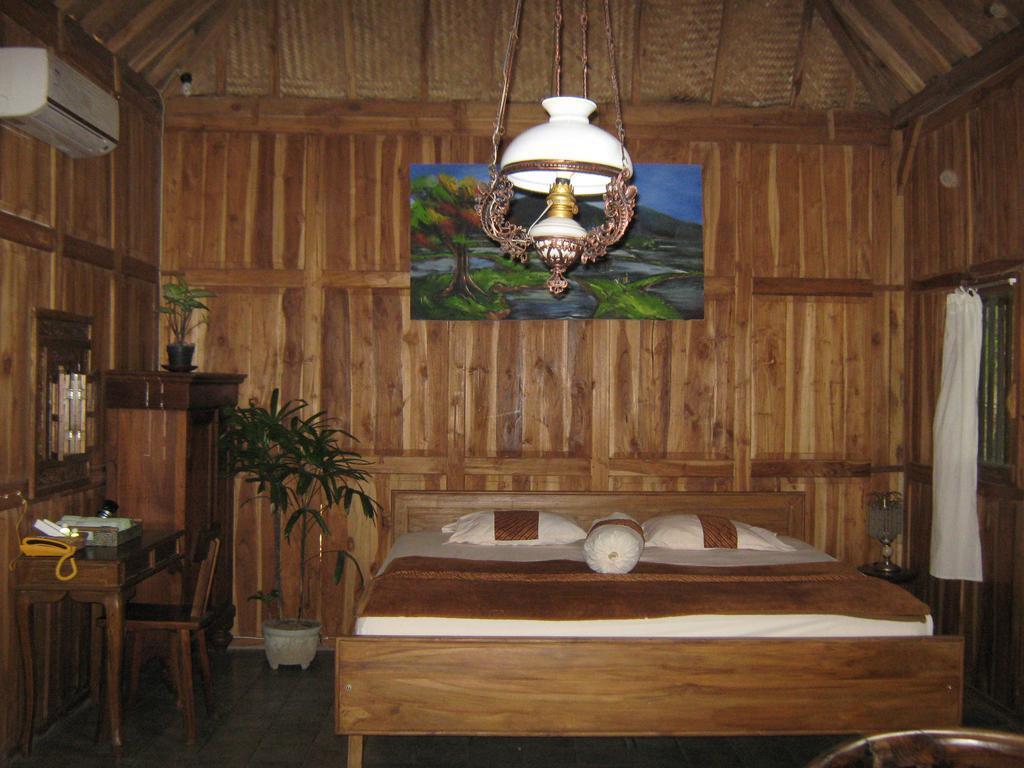 This traditional Javanese Bedroom design has been designed to create comfort for everyone. The interior design of the beautiful bedroom has been made with a touch of Javanese nuance. Then, this design has made to make it feel more comfortable.
Then. to look more attractive, this bedroom has designed with a bed made of teak wood, teak wood walls, a vanity mirror set, a painting of a landscape on a rice field, and an antique chandelier. By arranging it like this, the bedroom will look unique and aesthetic.
Traditional Japanese design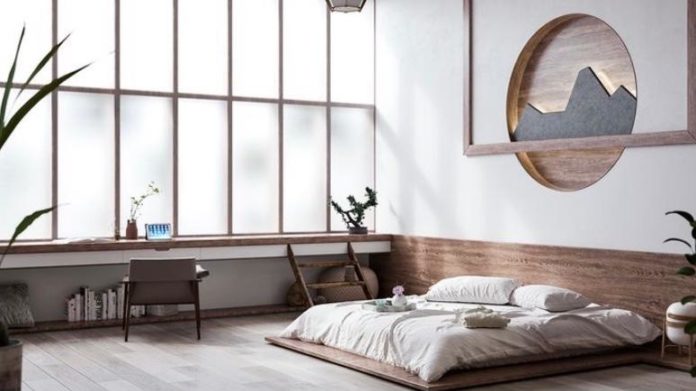 Currently, Japanese-style room decorations are in great demand by people. Japandi is a blend of Japanese-style designs, highlighting bright and simple colors with a Scandinavian design. Then, this design emphasizes a touch of wood. Then, makes this bedroom look beautiful.
Generally, this decoration emphasizes function, essentialism, and simplicity. No wonder many people want to apply it to their homes, especially for bedrooms. Then, to look more comfortable, foam beds are placed on the floor, added with wall hangings, some ornamental plants, and room accessories
Japandi bedroom with fusuma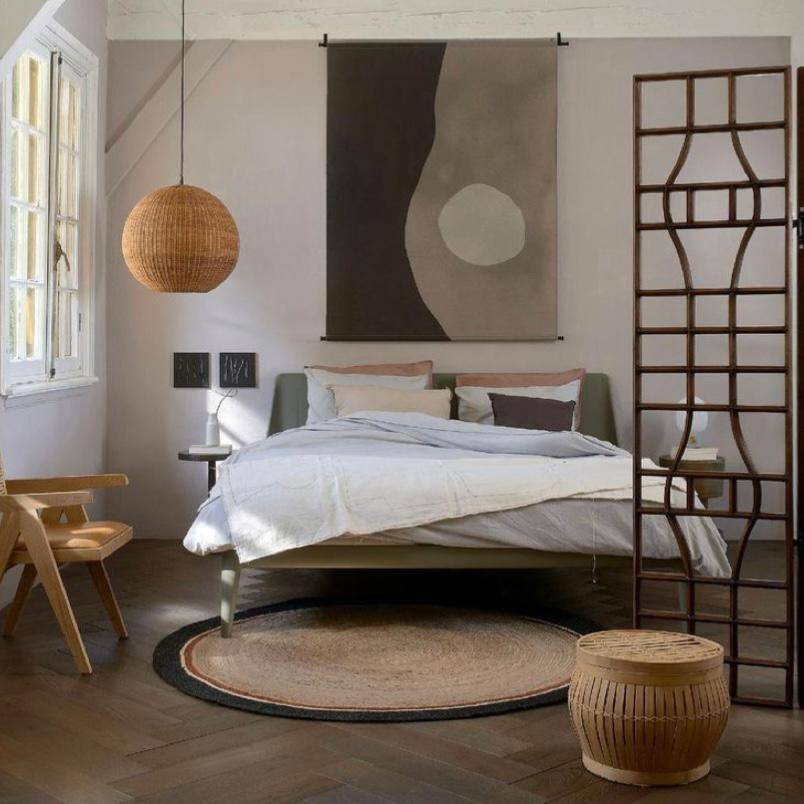 Fusuma is a room divider or partition commonly used in traditional houses in Japan. To create a room decor with a Japanese-style feel, you can add fusuma to the room. Then, use this partition to separate the sleeping area from other rooms, such as the family room.
To look more attractive, choose fusuma with cream or brown colors so that it can give a warm and comfortable impression to your room. Then, add unique chandeliers, bed lamps, floor rugs, wall hangings, minimalist and void beds, and room accessories. That way, this Japanese-style bedroom design will look aesthetic.
Combination of Japanese and bohemian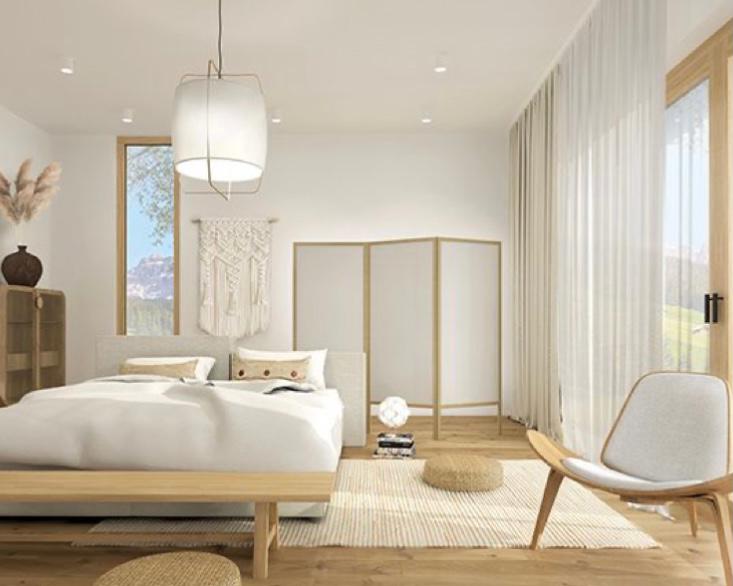 Having a beautiful Japanese-style bedroom design makes us happy. Moreover, this design has combined with a bohemian design that can provide uniqueness. As you can see, the tone of the two colors is almost the same, using white and cream colors.
Then to look more attractive, add wall hangings and unique Boho-style decorations to the Japandi bedroom to make it look more charming. Then, add antique chandeliers, partitions, floor rugs with matching colors, lounge chairs, long benches, and clothes racks. That way, your room design becomes more comfortable and adds an aesthetic impression!
Japanese painting design on bedroom wall
The painting will add to the aesthetics of the room. Moreover, if you use Japanese-style paintings to decorate the bedroom walls. The bedroom will be more attractive. In addition, you can also use Japanese paintings as room wallpaper as the right choice.
However, make sure you choose a painting with a color that matches the room, namely neutral colors, to make it look more harmonious and comfortable. Use a low bed to add a Japanese feel to your bedroom design. Then, to look more attractive, add decorative lights beside the bed, chairs, and wall paintings. That way, the bedroom design will look more luxurious.
A touch of shoji as a bedroom door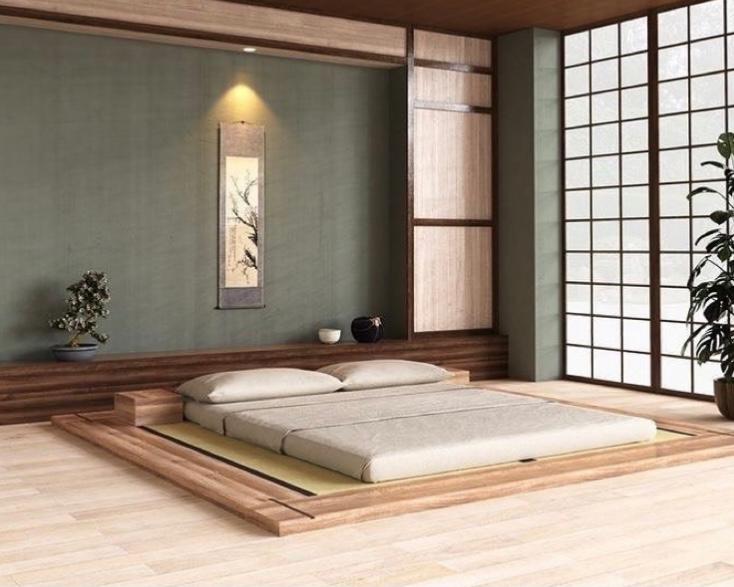 Shoji is similar to fusuma, which is a room divider or partition. The difference is that shoji uses transparent paper to cover the holes in the bulkhead. You can use this shoji as a bedroom door, which can be opened by sliding. By using this shoji, you can get outside light into the bedroom and give a warm impression to the room. Then, to make it look more attractive, you can add a floor bed, small flower pots, and spotlights.
Japanese room decoration with tatami rugs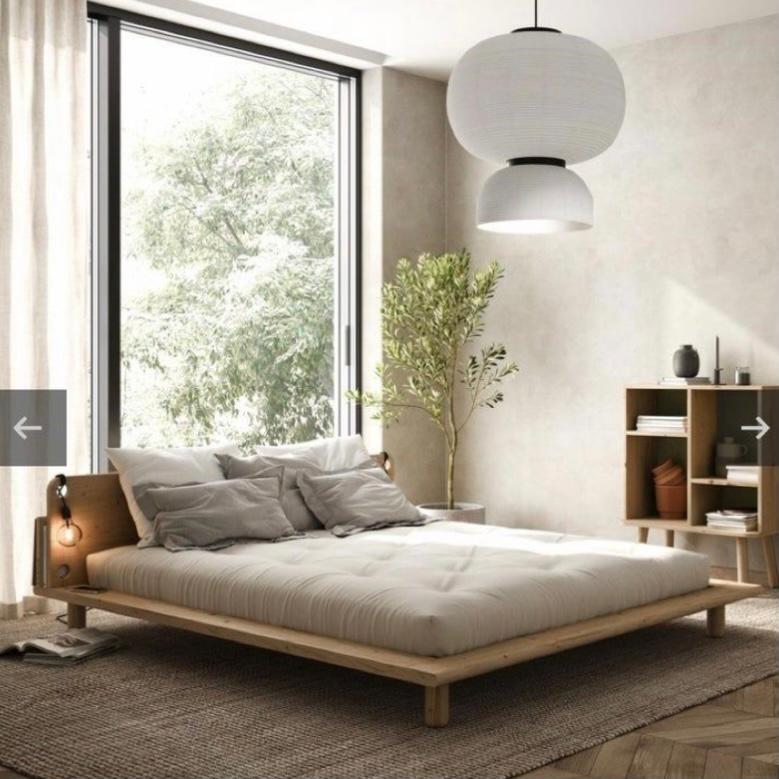 Traditional houses in Japan usually use tatami on the floor. Tatami is a carpet made of straw with a soft texture and a soothing fragrance. You can use these decorations at home to add comfort and tranquility to your room. To make it look more beautiful, install a short-leg bed and foam, and add unique hanging lamps, ornamental plants, and wooden shelves for accessories. Structuring a bedroom like this will add to the atmosphere more comfortably.
5. Conclusion
A beautiful and comfortable bedroom design is everyone's dream. To make this happen, you must prepare the right design to suit your wishes. You may be bored with minimalist, Scandinavian, and others. Then, you are happy with a natural and traditional feel. Therefore, we provide some examples of designs like the one above to be an inspiration for you. Hopefully, this design can make your bedroom look beautiful, aesthetic, luxurious, and unique. So that makes you feel comfortable in it. Well, happy decorating.