1. Overview of air ventilation in the living room
One way that we can be happy is to stay healthy. Keeping yourself healthy can also be done in various ways, such as exercise, eating nutritious food, and meditation for mental health. But all that must be supported by a healthy place to live. If not then it's useless.
A healthy house not only has the characteristics of an environmentally friendly house but also has a good air circulation system. Therefore, the home ventilation system contributes to supporting your health. The ideal home ventilation system must be able to channel air optimally, provide sufficient openings, and be able to filter dust or dirty air that enters. Therefore, for more details, let's look at the types and designs of ventilation below.
2. Types and designs of ventilation
In addition to planting plants in the garden design in front of the house, using a good type of home ventilation is also one of the healthy living tips that you can apply. Then, to get maximum air quality, you need to pay attention to the type and home ventilation design that is healthy and follows the criteria. Ideally, a vent should be able to channel air and light to the maximum and be able to minimize the entry of dust. Therefore, home ventilation must be made with the best design as natural ventilation and mechanics.
3. Method of designing ventilation for intake air
The function of ventilation is to let outside air into the house one example of natural ventilation is windows. Therefore, when building a house, place several windows in a row on a series of walls. Then, open them all so that the incoming air has been maximized. Especially if some of the windows are diagonally opposite each other. In addition, for mechanical ventilation will be used a fan, an exhaust fan, and air conditioning
4. Good air ventilation design
Air ventilation now developed into a part of building design that is no less important than other elements. Good air ventilation can make you also breathe fresh air from outside the house. But on the other hand, the aesthetic value also needs to be considered in order to liven up the room. In addition, choosing the right material can add to the attractiveness of the appearance of the house. Then, can make your home design more attractive.
After you know some of the types of air ventilation above, it's time for you to determine what a good home ventilation model looks like. For your reference, here we provide some reviews about the design of home ventilation as below. Welcome to our review!
Home Ventilation with cavities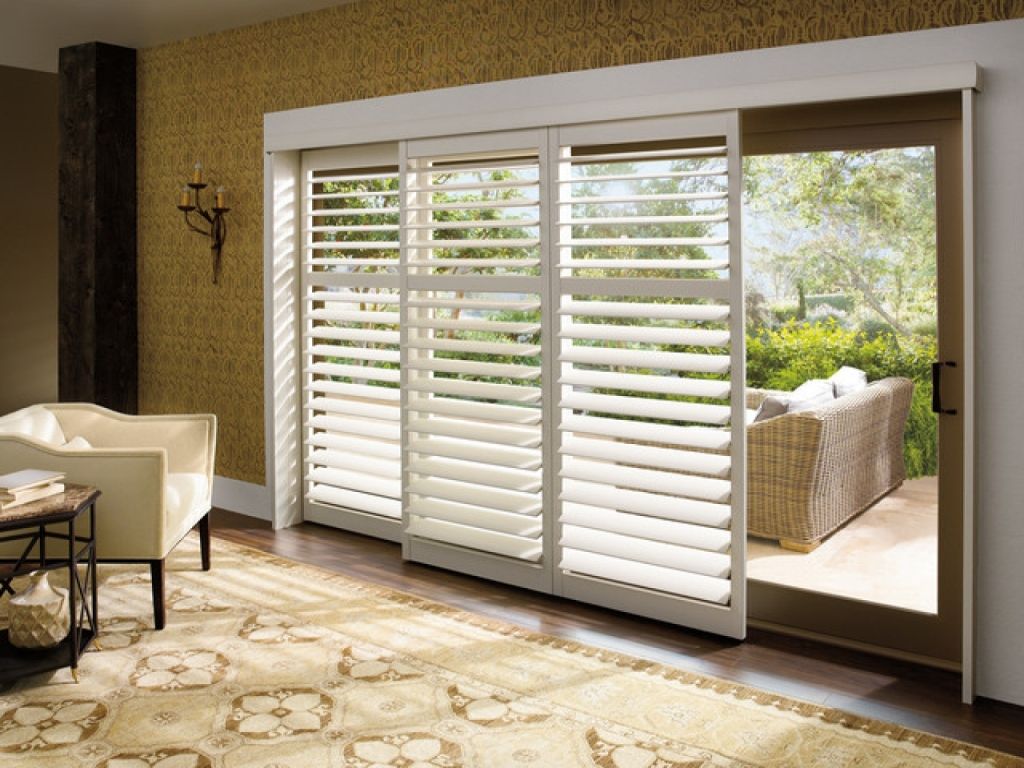 This ventilation design is a type of natural home ventilation that is installed on a horizontal window. The ventilation of this one house is composed of lattices, between which there are gaps for the entry of air and light.
This ventilation model can control the intensity of light that enters the house because the constituent material can absorb and reflect excess light. With its latticed structure, the ventilation of this house can filter the incoming dirty air. Then, for installation, adjust it to the size of the room, and don't be too tight so it's easy to clean.
Home ventilation system with mechanical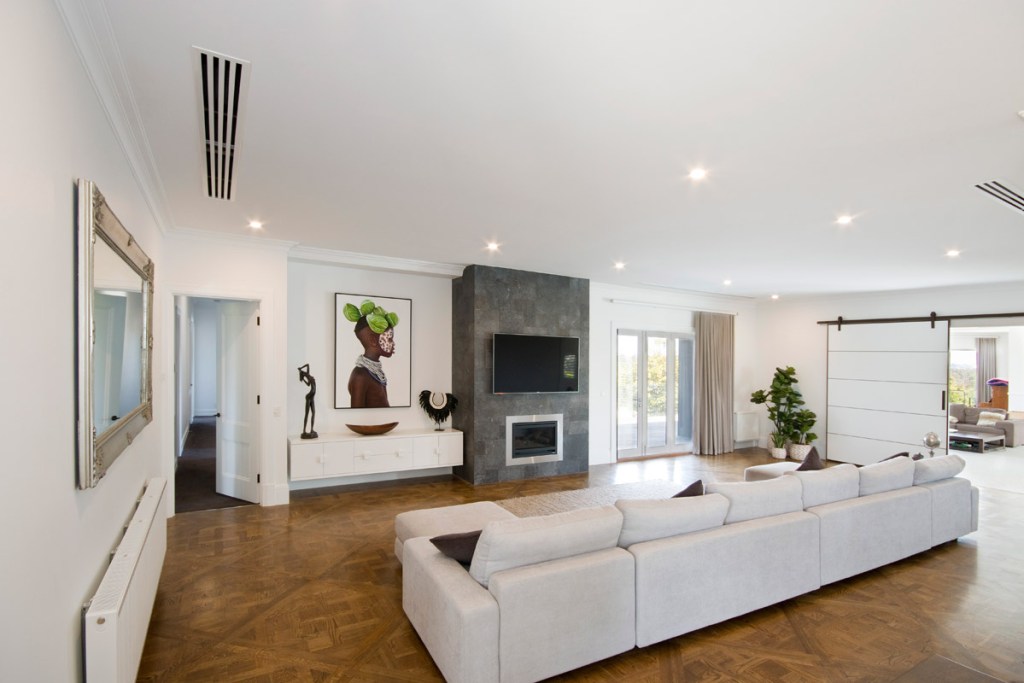 A beautiful home design must always be maintained so that it is not dirty. The house design as above applies a mechanical ventilation system. Then, usually, the home ventilation used is an exhaust fan. This air filter is installed above the ceiling in each room, connected to an airflow path centered on the Heat Recovery Unit (MVHR) which has been placed in the attic.
In this machine, the inhaled air has extracted first. As a result, clean air will be channeled back into the room, while polluted air will be discharged outside the house. Home ventilation with a mechanical system is very effective in cleaning contaminated air. It can even trap dust and insects. Therefore, if you have a beautiful home design like this picture, you can make this method in your home.
Modern minimalist home ventilation design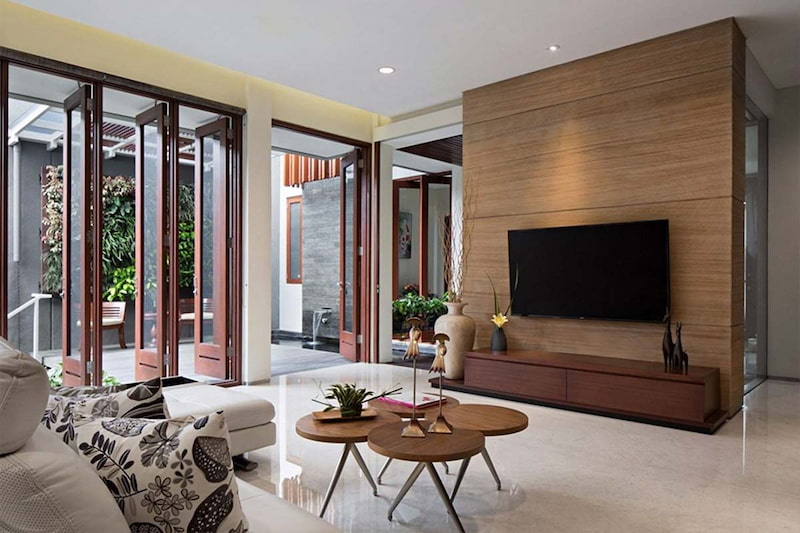 A house design has free with the entry and exit of wind and air will make us comfortable. As you can see in the picture above, this living room combines ventilation and doors to have the same function. Then, a room with ventilation like the picture above can make you get a lot of fresh air and make the room feel comfortable because Air circulation with good ventilation can run smoothly and make you healthy. Of course, this design supports a healthy home ventilation system.
Large glass model house ventilation design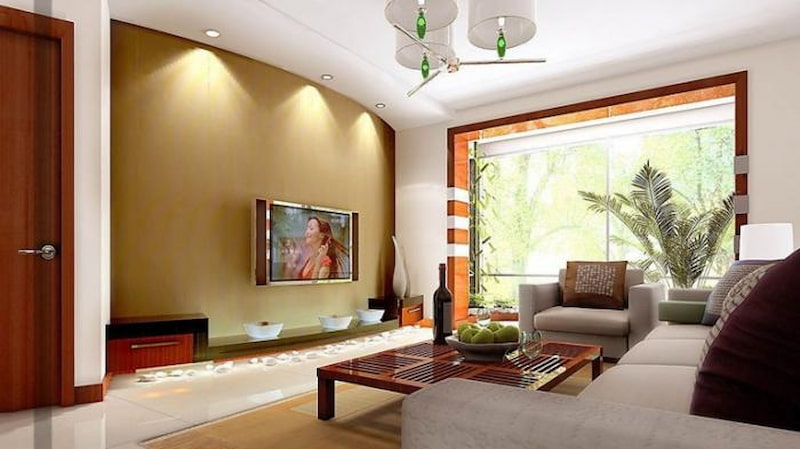 This house design looks very interesting. With the placement of a large glass as ventilation, not only the air is maximized, but you will also get enough sunlight so that it can save electricity consumption. In addition to the need for healthy air, the morning sun will also support your health.
Then, to open it, you can create it with a sliding system. Modern minimalist home ventilation designs with large glass are currently a trend. Therefore, many minimalist homes apply this design to add aesthetics.
Beautiful minimalist home ventilation design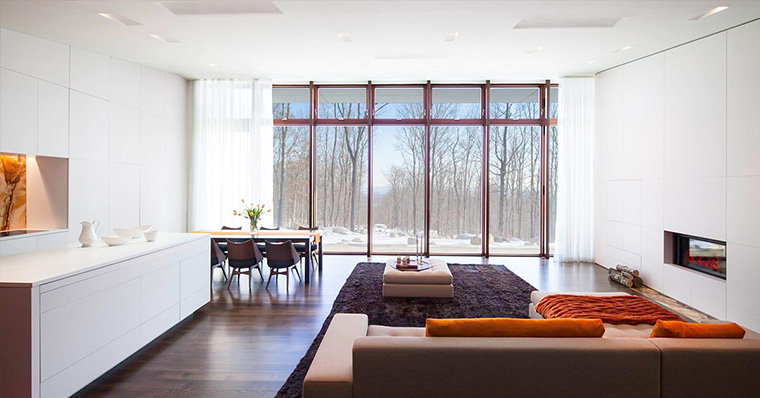 If your home is in a safe environment, maybe you can implement good ventilation in the room. However, if you feel it is not safe and you need privacy, a minimalist home ventilation model like the one above can be your choice.
Of course, with the size of the ventilation, you have enough air supply from the outside. Then, you can also apply this design to an air-conditioned room. That way, the air circulation in your living room will be good. Then, you will be healthy.
Rustic style home ventilation design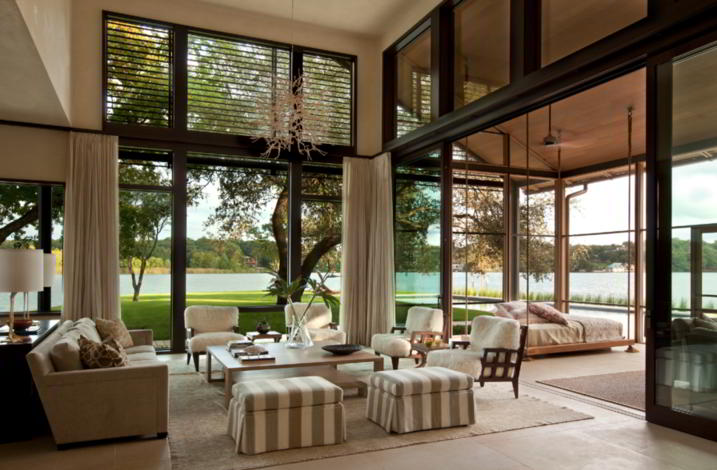 This living room ventilation design looks classic. However, many houses still use this design. This segmented ventilation design allows you to get an artistic glow, Especially in the morning like in the picture above. For those of you who like a semi-modern classic atmosphere, you can apply this rustic design.
With a design like this, your living room will get a breeze and fresh air. That way, the interior design of your living room will feel more comfortable and fresh. Then make you healthier. In addition, another advantage is, you will save electricity consumption during the day. Therefore, a design like it can make you get good air and enough privacy. Happy decorating!
Air vent with Nako glass model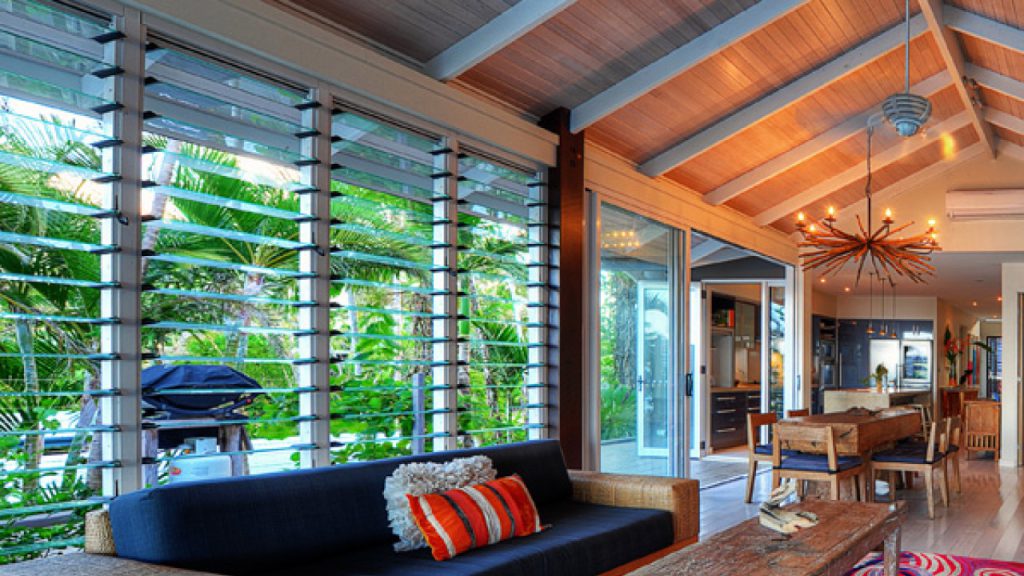 " Nako " glass is included in the traditional air ventilation design and is attached to window installations at home. This type of air vent will usually absorb more air because it requires a lot of wall area. The drawback is this type of glass ventilation requires a fairly expensive cost because it has to dismantle the wall. Then, install the glass properly so it can withstand the air temperature and make it is safe.
However, the advantage of this Nako glass has a flexible system so that the incoming air can be adjusted as desired. This Nako glass model does look classic. Then to make it look more attractive, complete the living room with appropriate furniture, decorative lights, and beautiful accessories.
Checkered ventilation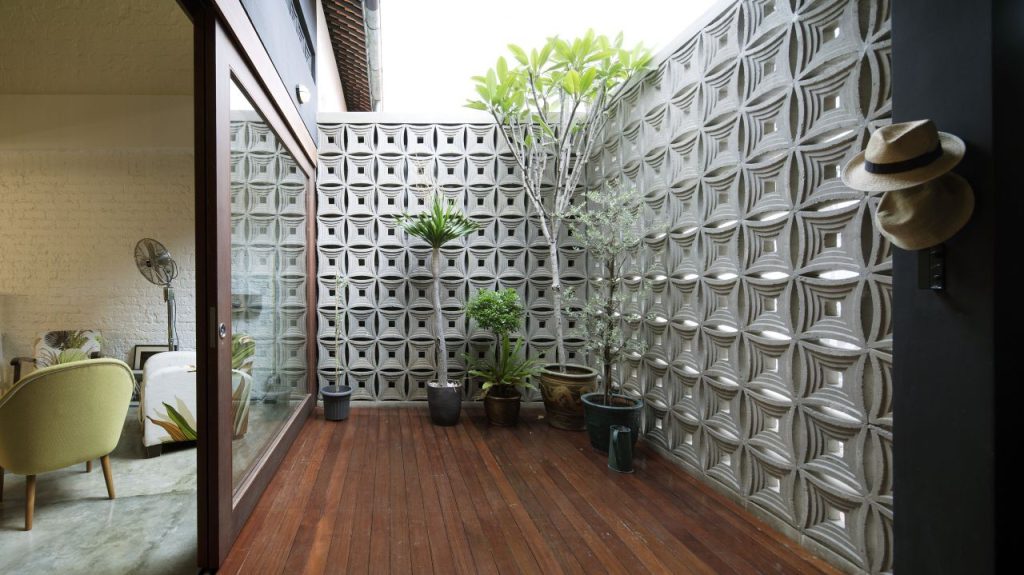 You may rarely hear the term checkered air ventilation. This design is a traditional type of air vent that is still used today because of its aesthetic design. Its dynamic arrangement can make your home artsier coupled with a wider range of fresh air that you can get in your home.
Checkered will usually only be installed on one wall of the house, especially if you want to add aesthetic value to one corner of the room. Then, this design is usually made evenly containing air vents from the checkered. Then, the models also vary, ranging from those made of cement, ceramics, glass, wood, concrete, and so on. The type is quite a lot depending on the size of the air gap you want.
Wood model air vent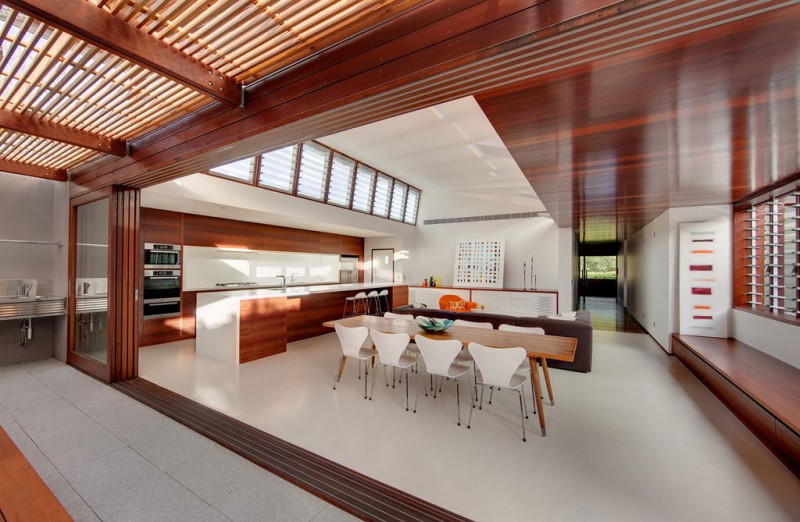 This living room design looks beautiful and natural. Wood air vents are generally combined with indoor doors or windows. Wood as air vents is generally made with panels to each other so that not too much air or wind enters. Then, wood panels which are generally used for home ventilation also can add an artistic impression to your home, especially if the choice of wood and color is also attractive. Of course, this design can give a natural impression.
Even so, make sure the wood you use for air ventilation is a wood material that is resistant to air temperatures because the wood is at risk of shrinking over a certain period of time. In addition, you can increase the durability of the wood by applying a coating to wood.
The "Loster" Ventilation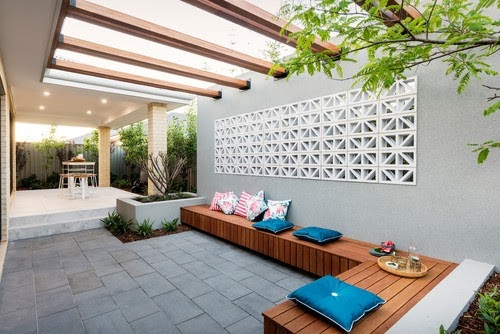 The "Loster" air ventilation model is not only suitable for maximizing air circulation, but also a unique decoration. Lost ventilation is a ventilation style in the form of gaps that form an interesting pattern. This style of ventilation is often used as a room divider and also as a house fence. Usually, ventilation losses are made of wood, cement, or ceramic. By using this ventilation, the house will look decorative and also has fresh air circulation.
Mechanical ventilation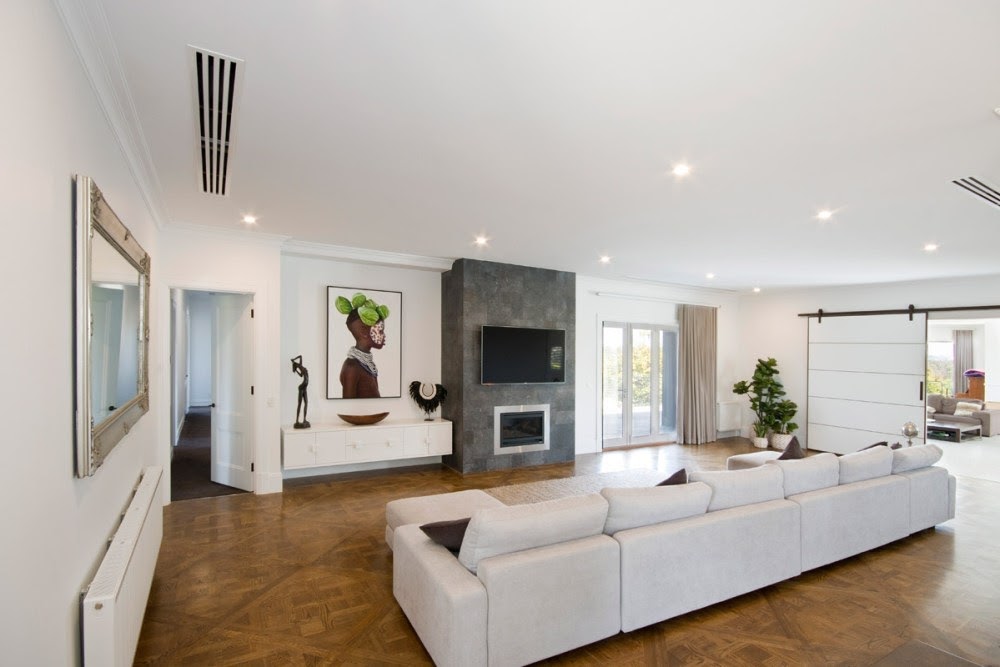 Apart from natural ventilation, we also know mechanical ventilation. As far as we know, in mechanical ventilation, there is the use of an exhaust fan placed on the roof ceiling. Using ventilation with a suction fan can make the living room clean and comfortable because the air entering the room will be extracted first. The result of the extraction is that clean air has channeled back into the room, and polluted air will be discharged through the attic.
The use of ventilation is very effective because it can remove contaminated air. This species is capable of trapping insects and dust. Therefore, for those of you who have an air-conditioned room, this design can be an inspiration for you.
Skylight-style ventilation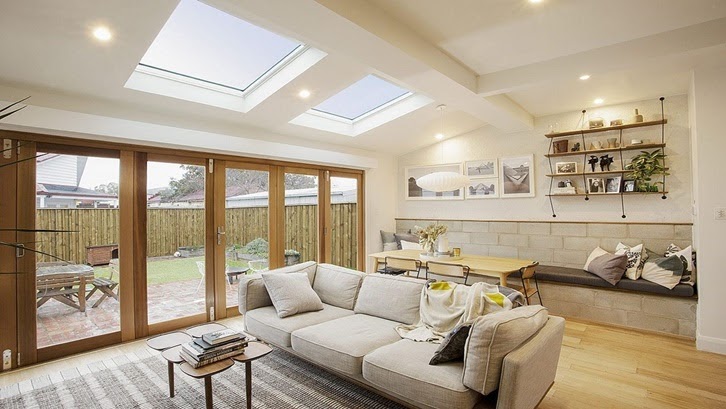 Skylight designs are currently in great demand by many people. Even developers are developing designs like this. Like the picture above, skylights and commonly called windows on the roof of the house are designed so neatly. This type of ventilation is usually placed in houses with sloping roofs or low roofs. With this stylish ventilation, the roof design of the house looks elegant.
However, proper installation is needed so that the roof does not leak and is easy to use. This type of air vent usually uses aluminum material combined with tempered glass. That way, the interior of the living room will be bright and make you come out healthy.
Unlimited wind hole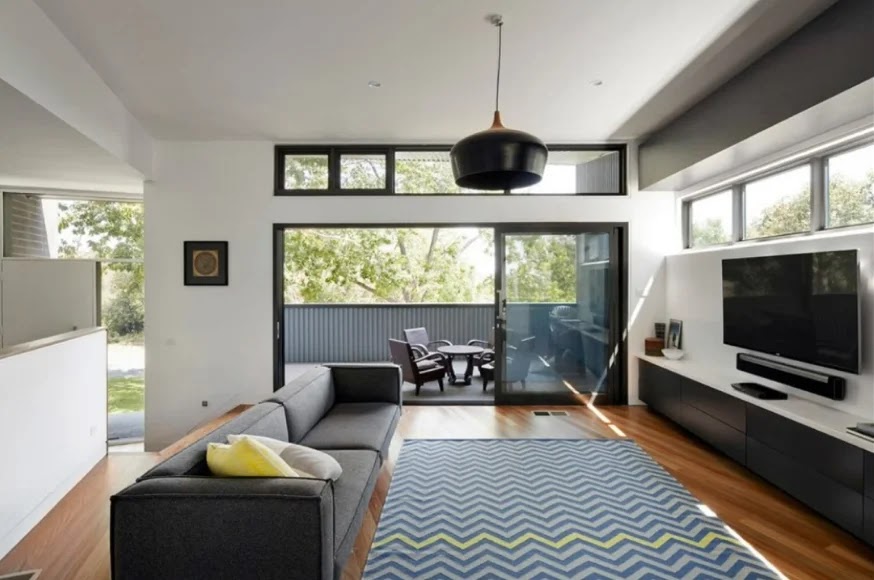 Seeing the view of green trees from inside the house can make our eyes and minds feel fresh. The designer of this house is proven to be able to take advantage of the location of the house which is around an area that is overgrown with trees. This design has been designed so that members come out to feel comfortable in the living room.
To look attractive, the selection of the air ventilation design used is also very appropriate, namely carrying a large glass window that can be opened wide. The advantages of this house are not only the unlimited flow of light and air but also the opportunity to freely enjoy the view, and the natural fresh air that spreads throughout the room, makes your eyes and mind fresher. In addition, you also become healthy.
Open house ventilation model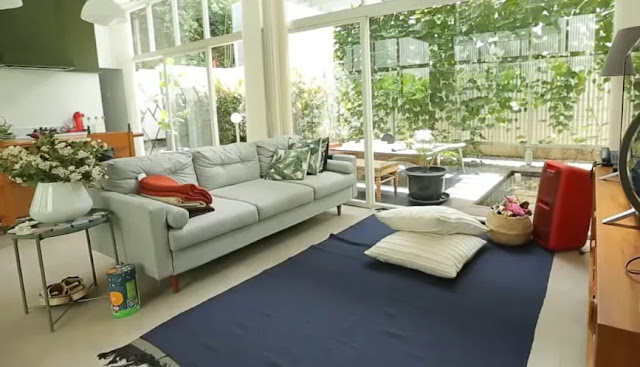 The open house ventilation model is one of the ventilation models that can be used as your inspiration. This open design will make the entry and exit of air into the house more smoothly. In addition, you can design it as you wish. Of course, you have to adjust to the concept of the existing house. The goal is that the interior of the house becomes cooler and more comfortable. Then, to smooth air in and out, direct these open vents toward greenery or gardens outside the house.
The advantages of natural ventilation are enormous. You can save money because you don't need to use a fan or air conditioning. Then, you will be healthier because the chemicals will disappear without the presence of air conditioning or other mechanical devices. Overall, using natural ventilation can have a tremendous positive impact on the occupants, the home and the environment will feel more comfortable and healthy.
Clerestory air vent design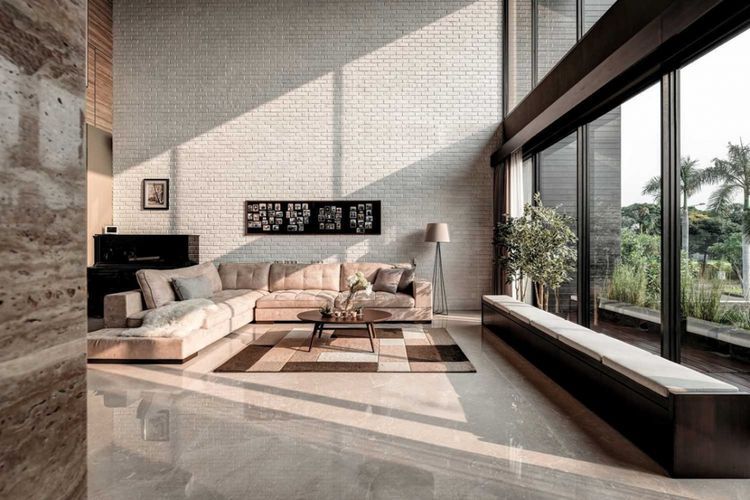 The clerestory is a foreign term in the form of ventilation at the top designed to approach the ceiling. The clerestory is often found in majestic and tall buildings such as ancient houses and luxury homes. Clerestory not only creates natural lighting but also keeps the air inside from getting hot. Then, the clerestory can act as a vent and space for accumulation to turn hot air into cool. Then, to speed up the process, you can decorate the floor with granite and marble because this natural stone can also cool the house.
5. Conclusion
If you have followed the air vent design review above, we hope that one of these designs can be your choice. By making a ventilation model that is healthy and comfortable and according to your wishes, we hope that your home design will look aesthetic, beautiful, attractive, and comfortable. That way, you and your family will be healthy. We hope this article can be useful for you and your family. Happy decorating!