Nexthomegeneration.com – A home without furniture can't look beautiful and have maximal benefit. Pretty furniture is necessary to choose because it can make us proud if guests come to our house. We should know the furniture that we want to add to our home has a good design or not. It is necessary because if we carelessly choose it, we can make our home doesn't have a concept and look ugly. We can feel confused to choose furniture that we want to add and what furniture has a suitable design for our home interior. For example, we can't choose nautical furniture for a cozy eclectic living room. To make an attractive room, you should use our eclectic-themed furniture ideas recommendations.
What Is The Eclectic-Themed Furniture?
Eclectic-themed furniture is something like a table, chair, and curtain that has an eclectic concept and generally has a characteristic that different from others. We should choose it if we want to apply this design in our home. Sometimes, we can find the same design and shape in other furniture concepts, but actually, it has a different impression.
What The Advantages That Can We Get?
Of course, if we add furniture that is related to the concept, we can get many advantages of it. We should choose it if we want to make our home have a perfect design in the interior. Now, we will give you the advantages of it.
Actually, eclectic furniture is free to choose because the interior design doesn't have its own rules and suits us who are the first time decorating our home.
Generally, the design uses many wooden furniture that has a natural concept and long durability. It is suitable for people who love it than using any material furniture.
We can free to mix and match furniture as long it is related to the concept and it makes us comfortable while applying a design.
We should choose it if we want to make a variation design and want to have an interior that won't be the same as others.
The furniture can be combined with any design like cozy, aesthetic, shabby chic, and retro. The design uses many vintages and classic furniture that can make our home look unique and luxurious.
Eclectic-Themed Furniture Ideas Recommendations
After we know the meaning and advantages of eclectic themed furniture, we will move to another topic and we will give you some ideas. By using ideas from us, we can find the right furniture and how to arrange it for our home and make it doesn't out of the concept that we apply.
Corn Yellow Sofa And Rectangular Coffee Table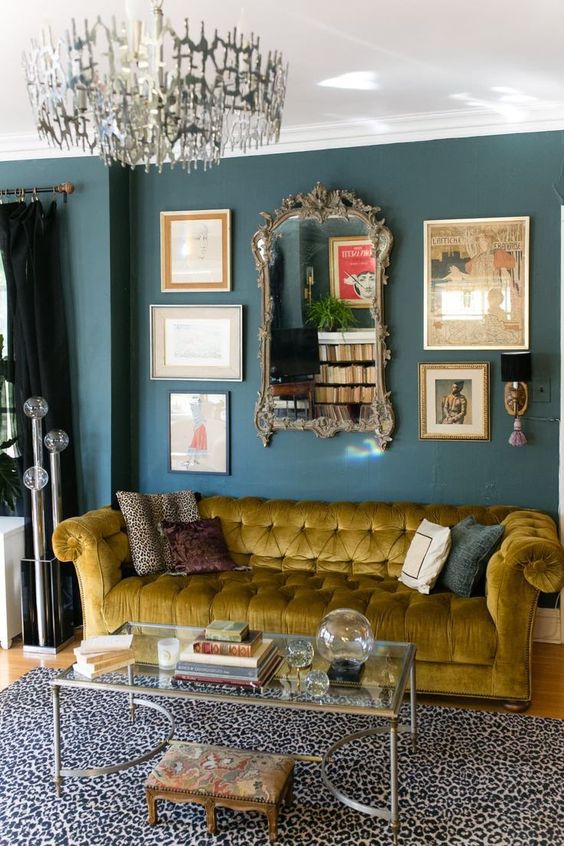 We can add a corn yellow sofa in our room and combine it with a rectangular coffee table to make it look chic. Generally, this furniture is suitable for a living room, but if you want to add it to the eclectic bedroom interior it is still preferred. It can look prettier if we add some decorations like a leopard pattern carpet, vintage mirror, and a chandelier.
Lawson Style Sofa, Single Sofa, And Gold Coffee Table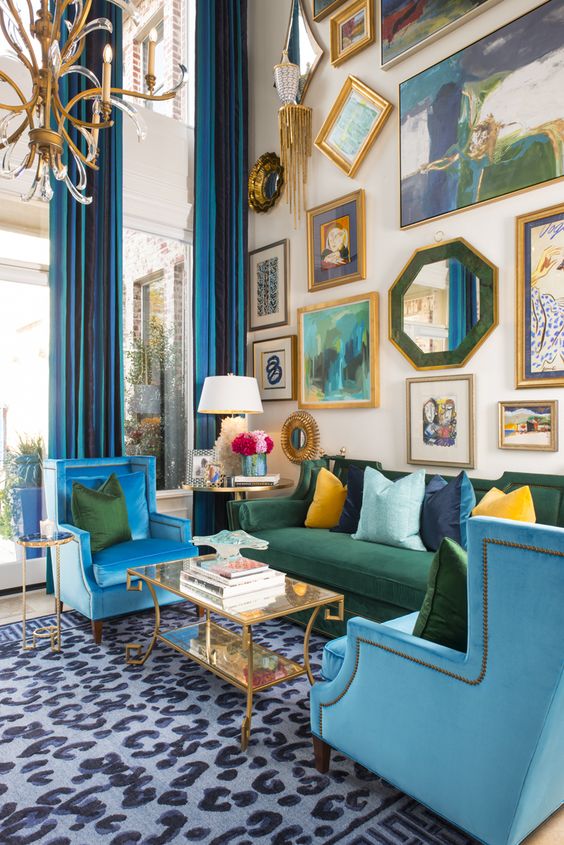 The main character of this idea is many sofas which are combined very nicely and have a harmonious color to each other. It also has a different design and makes a room have an attractive concept where it feels different from any design. We can choose a green lawson style sofa and two light blue single sofas to create this look. We should choose a gold coffee table to make it look luxurious at the same time.
Floral Pattern Single Sofa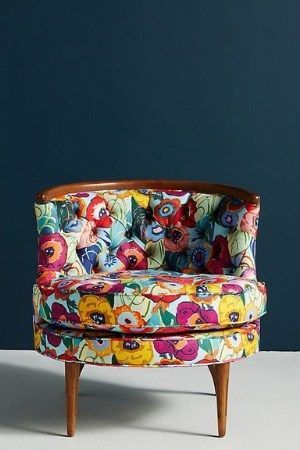 A floral sofa is suitable for people who want to create a feminine room with an eclectic interior design. It has a pretty pattern that many bright colors and it makes our room beautiful if we use it. We can choose it if we have a small space because it doesn't take up much space. It can be added to the next of the sofa or in front of the television. It also has many colors, designs, and patterns that we can choose as long as it is related to the concept.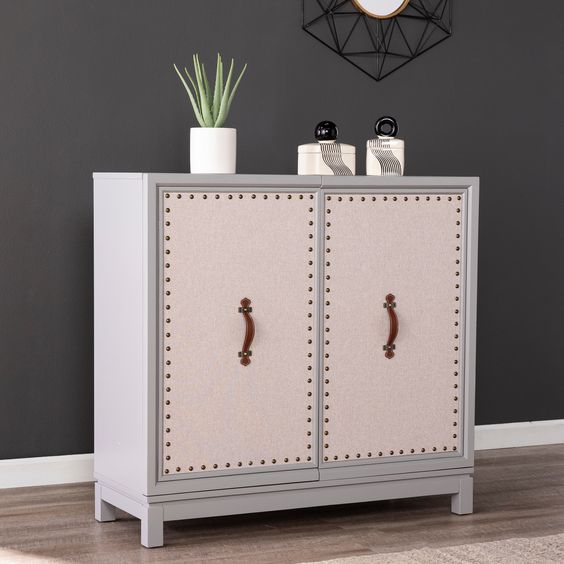 If we want to create an aesthetic room with an eclectic interior design, we should choose a white and grey cabinet. It is suitable to add anywhere because it has a simple design and small size. If we want to add it to the bedroom, make it a side table or place for adding a lamp table. For people who want to know to create an aesthetic room in eclectic design, you should know more information about the eclectic interior that might help you to create it.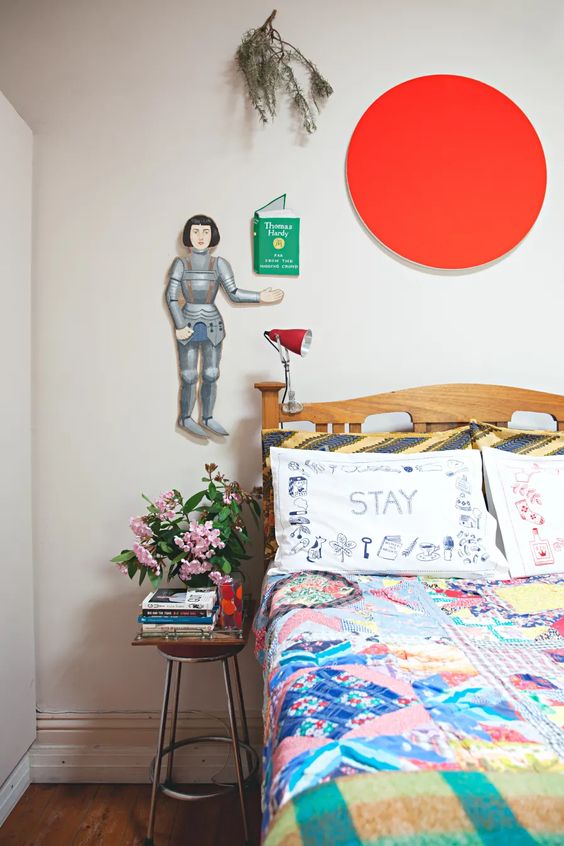 To create an eclectic bedroom, we should choose a colorful bed or if we can't find it we can cover it with a colorful bedsheet. It's necessary to make our private room look like a pretty and comfortable place. We should add it to our room to give a stronger concept in our eclectic room. We can arrange it in the bedroom and don't forget to add a side table or chair next to the bed to make it look chic.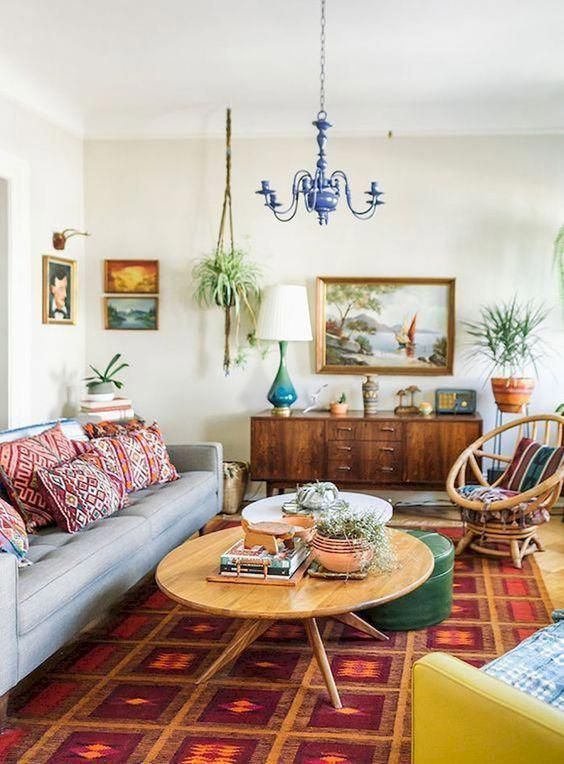 Generally, an eclectic design always uses wooden furniture, and it is one of the characteristics of it. But, it doesn't mean we have to use it every time and anywhere because, in fact, we can use other furniture materials. Of course, we should make sure it is related to the concept. If you want to use wooden furniture, we can use a wooden table and cabinet in our room. It is prettier if we combine it with a rattan chair and eclectic plant decorations.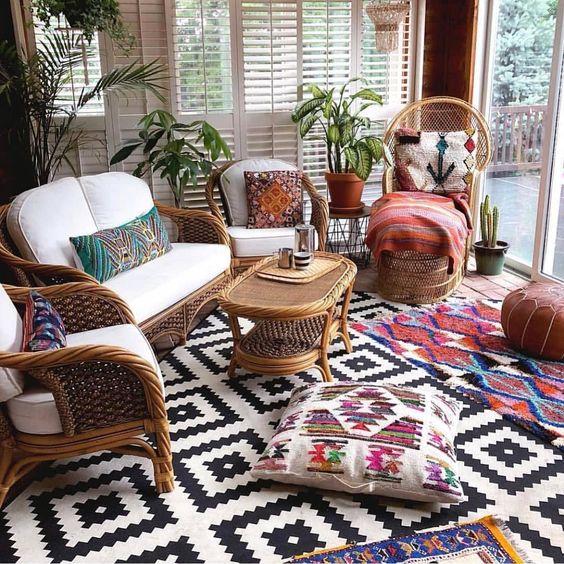 Who doesn't know rattan material? There are many companies that use it for making furniture. If we don't want to use wooden furniture, we give you an alternative to use rattan furniture. It has many advantages that we can get such as it is easy maintenance, Eco friendly, weatherproof, light, and have long durability. For you who want to create a vintage, aesthetic, cozy, and even modern look in eclectic design, we can choose it. It can be added with colorful carpet and cushion to make it have a stronger concept.
Cozy Wooden Dressing Table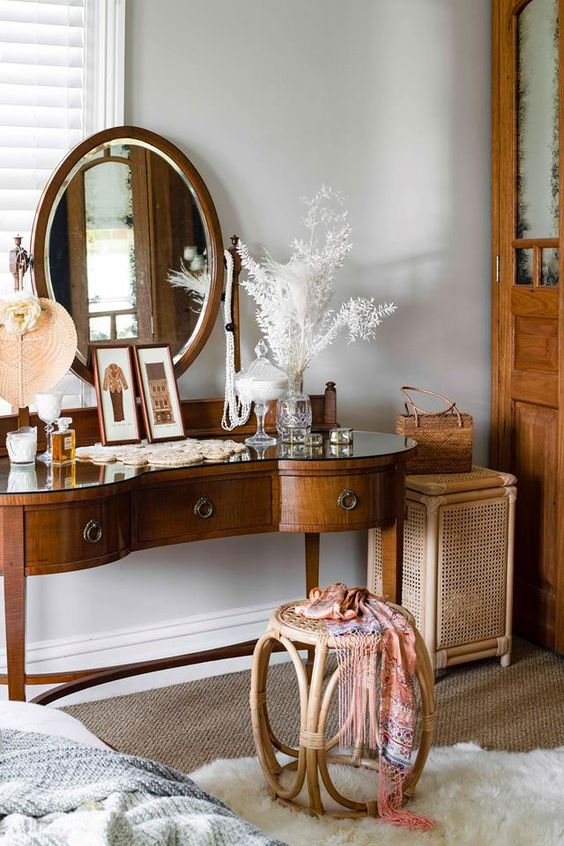 Sometimes girls want to have a dressing table in their room, right? If we want to make a cozy accent in our bedroom, we should choose a wooden dressing table, rattan basket and combine it with a rattan chair. For making it cozier we can use rattan and fluffy carpet as a pedestal in our room. We can also add a dressing table in the living room because we don't have to add it only in our bedroom.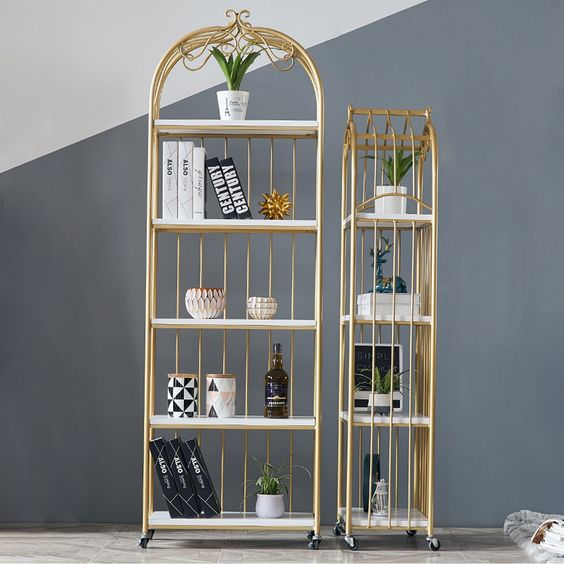 A luxurious concept can be created in an eclectic room if we add something that has a chic accent like a gold color. We should add gold color furniture like a shelf to make our room precious and comfortable to stay in it. Besides making our room look luxurious, the gold shelf makes our room have more space. It can be a place for adding our things to it and make our room more neat and orderly.
Eclectic Dining Table Set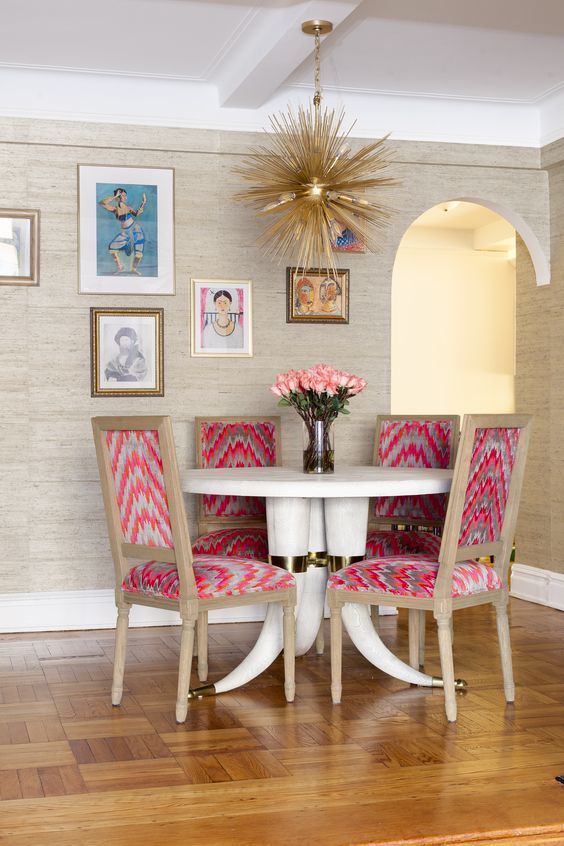 For those of you who want to make a dining room in their home, certainly feel confused to choose furniture for it. If you feel it, we should choose an eclectic dining table set that has one design in one set and suitable to add to the dining room. It can make us avoid making mistakes while choosing the best furniture for it. We should add it if we want to feel easier to choose suitable furniture for our dining room. It also can make our room having a stronger design.
The Advantages Of Rattan And Wooden Furniture
Give an elegant and natural concept at the same time because made of natural materials.
Long durability and suitable for people who want to have furniture that can use for a long time.
Easy to find and eco-friendly.
Having many shapes and designs that is suitable for any interior design or style that we will apply.
In an eclectic room, wooden and rattan furniture is always used for making it look beautiful.
Rattan furniture has a flexible material and light to make it easy to move it anywhere that we want later.
Having a cheap price that can make us save more our budget for other necessities.
We can make anything that we want with rattan materials even we can make a frame for our photo by using it.
Conclusion
Certainly, there are many people who feel confused to apply an interior design for the first time and sometimes make a mistake. For you who are feeling it, we can apply an eclectic design because it's easy to apply in any room. We should pay attention to furniture and make sure we choose it which has suitable design and best quality. Hopefully, by using our unique furniture recommendation, we might help you to create an attractive eclectic room and make you have the best interior design for your home.