1. Overview of wall shelves
Shelves are often an option to be more flexible to accommodate more items in the room. Now shelves have many forms, such as cabinets with open shelves to wall-mounted shelves. Wall-mounted shelves are always used not only to store things. But also to make the room interior more beautiful. Therefore, many peoples want to get ideas and inspiration to install wall shelves in their living room.
2. The idea of ​​installing the right wall shelf
If you are planning to make your wall shelf in your home, it seems you should think twice about doing it. The reason how to make a minimalist wall shelf is not an easy thing and is quite inconvenient. Especially if you live in an apartment that is forbidden to put nails or drills into the walls, of course, you have to use adhesive glue to install your shelves.
How to install this minimalist wall shelf can use multipurpose adhesive. However, keep in mind that installing wall shelves with adhesive is only limited to certain wall shelves. Therefore, you should choose the right location and place light items.
3. Attractive Shelf Design
Every home always has a shelf to store things or use to display collectibles. Both wall shelves with various models and simple shoe racks. Then, the model has adjusted to the design of the room. For example, a traditional room design would be suitable to be made of wood, and a minimalist-style room has made with a minimalist model. But. If you are still confused about choosing a wall shelf, let's look at some of the pictures below
Scrapbooking shelf design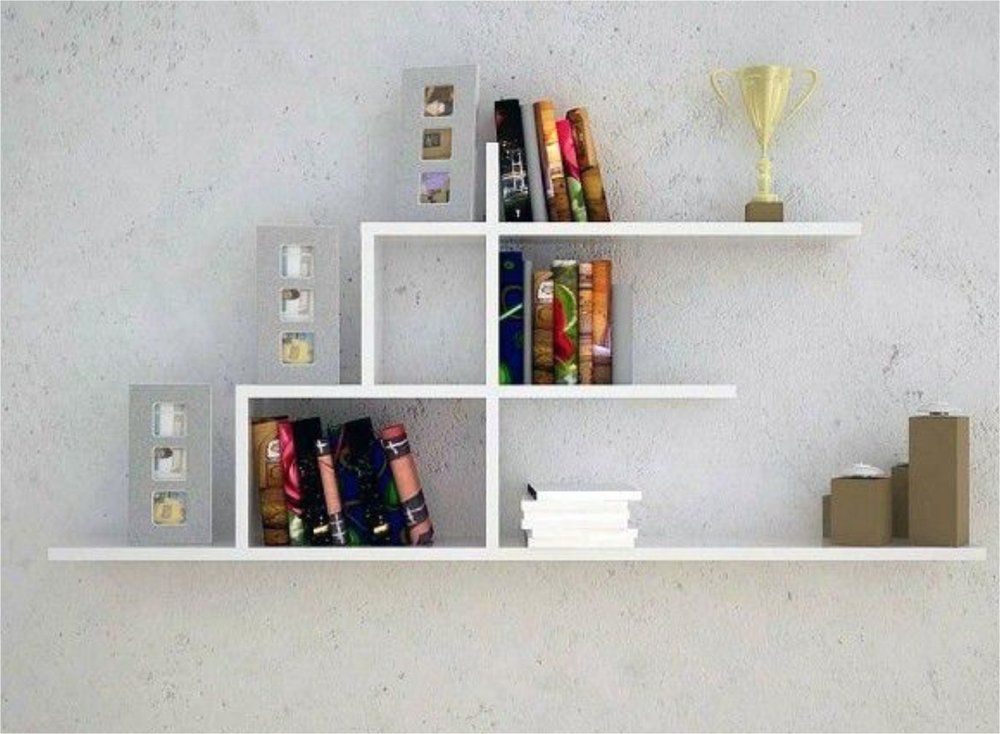 The beginning of the shelf design with floating accents is a wall shelf using brackets or shelf elbows for support. It turns out this bracket used is growing and more popular. This design has a minimalist model in the form of plain flat iron, iron-like pipes, and beautiful carvings iron. Then with a simple model, the selling price of this furniture is not expensive. If you have a minimalist home and don't want to report, you can display this shelf design in the living room as a place to put books and interesting knick-knacks. Then for the color, choose a color that matches the wall so that your living room design looks beautiful and harmonious.
Wall shelf design with knob hook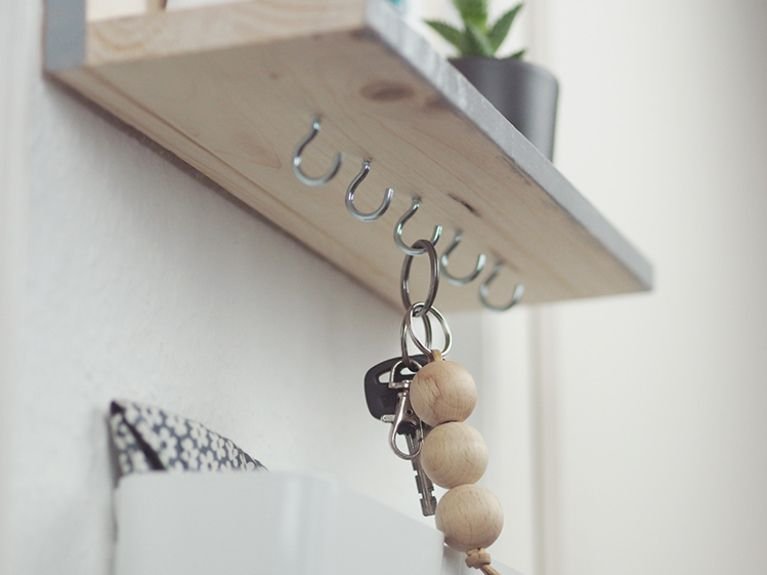 The wall shelf design with knobs or hooks can also be a multifunctional minimalist wall shelf. At the top is a place to display accessories and flower pots. While for the bottom, you can make it a place to hang clothes, towels, bags, coats, or hats. With a simple model, you can display this shelf in any room. Then, please choose a light color. So your wooden shelves don't look small.
Wall shelf with drawer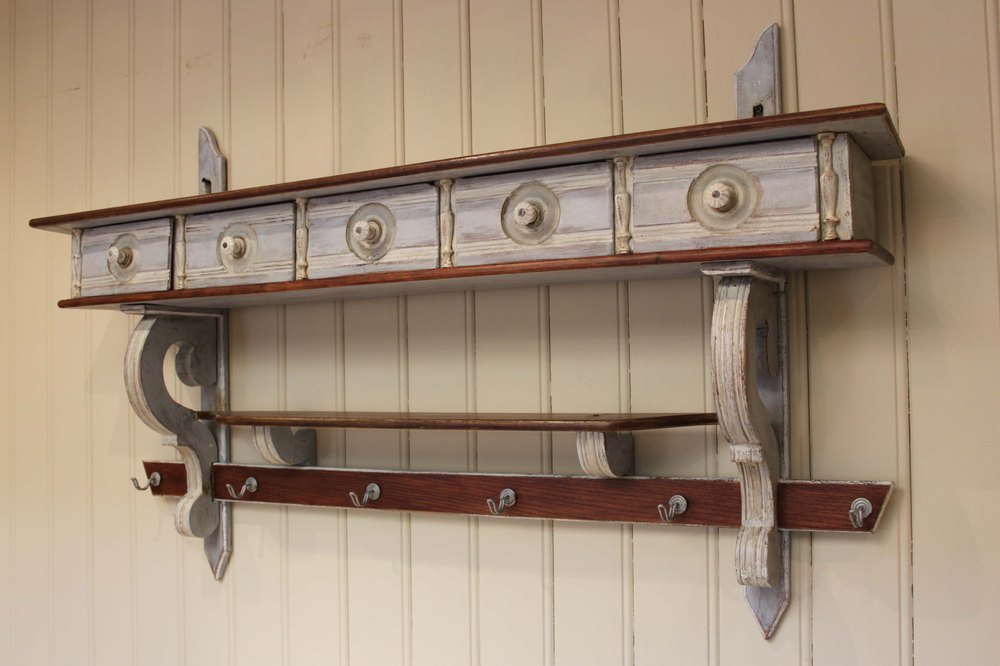 You can see the next minimalist wall shelf idea using drawers. This is a multifunctional wall hanging shelf model that can be used for home decoration. You can use at the top for accessories and store personal items in the cupboard or drawer. To make it, you can adjust the number of drawers according to your needs. Then an attractive color is the color of the wood and a combination with a light color. That way, the impression of the minimalist model will be clearly visible.
Beautiful minimalist wall shelf
Arranging the living room to be beautiful and fun is the dream of all women. They believe a beautiful living room can make family members feel at home and comfortable together. Therefore, to design it you can use a beautiful minimalist shelf. In addition, you can also install a minimalist wall shelf as a room decoration and a place to put interesting knick-knacks. To make it does not need to be large, which is important according to the model of the room. That way, your living room will attract the attention of your guests.
All-white minimalist shelf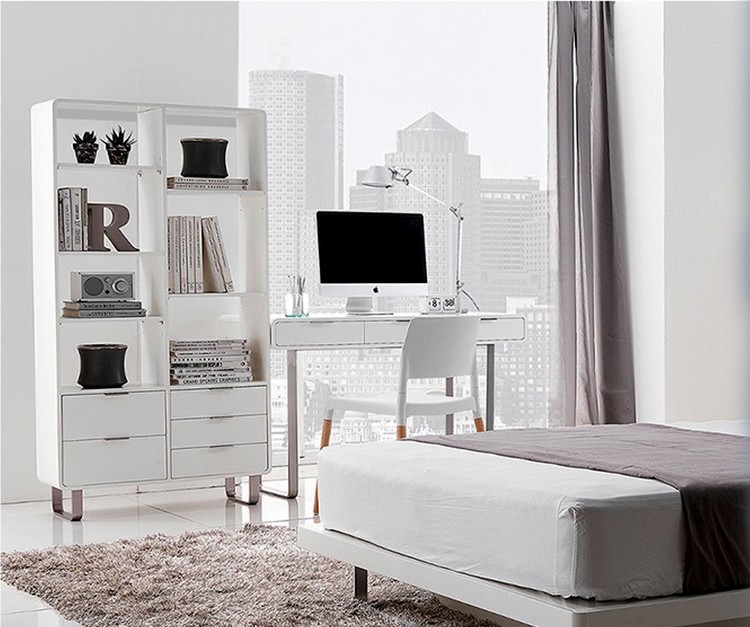 This all-white minimalist shelf is suitable to be placed in a minimalist living room or next to a computer desk which is also dominated by white. The impression is very clean, airy, and simple. The shape is not strange either. There is only an additional drawer at the bottom. Then, t make it look more attractive in the living room, add floor rugs, sofas, and work chairs. That way, your minimalist living room will shine.
Floating minimalist shelf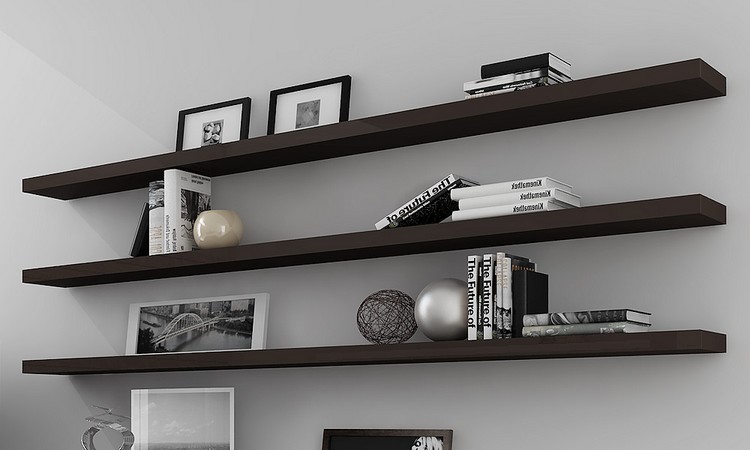 A wall shelf like this one is suitable for a minimalist-style living room with a limited area. With the floating shelf, you can put accessories without worrying about falling. Then, passersby will not be hindered by these wall shelves. For safety, make sure this minimalist shelf sticks well to the wall. So it doesn't fall and injures the occupants of the house. Then, the wall shelf model can adjust to the living room area. Then, to look beautiful, make a color that matches the spaciousness of the living room. That way, your living room design will look aesthetically pleasing. the spaciousness of the living room. That way, your living room design will look aesthetic and pleasing.
The minimalist shelf in the shape of a deer's head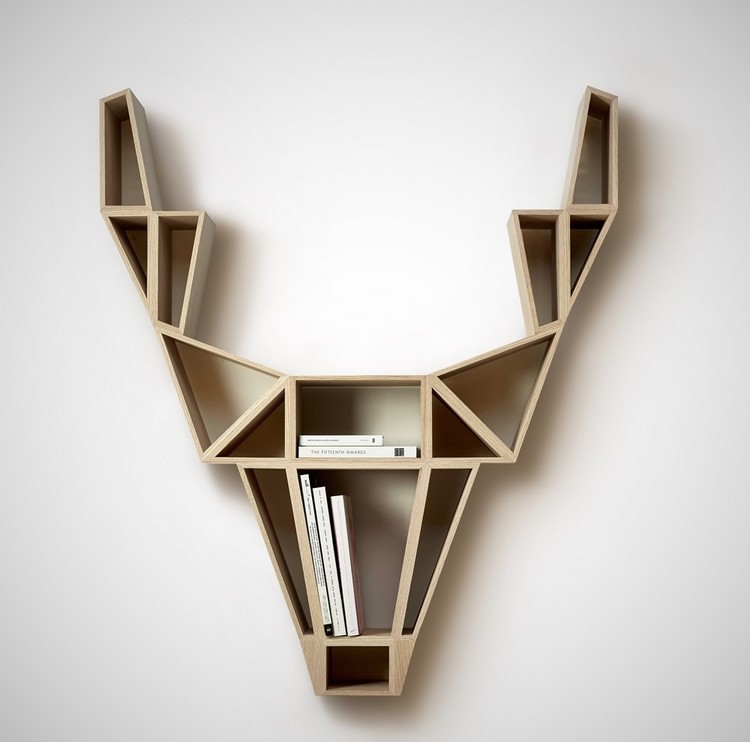 Putting a deer's head in the house sounds horrible and inappropriate. Instead, you can install a minimalist shelf in the shape of a geometric deer head like this. The result is even more beautiful and unique. If you don't like the deer head-shaped shelf, there are also many other animal heads in the market such as bears or tigers on the market. But it all depends on your taste.
Branched minimalist shelf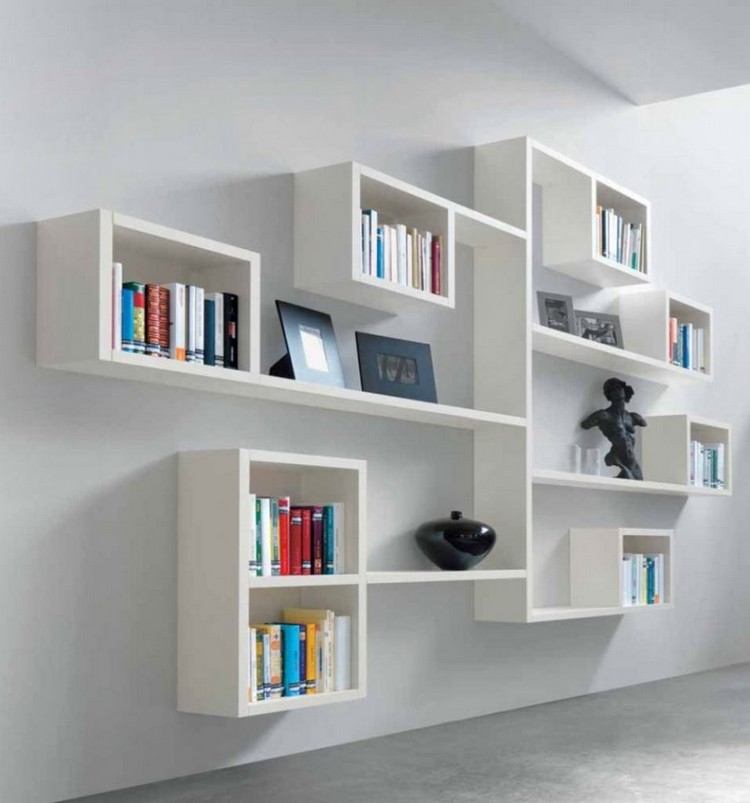 This minimalist shelf inspiration has been made with a branched model. The shape of this minimalist shelf reminds us of a diagrammatic form. This shelf is suitable for those of you who like to group items according to categories. For example, books are grouped by color or genre. In addition, the presence of this wall shelf can make your living room look neater. Then, for the color, you should choose a color that matches the minimalist living room wall so that the living room design feels more comfortable.
Standard wall shelf model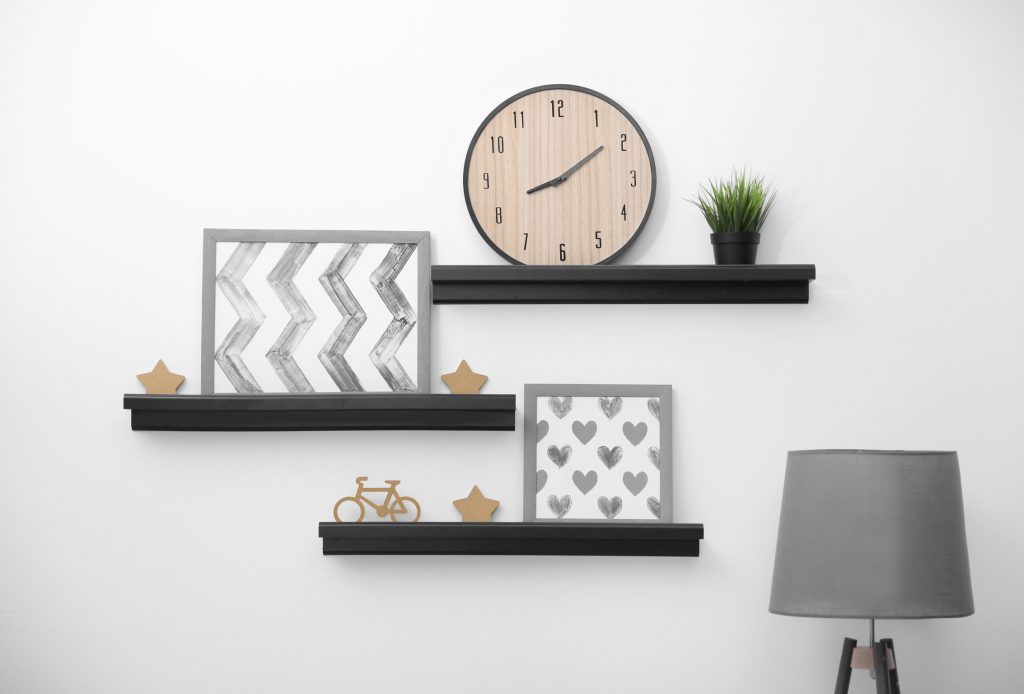 This wall shelf model is a standard shape used by many people in various rooms. This shelf has the form of a tiered plank with three stacks of boards attached to the wall. The wooden wall shelves are usually brown but can also be painted in the desired color. Usually, a wall-mounted shelf with this model is installed in the living room or lounge. To look more attractive, put a wall clock, accessories, and beautiful flower pots. That way, the atmosphere of your living room will be more attractive.
Wall shelf in the form of a house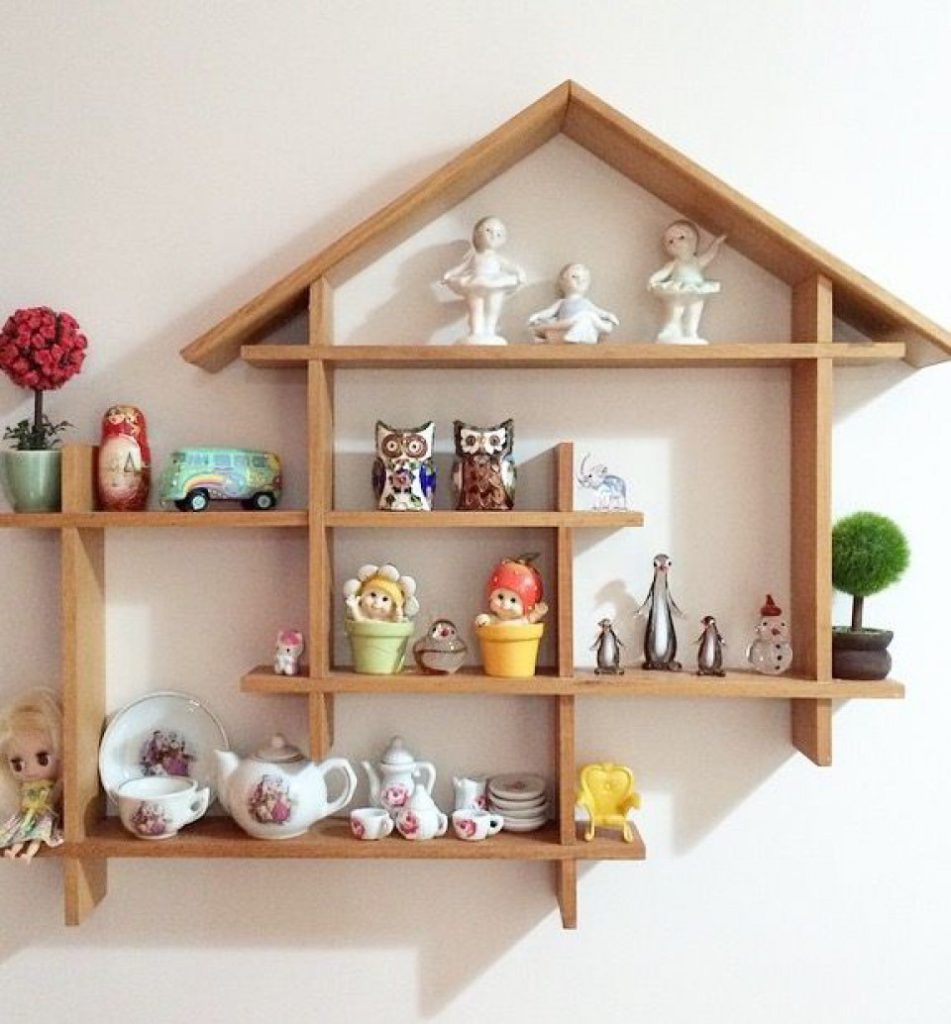 This outboard wall shelf has unique shape because it looks like a house. With a triangular shape like the roof of the house, this wall shelf looks artistic and unique. As you can see, this shelf is made of wood and has usually used in several living rooms. With its artistic design, this shelf is suitable for decoration in the living room. That way, Your living room will be more beautiful with some of your favorite collections on the shelves.
Tree trunk wall shelf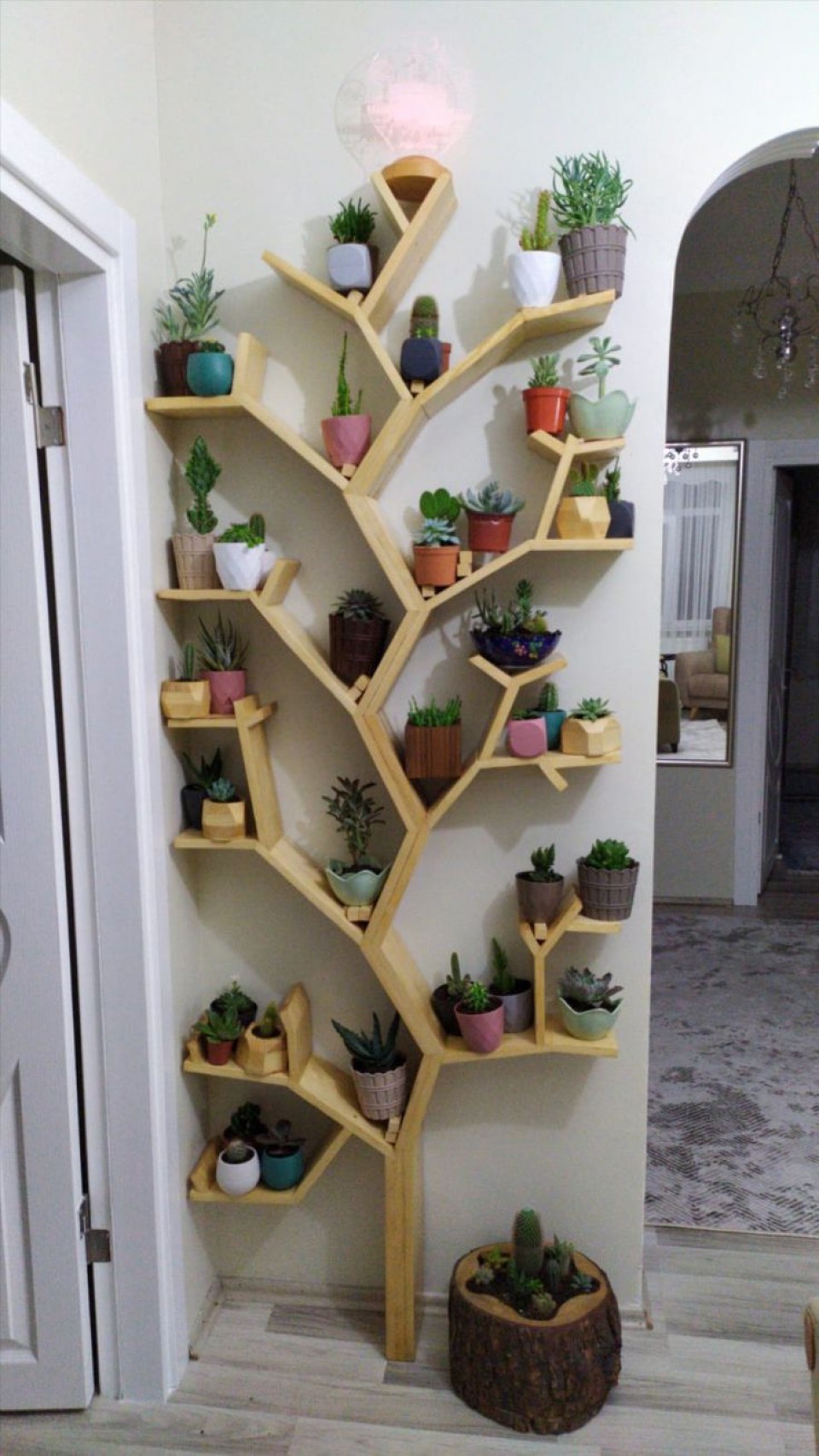 If you are a creative person, you must be trying to create your living room to attract the attention of your guests. Then, for people who like ornamental plants or just for wall decoration, you can choose a shelf with the shape of this branched tree trunk. This wood material has indeed arranged in a shape like a tree that has many branches as a storage area. With the unique design of this shelf, it can accommodate a number of ornamental plants in small pots so that your living room looks beautiful and charming.
Wall shelf with mirror model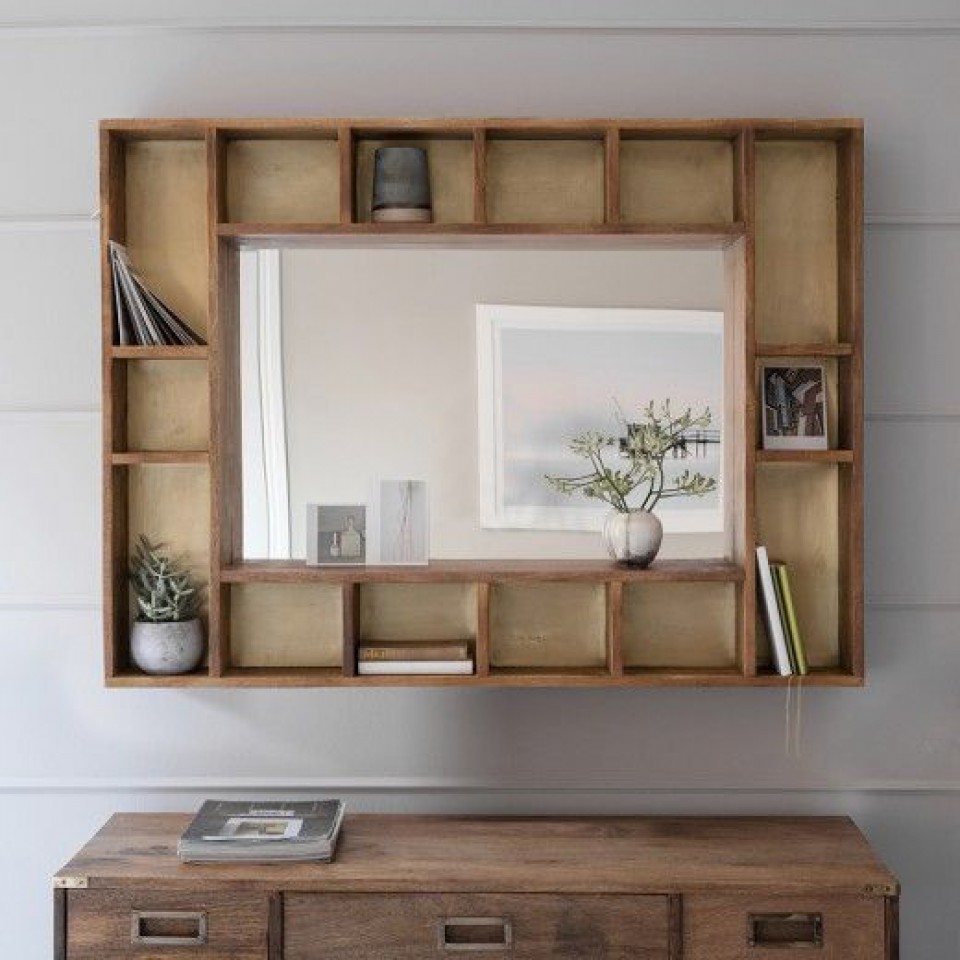 Having a beautiful living room is everyone's dream. Then, to make it, you have to arrange your living room with beautiful objects. As you can see, this wall shelf has a mirror in the middle surrounded by a wooden box for storage. With a mirror on this shelf, of course, it can give the impression of being spacious in the room. In addition, can be used for storage of goods so that the living room looks neat and not messy.
Wall shelf with toy shelf model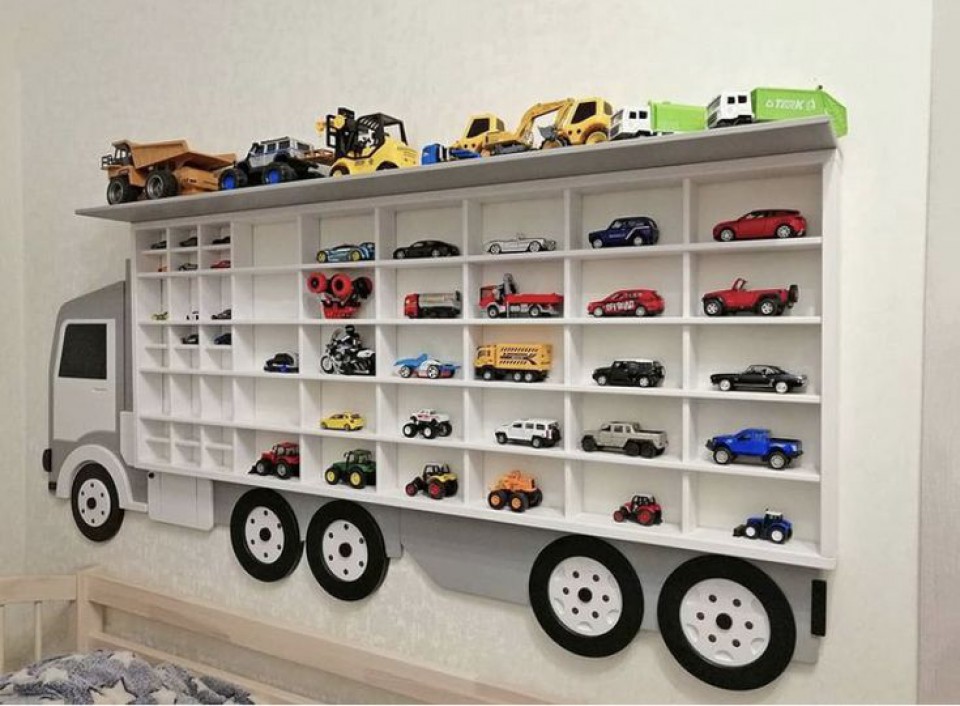 If you are happy with the unique and antique design in your living room. You can make the wall shelf above an attractive icon. It will certainly attract the attention of your guests who visit your home. They will be happy to see a different living room. Then, to make it look more attractive, you can put some of your child's favorite toys on this shelf. With this unique design, your living room will look different. Then your children will feel at home and enjoy playing in this place.
4. Conclusion
From some of the wall shelf designs we have reviewed, we hope you are interested in one of the above wall shelves. To make your living room look attractive and different, you don't need to bring expensive furniture and spend a lot of money. With ideas and inspiration like the picture above, we hope your living room design will look aesthetic, beautiful, unique, and attractive. Hopefully, this review is useful for you and your family. Happy decorating!