1. Overview of decorative light
If you are starting to feel bored with the monotonous appearance of your living room, then you want to change and renovate the style of your living room without spending a lot of money. Therefore, we provide the right solution, that you only need to install decorative lights in the living room. In this way, your living room can look brighter and more stylish without spending too much money.
The application of living room decorative lights has many benefits. Apart from being a decoration that attracts attention, the room can also get more adequate lighting. In this article, you will also see a lot of how each inspiration gives a more charming and warm living room style. Everything aims to make your living room look elegant.
You are interested in installing the living room with decorative lights. Of course, you must select the best model to make the living room cooler. Don't forget, please choose some of the best decorative lighting models as per our explanation below. Therefore, let's look at our article.
2. Various models of decorative lights
We know that many models of decorative lights have sold in lamp shops that sell room decorations. The models range from the simplest to the most luxurious. But you have to choose the lamp according to the model of the house and the price. Therefore, if you want to decorate your living room with decorative lights, please select a lamp that matches the size of your living room so that your living room looks beautiful and harmonious. However, decorative lights are not used in the living room. However, you can also decorate the dining room with these objects. So that your dining room looks beautiful and charming, and it can make your appetite increase. For that, we will explain the decorative lamp model as our explanation below.
3. How to install the lights
If you want to install lights on the ceiling, you can install them yourself. You know that crystal chandeliers have usually installed by tying a chain to the ceiling frame. So that it has strength and does not fall off easily.
Meanwhile, spotlights are usually designed using the lamp cover itself and can be put on the walls or ceiling of the house. Then, For the table lamps and standing lamps, you can put them beside the sofa. Then, you need to pay attention and install the lights in the right place so that the room decoration is more lively and warm.
4. Some examples of decorative lights
As you have seen in a lighting shop, decorative lamps have a variety of models. Many a decorative lamp model hung on the living room ceiling and dining table. Usually, has made of crystal, glass, and plastic. Usually, this lamp model is broken down and hung using an iron on the house ceiling. So when the lamp is turned on, it will emit a beautiful glow of light. As we know, these lights are widely used in luxury homes and hotel lobbies.
Then another model that we always find is decorative spotlights. This lamp has usually installed in the living room or the corner of the room and the wall. Then the installation uses an iron frame. Then, highlight one object that is an icon of the living room, such as paintings, wall hangings, and antique accessories. The goal is to make the room look more attractive and stunning.
Then, there is a decorative lamp placed on a corner table or a standing model placed next to the sofa. This model is usually designed for room accessories and decorated to make the room look more lively and more attractive. Therefore, this lamp is widely used in small and medium-sized minimalist homes. For that, let's discuss one by one image below. We hope one of these images can be your idea and inspiration. Welcome to our review!
3 accent hanging decorative lights in the living room
If you already know the function and role of each of the existing living room decorative lights, you have to adjust them according to their respective portions. But it all depends on the arrangement or choice of the chosen living room decorative lights, try to refer to these 3 main principles, and you will get a beautiful and cozy living room to the maximum. Then, for the room to look more beautiful with the light, add sofa sets, tables, floor rugs, and accessories in the living room. With this design, your living room will look beautiful and charming.
Festive living room decorative lights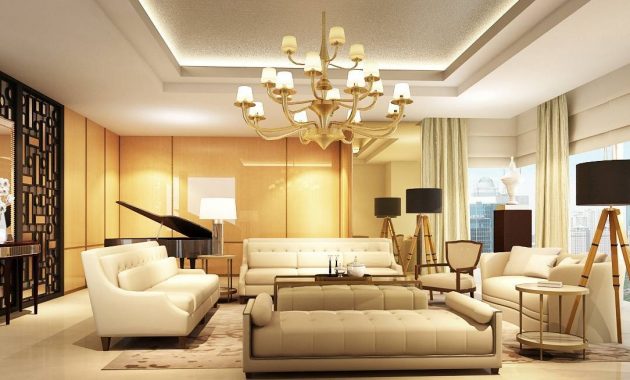 With the lighting from different living room decorative lights, it will look cool. For that, you can experiment with the placement points in order to create a living room with the right hanging decorative lights.
Then, it seems from this inspiration that a chandelier stole the attention, but if you look closely, you will find several chandeliers behind the ceiling, a floor lamp, and several lamp pots. All of these living room decorative lights look the same and are not heavy. So that the light look bright, add to the living room a sofa set, table, and accessories. With this design, your living room looks luxurious.
The tube model hung on the ceiling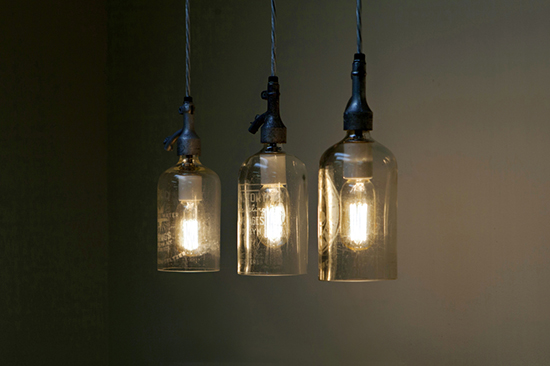 large living room will usually need decorative lights. In some cases, standard lamps can be a good solution, but if you want to get a more beautiful glow in the room, please consider using chandeliers neatly around the room. Choose a living room decorative lamp with a simple and firm silhouette. The addition of this frame or frame also makes the room more neatly structured. For that, install this lamp in the right place so that the accent looks unique.
Living room decorative lights from behind the ceiling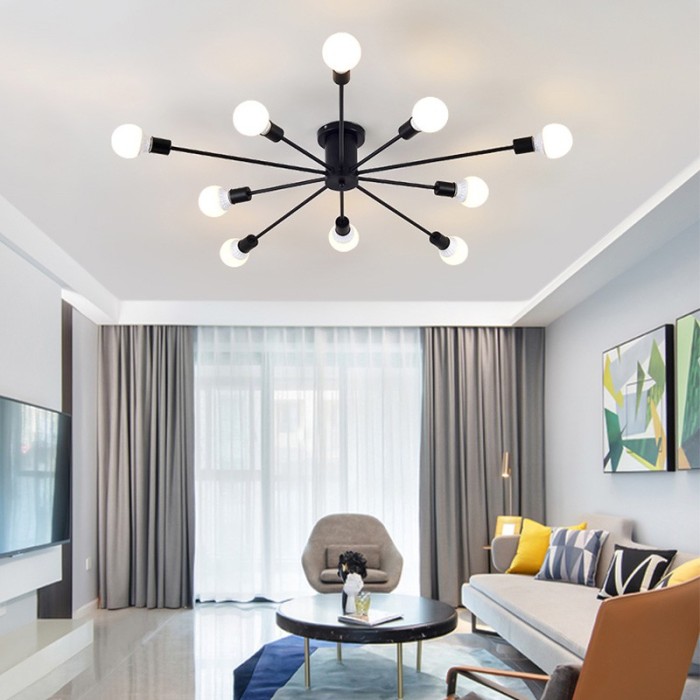 Playing decorations with decorative lights in the living room and from behind the ceiling is also a brilliant idea that should not be missed. Not only will you get a unique soft glow, but the architectural details of the interior of a living room will appear more stylish.
Incandescent lights from the ceiling do not sting, but they can always give the interior a feel that feels exclusive. Especially when combined with a carpet with a textured surface, like the inspiration above. The appearance of this living room looks more unique. Then, to look more attractive, design fixtures with colors that match the room so that when the lights are turned on, the living room looks lively and fascinating impression.
Curved standing decorative lamp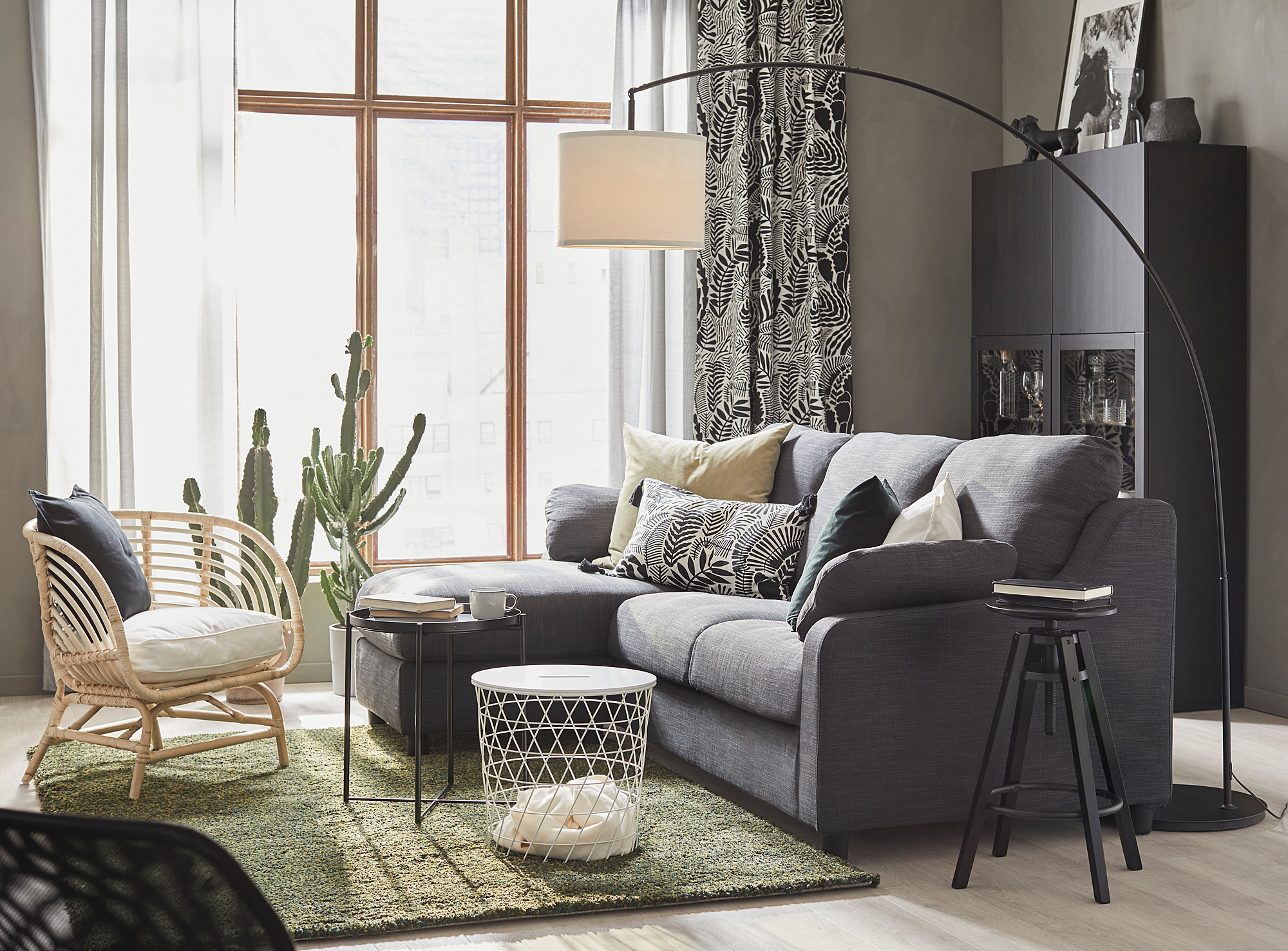 If you don't like playing with living room decorative lighting accents from behind a ceiling peek, you can still create a beautiful central lighting atmosphere with this curved-style living room decorative lamp. This specially designed lamp tube model looks perfect in a living room like this.
Then, living room decorative lights with this curved style are usually high enough and safe to use. Living room decorative lights that use this bulb also usually have a modern style. So it is most suitable for a contemporary-style living room. For the light to look lively in the living room, decorate it with a gray sofa, a unique table, and ornamental plants. In this way, the atmosphere will be more cheerful.
Living room decorative lights are flexible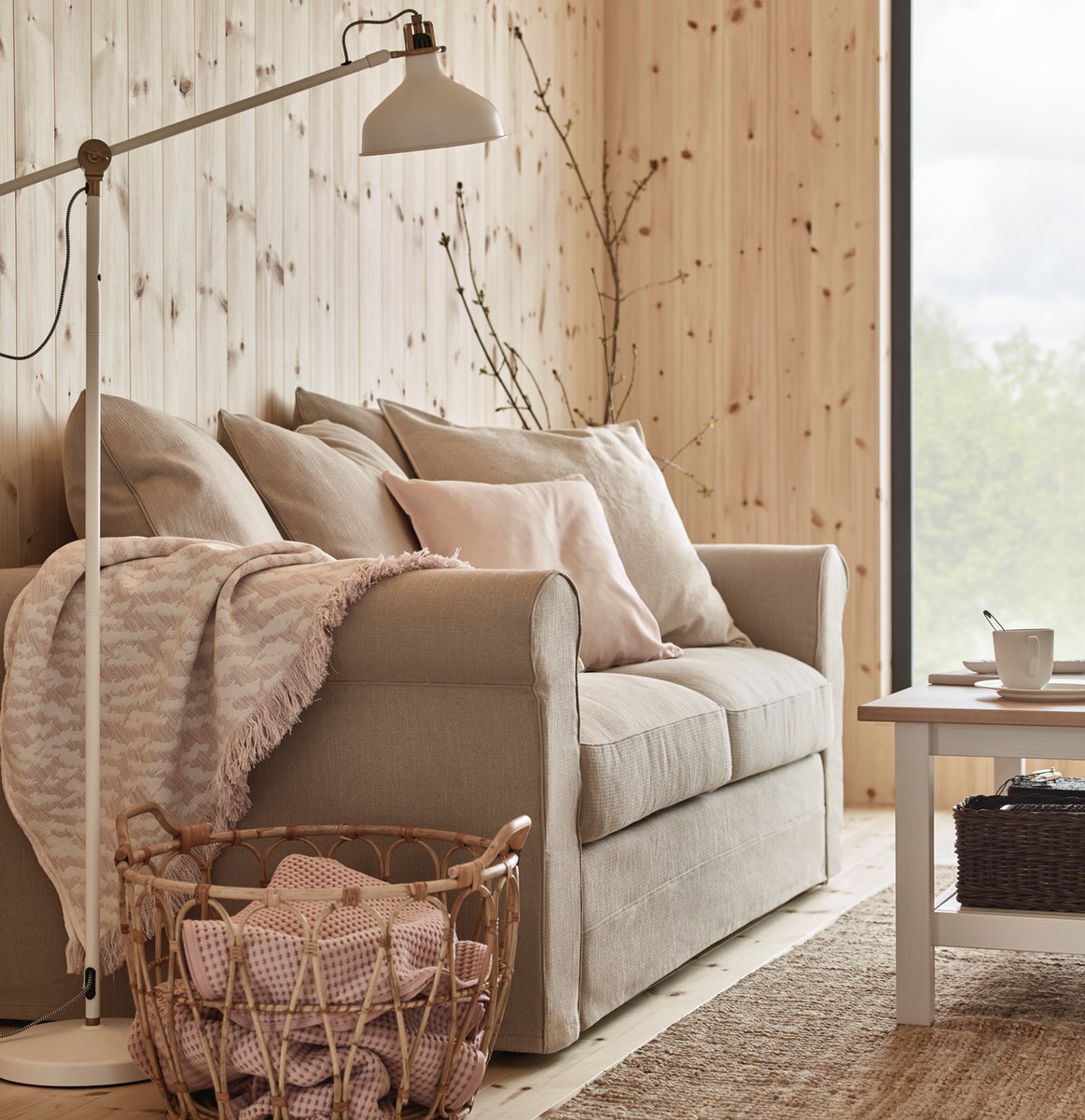 Making the living room style with beautiful and unique decorative lights. This inspiration uses two standing living room decorative lights pinned at the right height above the sofa set. Then, this living room decorative lamp is equipped with a handle that is quite flexible and strong. So it can be shifted and adjusted according to your need. With these modern elements, the living room decorative lights have guaranteed to be very functional and decorative at the same time. Then, decorate the living room with minimalist colors so that the light at night makes your living room cool.
Wooden decorative lamp standing lantern model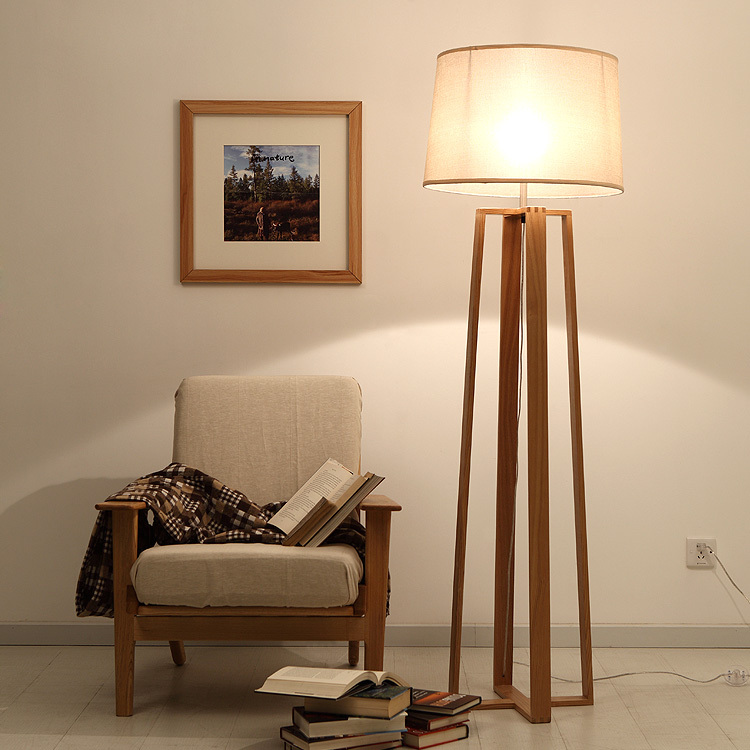 Having a living room with high ceilings can make you are difficult to decorate and install the right decorative lights. So that the living room can appear optimally, you can consider including a living room decorative lamp that stands out and attracts attention, and does not take up space.
Then, pay attention to the position of the lights correctly so that they can become part of the living room that blends with the other room. As far s we know, the inspiration for such a case can see in the example above, where this sputnik-style lamp provides separate light in different directions but still brings it together with the room. Then, to look alive, you must decorate the living room with wooden furniture. That way you will feel a warm atmosphere.
Old-fashioned hanging decorative lamp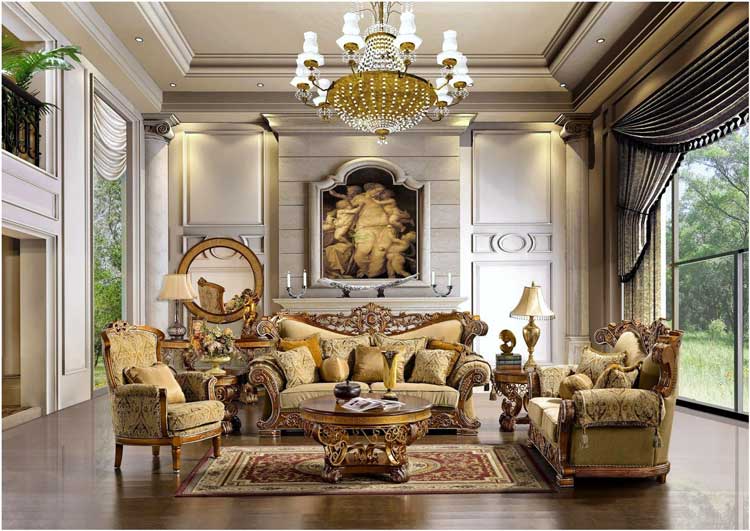 You can install a living room with a candle model decorative lamp in your living room. There is no rule that requires the living room to appear uniform. Even experiments with different living room decorative lighting styles can be a cool idea that you didn't expect before.
In this inspiration, there are chandeliers in ancient and modern styles. Then, not to forget, there is also a unique table lamp that manages to create a mix of characters that is quite prominent. With different styles and eras, the result is a living room idea that is warm, stylish, and chic.
Chandelier crystal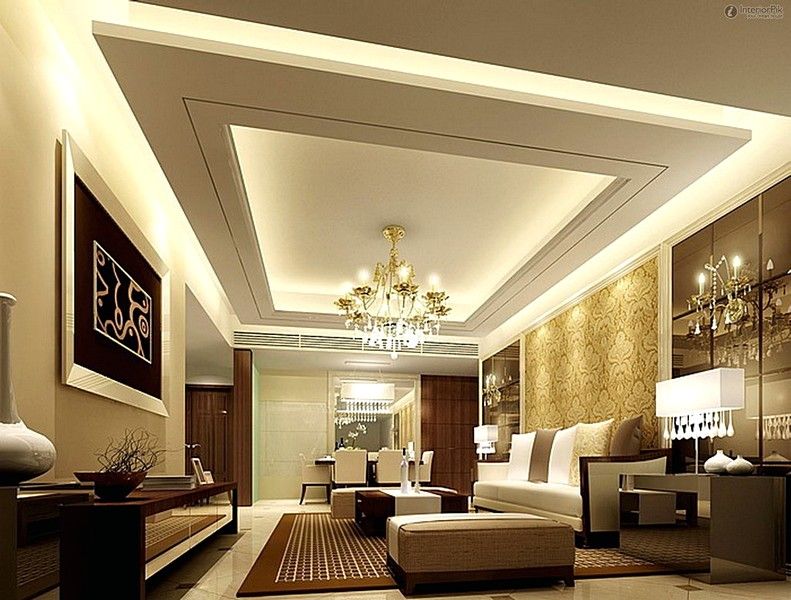 Arranging lights is not as easy as you think because you have to adjust to the model and area of ​​the room. Then, for a luxurious living room, you can arrange it with hanging crystal lights to make it look fun. Then, to be even more attractive, you can mix and match the spotlights on the left and right ceilings in this room. That way, your room will look bright and make everything in the living room look cozy. This design will make you feel more comfortable and calm.
5. Conclusion
If you want to feel an aesthetic and comfortable home, we present the best decorative lamp model. Then, to decorate your room, you should choose the best lamp model so that the appearance of your room looks attractive, beautiful, luxurious, aesthetic, and bright.
Therefore, we have explained some decorative lighting models for your home decor. Then to install it, of course, you have to spend money if your house has to be decorated by a home decoration company. But if you don't have enough money, you can install it according to the drawings we describe. Hopefully, you can make something like this picture. Hopefully, this article can help you to create and organize your home. Happy decorating!