Nexthomegeneration.com – Beautiful rustic dining room can give you a unique impression with stunning color combinations and furniture materials. It also has a fresh air circulation that can make us feel healthy while spending time in our home. We can have a unique design that will be different from others and won't look monotonous. Besides the home building, we should pay attention to decorations in our rustic house interior. Wall decor is one of the interior styles that should pay attention to to prevent ruining our home concept. We can use various materials to decorate it such as wallpaper, color painting, or plate. Do you know plates not only can be made for eating but also can be attached to the wall as decorations? This time besides we will give you some rustic dining room ideas, we also give you some inspiration to decorate your dining room wall.
Beautiful Rustic Dining Room Ideas
A dining room is the best room to enjoy our meals in the home with family or alone because we can prevent making other rooms dirty. Decorations are also necessary because we can feel cozier than don't use them at all. It is easy to make our dining room look beautiful because we only need simple decorations moreover we will apply a rustic interior style. A simple tablecloth can be added and we can combine it with beautiful dining chairs.
Simple Rustic Dining Room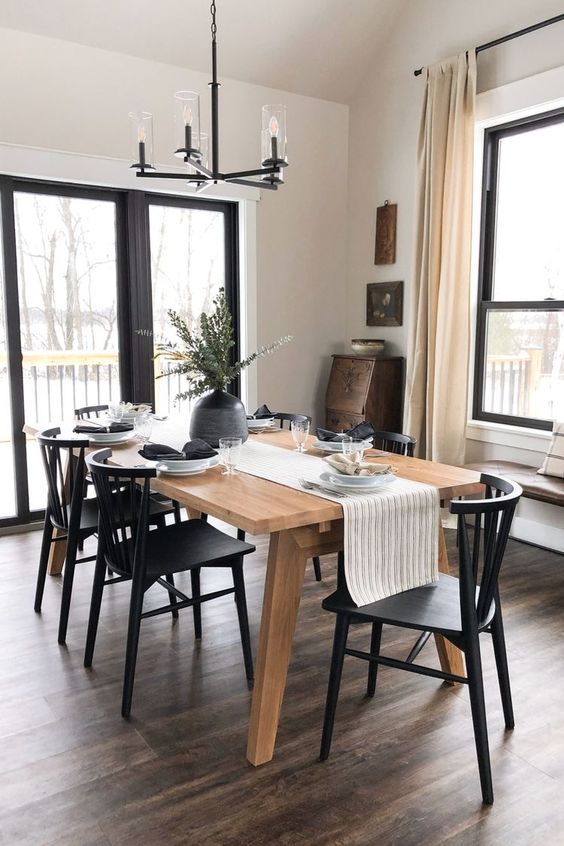 A simple concept in the rustic design can be made only by adding natural furniture design. We can combine them with dark brown wooden or laminated wooden flooring tiles that only use to change a solid wooden tile because it is cheaper. We can add black dining chairs and a wooden table because both have a natural impression and are very preferred to be added in a modern rustic interior style. If you feel confused to choose the perfect lamp for your dining room, a black pendant lamp can be installed to make it feel bright. Don't forget to beautify our window by installing a long beige curtain because it doesn't look monotonous.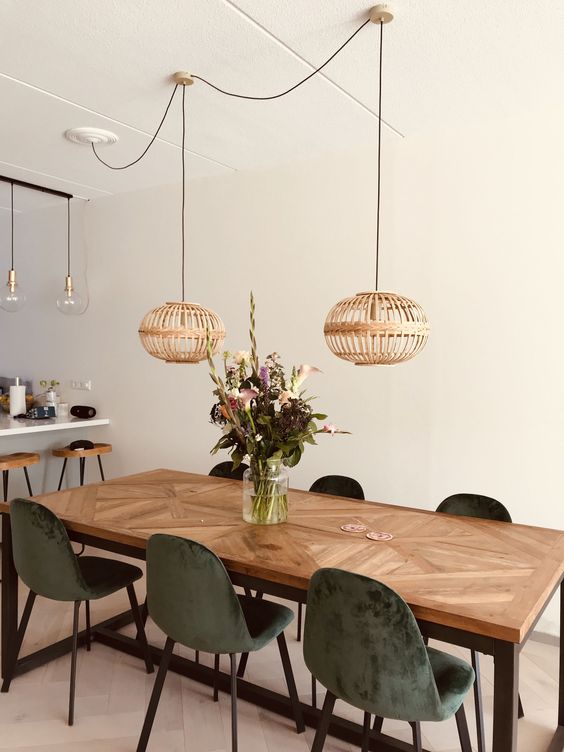 Do you want to eat like in the cafe? If you do, we can paint our wall with beige painting color and don't forget to choose a simple wooden dining table. Green velvet materials dining chairs are suitable to be added because it looks elegant and beautiful at the same time. We can also combine flowers and some other plants then add them to the vases. Besides iron materials that can be chosen for a rustic dining room, we recommend a rattan pendant lamp. It brings a beautiful and natural design that can create a stunning rustic interior style. For people who want to make a rustic bathroom doesn't close to a living room, it can be made near a dining room or kitchen.
Farm House Rustic Dining Room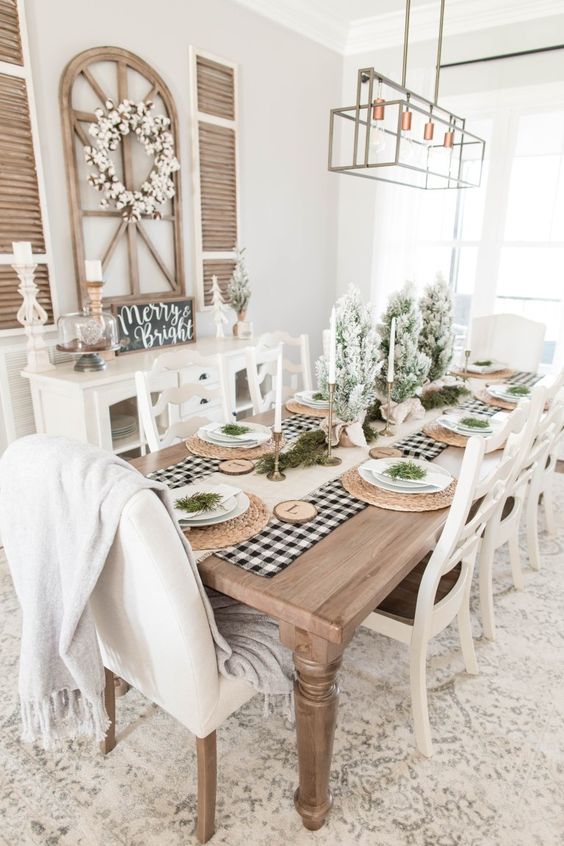 Some people might barely add a carpet in their dining room and often using a rug as a pedestal. Actually, we recommend adding a carpet because it can make us feel warm while eating. A white fluffy carpet can be added as a pedestal. To create a perfect combination, we can paint our wall light grey and white. Wooden dining tables and chairs with a checkered pattern table cloth are very suitable to be added in a rustic dining room. Don't forget to add some white plates with rattan placemats to create an aesthetic interior design.
Luxurious Rustic Dining Room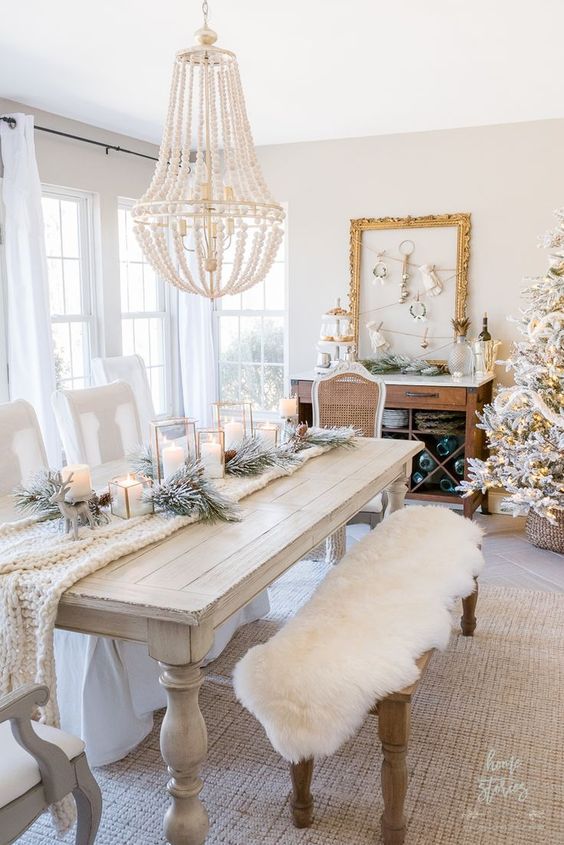 A luxurious and elegant concept is popular this day because it looks very stunning and can be combined with rustic interior style. A unique impression from rustic design gives a different look if we add some elegant furniture and decorations. Don't forget to add a rattan carpet as a pedestal in our dining room. We should choose a beige wooden table and add some dining chairs in the same colors. If we want to have our dining room look more fascinating, a fluffy dining chair can be added because it has a soft texture and unique design. It also can be placed in the modern rustic bedroom to make us feel comfortable while spending time or sleeping.
Modern Rustic Dining Room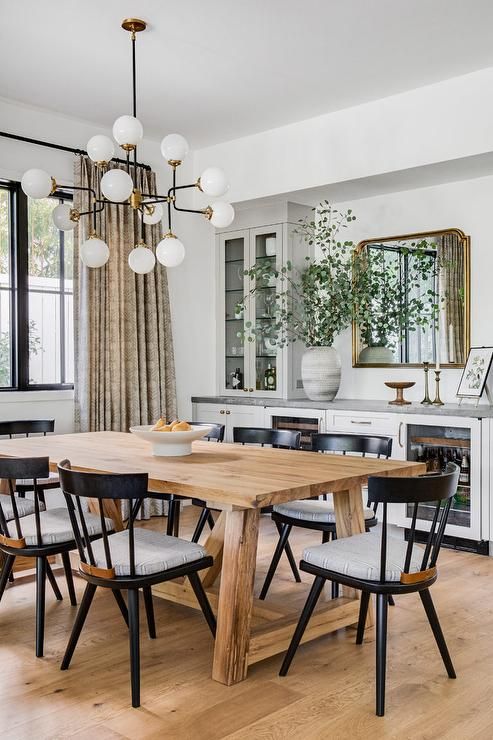 For those of you who want to have a fresh atmosphere in your dining room, we recommend applying a modern rustic dining room design. It looks trendy and won't look monotonous because we will combine rustic and modern furniture at the same time. The design is also very preferred for people who don't love dark colors. Choosing a suitable chandelier is necessary to do because it gives a lot of effect to our room style. Similar to other designs, a wooden dining table should be added to a modern rustic concept. It will be complete if we choose black dining chairs to make it look harmonious. To prevent making a mistake while applying the concept, we should get to know more about the rustic interior style.
Wall Plate Decorations
Plates are not only can be used for eating but we can also make them for decorating your room. We can attach them to the wall and make sure we choose a beautiful color and pattern to create a stunning look. However, there is various plate design that might make us feel confused to choose them. This time, we will give you some recommendations and how to create wall plate decorations to make your dining room looks unique.
Flower Pattern Plate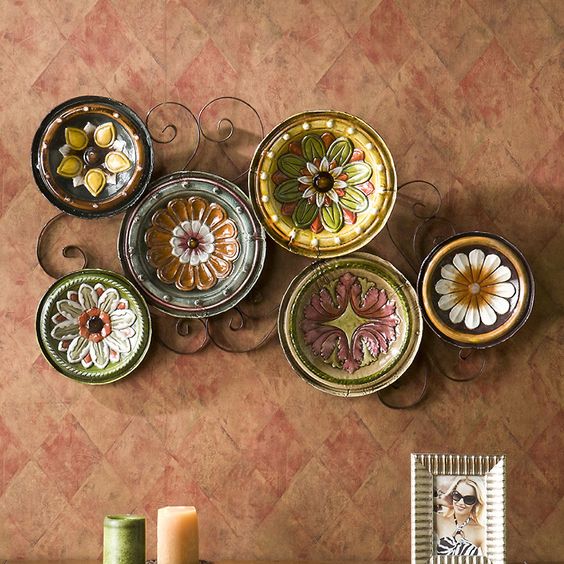 A feminine concept can be applied if we add something that has a beautiful design and looks colorful. Generally, flower patterns are always found in the feminine style because it is identic. We can choose it in different colors to each other to prevent make it look monotonous. We only need to attach them to the wall and let it beautifying our dining room.
Blue And White Plate Decorations Concept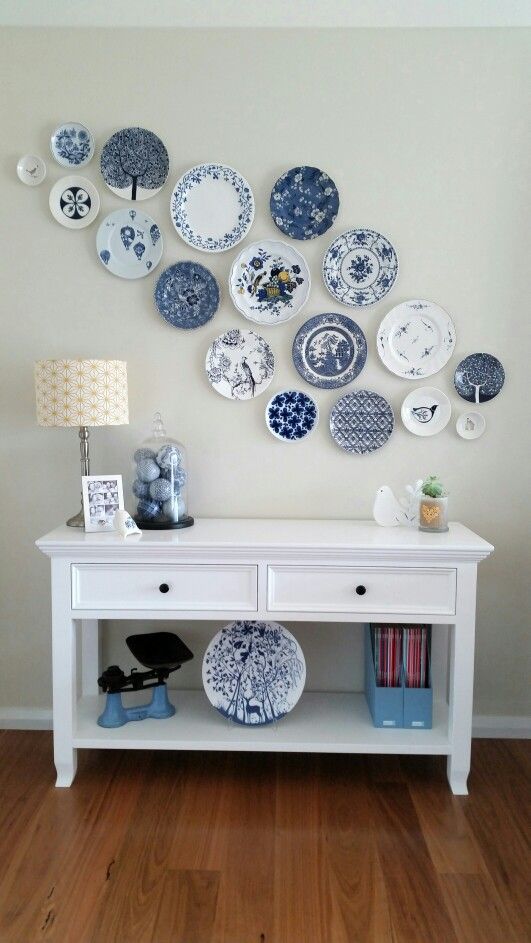 A bright home is suitable to have blue and white color decorations because it looks natural and has a simple design. It is preferred for any interior design and one of them is a rustic style. We can attach blue and white plates to the wall and combine them with a white table then some other decorations can be placed to create a beautiful impression.
Rattan Plate Wall Decorations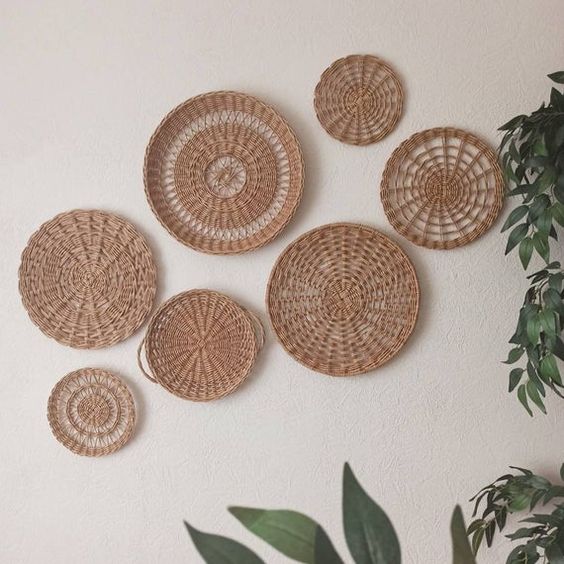 Besides boho interior style, we can also add rattan materials to make strong rustic home decorations. We should attach some rattan plates to the wall to create a beautiful look and make it feel natural. Don't forget to paint our wall a beige color because it is very suitable to be combined with them.
Conclusion
Some people might think a plate can be used for other functions but after reading this article, we guarantee it can be used for anything and one of them is as a dining room decoration. Besides paying attention to it, we should consider the quality and color of furniture to make us feel comfortable while eating.