Nexthomegeneration.com – Do you have a green lawn in your home? If you have it, we can change it into a beautiful backyard. Decorating your lawn by applying rustic backyard design ideas is the best choice to do to create a stunning home exterior. We can feel confident to hold a party with a garden concept because our place looks beautiful and unique at the same time. Do you know a rustic design? It is a stunning style that has its own characteristic that won't be found in others. It also has rough textures in their roof, ceiling, or wall that creates a stunning impression. If we want to apply it to the exterior especially a backyard, we should add some tables and chairs with DIY rustic decorations to create a fresh and fascinating impression. Don't forget to add some plants to create a natural accent on our lawn.
Outdoor lightings are necessary things to be installed in our backyard because it can make our place feel bright and comfortable. Besides it, the lighting also can create a romantic atmosphere through its warm light which color is yellow. It can support the decorations that we will add to make our backyard feel beautiful. There are various lighting designs and types that we can choose as long as it is related to our concept. Rustic lawn decoration ideas with outdoor lighting recommendations from us can create a perfect impression on our home exterior.
Rustic Backyard Design Ideas
A backyard is one of the exterior parts that should be our attention to make our home won't look messy. We can make anything that we want as long as it is suitable for our taste. Some people build a swimming pool or only let it have a natural concept by growing various plants. Actually, it can look prettier if we decorate it with beautiful decorations and apply an exterior design that has a different impression. A rustic style is suitable to be applied for people who want to have a cozy and aesthetic impression at the same time. Today we will give you some rustic backyard design ideas that will make your home exterior looks stunning.
Dark Rustic Backyard Design Concept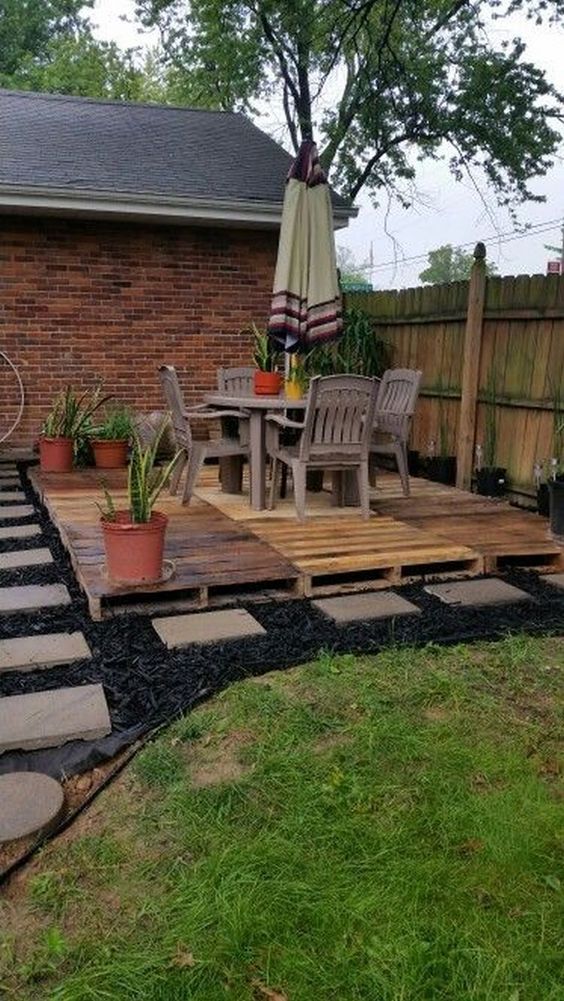 For those of you who love dark colors certainly will be suitable to apply this design idea. It has black decorations that create a stunning design concept. We should spread black sand or pebbles as decorations, but if you want the backyard to look more natural, we can use some charcoals. Some stones path can be added to create a beautiful impression and we can choose different shapes as long as it is suitable for our concept. Don't forget to always give the best maintenance for your lawn to prevent ruining a beautiful view. Some tips for a healthy lawn might useful for us who don't know how to take care of it. We can apply wooden flooring tiles in some parts and add a dining table set to make us feel comfortable while staying. Don't forget to add some plants to create a fresh atmosphere.
Fresh Rustic Backyard Design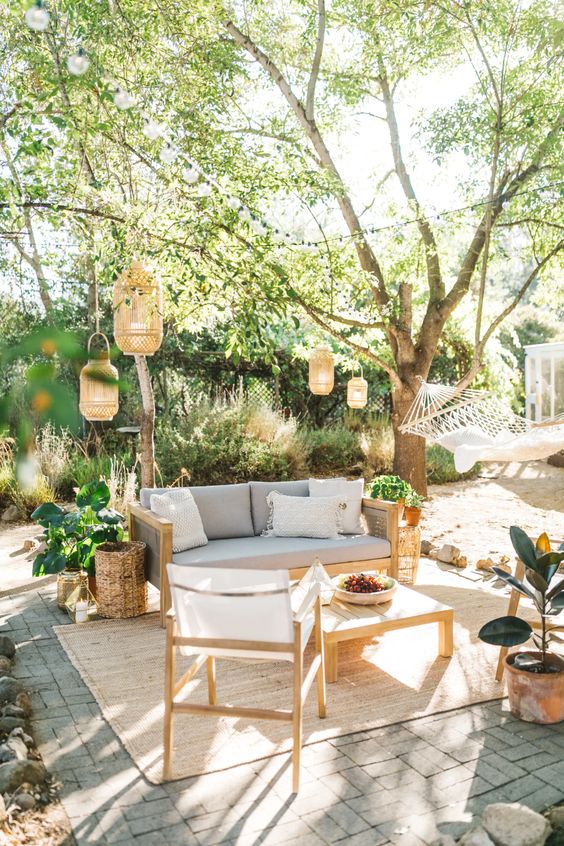 Some people might love a simple impression than an elegant or dark concept. For those of you who are one of them, we recommend applying a simple fresh rustic design concept to make you feel comfortable spending your time with family or friends. We can apply some stone flooring tiles to create a strong space that we will use to create a cozy backyard. Don't forget to apply the design under a tree because it can create a cool atmosphere and prevent hot sunlight at the noon. A light grey sofa with a chair is suitable to be added and add a table to make us can save our important things or want to put foods and drinks. Some little rattan pendant lamps can be hung to make it still feel bright at the night.
Rustic Backyard Design Ideas Without Grass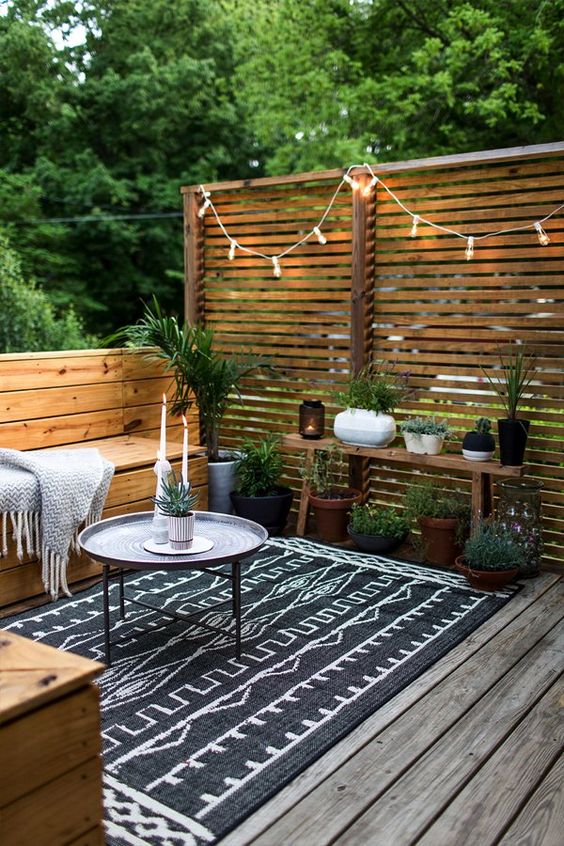 Some people might doesn't have a lawn or grass in their backyard but still want to have a beautiful impression with a relaxing place. We recommend applying solid wooden flooring tiles and add wooden cladding as a wall. Don't forget to install a fairy light to create an aesthetic impression of our backyard. A black and white rug is also necessary to be added to prevent making us feel cold while staying at the night. If we want to have a strong rustic accent, we can make a wooden chair by ourselves. A round table should be added to replace some decorations like a candle. Don't forget to add some plants because they can create an unmonotonous look to our rustic backyard. We can also have them in our rustic living room to make our home interior and exterior look stunning.
Cool Atmosphere From A Big Tree Rustic Backyard Design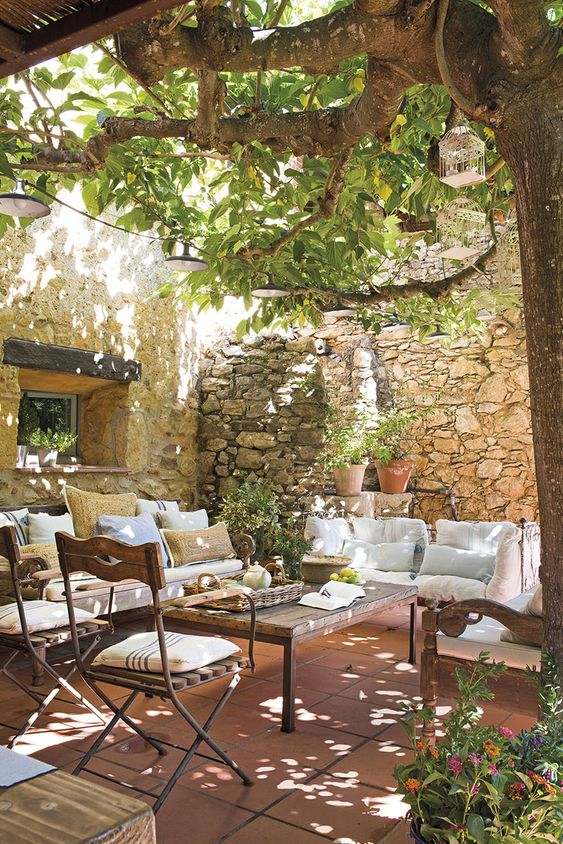 This idea is suitable for people who don't have a lawn and we should apply it to create a beautiful backyard. It is better if we have a big tree to create a natural cool atmosphere that can make us feel comfortable. Some chairs and sofas with a wooden table should be added on orange ceramic tiles. Don't forget to make a wall by using some stone tiles to create a nature concept. Besides, make the backyard feel cool, a big tree also creates beautiful shadows because it is a little bit complicated to find in other places. A rustic accent always can feel strong if we choose wooden materials for furniture selection. We can make it near the minimalist rustic bedroom to make us can feel cozy while sleeping.
White Pebbles As Decorations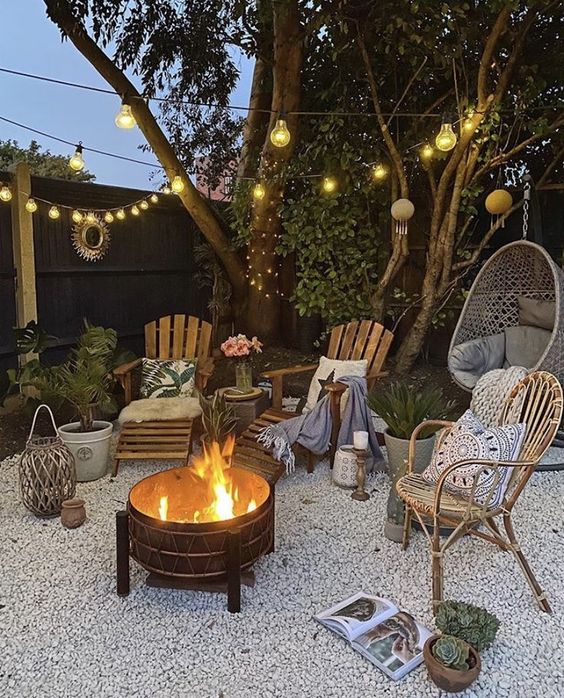 The last rustic backyard design idea from us is to spread some white pebbles to create a beautiful concept. Wooden chairs and a rattan chair can be added with a round fireplace to create a cozy feeling. We can spend our time and warm our bodies in the backyard with families or friends. Don't forget to hang some fairy lights by utilizing branches and our roof to make the backyard feel aesthetic at the night. The pebbles also preferred to be added to the small rustic bathroom as decorations.
Rustic Outdoor Lighting Recommendations
A backyard can't look beautiful or aesthetic if it doesn't have lighting to create a bright impression. There are various lighting types that we can choose but we should know a suitable design for our rustic concept. It also has a different function to each other and that's why we will give you some rustic outdoor lighting recommendations. It might help you to create a stunning backyard design.
Post Lights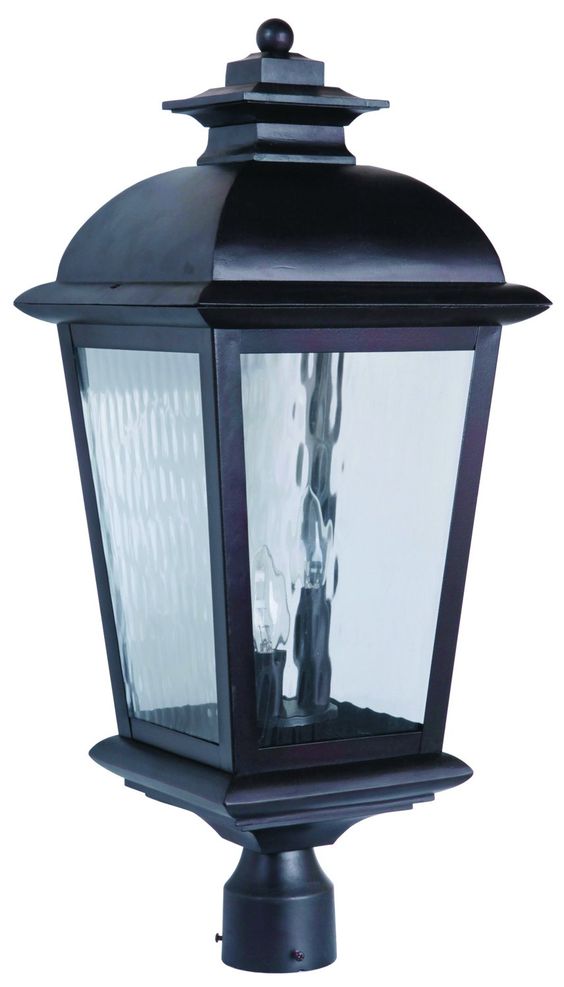 The first recommendation is a rustic post light with beautiful black color. It can be added to the backyard to make it feel bright and aesthetic. It can also be a vintage selfie place because it looks stunning and unique at the same time. By growing some flowers on our lawn, we can create a fascinating combination by only adding the rustic post light. It can brighten certain places so it is suitable to be added near our chairs or a door.
Globe Outdoor String Lights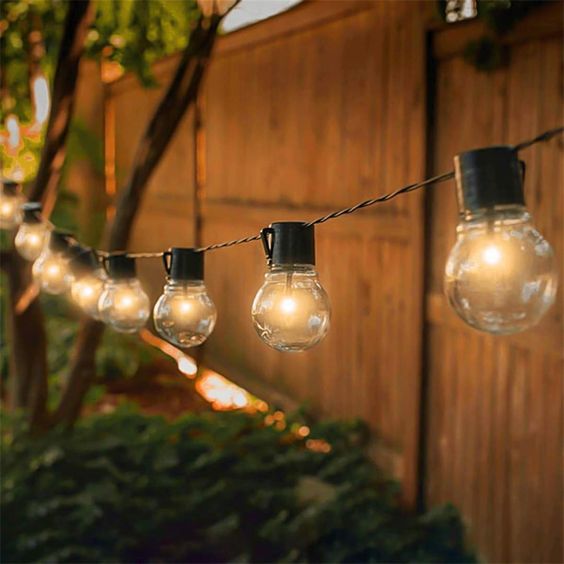 Do you want to have a romantic feeling without using many decorations? If you do, we should add a globe outdoor string light to our backyard. Without adding many things, we can feel like in a romantic place with a warm atmosphere. Despite can be installed outdoor, we can also install it in the modern rustic kitchen at Christmas or other special days.
Rustic Bamboo Lantern Lighting
Are you looking for natural lighting? We recommend choosing a bamboo lantern to create a cozy impression. It has warm light with a natural design that has materials from nature. We can have a stunning backyard by hanging it where the bamboo lantern is different from any lighting type. By hanging it, we can have a strong rustic accent and make us feel confident to invite someone.
Conclusion
Choosing a rustic lawn design with installing outdoor lighting is the best choice to create a beautiful home exterior. We should pay attention to furniture and lighting selection including our flooring materials to prevent making a mistake while applying the design. Best lamps and furniture can make our backyard look stunning and have a strong rustic accent.