Nexthomegeneration.com – Sometimes, we could feel lazy while cooking food for our family or even ourselves. There are many factors that can make us feel it and we should find the reason why we don't want to cook. One of the reasons is we have a monotonous kitchen so that's why we feel bored and lazy to make food. Beautifying a kitchen is necessary to do to make us comfortable while cooking or spending our time. We can apply an interior design that has a different impression from others and is easy to be applied. Do you know what it is? The answer is tropical kitchen-themed decor ideas. It will look beautiful and fascinating with a green color concept so it is preferred for people who feel stressed in their home. We can cook and relieve our stress in our home without going outside.
Suitable plants for tropical style are necessary to choose because we will need them while applying the design. They also make our kitchen have fresh air with a stronger accent that won't be found in any decoration. However, how to apply the concept and keep it always beautiful? Tropical kitchen-themed decor ideas from us will make you feel confident to show it to our guests. Some tips to clean a kitchen sink are also important to know for those of you who don't know how to make it look stunning. Now, let's get to the list!
Tropical Kitchen Themed Decor Ideas
We might find many ideas on the internet but we guarantee your kitchen will look amazing by applying our design. It has a beautiful and fresh impression at the same time that can create a different look from others. The main point to apply the best tropical interior style is we should know some tips for applying the tropical concept. We will give you five ideas to help you create a stunning kitchen interior design.
Simple Tropical Kitchen
For those of you who have a small kitchen, this concept is the best for you. We can add a dark blue kitchen cabinet to store our plates or anything that we want to save. A chandelier and some pendant lamps are suitable to be installed together to create beautiful lighting. A palm tree can be added as decorations to beautify the kitchen. We can paint our walls with pink color and apply some green tiles to make a stunning impression. A gold faucet gives us elegant looks that will make us feel comfortable while cooking. To make it feel brighter, we should install some ceiling lamps because it has strong light than other lamp types.
Tropical Green Color Concept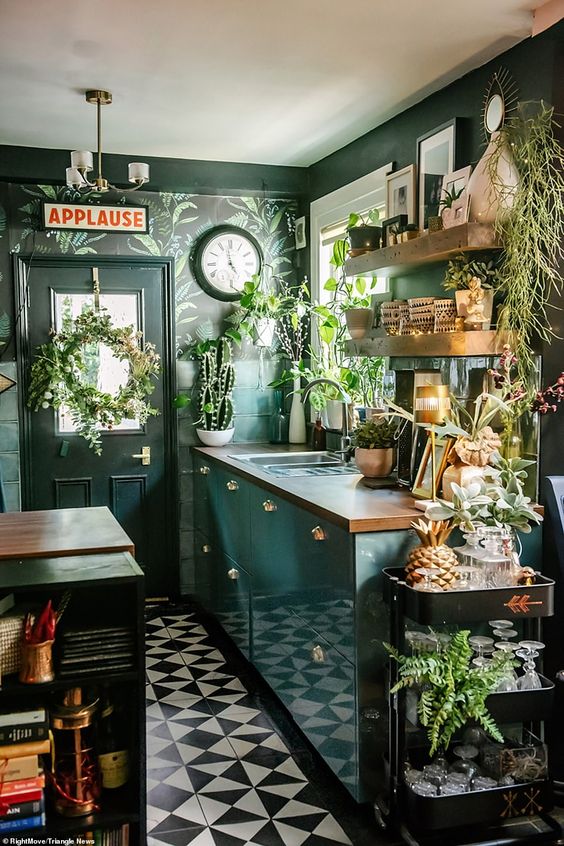 Black and white flooring ceramic tiles are suitable to be applied because they can be combined with a dark green kitchen cabinet. We should apply plants wallpaper to create a harmonious concept and make a stronger interior design. Don't forget to add vines, hanging plants, and a cactus to make a perfect tropical kitchen style. Wooden shelves are suitable to be installed on the wall and add some pictures or any decoration that we want to beautify the kitchen. We can make a tropical living room design near it to make our small space look beautiful.
White Kitchen Concept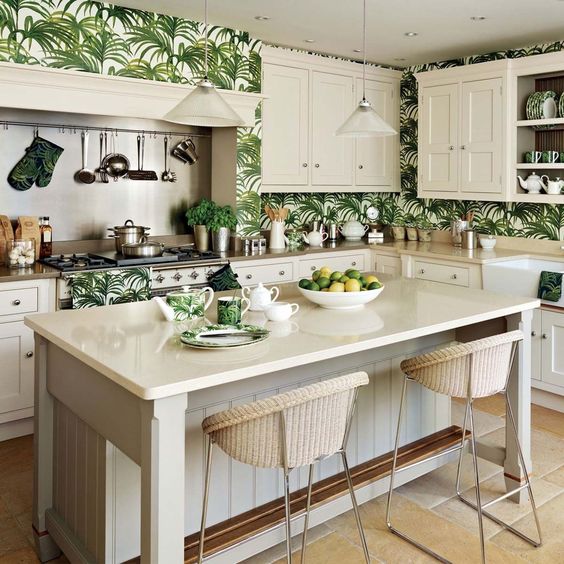 Do you ever think that the white color is not suitable for a tropical design? Actually, we can apply a white concept by adding some furniture that has relevance like beige color or light brown. Beige rattan chairs are suitable because they will make a harmonious concept in our tropical kitchen design. A white kitchen cabinet with a dining table can be added to create two rooms at the same time. If you have a small place we can combine a kitchen with a tropical dining room to save our space and makes our home looks wide.
Small Tropical Kitchen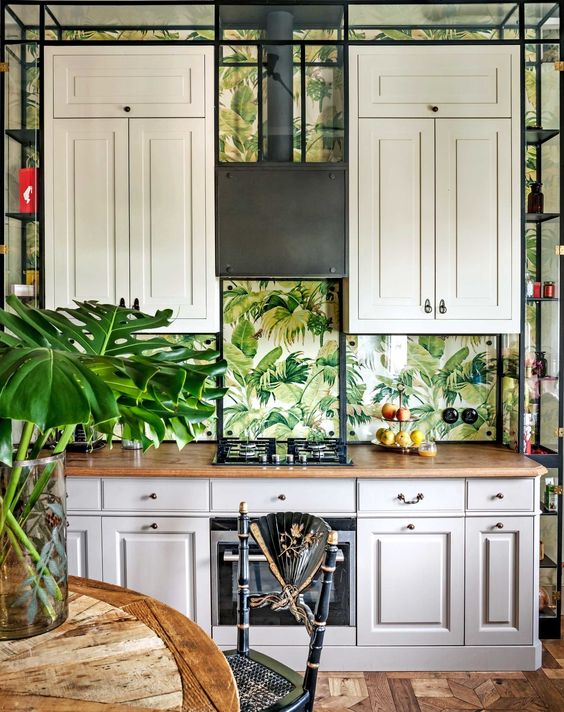 For those of you who feel confused about beautifying your small kitchen, we recommend applying a tropical kitchen-themed decor idea. It only needs a small kitchen cabinet and applies green wallpaper. Wooden flooring is suitable to be applied to create a stronger accent and make us have a natural concept. Don't forget to combine your dining room with the kitchen to make us can take the advantage of the space in our home.
Rustic Tropical Kitchen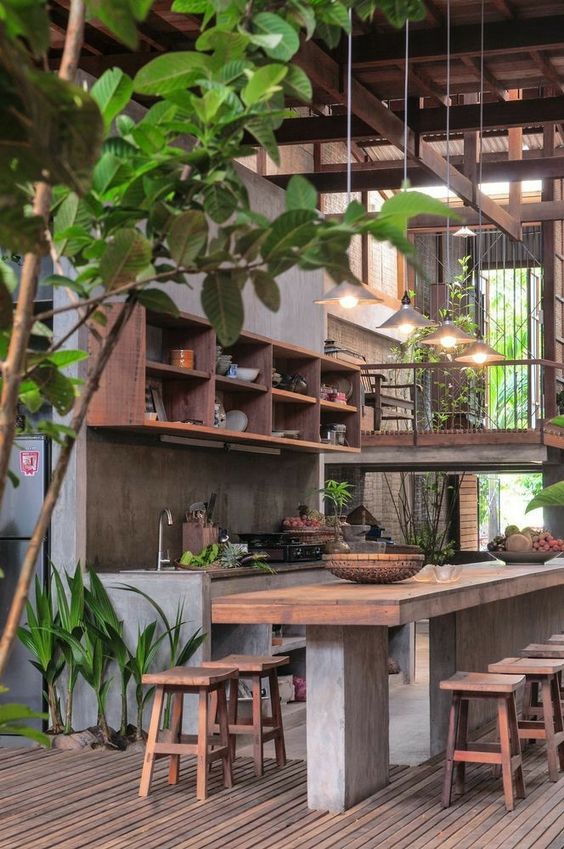 If we want to have a rustic concept, we should have wooden furniture such as dining chairs, tables, and shelves that can create a natural and stunning impression. Wooden flooring should be applied to create a harmonious concept in materials selection and avoid ruining the style. Don't forget to add some pendant lamps because it will be dark if we don't use lamps at all.
Tips To Clean A Kitchen Sink
Baking Soda. To clean a sink easily by using baking soda, we need to mix it with water until it has a pasta texture. We can spread it to the sink and brush it by using a scrubber then rinse the sink with water.
Olive Oil. Actually, olive oil can't be used to clean our sink but we can make it looks shiny by spreading it to our sink after we clean it.
Vinegar. Do you feel confused to make your sink have a good smell? We recommend using vinegar. We can use fabric and dip it into vinegar then wipe the sink by using it.
Coke. Besides, the coke has a delicious taste, we can also use it to clean our sink. Same with the vinegar tips, we should dip a fabric to it and wipe the sink until it has a clean impression.
Alcohol. Alcohol usage doesn't only clean our sink but also removes rust. We should wipe it by using a fabric that has been dipped into the alcohol and let it until your sink is clean.
Conclusion
Tropical kitchen-themed is a fascinating interior design that will make us feel comfortable while cooking. We can also enjoy our time with family or friends to make something delicious in the kitchen. We should pay attention to decorations and furniture that we will add to create a perfect style. To keep your sink always clean is important because we can't make healthy food if it is dirty. If you have other ideas and tips, you can share them and write for us in this blog.