Nexthomegeneration.com – Interior and exterior are necessary to be decorated because we can't feel comfortable if there is only one that has a beautiful impression. There are many designs that we can apply to make our home have a pretty concept. If we want to make a unique exterior with a fresh feeling, a tropical terrace style is suitable for us. We will use many plants as decorations so they will create an eco-friendly environment in our home. Wooden furniture that is combined with various plants makes a stunning combination. We can also apply other designs to create a different exterior style from others. For those of you who are on a budget, the style is preferred for you because we don't need various things to be added.
Generally, a terrace will feel darker at the night than at noon so that's why we should install some lightings. We can choose various types but we can't use an interior lamp because it will not suitable for our exterior. It also has a different type that doesn't have enough to brighten up our exterior. This time, we will give you some tropical terrace theme ideas with lighting recommendations. They might help you to apply the style and make our home exterior look fascinating.
Tropical Terrace Exterior Design Ideas
Applying a tropical exterior concept for our exterior is the best idea to change your monotonous terrace into an attractive place that helps to relieve our stress. We can enjoy our time after working in a beautiful place without going outside. A cup of tea is suitable to be enjoyed on the tropical terrace because it has a relaxing impression.
Various Plants In The Tropical Terrace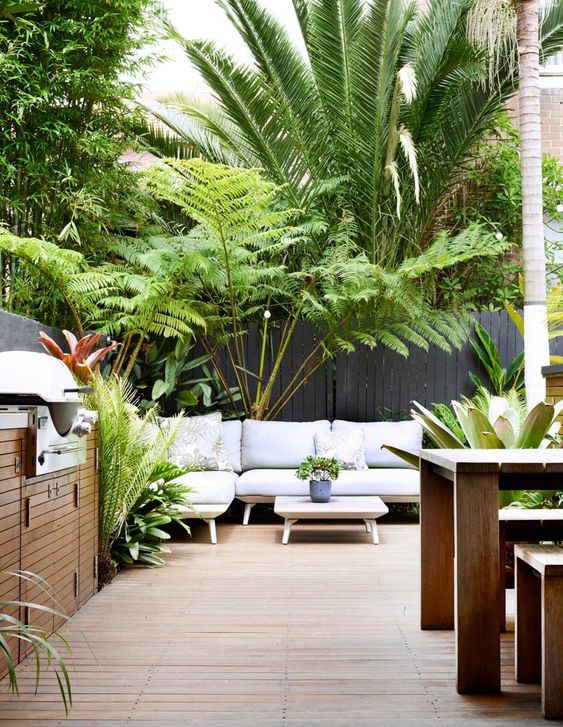 Applying wooden flooring tiles as a pedestal in our terrace is the best choice if we want to use a tropical exterior design. It has a natural accent with neutral colors which make our terrace have a stunning impression. We can't feel comfortable if we don't add a sofa and a small wooden table. It has a soft texture with beautiful white color that can create a minimalist look so it gives us a stronger tropical accent. We should choose big plants which have thick leaves to create a shady effect on our terrace.
Little Bit Of Plants With Rattan Chairs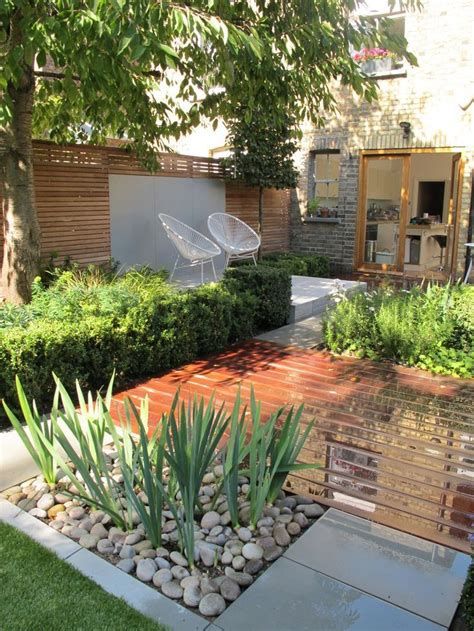 Rattan materials have a natural design that will be suitable for a tropical exterior style. We should choose a white color to prevent ruining the concept and it can create a harmonious concept in color selection. We can apply wooden flooring tiles in half and light grey ceramic tiles in other parts. It will make our terrace feel cozy and create a stronger tropical terrace design. Don't forget to add some plants and garden stone decorations to make it won't look monotonous. The best tropical plants should be chosen because it is important to be added. We can't apply the style if we won't add them to our terrace.
Dark Concept Tropical Terrace
We should add some black cushions to apply a dark concept to our home exterior. Some plants with wide leaves are suitable to be added because it creates a beautiful impression. We can make a round bonfire to create a warm impression on our tropical terrace even at the night. Don't forget to choose plants that have white flowers because it can create a harmonious concept in color selection. Black walls textured is preferred to be applied because it can give us an elegant look that won't be found in any exterior design. If we want to apply the same style to our interior, we should know some tips for applying a tropical interior to prevent making a mistake.
Fresh Tropical Terrace Exterior Design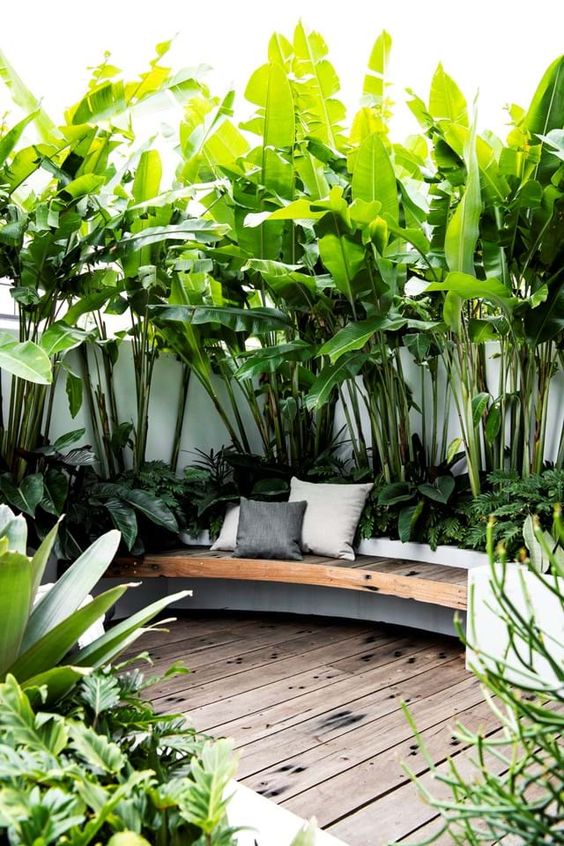 Can you imagine having a fresh terrace surrounded by many plants? We will feel relaxed every time we spend time in it. We can plant various plants and apply wooden flooring tiles in the middle to create a beautiful space. A wooden chair with some pillow is suitable to be added because we can feel comfortable to invite family or friends to spend their time. We can enjoy a cup of coffee while reading a book with a fresh impression from plants. If we make a tropical bedroom style near the terrace it can create an amazing view.
Small And Simple Tropical Terrace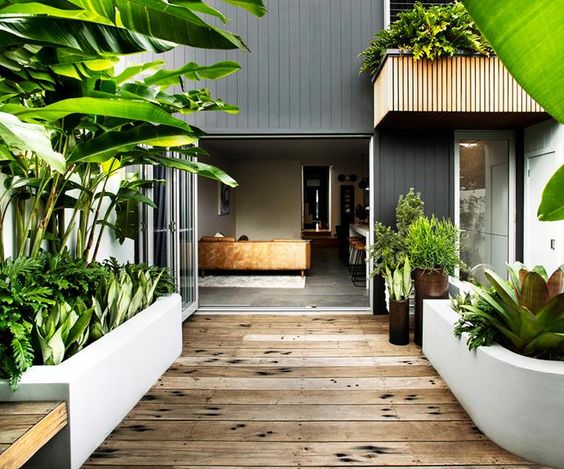 If we want to have a neat impression on our tropical terrace, we should make a place to grow various plants. We can make a white wall and add some soil to make them grow better. The wall makes our terrace look wide and creates a beautiful impression of our home. We can create a variation because many people using a pot for their plants so it can make a different impression from other exterior styles. If we look at a beautiful terrace, a tropical living room style should be the first room that we see while entering the home.
Tropical Exterior Lighting Recommendations
To create a beautiful home, we should choose suitable tropical lighting for our exterior to brighten up the terrace even at the night. There are various lighting types that we can choose but we will give you some recommendations that will be preferred for your terrace style. We can choose the right type to create a relaxing impression.
Path Lighting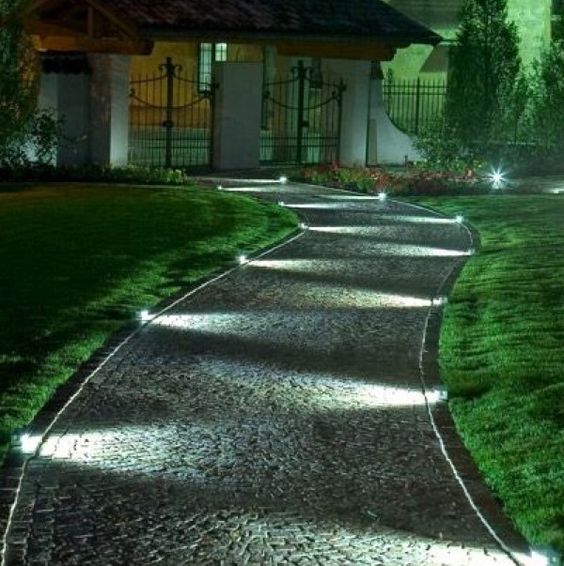 This lamp gives us a modern and elegant concept that makes your tropical exterior style feel minimalist and beautiful. It has a function to make our street to the terrace feel bright so that's why it is useful to avoid falling while walking. We guarantee by adding exterior lighting recommendations for your tropical terrace, your home will have an amazing impression.
Bright Step Lights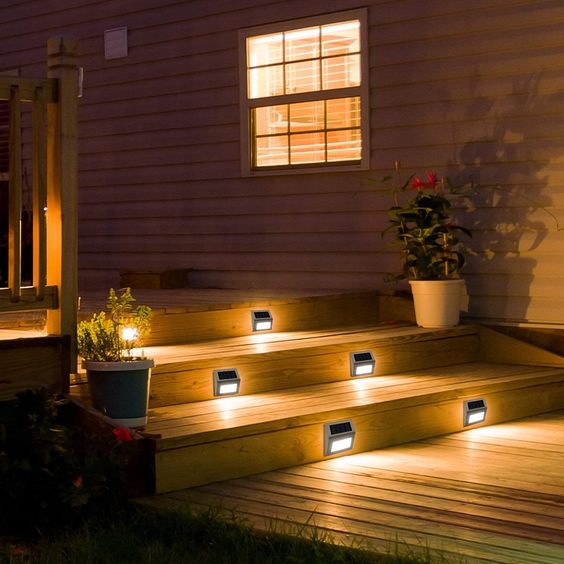 Do you ever feel complicated while going down the stairs? If you ever, we should install bright step lights to brighten up the stair. We can feel comfortable while walking because it has a bright impression with a warm yellow light that is preferred for a tropical exterior design.
Conclusion
We can apply a tropical terrace for your home exterior to make us can feel relax while staying on the terrace and the design will make a beautiful impression on our home exterior. Tropical exterior lighting design recommendations and plants from us might help you to create a harmonious look so it won't look monotonous.