Nexthomegeneration.com – Tropical interior design brings a fresh impression for anyone who applies it. It is preferred to be applied especially for those of you who love green color and plants decorations. It looks beautiful with a unique accent from natural furniture materials and feels fresh because we will add various plants as decorations. If we want to have a wooden theme, a tropical style should be applied in our home. The design is easy to be implemented and suitable if sometimes we want to create a different look from others. However, there are various things that should be our attention to create a perfect interior style. We can't wrongly choose something that we want to add to our home.
Although the style tends to have many plants and green colors as decorations and furniture, we can combine it with various interior styles like minimalist, vintage, monochrome, and others. To create an amazing combination, we should add something that is related to the style. For example, if we combine it with an aesthetic concept, neutral color furniture is important to be added. The first beautiful room we should have is a living room. We can't let it have a monotonous impression because it is always used for receiving guests.
Tropical Living Room Design Ideas
One of the tips for applying a tropical design is to know some information about it. We should consider some characteristics to avoid making a mistake while applying it. If we feel complicated, we can find some ideas that might help you to create a beautiful impression. They are also should to know for those of you who in the first time to decorate your home. It might help us to apply it while we don't have the inspiration to make a fascinating accent. Don't worry to feel complicated while finding it because this time we will give you some tropical living room design ideas.
Palm Tree Decorations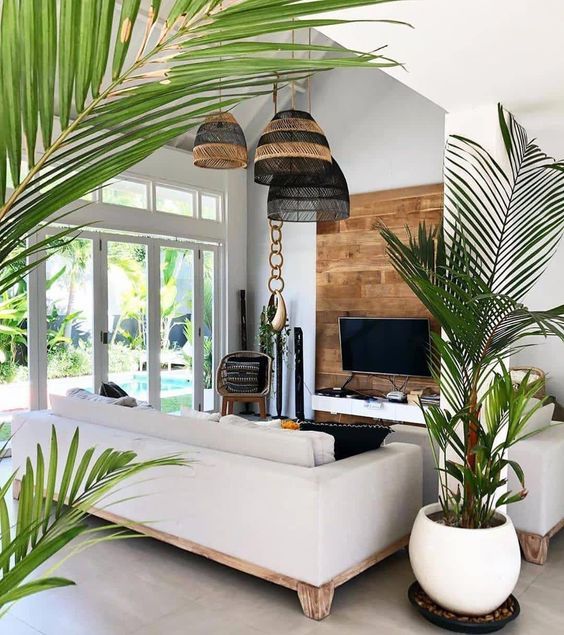 Applying tropical design brings a fresh impression because we will add many plants as decorations. We can choose palm trees with white pots that can be added to our living room. A white sofa is preferred to create a comfortable impression and make a harmonious concept at the same time. For flooring, we should apply white wooden vinyl tiles to give it a better looking. Rattan pendant lamps are suitable to be installed for making it feel bright even at the night. If we want to create a fascinating room, we should install a glass door because it gives a beautiful view from the outside. Moreover, if your living room is directly adjacent to the backyard or swimming pool.
Green Sofa With Many Windows Tropical Room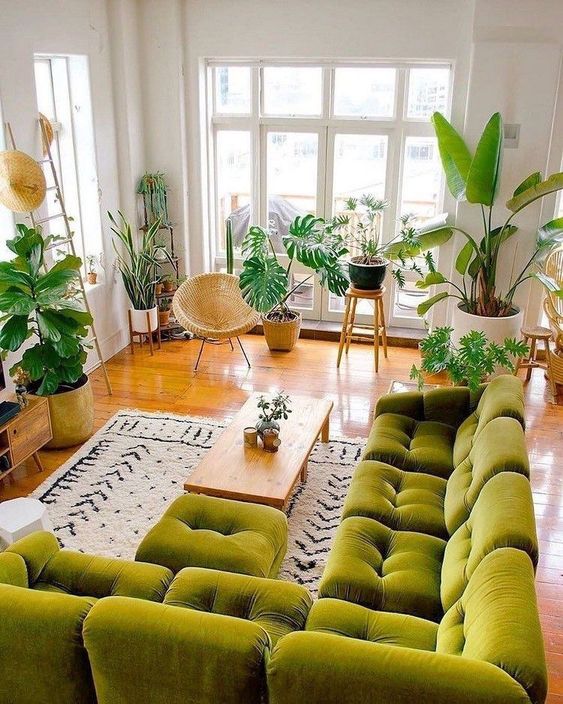 Light brown laminate flooring with black and white color combination patterns in our rug is preferred to create a tropical accent. We can add a green sofa with a wooden table to make it feel comfortable. Some plants can be added as decorations to make it won't look barren because of a sofa and flooring color. To give it an attractive concept, a rattan chair should be added. We can sit on the sofa while spending time with our family or friends. This concept is preferred to be applied in the apartment but if we live in the house, we should install many windows to create a bright impression. Natural lights from them will make us cozy and warm to stay.
Green Sofa With Big Plants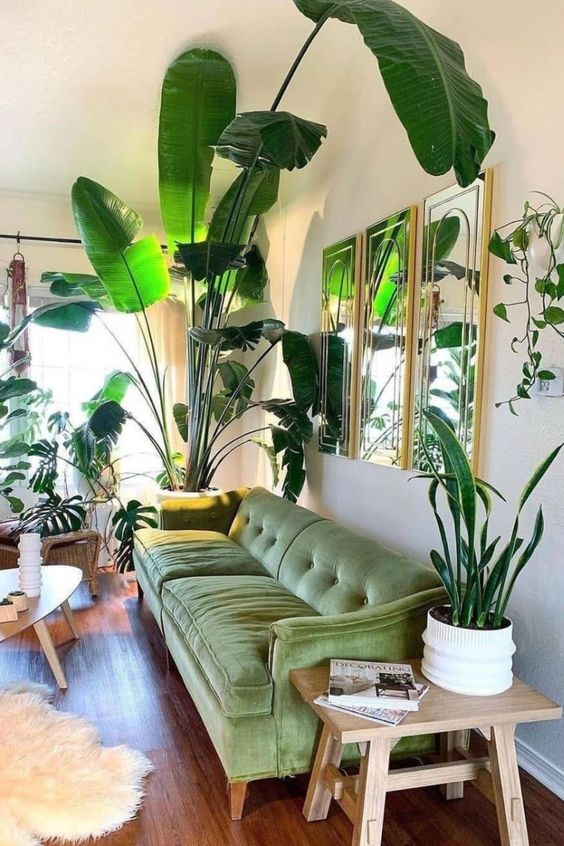 Who would have thought that a sofa will give many impacts on our room display? Actually, if we apply an interior design, we should pay attention to furniture and decoration selection to avoid ruining the style. A suitable color and shape should pay attention to make an unmonotonous concept. To apply a tropical accent, a green sofa is suitable to be added and combine with dark brown laminate flooring tiles. A round wooden table can be placed to make us comfortable while storing our important things. Don't forget to attach some gold unique mirrors to the wall and add a big monstera plant to create a stronger tropical accent.
Beige Color Accent Tropical Design Ideas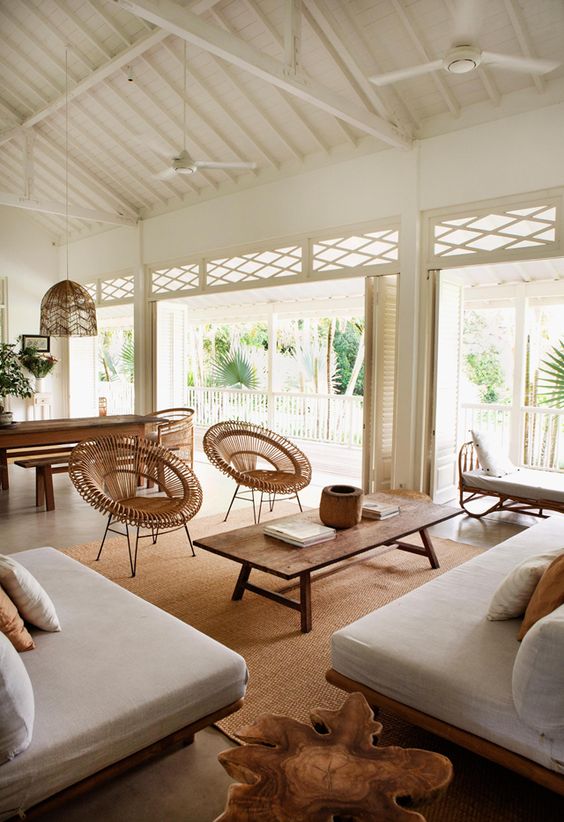 Warm and bright are the right words that can implement a beige color. If you love this accent, a beige color concept should be chosen to create a comfortable feeling. Rattan chairs and white sofas should be added then don't forget to add a light brown rug as a pedestal. A wooden rectangular table is preferred to make us can add anything that we want. This concept looks prettier if it is applied in a wide room that has open space because the sunlight can naturally create a beautiful impression than we apply it in a small room.
Tropical Plants Concept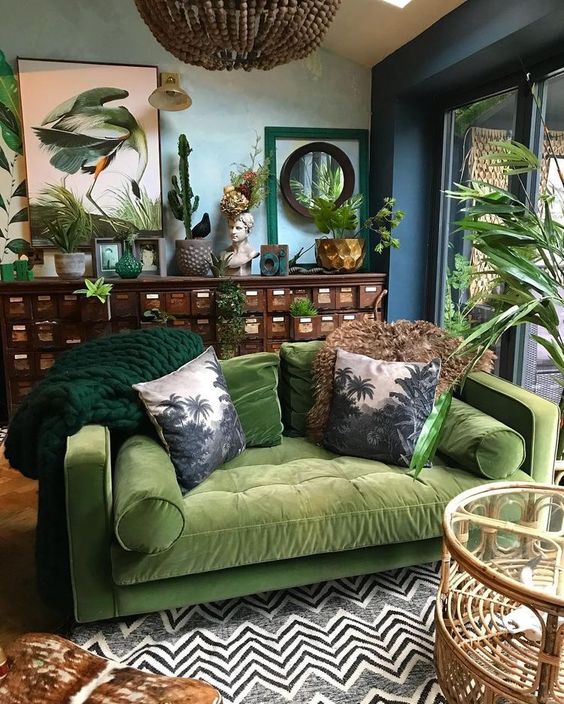 Plants are important to be added if we want to apply a tropical interior design. Although it has a small size, it is still suitable for a tropical living room. A light grey with a zig-zag black and white rug pattern is preferred to create a beautiful and attractive impression. A rattan coffee table can make our room look harmonious in furniture selection. A dark blue is the best color for the wall because it gives a stronger tropical accent and is suitable to be combined with a light blue color in the other part.
Tips To Choose Furniture For A Living Room
Choosing a wooden coffee table is necessary because it can make our living room look stunning and feel more convenient than using a basic table.
Sofas are the perfect furniture to create a comfortable room because it has soft materials and feels cozier than other chairs types.
Sometimes we can feel bored staying in the living room. For those of you who feel it, we recommend adding television to make you feel more comfortable while spending time.
Make a wider place can be implemented if we avoid making a room partition because we can have more space in our home. It also makes us can create many rooms even have a small home.
Conclusion
Applying tropical interior design ideas brings a fresh impression which is good for us to relieve our stress. We should pay attention to decorations and furniture to avoid making a mistake and ruining our concept. It looks unique because we will use plants to create a pretty look instead of using other things. We can also choose various types of furniture that can create an attractive style. It is easy to be applied and suitable for people who love a fresh and aesthetic impression at the same time.