Nexthomegeneration.com – A bathroom is not only used for us but also for our guests and everyone who comes to your house. That's why it is important to make it beautiful because we can feel confident. It should not be expensive or luxurious because we can beautify it with some simple decorations and furniture which has an affordable price and is suitable for people who are on a budget. However, how if we have a small bathroom? Can we beautify it? Of course, we can! We can apply a minimalist concept that will make it look stunning. However, how to decorate it? Today we will give you some tips to decorate a small bathroom by adding simple decorations for creating a minimalist look.
Tips For Decorating A Small Bathroom
We should decorate our small bathroom because if we don't do it, it makes the bathroom feel crowded so we can't feel comfortable while using it. We can create a stunning impression by applying a minimalist concept because it doesn't need many decorations. For those of you who love neutral colors like white, beige, light brown, and green this concept is the best choice for you. This time let's get to the tips list for decorating a small bathroom!
Utilizing Your Furniture And Decoration
Are you planning to decorate your bathroom with new furniture? Take a look at your house first, there might have many things that we can use for decorating it. We can use an unused ladder then change it into a shelf where we can store anything that we want. We can also use an old towel hanger and create a vintage style for your small bathroom.
Adding A Mat
Do you ever feel cold while using a bathroom? If you ever, you might feel uncomfortable. We can make our small bathroom feel cozy by adding a mat. It can keep our feet dry after using it. We should choose fluffy materials because besides make us comfortable, it has a soft texture which creates a warm feeling. For those of you who are on a budget, we recommend making a DIY mat from unused fabric that can make us save our expenses.
Decorating With Aesthetic Soap Bottle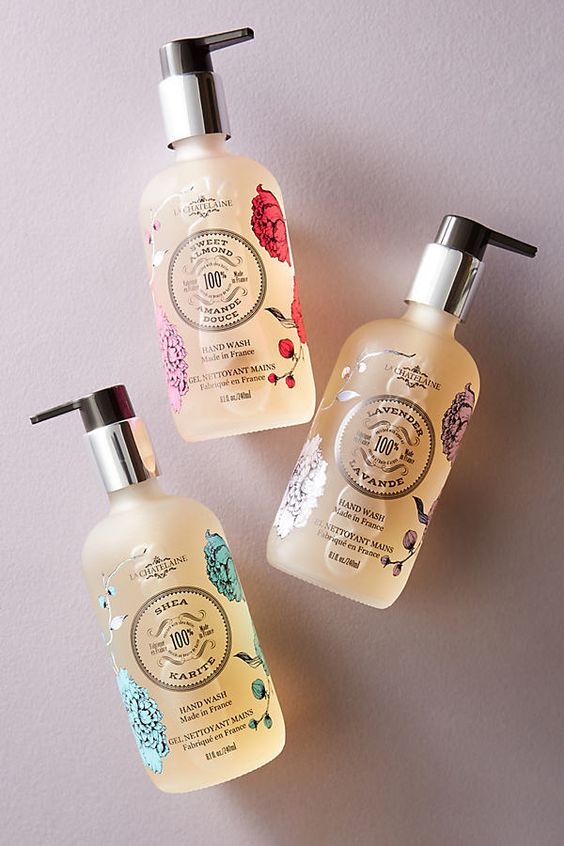 We might often find beautiful soap bottles that create a beautiful impression in our bathroom. To make a minimalist design, we should add aesthetic bottles because they can beautify our small bathroom without adding various decorations. If we don't want to buy a soap product that has a beautiful design, we can make it by ourselves. We only need attractive stickers then attach them to the basic bottle.
Gold Accent Beautiful Bathroom Mirror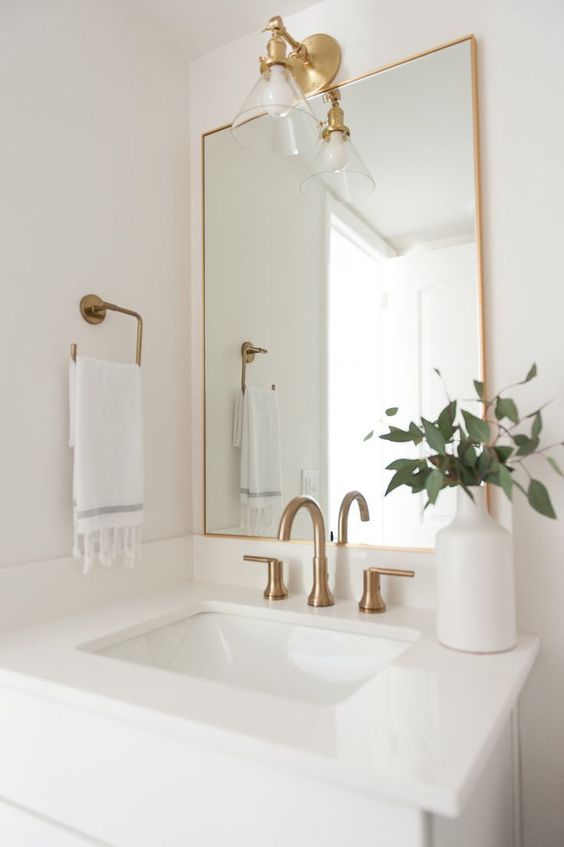 A functional bathroom can be made by adding a beautiful bathroom mirror because it gives many effects to other decorations. We should choose it based on the room size to create a harmonious concept and doesn't ruin our design. If we have a small space, we should not add a big mirror because it can create a crowded impression. We can't feel comfortable and the concept will look ugly.
Creating An Extra Bathroom Hanger
We should add a bathroom hanger to create a neat impression and avoid making the bathroom look messy. We can use some wire or unused materials to make us have an extra space to store our important things. If we want to create a pretty bathroom hanger, we should add some flower vines that have been picked and tie them to it.
Installing A Small Cupboard To The Wall
Some people might want to add a cupboard in their bathroom but have limited space. We should choose the right size to prevent ruin the concept and create a beautiful impression.
Attaching Neutral Color Painting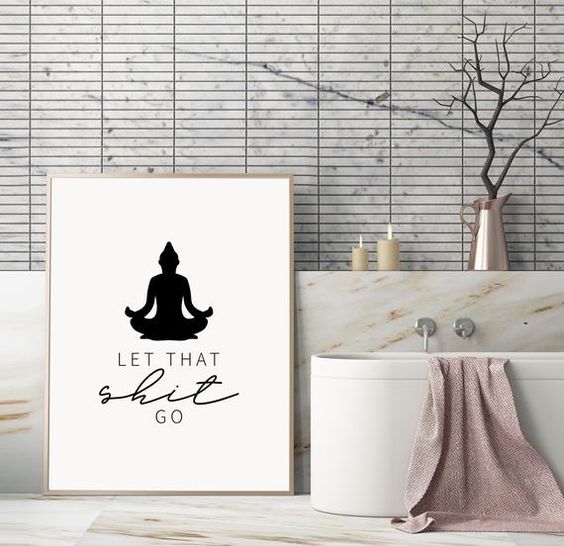 Some people might only think a living room or bedroom should have a stunning picture decoration to create a fascinating look. Whereas we should add it to our small bathroom because it has a suitable size and makes it look pretty. We can choose neutral color paintings and they can be attached to the wall. It creates a stronger minimalist concept and makes your small bathroom won't look monotonous.
Plants Decorations For A Bathroom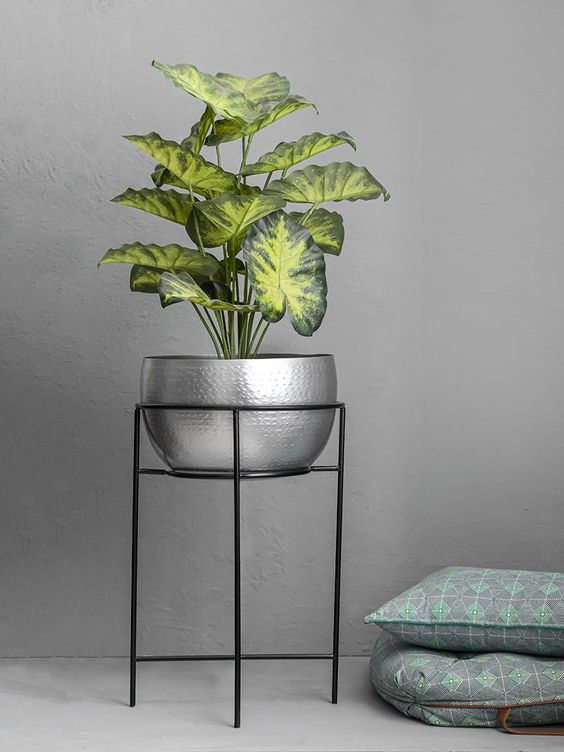 For people who want to have fresh air circulation even in the small bathroom, we recommend adding a plant to create a fresh impression. There are various plants that we can choose as long as it is related to the concept. We should choose the green plants than a flower because it can create a stronger accent and create an unmonotonous look.
Choosing Simple Flooring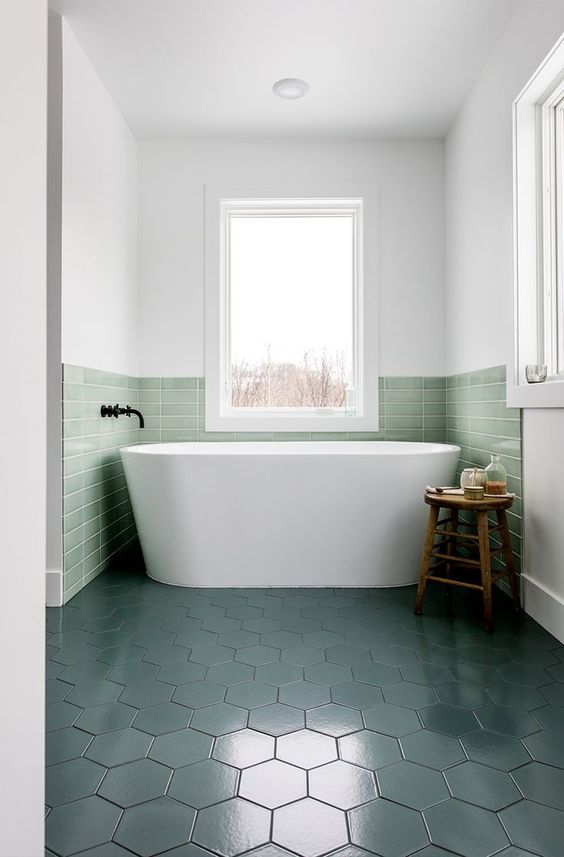 Dark green pentagon minimalist flooring tiles are preferred to make your small bathroom look beautiful. A minimalist accent and unique shape are a perfect combination that will make it have an attractive impression. We can combine it with a white bathtub and apply light green wall tiles to create a harmonious concept in color selection. Don't forget to add a bar chair as a side table to make us cozy to store anything that we bring while bathing.
A Minimalist Bathroom Slide Door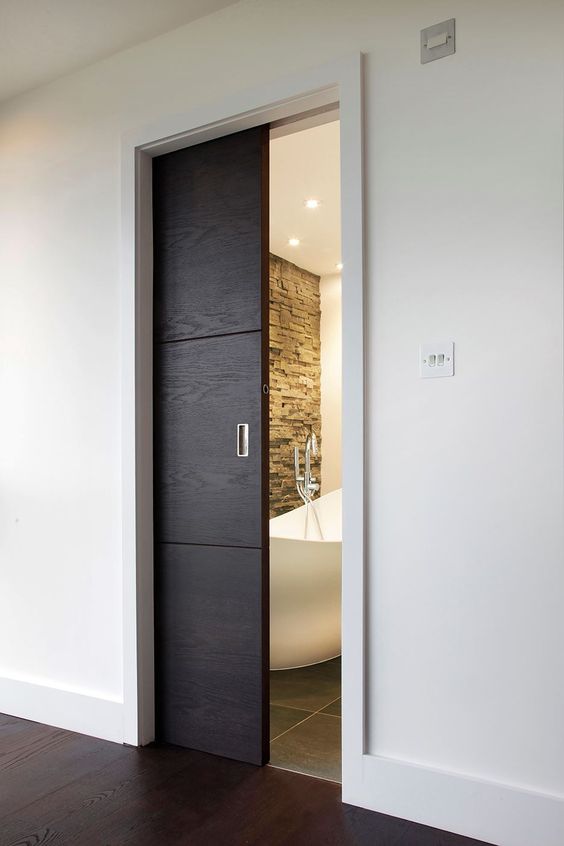 A bathroom slide door is the best choice to make our small bathroom have a fascinating look. If we want to create a different impression from others, we should install a sliding door because it looks unique and create a variation in the bathroom interior design. We can choose dark brown, white, or light brown, to create a minimalist accent.
Oval Vessel Bathroom Sink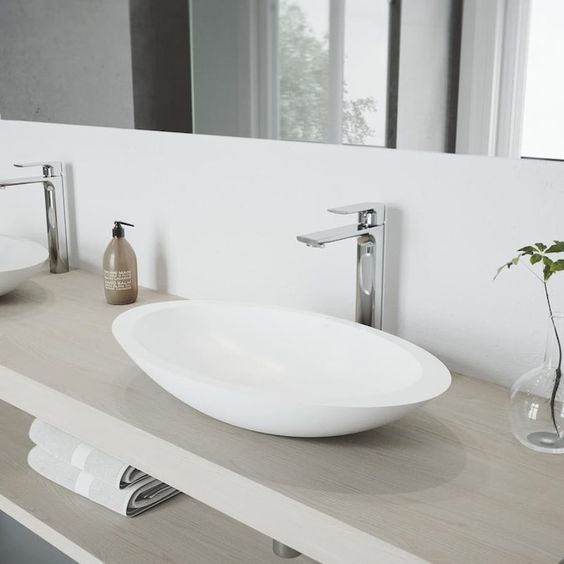 An oval vessel bathroom sink is suitable to be added in the minimalist bathroom because it looks simple and beautiful at the same time. We can install it on the wooden table to make our small bathroom have a stronger design. A big mirror should be installed to make us feel comfortable using it. It also looks harmonious with other minimalist furniture because of having a simple style where it creates a stronger accent.
Conclusion
A minimalist interior design is easy to be applied because doesn't have many decorations and it is suitable for people who have a small bathroom. For those of you who are on a budget, we should consider applying this style because it can create a fascinating impression with affordable things. We should pay attention to furniture and decoration selection to avoid making a crowded feeling.