1. Overview of a minimalist bathroom
Lately, beautiful minimalist bathroom designs have stolen a lot of attention in cyberspace. Beautifying a small house to make it look Instagenic and comfortable to live in is a very popular thing, especially with changing lifestyles at home over the last few days.
In addition to the design of a bedroom that is similar to a hotel, the bathroom also needs to be beautified. For example, a minimalist bathroom makes it more comfortable during the ritual of cleaning the body. For this reason, you need to turn the existing bathroom into more Instagramable with a minimal budget.
We know that the minimalist bathroom design is very popular and liked by many people because the model looks clean and simple. Identical to a single color or monotonous design makes it beautiful to look at. Besides being beautiful to look at, the simple design makes the minimalist style easy to imitate or use as inspiration. For that, let's follow the minimalist bathroom reference review below.
2. Minimalist bathroom design reference
Having a small bathroom doesn't make you confused. Small bathrooms can be transformed into more Instagramable. The first step that needs to be done is to repaint it with shades of white so that it is more similar to the contemporary interior design that is more popular. In addition, to using wall paint and ceramic motifs, you can also use wallpaper with similar shades to create the desired minimalist impression.
If you want to look more attractive, design the bathroom floor with ceramic motifs that suit your taste. However, if you decide to replace ceramics, you must choose ceramics that match the size of your bathroom to make it look harmonious. Therefore, let's follow the interesting bathroom design reviews below.
3. Attractive bathroom interior design
As far as we know, interior design concepts such as rustic, traditional, Scandinavian, classic, to modern minimalist are use applied by homeowners. They trust that each design has its advantages and disadvantages. But to choose, it all depends on the taste of the homeowner. Whatever type of interior design you want will look attractive.
However, if we discuss the layout of the bathroom, the interior design concept shows more of a simple appearance. However, you can also make the bathroom interior design luxurious. For that, let's review one by one the bathroom design below. Welcome to our review!
Choose a white design
Choosing white colors for a minimalist bathroom design can make your bathroom look attractive. In addition, you can try several colors such as white, beige, or gray for wall paint. Then, use the same color or the same color for other bathroom furniture to support it. That way, your bathroom will feel comfortable and make you feel at home inside.
As far as we know, white can make a room look spacious and brighter even if you have no windows. For those of you who already have a window in the bathroom, using neutral colors will make the bathroom even brighter. To make it look more attractive, decorate your bathroom with shelves, showers, and vanity mirrors to make it look complete.
Simple and clean design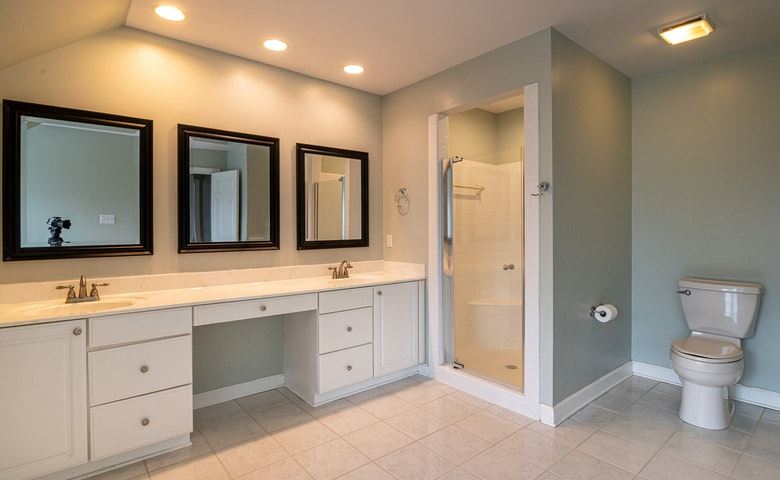 Design with a minimalist style is synonymous with bright, clean, and the lack of items in the room. You don't have to put a lot of stuff you don't need in the bathroom. You only need to put the things you need and arrange them neatly. Then, put the rest in a bathroom drawer or storage area. so the bathroom doesn't look cluttered.
Then, to make it look more spacious and comfortable, avoid accessories or displays that are too many or don't put displays at all because it can make the bathroom look full so it is no longer a minimalist style. To make it look more attractive, add makeup mirrors and spotlights to make it look bright at night. Hopefully, this design can add inspiration to your bathroom model.
Give a touch of stunning color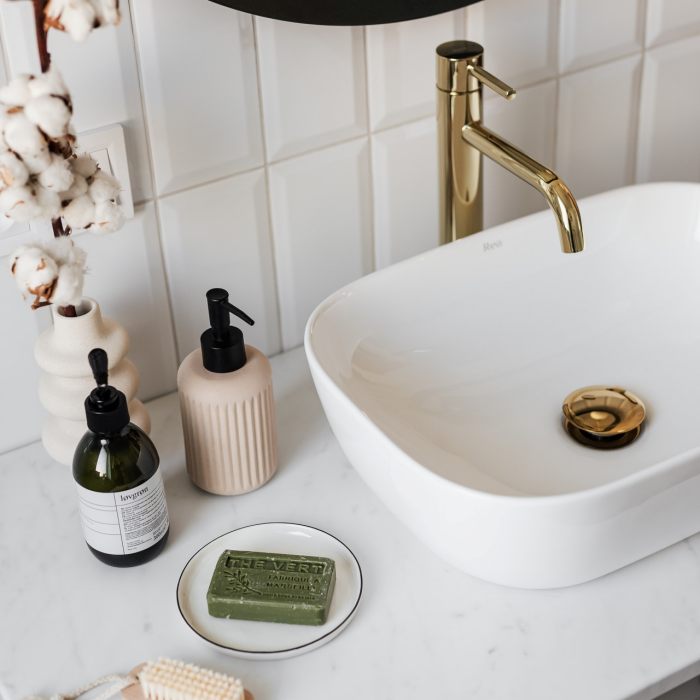 If you like a minimalist design style but you don't like monotonous colors, you can try giving a touch of contrasting color, such as black or gold. The addition of gold can also give a modern minimalist bathroom feel to look elegant.
Because the minimalist bathroom design only uses neutral colors, any color including your favorite color can still complement other colors around it and still look cohesive. That way, your bathroom design will look attractive and bright.
Materials with simple shapes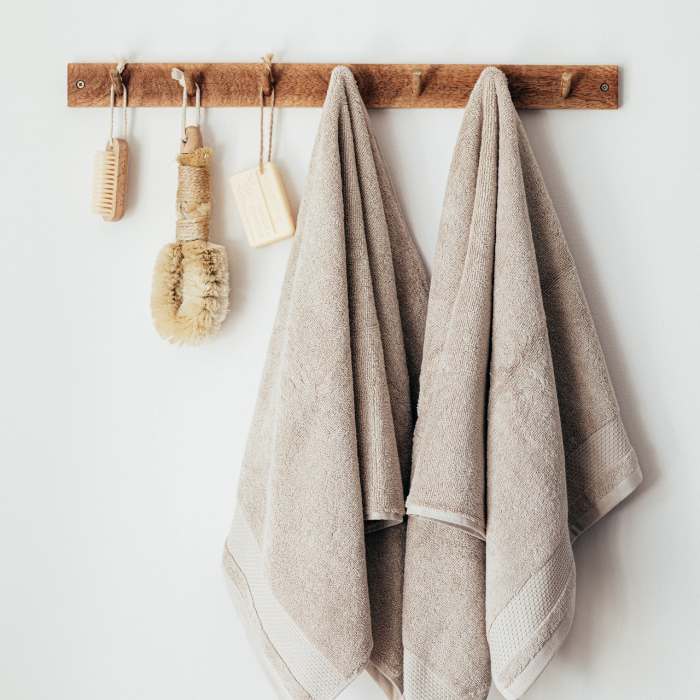 A complete and comfortable bathroom will make residents feel at home inside. Then, to look complete, use simple materials for your bathroom accessories such as wood or concrete. This is to provide texture and color in a neutral-themed minimalist bathroom and look plain. That way, it will make the bathroom look complete. Then, the wooden clothes hanger above looks simple, but its function is very much needed.
Aesthetic minimalist decoration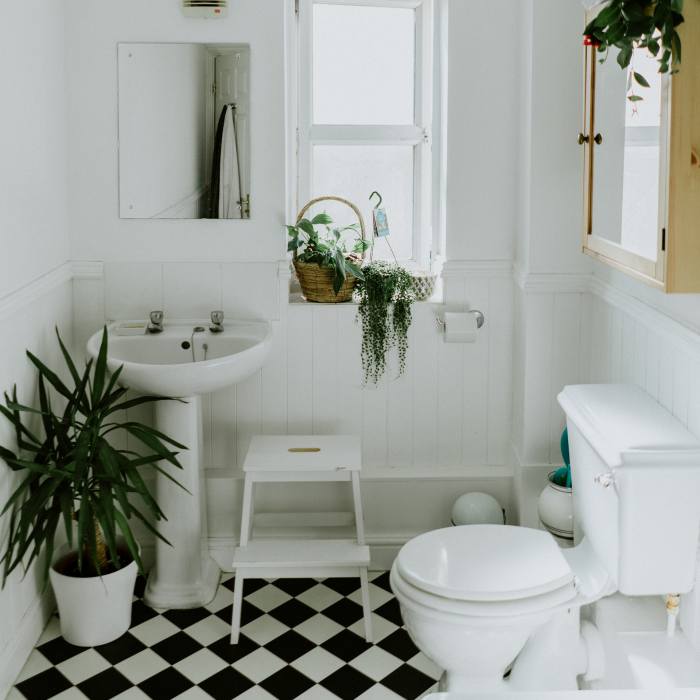 Designs with a minimalist style are well known and make this design more popular with people. If you still want to decorate your bathroom, you can use decorations such as small plants or a multifunctional basket that can be used as a laundry bag.
With simple decoration, your bathroom will still look minimalist and look alive. But remember, please put useful items in the bathroom and don't put too much stuff so the bathroom will still look clean. Well, for those of you who are looking for a clean and bright bathroom design, you can use the image above as your inspiration.
Elegant wall pattern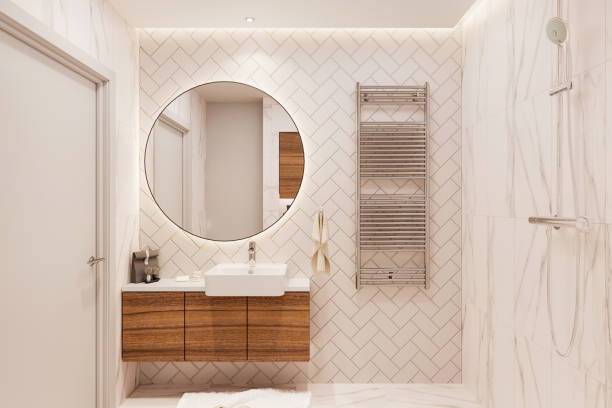 If you want your bathroom design to look elegant. You can add color to the walls with wallpaper or marble. Then, choose a simple pattern with symmetrical lines and not too much like straight lines or hexagon boxes. That way, the appearance of the bathroom design will look beautiful.
Then, placing a round mirror above the sink can make the bathroom look bigger because the mirror can provide a good reflection of light from a lamp or window. For those of you who like a clean and bright appearance, you can use the above design as your inspiration. Happy decorating!
Mirror wall for preening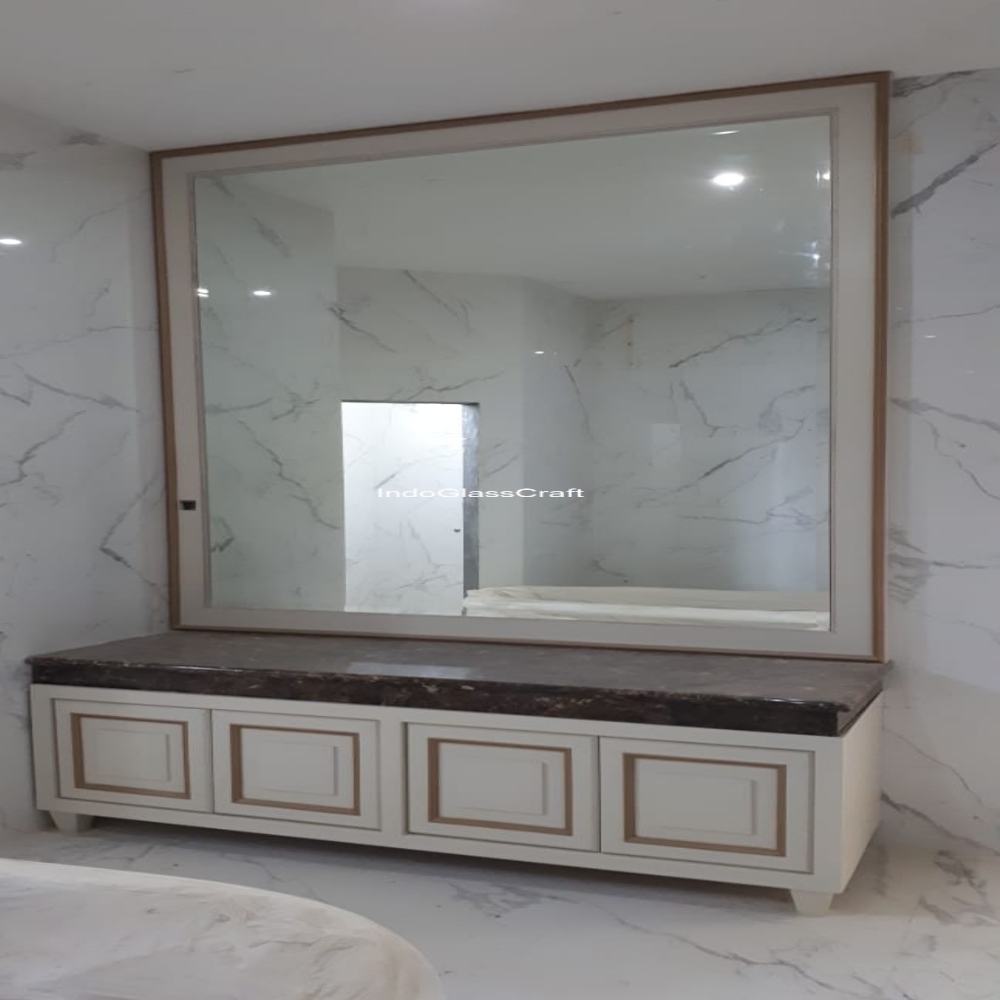 The installation of a mirror along the bathroom wall is perfect for those of you who often spend a long time in the bathroom to preen. Therefore, install a mirror on the wall directly above the dressing table. With a dressing table design, you can put your dressing equipment and make you more cheerful. Well, for those of you who like to act in front of the mirror and preen, this design can be an inspiration for you.
Wall mounted toilets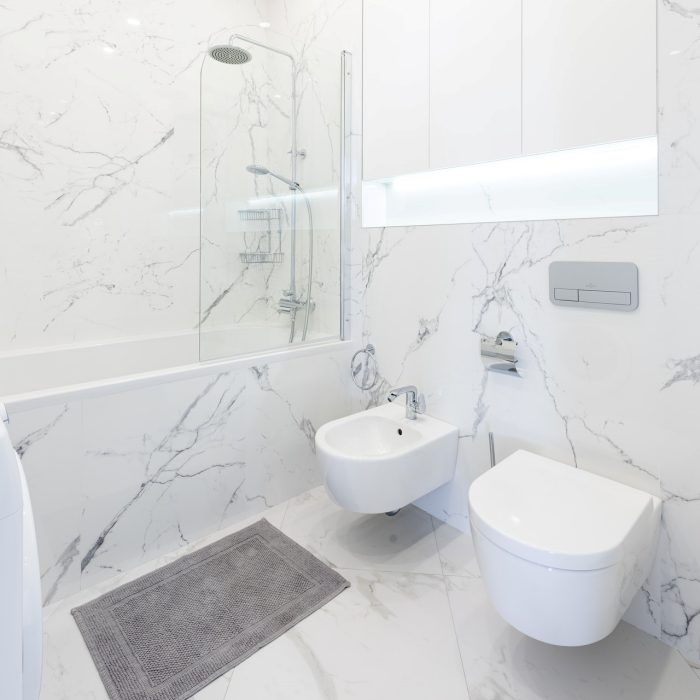 The toilet that is attached to the wall is an alternative to increasing the space in the bathroom to look more spacious. With its floating position, there is space under the toilet you can use to store bathroom equipment.
Then, to be a more efficient place, you can store equipment such as brushes and bathroom cleaning fluid, carbolic acid, or a small trash can underneath. In addition, because the back is a wall, you can feel more relaxed to lean on. So that the interior design looks brighter, use a bright color marble motif. That way you will feel more comfortable.
Use a shower to save space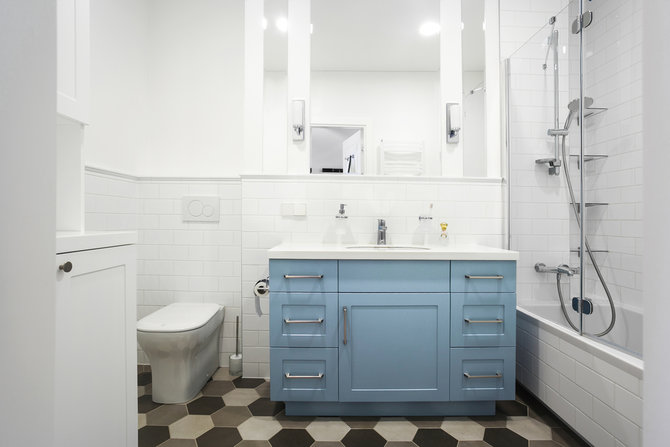 Taking a shower using a shower will be more fun because it feels like bathing in heavy rain. In addition, using a shower helps you save space in a small minimalist bathroom. For those of you who want your minimalist bathroom to be more spacious, it's time to replace the bathtub with a shower that doesn't take up much space. That way, the space used for the bath can be used as a corner to place a cupboard or towels and hangers.
Then, to look cooler, you can put a dressing table, mirror, and bright lamp on. That way, you will feel happy to be in the bathroom while cleaning your body from sweat and dirt.
Frameless glass panels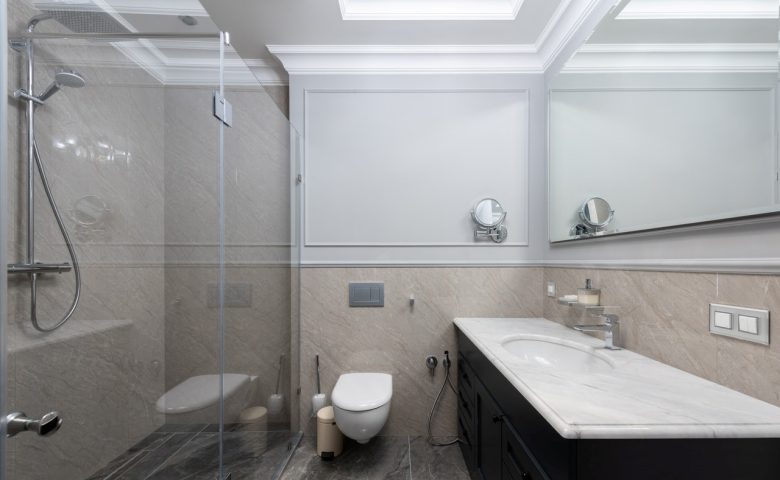 Having an aesthetic and comfortable bathroom design is everyone's dream. A bathroom with a frameless glass panel design can make you feel at home and comfortable in it. The frameless glass panel design can be used as a barrier between wet and dry areas in your bathroom.
These glass panels can make the shower area look bigger and allow better light to enter the shower. Besides looking better, glass panels are also easier to clean when compared to bathroom curtains. To look more attractive, decorate with mirrors on the walls. With this design, your bathroom looks luxurious.
Decor with a small sink complete with a table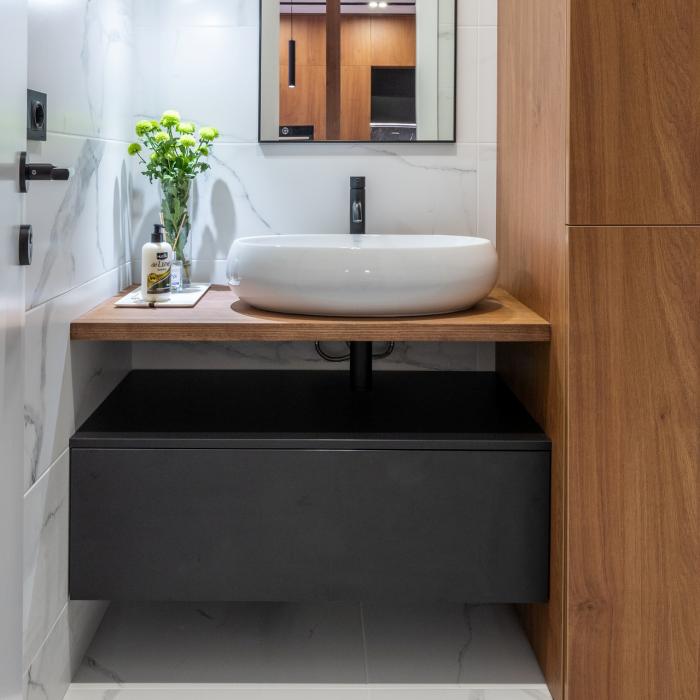 For a small bathroom, you only need a small sink and a floating drawer that can be attached to the wall so it doesn't feel cramped. That way, you can put toiletries and medical equipment inside this wall cabinet.
Then, by using a small sink, you have saved a lot of space. Because basically, the function of the sink is only for activities such as washing hands, washing face, brushing teeth, and other activities that do not require a lot of space. To feel fresher, place a beautiful flower pot next to the sink. That way, your bathroom will be pleasing to the eye.
Place things vertically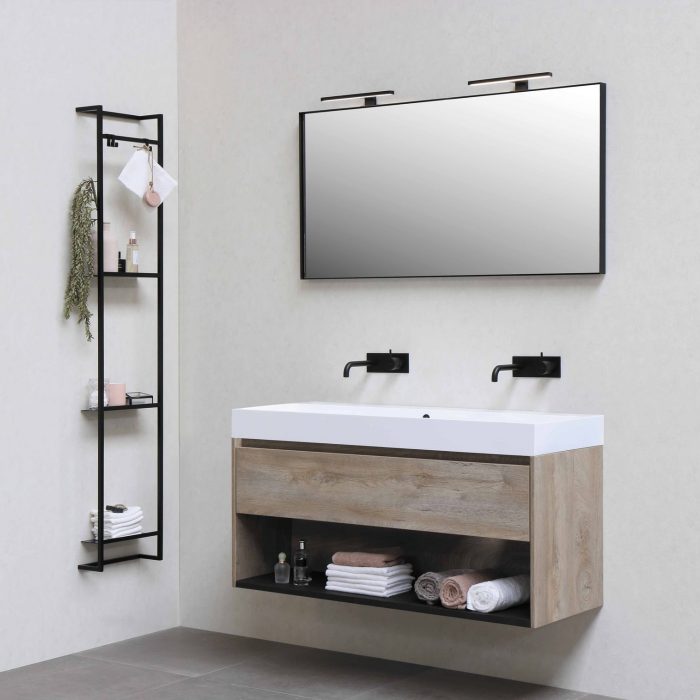 The way to make the most of a small space is to place things vertically, not horizontally. One example is the picture above. If you put things in a row or horizontally, the bathroom will feel narrower and its use will be less effective. On the other hand, if you take advantage of the limited space to put things vertically, the bathroom space will feel more spacious than it is. With this design, the appearance of the bathroom will look more unique.
Natural stone accent wall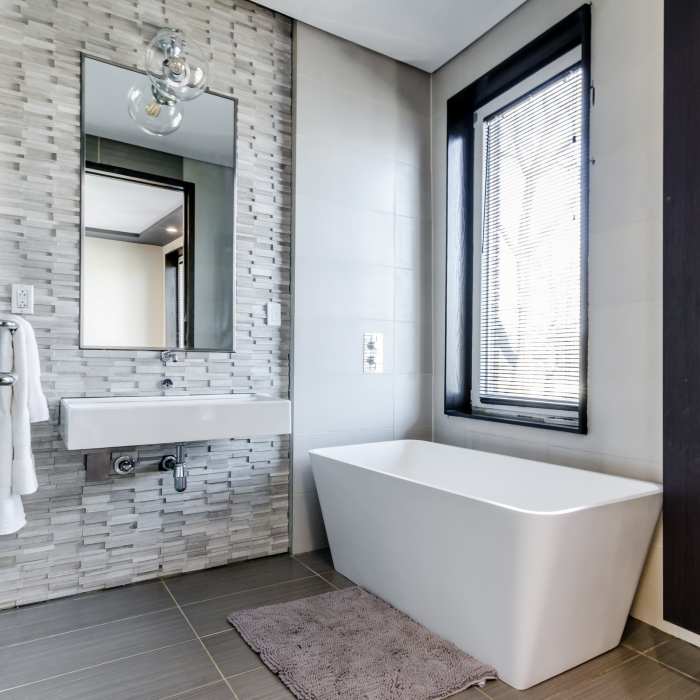 Bathroom designs can be made in a natural style. To design it, install natural stone on the walls of your bathroom. That way, your bathroom will look beautiful and natural. Then, a neutral color stone design can make the bathroom look spacious.
Corner shelf of wood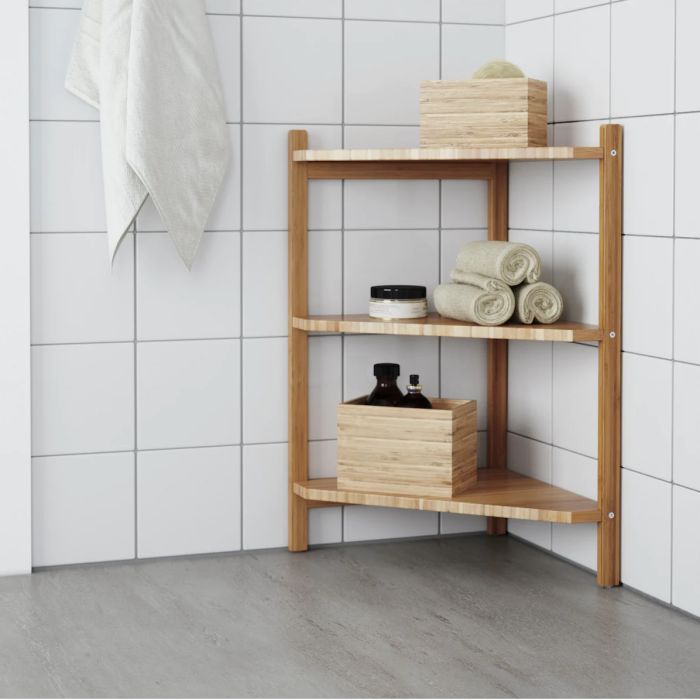 To put toiletries, you can use wooden shelves attached to the corner of the bathroom wall. The goal is that the bathroom does not become cramped. In addition, there is no need to design a bathroom with a sink or cabinet that is used to put other things such as tissues, hand soap holders, or even small plants. Then, this one design is very easy to realize, because you only need to buy a ready-made one and then put it in the bathroom.
4. Conclusion
You can design a small bathroom to be more attractive and comfortable. But if you want to make it, you must prepare the right drawing design and sufficient budget. Then submit it to the home decor company so that the results are satisfying and according to your taste.
But if you want to design your own, you can see some sample images above. Then, you hand over this work to the bathroom designer. In this way, you can directly control the design. Hopefully, one of the images above can suit your taste.