Nexthomegeneration.com – Some people might think a bathroom is not necessary to make it have a beautiful impression because our guests barely use it and it is enough to keep it always clean. However, if we have a fascinating bathroom, we can feel confident and we can have praise from our guests or family. We also can feel comfortable while using it and relieve our stress after doing some work. There are various interior designs that we can apply to have a beautiful bathroom. For those of you who want to have a fresh impression and good air circulation, a tropical design is our recommendation. We should pay attention to wall decor that can create a stunning impression on your bathroom.
Generally, if we have a beautiful room, it doesn't complete if we don't know how to clean it. To keep our bathroom always clean is important to avoid bad smells and make us always healthy even we use it often. Sometimes we feel complicated to beautify small spaces because we can't free to add anything that we want. Don't worry about it because we will give you tropical bathroom wall decor ideas with tips to clean your bathtub, We guarantee by applying our ideas and tips, you will have a stunning bathroom.
Small Tropical Bathroom Wall Decor Ideas
A small room is necessary to have a beautiful outlook so it won't feel crowded. Besides, it makes us confident to show it to our guests. We can also feel more comfortable while using it than it doesn't have a beautiful impression. We should pay attention to furniture and decorations that will be added to beautify our bathroom. If we are wrong to choose them, we can ruin our design and make us spend more money to fix it. This time, we will give you wall decor ideas for a small tropical bathroom that might help you to create a stunning look.
Basic Wall Blue and White Color Paint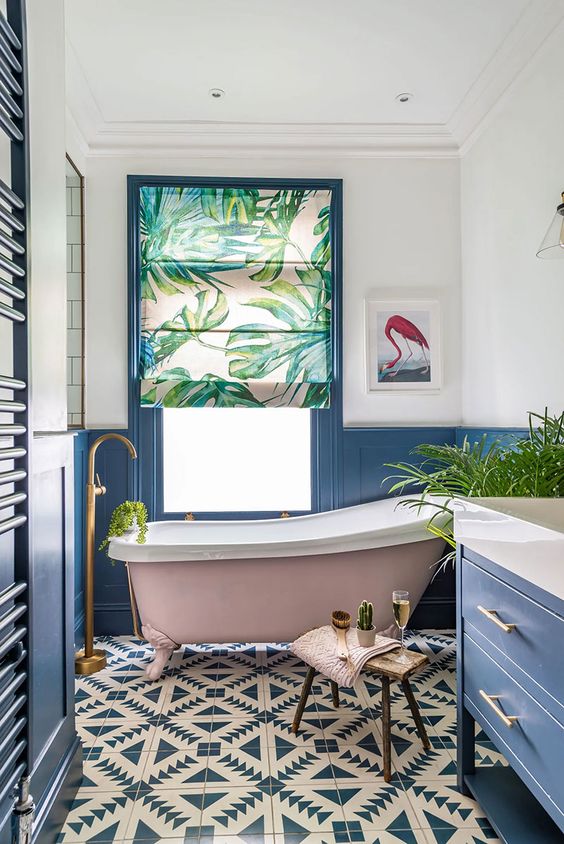 Beige and blue flooring color pattern is suitable to be applied because it looks natural and makes a stronger tropical accent. Blue textured walls with white color paint should be combined to create a stunning impression in our bathroom. Don't forget to install green leaves bathroom curtain pattern to cover the window and make a beautiful impression. A dark blue drawer can be added to make us can store anything that we want and make our bathroom looks neat without scattered things. A pink bathtub is our recommendation to create a feminine concept but if you don't like it, it can be changed with white, blue, or beige color.
Green Wall Tiles In A Tropical Bathroom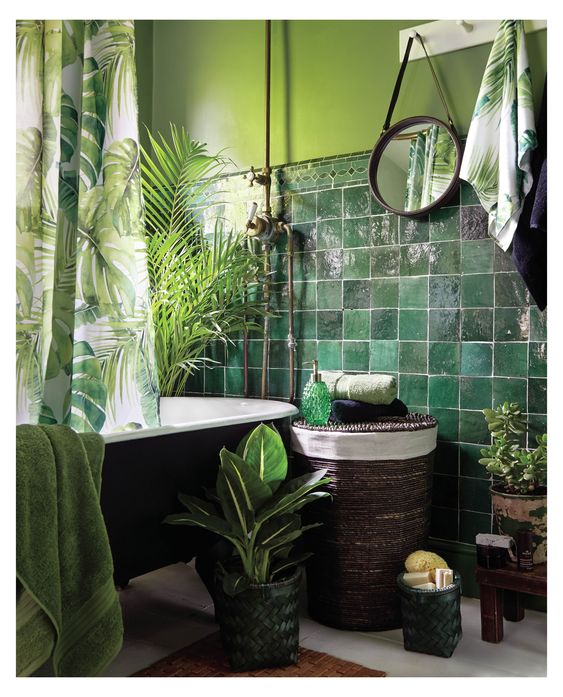 Applying green wall tiles and paint the upper wall with light green color creates a beautiful combination. Suitable tropical plants like palm trees should be added to make our bathroom look beautiful and have a harmonious concept. A dark green bathtub should be added to make us feel comfortable and create stronger tropical bathroom design ideas. To our wall decor doesn't look monotonous, we can hang a round mirror and don't forget to install a gold faucet to make us can feel cozy while bathing. A white flooring tile can be applied and don't forget to add a light brown rug as a pedestal.
Floral Wallpaper Pattern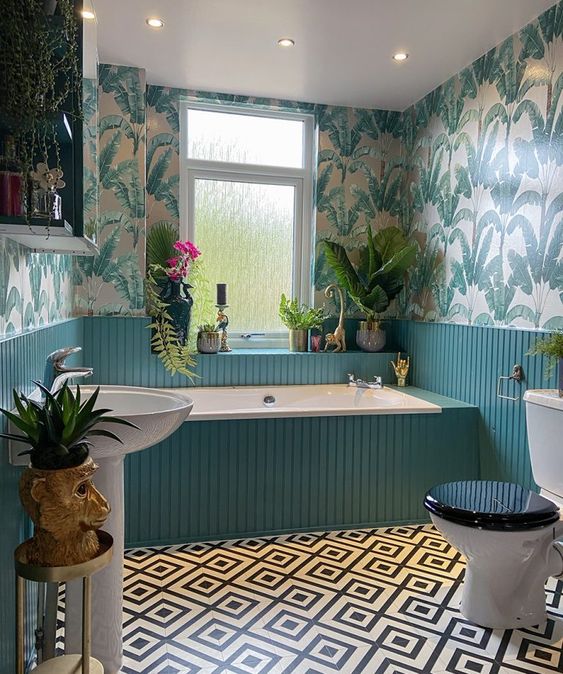 Installing some ceiling lamps can make our bathroom feel bright and create a beautiful impression even at the night. Black and white pattern flooring tiles are stunning because it has a unique pattern that won't be found in others. Green color wall textured brings a stronger tropical accent that can make a bathroom feel fresh. A green wallpaper will be suitable for tropical wall decoration in a small bathroom. Some plants should be added to make fresh air and a bad smell is gone.
Feminine Tropical Bathroom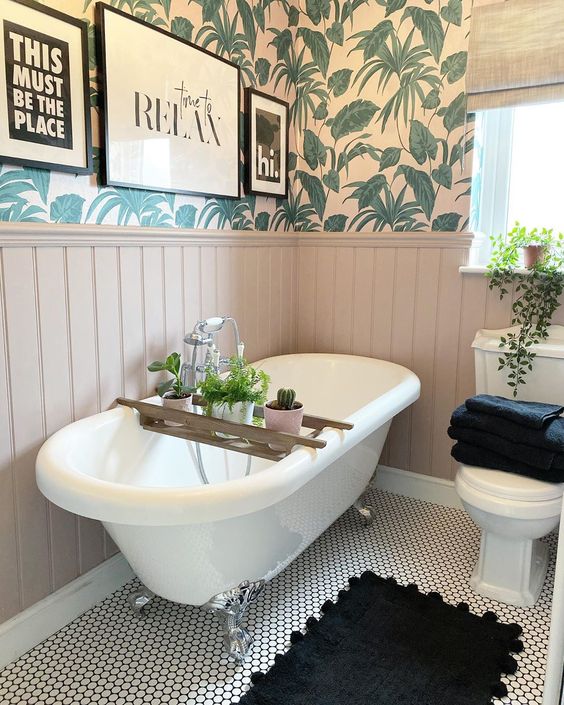 Round pattern ceramic tiles should be applied if we want to have a harmonious look in our tropical bathroom. Applying pastel textured walls in some parts and leaf wallpaper to other parts creates a beautiful combination to our bathroom. Don't forget to add a black mat to make us comfortable after using a bathroom. A feminine tropical bathroom is suitable to be made near a tropical living room design. A white bathtub should be added to create an elegant concept. Don't forget to attach some pictures on the wall to avoid monotonous wall bathroom decor.
Simple And Cozy Bathroom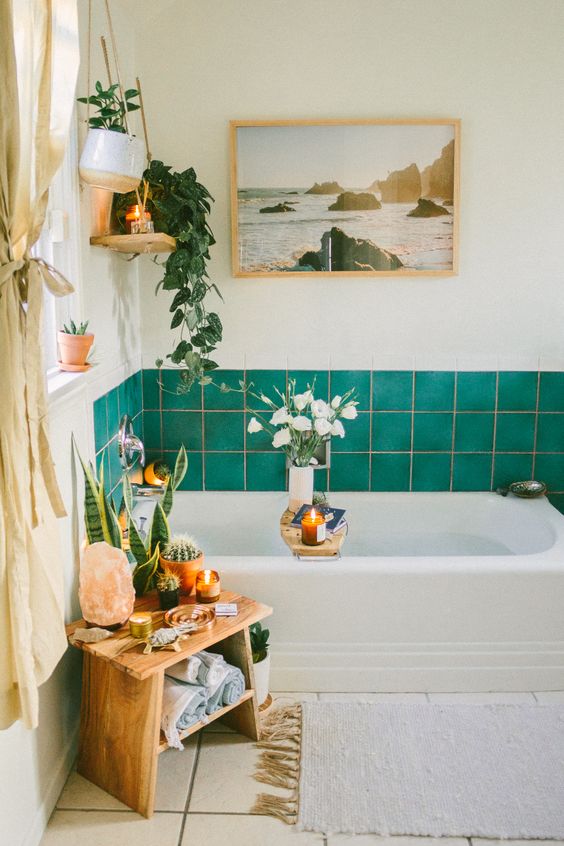 If we don't want to add many decorations to our bathroom, it means this concept is suitable for you. We can apply green wall tiles in some parts and beige paint color to other parts to create a beautiful impression. White ceramic tiles are preferred to be applied for our tropical bathroom flooring. A simple picture can be attached to the wall and don't forget to add a little wooden coffee table to make us can save our important things while bathing. To make us feel convenient, it can be made near the tropical bedroom style.
Tips To Clean Our Bathtub
Sometimes, we feel confused about how to clean a bathtub because it is complicated for some people. However, it will be easy to clean if you do some tips to clean a bathtub in a tropical bathroom from us. Now, let's get to the list!
Take out all the water from our bathtub before cleaning it and let it dry for 2-3 hours.
Get rid of our things before cleaning the bathtub to avoid slipping or falling while cleaning it.
Cleaning a tropical bathtub expose us to various kind of dirt so we have to wear a rubber glove to prevent itchy rash and make us feel comfortable cleaning the bathtub.
Flush using hot water to make it cleaner than using basic water.
Clean the bathtub by using a brush to make complicated dirt is gone.
We can use baking soda, vinegar, or lemon to make the bathtub clean.
Conclusion
Tropical bathroom wall decor is easy to apply because we don't need many pieces of furniture and decorations. We only should pay attention to wallpaper or wall paint color to create a stunning impression. Don't forget to keep our bathtub always clean because it makes us feel comfortable while bathing so we will always be healthy. Hopefully, tips to clean a bathtub in a tropical bathroom from us will make you feel easy to create a clean impression.