Nexthomegeneration.com – Forest has a fresh impression with beautiful green color that can relieve our stress and give us a different feeling from the city atmosphere. For those of you who love the green color, a tropical interior style should be applied. We will use various plants as decorations and create a beautiful impression. Can you imagine spending your time with family or friends in a fresh room? Do you want to feel it? We recommend applying tropical dining room style ideas that make you eat like in the forest. It is not complicated to apply because we only need to pay attention to furniture and decoration selection. A dining table set is important to add because without adding it, we can't comfortable while eating.
Actually, tropical dining table sets are always made from natural materials such as wood or rattan. However, at this time, we will give you some recommendations to use other materials because we will create an unmonotonous concept. We guarantee by applying our style ideas and using dining table set recommendations from us, your dining room will have a fascinating impression.
Tropical Dining Room Style Ideas
Beautifying a dining room is necessary to make us feel comfortable while eating or spending time with family and friends. We should apply a tropical interior design to create a different impression and makes you have a stunning dining room. Suitable tropical plants are should be considered to create a fresh atmosphere. We can't wrongly choose them because it can make our concepts doesn't look related to each other.
Tropical Dining Room Wallpaper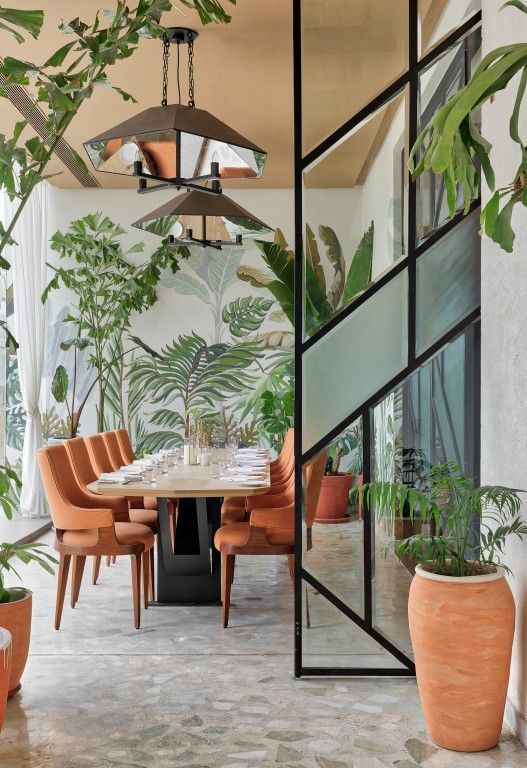 Applying floral pattern wallpaper is suitable for a tropical dining room because it gives a stronger accent. We can also combine it with some plants to make it beautiful and have fresh air with the best circulation. Wooden dining chairs with soft cushions are preferred to be added to this concept. Don't forget to install a white curtain to cover our big windows because it is related to other furniture and decorations. We should paint our ceiling with light brown color and install some pendant lamps to create a bright impression.
Luxurious Tropical Dining Room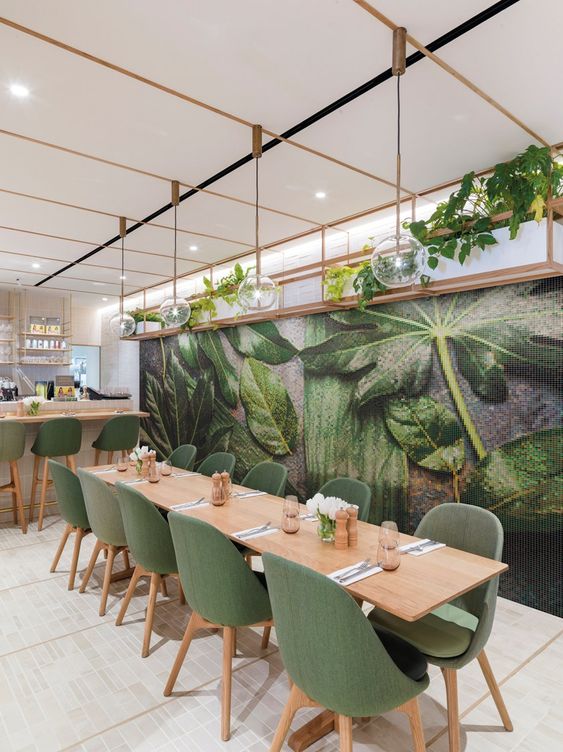 We can choose big leaves wallpaper pattern to create this concept and white flooring ceramic tiles are preferred to be combined with it. Wooden dining table sets with a green color accent are suitable to create an elegant impression. Don't forget to install glass ball pendant lamps to make a bright feeling even at the night. If we apply the concept, we can feel like eating in a fascinating restaurant or cafe. Applying a tropical living room near the dining room is a good idea for people who want to easy if they want to eat.
Colorful Dining Room Concept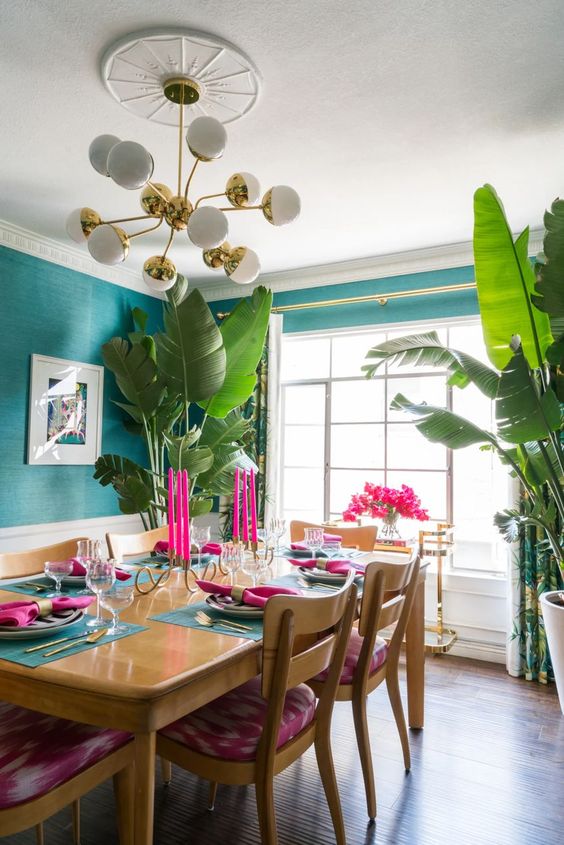 If we want to have a cheerful impression in our dining room, we should paint our walls with blue color and apply dark brown wooden flooring tiles. Some monstera plants should be added to make us have a fresh atmosphere which is one of the characteristics of the tropical interior style. Light brown wooden dining table sets with pink soft cushions are preferred to be added because it has bright colors. A fascinating pendant lamp should be installed to make us feel warm and bright while staying. A colorful concept can be applied in the tropical bedroom style to make us feel happy to sleep.
Green Forest Pattern Wallpaper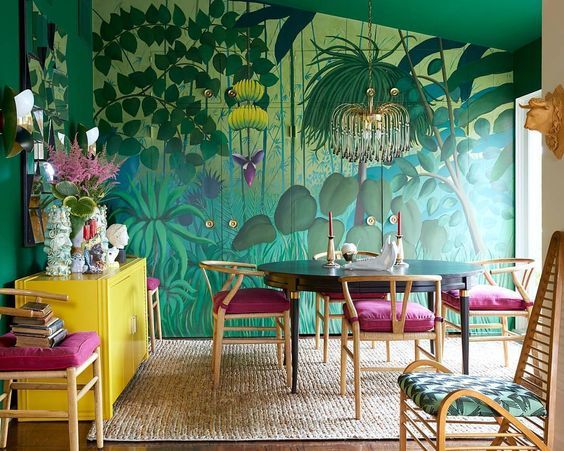 Wallpaper is the best solution to create a stronger accent of tropical interior style. However, we should choose the best and suitable type to avoid ruining the concept. Dark green forest wallpaper is very preferred to be applied in a tropical dining room. A pink rattan dining table set can make us feel comfortable while eating alone or with family. Don't forget to add a white carpet as a pedestal and create a warm atmosphere in our dining room. A beautiful chandelier should be chosen to make it always bright. We can add some flower decorations to make it won't look monotonous.
Natural Lighting From A Big Window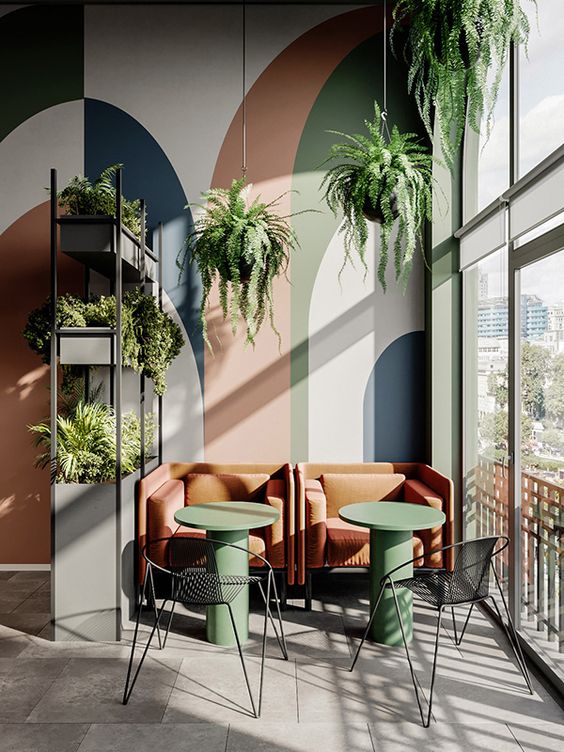 This concept is suitable for people who live in an apartment because they usually have a big window in their room. It creates natural sunlight that makes our room feel aesthetic and beautiful even we don't use many decorations. We can also save our expenses because we don't need to use a lamp at noon if we feel dark. A wall should be painted with different colors and random patterns or if we don't want to feel complicated, wallpaper is recommended. Two aluminum chairs and single sofas are suitable to be combined with green tables. Don't forget to install hanging plants to create a stronger tropical accent.
Tropical Dining Table Set Recommendations
Dining table sets are important furniture in a dining room because we can't eat conveniently if we don't add them. There are many dining table set that we can choose as long as it is related to our concept. We should consider the materials because if we wrongly choose them, we can ruin our concept. This time, we will give you some dining table set recommendations that might help you to apply tropical dining room style ideas.
Plastic Materials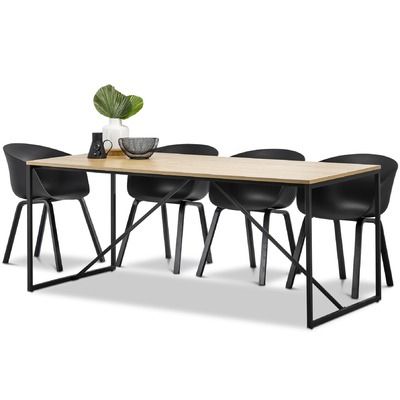 The primacy of plastic dining table sets is preferred to be added outside. We can make a dining room on the terrace or veranda that can create a cheerful impression. Plastic has strong materials that can ruin fast and are resistant to mold and mildew. It also has long durability and is lightweight. We won't feel complicated if it is dirty because it is easy to clean.
Aluminum Materials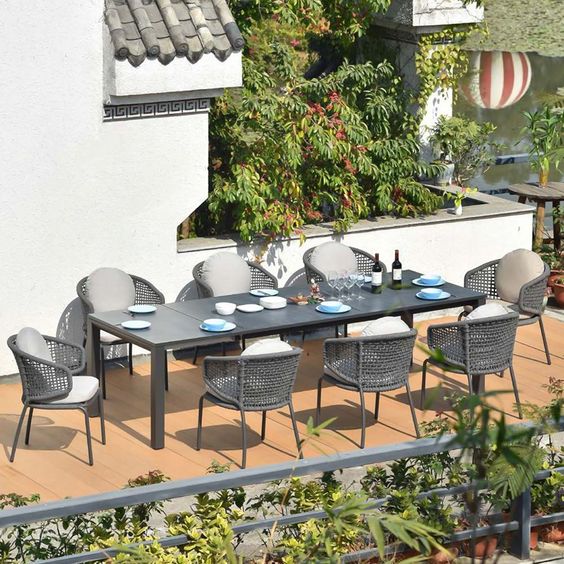 It has long durability and is not easy to rust so that's why it is preferred to be added to our home exterior. For those of you who want to apply tropical style ideas but don't want to use wooden materials, an aluminum dining table set is our recommendation. It has beautiful colors with many shapes that we can choose as long as it is related to the concept.
Rattan Dining Table Set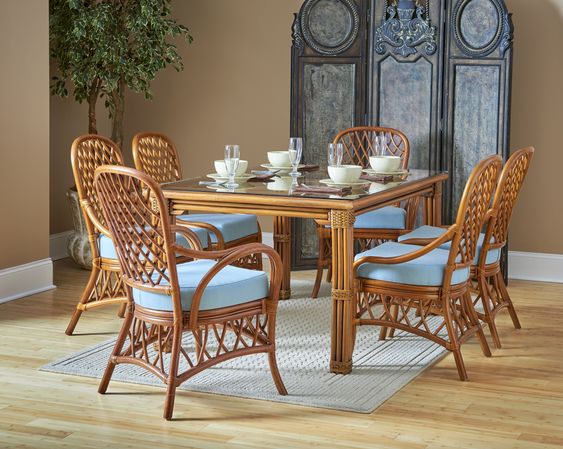 Rattan is a natural material that is suitable for tropical dining room style ideas to create a fresh impression like in the forest. Generally, it has a unique shape with brown or light brown color that looks very fascinating from other materials. It has long durability and is affordable which is very suitable for those of you who are on a budget.
Wooden Materials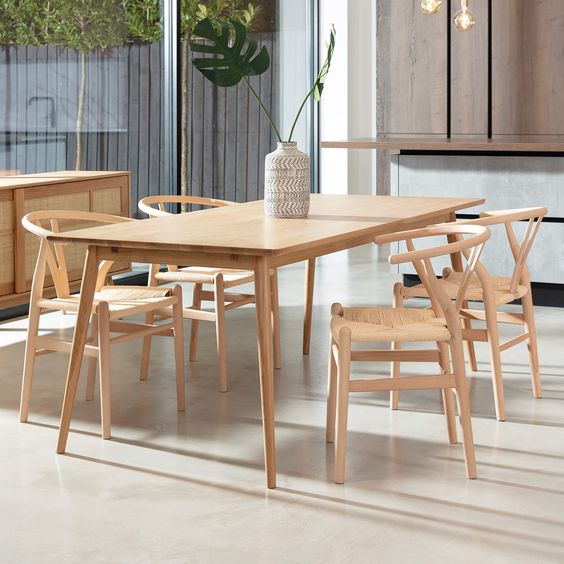 Wooden materials have beautiful light brown colors that create a stunning natural impression for our tropical dining room. We should know tips for applying a tropical interior style which might help us to feel easy while applying it.
Conclusion
Tropical dining room-style ideas with a table set can present like eating in the forest because it has a fresh impression. We should pay attention to furniture and decorations that will be suitable for the design. If we are wrong to choose them, we can ruin our interior style and make us can't feel comfortable while eating. Hopefully, by using our recommendations and applying our ideas we might help you to create a stunning tropical dining room.