Nexthomegeneration.com – Kitchen cabinets are useful for us to store our kitchen utensils or only save leftovers food that still can be eaten. It also can make us have a neat kitchen which makes us feel more comfortable. There are many kitchen cabinets that we can choose as long as it is related to the design and concept which we will apply. To avoid making a mistake while applying it, we should pay attention to the color selection. Modern gothic interior design tends to have dark colors but it can be combined with some bright colors to create a variation.
Actually, a kitchen must sterile because it is used to cook our food and do other activities which are very related to our health. If we don't know how to make it always clean, it might be dangerous for us. Sometimes we might feel confused because we don't know how to clean our kitchen correctly. It is also complicated to choose the best design of kitchen cabinet which will be suitable for a modern gothic design. Today, we will give you recommendations and some information about it.
Modern Gothic Kitchen Cabinets
Kitchen cabinets are necessary to add because it can make us comfortable and doesn't create a messy impression. There are many designs which we can choose according to our needs. Choosing a suitable design and color for modern gothic interior style doesn't feel complicated if we know the characteristic. This time, we will give you some recommendations about it.
Modern Gothic Brown Wooden Kitchen Cabinets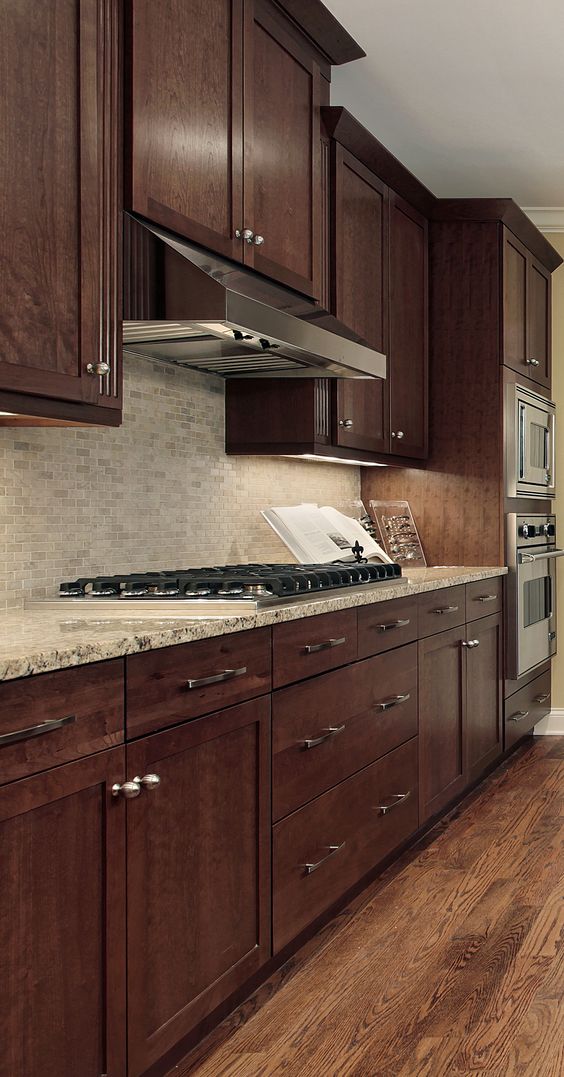 Wooden materials are always suitable for any interior design. It has a natural accent and looks beautiful. It is also easy to find in furniture stores and has good quality which can make it long durability. We can also save our budget because it can be used for a long time. It can be added to a contemporary modern gothic to create a natural and stunning look at the same time. For flooring, wooden tiles can be applied to create a beautiful impression.
Modern Gothic Black Kitchen Cabinet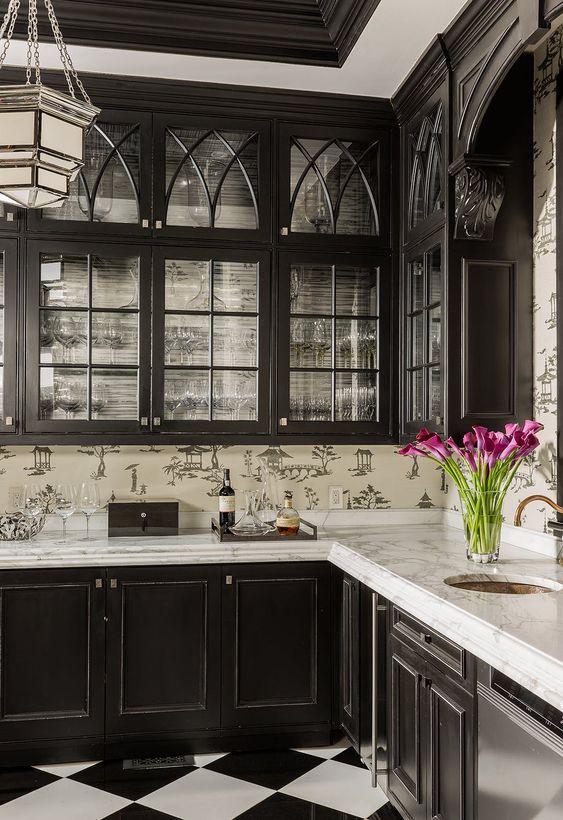 Black color doesn't only make our kitchen darker and scary but also beautiful if we combine it with the right color. White wallpaper with a simple pattern can be applied to make a harmonious concept in color and decoration selection. This cabinet also has much space for storing our kitchen utensils or other things which we want to save. It has a beautiful glass cupboard that can make our kitchen looks fascinating. Glass collection or other attractive things can be added to make it pretty.
Light Grey Classic Modern Gothic Kitchen Cabinet Style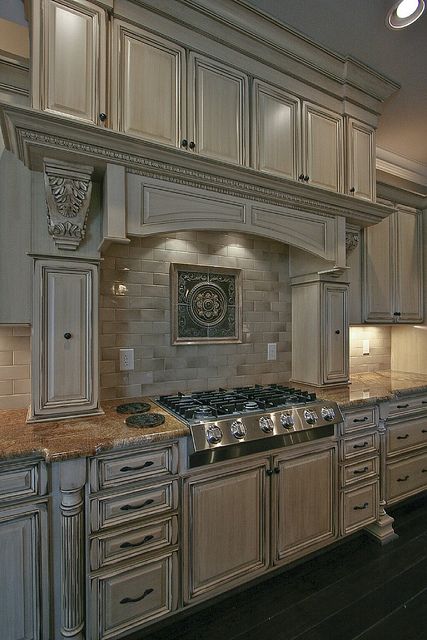 Classic style gives us a luxurious and elegant impression at the same time. It has unique color and design which can make our kitchen different from others. Modern gothic furniture is also suitable to be added because it can create an attractive impression. Although the color is not dark it is still preferred to make it looks beautiful. For people who want to combine victorian style with it, a classic kitchen cabinet is the best recommendation for us. We can install ceiling lamps to make them brighter.
Simple Modern Light Grey Kitchen Cabinet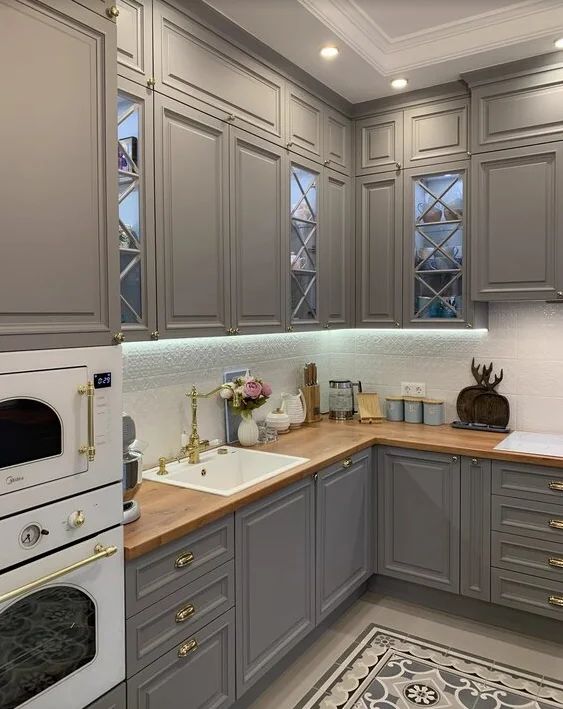 Modern style looks simple and minimalist at the same time but we can combine it with gothic interior design. It has glass materials which make our kitchen utensils or accessories can be seen from outside without opening the cabinet. It has many drawers which can be used to store our things to create a neat space. For flooring, ceramic tiles with beautiful patterns are preferred to be applied. If our kitchen has a window, modern gothic curtains can be installed to cover it.
7 Tips To Clean Kitchen Utensils
For some people, cleaning the kitchen utensils is a complicated activity. Can you imagine you should clean a messy and dirty room? It is certainly will make us tired. To save time and energy, we will give you some tips to clean your kitchen utensils. Now, let's get to the list!
Burnt Kitchen Utensils
Kitchen utensils like pan and frying pans are prone to scorch stains even if we use lemon soap, it can't make the dirt gone. That's why we should soak it in the hot water. There are some tips from us that you should know to clean the scorched stain.
Fill a pan with hot water and boil on the stove.
Once in a while, scrub your kitchen utensils with a coarse brush.
Continue to heat on the stove until the water boils.
Turn off the stove and let the kitchen utensils cold.
After it, throw away the water then the dirt will be gone.
We can clean it again with soap and water to make the kitchen utensils cleaner.
Stainless Steel Materials
Stainless steel kitchen utensils are often used by many people because it is easy to find and suitable for any interior design. Generally, cleaning it doesn't feel complicated because we can only use a sponge and soap. However, it should be done right away after using it. If it has a crust, we can use fabric that is given a few drops of vinegar to clean it.
Non-stick Frying Pan
Generally, a non-stick frying pan is made of marble, ceramic, iron, and others then they are covered with non-stick coating. We should be careful to clean it because we can ruin our frying pan. A soft sponge is the best recommendation to use and make it clean. Don't use a rough sponge because it can spoil our frying pan.
Wooden Materials
There are many people who used wooden kitchen utensils from tableware to cooking utensils. A wooden cutting board is our recommendation to use because it has a natural design and looks prettier than others. To clean it, we can only clean it with water and soap.
Conclusion
Modern gothic interior design is a unique style to be applied in our kitchen to create a variation and difference from others. To create a perfect design, we should pay attention to kitchen cabinet selection and don't forget to keep it always clean. It can make us more comfortable while cooking and spending time in our kitchen. Probably, by using our recommendations and tips, we might help you to create a fascinating kitchen.