Nexthomegeneration.com – Sometimes we think about a unique bedroom interior but modern gothic decor ideas never come to our mind. It is because we might not know about this design or even we never heard about it. Actually, modern gothic interior design is a beautiful style where it has unique furniture and decorations. Generally, it tends to have black but we can also use others such as blue, violet, dark purple, etc. The most important thing that should pay attention to is to use dark colors in a modern gothic design because it is a must.
Today, we will talk about bedroom decor ideas that have a unique impression and won't be found in any interior design. If we interest to apply a contemporary modern gothic design, we should know information about it. We also give you some wallpaper recommendations which might help you to apply them.
Modern Gothic Bedroom Decor Ideas
A bedroom is an important room in our house because we often spend our time there. That's why it is necessary to make it have a comfortable and beautiful impression. Some decorations and beautiful furniture can be added to create a stunning look. We can also choose the interior design which is suitable to our desire. For those of you who want to have a luxurious bedroom and love dark colors so much, a modern gothic interior design is the best recommendation. This time, we will give you modern gothic bedroom decor ideas.
Grey Dressing Table With Black Drawer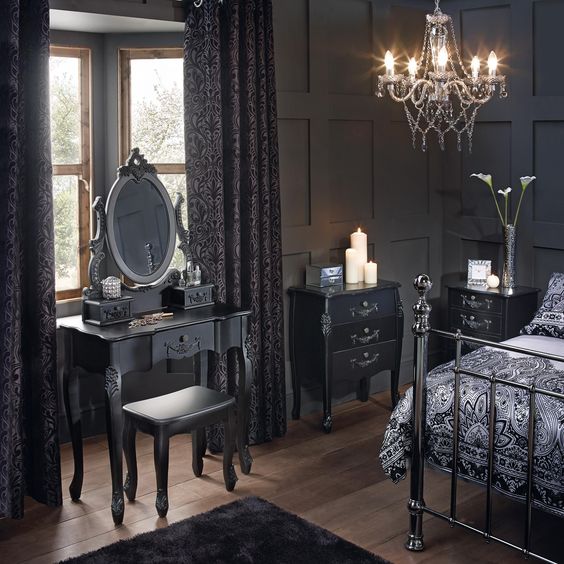 Although this design ideas look simple and don't need many decorations, it still looks beautiful. By adding a grey dressing table and installing a chandelier, it gives a stunning impression. To make us more comfortable to store many things in one place, we can add two drawers. A wooden tile can be applied with a black fluffy rug as a pedestal. Modern gothic furniture is necessary to be added where it gives a better looking. A beautiful pattern of bedsheets can be chosen to make it have a stronger design.
Tropical Accent In Modern Gothic Interior Design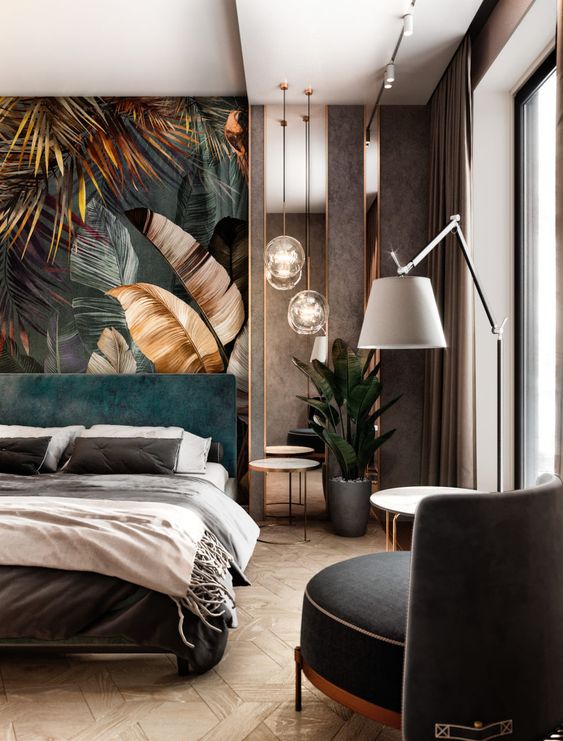 Wall decorations are necessary if we want to create a beautiful bedroom interior design. The best recommendation for applying leaves pattern wallpaper is to create a tropical accent and looks beautiful. To make it have a stronger design, we should add a plant as decoration. A unique chandelier can be installed to make it feel bright. If you are looking for a suitable bed for modern gothic, a green bed frame with brown bedsheets is the best recommendation. It also can be combined with a brown blanket.
Bed Curtain With A Chandelier Bedroom Decor Ideas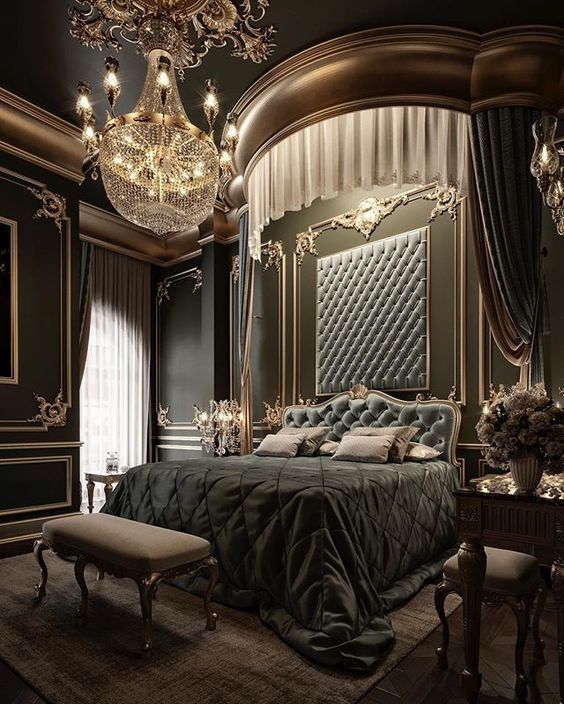 Do you want to have a bedroom like in a luxurious hotel? If you want it, we recommend applying this idea. Bed curtains and chandeliers can be installed to create an elegant accent. Choosing a green bed frame can give us a beautiful color combination and don't forget to apply textured walls. A simple brown carpet can be added as a pedestal to make it warmer. We can also add a brown table to make us more comfortable to spend our time.
Beautiful Gold Engraving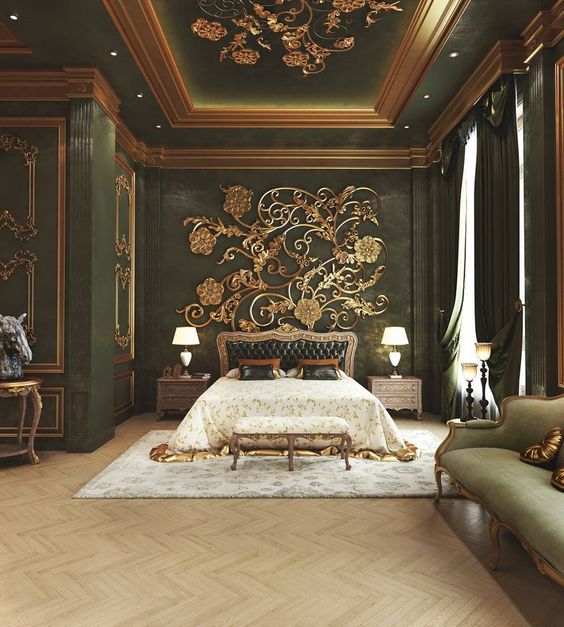 Green and gold color is a beautiful combination to make modern gothic design won't be darker. We can add a green sofa and install a green curtain to create a beautiful concept. A white with gold color bedsheets is suitable to be added and combined with a white fluffy carpet. Laminate or vinyl flooring is preferred to be applied. Two light brown side tables also should be installed to make us more comfortable.
Fascinating Textured Walls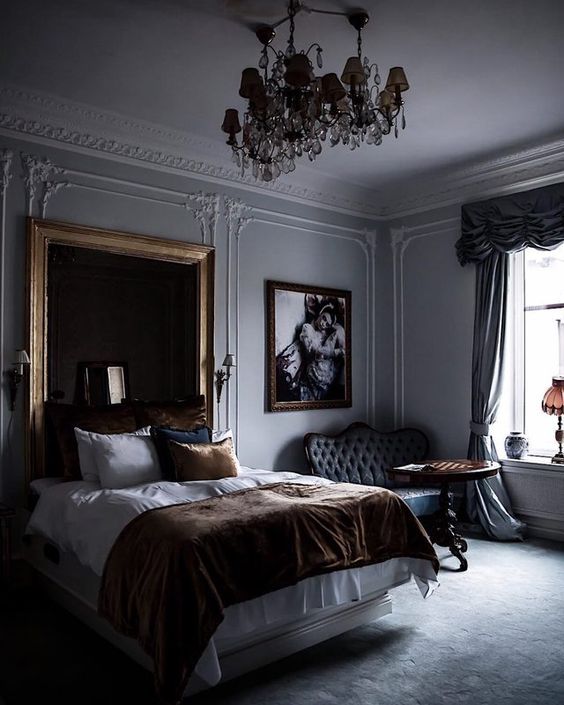 It might look darker but actually, it is beautiful for some people who love dark colors. The important thing to apply this idea is we should install a big window. It can make the sunlight easy to come and create a brighter impression. A white bedsheet can cover our bed and don't forget to add a brown blanket. If we want to add a sofa, a black color single sofa is our recommendation to make us feel more comfortable. A vintage picture can be attached to the wall as a decoration.
Modern Gothic Wallpaper Recommendations
Some people might feel complicated and don't want to paint their bedroom walls. An alternative for us is to apply wallpaper. There are many colors and patterns that we can choose as long as related to the concept. If you feel confused to choose a suitable wallpaper, we will give you modern gothic wallpaper recommendations.
Dark Blue Flower Pattern Wallpaper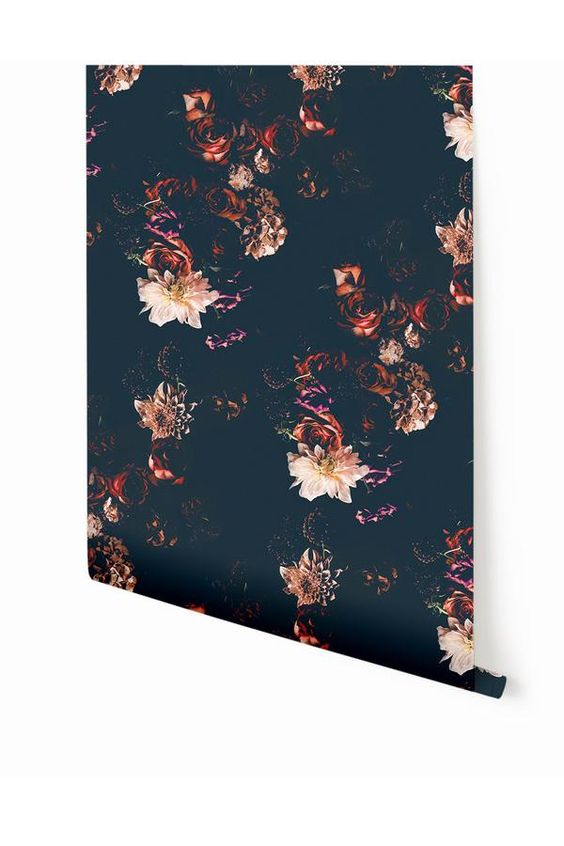 Are you looking for a feminine accent wallpaper? If yes, we recommend choosing a red flower with a dark blue color pattern. We can apply it to make an attractive impression in modern gothic interior design. It also makes our bedroom have a pretty color combination and won't look tacky.
Floral Pattern Green Wallpaper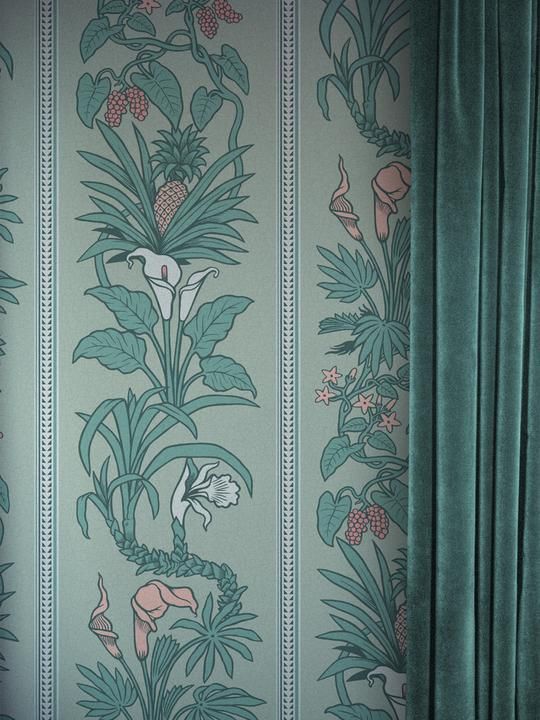 Creating a different atmosphere of modern gothic style is something complicated to do. However, we shouldn't have dark color wall decorations but a bright color wallpaper with a floral pattern to make it beautiful. It can make the wall have different interior designs that won't be found in others.
Gold Color Pattern Wallpaper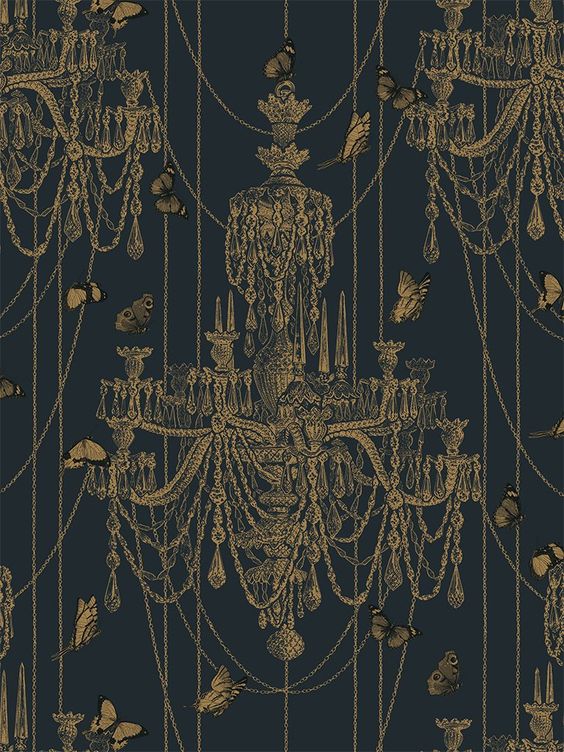 We should apply this wallpaper if we want to make an elegant and feminine impression at the same time. Gold color from its pattern and dark blue color is suitable to be applied in the modern gothic interior design. We can also create a luxurious accent by applying the wallpaper because it has a chandelier pattern.
Conclusion
Creating unique bedroom decor is easy if we know how to make it. Wallpaper selection is necessary to pay attention to make our bedroom prettier. Hopefully, by using our wallpaper recommendation and decor ideas, we might help you to create a beautiful and comfortable bedroom.