Nexthomegeneration.com – Small backyard is a little bit complicated to make it look chic because we don't know how to make it. Don't worry, you click the right article because we will give you a solution for it. Besides decorations that we need to make it look beautiful, we also need furniture that we have to add. For example, we need a chair for sitting and spending time in our backyard. If we don't add furniture to it, we can't create a pretty backyard. If we think about how important to make it look beautiful, we have a reason for you. A backyard is our space in our home and if we don't treat it better, it can make it into a scary space in our home. Now, we will give you a patio furniture recommendation for a small eclectic backyard.
The Advantages Of Decorating Our Backyard
For those people who have a backyard in their home or actually only have an empty land behind the house, we can change it to a beautiful space. By decorating it with beautiful decoration and furniture, we can have a relaxing place. It makes us doesn't go anywhere if we want to relieve our stress. Then, how many advantages that we can get if we make it have a better looking?
We can have a space for gathering with our family in the morning while reading a newspaper or drink hot tea. In the afternoon, our backyard can be a place for us to relieve fatigue after work.
If we leave our backyard have a bad view or we don't decorate it, we can have a scary space and make our home have a gloomy impression. It also makes it look messy and doesn't maintain.
Attending a barbeque party in our home doesn't something impossible again because we can do it in our backyard. If it looks beautiful, it makes us doesn't shame if we invite many people to our party.
We can have a different atmosphere in our home and have a green land that is something rare in the city.
A garden can be made in our backyard and make us have a private vegetable or fruit place in our home without going anywhere to get it.
Patio Furniture Recommendation For Small Eclectic Backyard
Sometimes it is a little bit complicated to decorate our small patio backyard because we can't free add furniture to it. We should make sure it has enough size that can make our backyard won't look narrow. A beautiful backyard is suitable to be combined with a pretty eclectic home exterior to make a prettier exterior design. If we still confused to choose the right furniture for it, this time we will give you some patio furniture recommendations that might help you to choose it.
White And Blue Color Rattan Sofa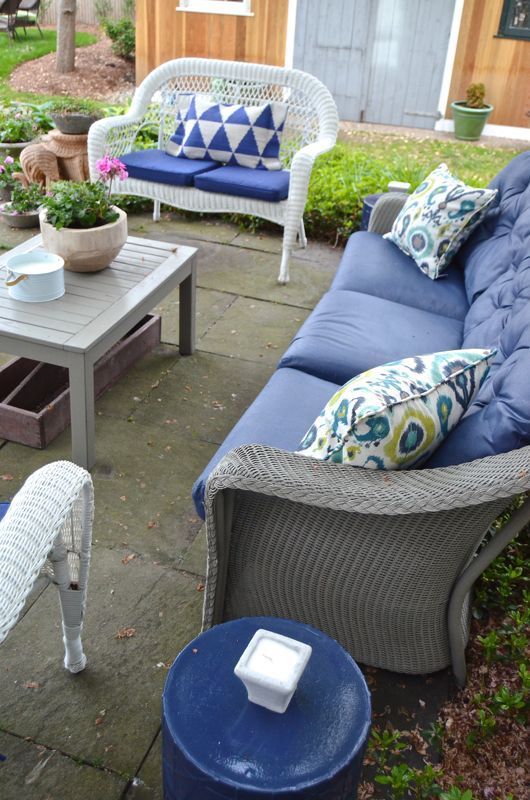 The blue and white color combinations are perfect matches if we want to have furniture that has a harmonious color selection. We can add a rattan sofa to our small backyard to make it look pretty even in the small space. Bright impressions from the color make it have an attractive concept and also look simple. If we looking for a comfortable place to sit, a sofa is the best piece of furniture that we can choose.
Green Furniture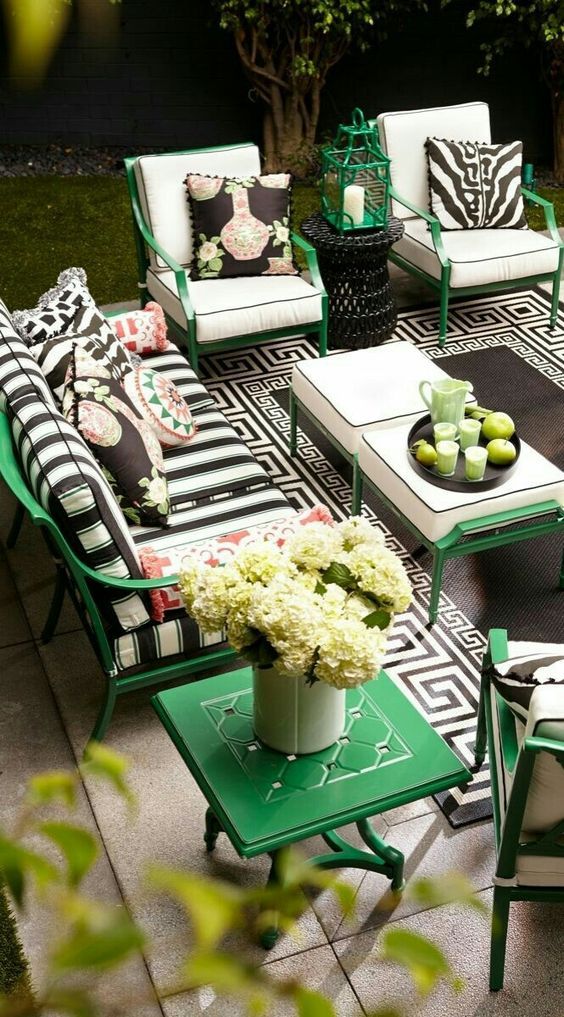 If we want to make our patio look beautiful and fresh, we should add green furniture and combine it with black and white carpet. We can add two little tables and three chairs where they can be combined with a unique carpet pattern. This sofa can make our patio in the backyard look wider than before. It also will not look narrow and messy at the same time because of green color has a fresh impression every time we look at it. To make it look perfect, we can add the best eclectic plant decorations to it.
Colorful Furniture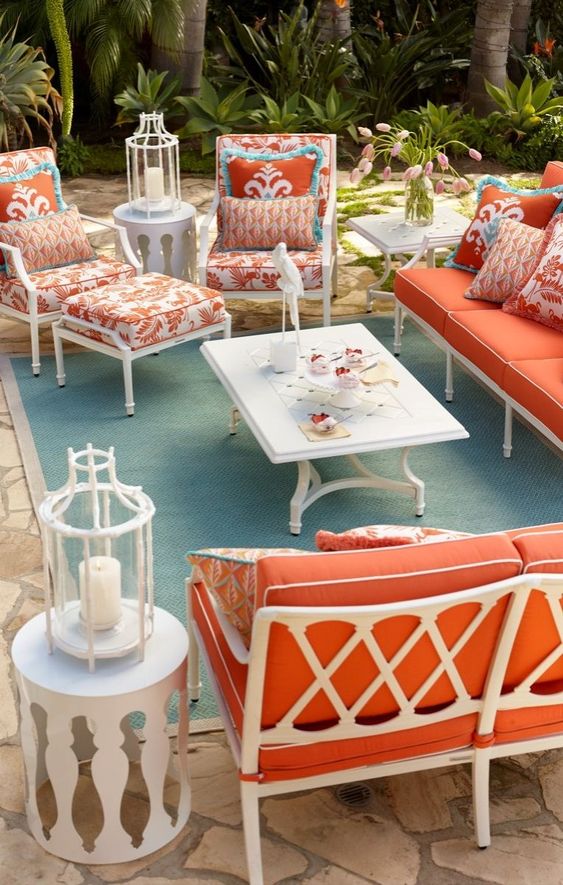 We can apply a colorful concept to our backyard if we want to have a fascinating look. We should choose orange color furniture because it has a suitable color for it. A unique pattern chair sofa with a white table can be added to our patio in the backyard to make it look beautiful and fascinating at the same time. To make this concept, we should choose a natural stone as a pedestal in the backyard and cover it with a blue carpet. Don't forget to add two side tables and flowers in the vases on it to make it won't look monotonous.
Outdoor Dining Room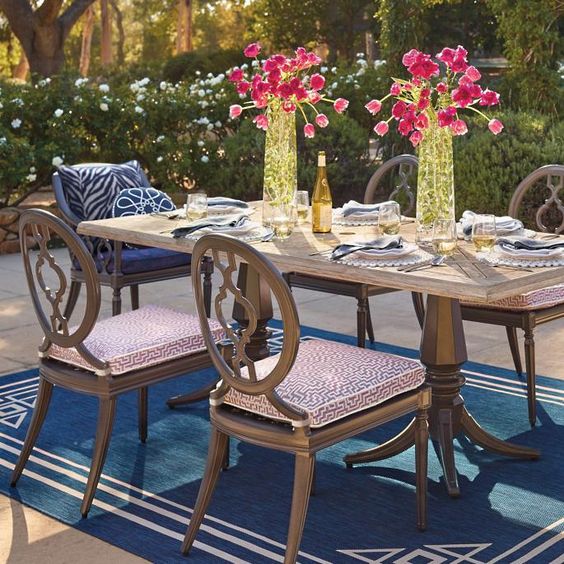 Some people want to feel a different atmosphere while eating with family or only spending time alone in our backyard. To create it, we should add a dining table set in our patio backyard. We can decorate it with some flower plants around to make a fresh and attractive look. We should use red flowers in the glass vases and blue carpet as a pedestal. This flower and blue dining set table can make our backyard have a different impression than our eclectic dining room in the home. It is suitable for people who want to attend a barbeque party or dinner with loved ones.
Natural Accent Furniture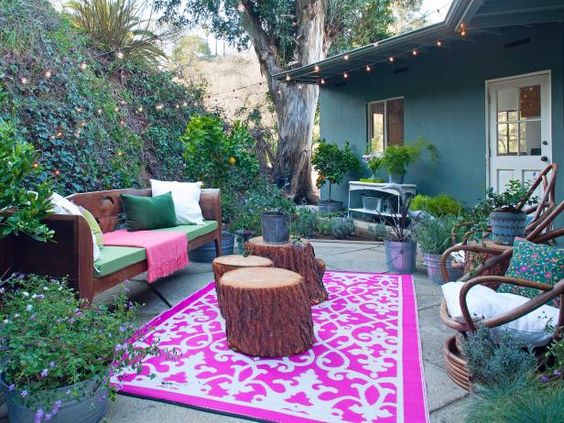 Sometimes we want to have a natural accent on our furniture and we don't want to ruin our natural impression in our backyard. To make it, we can add a table that has pieces of wood shape or use a real piece of wooden material. If we want to have a harmonious concept in furniture selection, we can add a wooden chair and combine it with pink magenta carpet. Generally, eclectic designs use many wooden furniture because it has many shapes, patterns, and even the price itself doesn't too expensive.
Tropical Accent Patio Furniture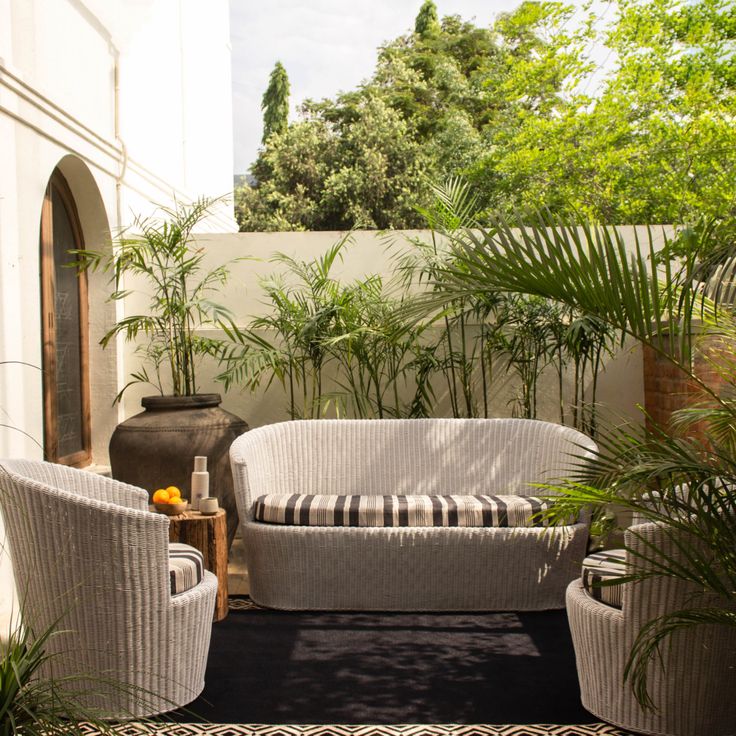 Do you want to feel like living in a tropical country or house on the beach? If you want to make it, we can combine an eclectic design with tropical furniture. We can have a warm impression with a tropical atmosphere if we add three sofas in the same design. A palm tree is very suitable to add as a decoration.
Conclusion
There might lot of interior design that we can apply out there. But, for people who don't want to feel complicated while applying it, we should choose an eclectic interior design by considering the right furniture to apply this design because if we use the wrong furniture, we can't create a perfect interior look.