Nexthomegeneration.com – A dining room is one of the important rooms in the house that usually uses as an eating place for us. Sometimes it is always used in important schedules like dinner with family or office events. an eclectic design looks like throwing many things together and combine them at the same time. It looks unique and interesting to make but somehow looks a little bit weird. To avoid a weird look, make sure the concept and materials that you will be mixing actually blend well. The design also uses in the eclectic exterior and eclectic small living room. Today, we will give you modern eclectic dining room decorating ideas with lamp recommendations that hopefully might help you to apply.
Modern Eclectic Dining Room Decorating Ideas
If we desire to apply a design we should search for many ideas as inspiration because it helps us to make a better design. For those of you that don't have any experience in designing an interior, some ideas very help you and useful also give you information about eclectic interior to avoid making a mistake while applying the design. It can also help us to make a fascinating look without creating a chaotic atmosphere.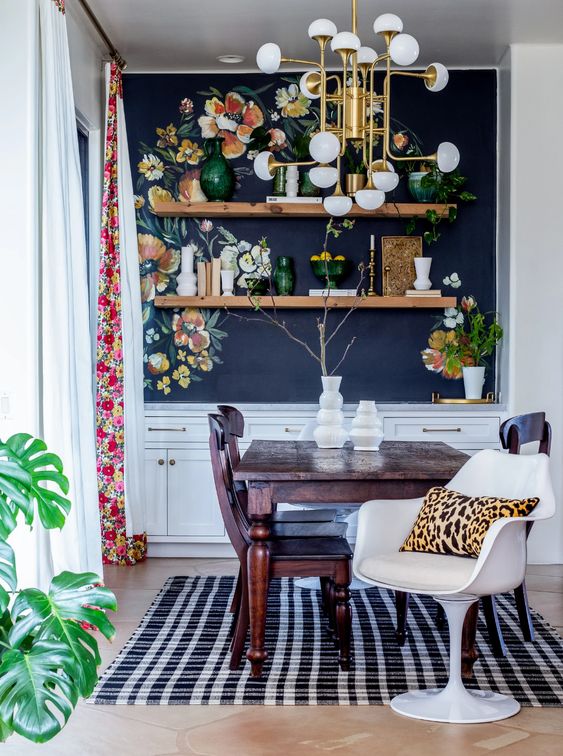 For applying this idea we should choose floral wallpaper and apply it to our dining room. It can make it look fascinating because it has a pretty pattern and normally gives a feminine effect. A window can cover by using a white and flower pattern curtain to create an amazing combination. We should choose a chandelier that has a unique design to make it have better looking beside to create a brighter room. A wooden dining chair and table with dark brown color can be added to our dining room. We can use black and white rugs as pedestals for our dining room furniture and avoid the furniture rub directly with the floor. We should install a wooden shelf for adding some decorations to the wall and don't forget to add a plant to our dining room.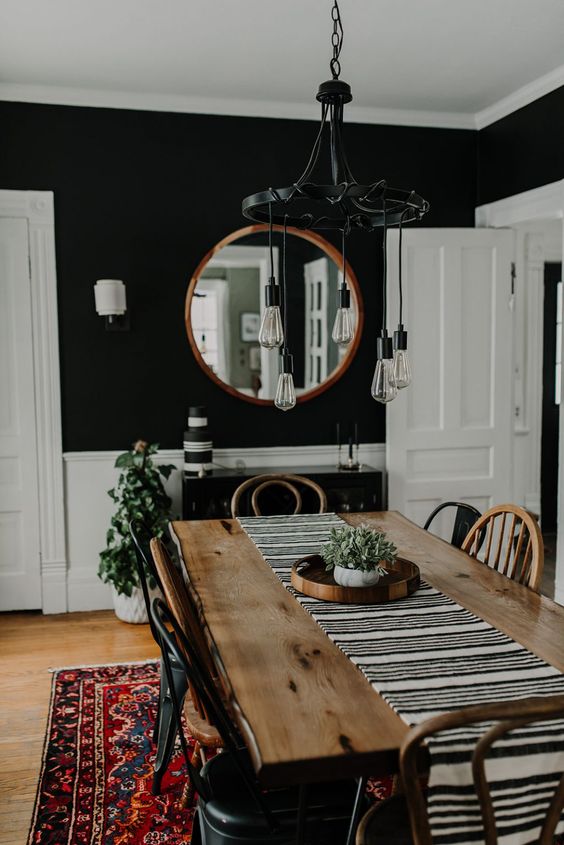 A black chandelier can be installed in a low position to make a lamp look like falling. We should use a wooden dining table and chair to make this concept. We have to make sure the dining table has a long design for making this concept look simple but luxurious at the same time. Don't forget to add a tablecloth that lengthways and covers some parts of it. Dark blue color can choose to paint a wall in some parts and white color to paint the rest. We should use a red carpet with a unique pattern. A round mirror can be added to the wall to make this concept look aesthetic.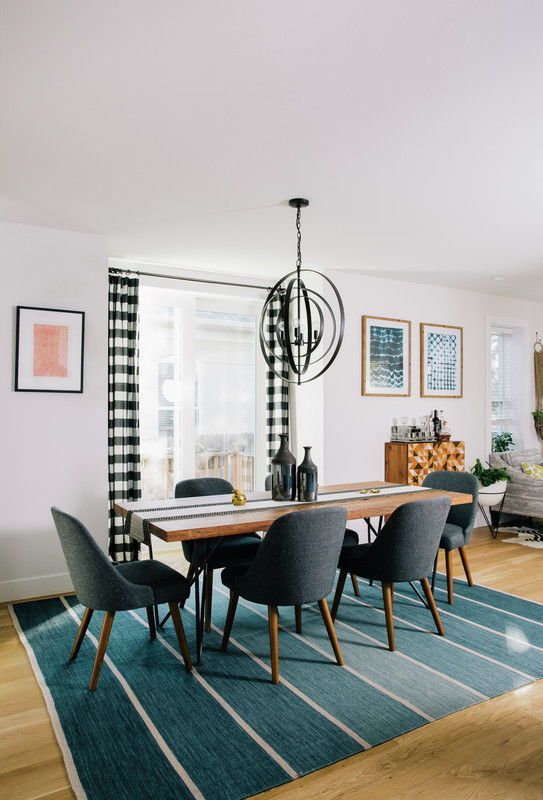 Vinyl wooden tiles are very proper for making this attractive concept. We should choose a white color in order to paint the wall to create harmony with the floor. Blue with a white stripe pattern can be added as a pedestal for our dining table and chair. A blue Eames chair can be added to our dining room to make it look cozy and minimalist. We can add a white and black checkerboard pattern curtain for covering a window. Don't forget to install a unique chandelier and some pictures to make it more fascinating.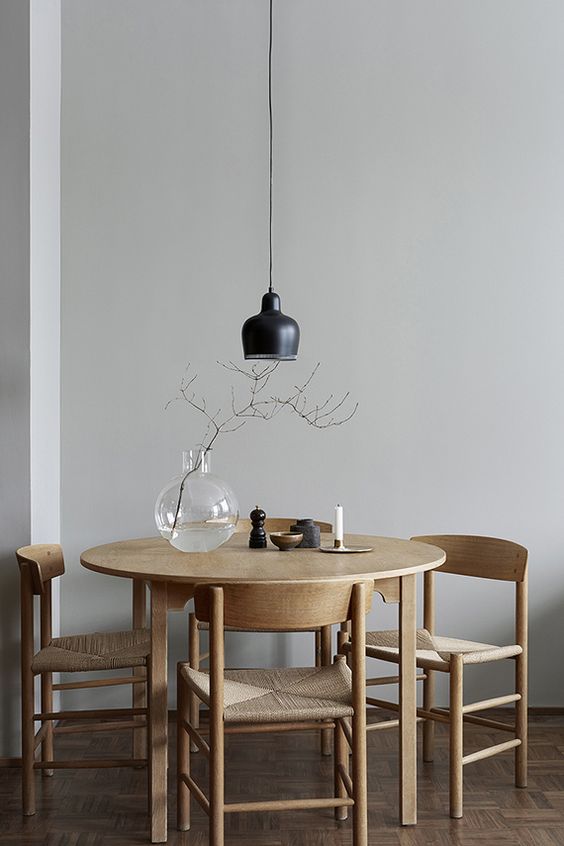 This concept is suitable for small places because we only add a round wooden table with a little dining chair. A classic chandelier can be added to the dining room to make it brighter and look simple but it still impressive. To make this concept look interesting, we can add some decorations like twigs that don't have flowers or leaves and we can add them to the glass vases.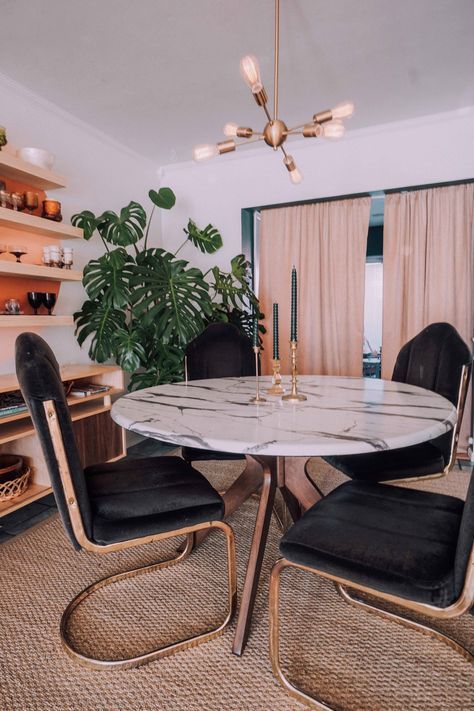 To make an astonishing look, we can make this concept. A marble dining table can be added to the rattan carpet. We should choose a black dining chair for making this concept cozier and feel warmer. A Monstera can be added as decorations and to make this concept doesn't look too wasted. We can install a beige curtain to cover our window and install a chandelier for making our dining room look more aesthetic. A wooden shelf can be made and stick to the wall.
Lamp Recommendations For Dining Room
There are various types of lamps that we can choose for making a dining room brighter. This time we will give you some lamp recommendations for the dining room.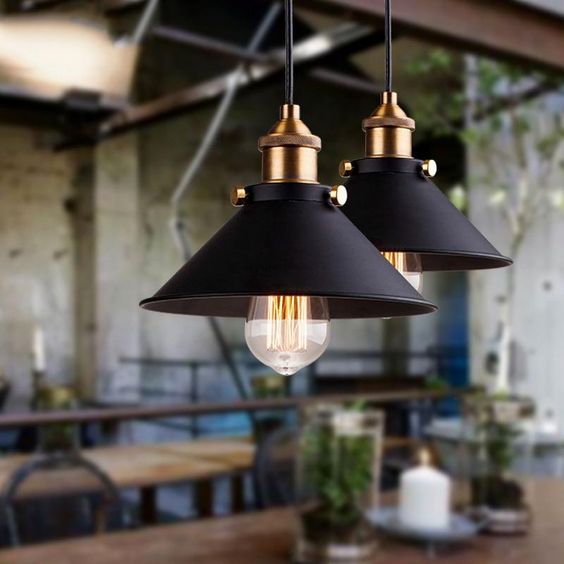 An industrial pendant lamp has a unique design and would fit the dining room. It has many more dark colors than a bright color.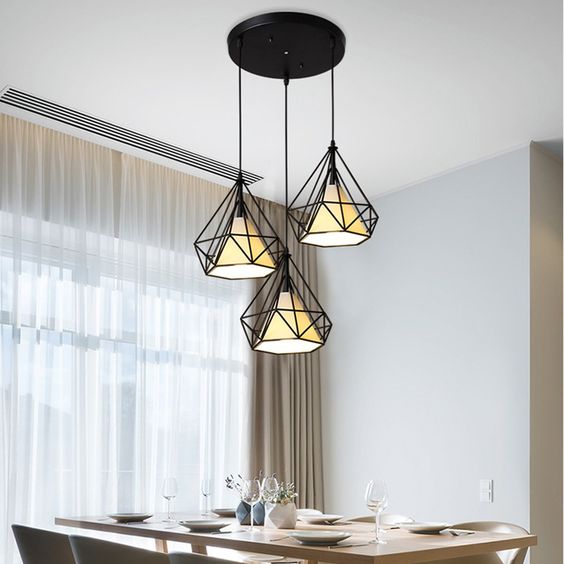 Are you looking for a unique lamp for a dining room? You will find an answer from us because we recommend a pendant light ceiling lamp! It has a unique design and shape also can make our dining room feel brighter.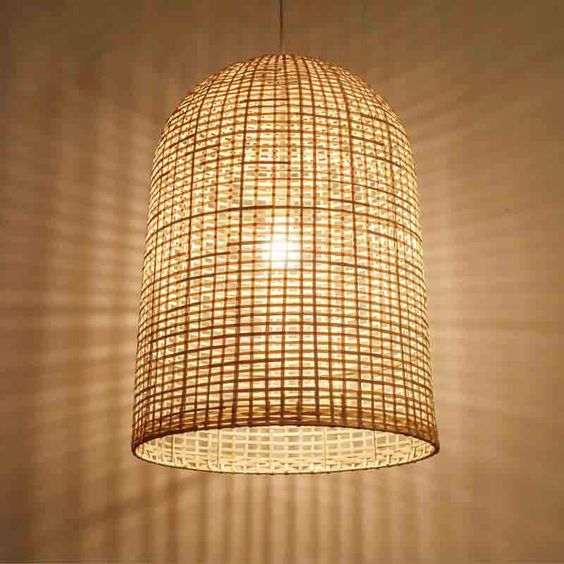 We can install a bamboo chandelier to make our dining room have a vintage concept. This lamp can also have a pretty shadow when turned on.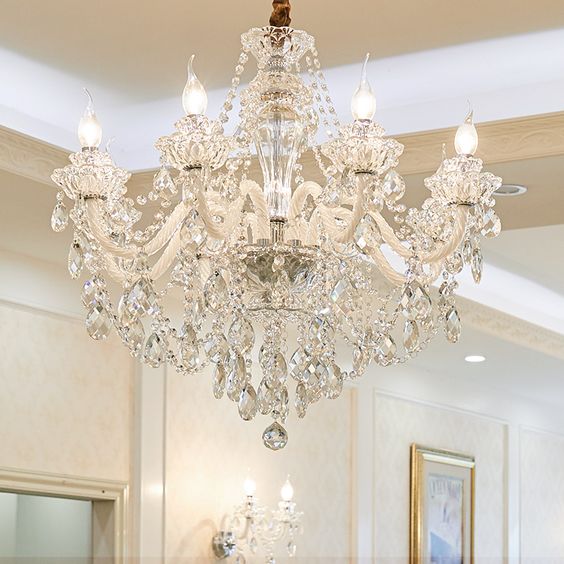 To make a luxurious eclectic dining room we can add a crystal chandelier. It has an elegant design that can make our dining room look pretentious.
Conclusion
This design is very easy to apply and we should try to apply it in our home. A lamp in our dining room is very important to add because, without adding it, the dining room can be darker. Hopefully, we might help you to apply it.