1. One bedroom apartment
Apartments are often synonymous with urban communities because apartments are a solution for those who want a place to live close to their work location. Not only that, but apartments can also be a choice of residence for those who like a practical life.
However, the living room in an apartment design is usually constrained by limited space. But you can still feel comfortable place to live even in a small apartment. One solution is to apply a minimalist one-bedroom apartment design. Through this design, the apartment will feel more spacious and functional. Therefore, we will discuss several 1-bedroom apartment designs in a minimalist Scandinavian style. For that, let's look at the ideas and inspiration below.
2. Ideas and inspiration
Even though they both have one bed, a one-bedroom apartment is different from a studio-type apartment. One bedroom apartment is a type of apartment that has one bedroom, one living room, one kitchen, and a separate bathroom.
Usually, the bedroom has a special room. Then, the family room and kitchen has integrated with the dining room. The design of a one-room apartment can vary depending on the space available. Then, the floor plan desired by the occupants. If you are a young couple looking for a minimalist apartment and more privacy, a one-bedroom apartment is a right choice.
3. Some attractive design examples
Several Scandinavian-style one-room apartment design inspirations can be designed in your apartment. Therefore, we want to share ideas to explain an attractive Scandinavian-style apartment design. Hopefully, this review below will suit your taste. Then it can be the right choice for you. Welcome to ours.
Design in Scandinavian style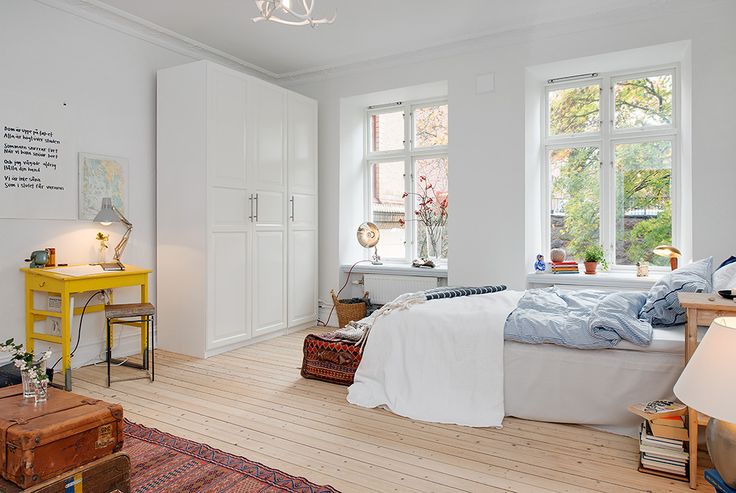 Scandinavian-style one-bedroom apartment design is indeed enough to accommodate a small family. In addition, you can also design interiors and decorations to make them look more attractive. With the arrangement of one bedroom, you have to be smart in finding ways to save space without sacrificing family comfort.
That is one of the reasons why the Nordic or Scandinavian interior style is the right choice to apply to this apartment design. As you know, the Scandinavian interior style is very thick with simple and functional things, such as simple, bright, and attractive arrangements. Then, look beautiful, and design the interior in white. Then place furniture that matches the interior of your room. Do not choose a large bed, because it can make the room uncomfortable. Add a patterned carpet so that your bedroom design looks aesthetic.
All-in-one 1-bedroom apartment design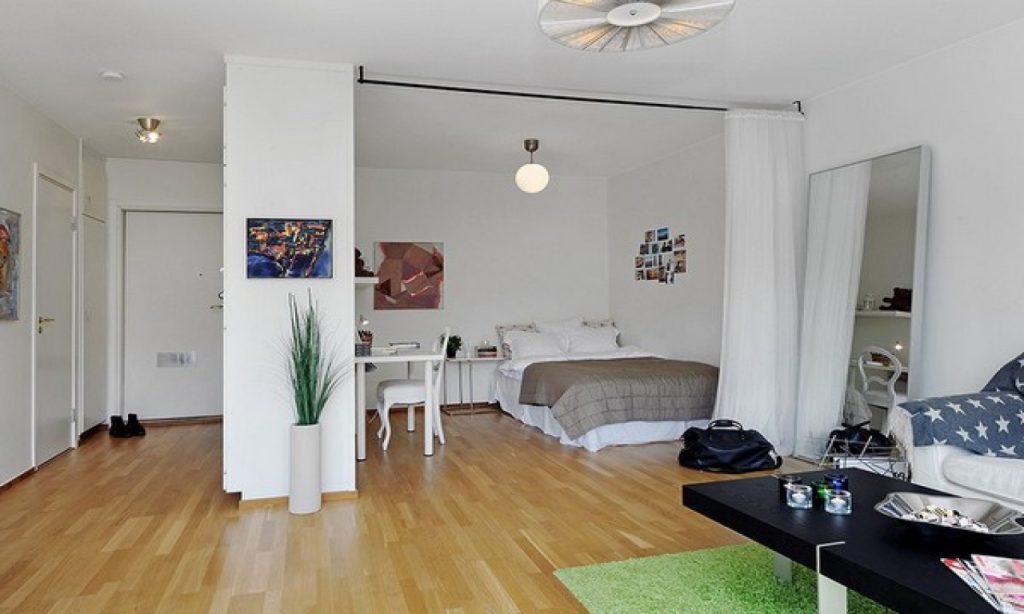 This one-bedroom apartment design is usually found in two or three-bedroom. As the name suggests, this all-in-one design has an open layout. The main areas are the living and dining areas. Then, the bedroom has separated by curtains but can be one if desired. Apart from that, there is also a small workspace complete with a minimalist desk and chair near the bedroom.
Then, a large mirror on the living room wall makes the room appear spacious. Then, you also can add large windows so that more natural light enters the room. To make it look perfect, you can add a minimalist bed, sofa set, table for placing drinks, decorative lights, and ornamental plants for health. That way, your apartment interior looks aesthetic
Apartment design with Loft bed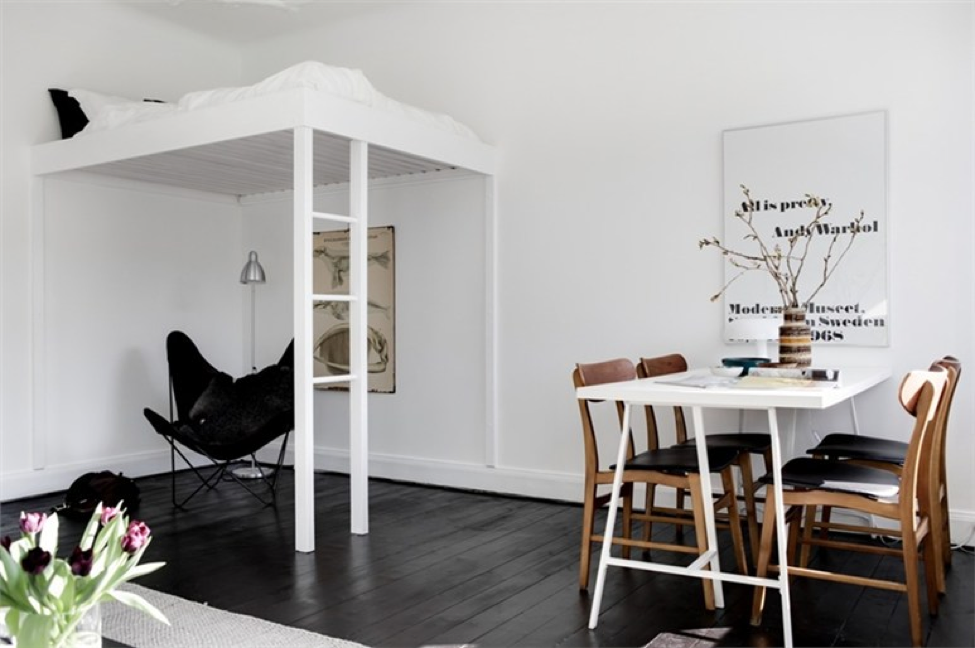 If the previous design united one room, this one design divided the layout of the room's interior according to their respective functions. As seen, this tiny apartment has a very minimalist interior design.
This design uses a loft bed for one person, then next to it is a dining area with a small table and a few chairs for guests. Meanwhile, under the bed there are chairs and lamps, so we can assume that this spot functions as a place to read. In addition, the loft bed can also make the room appear more spacious. Then, To make it pleasing to the eye, the corners of the room are decorated with flower pots. However, not many apartments in Indonesia apply this concept. With this arrangement, your apartment will look simple and attractive.
Design with masculine style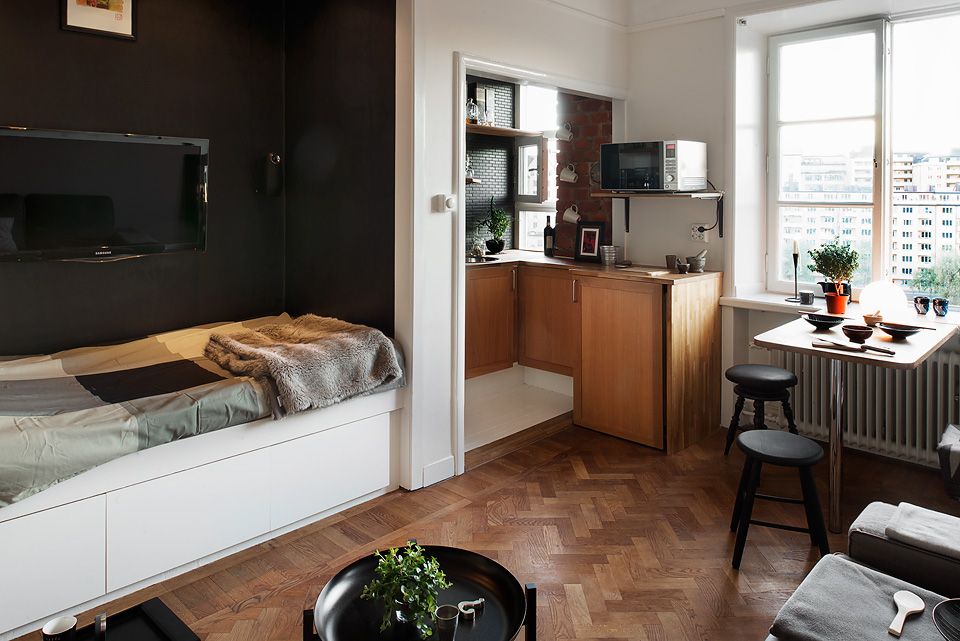 An apartment with an area of ​​27 square meters may seem small to most people. But in the right hands, the apartment can have a living room, bedroom, and dining room in it. To emphasize the masculine and vintage feel, this design incorporates wooden floors, large windows, and a bed with internal storage.
Even though this apartment is small, it has a very functional interior design, which is further strengthened by Nordic decorations, such as a minimalist bed with black walls as a background, wood motif flooring, and a buffet for placing equipment. With this arrangement, your apartment interior design looks elegant.
Design with a rustic feel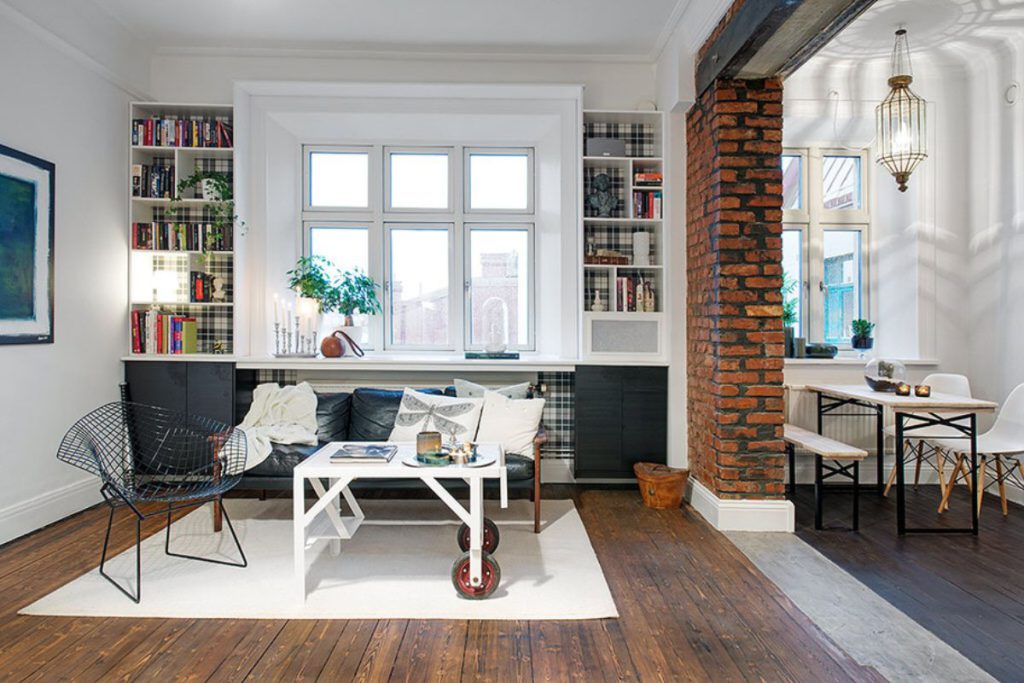 Scandinavian-style interior decoration often looks beautiful in combination with several vintage or natural elements typical of country houses. This apartment design is one of them, where the interior design is a combination of modern and rustic elements.
This apartment has an open layout between a kitchen and a living room. Then, the walls are made attractive with exposed brick has combination with wood. So it looks like a rural atmosphere. To make it look bright, you can design a large window. Next, you can place a long sofa, colorful motif sofa pillows, wall shelves for placing books, a table for placing drinks, a dining table set, and antique decorative lamps hanging from the ceiling.
Design with simple white color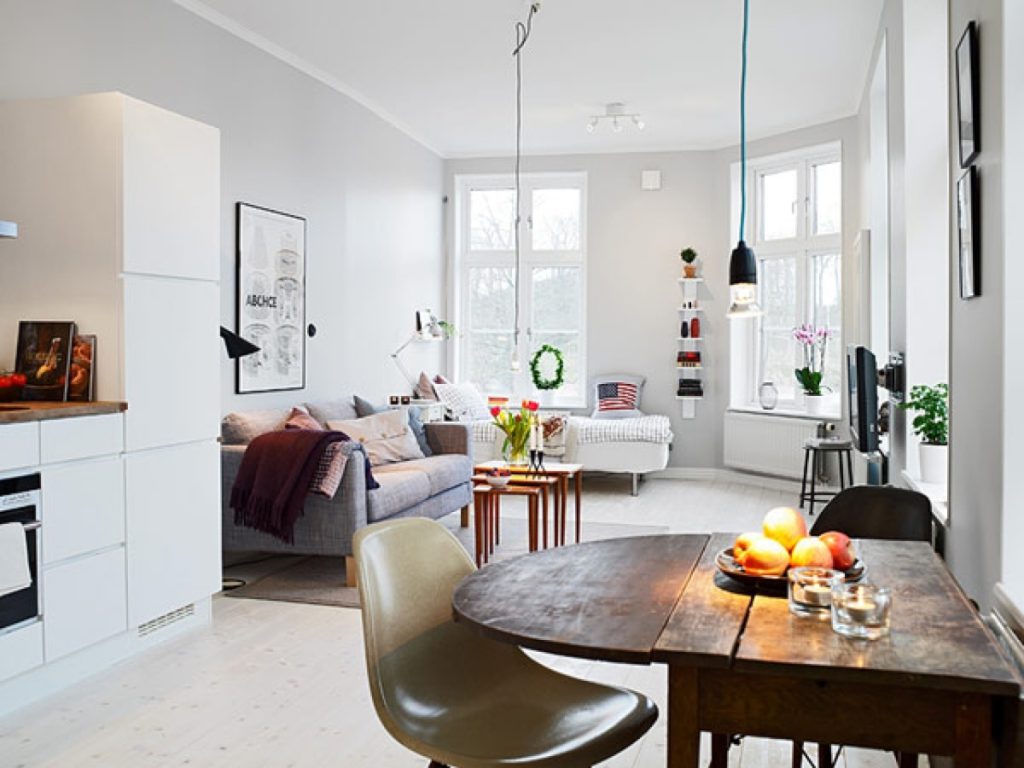 This apartment design looks very bright and open. Then, this apartment has walls and windows, and the ceiling is white. Then, the floor uses a wood motif with a very calm color. As you know, white is the main color that is suitable for Scandinavian interior design because it is easy to combine with other colors.
As you can see, there is a multifunctional room that functions as a bedroom and living room. In addition, an attractive kitchen design and a dining table with chairs. Even though these apartments share the same space, they are well thought out in design. To not look monotonous, this apartment is designed with antique hanging lamps, wall hangings, wall paintings, and ornamental plants that are beneficial for health. That way the interior design of this apartment looks aesthetic.
One Side Multifunctional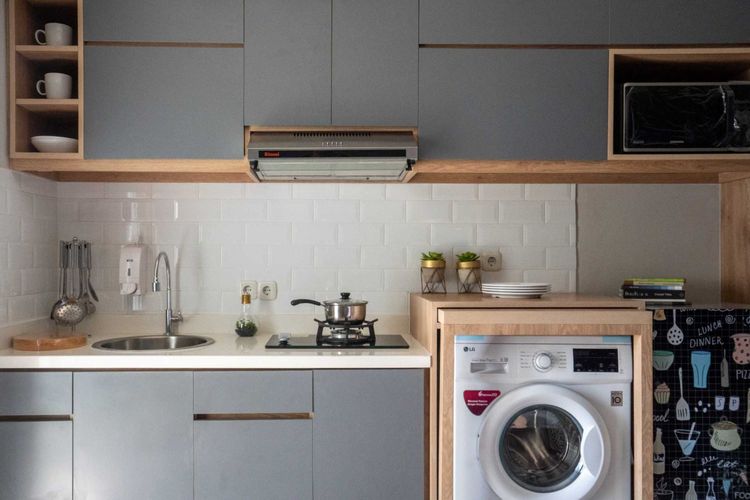 The attraction of this apartment unit is how cleverly the designer accommodated all the facilities in one room, as you can see on one side of the multifunctional kitchen area which doubles as a laundry room. With careful design, all kitchen appliances, refrigerators, and washing machines fit perfectly on one side of the wall. To make it look more attractive, the walls are designed with white exposed brick, a minimalist kitchen set in gray and wood, and a kitchen table in a color that matches the kitchen wall and kitchen set.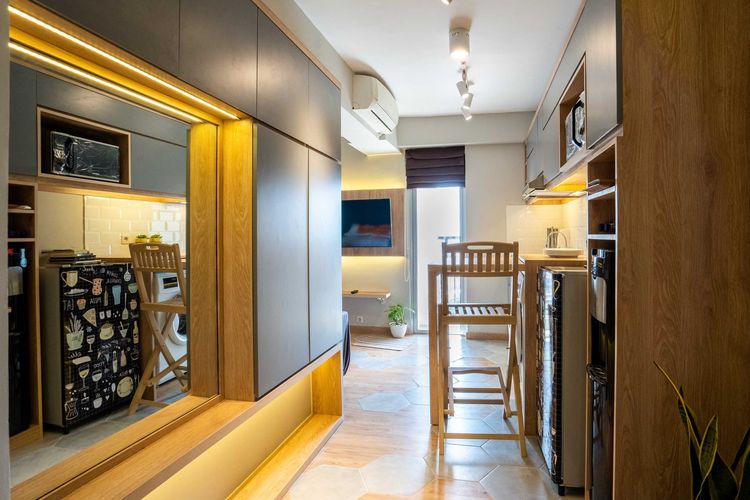 In addition, you can see one side of the storage space. At the top and the opposite wall, you will find a cabinet that fills the wall with a closed door. Then, this furniture provides lots of space for residents to store various pieces of equipment neatly, without making the room look messy.
In order not to feel cramped, there is a large mirror that reflects the shadows and light in the room. This technique succeeded in making the unit feel brighter and more spacious. More intelligently, the location of the mirror also effectively forms the illusion as if there is "extra room" in the cabinet.
Super comfortable bed and work desk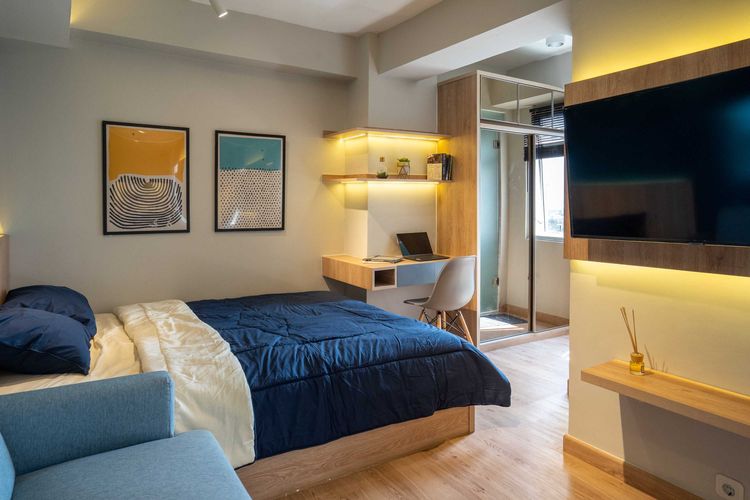 The most important part of a dwelling is a place to rest and relax, be it a bedroom or living room. In this one-room apartment, the bed is placed facing the window. Providing opportunities for residents to be able to enjoy the scenery outside while feeling the direct sunlight.
Meanwhile, the workbench was right in front of him. Equipped with a hanging rack that is given cool lighting for a comfortable working atmosphere. Next to the desk, there is a cupboard with a sliding door that has been purposely fitted with a mirror in front of it. The goal, of course, is to provide a broad effect in this resting area. To avoid looking monotonous, the interior of this room is equipped with wall paintings, a television, a sofa, and room lighting mounted on wall shelves.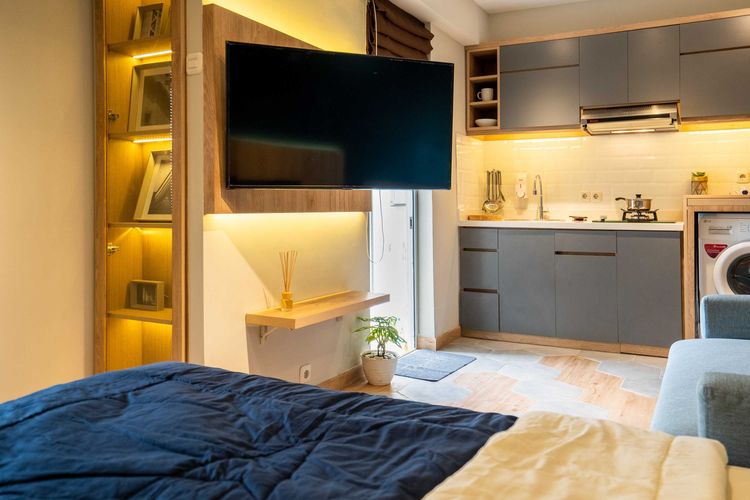 Meanwhile, the living room is on the right side of the bed. Besides having a function as a place to gather and watch television, the family room also acts as a separator between the sleeping area and the kitchen. Its existence provides a clear boundary between the functions of each area, even without a dividing wall.
The use of color and pattern in one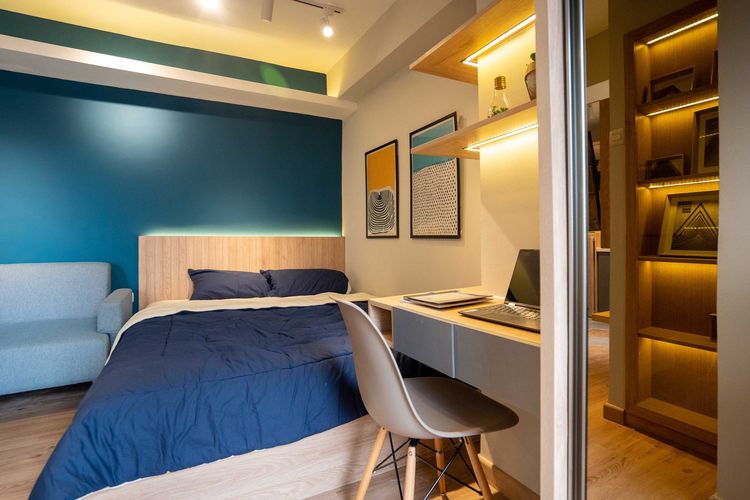 If you pay attention to this design, you can see how matching colors are used in all corners of the apartment unit. There are only a few minimalist colors such as white, gray, wood, navy, and light blue which are combined alternately. Then, the use of these colors not only keeps the nuances in it minimalist but includes the combinations of this apartment. To make it look more attractive, you can add desks, chairs, beds, makeup mirrors, wall paintings, and sofas to relax. That way your bedroom design will feel comfortable. then make you feel at home inside.
4. Conclusion
So, those are some one-room bedroom designs that we can recommend. We hope the design can suit your taste. However, if you are bothered, you can order the interior design of this apartment from a home decor company so that the results are satisfactory. We hope our review can make your apartment interior design look Cozy, elegant, beautiful, and aesthetic. Then make you and your family more cheerful.