1. Apartment kitchen overview
Having an apartment with an aesthetic design and a complete interior is everyone's dream. But if you have an apartment like it, we provide some inspiration and recommendations for small kitchen design ideas, and you can organize your kitchen as you wish. Limited land in the design of a small kitchen, of course, is experienced by residents of 1-bedroom apartments.
As far as we know, the ​​apartment area in Indonesia is small. Therefore, the house owner must be smart in managing the available space. Usually, the spaciousness of ​​a 1-bedroom apartment is around 30 square meters with a minimalist kitchen model. However, this apartment type can still get a comfortable kitchen design for cooking activities. Hopefully, you can arrange the kitchen according we provide. Then, you will get a comfortable cooking area according to your needs.
2. The trick to creating a simple apartment kitchen
If you want to get the results of an apartment kitchen design that suits your wishes. You have to make layout planning, material selection, and appropriate storage arrangements. The goal was to create a simple yet comfortable apartment kitchen.
Therefore, we present a design method you can emulate to make the cooking area look simple and comfortable. For this reason, we provide some tricks to design a comfortable small kitchen to your liking. Apart from that, you also have to pay attention to the decoration. So your kitchen design looks beautiful and aesthetic. Then to make your kitchen doesn't become cramped, don't put too much furniture in your kitchen. Therefore, Let's follow the attractive kitchen design inspiration below.
3. Attractive design inspiration
Apartment kitchen designs generally have a smaller size when compared to ordinary home kitchens. Even so, you can design your apartment kitchen to look luxurious. As far as we know, the kitchen is one of the rooms often used by the apartment owner. In addition, as a place to cook and prepare food, the kitchen also can be used for various activities, such as gathering with relatives or family. So many people think the kitchen is the heart or center of life in a dwelling. Therefore, we want to share ideas to review beautiful and comfortable apartment kitchen designs. Welcome to our review!
Using luxurious materials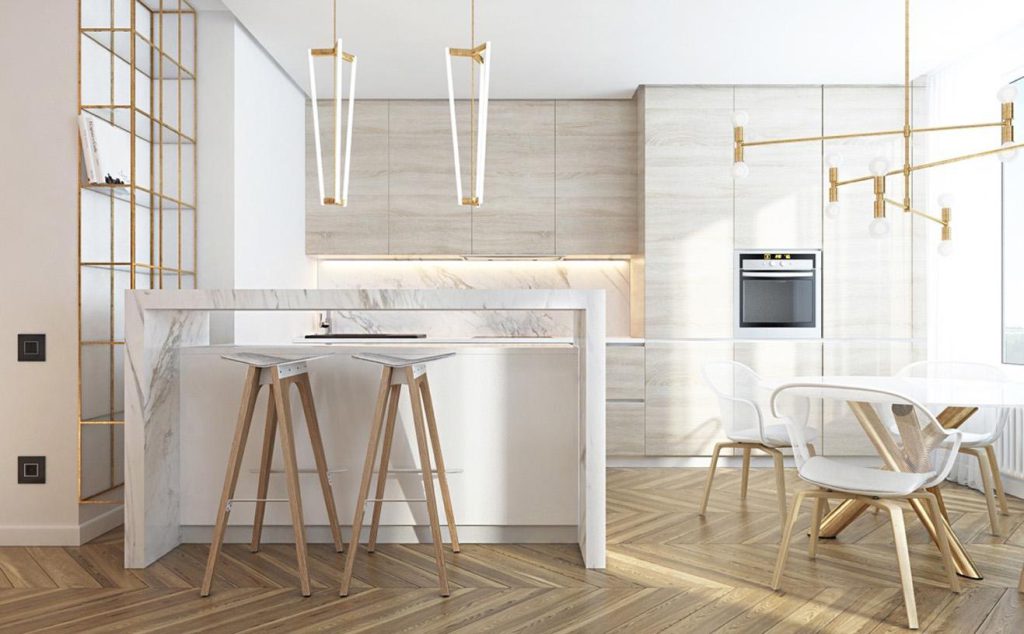 Even though your kitchen area is limited, you can design your kitchen to have a luxurious impression. An impression like this can be accentuated by applying quality and classy materials, such as the apartment kitchen above. As you can see, this cooking area has dominated by marble material which is applied to the wall area, kitchen counter, and backsplash. It can make the room look minimalist and elegant.
To add a luxurious impression to the kitchen, you can apply gold accents to several pieces of furniture and furnishings, such as adding gold accents through chandelier stands, chair legs, storage shelves, and dining tables. To make it look more elegant, you can decorate the floor with wood motifs. With this arrangement, your kitchen design will feel more comfortable.
Using wood materials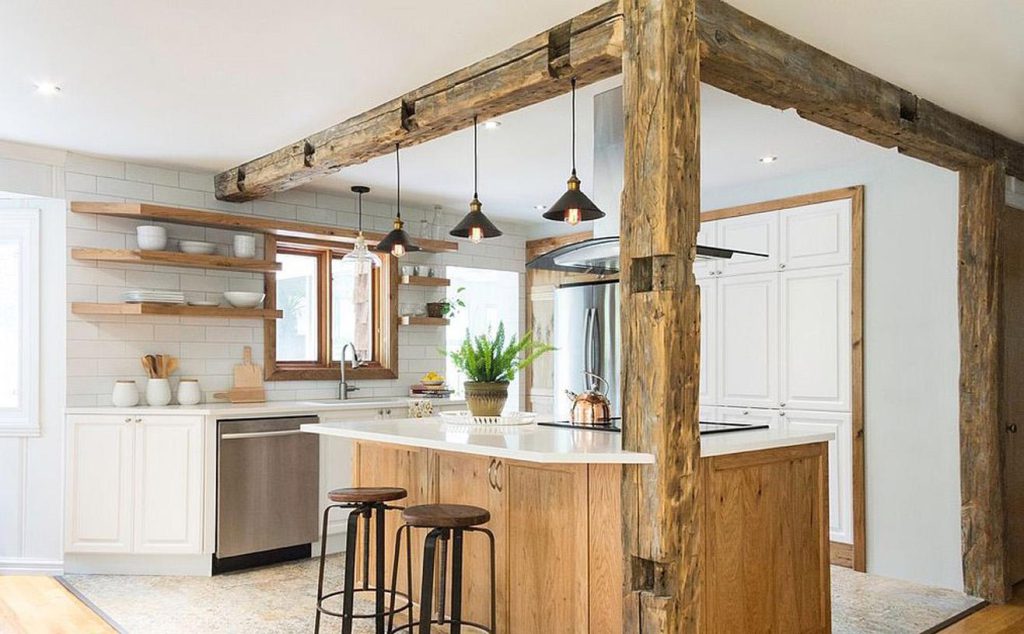 There are many ways to design an apartment kitchen. One of them is by using the wood material. As you know, using wood materials can also create a luxurious impression in a room, like in the kitchen design above. Even though it uses simple ingredients, the kitchen looks luxurious.
As you can see in this picture, the wood material applied to floors, backsplashes, cabinets, and walls makes the kitchen look elegant. In addition, using wood materials in the kitchen also creates a warm impression. So it's good if you still want to maintain the original color of the wood you can arrange it properly. So look a beautiful and natural impression.
Then, to add a more attractive, you can add a bar table and round wooden chairs, a hanging decorative lamp mounted above the bar table to illuminate the table at night, wooden shelves on the wall instead of a kitchen set, a minimalist kitchen table, wall decorative mirrors, and plants Decorate so that the eyes feel fresh looking.
The monochrome concept in the kitchen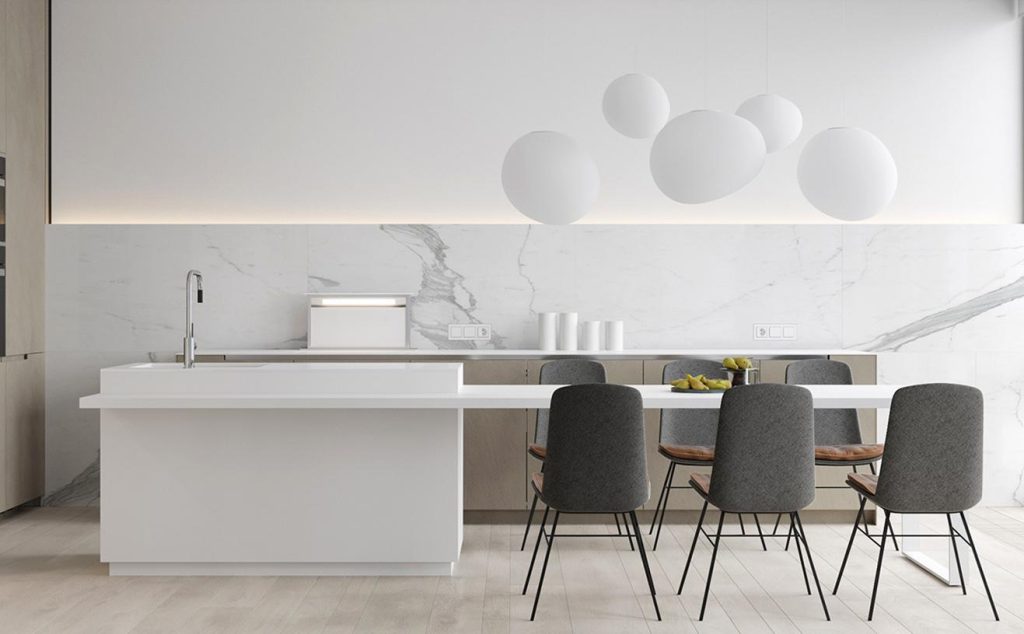 The monochrome concept room is in great demand by the public. This design includes an apartment kitchen. As we know, the application of monochrome can create a futuristic impression in the room.
To make it look more attractive, the apartment kitchen design above emphasizes white on several pieces of furniture, such as a kitchen set, dining table, and kitchen wall. Then, to look more harmonious, this design has combined with a black chair. Besides looking futuristic, the kitchen also has a luxurious appearance through the application of several quality materials. One of them is on the wall, which uses marble material. With this arrangement, the kitchen design looks simple but luxurious.
Kitchen design with a folding dining table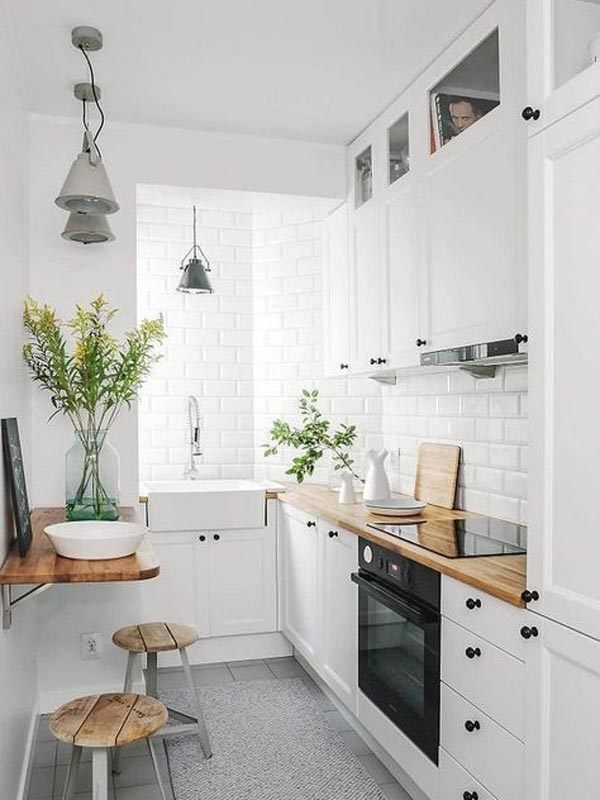 Having an apartment with limited land should not confuse you. You can design your kitchen using a folding wooden table. By implementing this design, you can save space. Then, add a wall design with white exposed bricks so that your kitchen looks bright and spacious.
To make your kitchen look cooler, you can add a white kitchen set, a kitchen table with the same color as the kitchen set but the surface uses wood color and set up your beautiful gas stove on the kitchen table. As lighting at night, you can add spotlights that are hung from the ceiling. Then, add ornamental plants so that the eyes feel fresh looking.
Kitchenette with bookshelves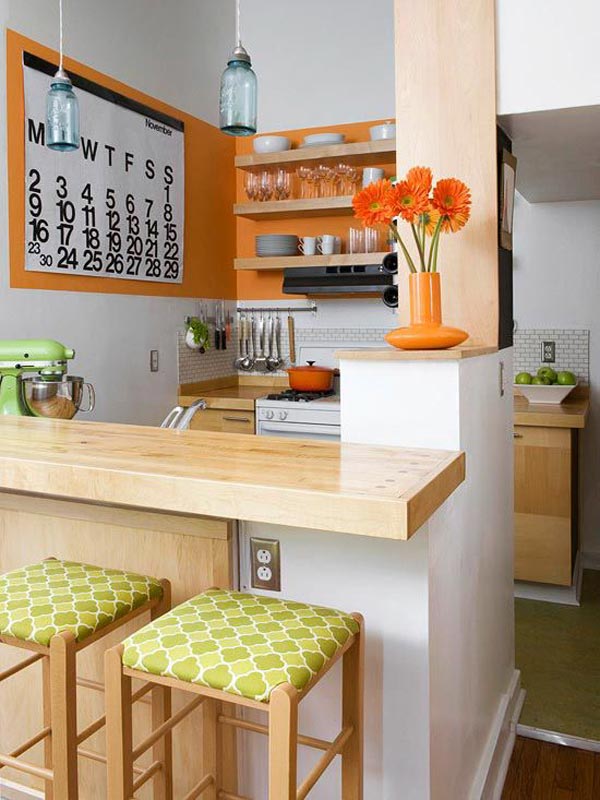 As previously explained, having a kitchen with limited land makes you have to be good at organizing it. A beautiful and comfortable kitchen does not only use expensive and quality materials. You can design this kitchen with your ideas and inspiration.
As you can see, this white and orange narrow kitchen idea has a do-it-yourself calendar on the wall, giving the decor a unique look. In addition, to these design ideas, this kitchen looks unique with a hanging decorative lamp made of bottles. Then, instead of a kitchen set, the wall is designed with wooden shelves and has equipped with a matching color kitchen table complete with a beautiful gas stove. Then, to make the atmosphere more relaxed, this kitchen is equipped with a bar table and wooden chairs that are adjusted to the height of the table. With this arrangement, the kitchen design looks artistic and elegant.
Keramik Dinding Dapur yang Cantik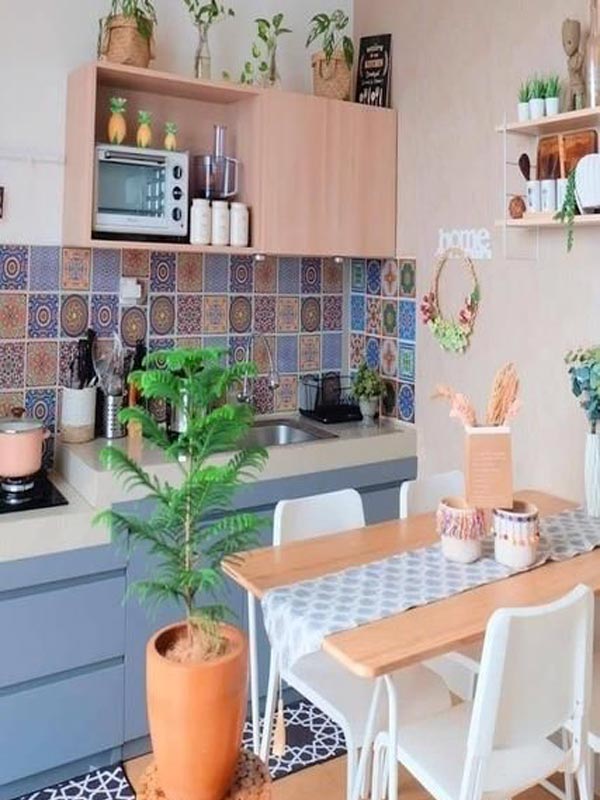 Each apartment kitchen must equipped with cooking equipment. Good cookware will improve the functional aspects of that area. However, you don't have to create a smart kitchen concept that uses sophisticated equipment at exorbitant prices. You can adjust it to your household budget. So that expenses when rearranging the kitchen don't swel
How to arrange a small kitchen apartment with 1 bedroom to make it look beautiful is to use ceramic backsplashes of various motifs, anti-splash walls can beautify the kitchen. Match the color of the kitchen set with the color of the backsplash. So the kitchen decoration will look beautiful. Then, to complete the kitchen, you can add a mini kitchen set, kitchen table, minimalist dining table, white chairs, and decorative plants. With this arrangement, your kitchen design will look aesthetic.
Classic exposed brick design kitchen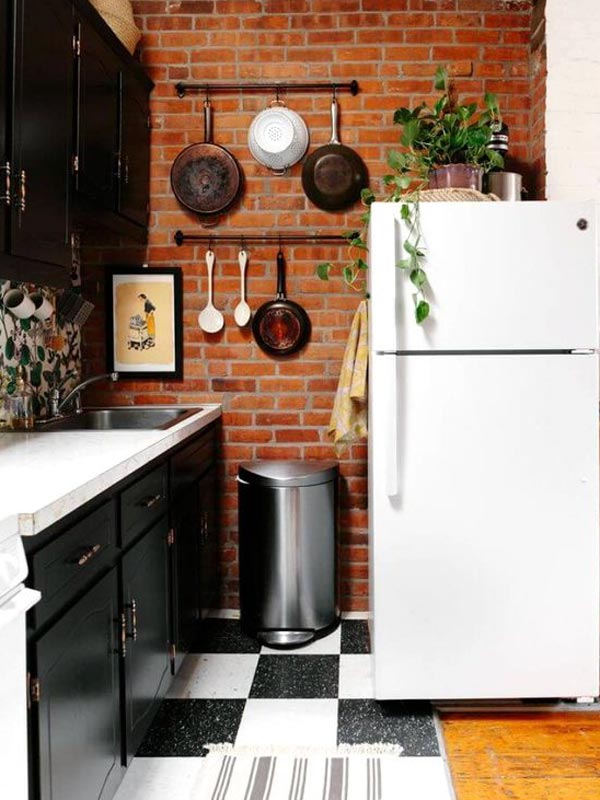 A beautiful kitchen depends a lot on the right arrangement of furniture. Especially in a small apartment kitchen, you can make a small kitchen look more attractive. To make your apartment kitchen look livelier, you can use exposed brick walls without cement. Apart from that, you can also apply lighting with a chandelier so it can illuminate when you are cooking.
As you can see, this exposed brick wall makes the small kitchen look even more unique and attractive. With accents like this, your small apartment kitchen looks more natural. So that your kitchen doesn't look empty, you can add a large white refrigerator to match the exposed brick color. Then, you add a kitchen table, cabinets for storing cooking utensils and hanging cooking utensils on the wall. With this arrangement, your kitchen design looks classic.
Complete with quality cooking utensils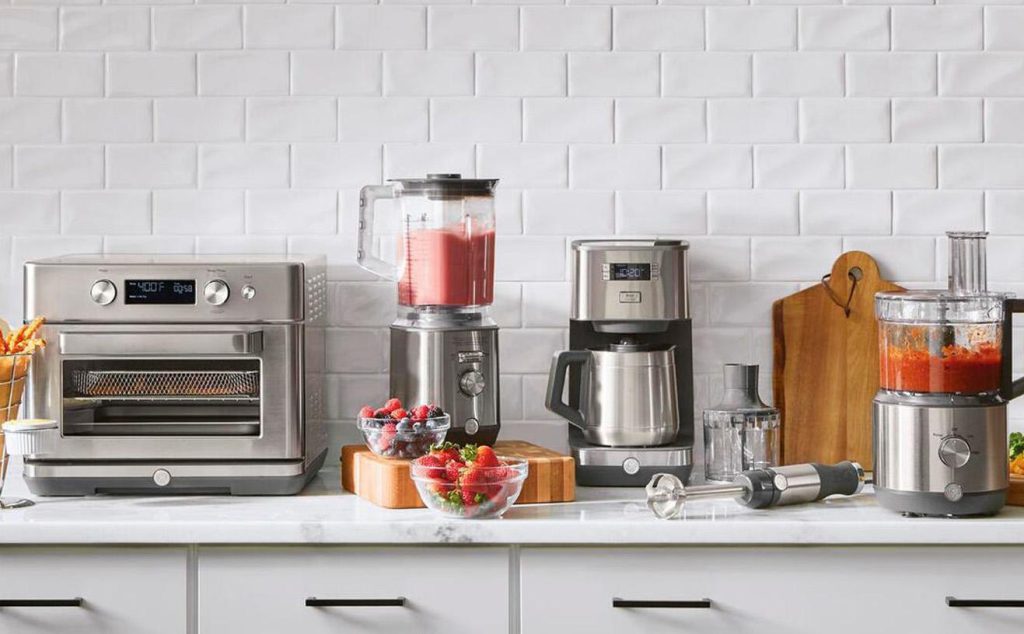 As we explained above, the beauty of the kitchen depends on the proper arrangement of furniture. Therefore, you have to be smart to arrange your small kitchen to make it look neat. As you know, comfort in the kitchen can increase your partner's enthusiasm for cooking your favorite food.
But you don't need to buy expensive cookware. We recommend that you adjust it to the budget you have so that it doesn't become a burden on you. Then, so that your kitchen doesn't look empty, you can equip your kitchen with kitchen equipment, such as a kitchen table for placing a microwave, blender, and tools for boiling water. That way, your kitchen will look complete and modern.
Japandi apartment kitchen design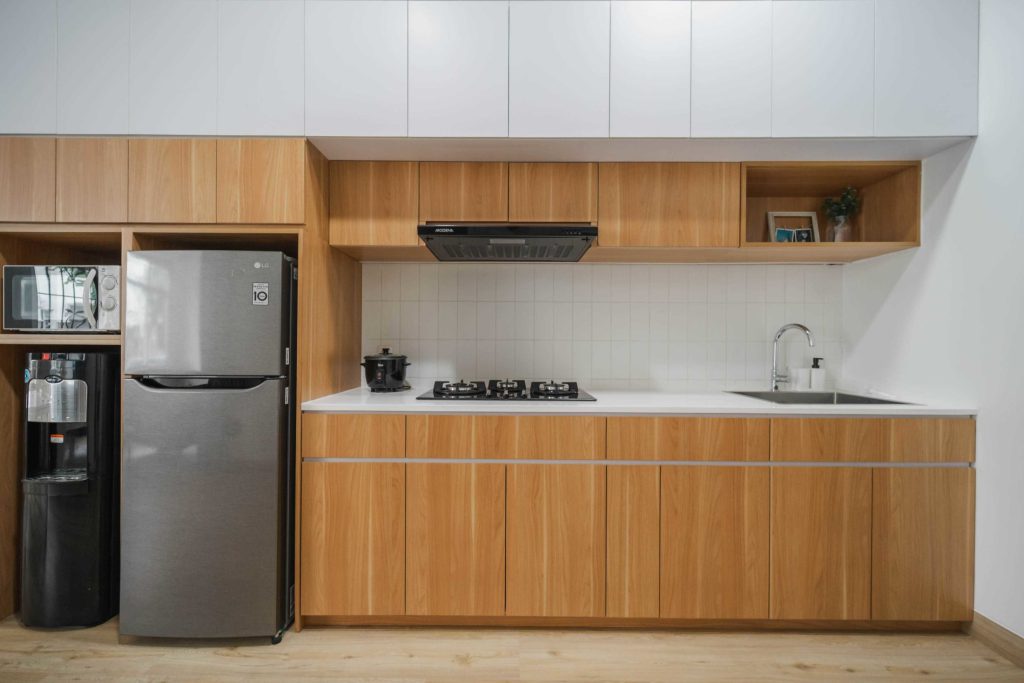 Japanese-style kitchen designs are currently popular. Many people are interested in designing their apartment kitchen with a model like this. If you like natural, soothing nuances, try applying a Japanese design in the kitchen, like the kitchen arrangement in the picture above. As you can see, the kitchen set looks made of wood with a light brown color. While the kitchen backsplash section carries the concept of exposed brick with a layer of white paint. Apart from that, you can see the kitchen design looks elongated so that the space for the occupants to move freely when cooking.
To make it look complete and attractive, you can add a kitchen set, a kitchen table designed complete with a refrigerator, and a smoke extractor that is placed on the gas stove set. With this arrangement, your kitchen design will feel comfortable.
Kitchen with bar counter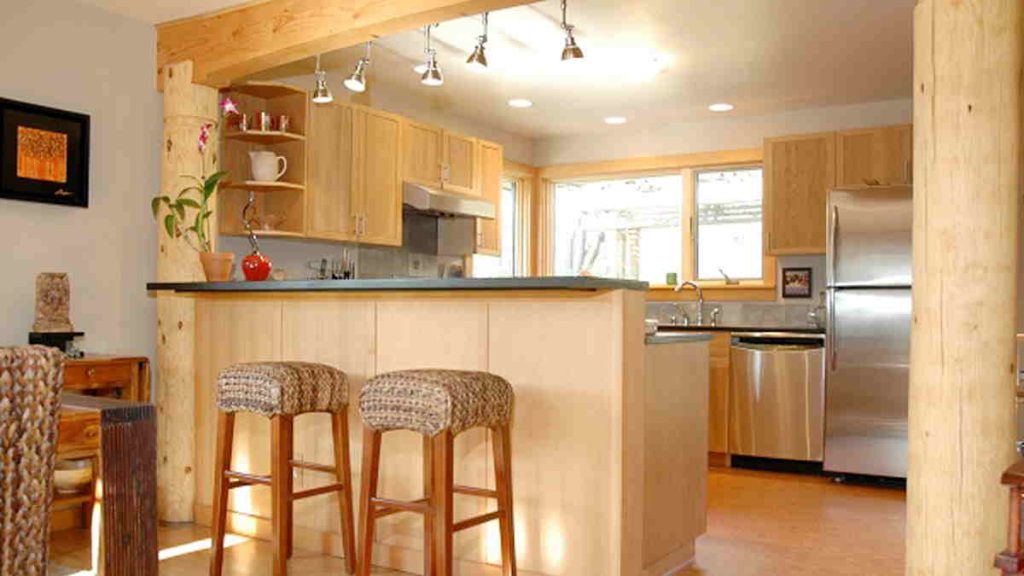 The design in the picture above is suitable for you to apply to a 1 bedroom apartment type. The cooking area consists of two rows of kitchen tables, one row for the dishwasher and refrigerator, then the next row for the stove as well as the dining table. In order not to seem cramped, use brown wood and bright lights in this area. Then, to look more attractive, add a bar table and chairs, spotlights to illuminate the kitchen and a beautiful bar, kitchen, and worktop. That way, your kitchen design will look luxurious.
4. Conclusion
Those are some examples of apartment kitchen designs that we can recommend. If you are interested in the design above, you can call a builder to design it with you. However, if you don't want to bother, you can order from a home decor company so that the results are satisfying and according to your taste. We hope that our review above can make your apartment interior look aesthetic, beautiful, elegant, and comfortable. Then, make you and your partner more romantic. Happy decorating!