Overview of garden lights
Garden lights are not only used as decoration in front of the house. Garden lights should also function as exterior lighting for the house at night. However, many people install garden lights only as decoration for plants, with the aim of making the garden look beautiful and complete.
If this happens, don't let the exterior and beauty of your home dim when night falls. Place garden lights in the right areas. So they can illuminate the exterior of your home design and your flower garden. That way, your home will look beautiful and charming.
As you know, most people choose garden lights based solely on design. But they don't consider the actual function. Therefore, for those of you who are still confused about choosing the right garden lamp, you can follow our review.
Selects the desired type of light
In choosing a lamp, make sure you are familiar with the three basic types of lighting, namely ambient, task, and accent. Ambient lighting can be obtained through pendant lamps, pole lamps, and wall lamps. While task lighting can be realized with the presence of path lights, deck lights, and security lights. Meanwhile, to be able to get outdoor accent lighting, you can take advantage of landscape fixtures and spotlights.
So if you want to install lights in the front garden of the house, you can choose according to your wishes. Then, install the lights in the right place. So they can illuminate your garden and the exterior of your house at night. Therefore, you must be able to calculate the needs according to the model of your home.
Calculation of needs
If you want to create a beautiful garden and house exterior at night, you must prepare a plan for installing garden lights. Therefore, before buying a lamp, you must know exactly how much lighting you need to install in your garden.
Then, to determine how much light is needed, multiply the square footage of the area you wish to light. Then set the appropriate lamp mounting point. Do not let the installation be excessive causing a waste of electricity. Therefore, choose a garden lamp model that suits your taste. So it's not boring. With the best planning, you will produce the best lighting.
Adjust to the size of the park
If you want to install garden lights, measure the area of ​​your garden carefully so you don't choose a fixture that is too large in scale than it needs to be. The placement of the lights really depends on the installation location. As you know, for the front porch and back porch, the size of the outdoor wall lamp must be one-third the height of the door. To look harmonious and attractive. As for the lights that are installed in the garden, you can use spotlights or lights that use poles. Then, also make sure that you choose a type of lamp that is durable and made of high-quality materials, and can withstand all weather.
Use LEDs
Garden lights consist of various models. But if you want to install garden lights, use LED-type lights. These types of lamps use energy much better than halogen or incandescent bulbs. LED lights are also low-maintenance, so you don't have to change your bulbs. In this way, you will be able to save on the cost of procuring the bulb.
However, if you want to illuminate your garden and the exterior of your house to make it look beautiful at night, you can install spotlights. Then, install it according to the direction you are going. That way, the exterior design of your home will look aesthetic and attractive.
Observe the light from inside the house
Observing garden light from the inside of your home can helps you to decide which lighting to choose and how to place the lamp around your yard. Then, consider how patios, gardens, and walkways look beautiful from inside your home. Garden lighting that can be seen from the living room provides extra value at night.
In this place, you can place garden chairs and round tables to chat with your partner. Then, enjoy the free air to make it feel cozy at night. In addition, you can relax while enjoying the light that illuminates your garden and home. This atmosphere will make you more cheerful and fresh.
Some guidelines on how to arrange garden lights
From our reviews above, we would like to share ideas with you to provide some examples of garden lighting arrangements that suit the model of the house and its designation. We hope that you can make the review below an inspiration for you. Then, the exterior design of your house and garden look aesthetic and attractive. Hopefully, this review is to your taste. Enjoy following our review!
Additional lighting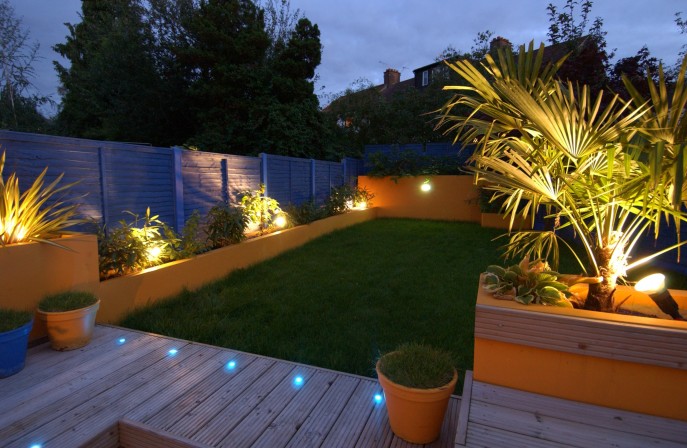 Additional lighting in the form of garden spotlights that lead to tree trunks or fish ponds will give your garden an aesthetic touch. Not only that, a garden has equipped with bright lighting to provide security and directions for a large yard.
Lighting that has been carried out since the beginning of construction can make the lighting on the facade of the house terrace look more attractive and neatly arranged. However, if your home is not installed with garden lights, you can design and install them yourself. With the best lighting arrangement. So, your garden design will look beautiful.
Specify the mount point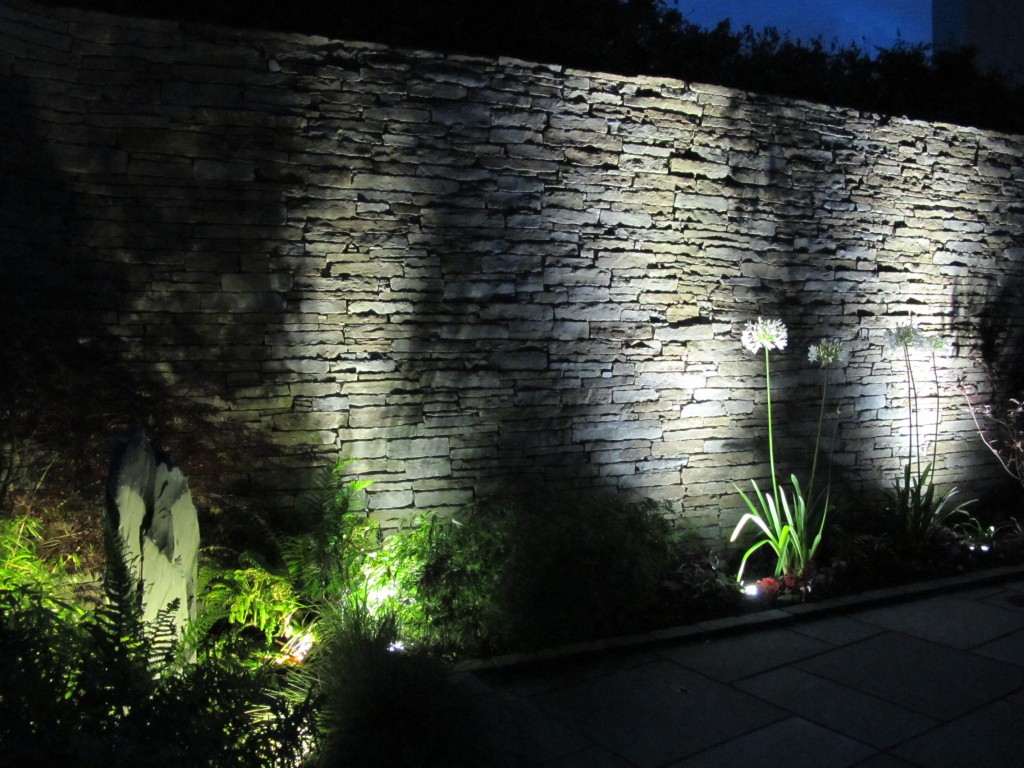 To find out which point is right to place garden lights, you can go around the garden and pay attention to the part that the lights want to highlight. There is nothing wrong with making sketches or photos of your garden to get a clearer illustration, for example, if you want to illuminate the garden wall with spotlights, then direct the lights around the garden wall that is pointing upwards.
Meanwhile, if you want to reflect the sparkling light of the pond water, you can put a lamp planted in the area of ​​the fish pond or swimming pool. In this way, the light will illuminate the entire pond. Therefore, before installing, you must determine the installation point of the lamp. In this way, the exterior design of your home will look beautiful and bright.
Choose energy-saving lamps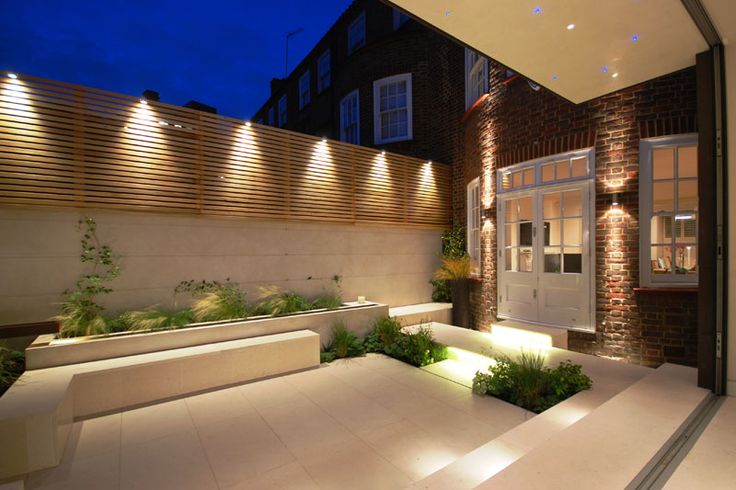 The selection of energy-efficient LED lights is the right choice for a minimalist home. This lamp can be equipped with a day and night sensor system or use a dimmer system. LED lights with solar power systems are now widely sold in the market. The way it works is by absorbing sunlight during the day to become an energy reserve at night.
The price of this lamp is relatively affordable even though it lasts a long time. Then, it is easy to install and move. However, this lamp also has several drawbacks, including not having a beam of light as bright as an electric lamp. In addition, the model is also relatively uniform in the market. Then, to make it look more attractive, you can install this lamp in the garden or terrace. Then, you can direct this light up or down. So it can be adjusted to your liking. That way, the exterior of your house will look more aesthetic.
Choosing aesthetic garden lights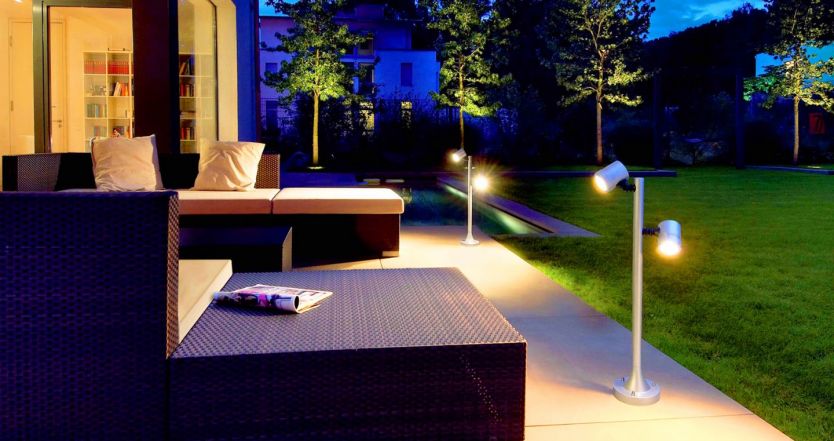 If you have a hobby of relaxing on the terrace while enjoying warm coffee at night. The role of the lights is more important. More than that, choosing and installing lights in the garden is an art. Garden lights can make your favorite area more beautiful at night. When it's dark, you can turn on the lights while enjoying your relaxing time with your family.
Then, to optimize the light in the garden, you must of various types of saving electricity lamps. Therefore, it's a good idea to get to know the best lamp, such as garden spotlights, small decorative garden lights, round lights, and solar-powered lights. However, the lamp model that you install should be adjusted to the garden model and your taste. That way, your garden design will look artistic.
Use the pergola as a decorative pillar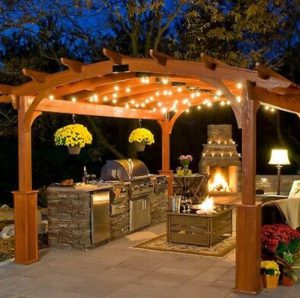 Using a wooden frame from a garden pergola to install string lights can beautify your garden. The sturdy wooden structure is ideal for easily placing the chandelier. By installing a chandelier on the ceiling, apart from getting enough lighting, you can also decorate your garden so that your garden looks artistic and unique.
Then, to make it look more attractive, you can put cooking utensils, comfortable benches on the terrace, decorative lights hanging on the ceiling, and a table for placing drinks. With an arrangement like this, your terrace will be a fun area to gather with family and friends.
Use lights for houseplants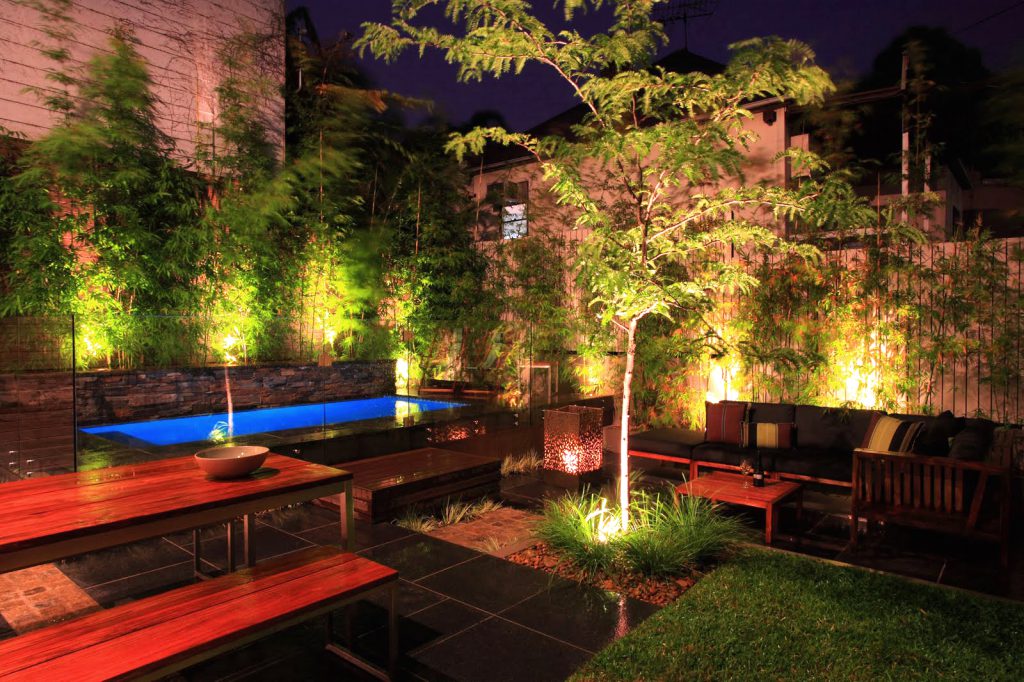 To get the desired result, you can direct the light to the object you are aiming at, such as ornamental plants, trees, and potted plants. In addition, lights for the garden can be placed behind the tree to create a silhouette or placed at the top of the tree pointing downwards. Its diffused light will make ornamental plants and trees appear as if they are being hit by moonlight. Then, the shadow of the tree and its branches will be reflected and give a romantic impression.
Then, to look more beautiful, you can place tables and chairs for family gatherings. Apart from that, you can also make this place a gathering with your friends while enjoying food and drinks. Then, you can also put the lamp in such a way that it leads to the tree trunk. That way, your lamp design can make your garden beautiful and enchanting.
Elegant minimalist lamp model in the garden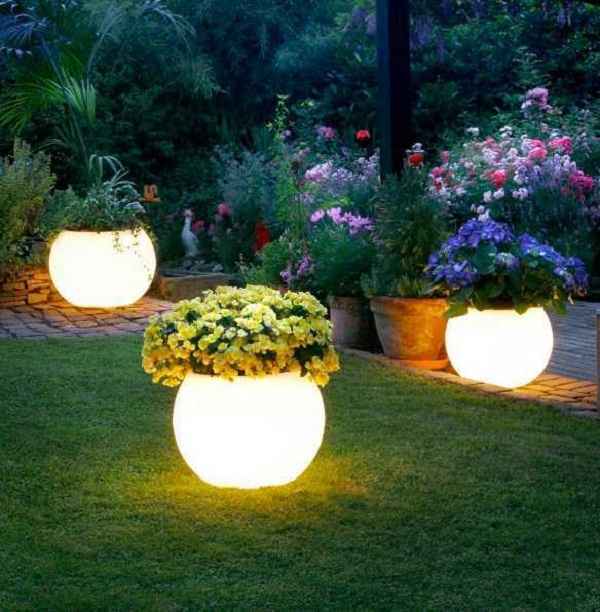 Elegant and Beautiful Minimalist Home Garden Decorative Lamp Models look aesthetic and attractive. This lamp resembles a beautiful flower pot. Therefore, this lamp is very suitable for placing beautiful flowers. In this way, less lighting in a garden will make the garden in front look beautiful. This garden lamp is precisely placed in the middle of a grass garden, thus making this decorative garden lamp look beautiful.
This lamp design, if you install it in your home garden, will provide sufficient lighting for your home. At night you want to make a gathering with your family, you can make the presence of garden lights a suitable place. In addition, from an aesthetic point of view. The existence of these decorative garden lights will be enough to give a more dramatic touch to a garden. Especially at night and when the decorative garden lights are on simultaneously. The esoteric effect and romantic impression will give a comfortable.
Therefore, for those of you who are planning to spend New Year's activities with fun barbecues, you don't need to go far out of the house. You can invite your family and friends to this place. Hopefully, this unique lamp model can be an inspiration for your garden.
Garden spotlight from below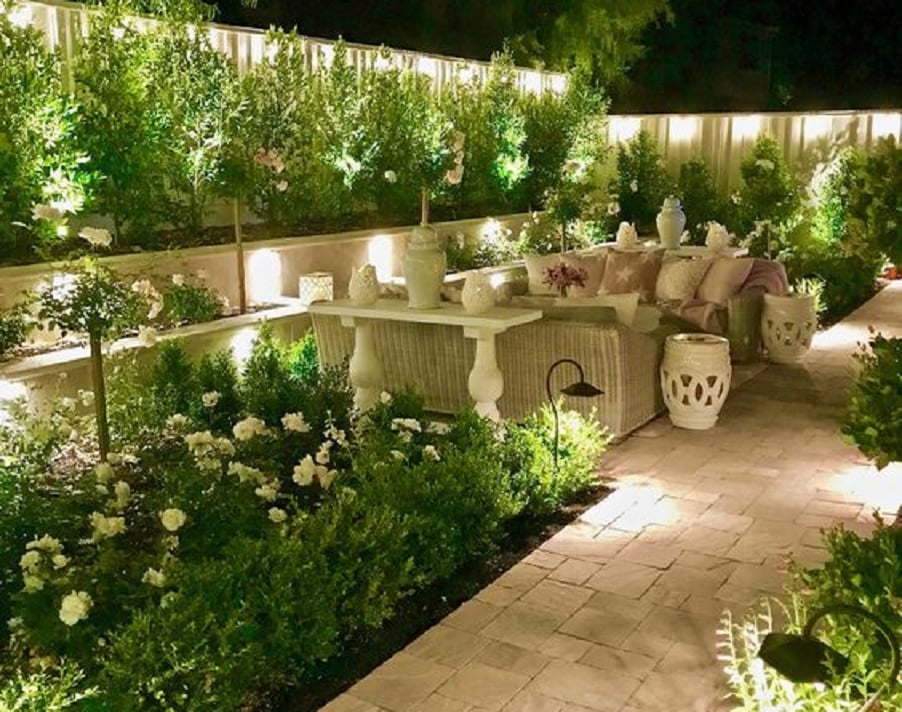 A house that has a garden with beautiful light is everyone's dream. Then, to create a dramatic impression, you can use garden spotlights that glow from below. Place garden spotlights around trees or bushes. Then, navigate up to where the object you are aiming for. Usually, the color of the light used is yellow. Lighting like this can also be placed in the corner of the footpath to illuminate the path. With lighting like this, your home and garden will be bright. Then, you don't need to be afraid to be in this place with your family.
Recessed garden spotlights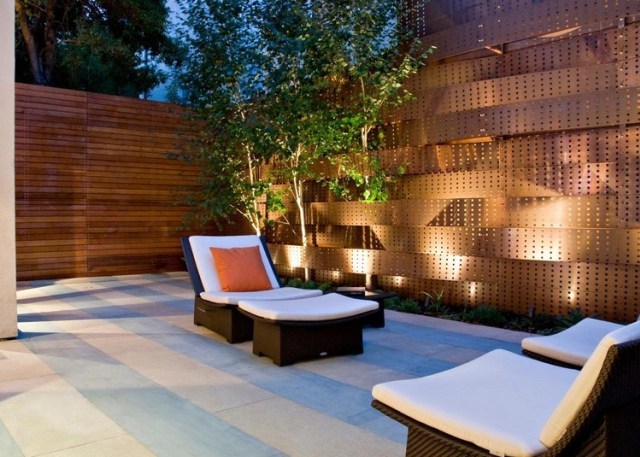 Hidden garden spotlights, commonly known as indirect lighting, are suitable for those of you who want a minimalist and neat feel in your garden area. You can hide this garden spotlight behind a fence or in a corner of the park. Unfortunately, these hidden garden spotlights will make it a little difficult for you when you want to fix one of the broken lights. Therefore, if you want to design like this, look for a lamp that can last a long time. That way, you don't bother to replace it.
Garden lights for large gardens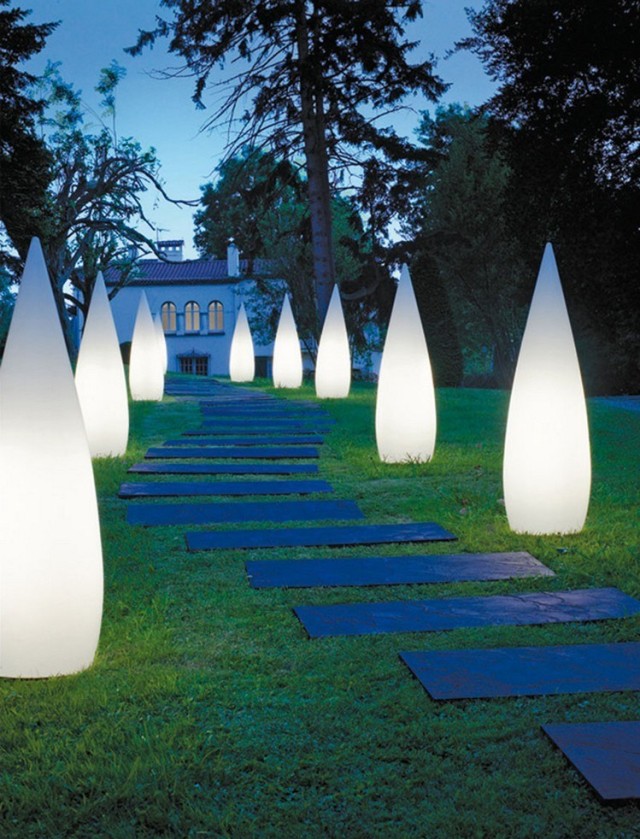 Having a large garden can make you think about making the best design. Therefore, for those of you who have a large garden and a modern minimalist style, a giant garden spotlight like this is the right choice. The shape resembles a drop of water, but the bottom is flat. So it can be placed on the ground. This one garden spotlight is suitable for decorating the corner of the garden or on the side of the path. If you want to save electricity, just use a few because the light is very bright. With this arrangement, the exterior of your home will look artistic.
Conclusion
Those are some guidelines for installing garden lights that we can recommend. If you are interested in installing it, you can choose one of the lamp models above for your home garden. However, if you are confused, you can order from a home decor company so that the results are satisfying and according to your taste. We hope that our review above can make the exterior of your home design look elegant, aesthetic, attractive, and beautiful. Then, make you and your family more cheerful. Happy decorating!