1. Overview of mountain houses
Mountain house designs for resting places are currently loved by many people. At first, glance, if you look at it from the outside, this house is normal. This house is in the form of a box with a wooden facade. However, this house still uses concrete as the foundation of the house. Architects choose concrete so that the foundation of the house becomes stronger. Meanwhile, if you look at the interior of the rest house, this house looks cool. The architect applied wood materials to the floors, walls, ceilings, the stairs. Then, this wood material supported the second floor. In addition, mountain houses use wooden floors because of the weather and climate
2. Ideas and designs organize the room
Home ideas and designs are needed before you build a house. You have to prepare the best exterior and interior of the room so that your mountain house looks more attractive. In addition, you also have to design a large glass window with a thick size to avoid earthquakes. Then, you can use the large window design to see the view outside the house.
Apart from the living room, what you need to pay attention to is the dining room, lounge, and kitchen. The sitting room has a fireplace to warm the room. Preferably on the second floor. While the kitchen is on the first floor. The bedroom is above. However, the design of the rooms is to be connected to public spaces through
3. Earthquake resistant design
Indonesia is a country with a geographical location that is prone to earthquakes. So for those of you who want to build a house in the mountains, you must consider an earthquake-resistant house design. Therefore, you must be able to design properly, so as not to miscalculate. Then, feel more comfortable when inside.
The concept of earthquake-resistant houses has been applied by Indonesian ancestors through traditional houses. Currently, modern buildings are reconsidering this concept to increase the owner's sense of security. therefore, we want to share ideas with you to provide some examples of the right wooden home and living room interior so that you feel comfortable. For that, let's look at the reviews below. Welcome to our review.
Natural and modern wooden house design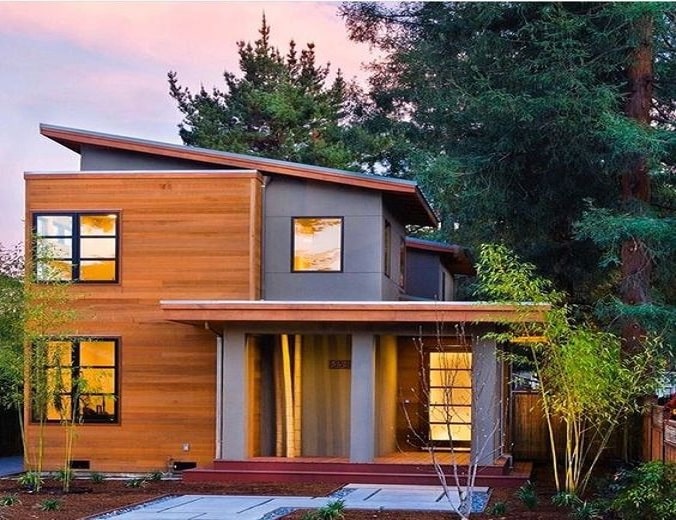 Having a natural and modern wooden house texture is everyone's dream. To make all of that happen, of course, you must prepare an adequate budget and the right design. Errors in designing a wooden house will cause the room to feel too full. On the other hand, playing it safe with wooden house designs will actually make the place look monotonous and boring. Therefore, to avoid these two things, we provide several designs that you can follow so that your wooden house design still feels comfortable with a natural feel. You can also add a variety of green decorative plants or hanging flowers to further liven up the atmosphere in front of the house.
Aesthetic minimalist wooden house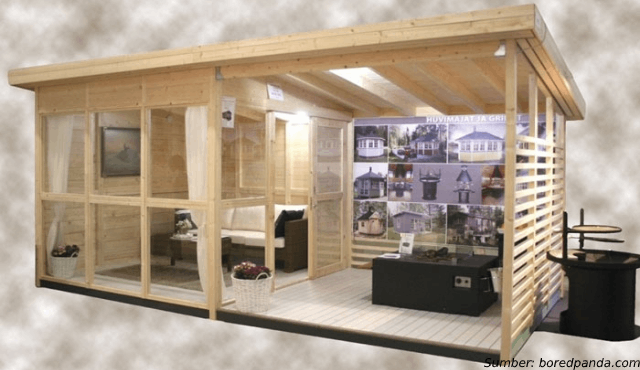 If you want to build a minimalist house in a mountainous area, a wooden house design is the right choice. However, if you are constrained by narrow land to build a wooden house and you can work around this with a design like a picture above. Even though your house is not very big, the pieces of wood if arranged in such a way will add dimension to the space in your home. That way, your house will feel spacious. Then, the design of the house remains artistic so that you will be far from feeling cramped and bored.
To complete the design of your wooden house, you can design a beautiful terrace and decorate it with patio chairs and tables, decorative lamps, and antique knick-knacks. That way, the exterior design of your home design will look aesthetic.
The wooden house design provides natural comfort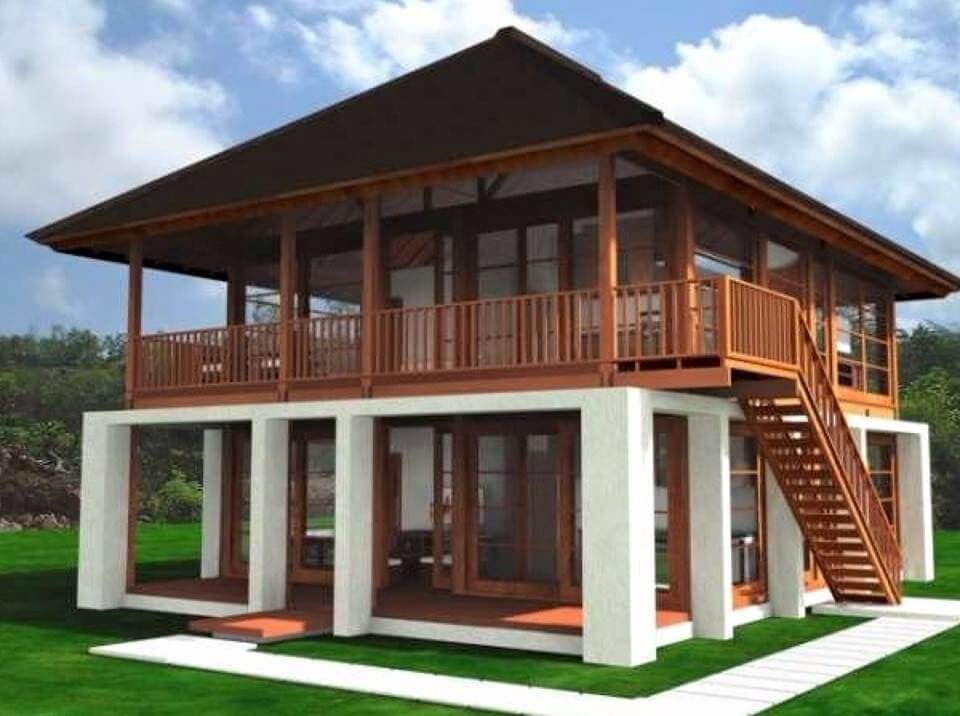 The atmosphere of togetherness during the holidays is an event that is eagerly awaited by family members. Not only do the nuances become more natural, but a wooden house will also make the atmosphere where you live feel very comfortable. Building on the back-to-earth concept, wood materials have their natural way of protecting the occupants from the extreme outside air and earthquakes. In addition, wooden houses are also able to withstand hot and cold weather. This atmosphere can keep you and your family feeling cool in hot weather and vice versa. This method can reduce your boredom level in the house. When the air is cold you don't need a heater which makes electricity wasteful.
In addition, the wood pores also make a wooden house have better natural air circulation compared to other types of houses. The design of a wooden house keeps you away from feeling stuffy. Then, wooden houses also provide a fresh, natural atmosphere, even though you live in an urban area.
Wooden houses have a rustic effect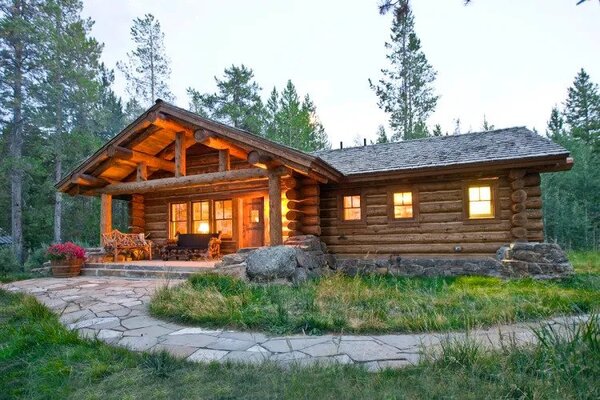 The theme rustic is currently trending. You can enjoy your holiday in the mountains every day by building a wooden house like this. This is not surprising considering that wood gives its natural hue to whatever color you choose to paint your home. In addition, wooden houses have a raw yet artistic impression at the same time. What's more, each piece of wood has a unique pattern that will make your home feel natural.
On the other hand, a wooden house can also give a vintage atmosphere to the exterior and interior of your home. As we know, wood materials have been used since ancient times. Therefore, the design of a wooden house will make your house look classic but homey and not excessive. To make it look more attractive, you can decorate the front of the house with a flower garden, then add a terrace complete with chairs, tables, and decorative lights to illuminate at night.
The exterior dimensions of the wooden house look spacious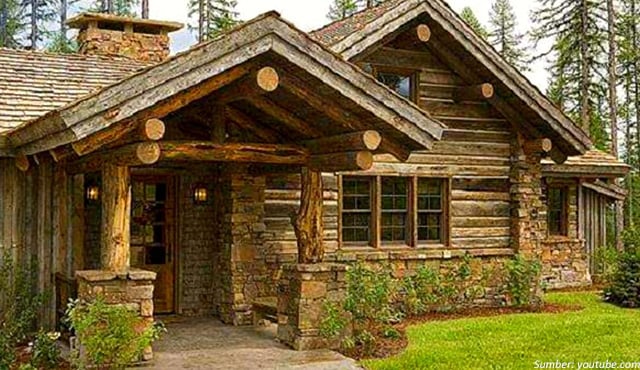 The design of a wooden house in the mountains on this one looks very natural. Wider dimensions make a natural feel more pronounced in the exterior of a wooden house. You can feel this nuance because you have spacious land reminiscent of the outdoors. With surrounded by wood that comes from nature, of course, you can feel more natural nuances. Like a forest that has its own intricacies and textures.
With a design like this, living in a wooden house can give a pleasant impression. Especially if you also invest in a home design like this. Then, to make it look more attractive, you can add natural stone to the front of the house. Then, add a beautiful flower garden with green grass that stretches spacious the garden. That way, your house exterior will look beautiful and elegant.
Beautiful two-floor wooden house design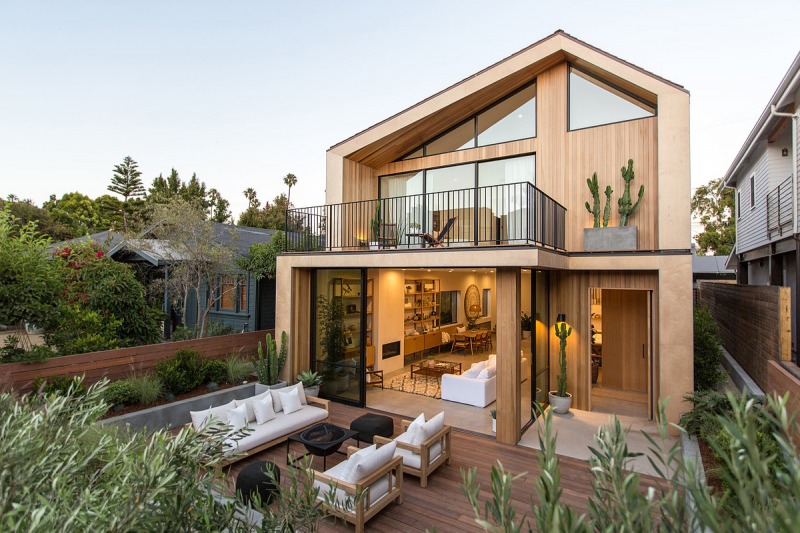 This wooden house with beautiful architecture is located in a mountainous region. This luxury residence has three bedrooms and a living room. The most striking thing about this building is the sliding glass doors that extend from floor to ceiling, so the feel of this industrial-style house looks neat. Then the ceiling of the house is made with a high design to make it look airy.
A harmonious blend of modern and traditional building styles, namely mid-century and Scandinavian styles, makes the surroundings of the surrounding houses look harmonious. Then, to make it look more attractive, the land in front of the house is designed to be a terrace and equipped with lounge chairs, tables, and sofa cushions. To make it look more beautiful, a beautiful flower garden is made in front of the house. That way, the design of this house looks elegant.
Wooden house from Minahasa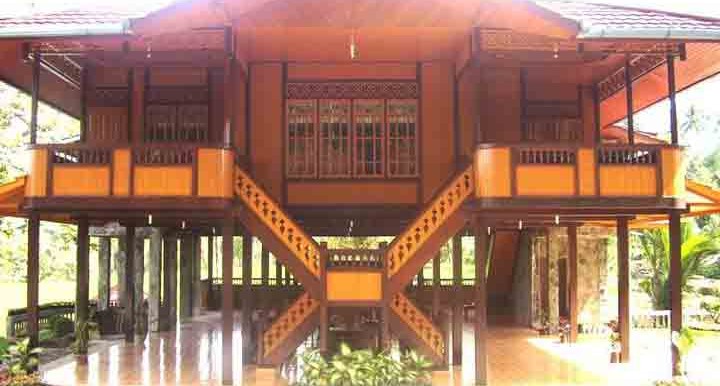 Wooden House often looks elegant and modern. This traditional wooden house was typical of Minahasa, North Sulawesi comes from Wolman Village, which is the center of wooden house crafts and is located in a volcanic mountain area, namely Mount Lokon, Soputan, and Mahawu, making this area often hit by earthquakes, thus damaging and disrupting building construction in this area, especially concrete buildings.
However, this wooden house has proven to be resistant to earthquake situations and conditions, so this wooden house is also famous for its sturdy construction and can withstand all seasons. Along with the times, the design of this wooden house has been combined with the latest technology. So, this wooden house can be made according to the buyer's wishes. The thing that is also interesting about this house is that the residents will not feel cold at night because this house keeps the heat during the day.
Unique wooden house design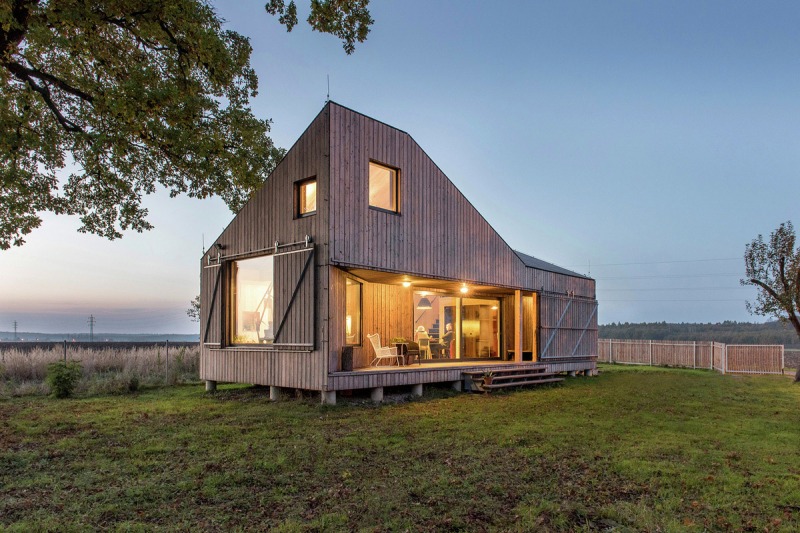 Many talented architects have produced wooden house designs to make their customers' dreams come true. Just try to imagine how beautiful this luxury dwelling made of wood is. Houses with wood materials represent a quiet and comfortable residence. Especially if the work of these talented architects has combined with the latest technology, such as a beautiful environment and fresh natural atmosphere. Of course, you must be amazed to see it.
It is undeniable that a unique wooden house design in the midst of an era that uses concrete and glass was built today. However, for mountainous areas, this wooden house design is very appropriate to implement. This wooden house model will be safe from earthquakes and extreme weather. To make it look more attractive, you can make a terrace in front of the house complete with chairs, tables, and decorative lights for lighting at night. That way, you will feel comfortable inside.
Wooden box house design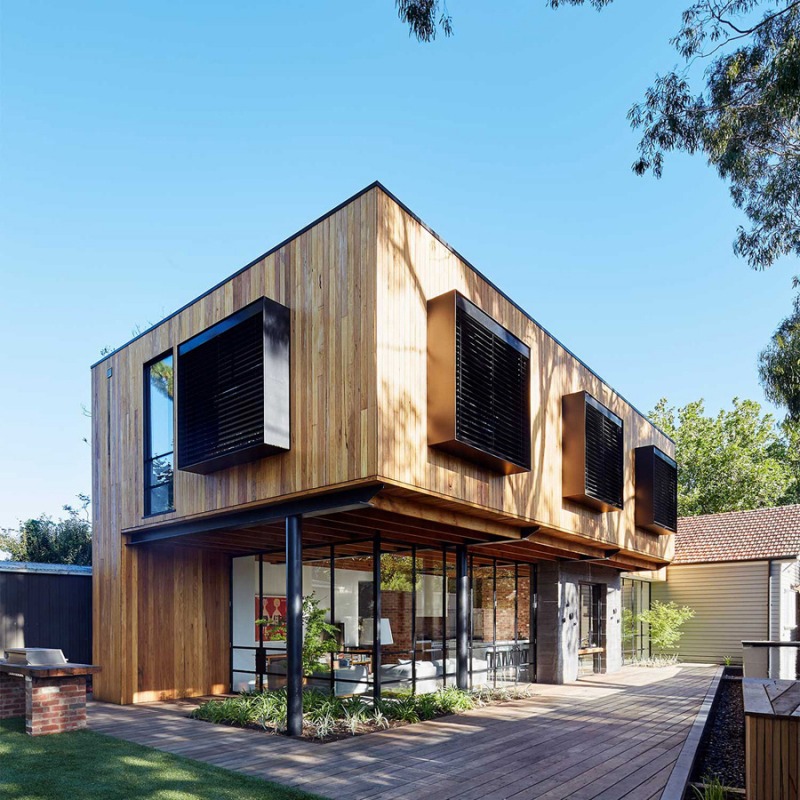 This first wooden house design has located in the mountain. The wood texture and glass windows in this modern residence look very striking. The wooden structure has combined with the contrasting black steel windows.
In addition, this building is also equipped with a large yard, making it suitable for gathering places and other outdoor activities. The ground floor of this building uses an open concept with transparent walls. Here there is a living room and kitchen designed in a modern style. Then, to make it look more attractive, this wooden house is equipped with a terrace and a small flower garden. With a design like this, the house exterior looks beautiful and charming.
Contemporary wooden house design in the mountains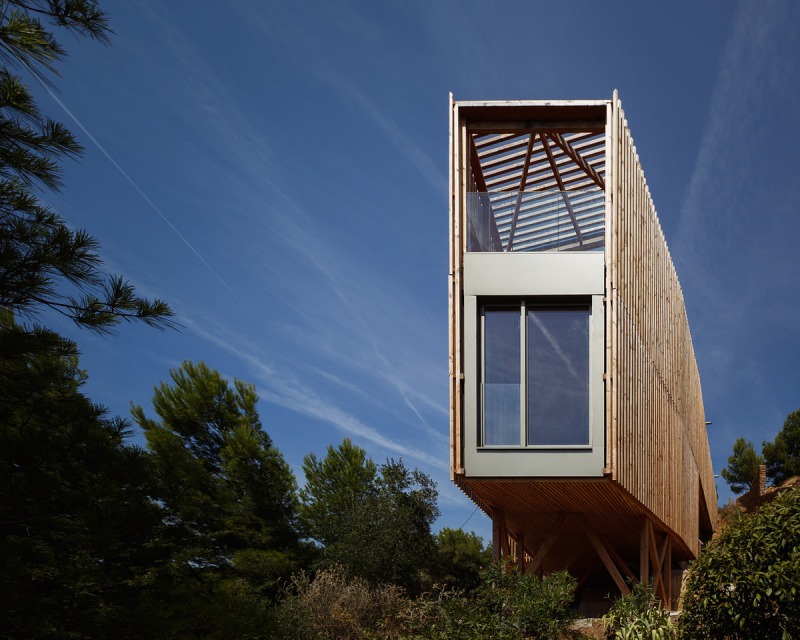 This contemporary-style house has built in the middle of a forest. The idea of ​​shape of this house is inspired by Greek mythology and Mediterranean culture. The architect of this building designed the building as if it were erected on stilts. So as not to damage the surrounding forest too much. Therefore, there is not too much construction on the ground. Then, to build it, only a few trees are cut down.
Then, to make it look more attractive, new plants are planted instead to replace the missing trees because the construction of this house comes from wood. That way, the structure is light and not too burdensome for the stage can be used as a base. With a design like this, you will feel comfortable inside.
Attractive living room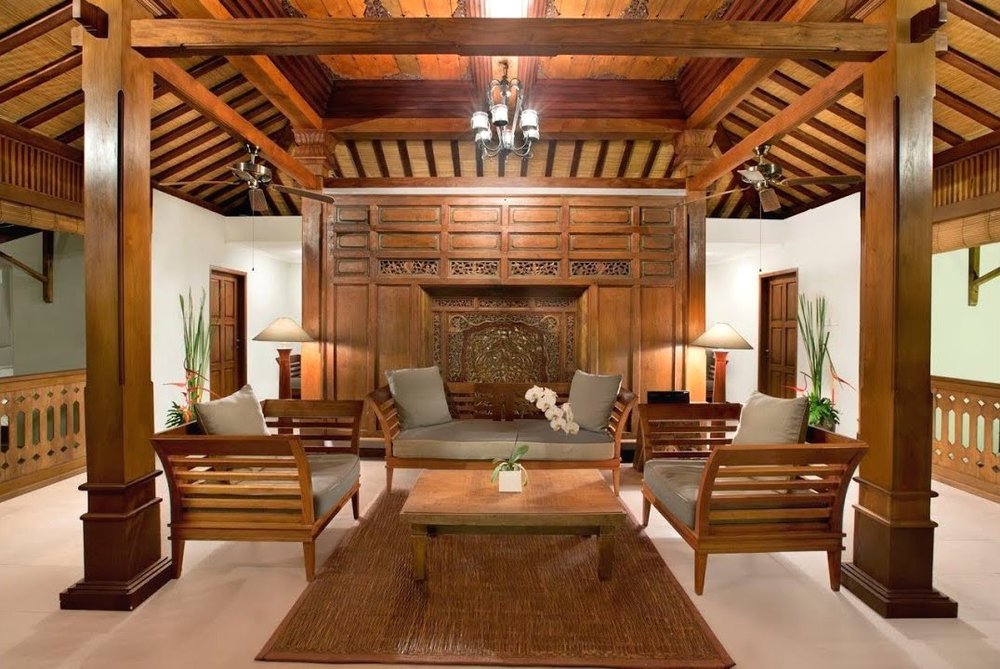 The living room is a place to entertain guests who come to your house. Therefore, you must create it beautifully. Of course, it will be of particular value to the guests who come because a living room that looks attractive and comfortable will make your guests feel at home for a long time in your home. That way, you will feel proud if your guests feel at ease in your home, that's why we provide examples of pictures of attractive wooden living rooms.
Then, to make guests feel comfortable, the living room must be able to provide a friendly and interactive atmosphere. That's why we provide some aesthetic living room design ideas. Hopefully, this design can be an inspiration for you.
Japanese living room design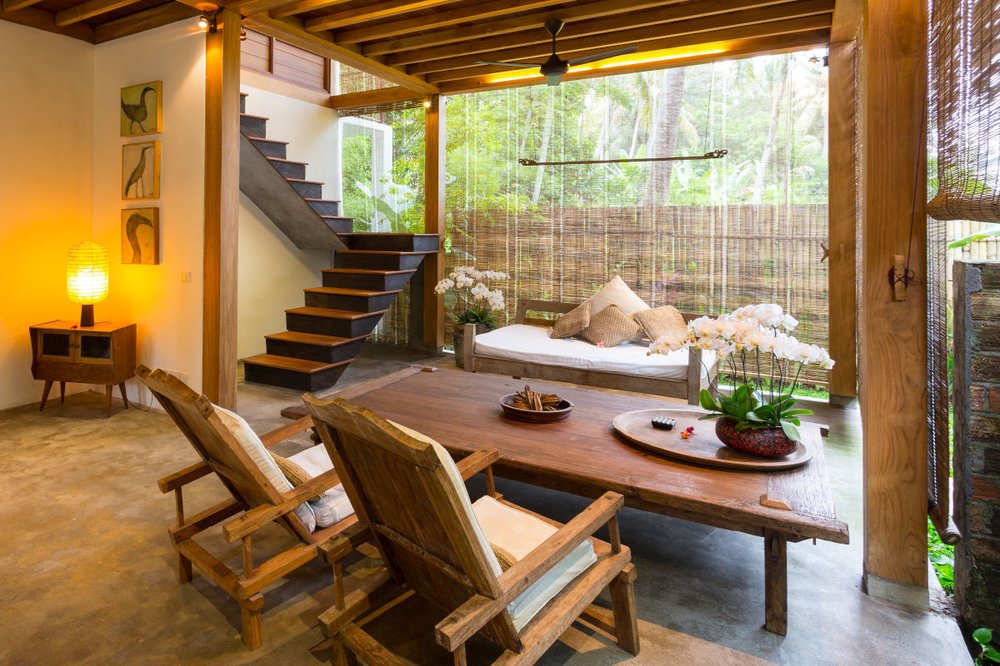 The living room design is not only Scandinavian, minimalist, and traditional. You can choose other designs that are more beautiful and natural. The Japanese living room design concept is a combination of classic and Japanese, which is also suitable for your mountain home because it looks simple, minimalist, and natural but still elegant and charming.
If you like Japanese decoration accents. Then you can use a design like this picture. This Japanese design also usually uses bright colors like white combined with natural elements such as rattan, wicker, and wood. The combination of these two colors will create the impression of an exotic and warm room like a vacation at a beach resort. Apart from that, this Japanese appearance is also synonymous with a low table design because it is adapted from Japanese culture. To make it look more attractive, you can also add decorative wall lights, wall hangings, and interesting knick-knacks. That way, your living room design will look beautiful and charming.
Dome-shaped wooden living room design
The design of the living room of this wooden house looks magnificent and amazing. Construction planning has been carried out carefully to increase the aesthetic value of the building itself. Because it uses a dome structure, there are no pillars or pillars to support the house ceiling.
The interior design of this house offers serenity, warmth, and comfort to relax from the fatigue of a day's activities. Then, to look beautiful, this living room is equipped with a beautiful guest sofa, coffee table, spotlights for lighting, and beautiful knick-knacks. With this design, this living room looks elegant and luxurious.
Minimalist concept living room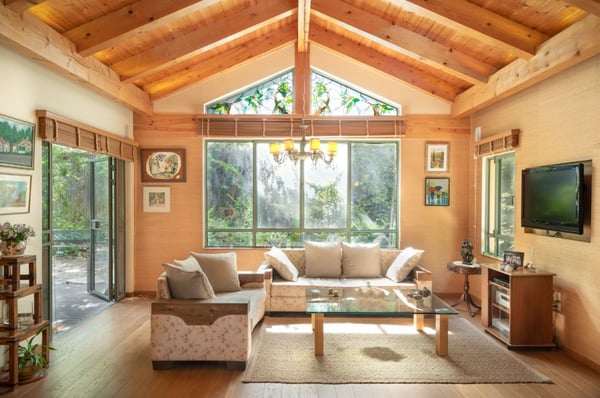 The concept of a classic and minimalist wooden house living room is currently in great demand by the public. Apart from being environmentally friendly and more natural in design, building a wooden house can also reduce costs a little because of its simple design. With a standard design, these wooden houses still look attractive, especially if the result is polished with the right paint color.
Mixing paint colors for wooden houses is tricky. But if it's just a little wrong, then your wooden house will be less pleasing to the eye it can even look tacky. Therefore, selecting the right color for the living room of your wooden house makes it look cool. Then, complete it with a minimalist sofa, wooden table, patterned floor rugs, wall painting, hanging decorative lamps, and some of the furniture you need. That way, your living room design will feel comfortable.
Living room with neutral colored curtains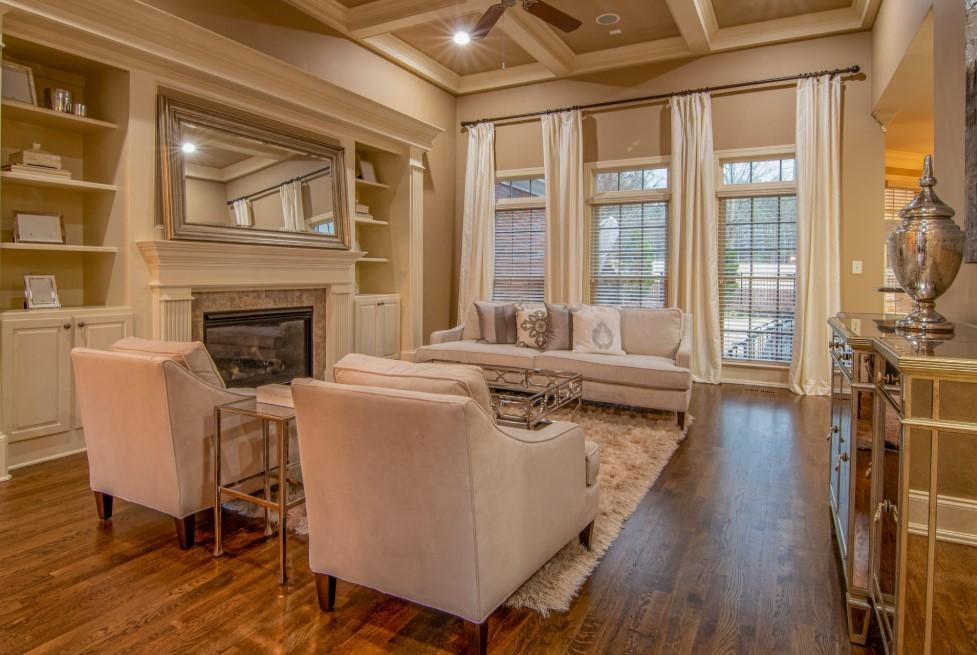 Having a house in the mountains makes you have to be smart in decorating the interior of your house. A beautiful and elegant living room can make you and your family feel at home in the house. Therefore, the selection of curtains is often a concern for homeowners. You can install it with the aim of protecting the sunlight that enters the house or covering the windows at night.
Therefore, curtains are a mandatory item to be used as a living room decoration so that it sweetens the interior of the living room. If you want the appearance of a more decorated space, neutral-colored curtains can be the right interior choice. You can also choose the type of curtain that extends upwards for the appearance of a luxurious wooden house as well as a minimalist wooden house model. In addition, the installation of curtains can also give the impression of a wider and more flexible space. With the right decoration, your living room design will look luxurious.
4. Conclusion
Those are some wooden house designs that we can recommend for you. We hope that if you want to make a house in the mountains, the picture above can suit your taste. However, to make it, you must prepare the right budget and design so that the results are what you want. Then, we hope this design mentioned above can make the exterior of your home look aesthetically pleasing, attractive, and amazing. Then, make you and your family even more cheerful while filling your vacation. Happy decorating!