1. Open kitchen in front of the house
Limited availability of land, forcing us to design a kitchen on the outside of the house. Even though it's unusual for an open kitchen design but you can make it attractive properly and correctly. This model is currently becoming a trend in society. Many homeowners with large land areas also apply this design.
In addition, to outsmart the availability of existing land, the application of a kitchen outside the building is considered an attractive and fun idea. By making a design like this, the cooking activity becomes more fun. As far as we know, The positive value of an open kitchen display also can be felt by the air quality in the room.
Designing a kitchen outside the home can improve the air quality in the home because it is not contaminated with smoke from food processing. To organize it, let's first review the types of minimalist open kitchen designs below.
2. Choose minimalist design
Many homeowners have chosen an open minimalist kitchen design. By designing like this, you can cook and prepare food while enjoying the beauty of your garden and yard. In addition, open kitchen designs do not only exist in homes abroad. You also can make it at your home.
If you buy a house from a developer with a 30/60 or 36/60 type, you can see a minimalist kitchen. This kitchen is mostly designed to be in front of the house. Then, the kitchen is left open, aka semi-outdoor. Some choose to close by making it half-closed by making the walls and roof permanent. However, not a few let the kitchen become a semi-outdoor or open minimalist kitchen. For that, let's review the attractive open kitchen design below.
3. Attractive design
Every house must have an open room. But now they prefer to make it an open kitchen with an interesting concept. They prefer to design it facing the front garden of the house.
But it all depends on the open kitchen design inspiration you need. Therefore, we try to provide some examples of interesting designs so that the exterior of your home looks beautiful and aesthetic. Furthermore, you can also determine the right type of material for your kitchen design. With a beautiful and charming design, your partner is more comfortable cooking. Another advantage that you can feel is that your activities in the house are not disturbed by cooking fumes.
4. Some examples of aesthetic designs
An open kitchen design can be an option to conjure up the exterior appearance of your home to look unique and more aesthetic. Even if you don't have a large area, you can still have a charming little open kitchen. As we know, this kitchen design can give a cool impression without the need to provide air conditioning and cooking fume suction.
So, if you plan to make an open kitchen, you can make it in front of the house because you can use the back of the house as a family room or bedroom. Even if you have a small land area, it doesn't matter because you can make an open kitchen with a small size. Therefore, let's review some pictures of open kitchens below. Hopefully one of the designs is to your taste. Welcome to our review!
Wood tone design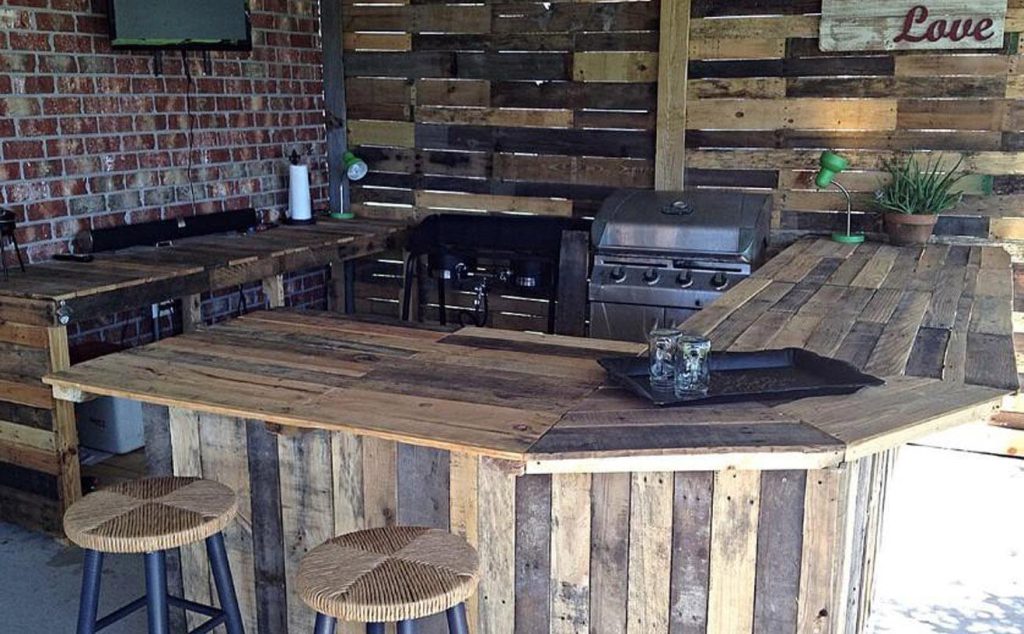 As we know, wood is an element that can give a warm and comfortable feel to a room. Therefore, many people make open kitchens using wood. Even though it looks simple, the wood motif in this open kitchen design looks beautiful and comfortable. The atmosphere of eating with family feels even more intimate with the presence of wooden ornaments.
To make it look more attractive, you can combine wooden designs with exposed bricks and attractive furniture. Then, make a kitchen table design with a bar model. That way, your open kitchen design will look aesthetic. Good luck!
Simple and attractive design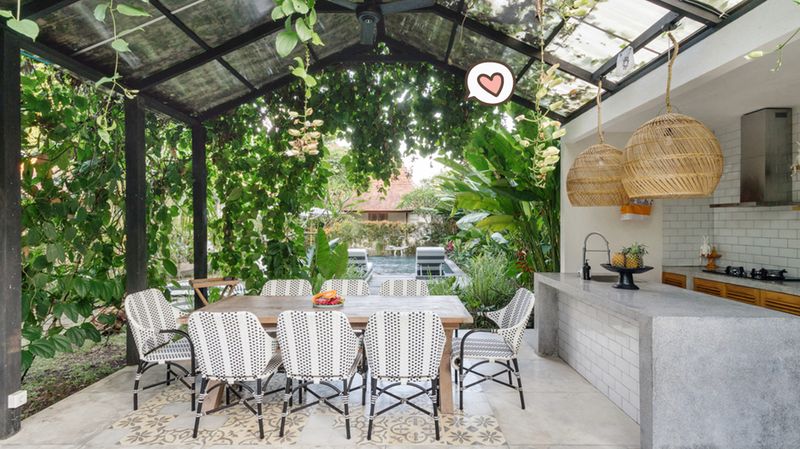 This open kitchen design doesn't need a lot of ornaments and knick-knacks. This open kitchen design looks simple and attractive if it is arranged properly and creatively. Then, to look complete, this kitchen has equipped with a wooden dining table and some minimalist chairs. So that makes the kitchen atmosphere look comfortable and not crowded. This can be used as inspiration in outsmarting the availability of narrow land. Then, you can add a hanging decorative lamp that is hung on a mild steel range. For the roof to make it look bright, use transparent fiberglass. With this arrangement, your kitchen design will feel comfortable.
Natural design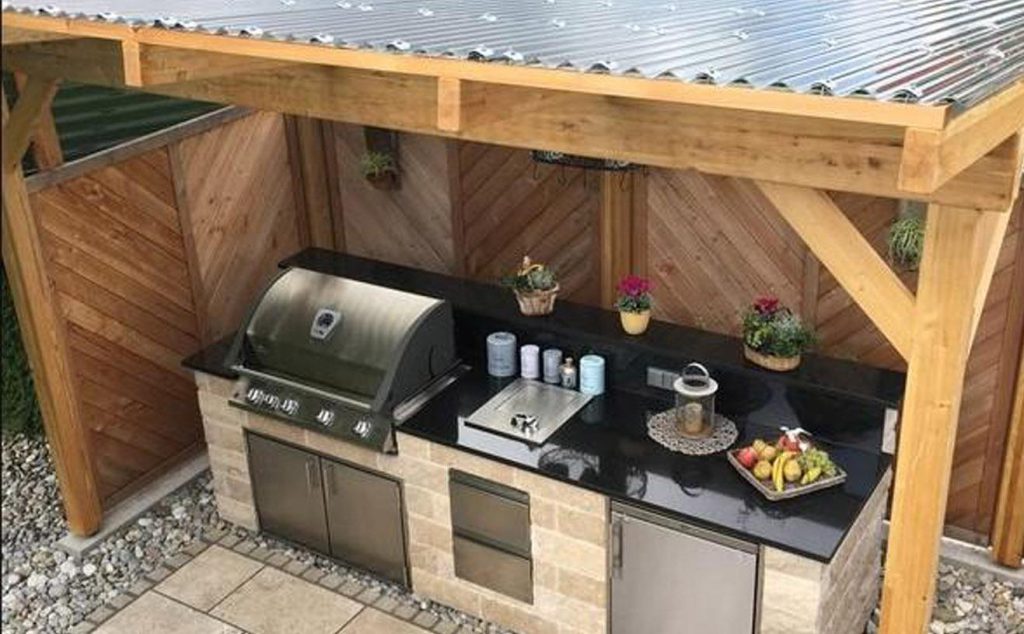 Who says fiberglass can't be used as an open kitchen design? If processed creatively, this object can be used as a roofing material. You can combine this fiber roof design with wood to make it look more aesthetic. Then, to appear more attractive, combine it with exclusive kitchen furniture. With this arrangement, your kitchen will look luxurious and aesthetic.
If you are happy with a natural style design, you can apply this image to your open kitchen. To make it even more interesting, combine the elements of wood on the walls. Besides looking unique, a kitchen model like this is also different from the others. Happy decorating!
Shabby chic design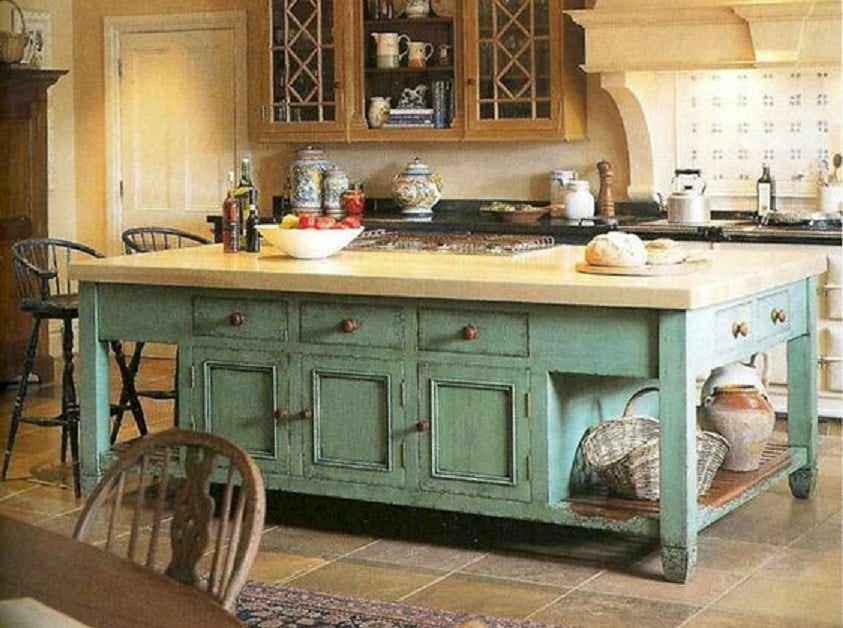 This open kitchen design looks stunning with the pastel color elements used in the shabby chic design. This design makes the kitchen feel vintage and comfortable. In addition, this kitchen is not only comfortable but also makes the atmosphere warmer. Therefore, this design is in great demand by homeowners.
Then, to look attractive, the kitchen is equipped with a kitchen set, kitchen table, and chairs. That way, for those of you who want to cook or eat with your family, this shabby chic open kitchen design will make you feel like a picnic every day.
Ceiling and fireplace design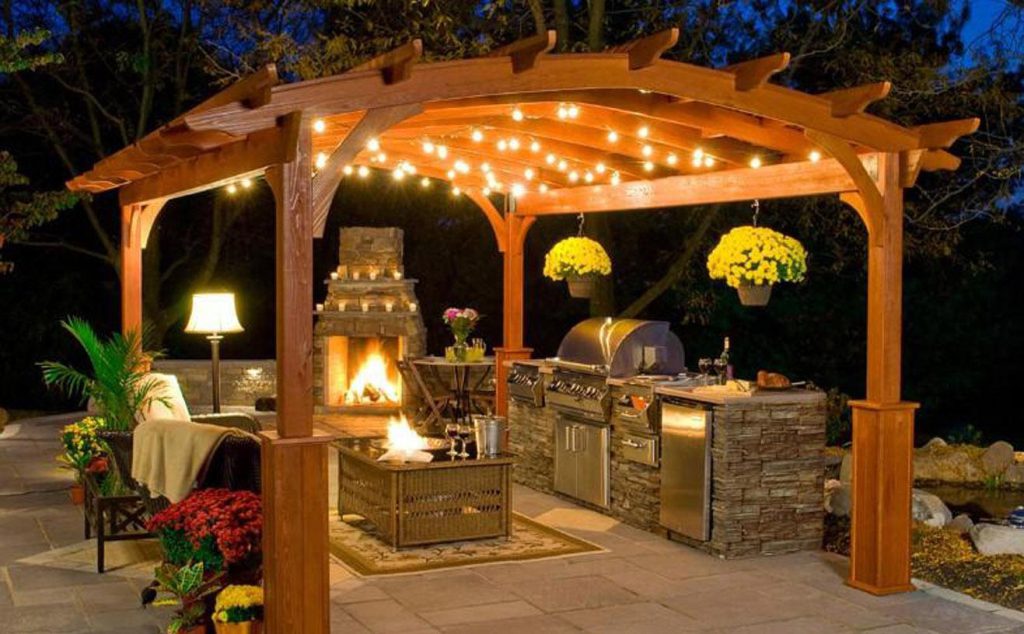 Everyone must like the lights at night because lights can make the exterior of a room look beautiful. Therefore, if you want to make a kitchen with a design like the one above, you can use lights to decorate your open kitchen.
Then, to look attractive, you can decorate several lights on the kitchen ceiling. Then put garden chairs and a small wooden table to place drinks, decorative plants hanging from the ceiling, flower plants in the garden chair area, and portable decorative lights beside the chairs. Don't forget to add a floor rug so it doesn't look monotonous, and add a fireplace in the corner of the room. That way, your open kitchen design looks more attractive. Then, you can enjoy dinner with your family.
Kitchen with glass roof canopy.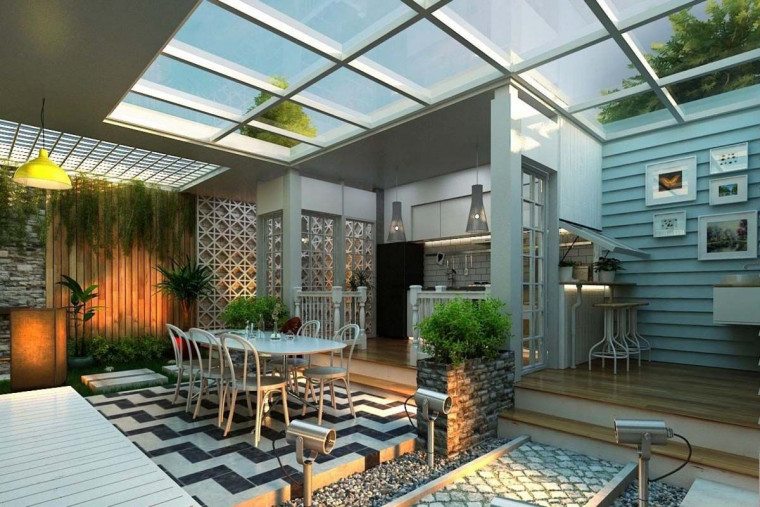 If you have ever seen a car whose roof can be opened and closed. You can also apply the same design to your open kitchen area. The trick is to use a canopy with a fiber roof that can be opened and closed. If the weather is sunny, you can open it, so that the wind can enter the room and the kitchen atmosphere will be brighter and fresher.
In addition, cooking events can still take place even though the weather is rainy. To make the kitchen look prettier, design a wall with natural stone that can be used as a kitchen wall covering material. Then, add a wooden dining table and chairs, hanging decorative lights, ornamental plants, wall paintings, and interesting knick-knacks. That way, your kitchen design will look natural.
Classic modern design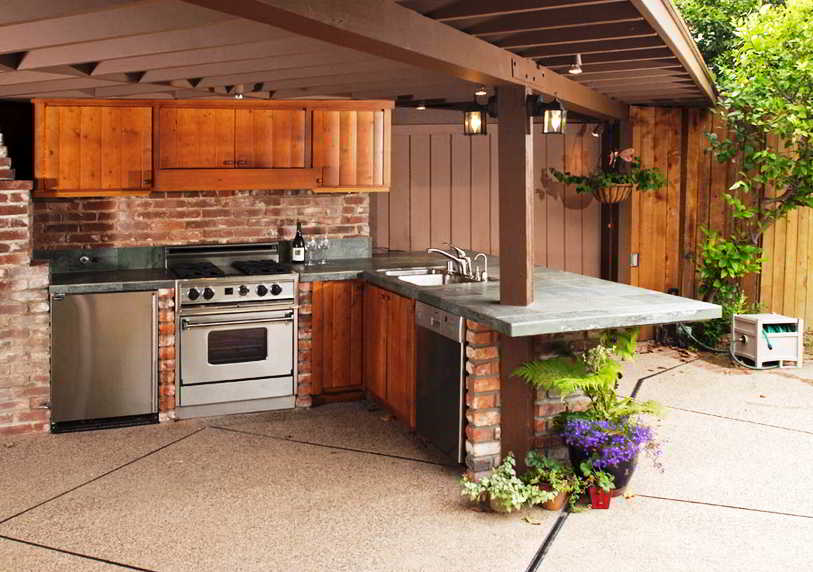 This modern open kitchen look that seems bold, Combined with classic wood nuances has proven to make an open kitchen design more stylish and comfortable. Even though the modern classic design is thick with dark colors, the combination of wood around it makes this kitchen still feel comfortable.
Moreover, coupled with the exposed brick design as the wall and the wooden pergola as the kitchen ceiling, this design looks natural and comfortable. To appear more attractive, you can add decorative lights, kitchen sets, kitchen tables, cooking equipment, pot plants, and a marble bar table. That way, your kitchen will look natural and attractive.
Vintage design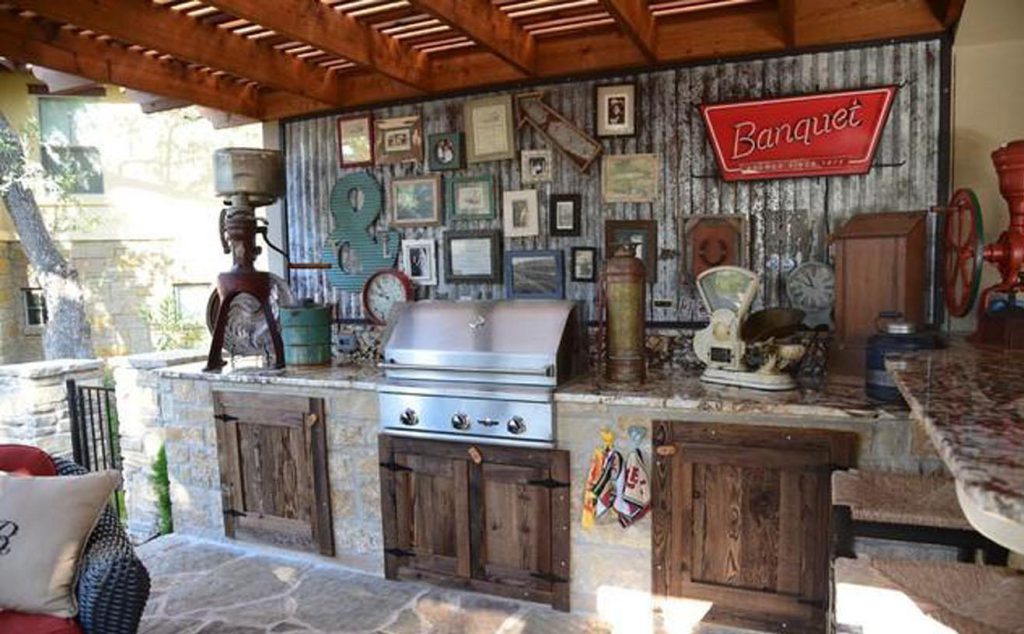 We know that you will often see this open kitchen design in western films of the 50s. The use of wood, tree trunks, and marble makes this kitchen look very vintage. To make the design look even elder, use vintage kitchen furniture, such as dining chairs, tables, refrigerators, chandeliers, and antique wall knick-knacks. Then, to look complete, you can add solid wood furniture, gas stove sets, and wooden accessories. With this arrangement, your kitchen design will have a vintage feel. Then, you will be happier and more comfortable cooking.
Industrial style design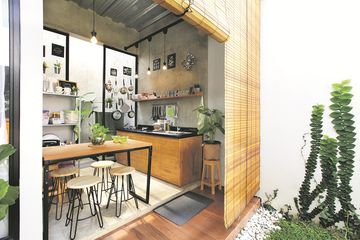 Industrial style is timeless. This design feels suitable when applied to any room, including the kitchen area outside the house. As in the following open kitchen design, the industrial impression is felt when we see the kitchen wall area which is designed using exposed brick.
Apart from the walls, industrial nuances can also be felt in the chandeliers in the kitchen. To make it look more attractive, this kitchen is equipped with a dining table and chairs made of iron frames. Then, added antique wall knick-knacks. With this arrangement, the kitchen design will look artistic.
Elegant design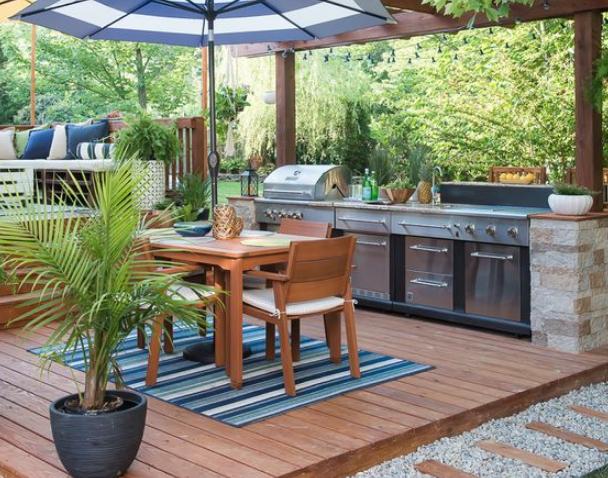 This white coral decoration in the kitchen looks more attractive when combined with wood and ornamental plants. You will definitely feel more comfortable in this place. Therefore, if you want your open kitchen to look beautiful, you can complete it with a colorful patterned floor rug. Then, add a wooden dining table and chairs, a large umbrella, and modern cooking utensils. With this arrangement, the kitchen design looks elegant.
Design with green plant ornament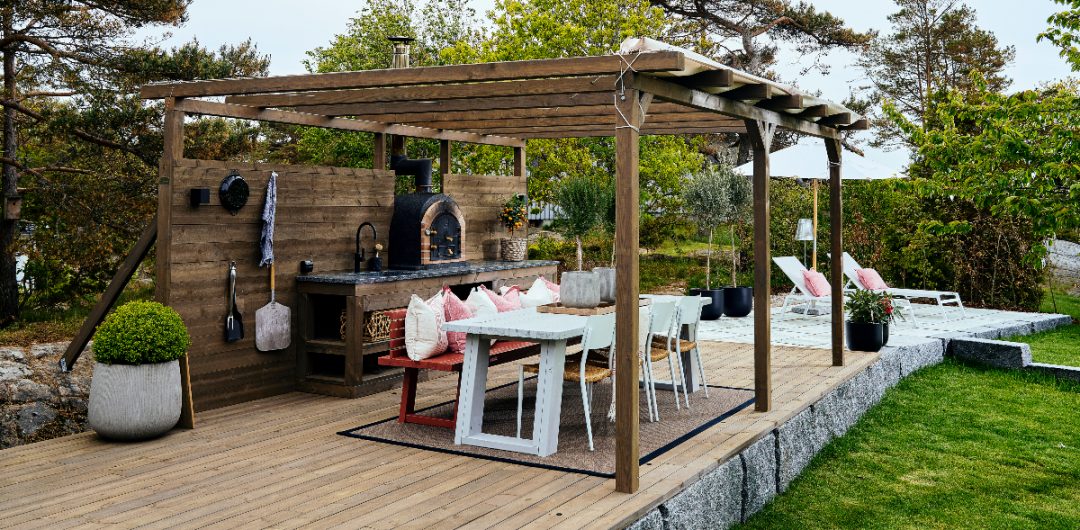 If you like plants and flowers, you can design this open kitchen to be the right inspiration for you. This open kitchen has surrounded by beautiful plants and flowers. That way, you will feel fresh with the nuances of plants.
Then, to look more natural, you can combine it with wooden floors and walls. Then add a dining table and chairs to make it look complete. Meanwhile, you can make the kitchen attached to a wooden wall. Don't forget to add a floor rug with a color that matches the floor. Then, add knick-knacks. So it doesn't look monotonous. That way, the feel of your kitchen will be more beautiful and comfortable. Then, don't forget to maintain these green plants and flowers.
5. Conclusion
Those are some open kitchen designs that we can review. We hope this picture above can make the exterior design of your home look beautiful, comfortable, aesthetic, and attractive. However, if you can't design it yourself, you can call a decorating company to make it. Hopefully, our review can be useful for you and your family. Happy decorating