1. Enclosed space terrace
Therefore, if you want the interior of your home design to look aesthetic, attractive, luxurious, and charming, please select the best wallpaper according to your choice. Then, choose wallpaper made with the best materials, easy to install, waterproof, and not easily damaged. That way, the appearance of your room can be more beautiful in a long time.
Then, there is a room that can be used to replace that space, namely a closed terrace. The closed terrace of the house can be used as a room to receive guests. Therefore, instead of having to combine the family room and living room, you should design the terrace to be closed. That way, you can arrange this room as a room to receive guests and gather family.
2. Closed terrace inspiration
Therefore, we want to give you a solution for you who want to separate the living room and family room. The trick is to turn the front porch into a living room. With this idea, the result turns the front porch into a closed living room. In this way, you don't have to bother to divide the living room into a multifunctional room. Next, you can arrange a covered terrace with furniture that matches the design of the living room.
3. Several designs of covered terraces
Having a beautiful and comfortable terrace is the dream of every homeowner. With creativity, the terrace can be made into a living room. Therefore, many homeowners turn the front porch into an aesthetic closed living room. As far as we know, the terrace is usually used as an area to receive guests who are not too close and a place to relax with family. Then, this covered terrace is beautifully designed, complete with furniture, ornamental plants, and accessories. Therefore, let's discuss the design of a covered terrace below. Welcome to our review!
Contemporary terrace style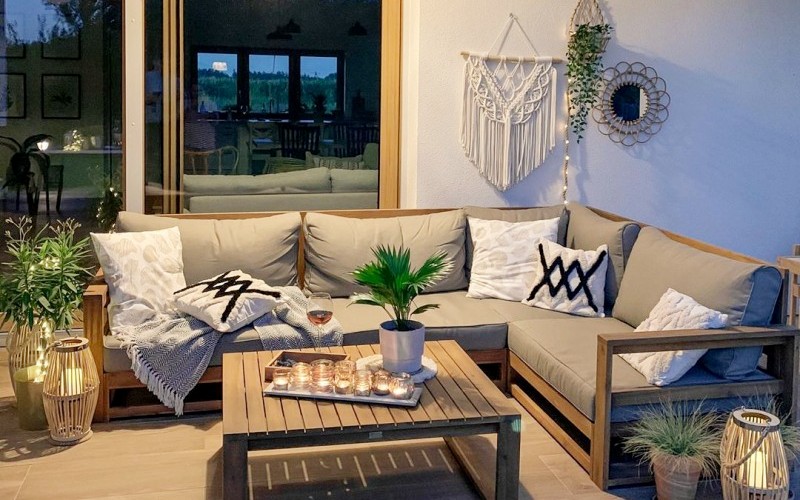 The terrace design of this luxurious house looks attractive with a contemporary interior style. The placement of a wooden sofa and sofa cushions makes guests who come to your home feel happy. In addition, this elegant minimalist terrace looks more aesthetic with the presence of unique wall hangings, mirrors, hanging ornamental plants, and ornamental plant pots. With this design, your contemporary terrace can function as a living room and a family gathering place. Therefore, if you have limited land for a minimalist house, this design can be your inspiration.
Feminine terrace model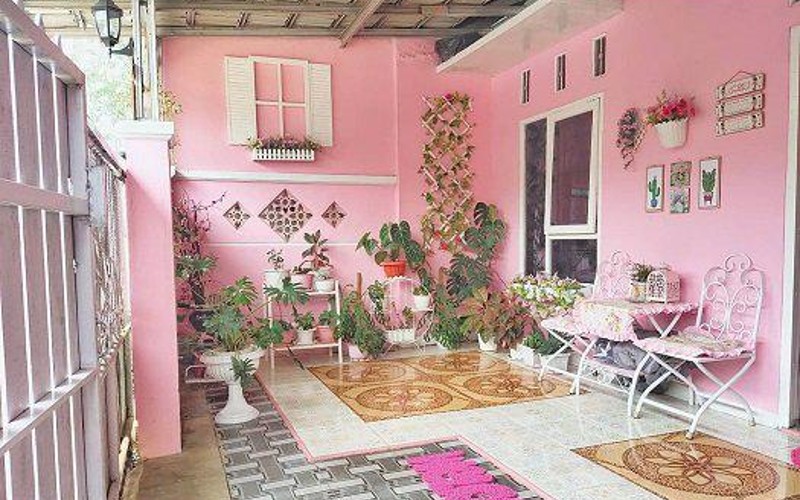 Having limited land for a minimalist home type should not confuse you. Minimalist home terrace decorations can also look beautiful if you design them in feminine colors. You can see the house type 36 in. The terrace uses pink wall paint.
Then, to feel cool, you can add various ornamental plants in the corner of the closed terrace for this living room. Then, complete it with patio chairs and tables, wall hangings, flower pots on the walls, and wooden shelves placed in the corner of the room. To make it look beautiful and feminine, you can design the terrace floor with colorful ceramic motifs like the picture above. That way, the atmosphere on the terrace will feel more comfortable.
Terrace with natural shades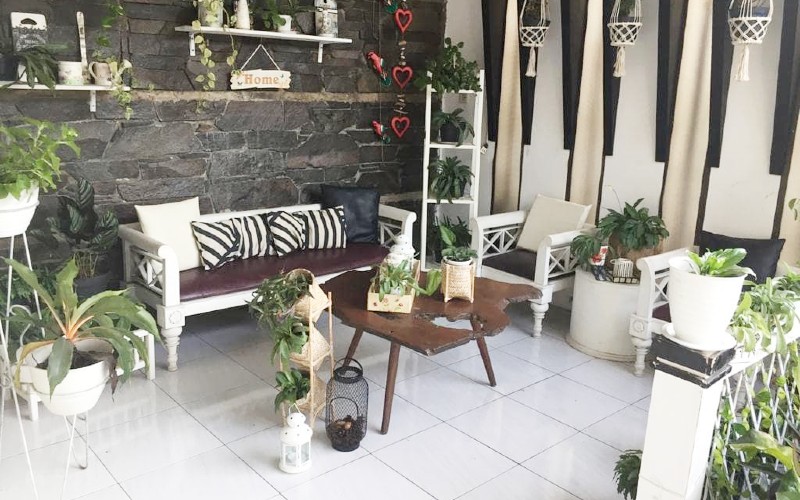 The terrace design of this one house looks more attractive. With the inspiration of a minimalist home terrace decoration, the terrace will look beautiful and natural. Then, you can also make this simple minimalist terrace look even more attractive. The trick is to place wooden chairs, tables, and then several ornamental plants in the corner in the right places.
To make it look more beautiful, you can decorate wooden shelves on a natural stone wall, hang white ornamental plant pots on the ceiling, black and white sofa cushions, and some ornamental plant pot racks on the floor. With this arrangement, the feel of your terrace will be natural. That way, your guests will feel calm and comfortable in this place.
Attractive narrow terrace design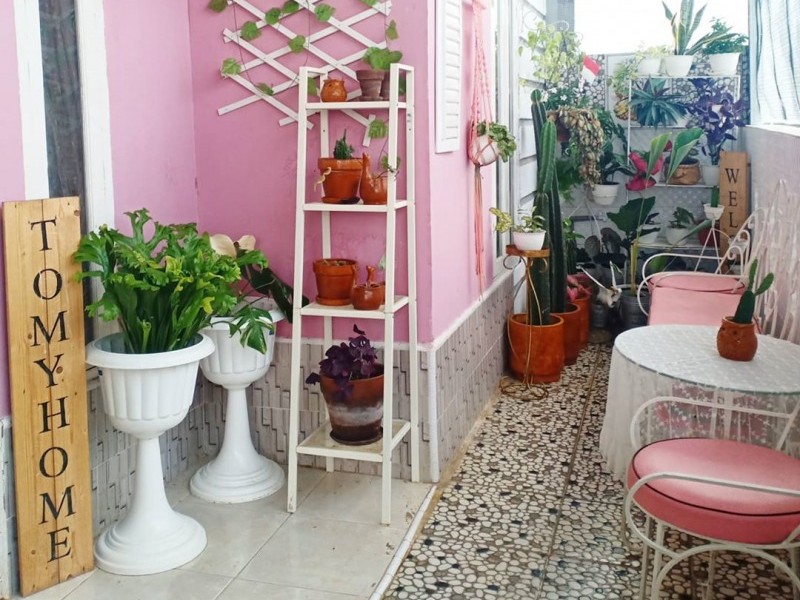 A minimalist terrace design must have a small area of ​​land. But you don't need to worry if the front porch design only has a limited land size. By decorating the terrace properly, you can get comfortable and beautiful.
To make it look more attractive, place a pair of minimalist chairs, a round table, iron shelves for ornamental plant pots, wooden wall hangings, and some ornamental plants on the floor. That way, your narrow terrace will look more attractive. If you have a narrow terrace-like it, this design can be your inspiration.
Beautiful terrace with wooden shades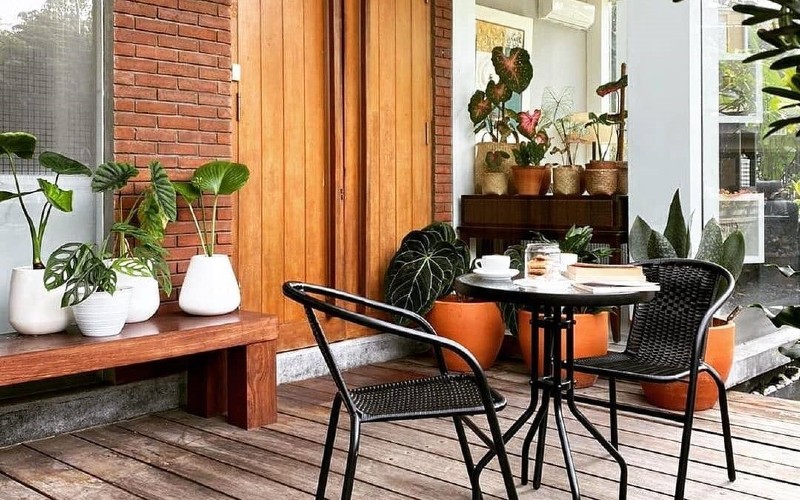 Wooden designs can make the atmosphere look more natural. So if you want to present a terrace room decoration that feels warm, you can use wooden floors, wooden walls, and furniture with wood motifs.
Then, to make it look cool, you can put chairs and terrace tables that match the wooden floor. Don't forget to place ornamental plant pots, so that the green atmosphere can make you more comfortable. In addition, design the color of the door to match the terrace floor. With a design like this, your wooden terrace will make the atmosphere with your guests warmer.
Terrace with gray ceramic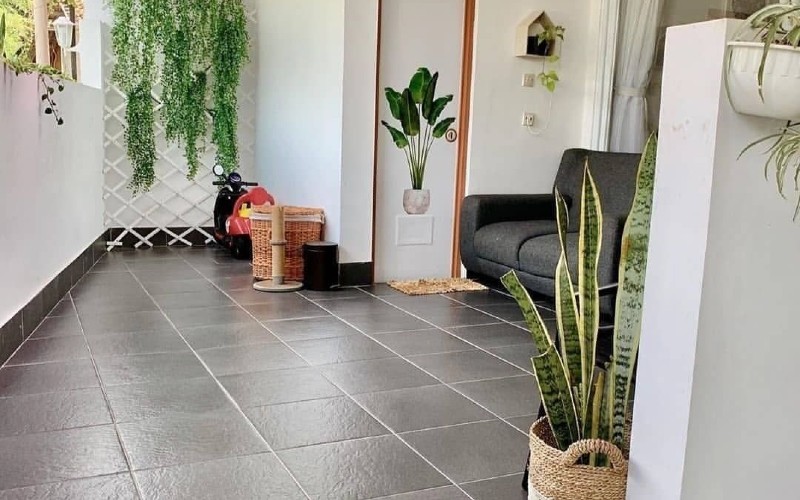 If you want Design a beautiful terrace, you can make it with ceramic motifs. The trick you can use rough ceramics in gray so that your terrace model looks the latest minimalist. That way, this minimalist terrace with a gray tile floor can make your home look aesthetic.
However, if you want to look luxurious home terrace design, you can design it with granite or marble floors. To make the terrace more festive, you can add a sofa set, ornamental plants hanging on the wall, and ornamental plant pots in the corner of the room. That way, your terrace still looks attractive.
Terrace with light blue shades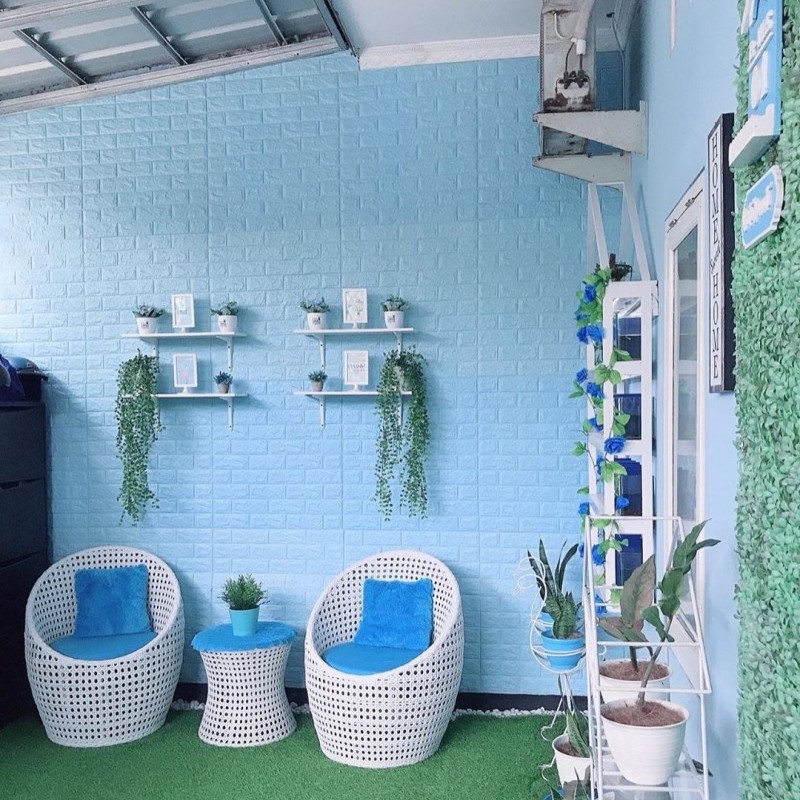 As previously discussed, the appearance of the terrace can be beautified with colors and natural stone walls. This covered terrace looks attractive and contemporary with a design of light blue wall paint.
Then, this beautiful terrace has equipped with unique white synthetic rattan chairs, iron shelves for ornamental plants, wooden shelves on the walls for ornamental plants, and artificial grass. With this design, the terrace with shades of light blue looks more attractive and fun. Hopefully, this design can add to your inspiration for who is designing a terrace.
Terrace with all-white shades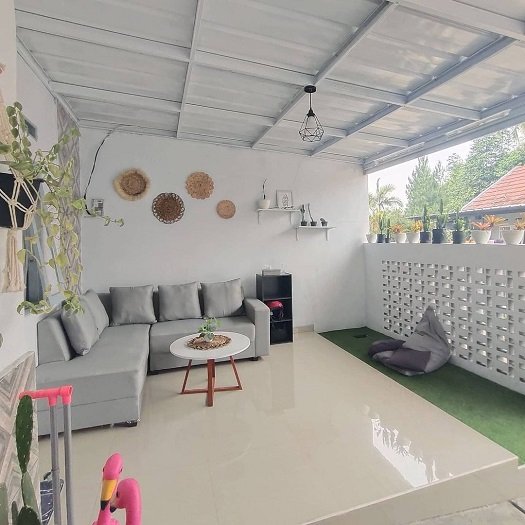 The outdoor living room looks mental with a minimalist design. With a white terrace wall color, the terrace looks clean and tidy. Then, to make this terrace look more attractive, the terrace is equipped with a sofa set, table, hanging decorative lights, ornamental plants in pots, and unique wall decorations. With this design, this all-white terrace looks spacious and more attractive.
Enclosed terrace with industrial design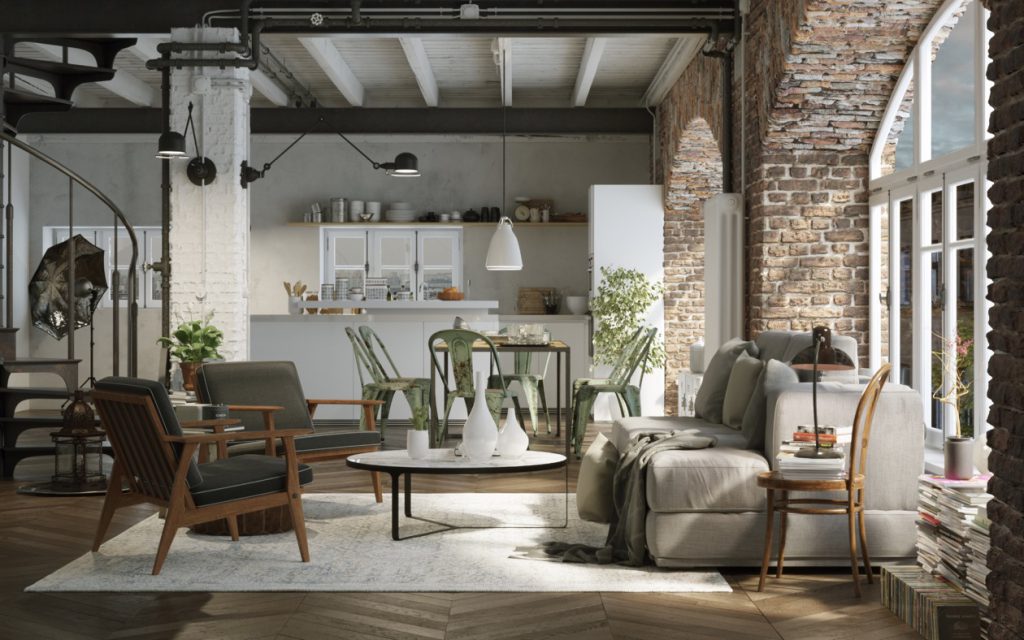 The industrial design emphasizes the exposed brick design and hollow iron. Therefore, this closed terrace design looks beautiful with an industrial design. You can see where the asphalt wall is without cement plaster. Then the equipment looks more natural, with not much finishing. The presence of decorative lights hanging on the iron ceiling adds to the unique design of this closed terrace. If you want your terrace to look cool, please decorate the floor with a white carpet. In this way, the covered terrace will look beautiful and unique.
Terrace with wooden chairs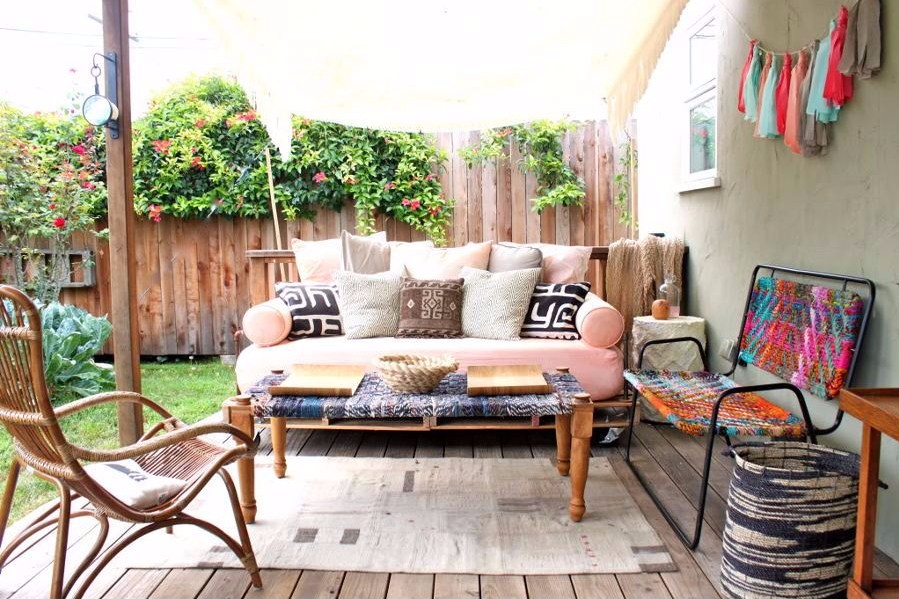 Enclosed terrace with fish pond design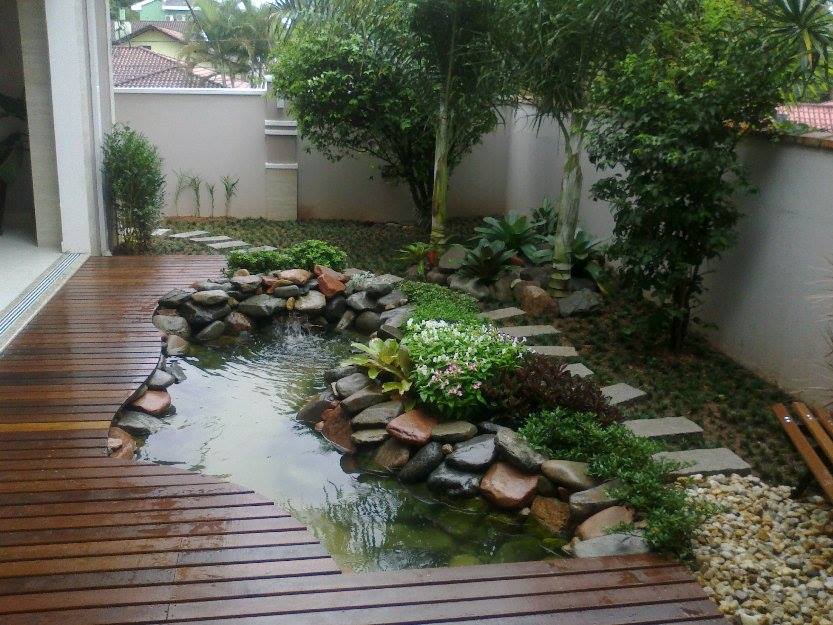 Entertaining guests while listening to the gurgling water from the fish pond is pleasant. Of course, this will add to the atmosphere of the conversation getting warmer. The combination of this one terrace design is very suitable for those of you who like to relax. In this place, you can add a set of chairs and a guest table made of rattan so the atmosphere will be even more attractive. Then, the pool design must be made as beautiful as possible so that the atmosphere on your terrace will feel pleasant.
4. Conclusion
If you want to design the exterior of your house to look beautiful and charming. We provide some examples of the best terrace designs. Then, to make it, you must prepare a budget that suits your taste. But if you want to design your own, we hope you can take advantage of the design examples above. We hope you can make your terrace look aesthetic, beautiful, attractive, and fun. Happy decorating!