1. Overview of wallpapers
The term wallpaper comes from English. Then, a function for beautiful home decoration and attached to the wall. However, the wallpaper is not made with 100% pure paper material. Making wallpaper is combined with other materials such as plastic to make it stronger, shiny, not easily torn, and durable. For your information, several types of materials are used to make wallpaper, including vinyl, natural fiber, foil, and velvet.
We know that wallpaper is a wall decoration that often uses vinyl or PVC paper as the main material. To install it, you only need to stick it on the desired wall area. Most wallpaper walls have a smooth texture and pattern, making them pleasing to the eye. If you want an artistic touch at home, you can use wallpaper to make the house look more attractive.
The advantages of using wallpaper are many, such as its good durability. In fact, for 10-15 years, the color or motif will not fade quickly if cared for properly. If you use wallpaper, you can choose the motifs and images you want because they are thematic and customizable. Then the installation is also easy and fast. So you can install it yourself without the help of others.
2. Wallpaper inspiration
Now wallpaper inspiration has been growing so that the price of wallpaper has become cheap and affordable compared to a few years ago. This is because more manufacturers make various brands, motifs, sizes, and designs with materials such as PVC. Then, how to install it is even easier. Even when you compare to wall stickers, the price is not spacious and larger size.
Then, the difference between the advantages and disadvantages of installing wall wallpaper compared to wall stickers and ordinary wall paint colors is that it can be installed in a large room quickly and gives a more luxurious, neat, and durable impression.
3. The difference between wallpaper and wall stickers
Although the uses are the same between the two types, they still have differences. Wall wallpaper has a wide size that can be pasted to cover all parts of the walls in the house, while wall stickers are in the form of patterns as plants or cartoon characters such as Doraemon and cannot be used to cover the entire completely. In addition, wall stickers will peel off more easily and faster because the material is made of thin semi-plastic material and the built-in glue is of poor quality.
4. The advantages and disadvantages of Wallpaper
Before you buy wallpaper to install on the walls of the house, it's good that you understand the advantages and disadvantages of this material :
The advantage
Fast installation process.

You don't have to wait long before being occupied because it doesn't smell of chemicals like wall paint and only smells of glue which doesn't last too long.

Color does not fade like wall paint.

The interior of the room looks more presentable, luxurious, and elegant.

It can cover finely cracked walls (cracked hair).
Deficiency:
It is easier to tear, peel and damage when exposed to water.

Is not easy and must be done by experienced craftsmen who are used to installing it, although it can still be installed by yourself.
5. Choose some sample wallpapers
We understand that wallpaper is very suitable to decorate the house design as a substitute for wall paint. If you are interested in using it, you can choose a variety of beautiful wall wallpapers according to your wishes. However, to get satisfactory results and according to your taste, choose the best materials and the best motif. For that, let's discuss the designs below. Welcome to our review!
Wood pattern wallpaper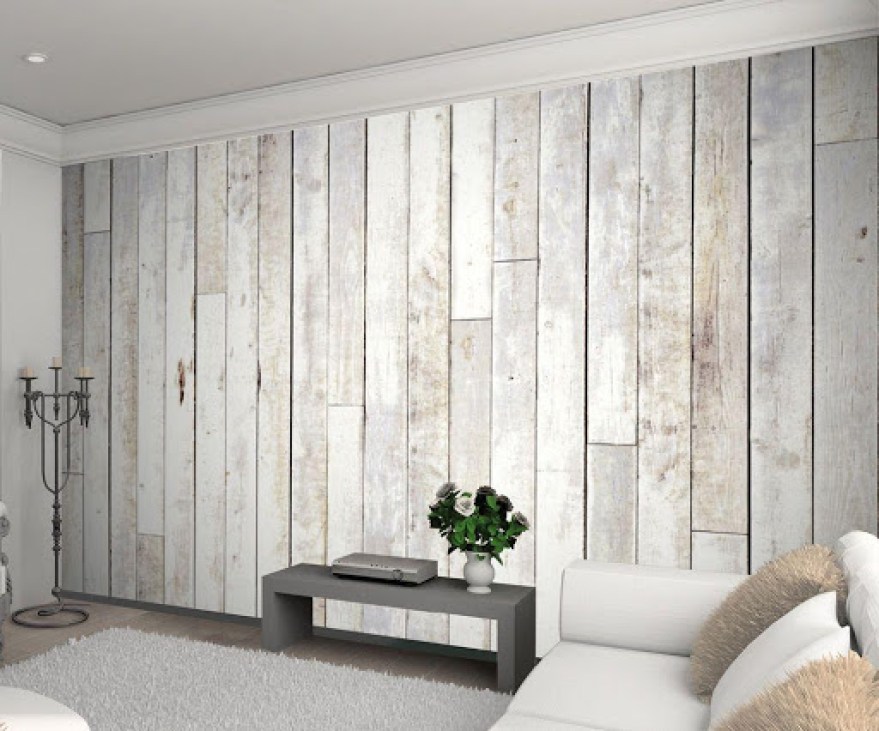 The wallpaper motif in the form of a wood motif is very similar to the original because the appearance is indeed designed in three dimensions. The materials used to make it are natural ingredients and are harmless, so they are not harmful to children. In addition, the wallpaper is waterproof, soundproof, and easy to clean, so it is safe when children are playing nearby.
This motif wallpaper can last a long time. Even the manufacturer claims that this wallpaper can be around six years old. If your choice falls on this wallpaper, it is very appropriate because when you buy it, you already get adhesive, so you can easily install it yourself. For those of you, who want to design a classic-style building, you can use this wooden wallpaper. That way, your living room design will look beautiful and natural.
Blue three-dimensional pattern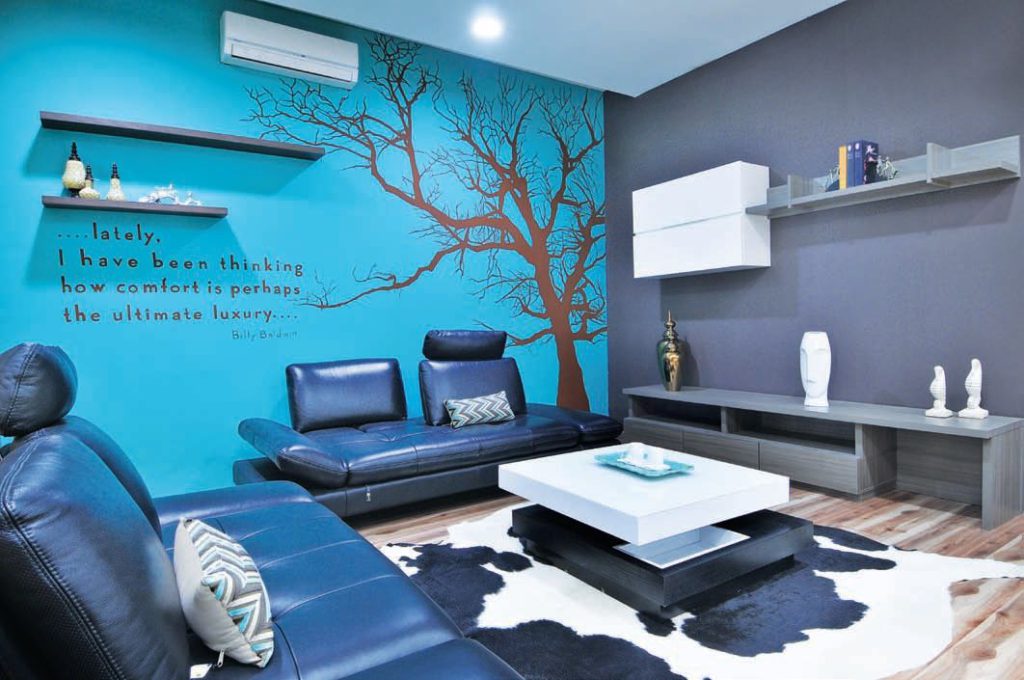 To give the room a bright, fresh, comfortable, and not feel boring, this living room has been designed in blue. The blue color combines with a beautiful but simple motif. So that it brings a comfortable impression to your room. Blue is not only visible when the light is bright, but when night falls, the color can make the living room look more attractive.
Then, to make it even more pleasing to the eye, this three-dimensional wallpaper uses a vinyl-coated surface which is very comfortable when the body's skin comes into contact with it. Therefore, the wallpaper can be fireproof, soundproof, and easy to clean. That way, this motif allows children to play quietly when nearby. To look more beautiful, you can place it in the living room, bedroom, study, or other room that requires a feeling of tranquility in it.
Luxurious wall wallpaper with exposed brick motifs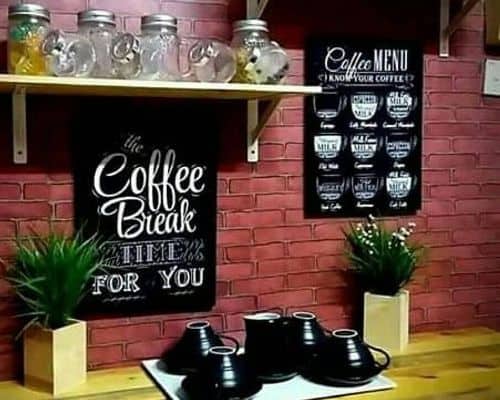 The luxurious design in the form of red bricks in this living room looks stunning to every guest who comes. Although, this kind of display is usually pasted in cafes or dining rooms. With a design like this, you can make your dining room look like a cafe in the city of Brooklyn. Then, if you use this wallpaper, your room will produce a vintage style that is more daring to play with colors. Therefore, if you use real red bricks, the costs incurred can make much more expensive.
Besides can save your costs, this wallpaper motif can also save manufacturing time because the installation process is easy and fast. Equipped with adhesive glue, you can install it yourself without anyone else's help, and it looks like real bricks. So your kids can play nearby without fear of getting hurt. However, if you use real red bricks, the skin you hit will get sore and injured. With this design, the interior of your dining room will feel more comfortable and increase your appetite.
White flower motif wallpaper sticker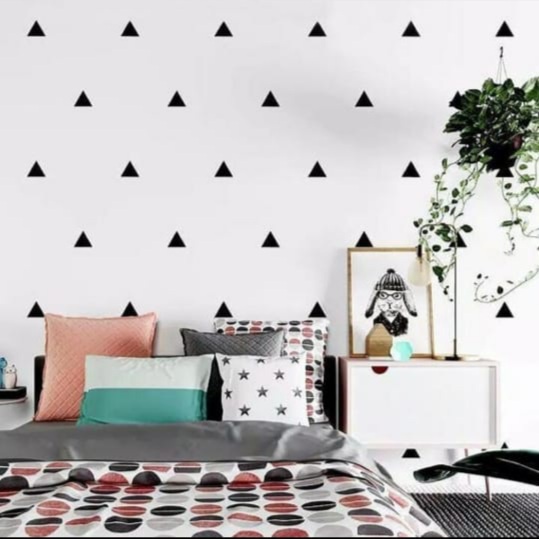 To bring a calm atmosphere to the room, you need white wallpaper with beautiful motifs. With a white background with floral or character motifs, anyone who sees it will feel comfortable. Therefore, you can apply it to a room that requires tranquility such as a bedroom or study room. In addition, the family room and living room are also very suitable when this kind of wallpaper is installed.
In addition to a good appearance, the material used is also of high quality because has made of PVC. With this material, the wallpaper is thicker, more fire-resistant, water-resistant, and easy to clean from adhering stains. Then, the installation process is easy, simply by opening the adhesive cover paper, then sticking it on the wall. Not only does it fit on flat walls, but it also fits on tables, doors, and other flat surfaces.
Country style luxury wallpaper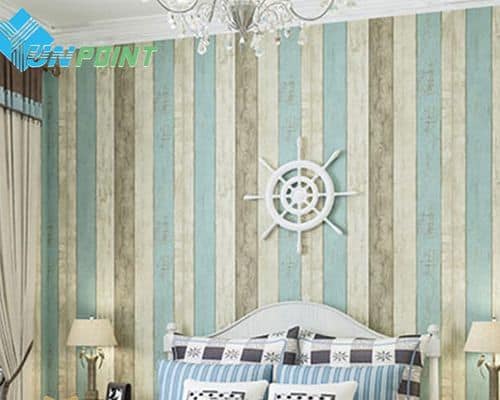 For those of you who like rustic home-style designs, using Luxurious wallpaper is the right choice. With pastel-colored rustic wood motifs, this wallpaper-affixed building will give an old impression like in the countryside. Even though it has a rustic feel, this wallpaper is still suitable when combined with a minimalist home. The color is also subdued and does not give dirty or gloomy air to the house.
You don't have to worry about its durability because the non-transparent PVC material used is very durable. This material is also easy to clean from dirt, waterproof and makes it safe when there are children nearby. With its rustic design and classic feel, this wallpaper will make any room look natural.
Space planet blue motif wallpaper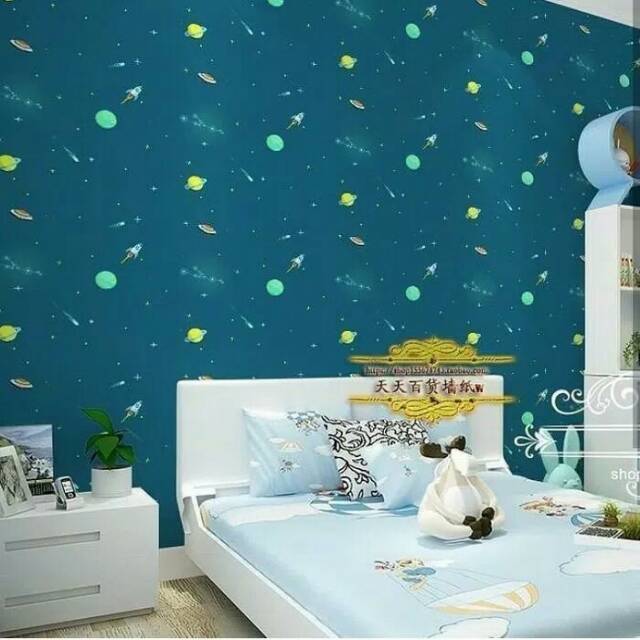 If you have children who love outer space, the Planet Angkasa Blue Galaxy motif wallpaper can be used as the interior of their room. Dominated by blue and star motifs, they will feel like they are in outer space. In addition, you can decorate their room equipment according to the wallpaper image. That way, you create their mood is more cheerful. Then, they will not play outside the house.
Then, to stick, you must be careful because the adhesive can not be done repeatedly. Therefore, you must design it before attaching a sticker to the room wall. Then, to make it look more beautiful, you can add good lighting so that the view of outer space seems to be seen directly in front of your eyes.
Luxurious wallpaper with soft colors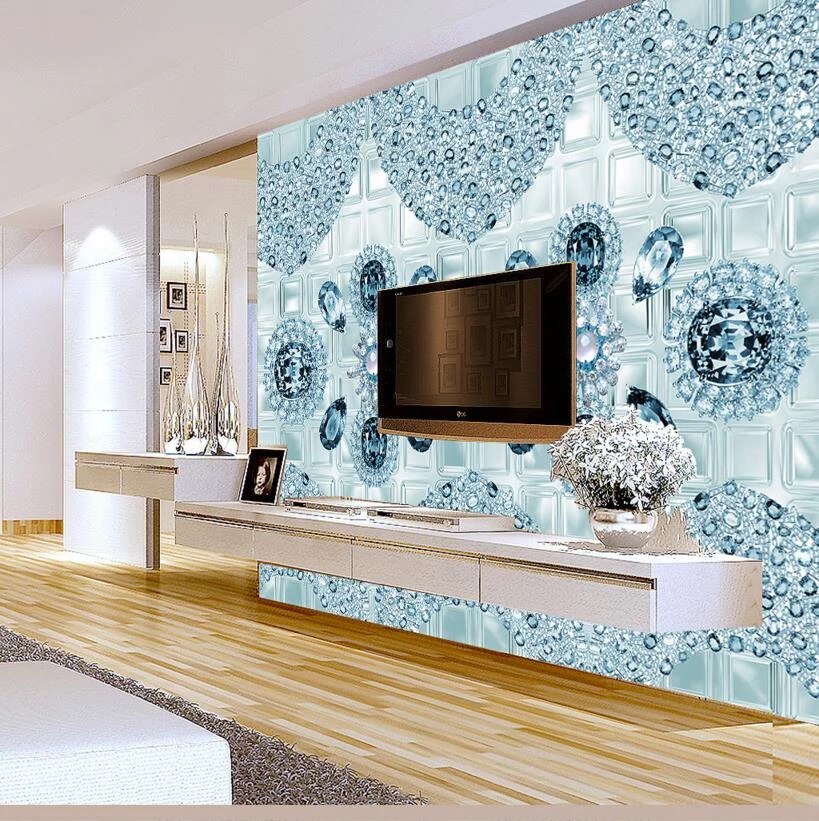 Blue is indeed a source of calm, that's why we present a luxurious soft blue color in your living room. Then, to look more attractive, the blue color is equipped with a slightly dark vine motif to give an elegant impression. Therefore, your rooms as bedrooms and living rooms will feel pleasant while giving the impression of tranquility.
To choose the best wallpaper, we recommend choosing a material from non-transparent PVC because this material is more textured, thicker, and can be used for years. Then, you don't have to worry when children play beside it because the material is fire-resistant, water-resistant, and easy to clean from stains. The advantage of this wallpaper is that the installation process is easy because the installation method is the same as a sticker.
Beautiful wallpapers for the kitchen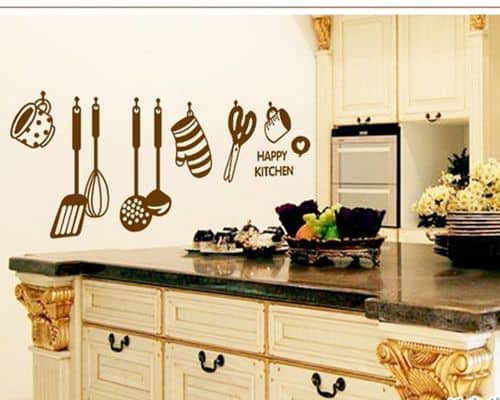 You can see the kitchen in this picture. This wall sticker model is more suitable to be pasted in the kitchen because the wallpaper display says "Happy Kitchen" complete with a cooking utensils picture. Therefore, you can stick it on a wall, wood, ceramic, plywood, or another flat surface in the kitchen. With a beautiful design, your kitchen looks shiny and more beautiful and cheerful.
Then, for the selection of materials, you can use such wallpaper, namely Pearl Film (PVC). The advantages of this material are that it is durable, fire-resistant, and water-resistant. Then the installation process is also easy, and you can even do it yourself without anyone's help. But you should not install it repeatedly because the adhesive is not strong and can damage the wall sticker. Well, if you want your kitchen to look warmer, this wallpaper can be an inspiration for you.
Landscape motif wallpaper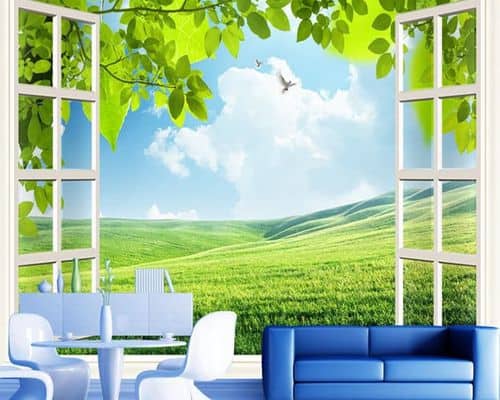 After we discuss wallpapers with the theme of space, now we will discuss wallpapers with the theme of natural scenery. With a beautiful 3D display, making you feel like in the original place. Therefore, you can place this beautiful wallpaper in your bedroom or living room. That way, you will feel a thick natural feel.
This wallpaper motif can make you feel at home in the living room. With this motif, you will feel as if you are on vacation to the mountains. Therefore, this wallpaper is perfect for those of you who like to vacation in the mountains while enjoying the scenery. With the wallpaper on the walls of the living room, you will feel as if you are on vacation every day.
Wallpaper 3Dimensional embossed brick motif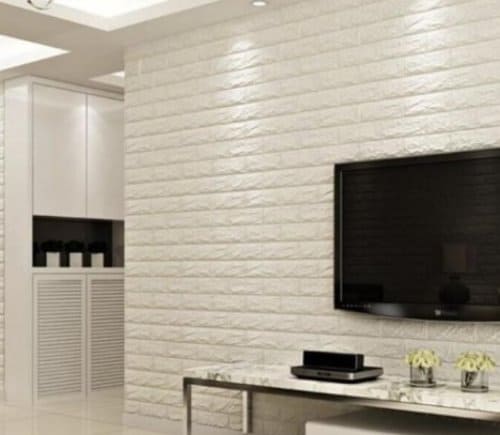 The appearance of this wallpaper is currently favored by homeowners. With a 3-dimensional motif, your living room wall will be able to amaze everyone who sees it. At first glance, it looks normal. But if you pay attention, it will make the eyes more pleasing.
With an embossed white brick motif like this, it will look attractive and give an elegant impression to every room it is attached it. In addition, the material is made of vinyl, making it stronger and not easily torn, especially during installation. If you want the interior of your living room to look stunning, you can use this wallpaper as your inspiration.
Floral wallpaper for bedroom walls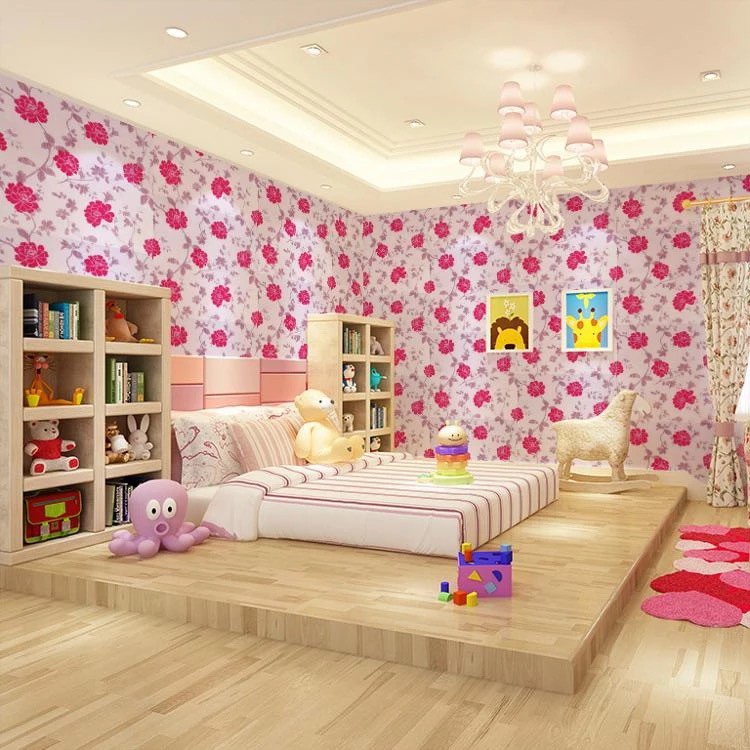 A women's bedroom will look beautiful with a red rose motif wallpaper. With this motif, the bedroom atmosphere will feel very pleasant. Therefore, if you are happy with floral decorations, this wallpaper motif is perfect for your bedroom. With the appearance of roses, your bedroom will feel like a beautiful flower garden.
Then to make it look more harmonious, you can complement your bedroom with a bright color king-size bed, wooden shelves for dolls and accessories, hanging decorative lights, floor rugs, and wooden floors. With a design like this, the bedroom will make your daughter happy and at home in her room. Then, to last a long time, you can choose a thick, glossy, and water-resistant wallpaper material. That way, the wallpaper will last a long time and not be easily damaged. We hope this women's bedroom design can add to your inspiration.
Silverfin wallpaper in the living room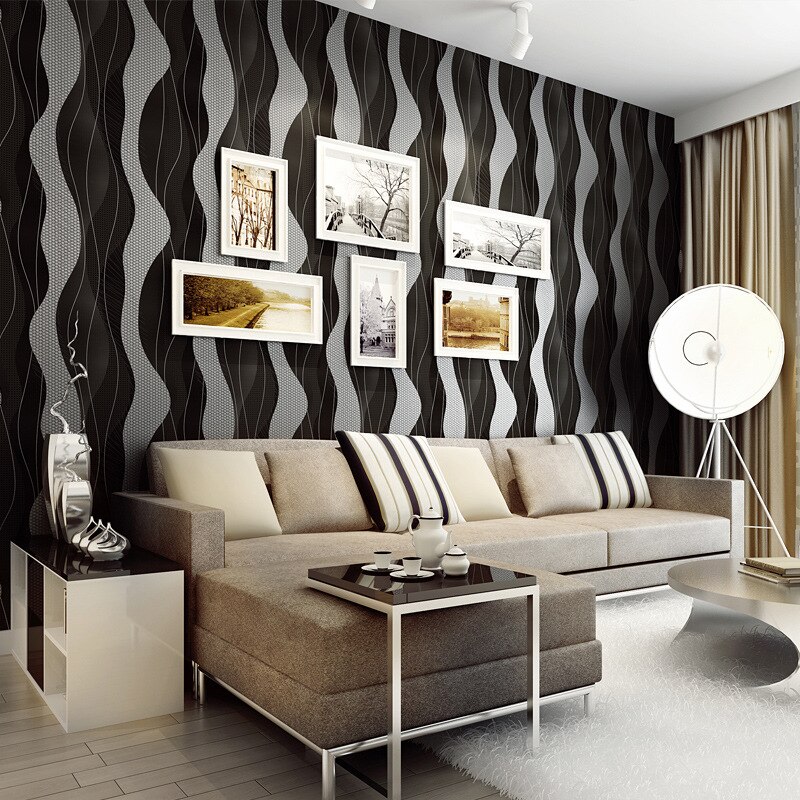 The silver fin motif or curved lines consisting of several colors such as black and silver in this living room gives a different and stunning impression. Breakthroughs with motifs like this can make your guests more amazed by your designs. Therefore, for those of you who like the value of art, you can make a living room design with a motif like this.
Then, to make it look more harmonious and elegant, you can complement your living room with a bright color sofa set, a beautiful table, sofa cushions, and attractive wall paintings in bright colors. The combination of wallpaper colors with living room fixtures with bright colors makes the living room atmosphere more warm and cheerful. Hopefully, this design can make your ideas more beautiful as your dreams.
Leaf motif wallpaper for the bathroom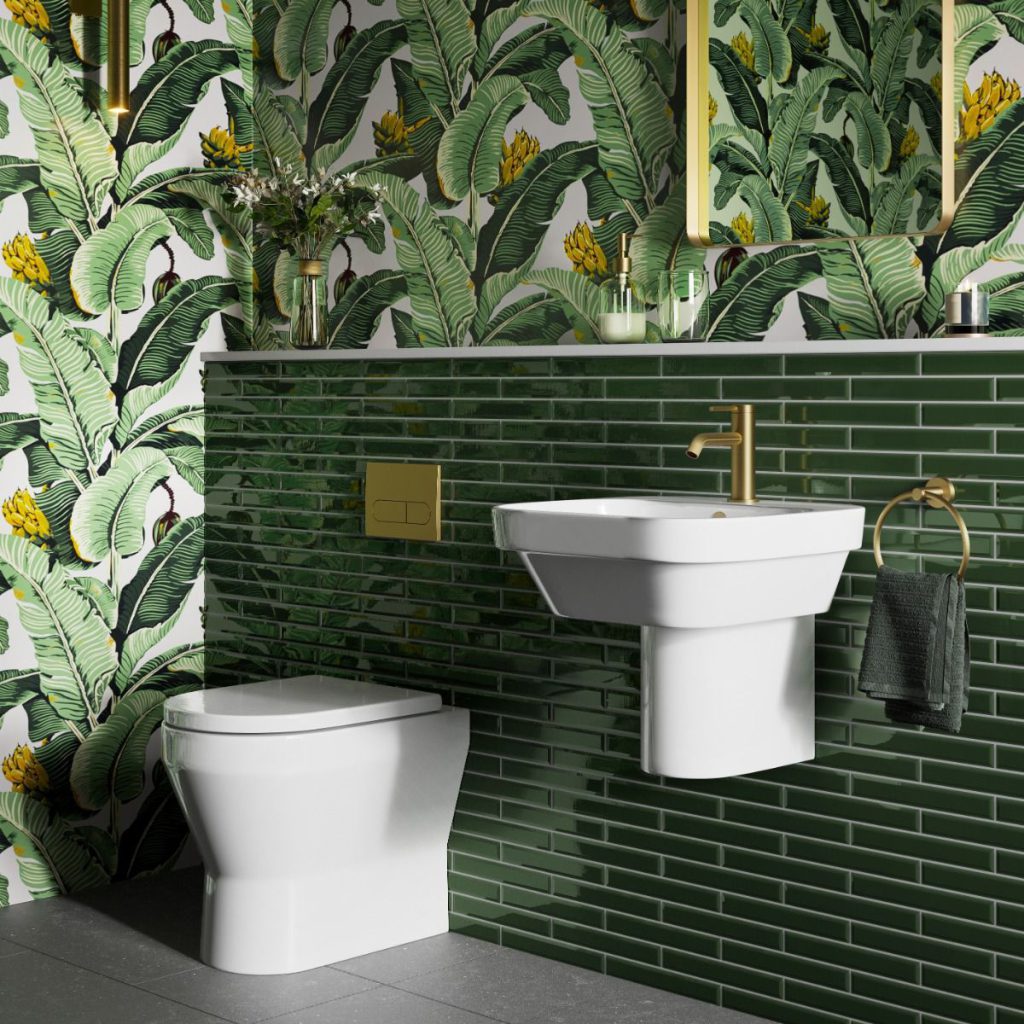 Having a beautiful bathroom can make us feel comfortable and happy in it. The green color of the leaves is different from the usual wallpaper. This color can give peace of coolness to your soul. That way, you will feel calm inside.
Then, to make it look more attractive, you can complement your bathroom with a beautiful white closet and sink. Then decorate the walls with black ceramic exposed brick motifs. With a design like this, you will feel comfortable and at home in your bathroom. Hopefully, this design can be an idea for you.
Cartoon motif wallpaper for children's room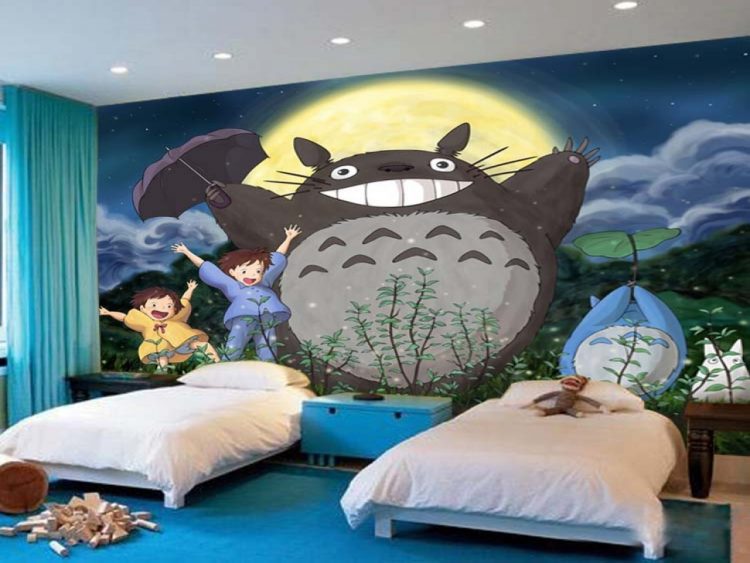 Children will be happy if their rooms have decorated with cartoons they like. You can choose these wallpapers with cartoon characters for children for their favorite rooms So that they are more interested in designing their bedroom walls with Hello Kitty, Doraemon, Keropi wallpapers, and other cute cartoon characters. With a design like this, they will surely like it and make them feel at home in the room.
Then choose a wall sticker material that is thick, shiny, and waterproof so it can last a long time. In addition, to look more harmonious, you can complete their bedroom with bright color beds, floor rugs, and some of their games. That way, you will feel the warmth of gathering with them. Hopefully, this design can make your children more cheerful.
3D gingham wallpaper for walls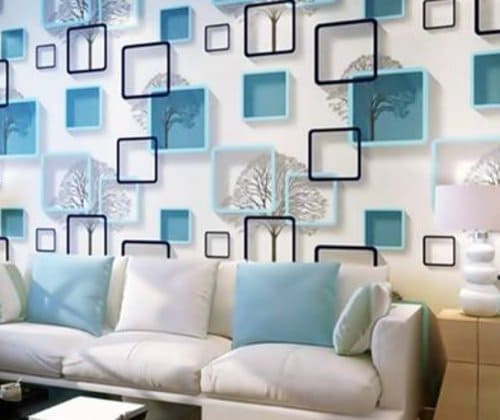 The living room can not only be decorated with furniture and accessories. In addition, you can decorate your living room with 3D gingham wallpaper. But for the selection of motifs, you should not choose a tacky color motif. Choose soft colors so that your living room feels comfortable.
Then, to look cool, you can complete this living room with a bright sofa, colorfully patterned sofa cushions, and floor rugs. That way, your living room will look unique. Then this wallpaper is also suitable for young people who are happy with the art of design.
6. Conclusion
If you want the interior of your home to look beautiful and fun, you can decorate it with wallpaper as described in the picture above. By using wallpaper, you can make a room that is more beautiful and pleasing to the eye. Some wallpapers can create a calming, fun, and refreshing mood.
Therefore, if you want the interior of your living room to look aesthetic, attractive, luxurious, and charming, please select the best wallpaper according to your choice. Then, choose wallpaper made with the best materials, easy to install, waterproof, and not easily damaged. That way, the appearance of your room can be more beautiful in a long time.