1. Overview of the drying room
An aesthetic home design is a home that has complete facilities. Therefore, every house must have a clothesline to dry clothes after washing. Therefore, the room for drying clothes is an important area that must be designed properly. Especially for people in the city, the limited space for a minimalist house is often an obstacle to making a clothesline and laundry room. Therefore, you have to find a solution so that you can present a creative clothesline so that people don't see it.
Then, for those of you who own a minimalist two-story house design, you can make a clothesline on the top or second floor. With the available land, you can at the same time present a simple laundry and clothesline design, aka a service room.
2. Laundry room ideas
Having a small house makes you must find the ideas to organize each room to look more effective. The best design is the key to a more comfortable one. It also applies to designing a minimalist laundry room. Then, many small house owners are looking for ideas to design a minimalist laundry room that is right for their home. By finding the idea of ​​​​organizing one of the narrow rooms in your house, various activities can be carried out starting from washing, drying, and putting other equipment.
Therefore, find ideas so that the corner of the room in your house has a concept. Then, choose geometric ceramics that can instantly make the laundry room look more attractive. In addition, don't forget to decorate it with green plants around it so that it can beautify its appearance. Then, add two hanging canvas bags because this use can save your space more. Then, distinguish the dry clothes basket type from the freshly washed one.
3. Designing a clothes drying room according to function
The clothesline can design a closed so that it is not exposed to water and blown away by the wind. But the walls must be rostered [gaps] so that the wind can still enter and make clothes dry quickly. Then, the walls used would be better off using plastic materials or polycarbonate. So the light can still enter the room and shine on wet clothes.
We know that the use of plastic material is very practical because it is easy to shape according to taste and at the same time can beautify the place to dry clothes. In addition, plastic materials are easy to find in building shops.
Then, in terms of the roof of the building, it is highly recommended to dry clothes using materials that can conduct heat well, such as zinc and asbestos. The heat absorbed by the roof can help dry clothes. In addition, the heat of the room can also help kill germs and fungi on clothes or pants. However, don't forget to provide a water channel that helps drain water from dripping clothes. So it doesn't make your drying area muddy.
Then, sanitation in the room is more important to avoid the appearance of moss on the floor or mildew. Therefore, design the floor of the clothesline with plaster to prevent the room from becoming humid or design it with beautiful ceramics so that your clothesline feels more comfortable.
3.
Some examples of drying room designs
If we feel tired from daily activities, we feel lazy to wash and dry clothes. Therefore, you must be able to minimize it by designing an attractive laundry room. The trick is you can create a laundry room adjacent to a mini green garden. Then, provide a fresher atmosphere in your drying area. Then, the garden can also be used as a place to relax while waiting for the laundry to dry completely. Therefore, we would like to provide some examples of drying rooms that can make you feel comfortable. For that, let's discuss the drying room below. Welcome to our review!
Design of the drying room on the top floor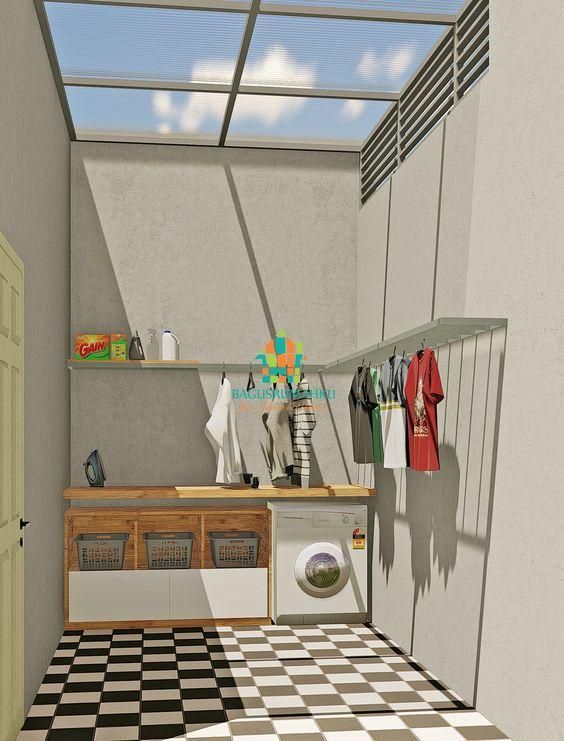 Then, to make you are easy to dry your clothes, you can also be made on the top floor. Among, them is to make castings on the top floor by prioritizing their function. Especially for narrow houses in urban areas, this design is good. This open design takes up very little space. But it can make you comfortable to dry clothes, and your clothes will also dry quickly.
Clothesline stuck to the wall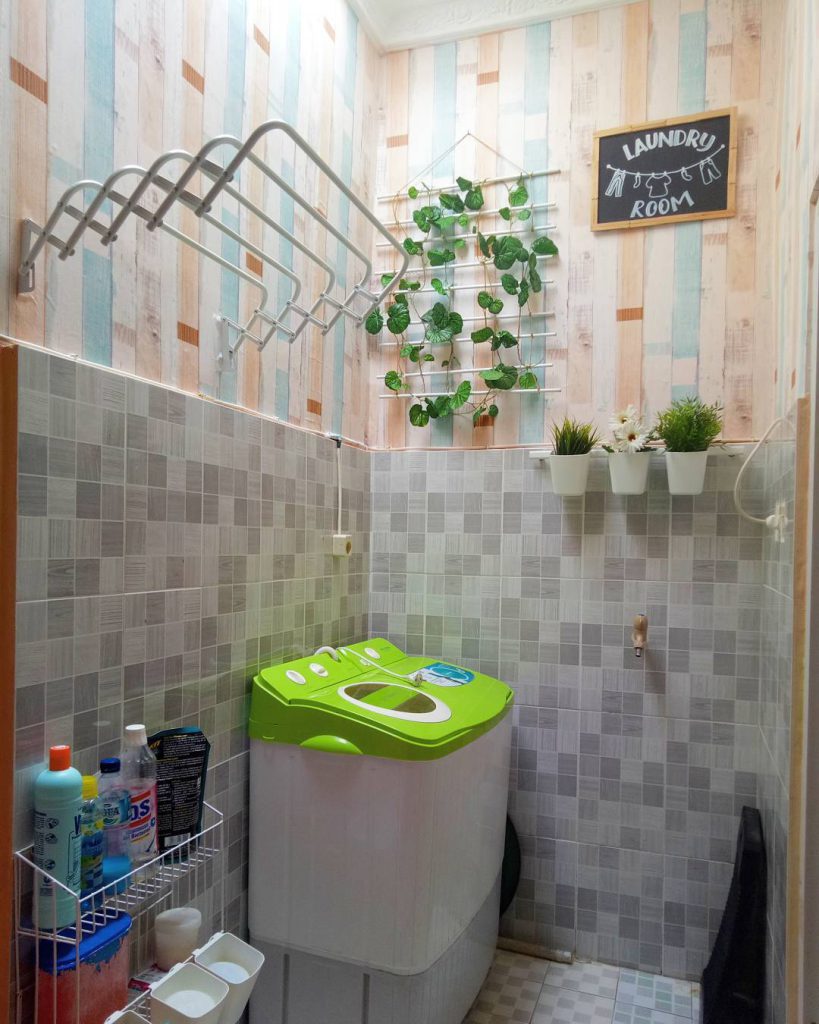 You can make a place to dry clothes from iron or wood that is placed on the ceiling of the drying room. But if you like a classic design. You can copy the classic American style. This classic style might be one of the inspirations for your laundry room. Then, to look more attractive, you can hang a wooden or metal clothesline from the wall.
Minimalist clothesline in the backyard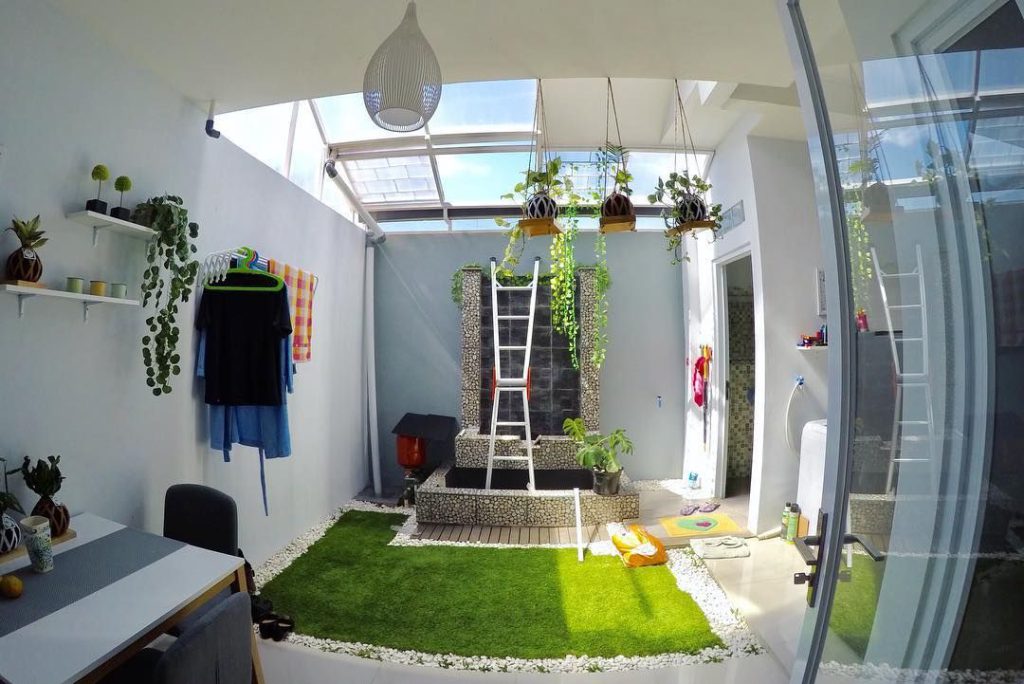 If you have leftover land behind the house, use it for your needs. For that, you can create a minimalist clothesline with a semi-outdoor concept. This laundry room is also great for wet clothes as it gets direct sun. This position can be adjacent to the garden or pool behind the house. Then, to look more attractive, you can complement your drying room with ornamental plants. With this design, you are easy dry clothes.
Japanese style drying area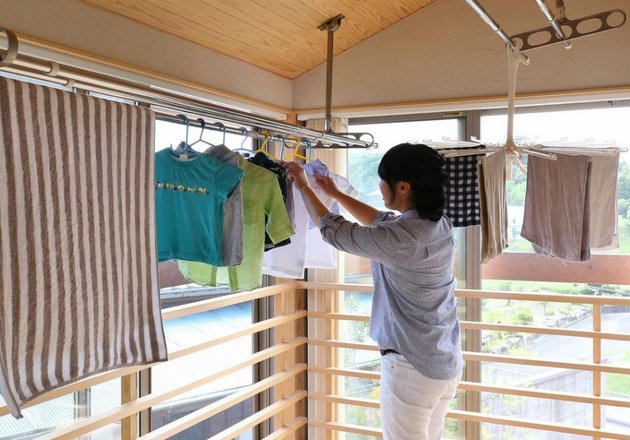 The clothesline in this Japanese-style house looks functional thanks to the presence of a hanging iron rack. That way, you can dry large quantities of clothes effectively without worrying about getting rained on. In addition, you can also dry the model's transparent nightgown without being seen by outsiders. In order not to fly in the wind, you must pin the clothes with clothespins. That way, your clothes don't fall.
Simple minimalist clothesline model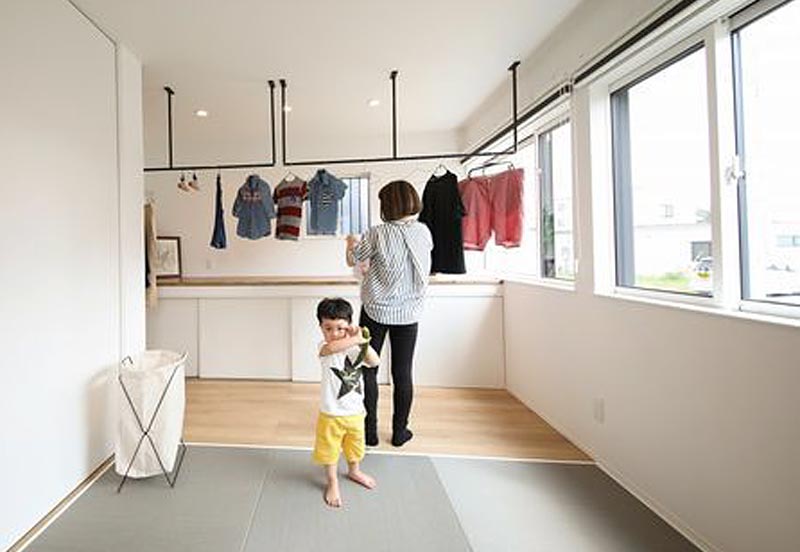 If you have a two-story house and still have enough space. Then, you can present a closed clothesline like this. The minimalist second-floor laundry room has equipped with glass windows. So light can enter and help dry clothes. Then, your clothesline doesn't fall down in the wind. That way, you will be safe while traveling.
Clothesline room blends with washing clothes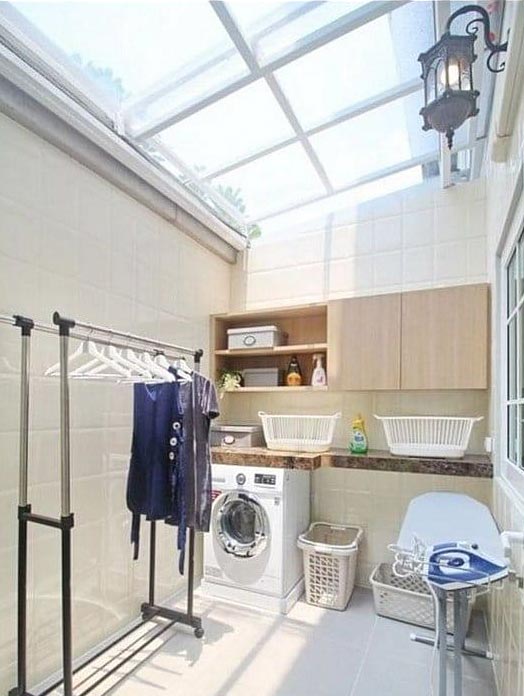 This minimalist laundry room is in a functional design that makes it easy to do the job of washing clothes as well as drying them. In addition to having a washing machine, the narrow area of ​​this minimalist laundry room has equipped with an ironing table, so it looks multifunctional. The presence of a clothesline made of black iron can optimize the function of the service area. To make it look more attractive, you can design wooden shelves on the walls, wall lights, and room accessories. That way, your laundry room will feel complete.
Drying area as well as an ironing room
Having a clothesline on the top floor will support you to get clothes dry and clean quickly. This room has equipped with a washing machine and ironing room made in one area. Then, to make the room multifunctional, a clothesline has made in one room. That way, you can do one job in the same room, so you don't have to go up and down stairs.
Drying area with a hanging rack above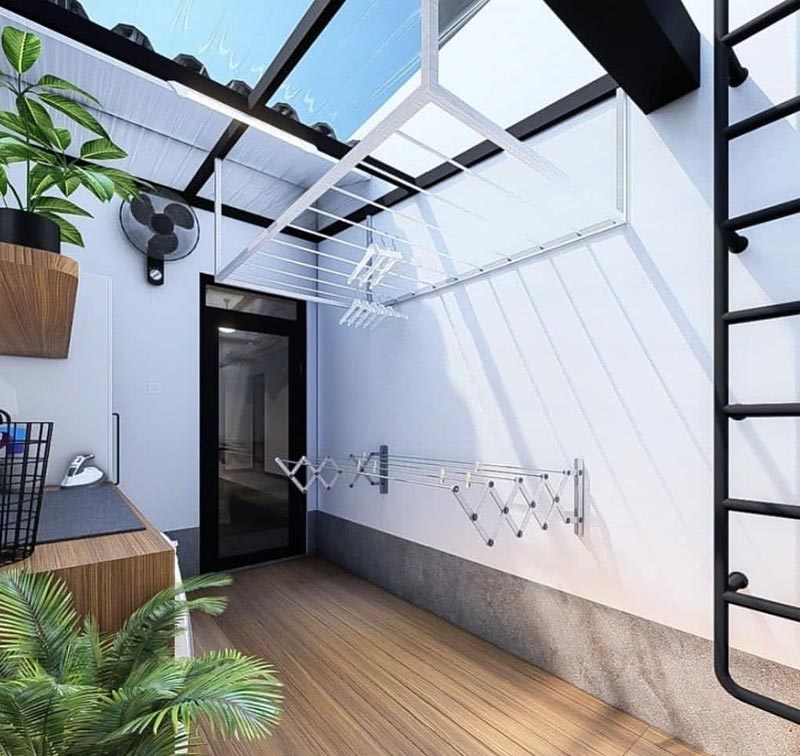 You want to make your room practical. You can make a simple level house for a clothes drying room on the top. The trick is to take advantage of the existing vertical area, namely, make a hanging clothes rack above the iron trellis in your upper room. That way, your clean clothes will dry quickly in the sun. To make the atmosphere not boring, you can put ornamental plants in flower pots so that the green atmosphere can make you fresh.
Drying room near the stairs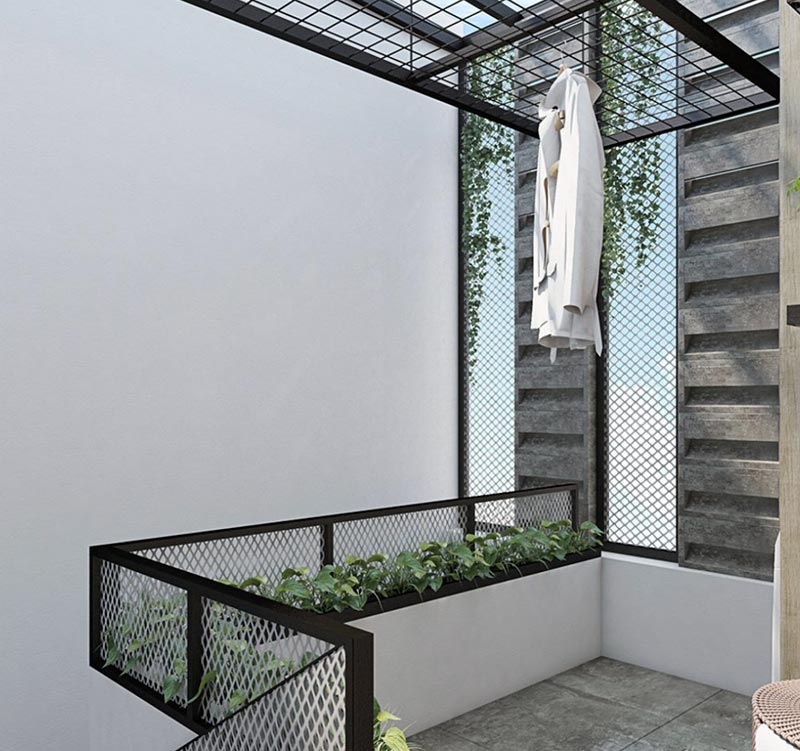 Having a two-story house can be used for various purposes. Therefore, to facilitate your access to drying clothes, you can design this second floor as a clothesline. The trick is you can use the cross-section of the hollow iron shelf near the stairs to hang clotheslines for clean clothes freely. That way, your clothesline will dry quickly in direct sunlight.
Laundry room elegant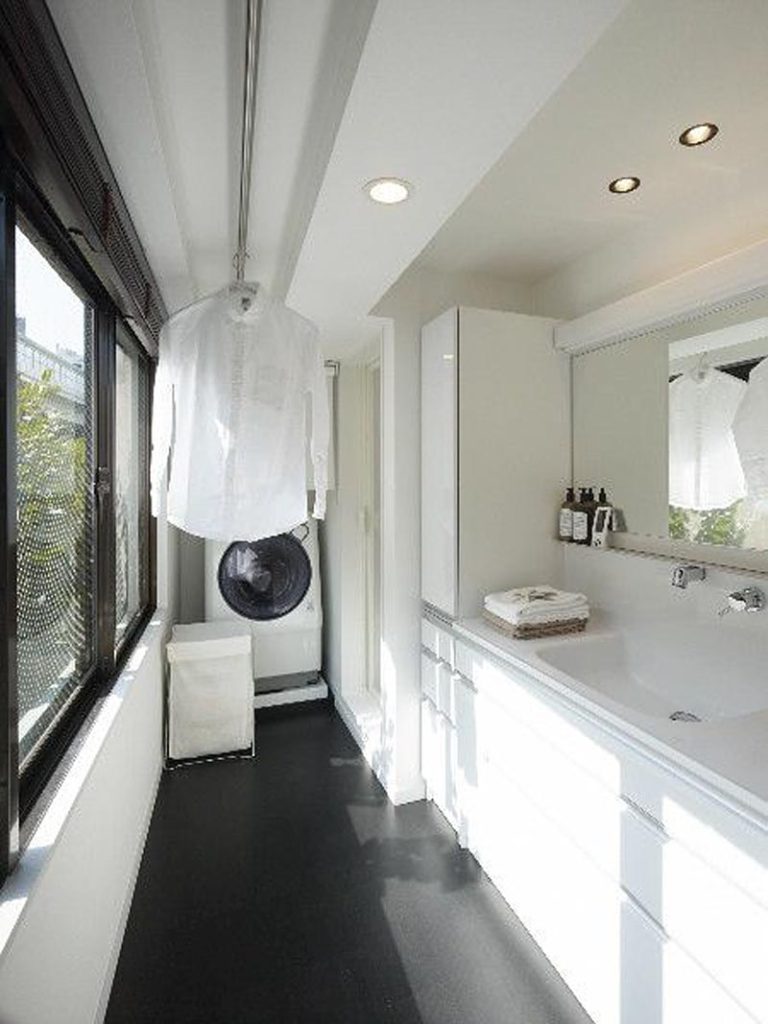 This minimalist laundry room looks elegant with a minimalist monochrome color. Even though the minimalist laundry room is narrow, it looks comfortable because of the selection of the right paint color. Then, you can use white wall paint combined with a minimalist black tile floor. That way, the result will look elegant.
Clothesline area with wall hanging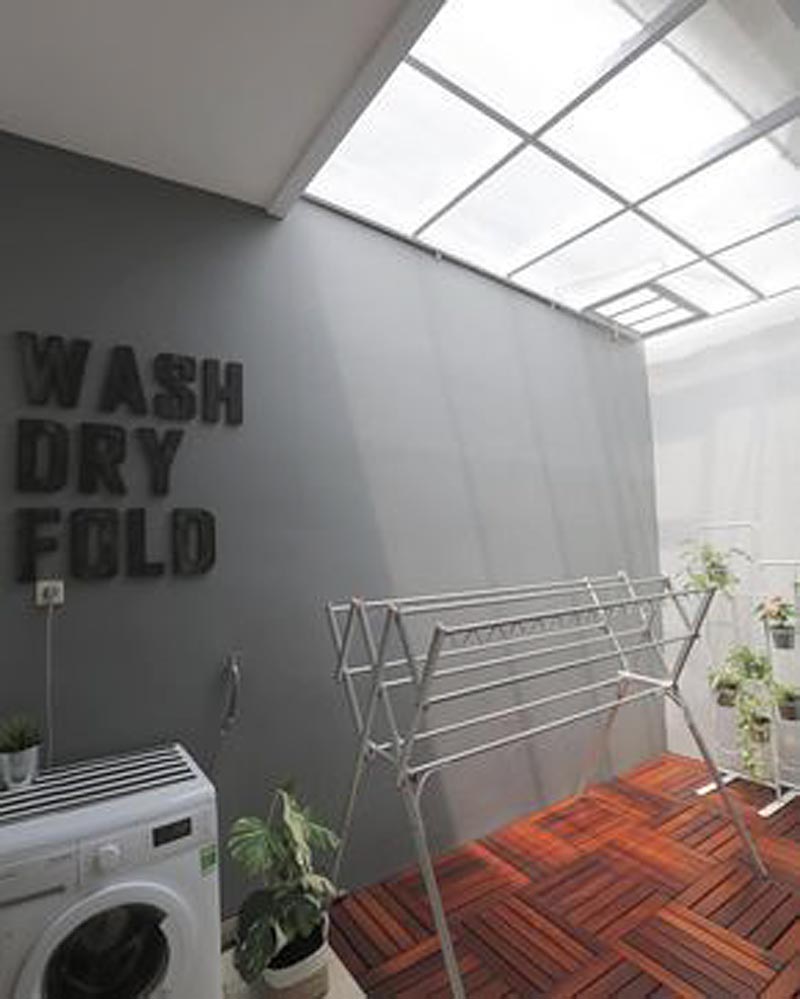 Not all clotheslines look monotonous. Sometimes the clothesline can be decorated with beautiful decorations so that it is not boring when you wash clothes and dry. Using wall hangings in the laundry room with beautiful writing can make your second-floor clothesline area look unique and fun.
. With a clothesline design on the second floor, the sun's rays enter directly into this area and help dry clothes. For that, you can use a skylight roof model because the roof model is also very suitable for a clothesline like this.
Clothesline area with black hollow iron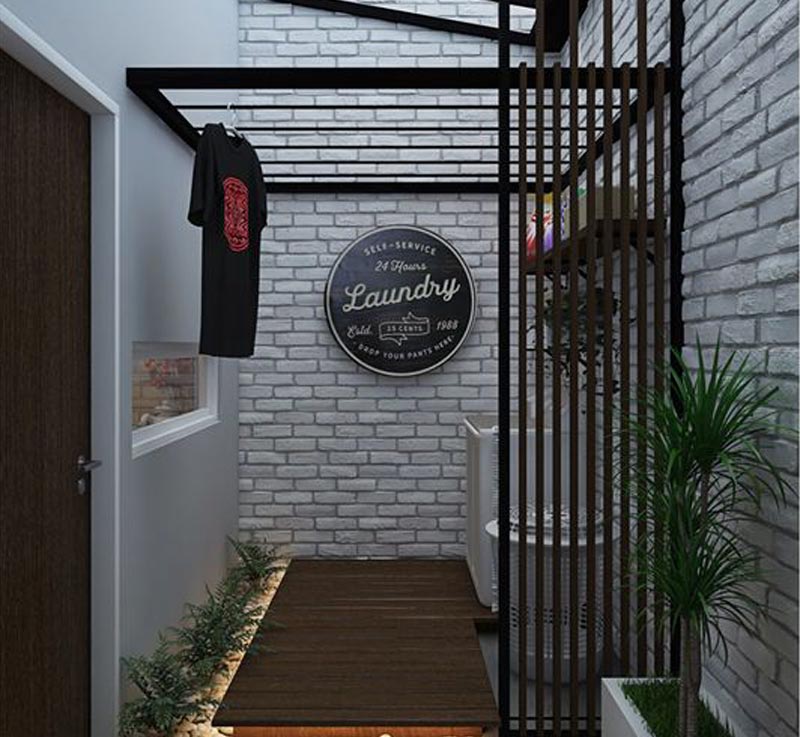 You can also make a minimalist clothesline with a divider as a barrier to the area next to it. Then, you can dry the clothes on the top trellis. Thus, the division of the room does not become biased and can optimize its function, as well as beautify the room. To be more attractive, design a black hollow iron on the top of the room and the entrance to the room. Then decorate it with ornamental plants so your clothesline area looks more beautiful and fun. That way, you will feel at home in this place while washing your clothes.
Simple drying area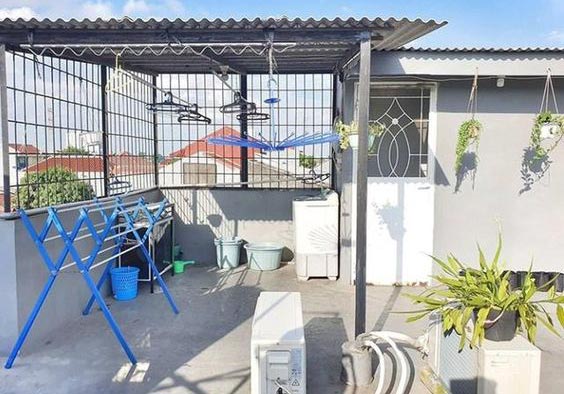 It doesn't have to always be designed to be expensive. Therefore, you can also bring a simple laundry place without having to spend a lot of money. Then, take advantage of the rooftop of the house to be used as a clothesline. With this open space, your clothes will dry quickly. Then, to make the atmosphere more pleasant, you can decorate your clothesline with ornamental plants in pots. That way, your simple clothesline will look attractive.
4. Conclusion
If you want to make a clothesline room in your home. Make the right design so that the interior of your room does not look cramped. For that, we provide some examples of simple and beautiful designs so that your home looks complete.
Then, to make your home design look beautiful, pleasing, attractive, fun, and aesthetic. Of course, you can design a clothesline room like the picture above. Therefore, we have prepared some beautiful designs for your inspiration. We hope this review can use for you and your family. Happy decorating!