1. Overview Aesthetic bathroom
A bathroom with an aesthetic appearance is the target of teenagers or young married couples. However, some want to make a nice aesthetic bathroom to feel refreshed and comfortable when in the room. In making an aesthetic appearance, you can use items and paintings or pictures that can make the bathroom look different, Although the design is almost the same, by decorating the bathroom aesthetically, the look will be different. Therefore, you can read our discussion this time to the end.
2, Aesthetic bathroom design ideas
Anyone would not like to linger in a messy and dirty bathroom. Therefore, many people want to design their bathroom to look beautiful and comfortable so they can relax to spend a long time in this place. We know that some of the best ideas or inspirations often come in the shower because they feel comfortable and calm. Therefore, it is not surprising that aesthetic bathrooms are always at home.
Then, for those of you who want to create an aesthetic bathroom design, here we have prepared the design inspiration. Therefore, you can apply beautiful and comfortable bathroom designs to your home. For that, let's follow the discussion of some Aesthetic bathroom designs below.
3. Some examples of Aesthetic bathroom
In this article, we will discuss and provide some examples of aesthetic bathroom designs. Aesthetic bathroom designs are very popular with young people because they look comfortable and different from other designs. In addition, even this aesthetic model bathroom can provide comfort to you while inside. The model is antique and unique, making this bathroom one of the most popular designs. Therefore, let's discuss one by one the aesthetic bathroom designs below. Hopefully, this bathroom can provide comfort to you. Welcome to our review!
Dream aesthetic bathroom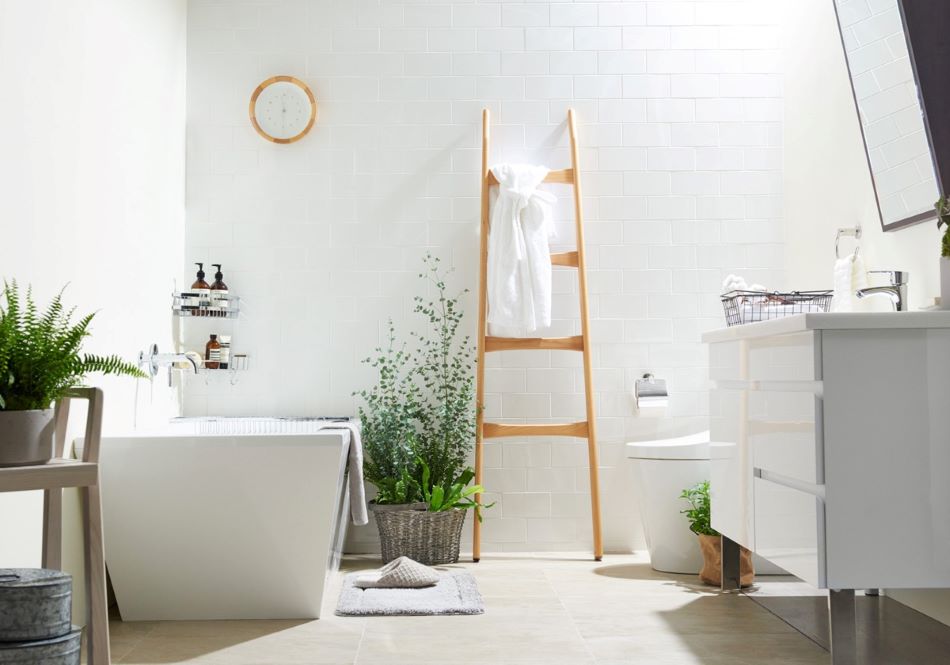 This aesthetic bathroom design with relaxed styling is quite easy to present. If you don't have a soaking tub or bathtub, you can replace it with a shower area. Then, to look more attractive, keep decorating wooden stairs that can be used as towel or clothes hangers, ornamental plant pots, wooden shelves, and bathroom accessories. This multifunctional object is indeed famous for being a modern, stylish, and time-saving space-saving solution. That way, you will feel at home in the bathroom.
Japanese aesthetic bathroom design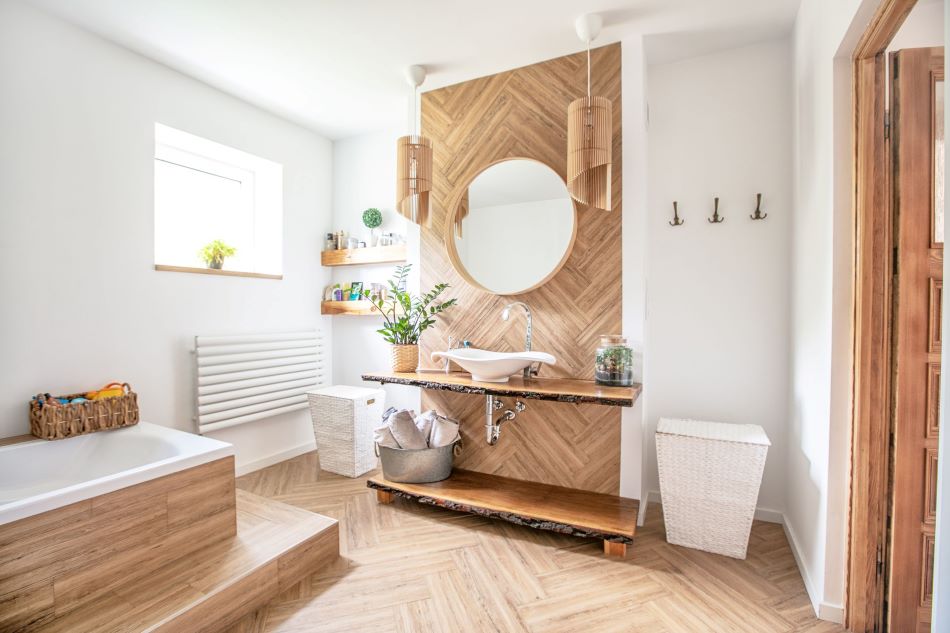 This bathroom looks luxurious and fun with an aesthetic design. This bathroom uses natural wood accessories on the walls. In addition, for the part between the clean bathroom and the dirty bathroom, there is a partition made of processed wood.
Then to make it look modern, you can add led strip lights on the shelf on the wooden wall. That way, your bathroom design will look like a Japanese bathroom design and aesthetic. Then to be attractive, choose a ceramic variation with a wood motif for a practical solution because the ceramic material will not rot like real wood. So it will stay durable. Don't forget to style it with space-saving matching decorations to keep it beautiful.
Aesthetic walls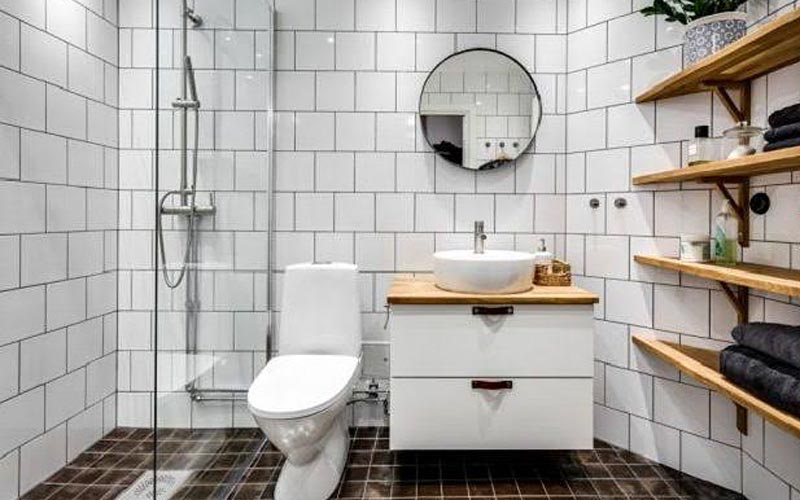 Next, the appearance of the bathroom looks different from the others. Namely, by decorating the bathroom walls using wallpaper, mirrors, glass partitions, and a wooden rack. There are lots of motifs, colors, and models of this wallpaper that you can use according to your wishes. In addition, using this wallpaper is also easy to install compared to walls that use wall paint. However, there there are some positive and negative points. So, design your bathroom well to make you feel at home and comfortable.
Use of glass to make it look aesthetic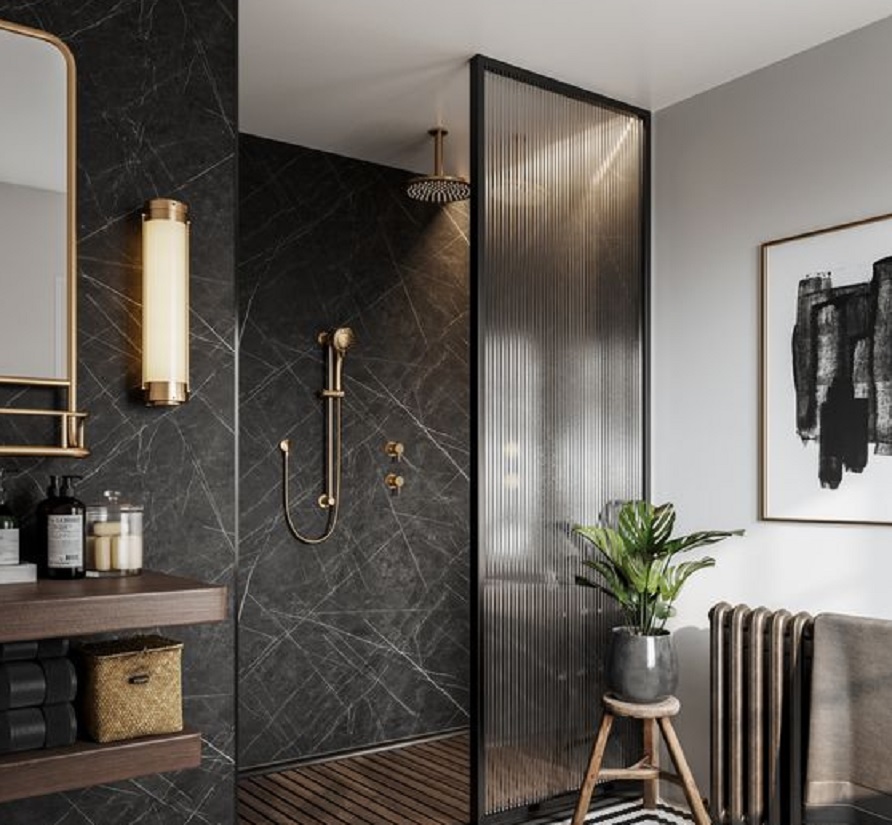 There are times when we use glass as a partition in the bathroom. However, you have to make sure no one sees in this place. But you can make a wooden door to be safe. That way, you feel comfortable and calm to take a shower, and you can see ornamental plants in a mini garden, wall painting, and bathroom accessories needed. Therefore, the use of this glass partition can be the aesthetic appearance.
Small bathroom size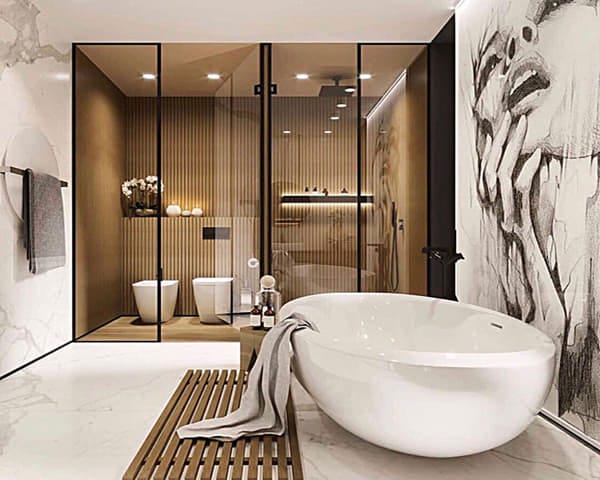 If you have a small bathroom size, it can be used even better to make it look attractive and modern. However, to make it look aesthetic, you can add walls made of natural stone. Meanwhile, for the lighting, you can use mini-size LEDs. Then, to be more perfect, add a bathtub and shower that can decorate the bathroom according to the desired facilities. This bathroom looks beautiful with a glass partition decoration with a black aluminum frame, That way, your bathroom will look aesthetic and beautiful. We hope this design can be an inspiration for you.
The bathroom is simple but aesthetic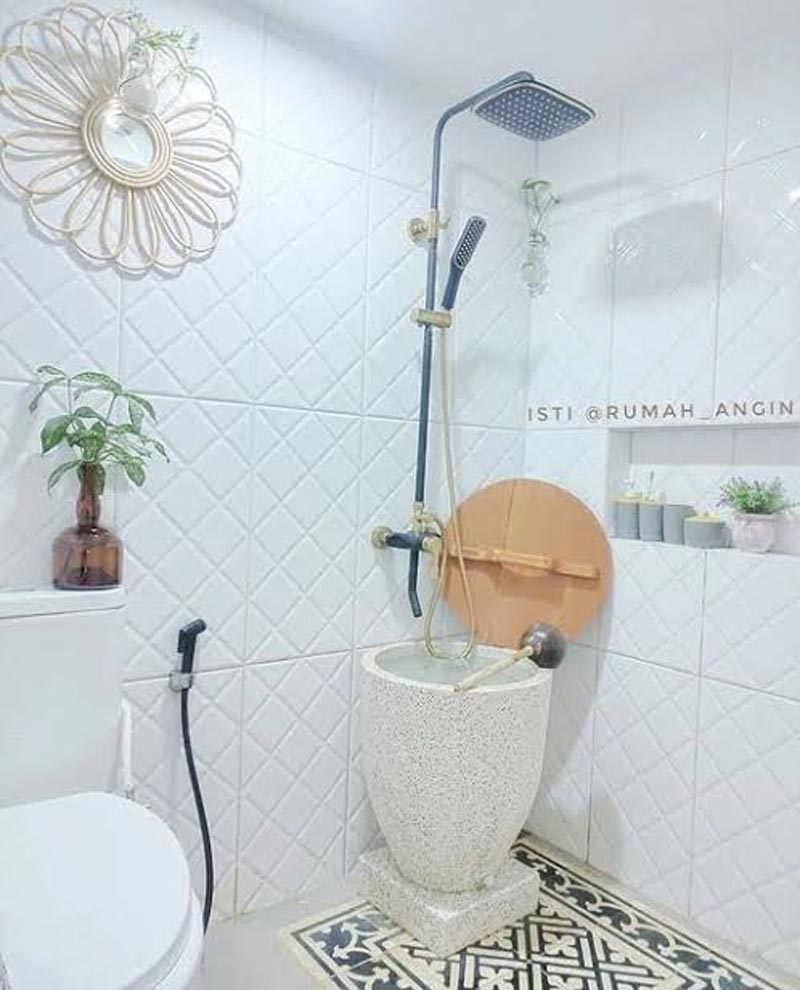 Everyone wants their bathroom to look clean and complete. In addition, the sink can also function as a place to brush your teeth, wash your face with soap, and others. Therefore, this clean bathroom can be used for an attractive appearance. For an aesthetic appearance, you can use a ceramic floor with a star motif with a blue base color, and add ornamental plants and some wall decorations that can add a more attractive impression.
Aesthetic and luxurious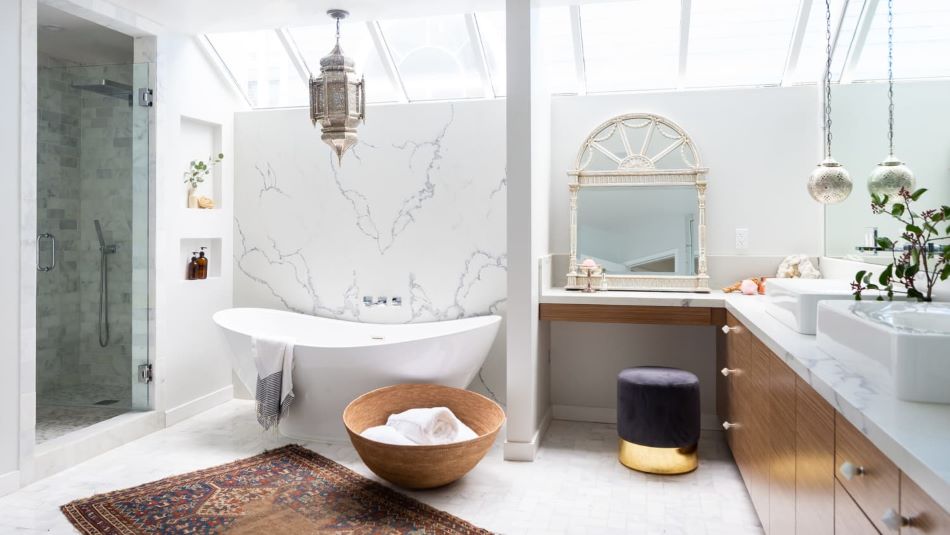 To display the bathroom to make it look luxurious, you can use the best materials such as the countertop sink that uses marble, as well as ceramics and bathroom walls that have motifs such as marble so that they look harmonious.
Then to highlight the aesthetic impression, you can also add mini ornamental plants in the shower area, decorative lights, decorative mirrors, bathtubs, showers, and luxury cabinets. That way, your bathroom will look aesthetic and luxurious.
Aesthetic practical decoration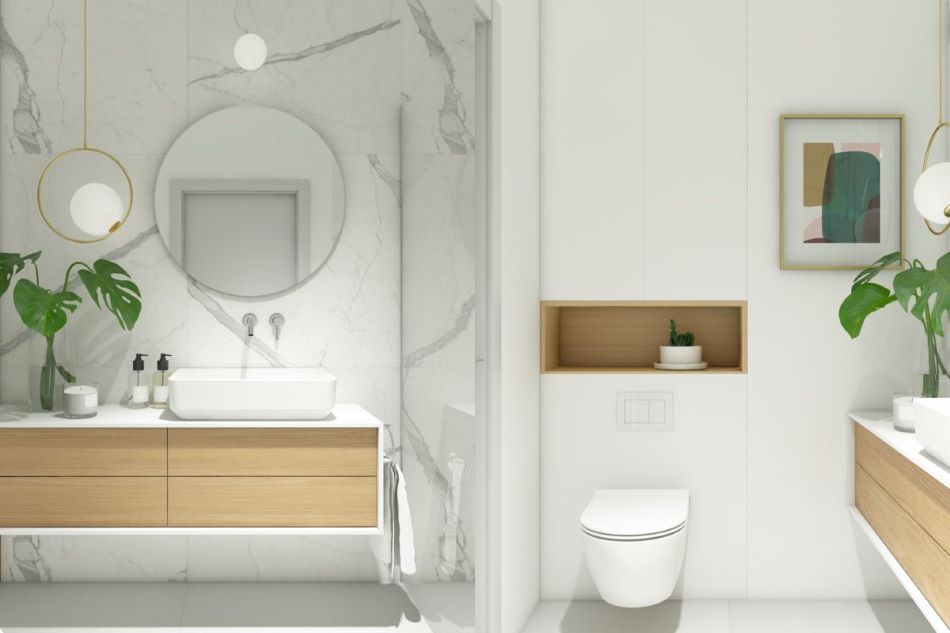 For an aesthetic bathroom, there are some mandatory decorations that you can present such as green plant decorations, frames with artistic photos or paintings, contemporary mirrors, and also the right-sized chandeliers. The aesthetic bathroom will feel more comfortable for you to relax thanks to the presence of these elements. In addition, aesthetic, minimalist, and modern bathrooms can make you feel more comfortable. To get comfort in the bathroom, you can make the bathroom with white paint to make it look minimalist, besides that, you can also add led strips at the bottom and top to make it look modern. With this aesthetic appearance, you can give a better feel and the best layout of items.
Minimalist small bathroom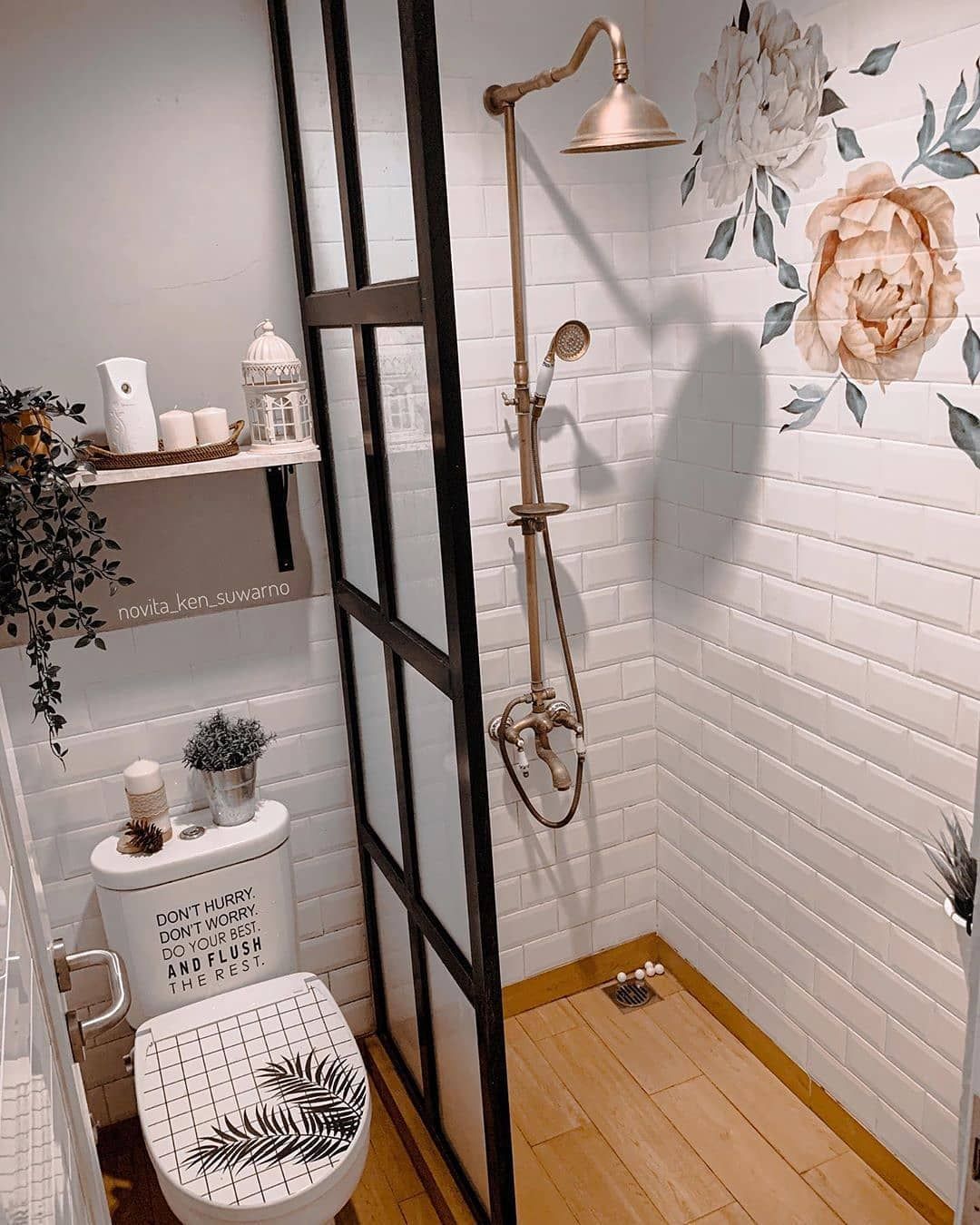 Minimalist design is currently the main choice for some people. Especially if they have a narrow or small bathroom size. Of course, if you want to produce a minimalist look, you can use white wall paint and mini-sized interior items. In addition, to make it look aesthetic, you can add ornamental plants in the corner of the place, decorative mirrors, and bathroom accessories. That way, your small bathroom will look spacious.
White color decoration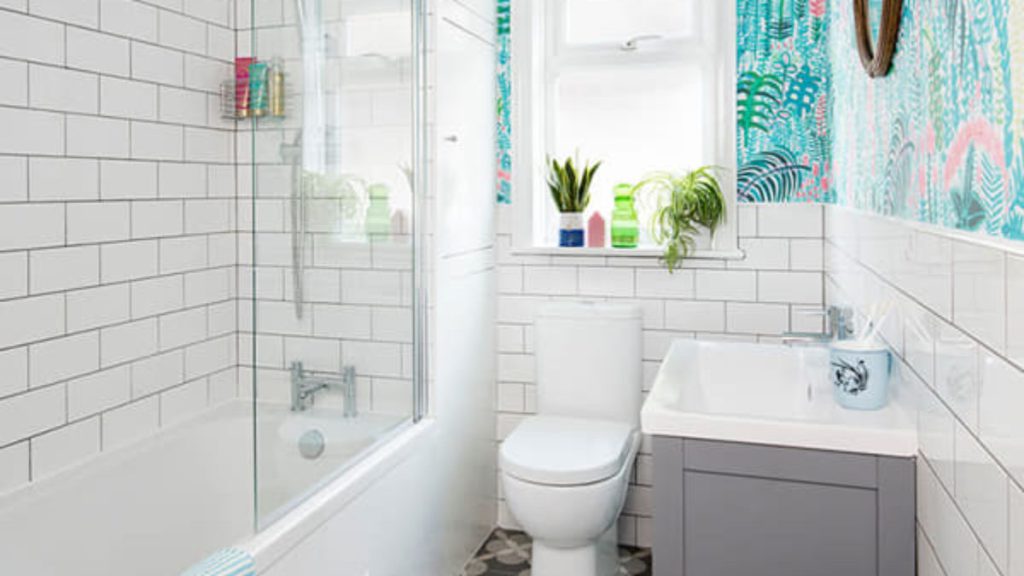 If you want an aesthetic look with bright colors, such as yellow, orange, and so on. You can find bright colors. This color is suitable for an aesthetic appearance. As far as we know, white color is a distinctive feature because it displays a minimalist and aesthetic impression. Especially, if you use interior items of the right size in the appropriate bathroom space, your bathroom will look good.
Aesthetic bathroom complete with accessories
One of the complementary accessories to make the bathroom look more attractive. You can use a place to put a soap holder made of stainless. That way, you can put soap and shampoo that will be used in the shower. Don't forget to put it in the shower area. So it's easy to take it. If you are interested in using it, you can mount it on the wall. Then, to look cool, you can complete it with wooden shelves, decorative lights, and makeup mirrors. With this equipment, your bathroom looks attractive.
Natural nuance bathroom model
Having a beautiful home design is everyone's dream. But if you want to make a luxurious minimalist bathroom, use a theme with a natural feel. You can present that nuance through the wood motif ceramic floors and then combine it with matching colored wall tiles. Then, to look more attractive, please add it with wall shelves, closets, and exposed white bricks. Don't forget to bring a wall painting and a stainless shower. With this design, your bathroom will look more natural. So you will feel at home in it.
Monochrome bathroom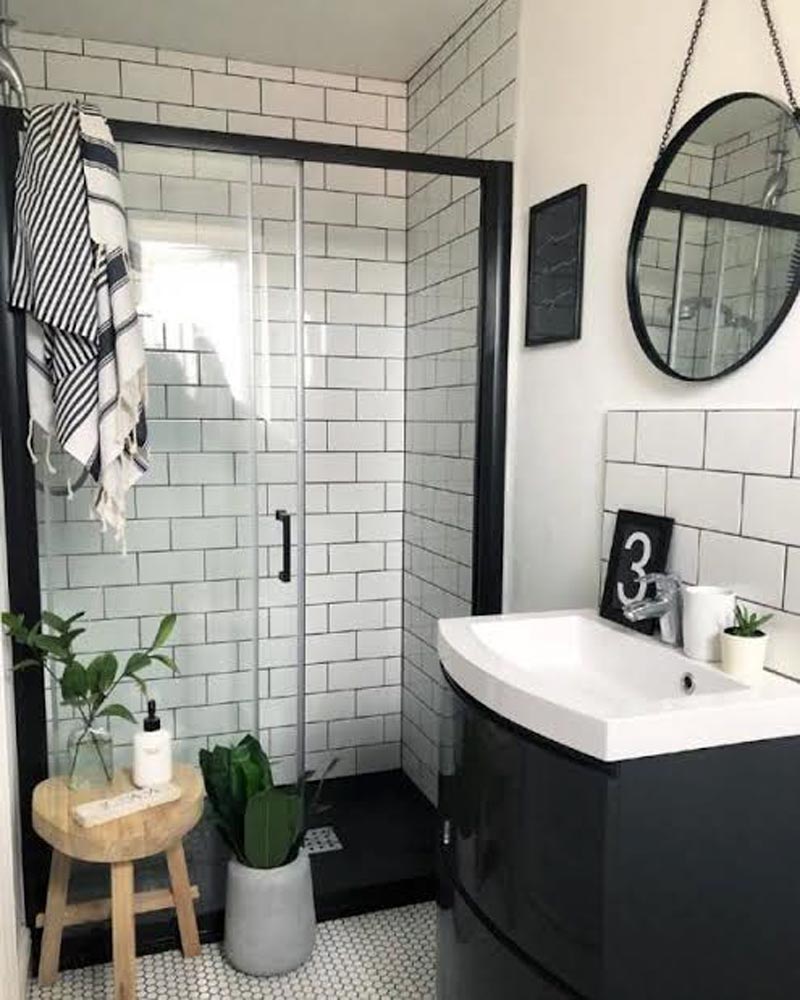 A comfortable bathroom is everyone's idol. But to make it you have to prepare the best design and completeness. Then, you can see monochrome color tones, and the private bathroom area has an attractive contemporary aesthetic feel. Don't forget to place an ornamental plant in a small vase, wooden shelf, decorative mirror, and bathroom accessories. That way, the interior of your bathroom will look beautiful and charming. Then you will feel at home and comfortable in your bathroom.
Easy aesthetic styling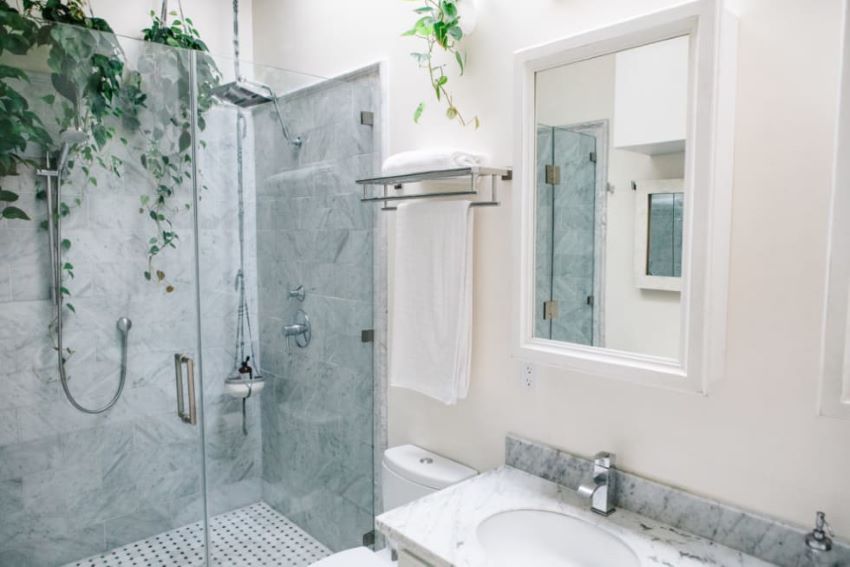 If you want to get automatic inspiration for an aesthetic bathroom, you can decorate a hanging pot with dangling plants on your bathroom wall. This decoration can be placed strategically in the bath area through hanging shelves. This solution is suitable for various residences, especially those with a minimalist and Japanese concept. Then, to be more complete, you can add a stainless towel rack and decorative mirror. That way, your bathroom looks more cheerful. Hopefully, this decorating idea for an aesthetic bathroom can also be your guide.
Hanging rack as a complement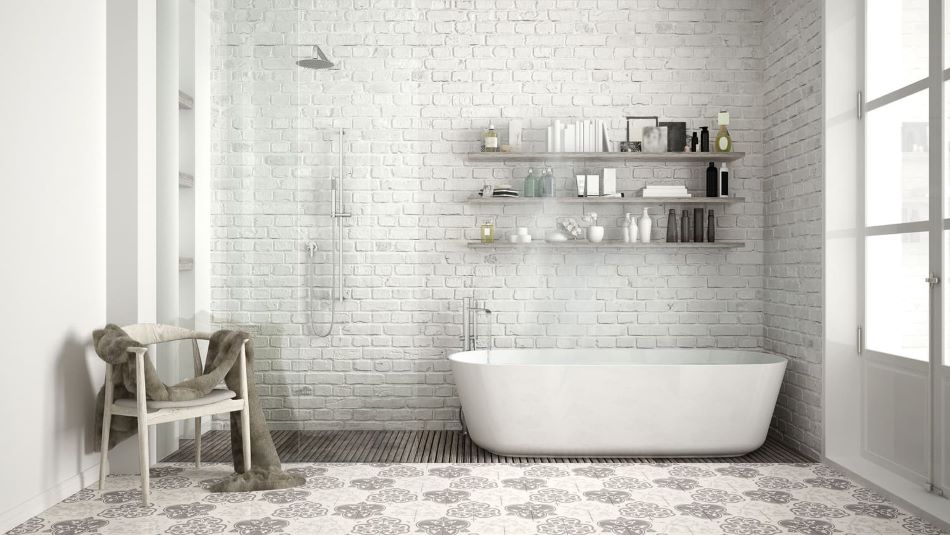 This aesthetic bathroom styling is easy to apply. The key is on the wall shelf as a decoration and multifunctional storage. Then, what looks unique in this aesthetic bathroom is the wooden furniture which is more of a room accessory. However, with its presence, the aesthetic bathroom feels cooler with an extra space-saving solution. Don't forget to design the walls with white exposed brick and natural color ceramics.
Combination of various style elements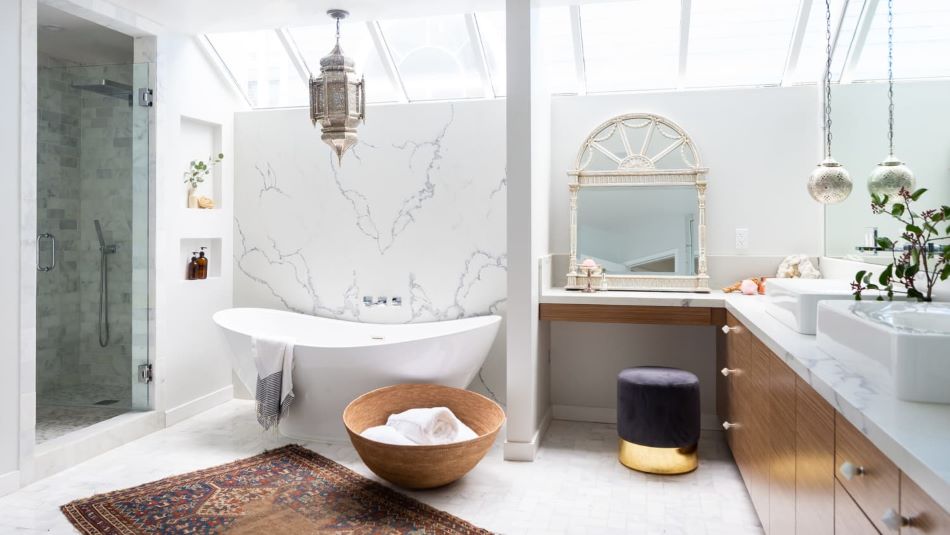 For this aesthetic bathroom, it's not just a matter of a multifunctional room. There is also a combination of different styling elements between classic and modern. Decorations such as antique carpets, gold-accented stools, mirror frames, and European-style chandeliers, all seem to give a different touch to the aesthetic bathroom above. But to look more beautiful, add ornamental plants and some bathroom accessories to create a natural atmosphere.
Design with a small garden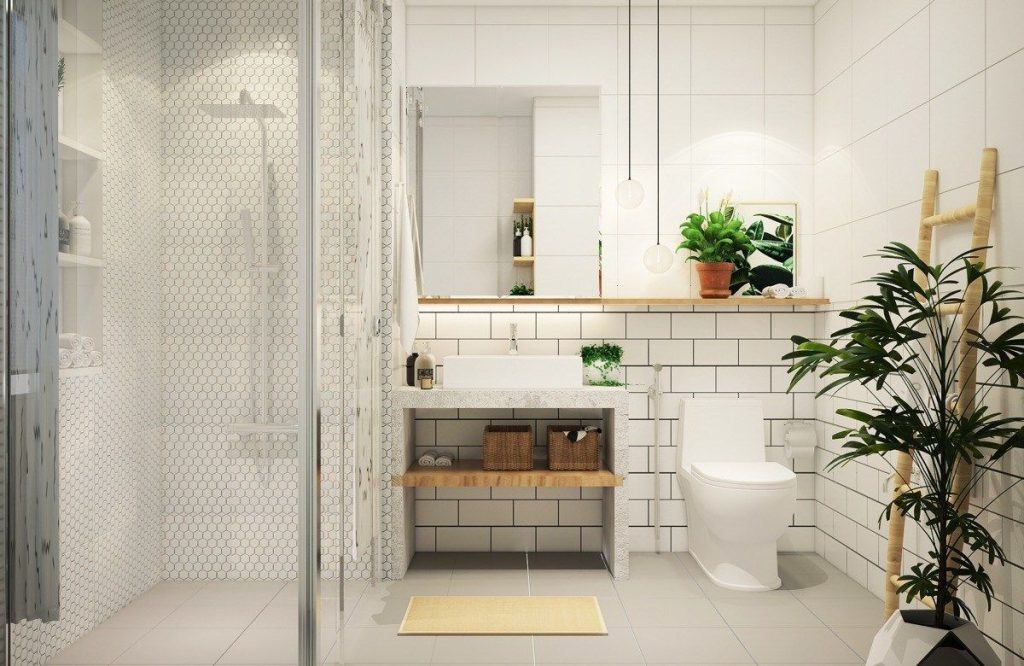 How to decorate a small bathroom so that it looks aesthetic and doesn't need a lot of elements. You can follow a minimalist style that will make the room look more comfortable, clean, neat, and green. Then at the same time, it looks aesthetic and fun.
By decorating some ornamental plants, the bathroom looks more natural and comfortable. Then, to be complete, you can arrange toiletries so that they are not scattered, not dirty, and do not cause unpleasant odors. Then add
4. Conclusion
After finishing the discussion about aesthetic comfortable bathroom design, we hope one of the designs above can be an option for teenagers or young married couples. Then, for those of you who want to find inspiration for other bathroom designs, you can follow our next article. Hopefully, the aesthetic bathroom design above can make your home interior look more beautiful, attractive, and fun. Happy decorating!