1.
Overview of the house door
The exterior design of the house cannot be separated from the door of the house. The House door of the house can make your minimalist home look more beautiful and character. Therefore, do not underestimate the color of the door of the house. You can see the colorful minimalist door models in this discussion, and there are various color choices. But to choose one color that is your favorite.
Then we know that a beautiful house door is an architectural element that cannot be separated from the house. In addition to security, the colorful door design also gives an aesthetic appearance to your entire latest minimalist home model. Therefore, there are several types of models that you can choose according to your needs. For that, let's first discuss an attractive house door design.
2.
Attractive house door design
In Indonesia, not many people use colorful house door models. Therefore, we want to share ideas with you to design it. Then, you can make it in your home, and it looks good painting. However, if you want to make it, you have to choose a strong type of wood that can survive in all weather. That way, your door is not easily damaged.
Maybe this time, you only know minimalist door colors in brown, black, and white. Therefore, we provide some ideas and inspiration for minimalist home door designs with dazzling colors. For that, let's discuss some examples of doors below.
3. Some minimalist house door designs
In this picture, we explained minimalist door models and colors. Many people do not dare to give the door a striking color in their homes because they do not feel confident with the color of the colorful door.
In Indonesia, people prefer bright and soft door colors. They believe that light and soft colors can make guests happier to look at them. In addition, light and soft colors can provide a calm and peaceful atmosphere. For that, we will give some examples of attractive colorful house doors. We hope these designs and colors can add to your ideas and inspiration. Welcome to our review!
Classic white house door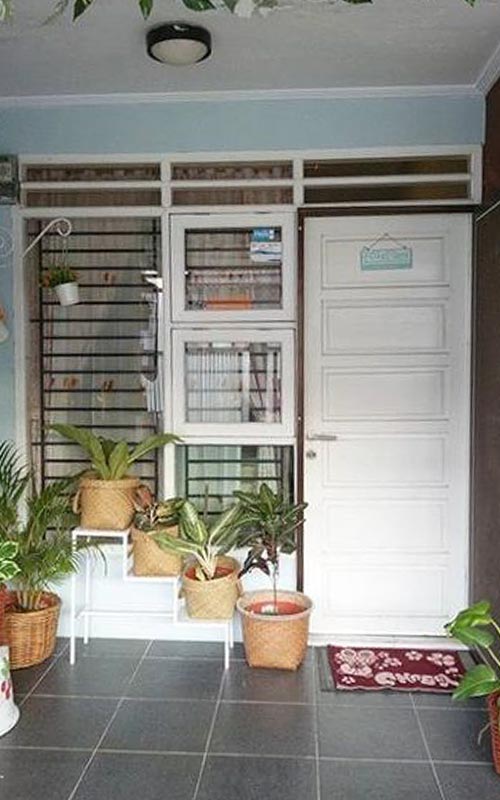 The white house door design with a classic model can give uniqueness to the house. Then, the white color is one of the characteristics of a minimalist design. Therefore, many of these doors have been painted as minimalist house doors.
Then, to make it look more fun, you can add ornamental plants, such as ivory betel that can be placed near the entrance of the house. Then, design your floor with gray tiles to make it look more harmonious and minimalist. With this design, you will feel calmer and more comfortable. If you have a minimalist home, this design is suitable for your home.
Pastel pink door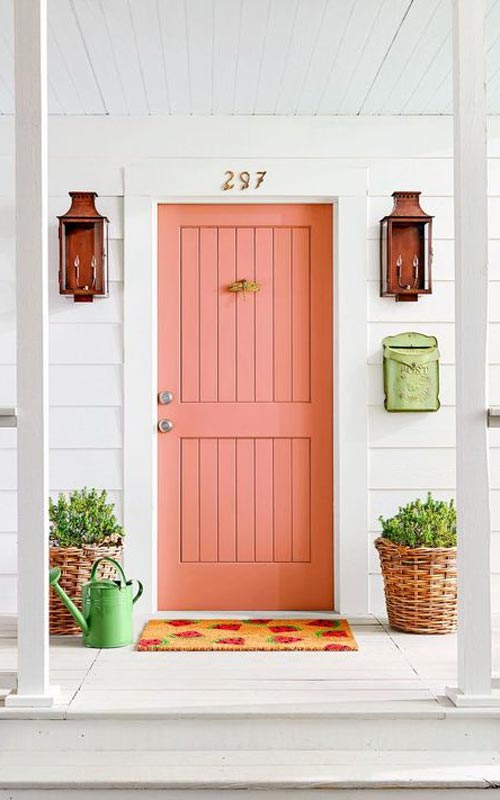 If you want to design the front door of your house with a soft color, you don't need to hesitate to paint this minimalist door a pastel pink color. Especially when combined with white wall paint.
Then, to make it look more attractive, you can add decorative wall lights that match the door color. Then, add ornamental plants so that your eyes look fresher. Therefore, we trust that the choice of colors will make many people fascinated with the appearance of your door.
Sliding door model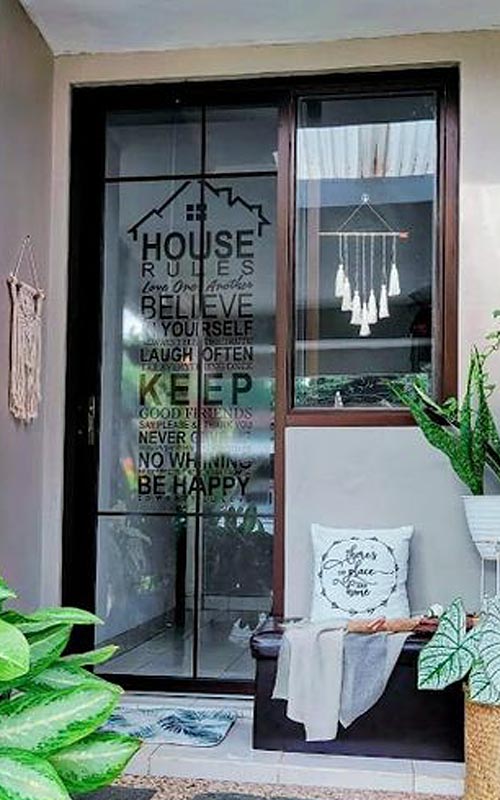 If you have availability of land for the entrance to the house is narrow, you can consider using a glass sliding door or glass sliding door. This method can save space and is simple. Then, to give a unique impression, you can add door glass stickers with residential-themed designs and writings, decorate with chairs, sofa cushions, and ornamental plants. In this way, the exterior of your home design will look beautiful and charming.
Green minimalist wooden door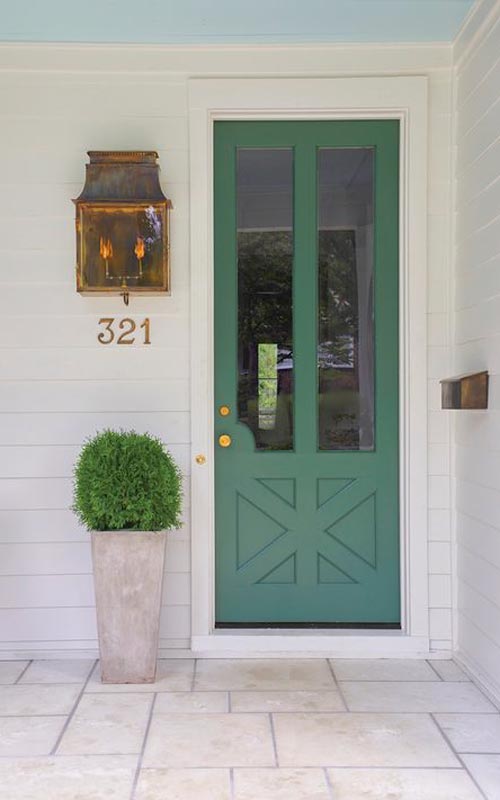 The minimalist green wooden door design with long glass can give you a sense of calm before entering the house. We know that green is the color of leaves that can give peace of mind. Then, to beautify the decoration, add indoor ornamental plants and decorative lights in the front porch area of ​​a minimalist house. That way, the exterior of your home will feel calm and comfortable. However, if you like softness and serenity, this door color can be your idea and inspiration.
Blue house door design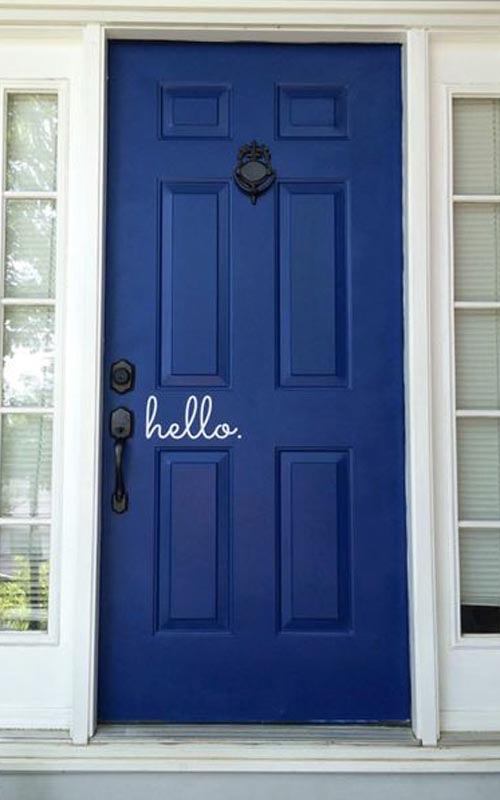 The blue color in this one-door house door design can make the appearance of the home terrace decoration more lively and unique. This color will be a favorite in your family. Then, the color of your house can also be a feature. Then, easily recognized by people. Then, to look cool, you can add black door handles and small glass windows on both sides so that it becomes an elegant minimalist door model. We hope you can imitate this design.
Red house door leaf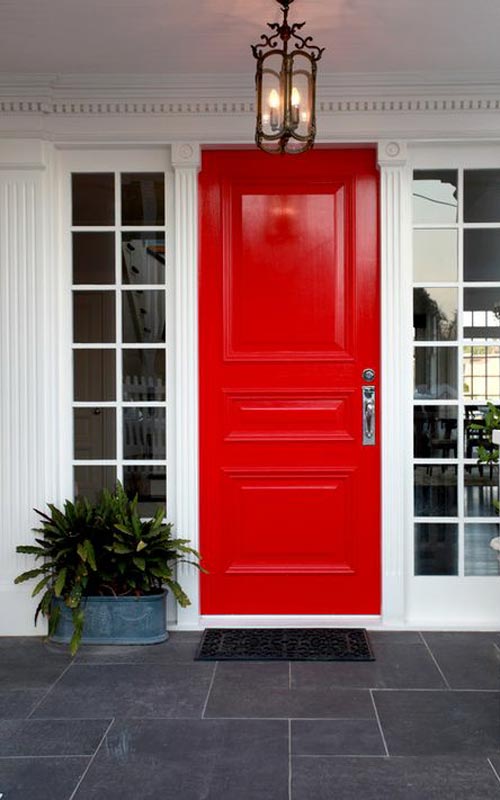 For those of you who like to steal attention, this fiery red door leaf design can make a minimalist home more charming. Then, to look more lively, pair it with a white minimalist house wall paint color, of course, the door leaf becomes a point of interest for anyone who comes.
Then decorate this terrace with ornamental plants and unique decorative lights. That way, the front of your house will look more attractive. If you want the appearance of your home to be quickly recognized by people, you can use this door color as your inspiration.
Yellow minimalist door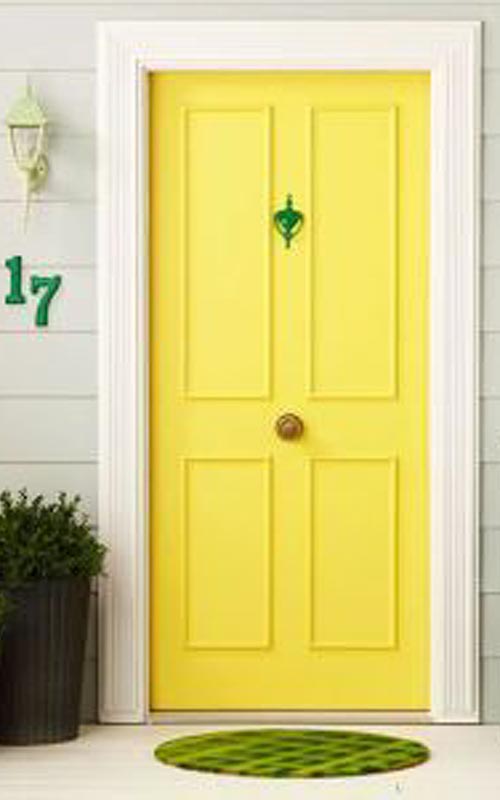 Yellow is the color that many people like. Therefore, it is not wrong if the yellow color applied to a minimalist wooden door can make your home look cooler. You don't need to hesitate to use this light color.
Then, to look more harmonious, you can pair this yellow wooden door with neutral wall paint. Then, decorate with wall lamps, ornamental plants, and dark color mats. That way, the front porch of your house can amaze many people. Hopefully, this design can be an inspiration for those of you who want to replace the house door.
Green door and exposed brick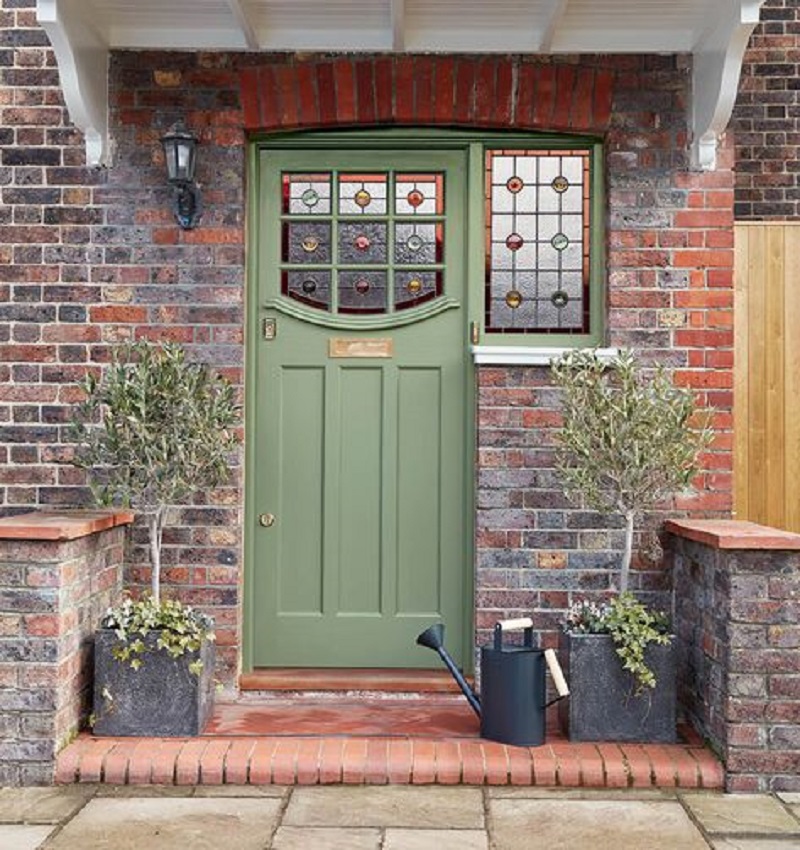 If you plan to bring a vintage feel to your minimalist home design, please try this green door combined with stained glass. Moreover, this door has combined with beautiful exposed bricks, so the front of the house becomes more artistic.
Then, to look unique, add bonsai plants on the left and right of the door, and decorative wall lights, then design your floor with brick-colored ceramics and make pillars with exposed brick. That way, your home will look natural. We hope this design can be an idea for those of you who like the soul of art.
The latest teak door model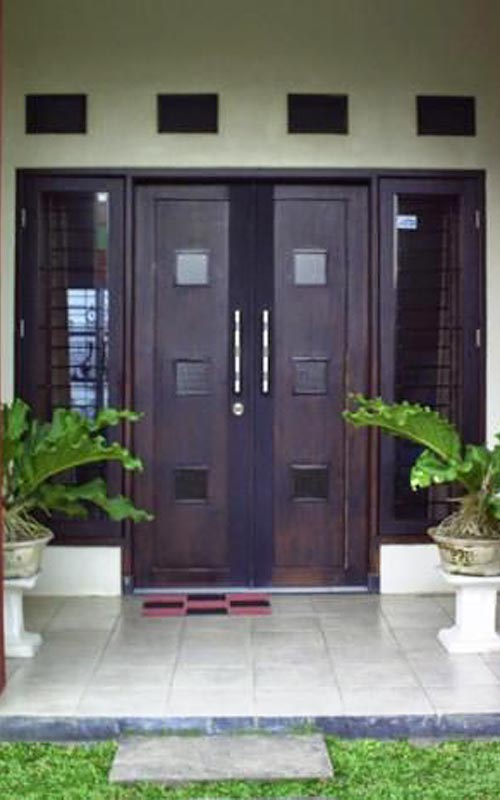 Teak wood is one of the most weather-resistant woods. Therefore, many magnificent houses have been decorated with teak wood doors. We know that modern minimalist teak doors can be an option if you like simplicity. Therefore, this teak door is a safe choice if you don't like flashy colors. With teak wood material, it will provide an elegant minimalist door model, especially if the residence has a traditional or vintage feel. To look more attractive, decorate the side of the door with ornamental plants and bright color mats. With this design, the appearance of your home will look magnificent.
Simple Tosca color door design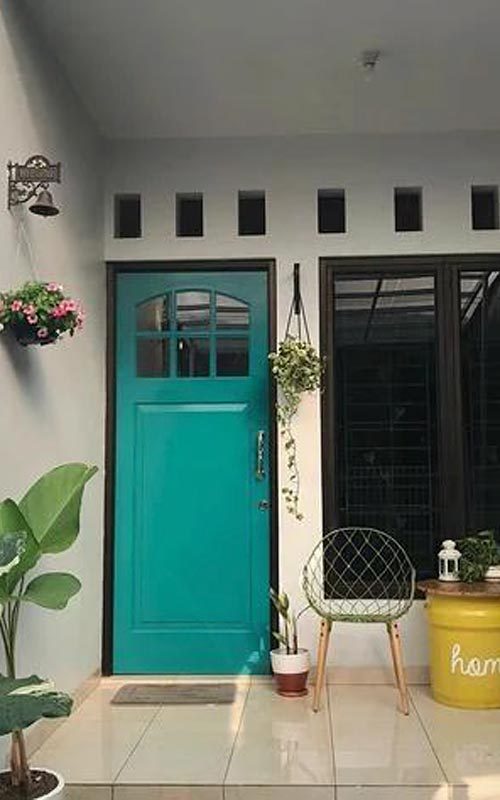 This simple model door leaf painted in Tosca green can be an attractive element for a minimalist home and be the right color choice. Then, to look more beautiful, you can combine the decorations with hanging ornamental plants, front porch chairs, and ornamental plants in pots. This design looks simple but can provide a comfortable and cheerful atmosphere for you and your family. Therefore, make this design for your terrace.
Conclusion
This article has explained some inspiration for minimalist home door designs with dazzling colors. Then, to make it, you have to prepare the best model. Therefore, we give some examples of the best door designs, and we hope to suit your taste. Then, we hope that this design can make the exterior of your home look beautiful, elegant, dancing, aesthetic and fun. Hopefully, this article can be input for you. Happy decorating!