Nexthomegeneration.com – The kitchen is one of the busiest spaces in our home. Thinking about preparing for breakfast, lunch, dinner, and any event requires massive meal preparations. This space really needs a cozy decoration, when you are looking for a sleek, clean, and minimalist kitchen design, there is a masculine kitchen idea that deserves to get attention. The manly interior vibe has very sleek and clean decoration make it looks so appealing! In this writing, we will be sharing with you some of the best sleek masculine kitchen ideas. Feel an awesome manly visualization interior design in the kitchen!
Modern cabin kitchen design idea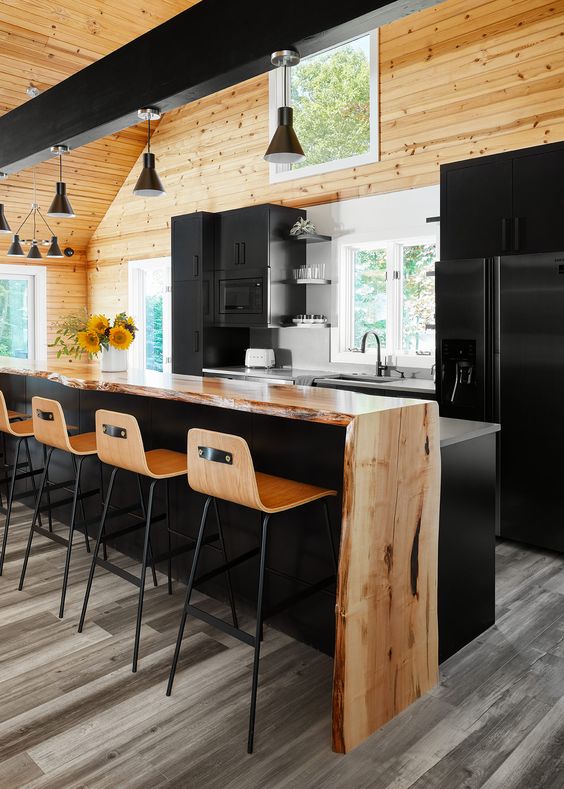 What is the first impression when you look into this kitchen? A modern and sleek line decor isn't it? Well, to transform this elegant look, this kitchen using lots of wood as the main material for the construction. The dark vinyl flooring style gives a minimalist vibe to the room. Light wood construction applies to the upper construction, it creates a warm and welcoming decoration. Not to forget, the black color palette transforms into a stable and cabinetry. The black accent furnishing infuses the space with a manly interior visualization idea! There are some windows installations giving the fairy space interior. In addition, its installations allow natural light to come in. Preparing for a breakfast meal could be something enjoyable! The clean line decor, airy space design, and well-lit decor make us fall in love with cooking in such a kitchen!
Green kitchen idea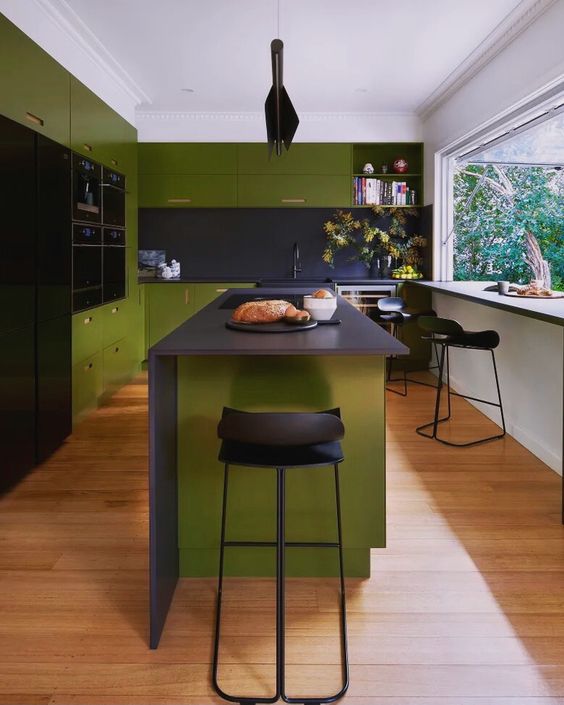 Showing a manly character room design does not always have to be black. The green earthy color tone also looks perfect to combine with manly sleek interior design. In this kitchen design, the earthy green color tone transforms into the table and cabinetry. Then installing a large window able to connect indoor and outdoor space. Creating the warm ambiance in this masculine kitchen style by installing wooden flooring. The white ceiling and on the wall balance the look so the interior looks brighter. Adding some bar chairs creates a solid manly kitchen design.
Sophisticated masculine kitchen style
This masculine kitchen design looks so clean and sophisticated to the eye! The impactful earthy color tone mood board palette looks so good on creating a clean kitchen. There are black, gray, and wood color palette combine together to create a minimalist look and of course, feels so comfortable. The light wooden vinyl flooring creates a subtle look, then the wooden cabinetry meets black color tone shade define the manly interior look. Moreover, the subtle lights are sets create a cozy kitchen. The gray marble accent giving the classy accent in this kitchen. It transforms into the countertop and a backsplash!
Small bachelor pad design idea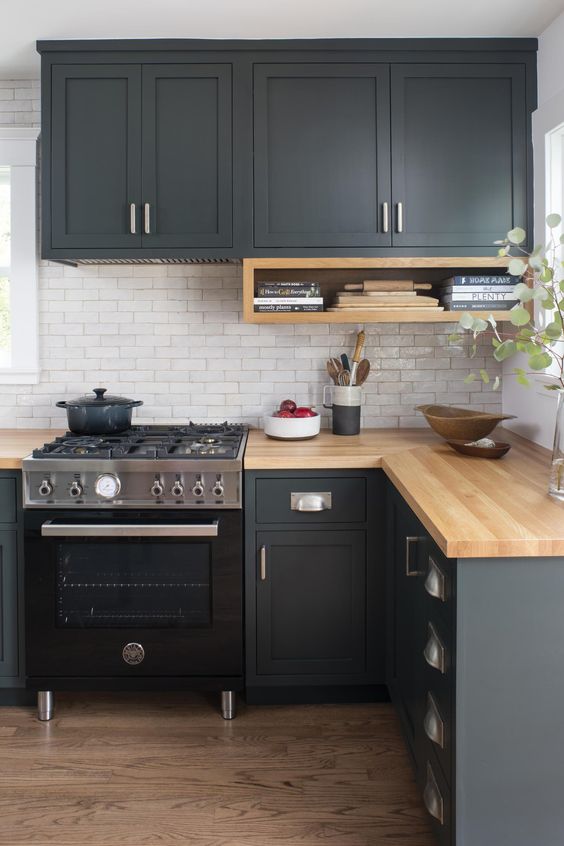 Living in a small rental or in the dorm does not mean you can not have a sleek interior design. Cooking our own meal is healthier and for sure will cut the budget rather than eating outside which will cost you a lot. Well, to make our cooking time feels comfortable, we can decorate the kitchen design based on our taste. Bachelor pad kitchen design is quite affordable and comfortable, so we have a lot of chances to make it come true! This small space is set beautifully in manly decoration. Wooden countertop and dark color tone cabinetry look good together. The small wooden shelves sets under the cabinetry giving stylish and useful decoration. So, you can read the book while boiling delicious chicken soup for dinner! The white brick wallpaper as the backsplash gives charm to this kitchen. It's a simple, affordable, and applicable kitchen design you can try too!
Industrial kitchen design idea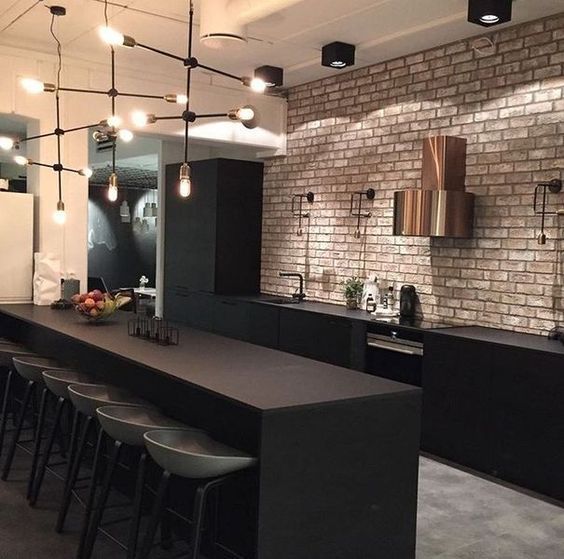 Showing the raw accent interior is a common thing in masculine interior projects. Exposing the brick wall around the sleek wall is a clever way to create an interest in the design. Just like in this manly kitchen design, we can see the brick accent wall stands as the focal point. The classic brick wall infuses the space to feel warm and inviting. The stylish minimalist cabinetry giving a manly character to the interior. Installing modern industrial pendant lamps will elevate the modern look of this kitchen. The subtle lights cast to the brick accent wall illuminate the warm ambiance inside. We can see the metal accent that tuck on the wall makes it a bold industrial design. The concrete flooring style supports the theme style. The amazing kitchen ambiance meets subtle lighting to create a serious cozy sleek masculine kitchen idea!
Great piece of marble work in the manly kitchen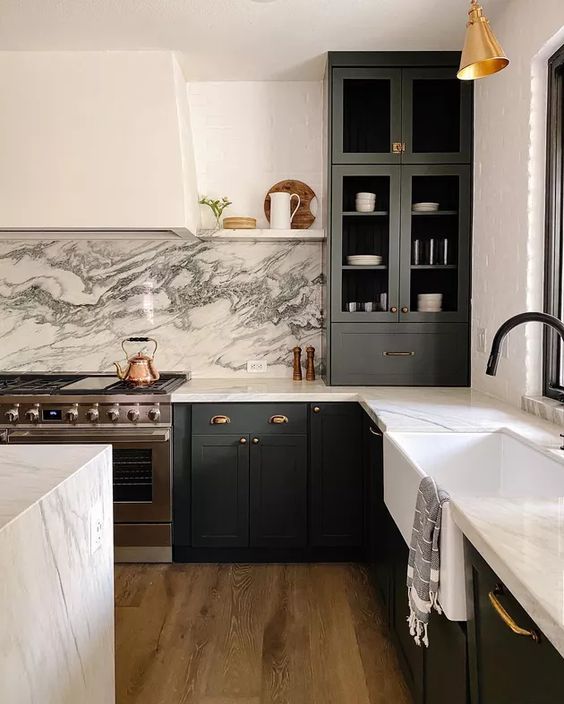 Creating a masculine interior design does not always tend to be with a black color tone. The sleek countertop made from a piece of white marble looks so perfect! A neutral color tone such as white can control the cozy accent in the interior. Especially, in the solid masculine interior design, shades of neutral color are needed to balance the interior look. The natural fiber accent on white marble giving an artistic touch and infuse the space with modern ambiance. The neutral countertop palette meets natural lighting that casts through the window creating an absolute cozy accent.
Bright masculine kitchen design idea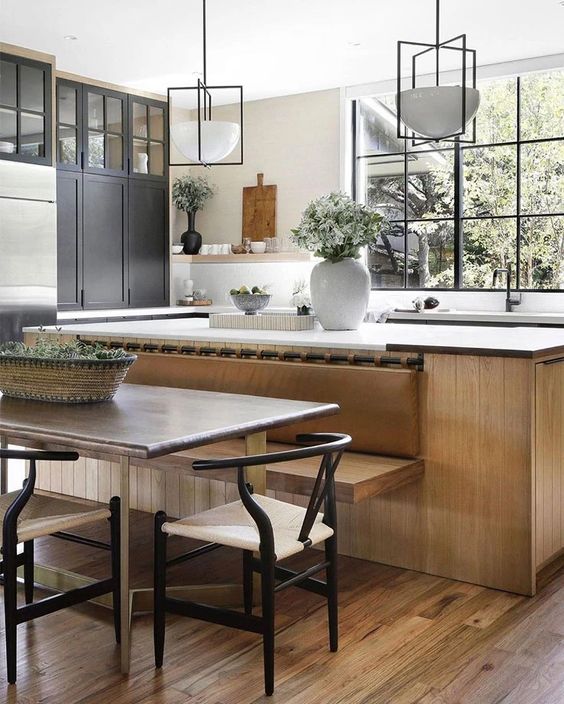 When we talk about the masculine interior project, dark color tone mix with subtle lighting create a sexy and romantic interior decor. But, that does not mean masculine interior to be like that always. Just like in this kitchen the manly design does not lose its substantial style. The bright color tone is what we clearly see in this kitchen, the white color tone neutralizes the interior. Especially when the natural lighting comes inside, it takes so much joy. Cooking and preparing for breakfast in this lovely kitchen is something delightful. When you design the manly kitchen design with a relaxed color tone vibe such as white. We are pretty sure, she would love to cook in this kitchen too! Giving the manly touch decor by adding a distressed leather table follow by rustic chairs. It gives an artistic manly room decor!
Conclusion
The kitchen is the space that does not only refers to the women's space. It is a lively and busy space that could be enjoyed by all family members. So, guys, you can have a chance to renovate the kitchen design with your taste and vibe too! Masculine kitchen decor typically comes with dark color palette furnishing and meets subtle lighting it gives a dramatic and sexy room idea. Another side, we can infuse the space with manly decoration by adding metal and industrial lights ideas. Or we can blush the space with a neutral color tone to create a welcoming interior. In this term, we can add leather and rustic accent furnishings that could define manly interior style. To wrap up this writing, we conclude that masculine kitchen decoration is very sleek and also successfully creates a warm ambiance in the kitchen. We hope you enjoy the masculine kitchen decor ideas we have shared above. And don't be afraid on exploring the style and just do the project immediately!