Nexthomegeneration.com – There is a straight distinction abut men and women in interior design. Men tend to have sleekness that shows strong character. Bold in the neutral and strong color palette, and raw industrial furnishing style. However, that is the art of men's bedroom style. On the contrary, women prefer pastels and light color palettes rather than bold strict ones. However, both have their own unique character in creating the interior design. In this writing, we will be a focus on the manly room decoration styles.
What makes men's cave bedroom design looks sleek and create sexy appeal? Well, we have seen a lot in men's room there is leather furnishing. It can be transformed into a chair or a simple couch, or even on a head bed style. The neutral color tone and subtle lighting create a warm and dramatic sexy interior design! Alright, we cannot wait to share some of the best, trendy, and sleek masculine bedroom design ideas with you. So, don't miss any projects down below!
Low light create a sexy appeal in a masculine bedroom design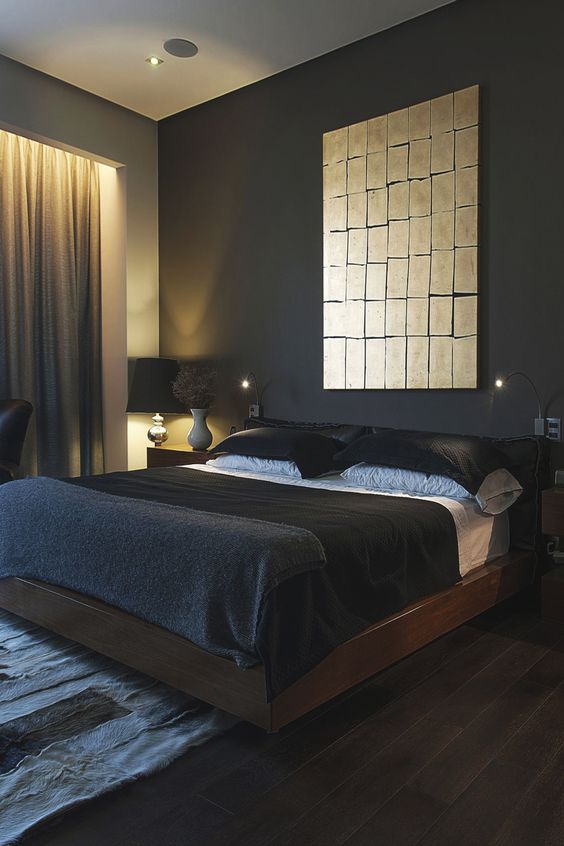 As we alluded to earlier, men's bedrooms tend to have a dark or strong neutral color palette. We can see it in this room that has a black and neutral paint color palette. There is a black wall as the backdrop, follow by the gray wall on each side. Something that we really adore about manly bedroom design is when the sun goes down. The bedroom turns to be dark and shows its character at night. There are a few subtle lights set on the corner to create a warm ambiance and for sure an alluringly sleek and sexy design. Minimum but functional decorations, perfect lighting ideas are key to achieving dramatic man's cave design!
Looking classy with vintage style decor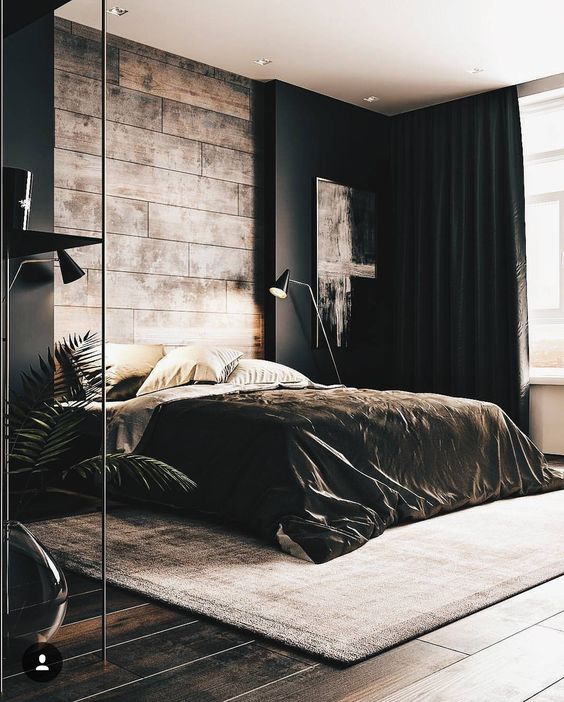 Exposing the old and distressed vintage look feels so good in this room. The distressed wooden board role as the classic backdrop. The flooring style uses a dark-color tonewood. creating a larger dimension by setting up a glass walk-in-wardrobe. The modern floor lamp giving a sophistication of the latest interior decoration. Infuse the room with such an artistic painting on the wall. This is absolutely charming but so classy in the old style. Combining the modern and classic interior is what a man needs to infuse their room with cool aspect decoration!
Urban bachelor pad design idea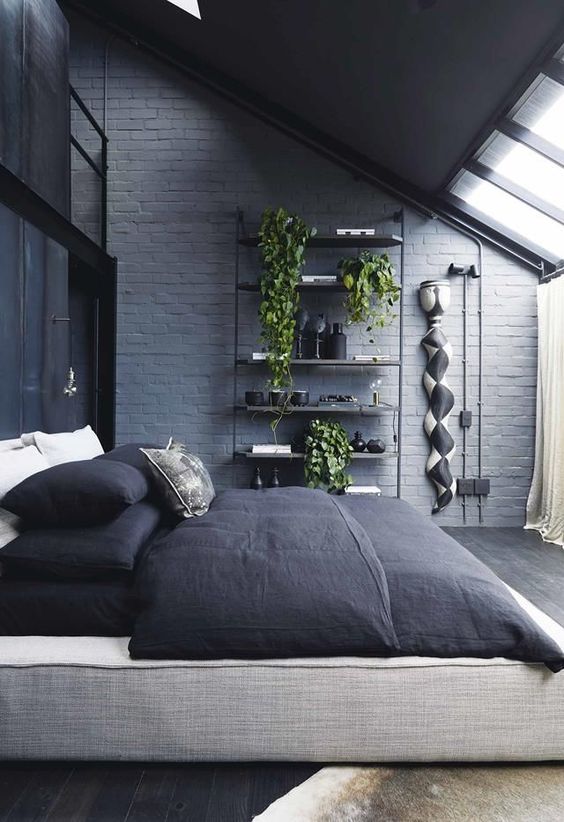 There are many ways we can do on creating a sleek masculine interior design. For such this amazing minimalist bachelor design idea. We want to highlight the decoration in this space. There is a large full-height window installation that offers you a sophisticated view of the metropolis city. Another advantage of having a full-height window installation is that we can have natural air ventilation, and allows natural light to the interior. The gray brick wall infuses the space with texture, as a result, we have an appealing and warm interior design. At the backdrop, we can see there is a walk-in-wardrobe design made from glass. It infuses the room with a modern and functional interior.
The advantage of having a walk-in-wardrobe is that we can store our clothes better, giving a clean minimalist room design and looks more sophisticated. In addition, the metal rack is set in front of the brick wall. This rack does not cover the distinguish modern brick wall feature and the metal decoration could liven up manly bedroom design. In the middle, there are sets neutral bedding style that go enhance with minimalist decoration this room it has! This typical room design is suited for a bachelor pad, especially when you live alone, you can express the interior style with your own style!
Industrial style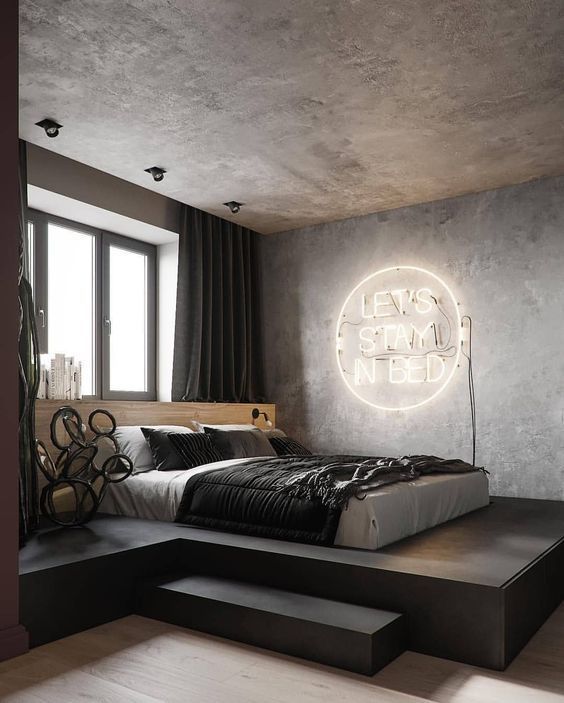 Showing the raw interior design in a masculine style is like art. We can transform the raw accent interior by exposing the concrete wall in the bedroom. The accent wall without finishes creates a distinctive and artistic look. Then, we can set the bed and lighting ideas. The lighting concept is one of the most important things in creating a sexy and dramatic masculine interior look. In this bedroom, we can see the wall light tucks perfectly on the concrete wall creating a dramatic effect. When the sun goes down, the interior will look darker, and in this time we can give a chance to the outstanding light project shines! The wall lights turn on beautifully. The minimum light in the darkroom creates a dramatic and sexy appeal. To support the industrial decoration, we can add some metal decoration. Balance the strong industrial vibe by applying wooden flooring. This wooden accent looks natural and brings out the warm ambiance inside the room!
Leather bedhead creates a sleek manly room style!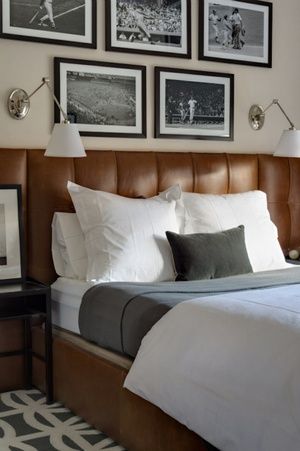 Furniture accent also can define the majority theme style in the interior. for a manly room interior, we can create a sleek and sexy impression by adding a leather furniture accent. In this bedroom, the leather accent transforms into the bedstead. This bed is a focal point decoration in this men's cave. Giving artistic touch to the style by sticking some monochromes pictures above the bed. On the right and left sides of the bed, we can install wall laps to add a lighting concept into the room! Infuse the room with decorative monochrome decoration giving an artistic look of the manly room style. To give a clarity and bold the theme style, leather accent furniture is enough to bold sleek men's cave design!
Conclusion
Thus are some of the best masculine bedroom projects we have shared with you. there are some points we have to highlight on creating the outstanding manly room style. The first one is a neutral color wall palette, we can go with black, gray, or another neutral color palette to create a calming manly interior look. The second step is to adjust subtle lighting to the interior. The subtle look made from the minimum lights will hit the neutral color room, it creates a dramatic effect. The last highlight is that we can infuse the interior with leather accent furnishing. This will make the room look sleek and improve the sexy appeal! We can also combine the manly interior project with something classic vintage, raw industrial design, or a clean minimalist interior project! Based on what we have shared with you about the masculine bedroom design ideas above, which one is your favorite? We hope you enjoy this discussion about revealing a manly interior character! And, we hope this could help you all out in transforming your own manly room style. If you want to, let's do the project immediately!