Nexthomegeneration.com – Do you want to have a room that can be exposed to the sunlight so it will feel bright and warm at the noon? If you do, a sunroom is a solution for you. We can feel relax while staying and also have a beautiful selfie place in our home at the same time. Bohemian sunroom design is our recommendation because it is suitable and looks natural then we don't worry to make our home look tacky because it won't. However, to beautify a sunroom is not enough that only add decorations but we should pay attention to furniture selection.
Choosing a strong material is important because it will be exposed to the sunlight so we have to choose types that have long durability. Sometimes, we might feel confused about how to apply bohemian design and want to know all information that will help us to apply the design. Keep reading our article because we will give you some tips to make a bohemian sunroom, decorating ideas, and how to choose sunroom furniture.
What Is A Sunroom?
Sunrooms are a popular place in addition that can offer a versatile place to entertain guests, lounge, or simply enjoy the outdoors without being bothered by insects and glaring heat. If you are confused about what a sunroom is then you might have heard them referred to as solarium, garden rooms, sun porches, veranda, or patio rooms. Considering making a sunroom in your home will be a good idea because we can feel relax and enjoy our time cozier than use a basic room.
Bohemian Sunroom Decorating Ideas
Applying bohemian style in our sunroom will create a beautiful impression especially to apply it as our decorating ideas. The design has warm textures with a cozy look that will be preferred to be applied in our sunroom. We can apply other styles or themes as long as we love them but this time we recommend a bohemian concept because it has unique accents and is easy to be applied. Without any further ado let's get to the list!
Simple Bohemian Sunroom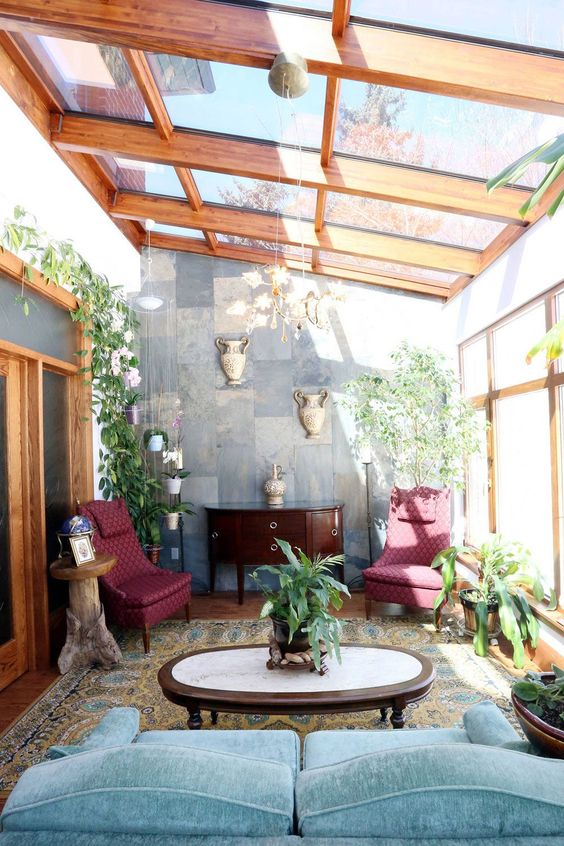 Attaching some decorations like ceramic vases to the wall will make our sunroom have a beautiful impression. Applying stone flooring tiles as a wall base is a perfect idea that can be done to create a natural accent. Orange ceramic tiles are stunning to be applied as pedestals. Covering it by adding yellow carpet that has unique patterns to our sunroom so it will feel warm. However, if you want to add something that makes you feel comfortable, we recommend choosing a blue sofa that has soft material. Even though the sunroom feels bright, we still need lighting. Choosing a gold flower chandelier is the best choice to make it stunning.
Green And Fresh Bohemian Sunroom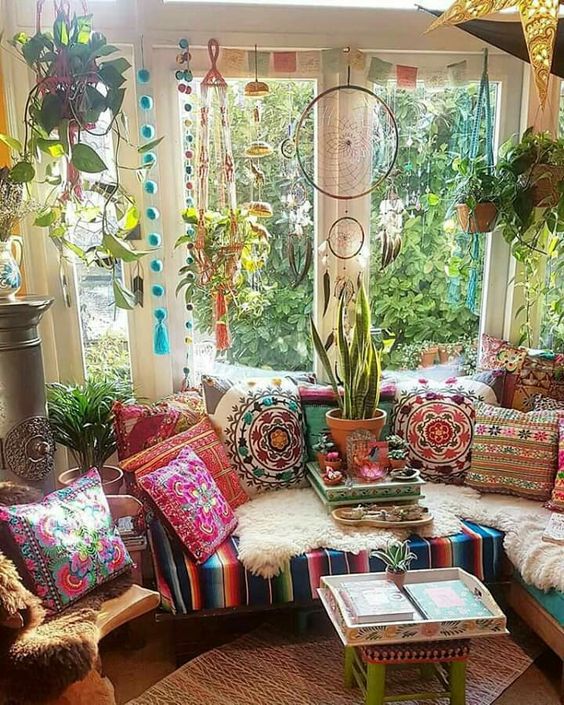 Adding many plants in one room will create a fresh atmosphere so it will be cozy. We can add some textures on the sofa such as colorful fabric, floral pillowcase pattern, and unique rug that will make the sunroom have a strong bohemian accent. A small patio is suitable to be built near this room to create an amazing view. Some plants that will be preferred to be added such as sansevieria and some hanging plants. Don't forget to add a little table with colorful patterns.
Wide And Bright Bohemian Sunroom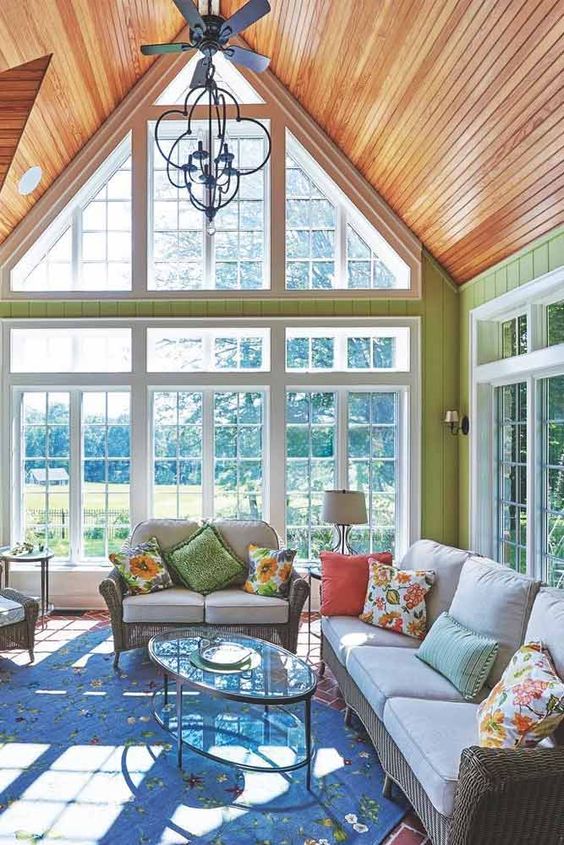 For those of you who are looking for decorating ideas for a bohemian sunroom, we recommend applying the concept like in the picture above. We can build a gable roof because it will create a wide impression. A light blue carpet can be added to the floor to make it feel bright and create a harmonious look. A rattan sofa with a light grey cushion is the best type that we can choose as long as it is related to the concept.
Aesthetic Bohemian Sunroom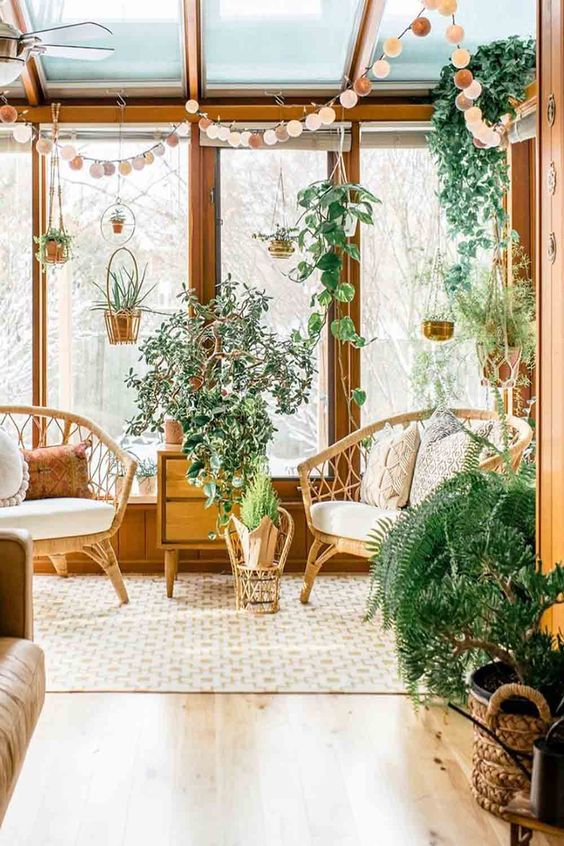 Applying vinyl flooring tiles will create a natural accent because it has a beautiful color that will be different from others except for solid wooden tiles. We recommend adding a beige and white rug as a pedestal that will make the sunroom feel aesthetic. Rattan chairs and a table should be added together because of having a fascinating impression. Hanging plants and a palm tree will suitable to be added and hang as decorations. We can apply modern bohemian design if we want to create an aesthetic and bohemian look at the same time.
Colorful Bohemian Sunroom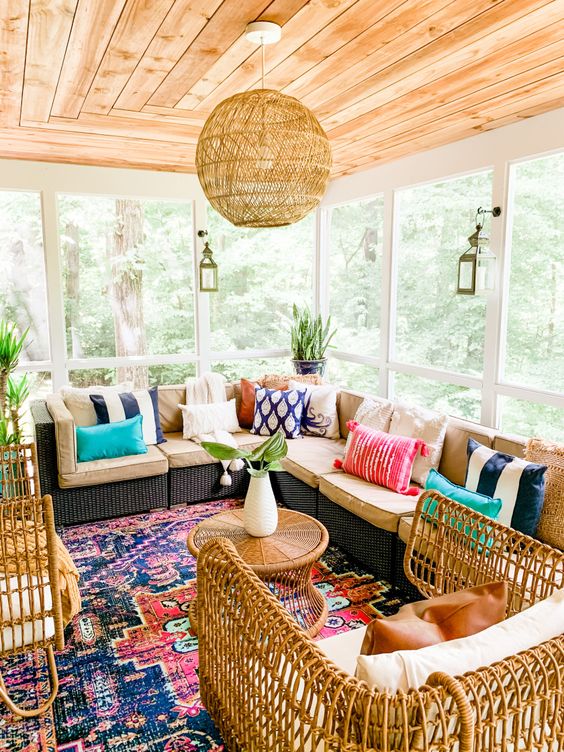 The colorful concept is stunning because of having a bright impression with a unique accent that will be complicated to be found. However, we can add a unique pattern because it is a characteristic of the design. Bohemian decorating ideas for a sunroom should be applied especially for those of you who love an unmonotonous concept. Rattan chairs are things that always be preferred to be added because of having a natural design and color. We can combine it with some pillows that have a colorful case.
Tips To Make A Sunroom
It is a perfect solution for homeowners who want to add a relaxing, sun-filled space to their homes. It's also a smart economic choice since it doesn't need many costs to be made than any room building. The sunroom also can be used as a light and airy recreational space, office room, expanded dining area, workout yoga room, etc. How to make a sunroom then? This time, we will give you some sunroom-making tips that will help you to make it.
A sunroom tends to be heavily fenestrated. Besides windows, it often has sunroofs of the entire room and is usually made of glass.
Plants are needed to be added to our sunroom because they will help you to create a fresh atmosphere.
For those of you who want to have a wide sunroom in a small space, we recommend adding a gable roof because of having pointed style.
Tips For Choosing Sunroom Furniture
There's something really nice about turning part of our room into a sunroom that will create a bright impression. It is affordable than making other rooms because it only needs many windows with natural furniture. However, how to choose sunroom furniture? This time we will give you some tips.
Insist on good quality. We should check the quality before buying furniture for our sunroom. It will be used in a room that is always exposed to the sunlight so it is important to have long durability furniture.
Materials. There are many materials that we can choose as long as it is related to our concept. Aluminum or PVC is rustproof, lightweight, relatively inexpensive, and requires very little wether treating. We can also wash it easily by using water and a little soap. Besides it, we can also choose anything that we want as long as it is suitable for our taste and a room design.
Check the detail. On large furniture, choosing cushions with bright patterns will be suitable.
Conclusion
A sunroom is preferred especially for people who love a bright and relaxing impression. However, we should pay attention to furniture selection and also the type of room. Choosing sunroom furniture might need some tips to prevent making a mistake while buying it.