Nexthomegeneration.com – Who's here, doesn't want to have a beautiful exterior? Certainly, there are many people who want to have it, right? It's necessary to create a beautiful concept for our home. If we create a beautiful exterior in our home, we can have a spot that can boost our mood. Then, we will be more creative and productive to do more positive things. An exterior gives many effects on our home because if we have a beautiful exterior, we can get inspiration to create a beautiful home interior. We can also make our guests or people that come and see our house impressed by our home exterior. For making you have it, we recommend you apply a Mexican exterior design that is easy to apply. Today, we will also give you beautiful lighting and tiles recommendations to make your home exterior beautiful.
The Advantages Of Outdoor Lighting
Every room in our house needs lighting for making it look brighter and comfortable to use while staying in it. Mexican living room and bedroom are necessary having best lighting because we often use both of them. Then, what the advantage that we can get if we add it to our home exterior? Now, we will give you some information about it.
It makes our home look beautiful outside and has a great impression on people who see it while past our house.
We can create a prettier backyard by using the best lighting because it gives many effects.
Beautiful lighting makes it have a warm atmosphere because it doesn't look dark and the light that comes from a lamp makes our backyard look beautiful and more comfortable.
Believing or not, if we add a lamp for our home exterior, we can minimize theft in our house. There is a security lamp that can be used to avoid it and makes our backyard safer.
We can maximize our home design by using a beautiful lamp and make a spot that can be used for relieving our stress.
Choosing the right colors is also important to make our home exterior have a beautiful looking.
Beautiful Lighting Recommendations
Outdoor spaces sometimes get overlooked after the sun goes down and we should add beautiful lighting to avoid it. It is necessary to create a comfortable exterior also is beautiful for us as a homeowner. Outdoor lighting provides safety value too especially on stairs. We should choose built-in downlights that will brighten up the path but also makes our home exterior look beautiful even at the night. This article will give you some recommendations about beautiful lighting for an exterior.
Security Lamp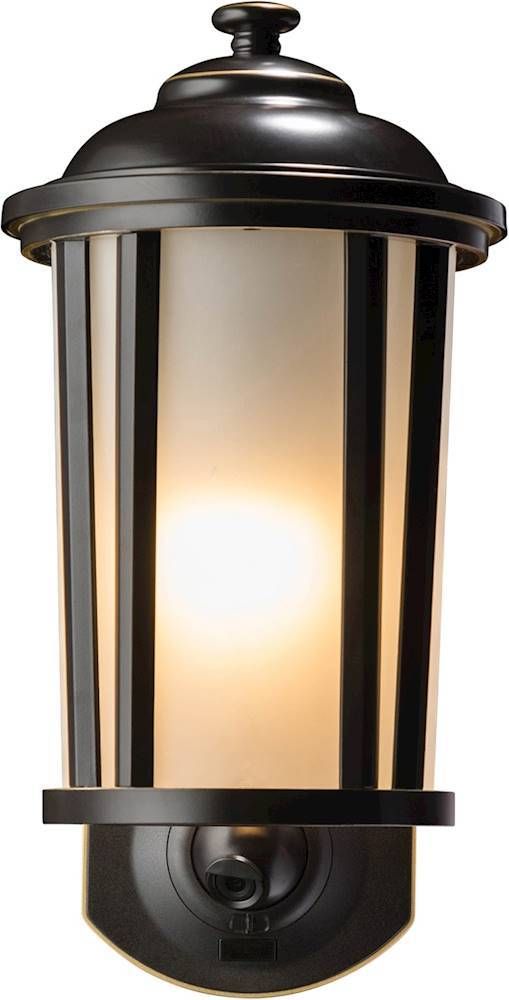 Safety and beautiful are two right words that can describe this lamp. If we want to create both of them, we should add a security lamp to our backyard. Generally, it is always used in the front yard to avoid theft in our house. However, we can use it in the backyard to make it bright and safe at the same time. It has a camera that doesn't visible because the lamp is bigger than its camera. It is suitable to add to the Mexican home's interior or exterior styles.
Outdoor Ball Lights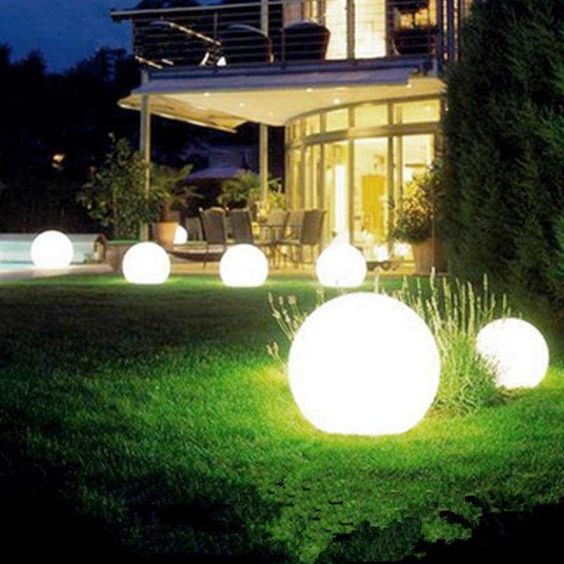 Do you want to have a unique lamp like in the fairytale? If you want it, we recommend you choose an outdoor light ball. It has a beautiful design and unique shape that we can add to the backyard. We can also make our backyard brighter by using it because it has bright light and suitable to add to the ground or hang on the roof. It is also suitable to add to the Mexican bedroom interior to create a feminine concept.
Outdoor String Lights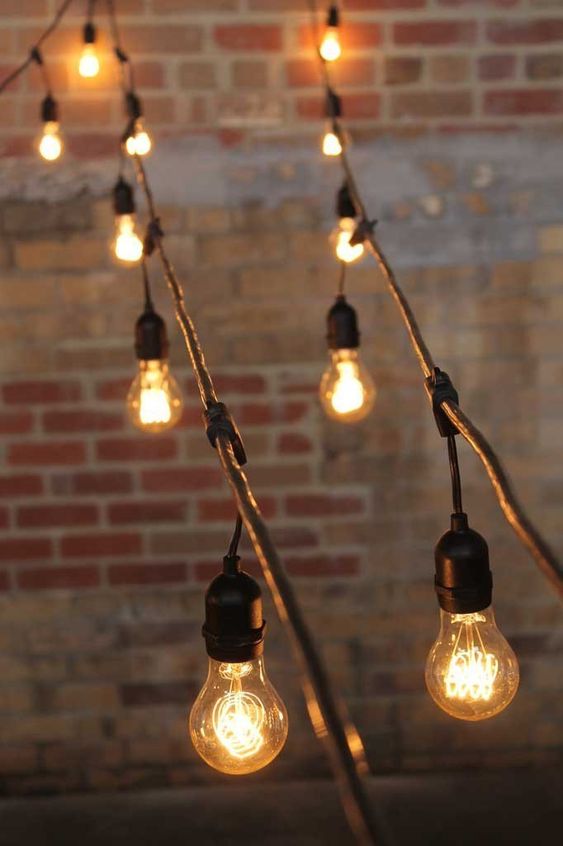 Some people want to have a cozy impression in their Mexican backyard but don't know how to create it. If you ask us, we recommend using an outdoor lighting lamp to make our backyard looks beautiful and cozy at the same time. It is suitable too if we add it to the Mexican kitchen design and dining room because has enough light to make them brighter.
Outdoor Floor Lamp
To create a beautiful Mexican backyard, we should choose the best lighting for making it have a beautiful design. An outdoor floor lamp is a typical lamp for the exterior and makes it look pretty by using it. We should add it to create a brighter backyard and beautiful design. It is also suitable to add to the terrace to make us feel comfortable while staying on it.
Tiles Recommendations For Mexican Backyard
If we are confused about how to make a beautiful backyard, we should apply a Mexican exterior design. By using it, we can have a unique and beautiful exterior that can make us happy and proud because have it. Now, we will give you some tiles recommendations for Mexican backyard exterior design.
Mexican Tiles For Stairs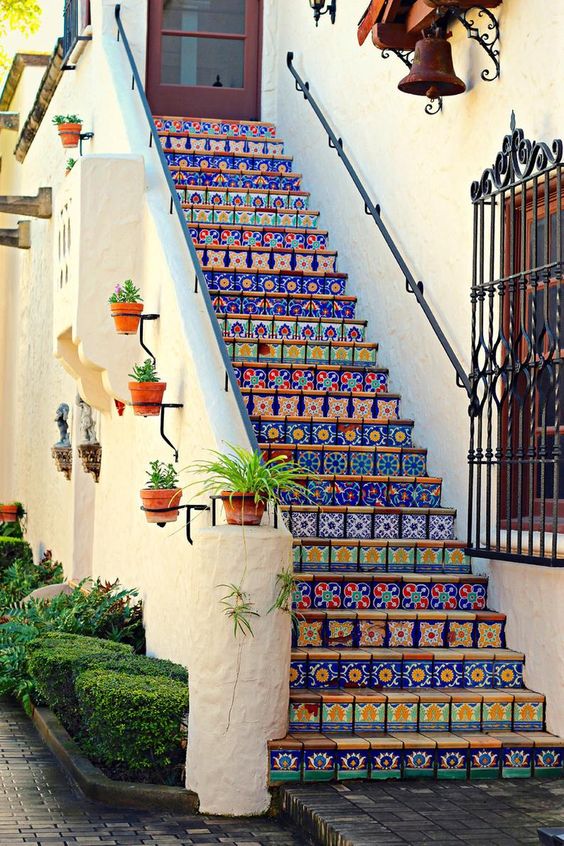 For some people who have a stair in their backyard, we should decorate it with Mexican tiles that have a unique pattern. There are many patterns of Mexican tiles and we can choose it as long as it is related to the concept. It can make our backyard have a unique concept and look attractive at the same time. We can add it to the stairs to make a stronger design of the Mexican exterior style.
Mexican Tiles For Flooring And Decorations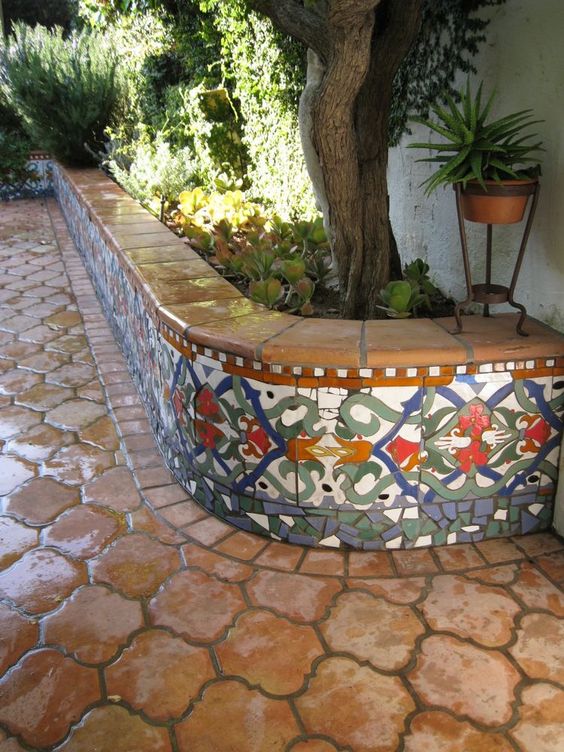 If we have a spot that can make us sit on it, we should decorate it with a Mexican tile. It is suitable to be combined with basic Mexican tiles for flooring. By using them, we can create an amazing combination of backyard exterior designs. We should use an orange Mexican tile because it is suitable and doesn't look tacky if we install it for the flooring or as decoration.
Conclusion
Decorating our exterior is necessary to do because it can make our home look beautiful outside and inside. By applying a Mexican exterior design, we can create an amazing backyard design. We also should use the best tiles and lighting to make it prettier even at the night. Hopefully, by using our recommendation we might help you to create a beautiful and unique impression in your backyard.