Nexthomegeneration – What is the first thing that you see if you look at a house? Certainly, you will see an exterior of it. That's why it is necessary to make our home exterior look beautiful. If we have a beautiful exterior, we can make it have a plus value for people who see our home. It also creates an amazing impression because we have a beautiful design in the exterior and interior. It can give a positive impression while the first time looking at it.
Mexican Homes Style Exterior Ideas
If we want to make a beautiful home, we should pay attention to the exterior first because it can create a great impression. To make a unique and cheerful concept of exterior style, we should apply a Mexican design. It can be combined with many decorations or using many colors that we want to apply. This time, we will give you some ideas about the Mexican home's style exterior.
Bright Colors With Simple Decor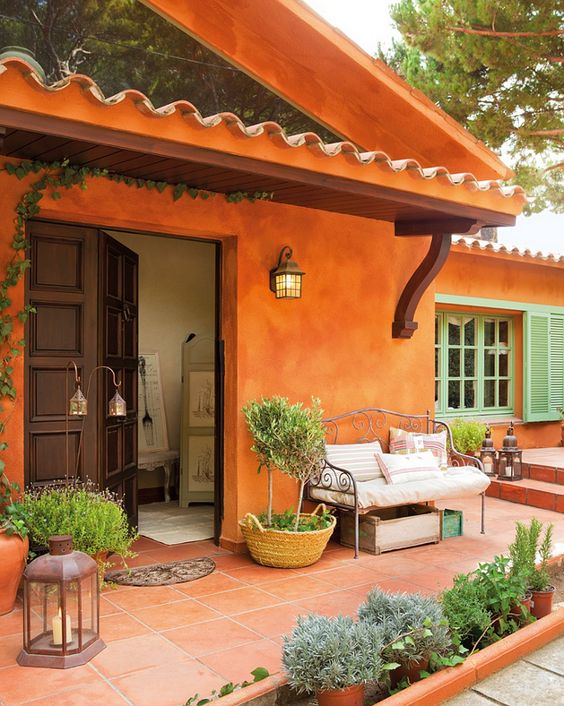 Do you want to have a simple design but look beautiful even use a little bit of decoration? If you want to make it, we can follow the idea like the picture above. We should choose orange color for our wall and combine it with orange ceramic tiles. To make it more beautiful, some plants can be added to our home terrace. It can make us have a fresh impression with beautiful view in the home exterior. We recommend you add a Mexican-style couch to the home terrace to make you comfortable while staying outside.
Color Combination With Triangle Roof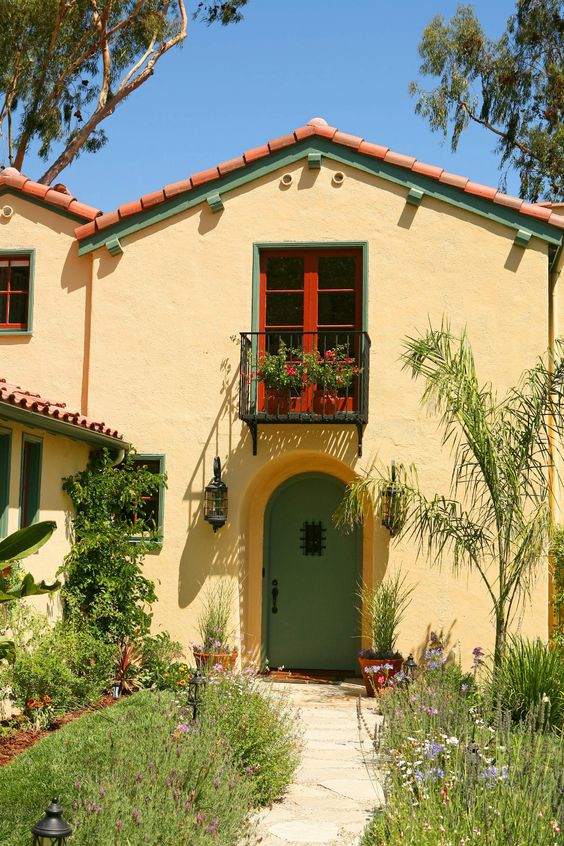 Creating a beautiful home in the first impression is essential to do as a homeowner. We should pay attention to all aspects of our home. If we create a beautiful concept on the outside and inside, it can make us have a comfortable home and a beautiful space at the same time. We should make a triangle roof to create a pretty shape on the exterior and combine it with yellow pastel color for the wall. A bush can be grown in the front yard to make a unique impression on our home exterior.
Big Home With Bright Color And Many Windows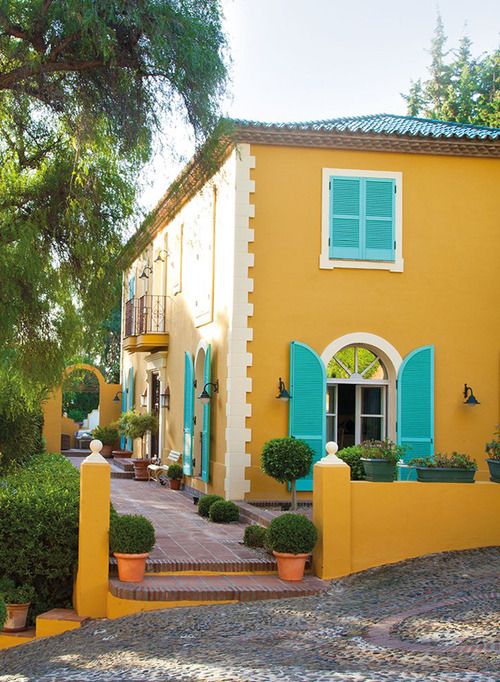 Bright color is a characteristic in the Mexican home's style and it is always used if someone applies it to their house. We can create an exterior by installing many windows and cover it by using window shutters. We should paint it with blue color and add some plants in the pot as decorations. For flooring, we should use ceramic to avoid slipping while walking on it and make it have long durability. If we use a roof tile for our home, we can paint it by using waterproof painting and choose a blue color. We can create a stronger design by using it.
White Color And Talavera Tiles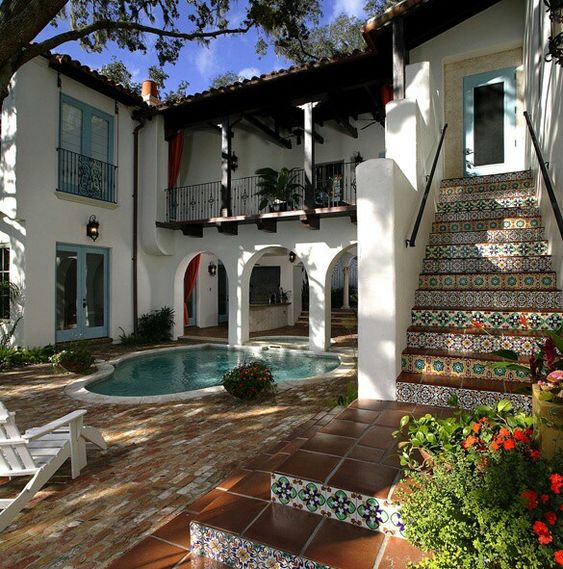 Some people have a pool in their front yard and if you are one of them, this concept is suitable to apply in your home. We should install a Talavera tile on the stair or our flooring. By using it, we can have a stronger concept and design of a Mexican style. White color is suitable to apply to our wall and also preferred to be combined with any decoration. The Talavera is a mandatory element in Mexican style that is always used in it. It has a unique pattern and looks rare that won't be found in other tiles.
Red Flower And Pink Wall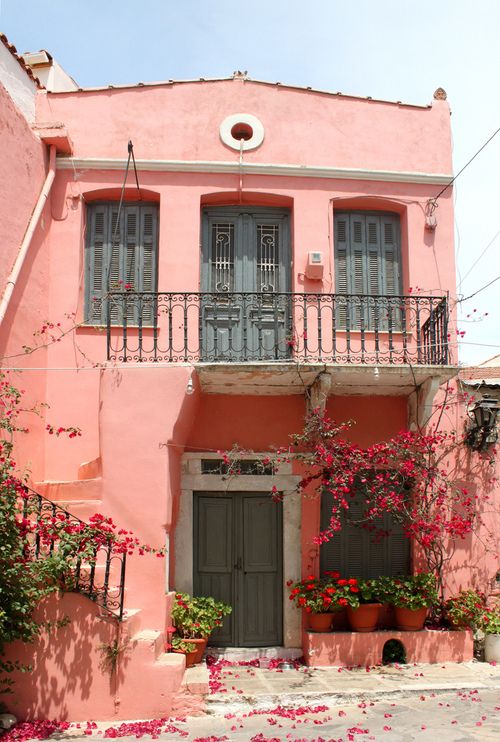 For those of you who love a red flower and want to add it as decoration for your home exterior, this concept is suitable for you. We can grow red flowers like rose or anything that has a flower in it. We can paint our wall with pink color and make the flower plants grow near our home that can make it like natural decoration. It is also suitable for people who are on a budget and want to have a feminine concept. In autumn, we can see flower petals that can make our home terrace look beautiful and full of bright colors.
Suitable Colors For Mexican Exterior
How necessary color selection for our home exterior? Actually, it can give a big effect on our exterior design that we will apply. We can also make it have a stronger concept and have a unique impression by using the right color for it. If we don't care about color selection, we can make our exterior look messy and it doesn't good for our home. This time, we will give you color recommendations to apply in your home.
Purple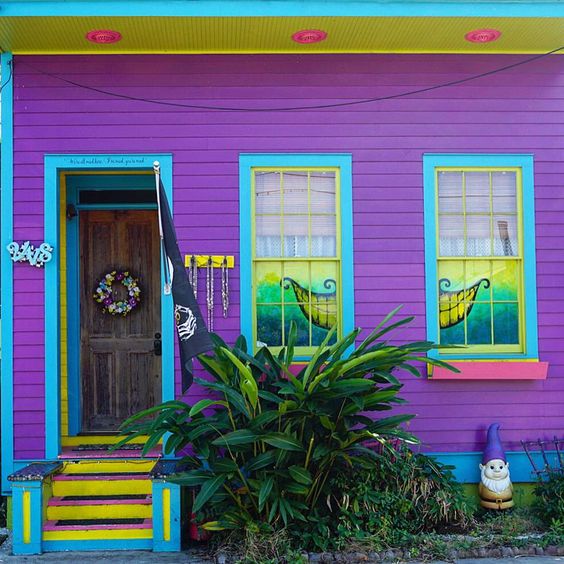 Do you love purple than any color in the world? If you are purple lovers, we should paint our walls by using them. Generally, there are many types of it that we can choose as long as it is related to the concept. Bright purple should be chosen because it is one of the characteristics of the Mexican style. If we love light colors, lilac is our recommendation for you because it has a feminine impression and looks very beautiful to apply.
Pink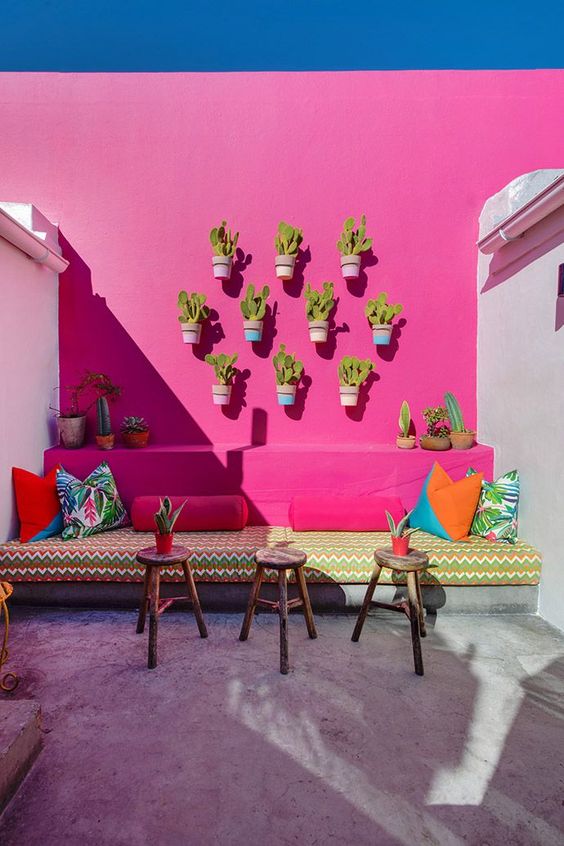 Sometimes we want to have a cheerful concept in our home exterior and want to give a happy feeling for people who see our home for the first time. To create it, we should choose a bright color because it has many choices and gives a feminine concept at the same time. We should paint our wall by using pink color and combine it with some plants as decorations.
Orange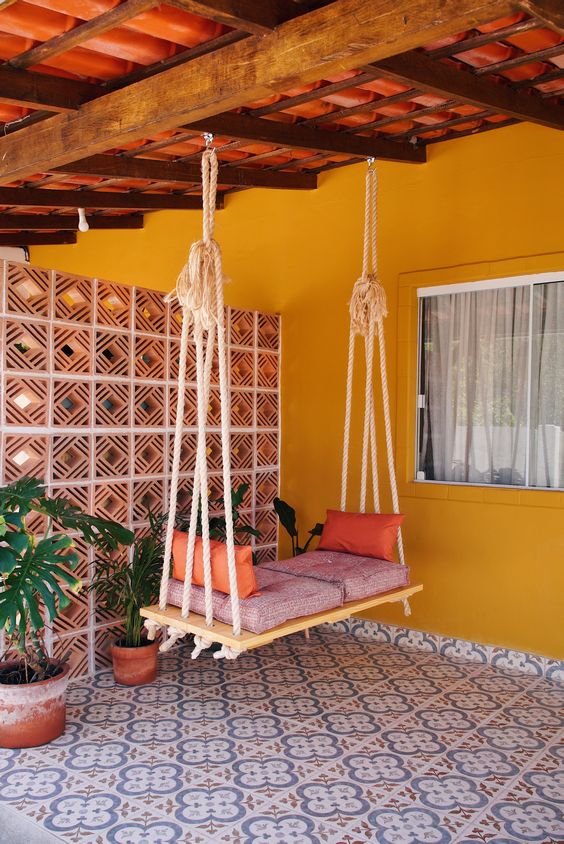 If we consider applying a Mexican exterior design, it feels incomplete if we don't recommend an orange color to you. It has a beautiful bright impression that can make our home look cheerful and have a characteristic of Mexican styles. We can also make it look pretty and different from any home color around you. We should apply it to our exterior to make colorful and cheerful concepts at the same time.
White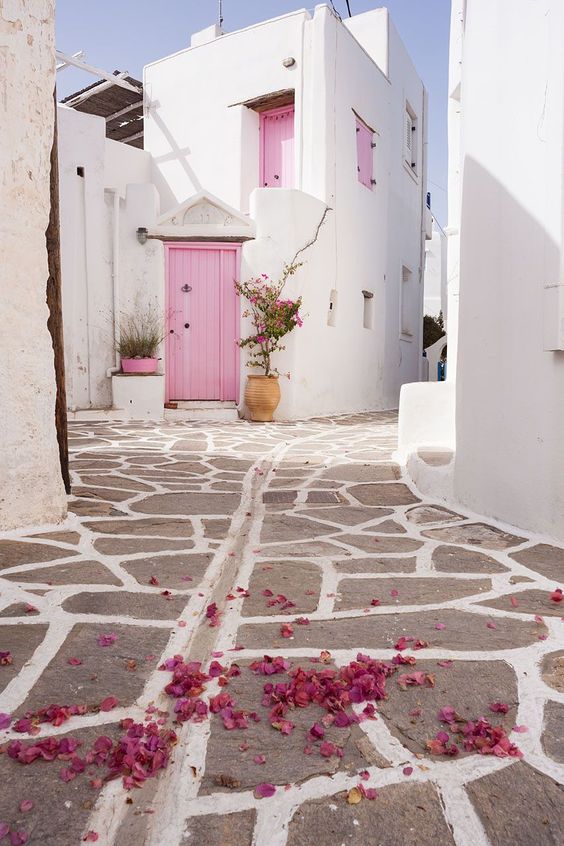 Certainly, sometimes we don't want to paint our wall with bright color, we should paint it by using white color. We can have an exterior design that shines brightly when exposed to sunlight. It also has a classy impression and that's why it is suitable for people who have a big house.
Conclusion
Colors selection is necessary to pay attention if we will apply a design to our home exterior. It can make us have a prettier concept if we pay attention to it. By decorating it, we can have an amazing home design inside or outside and makes our guest are spellbound while looking at it.