Nexthomegeneration.com – Country-inspired interior design oftentimes is a favorite for many people. We've definitely ever seen a home that has a Japanese, Spain, or even American interior design. There are some interior styles inspired by some countries in the world. Actually, we can get many advantages if we apply it to our home and one of them is our home can have a cultural accent from its country in our home. We should apply a Mexican interior design if we want to make a home have a unique characteristic. It also has some elements that won't be found in any styles. Today, we will give you Mexican-themed dining room decorating ideas to make people that read this article feel easy if want to apply it.
Why We Should Choose This Design?
It won't be complicated to apply because we should only know more about the characteristics of Mexican-style homes. After knowing it, it can be easy to apply this design to our home. It has unique characteristics that can make our room look beautiful and modern. We should apply it to create a beautiful, modern, and unique impression at the same time.
Mexican-Themed Dining Room Decorating Ideas
Creating a beautiful dining room is necessary for us as a homeowner. We can't let our home looks ugly and doesn't feel comfortable to use while eating with family or only alone. Actually, if we have a beautiful dining room, we can feel more comfortable and our food more delicious. It makes us confident to attend many events like dinner with family or birthday parties that need a dining room for eating together. A dining room can also make us have a room for eating without making dirty other room in our house. This time, we will give you some Mexican dining room ideas to make you have a beautiful, unique, and attractive impression in your house.
Simple But Look Luxurious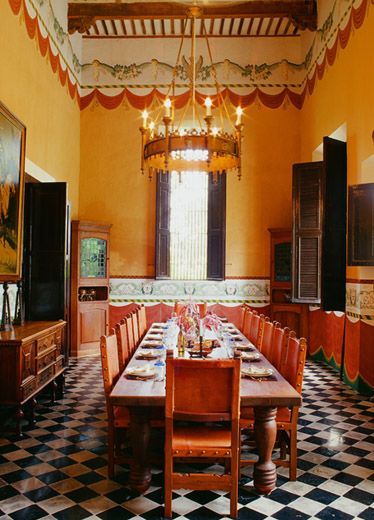 Do you have many families in your home? For example, you have a big home that all of your family live in it. For making them comfortable while eating, you might need a big dining room, right? We have an idea recommendation to decorate your big dining room with a Mexican interior design. First of all, we should paint our wall with orange color and add many dining chairs with a dining table. To make it feel brighter, a chandelier is our recommendation to add. We can feel a bright dining room and luxurious impression at the same time by adding a chandelier. We can also apply a checkerboard pattern with white and black color tiles for flooring. A mural paint is suitable to add to the ceiling room.
Sunflower Painting As a Decoration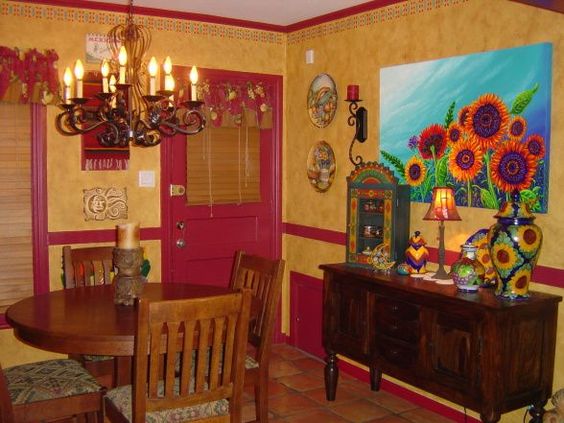 For those of you who are confused to add decoration to our dining room, we have a recommendation for you! We can add a sunflower painting to the wall and add a dark brown wooden cupboard to add a sunflower ewer, table lamp, and little cupboard on it. A wooden dining table set can be added to make our dining room have harmonious furniture and decoration to each other. We also recommend you apply yellow wallpaper and paint our door with red color. A chandelier is suitable to choose and make sure it has yellow light to can make it have a warm atmosphere.
Unique Pattern Cushion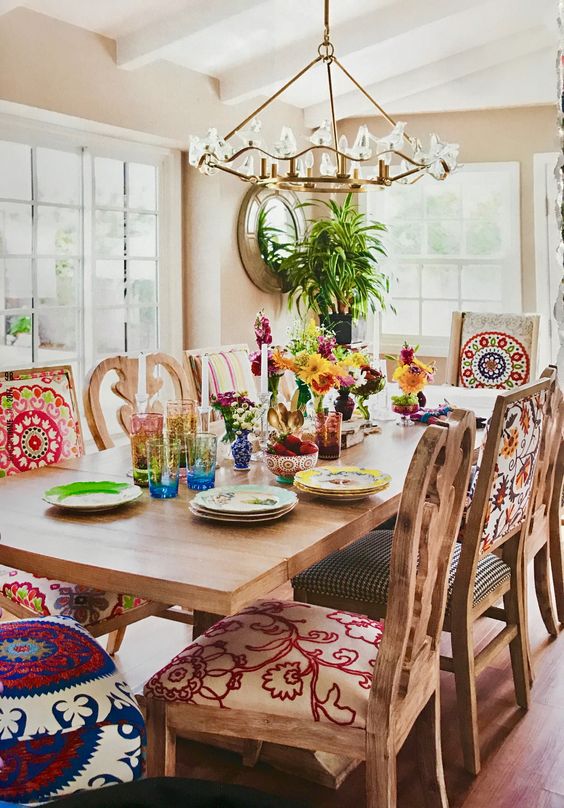 If you are still confused to make your dining room look beautiful, we should use a dining table set that has a unique and beautiful pattern in its cushion seat. We can use a wooden material for it to make a natural concept but looks beautiful. For other decoration that we can add, a plant is our recommendation. It can make it have a fresh impression and look amazing if we combine it with a round mirror to the wall. To create a bright dining room, we should add a chandelier.
Using Colorful Lanterns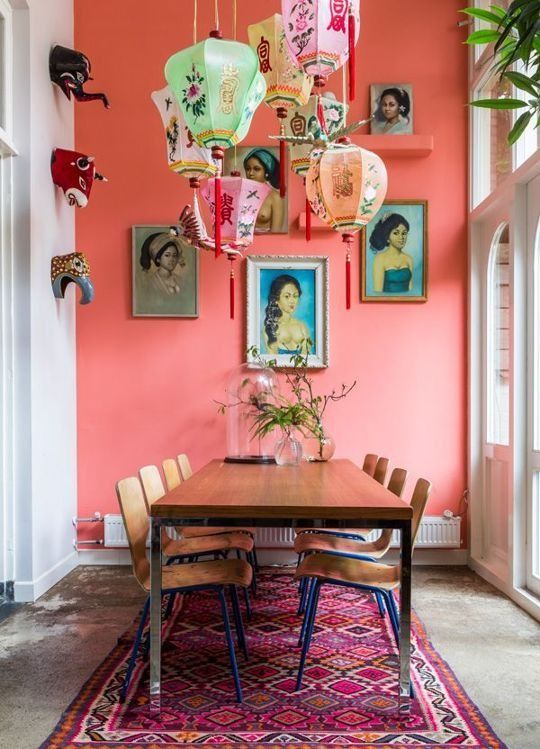 Some people might want to create a feminine concept in their dining room because it looks pretty and fascinating at the same time. Then, can we create a Mexican-themed dining room and a feminine concept at the same time? Don't worry because we can apply a Mexican style and create a feminine concept at the same time. If we want to create it, we should add many lanterns that have different colors to each other. A painting can be added to the wall to make it look prettier than doesn't use it at all.
Mexican-Themed Simple Concept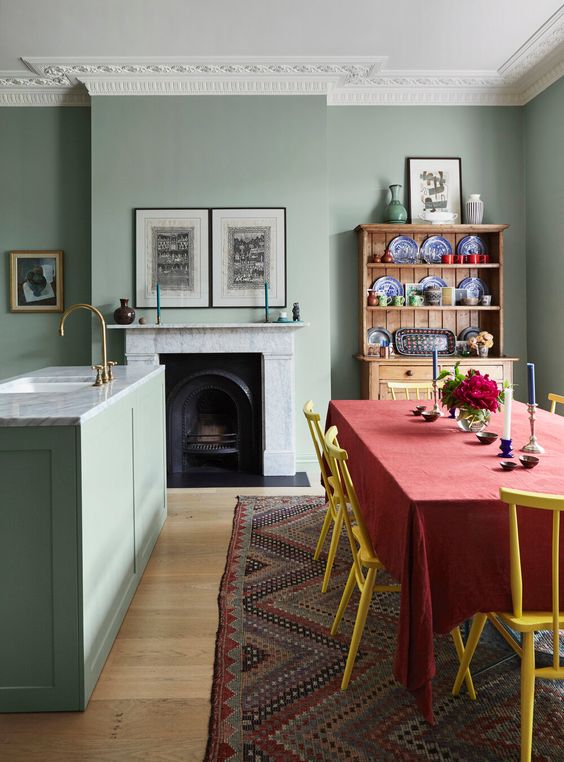 Sometimes we don't want to feel complicated while applying an interior design that we want and we recommend you make a simple concept. We only need to add a simple pattern carpet under our dining table set. A yellow dining chair with a big dining table that should be covered with pink table cloth can be added to our dining room. This design is suitable for people who want to combine a traditional Mexican kitchen with our dining room.
Floral Dining Chairs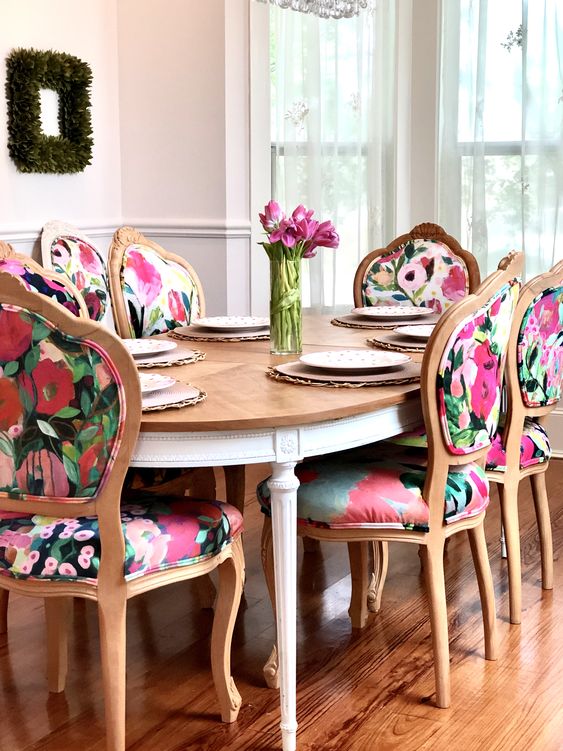 Who doesn't like flower patterns? Certainly, almost every person likes                                                                cv it, right? A Mexican interior design can be made by adding a floral dining chair to make a beautiful concept. Some people sometimes add floral pattern furniture to their Mexican bedroom interior design. We can also combine it with some decoration like a flower in the glass vases and add it to the table. It can make our dining room have a warm atmosphere and look prettier.
Conclusion
A Mexican-themed dining room interior design idea is a beautiful style to apply in our home that can make it look unique and beautiful. To apply it, we should choose suitable furniture and decoration to make a stronger design. We can also use many concepts that we want as long as it is still related to our design.