1. Beautiful mini garden
Almost all occupants of the house want their house to have a garden. However, the limited land in the housing has an impact on the arrangement of the park. There is a small garden, even no area for plants at all. Even so, don't be disappointed because there are some inspirations for the garden in front of the house that we can present.
The minimalist garden in front of the house is a part that must be designed properly. Design a garden so that it can beautify the exterior of your home. Next, you can prepare a minimalist garden behind the house and also a minimalist garden in the house. Please design your garden in front of the house in order to provide refreshments for you and your family. There are many options for designing a front garden, starting with a choice of beautiful and different ornamental plants. Then, put different decorations like pebbles, stones, ponds, fountains, and more to make the garden look more attractive. For more details, let's look at the garden ideas and inspiration below.
2. Ideas and inspiration
Have you heard this quote from the English poet, Alfred Austin? "Show me your garden, and I shall tell you what you are." How do you arrange the garden in front of the house, showing what kind of character you are? So in making a garden in front of the house, you can't use the haphazard concept.
There are many elements that must be considered so your garden not only beautifies your home but can give a calming meditation effect when you spend time lingering in your home garden. Therefore, idea and design a garden according to your home model and your taste. That way, people can see how your personality. For that, let's review some attractive mini garden designs below.
3. Some examples of attractive mini parks
If you have
a beautiful minimalist home design
, you can present a home garden in a narrow area. A mini garden in front of a house like this can save space, is easy to care for, and saves on budget. In addition, your tiny house will also feel fresher. So you now know, there are so many benefits of a mini home garden. Therefore, don't hesitate to design a beautiful mini garden in front of your house. You can take advantage of empty spaces to be transformed into a beautiful mini garden. Therefore, we want to share ideas for reviewing the attractive mini-home gardens below. Hopefully, the design is to your taste. Welcome to our review!
The front garden of the house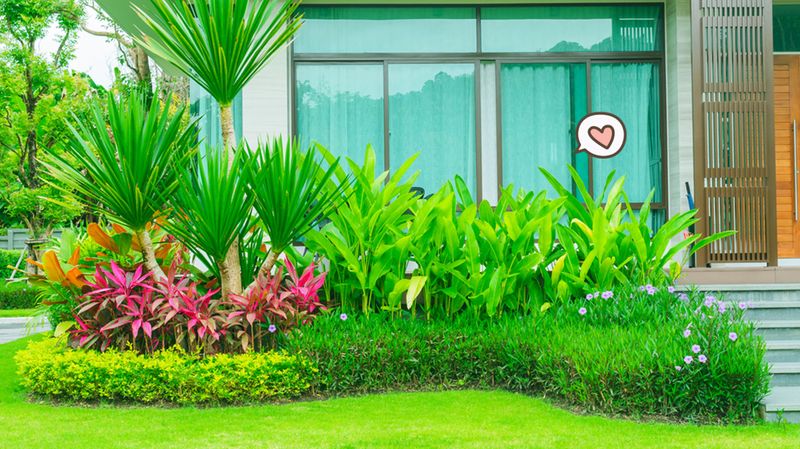 The front garden of the house is a showcase of the house itself. If the "showcase" is beautifully arranged, it will certainly attract attention and give a good impression to the house and its owner. For residents of the house, a good garden will add to the beauty and comfort when you are at home.
Then, adjust the design to your taste and the available land area. If land area is not a problem, you can make a garden with green grass on the left and right shoulders, while in the middle it divides the road leading to the main door like a modern Japanese garden concept in London. On the left and right sides of the road, you can plant flowers. So when the flowers bloom, it will look like a colored list along the road leading to the door of the house.
But if your land is limited, do not be discouraged. You can create a small beautiful garden by applying the concept of a vertical garden or the concept of a living wall that uses hanging pots. Then, also consider making hydroponics by planting lettuce, tomatoes, cucumbers, and pakcoy, so the results of which can be used for kitchen matters. Then, choose pots with hanging frames made of iron so the house is more dynamic, neat, and modern.
Apart from hanging pots, you can build a layer on the wall as a planting medium. In this place, you can plant buxus (a type of bonsai) on the top layer and aloe vera on the second layer. Then, also add a wooden chair against a layered wall that can function as a seat or a climbing frame when you raise plants on the top layer.
The garden inside is like a terrace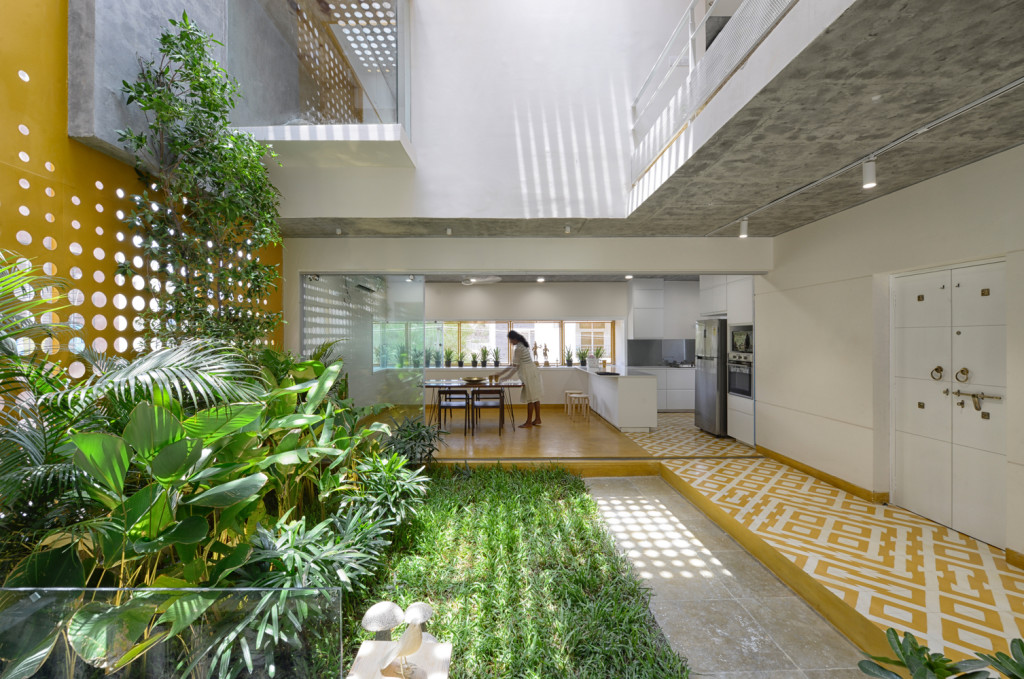 Usually, the garden inside at home will be made more private, which is only enjoyed by family and the closest people who visit the house. In this place, you can make a special design for the garden in the house to make it seem more personal. Like making an outdoor kitchen or outdoor bar, adding a gazebo where you can enjoy your afternoon playing guitar, or a dining table as a fun breakfast ritual.
In addition, the garden in the house can also be a fun outdoor playground for children. You can combine it with a grass garden, or add a fish pond, a mini playground with a slide, a monkey bar, a rabbit house or make a tree house that makes your child feel memorable and comfortable playing. However, what must be considered is that it is located in the room, choose attractive furniture, and is harmless. Do not choose iron material because it rusts easily, while rattan will rot quickly when exposed to continuous rain and heat. So the most recommended material is good quality wood such as teak, ironwood, and Merbau. Then give a layer that is shiny, heat, and termite resistant. That way, your furniture will last a long time.
However, if the garden in the house is exposed to the sun's heat and is located side by side with other rooms or close to the back wall of the house, you can apply the semi-outdoor concept by adding an open and closed roof so that from morning to noon you can open the roof to take advantage of the sun's rays. Meanwhile, in the afternoon or when heavy rains arrive, you can close the roof so that the room in your house is not too wet and there are not many mosquitoes. With this arrangement,
your home design will feel comfortable
.
Inside front garden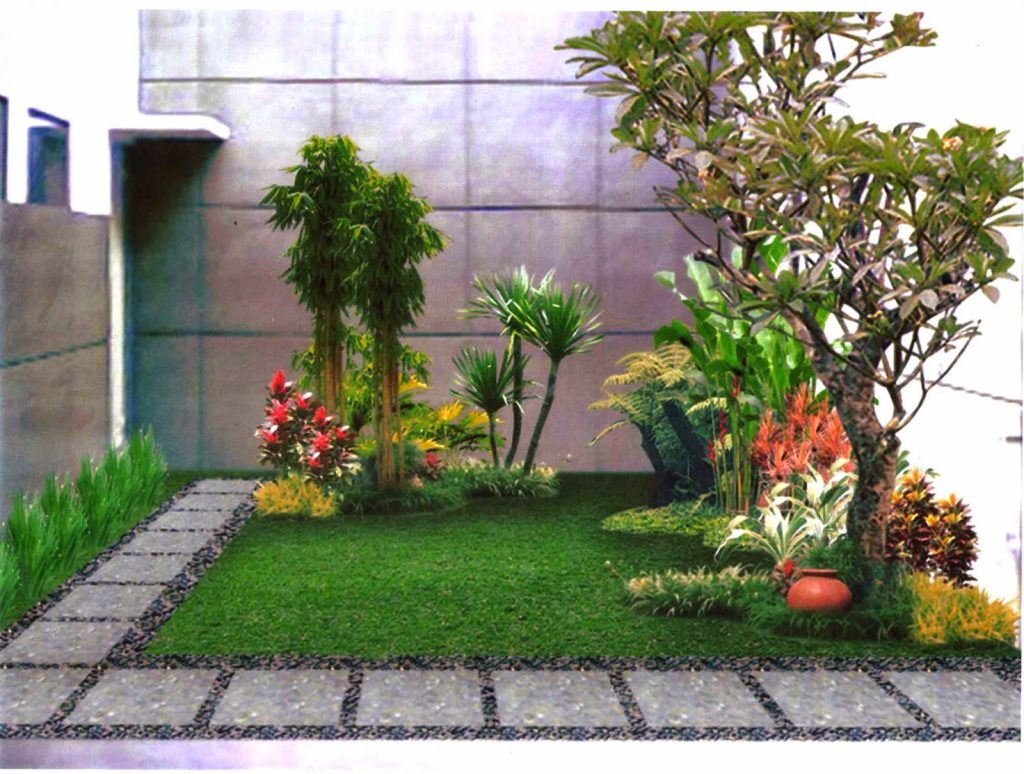 This one garden design adds green to your home. A garden that is located in the middle of the house will make your home look quirky and refreshing. You can make a glass roof over the garden so that sunlight can enter to provide nutrition for your plants. Don't forget to add a comfortable sofa for reading or a hammock mounted on a wooden wall (in lieu of a tree) which is perfect for relaxing at night while enjoying the starry sky.
If you want to design a small pond, you can consult with experienced professional services. As we know, the soothing sound of water balances your busy mood and mind. Another inspiration, you can use the remaining space under the stairs to create a mini garden. Then, add some beautiful garden lights so the garden in the house looks bright. Then, don't forget to trim it regularly so it is always beautiful to look at and doesn't become a breeding ground for mosquitoes. With this arrangement, your mini garden will look more attractive.
Rooftop mini garden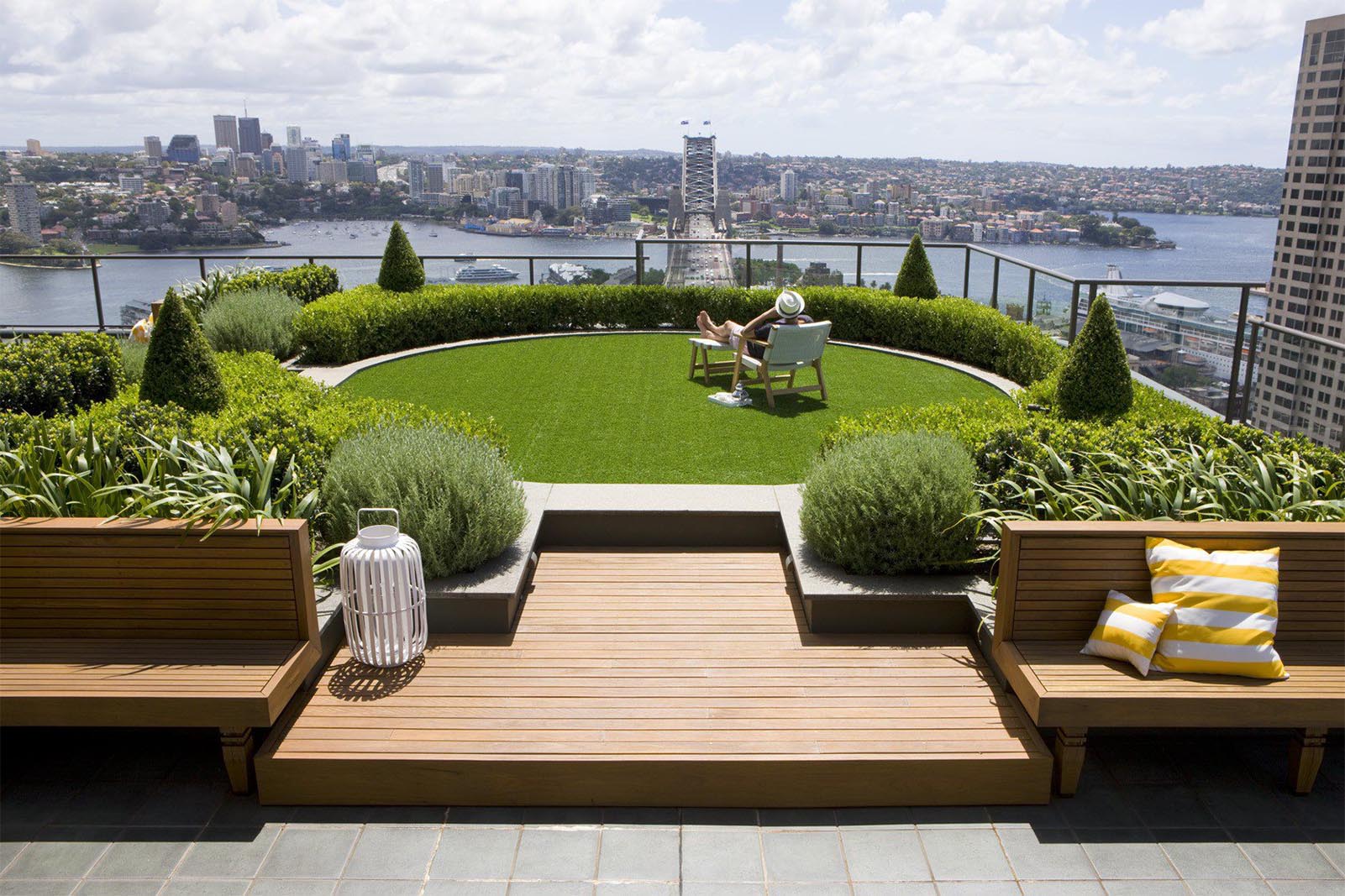 The top of the house made of concrete can be used as a rooftop garden. Designs like this are in vogue. By designing like this, you can invite some friends for a barbecue party in your rooftop garden. Then, you need to pay attention to the plan for making a garden on the roof from the start of the house construction. So you can calculate the strength of the foundation to withstand the weight of the roof of the house for the security and durability of the house.
Even though you have given a waterproof coating on the concrete base, you should be able to use synthetic grass so that it doesn't make it difficult to maintain. For plants, you can use hanging pots or those placed on the floor with black, white and gray domination because these colors are suitable for a minimalist garden on your roof. For protection from the sun and rain, you can add a canopy to the sitting area so you are not exposed to heat and rain while relaxing in the afternoon. That way, you will feel calm and comfortable in the garden above the house.
Elements of a mini garden in front of the house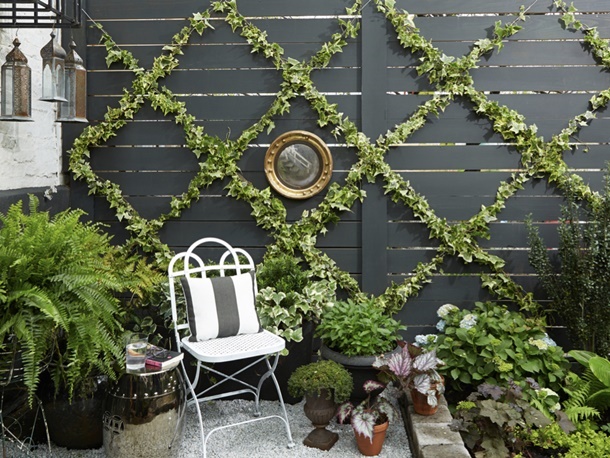 If you want to design a beautiful mini garden, take advantage of the empty front yard of your house to become a beautiful garden. To make it, you can follow the guidelines in this article. First, find the concept that you want to apply to the garden in front of the house. Then, adjust to the style of the house and the available land. After that, decide what kind of plants and elements garden you want to care for and look at them every day at home. Then, adjusting the plants to your liking is very important so the garden also has psychological benefits that make you happy and calm your heart.
If the garden area is large enough, you can ask for professional services to make it. We suggest that you should adjust to the budget that you have and focus on a predetermined plan. During the gardening process, don't be tempted to buy garden knick-knacks that aren't in the plans. Because besides the budget will swell, the concept of the park can also change from the original plan. This can make garden work that has been running in vain take even longer.
How to make an important front garden can be started from the outermost area. Then, gradually enter the area in front of the main door. It keeps the outside of your home looking neat during the gardening process. For a front garden with limited land, you can consider creating a more space-efficient vertical garden without compromising the beauty and function of a garden. That way, your garden will be pleasing to the eye.
Minimalist home garden in front of the house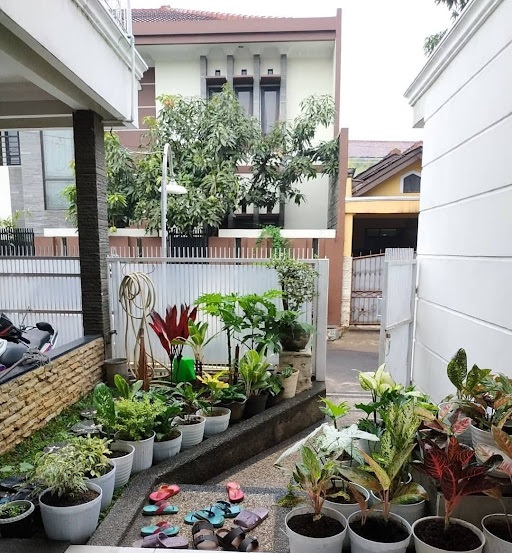 Entering the facade area of ​​the house will feel more pleasant if you are greeted by a beautiful mini garden. If possible present a mini garden in front of the house. An open mini garden planted with organic green grass is ready to refresh the facade of the house. A collection of ornamental plants in pots is arranged to follow the garden border, so it looks like a row of plants ready to welcome you.
Mini garden fence in front of the house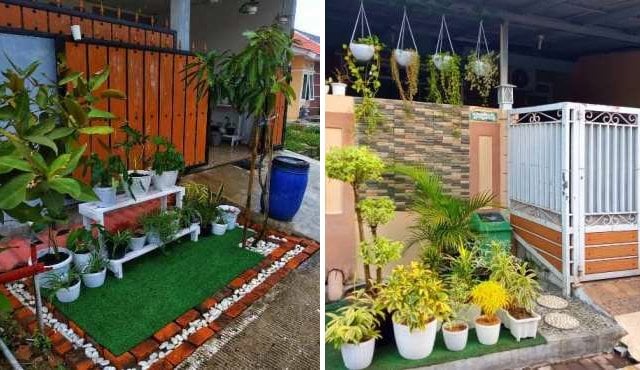 Home facilities This one should not be forgotten. A garden fence not only serves to protect your garden but is also a part that can add to the beauty of the front garden of the house. The choice of material and color of the fence must be considered carefully too. For a minimalist home, a hedge made of wood will make the house seem more lively and natural. Don't forget to give it a special coating so that your wooden fence is durable.
You can also choose a sturdy and strong iron fence. For garden fences, choose a simple model without lots of ornaments. A striped iron fence in black can be used as a neat living wall. By installing a box or diamond-shaped wire on the fence as a medium for growing plants, the exterior of your house will look attractive. In addition, beautify the corner of the room with garden chairs and tables. This way you can enjoy your leisure time in the morning and evening.
Plants for the garden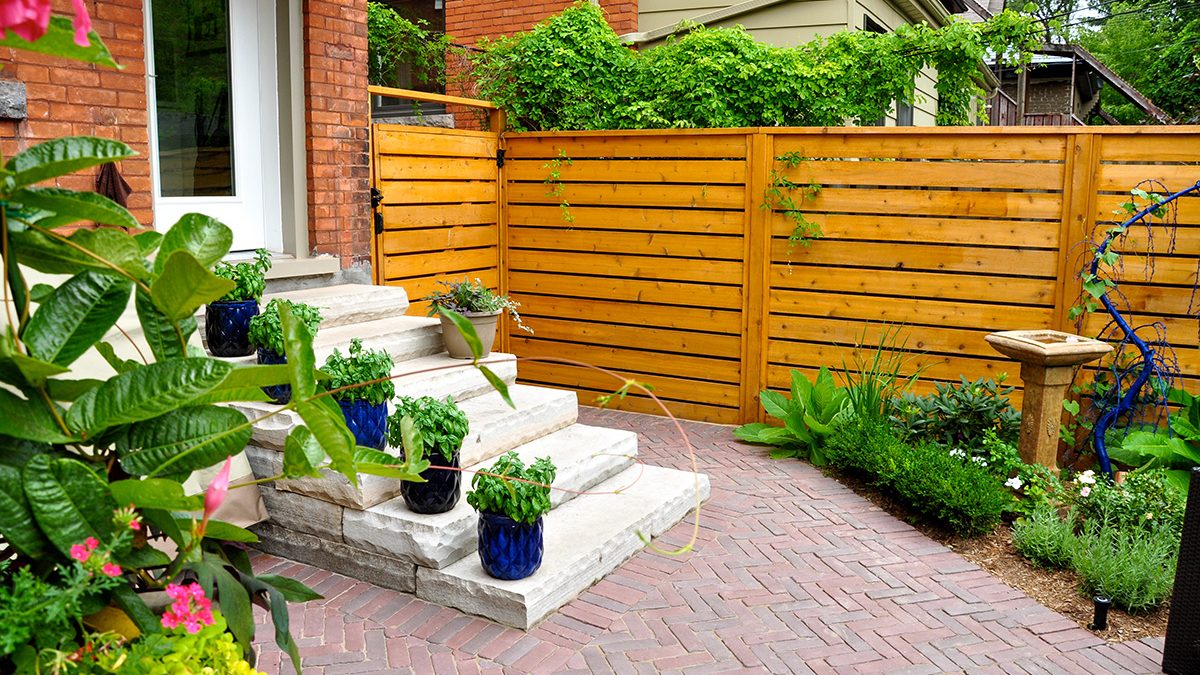 One of the characteristics of a good garden is that the plants can grow lush and tidy. But that doesn't mean you can plant many types of colorful garden plants because this will make the garden seem full and messy. In choosing the colors of modern minimalist garden plants, apply the concept of less is more. A limited color palette will add to the beauty of a minimalist garden, give a modern impression, and make maintenance easier.
To limit your plant color palette you should apply no more than 3 colors. Buxus plants can be an option, apart from being easy to care for, these plants can be boxed or round according to the garden design you want. You can add other types of plants that have a green color that is either lighter or darker than the buxus color.
But if you want to have flower plants, you can add two different flower colors. Grass flowers can also be an option because they grow not tall. So they will make a neat impression, such as rain lilies, wide flowers, and pinto beans. Purslane or portulaca plants can also be an option because they are easy to care for and flower almost all year round. So if you want to decorate your garden, choose plants that suit your taste and are easy to care for. That way, your mini home garden will look beautiful.
Fish pond as a mini garden design in front of the house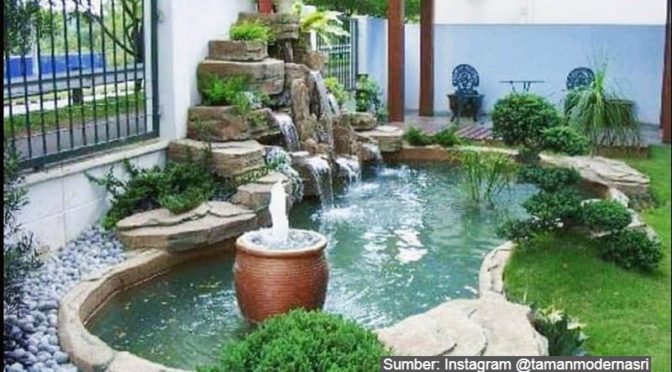 A garden is said to be perfect if it can present the element of water. According to Dr. Wallace J. Nichols a scientist and author of the best-selling book, Blue Mind, water can have a calming psychological effect, make the mind easy to focus, be creative, improve sleep quality, and bring a feeling of happiness.
Therefore, one thing that can be done is to make a fish pond. The presence of a fish pond can be a powerful stress reliever at home. You can make ponds of various sizes and models and adjust them to the availability of land. The fish pond can be part of a mini garden in front of the house. Calculate the area of ​​the pond with the maximum size of the fish when they grow large so that the fish can swim freely.
In addition to the ratio of the area of ​​the pond and the number of fish, what must be considered by its manufacturer is to choose a filter and a good pond pump so that oxygen circulation in the pond is well accommodated. Apart from that, making water walls, waterfalls, and fountains is also good for fish growth and adds to the calm atmosphere at home. Also add plants such as water hyacinth, umbrella grass, and water jasmine which can be natural biological filters in your fish pond. With this arrangement, your mini garden in front of your house will look aesthetically pleasing.
Design with mini garden lights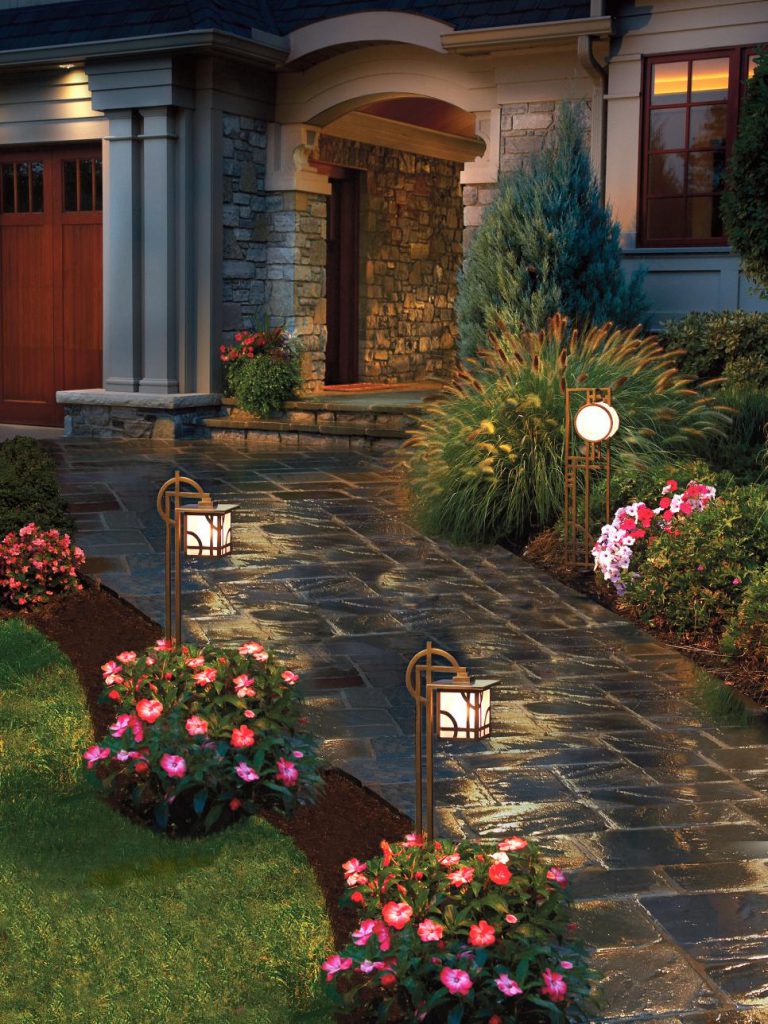 The mini garden in front of your house will look beautiful and charming at night. The light can illuminate the developing flower. Thus adding to the more cheerful atmosphere. Therefore, don't forget to brighten up the corners of your garden with garden lights. Garden lamp models that are planted in the ground, decks, box bollards, and short rounds that are integrated with poles can be used to illuminate the entire length of the garden deck. Meanwhile, you can install spotlights to give firm light to your favorite spot.
To make you relax with your family in the morning, afternoon and evening, you can add a dining table in the garden. Then, you can also hang string lights that vines on the ceiling of the dining table. This pendant lamp will add to the romantic impression of your garden. With this arrangement, your mini garden will look beautiful and charming.
Minimalist terrace
A beautiful mini garden is always combined with an aesthetic terrace. By unifying the functions of a garden with a terrace, your home's exterior will look attractive. Apart from that, you can also apply a minimalist home terrace combined with soft terrace chairs and a wooden table that is not too high.
Then, to make it look more attractive, choose a bright sofa cover color to add a fresh impression to your terrace. For the rest, add some green plants that add shade to your terrace. Then, make paths as a complement to the garden, green grass plants, and flower pot racks. With this arrangement, your mini garden in front of your house will look aesthetically pleasing.
The green area in the mini garden in front of the house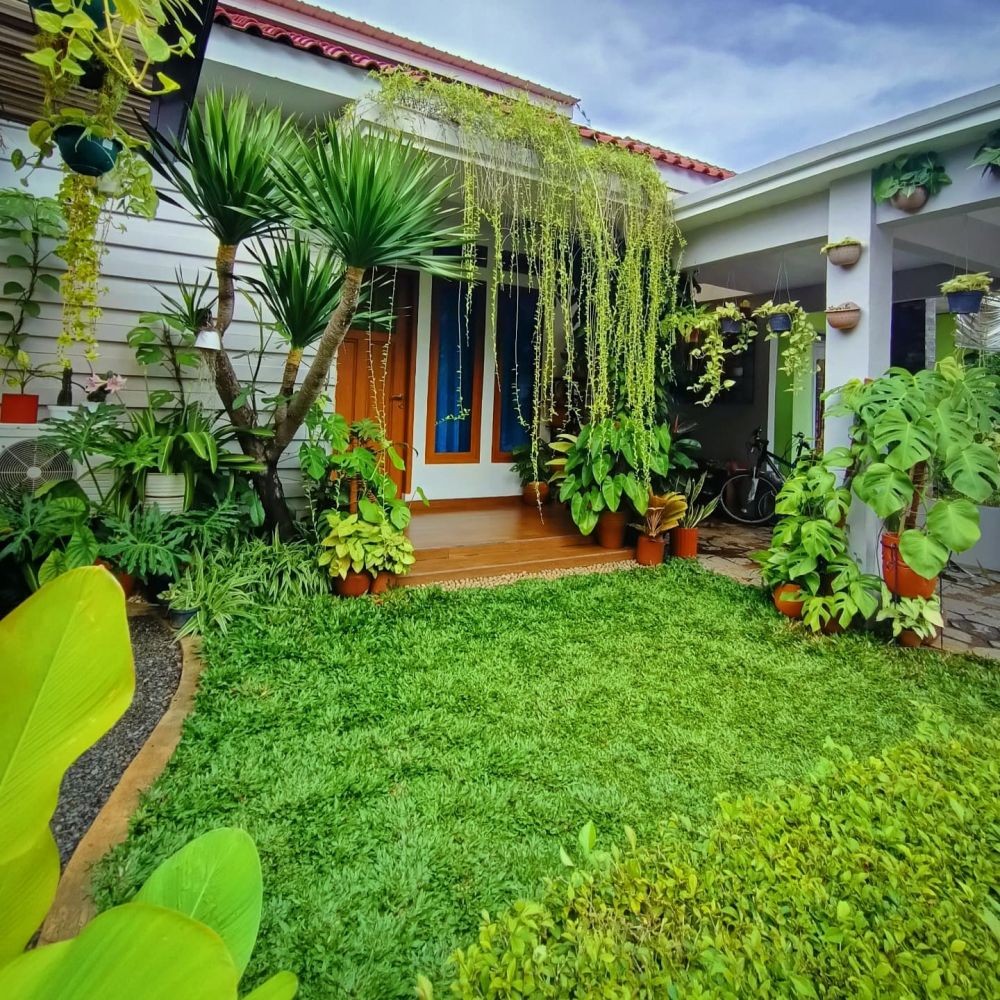 A beautiful and aesthetic garden is a garden that has a green area with thick grass and trees. Having green open spaces around the house will certainly make the air around it cooler and cleaner. Making a green open area or your own garden doesn't always have to require a large space. You can make it in the yard, terrace, or back of the house. Then, you can also make it behind the house if you have the remaining land.
Therefore, for those of you who are looking for simple garden design references, we provide a review that can be an inspiration for you. As you can see, the mini garden design above is equipped with vines on the ceiling, flower pots mounted on the walls and floor, and garden decorations with coral. With this design, the exterior of the house looks unique and artistic.
Refreshing place in the mini garden in front of the house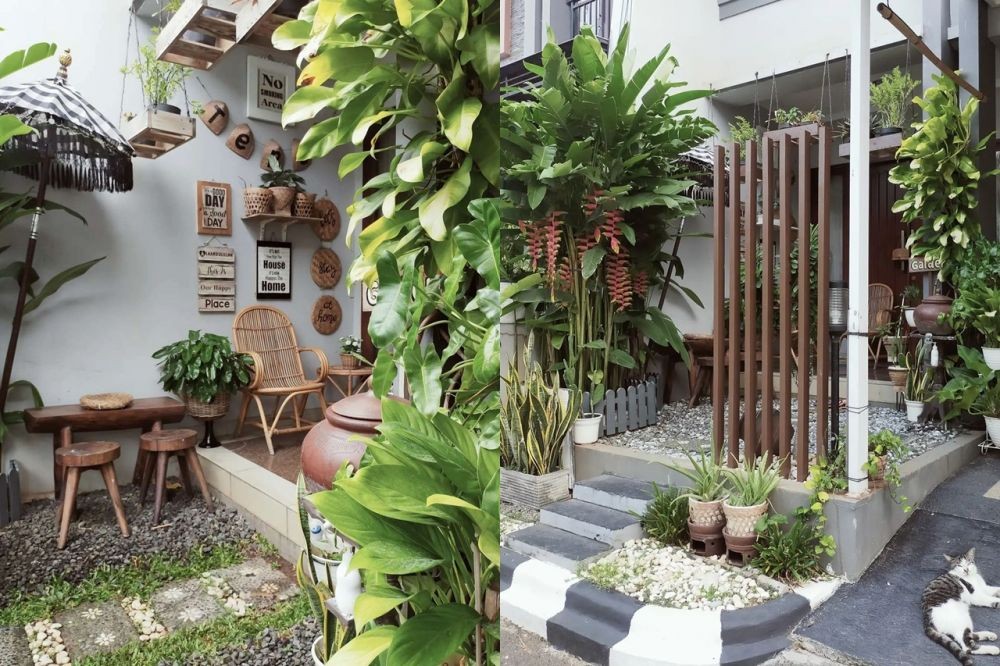 For some people, their refreshing moment is not a vacation out of town. Especially during a pandemic, people prefer to stay at home so they don't worry about the spread of the virus. Therefore, the small land in front of your house can be transformed into a beautiful mini garden. Even though the size is limited, you can still enjoy the feeling of sunbathing in the morning or relaxing in the afternoon in the mini garden in front of the house.
As you can see in this picture, this garden is equipped with several models of wooden chairs, tables, and rattan chairs. Then, to make it look more attractive, this design is complemented by a garden partition made of wood. Then, umbrellas as a place to take shelter from the sun, coral stones designs in the garden area, and flower pots mounted on the wall. That way, you can make this artistic little garden design a reference for your home.
Beautiful mini garden design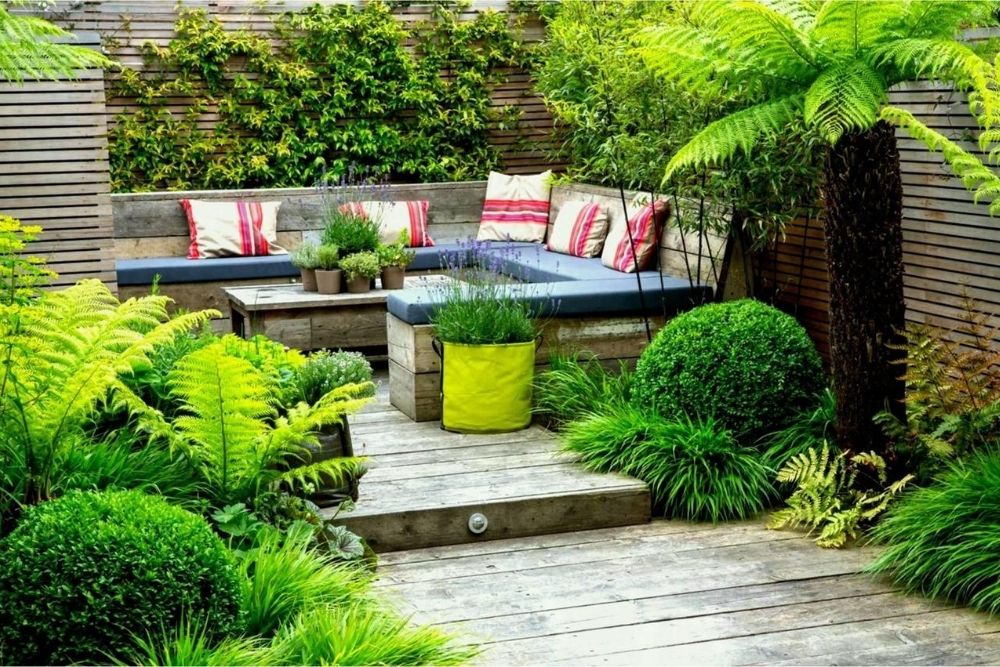 A mini garden in front of your house or a tiny terrace may require more thought than a larger space. This is because you need fresh ideas to outsmart a small space to make it look bigger and neater. Thus, even the smallest plots can be transformed into an eye-pleasing and comfortable outdoor retreat.
We understand very well if you need fresh ideas to remodel or rearrange your front garden. Thus, it looks beautiful and enchanting. Then, it can be the attention of your guests who come. As you can see, the mini garden above is equipped with benches designed in a U model and made of ceramic material. Then, decorated with colorful motif sofa cushions. While the floors and walls are made of natural wood. With this arrangement, your mini garden design looks beautiful and natural.
Mini garden design with natural stone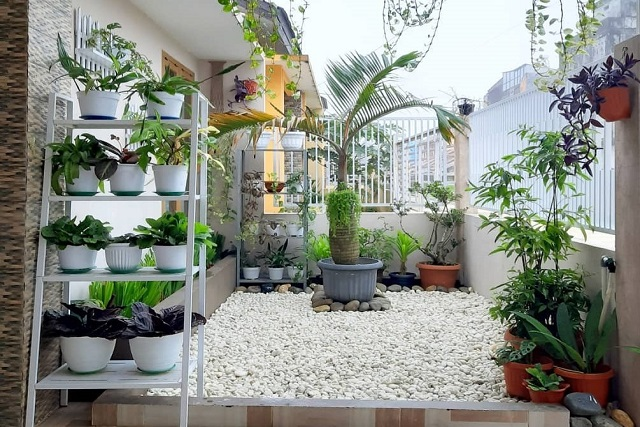 This mini garden design looks natural with natural stone decorations. If you have several plants in different pots, try grouping them and arranging them neatly in front of the house into a small garden using stacking iron shelves. Then, you can also use white rocks as the main surface of the garden to present a modern, minimalist impression. The existence of this garden can also be used as a refreshing view so that it can be enjoyed from inside the space located beside it.
By having a minimalist home mini garden design, don't let the page be empty. Give some trees, such as bottle palms, small plants, and other fresh plants. To stay shady and feel cool. That way, your mini garden design is not only beautiful but the appearance of your home is guaranteed to be more aesthetic and modern in the style of a warm tropical concept.
4. Conclusion
Those are some mini garden designs that you can make at your home. We hope that one of our reviews above can be an inspiration to you. However, if you don't want to bother, you can order from a garden decor company. So that the results are satisfying and according to your taste. Hopefully, our review above can make
your home design look aesthetically pleasing
, enchanting, attractive, and fun. Then, make you and your family more cheerful. Happy decorating!