Garden lights overview
A beautiful garden design is not only supported by the arrangement and care of plants but also the role of supporting accessories such as garden lights is important. The presence of garden lights in the yard. In addition to beautifying also provides lighting for the outside environment
We know that garden lights have different shapes and their own characteristics. Some have Japanese styles, and others highlight the exotic feel of Bali. The ethnic characteristics can be seen from the shape and material of the lamp shell roof. A typical Japanese garden lamp has a roof with a slightly curved tip, in keeping with the traditional Japanese roof style. Meanwhile, the Balinese style features a thick palm fiber roof. Then, the foundation under Balinese lamps has tend to prefer temple stones, while Japanese lamps are coral.
Uniquely, although this garden lamp has ethnic characteristics, the house building is minimalist. The reason is to create an atmosphere that is not boring. However, the combination still shows the existence of harmony.
Of all the types of lamps that I have seen, I like the characteristics of Japan and Bali because they contain a high artistic value. The light-generated effects can the beauty of the garden at night. The slightly dim yellowish light creates a dim and romantic atmosphere. So that it makes family members feel at home for a long in the yard to relax or do other activities that require a quiet atmosphere.
Therefore, garden lights should be located well-planned. To form a beam of more beautiful light lines that touch every corner of the page. Then make the scenery around the house look beautiful. That way, the atmosphere created is very comfortable and romantic. If you often sit outside and unwind when you come home with your partner, this design is perfect for relieving your stress.
But you need to pay attention to the layout of the lamp model, and all must be designed properly. Even if you are not an architect, you can have the knowledge acquired by reading various literature and looking at house and yard designs. In addition, you should also get ideas from the various regions and places you have visited. Because it's a hobby, what I see and record in my head, I will expose to those of you who like to design houses and gardens.
Balinese-style round garden lamp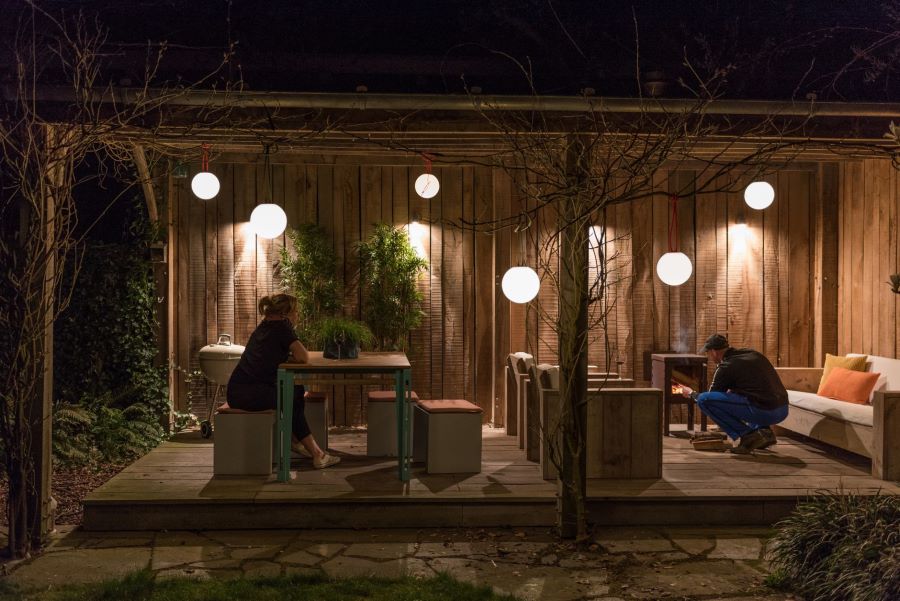 If you want a romantic touch in the front garden, one powerful trick is to put a round garden lamp. This Balinese-style garden lamp, If installed strategically, the aesthetics of the front of the house will definitely feel more serene. Moreover, surrounded by incandescent garden lights here and there. However, do not let you install garden lights excessively.
Then, keep adjusting it to the size of the front of the house and the size of the lamp itself. Then, to look the atmosphere more romantic, you can arrange traditional Balinese-style furniture like the picture above. Hopefully, this design can be an inspiration for you.
Romantic garden lights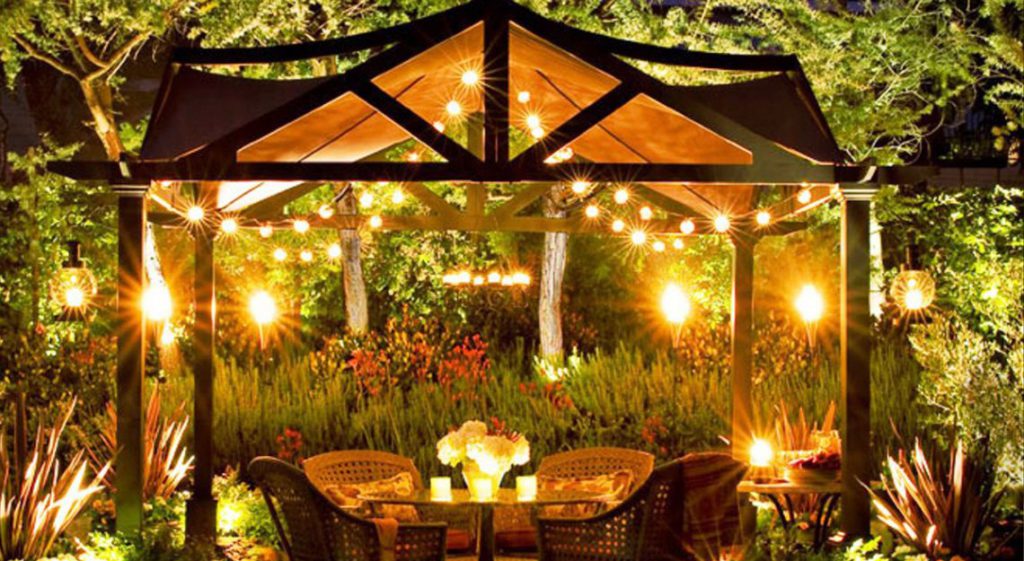 In addition to the romantic atmosphere on the terrace of a traditional Balinese house, you can also create another romantic atmosphere by arranging garden lights in an open area. If you like grilling and gathering with family, you can make events at a place like this. Home gardens are very multifunctional. In addition to beautifying the house garden also can be used as a means of open space to gather with beloved family.
To look more attractive, you can arrange a beautiful lamp around the edge of your sitting area. That way, the atmosphere of a home garden located outside will look attractive at night. Then, to not seem dark, please design garden lights according to your taste. That way, your garden design will look beautiful with lighting. Then, you and your family will be more harmonious. Happy designing!
Pergola as a pillar of lamp decoration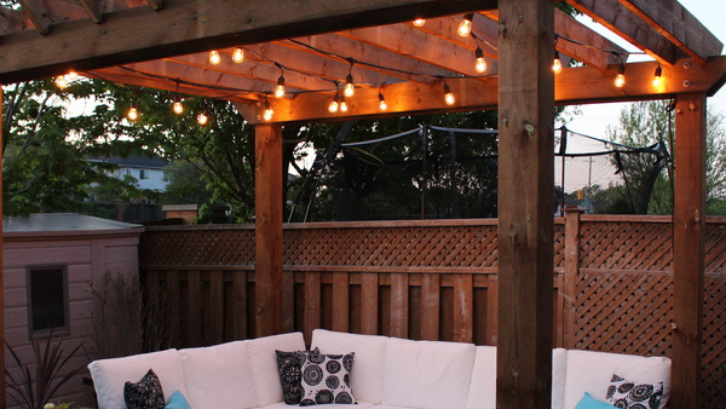 You can see this garden lamp design looks unique and artistic. By using a wooden frame from a garden pergola to attach a string of decorative lights, you can make beautify your garden. The sturdy wooden structure is ideal for placing the chandelier easily.
By installing a chandelier like a picture above, you will get sufficient lighting including the decoration of the family gathering area. To add to the lively atmosphere, you can put a sofa, comfortable patio benches, and sofa cushions. That way, the design of your pergola and garden lights will look beautiful and unique. Then, you and your partner will be more fun. Happy decorating!
Balinese-style classic garden lamp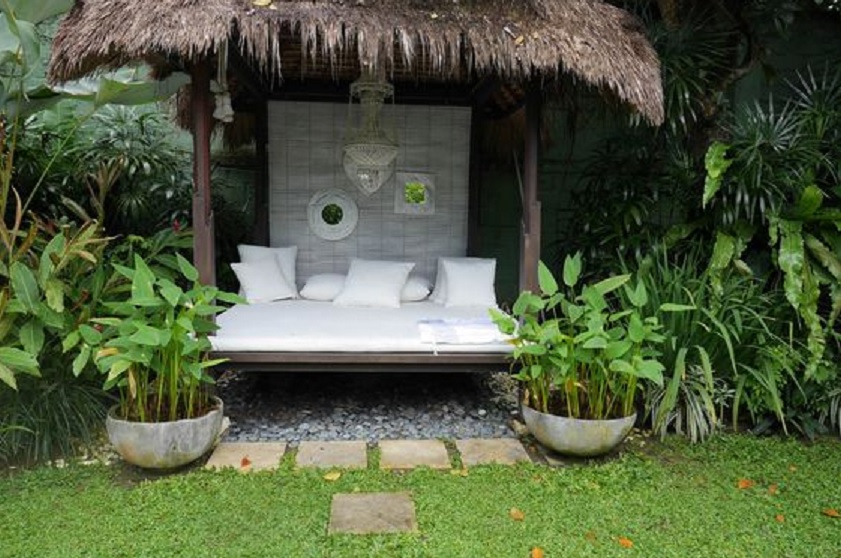 Balinese culture is very thick with the traditions of its ancestors. Even though times have changed, they have never forgotten their traditions. Therefore, the design of the relaxing places in the park has adapted to their native culture. With a small Joglo arrangement decorated with soft mattresses and white pillows which are the characteristic colors of Balinese custom, this gathering area looks more attractive.
Then, to look more aesthetic, antique chandeliers are installed on the roof of the Joglo. So that makes this design a classic design. That way, the family will feel comfortable and happy gathered in this place.
Balinese beach-style harmonious garden lamp design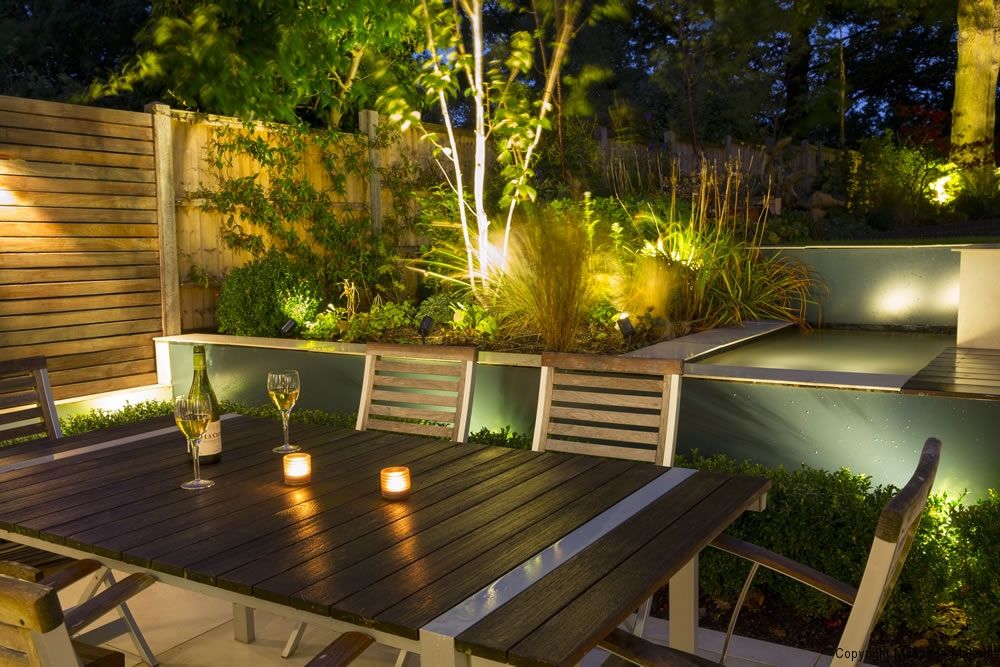 This park seems suitable for those of you who crave a harmonious atmosphere with family. The arrangement of small lamps placed on the dining table makes the atmosphere look more romantic. Then, classic model tables and chairs can make the garden atmosphere more aesthetic.
Then, to add to the warmer atmosphere, this park is decorated with spotlights installed in the garden. With this maximum lighting, the beautiful scenery in the park looks beautiful. It's like being on the edge of a Bali beach cottage. In this design, we guarantee that you and your family will look more intimate and cheerful. Hopefully, this Balinese beach cottage-style design can be an inspiration for you and your family. Happy decorating!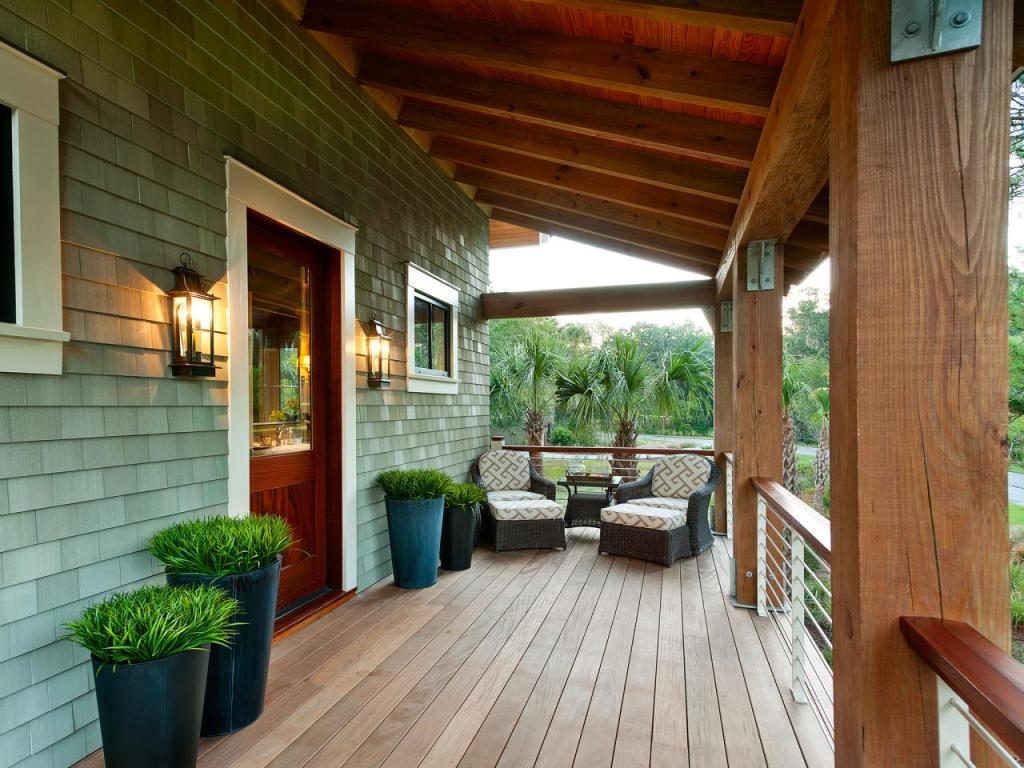 To arrange classic garden lights on the terrace, you don't have to wait for Christmas, New Year, or birthday celebrations. You can install a small decorative wall lamp on the terrace. Classical-shaped lamps mounted on the wall give the impression of being both festive and beautiful.
Then, to look more attractive, you must arrange it where the location of the decorative lights is suitable for your garden. Usually, the lamp model above can be mounted on a wall or garden pillar. That way, the lamp will look more attractive.
Japanese romantic garden lamp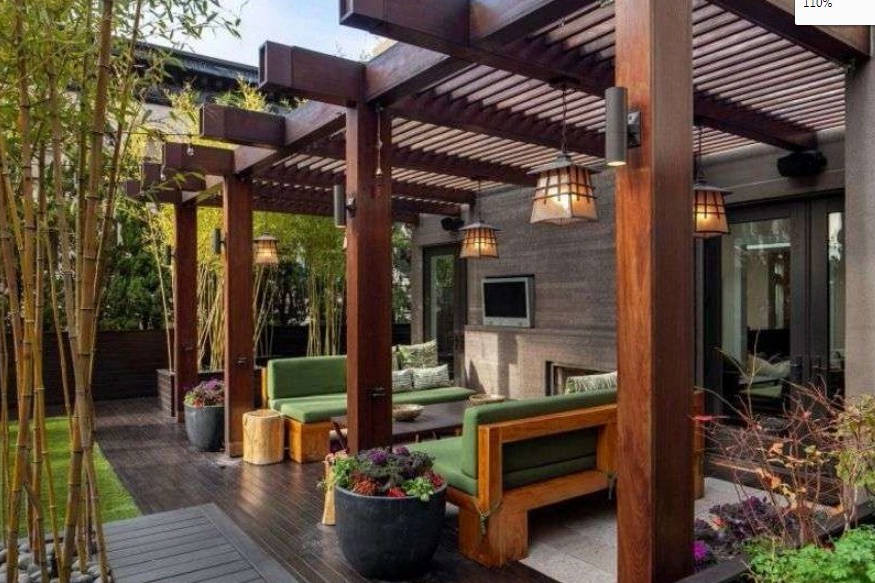 The development of garden lighting designs for this year continues to experience significantly. Both from the emergence of modern vintage concepts to futuristic ones that make the atmosphere of the home garden design more beautiful.
Then, if you are looking for references to contemporary Japanese-style garden lamp designs, you can find the best home garden lamps that are suitable for your residence. However, the garden lamp must be installed according to the garden model on your terrace. Try this lighting to illuminate the garden. So it looks aesthetic and artistic. Then, add sofas that match the lamp model to make it look harmonious. Hopefully, this design can be an inspiration for you.
Japanese garden lantern model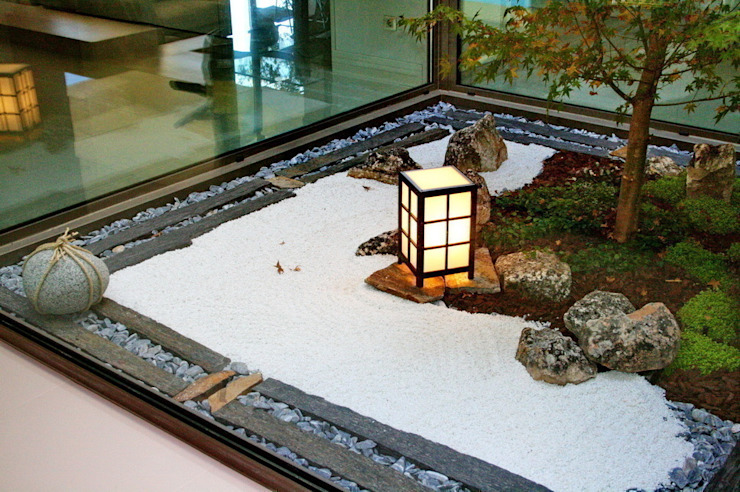 In Japan, zen gardens are generally made by utilizing the elements of natural stones and white sand. Even plants are not the main feature of this garden style. It seems incomplete if a garden is without vegetation. Therefore, the arrangement of the terrace garden has been made with the best design.
This first image shows how the details of the zen garden are cared for. Sand and rocks cover about 60% of the land, while the rest is for crops. Then, to look more attractive, this garden is decorated with lantern models to provide warmth. With this lantern model garden lamp, your garden will look antique and unique. That way, this design seems to give a romantic impression for couples who are relaxing in the garden area. Hopefully, this design can be an inspiration for you.
Zen garden oasis with wall lamp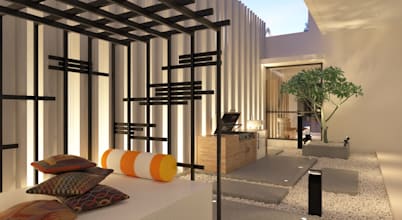 It seems that this zen garden is a bit of a Mediterranean accent. Although this garden it looks modern. However, the entire surface of the land is covered with concrete blocks and white stone, and this open area is overgrown with green trees. The facade is also relatively pale, barely contrasting.
Then, to look beautiful, this garden is decorated with spotlights placed on the wall. This design is suitable for people who are busy and have little attention to the performance of plants in the garden. Provided there is time to keep things clean. To make it look more attractive, add floor pillows and carpets so that your relaxed atmosphere with your family becomes harmonious.
Rooftop with zen garden and decorative lighting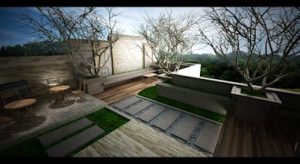 Most Japanese people struggle with classic design problems, namely taking advantage of limited open space for gardens and family gathering areas. But that doesn't mean there isn't a solution for you homeowners with limited land for a garden.
If possible, you can make the rooftop a garden. Zen gardens generally do not require a large planting area. So, the construction also does not take long. Then, to look more attractive at night, you can add lights in the seating area and corner of the garden. Then, add pots of various sizes to make them look more beautiful. With this arrangement, the garden design will look aesthetic and artistic.
Conclusion
Having a house design with a beautiful and enchanting garden can make you and your family feel at home. Families will feel happy if they can gather during leisure and holidays. Therefore, we provide some attractive garden lamp designs so that the atmosphere of your garden at night feels comfortable. That way, you and your family will be more harmonious. We hope that our review above can be an inspiration for you and make family members happier. Happy decorating!