Nexthomegeneration.com This time we bring decoration ideas again for you! Have we ever imagine sleeping in the fairy forest? In this situation, we can't go anywhere because of covid-19. It was bad to stay at home all day and makes us feel bored. But, how if we want to feel like a holiday and sleep in another place? How if we want to relieve stress? Now, we can do that and feel a different atmosphere at the home. With our ideas, it's gonna be great if life in another place besides homes without leaving the house.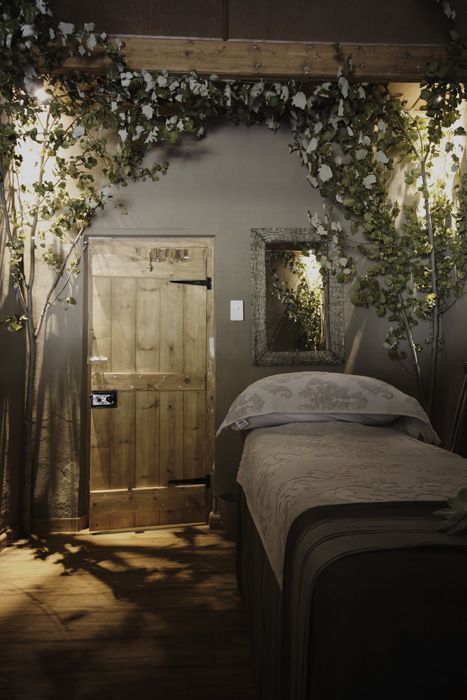 The Dark Effect from Grey Wall and Fake Plant Make Our Sleep Like in The Different Atmosphere
Choose dark colors to give a fairy forest effect to our room. We can add an artificial plant on the wall and the bed which has dark color such as grey, black, dark brown or other. It won't be good for all dark-colored bedding. Choose one of our bedding accessories. Our floor has to be a dark color or made of wooden because that will make our fairy forest concept strong. If it is possible, the door has to be made of wood too. But if it's not, we can do an alternative that paints the door with brown color or any colors which are like wood. For the window, it will be pretty if we choose a white curtain to make the room not too dark. Add a lamp with yellow lighting or a lamp that is not too bright.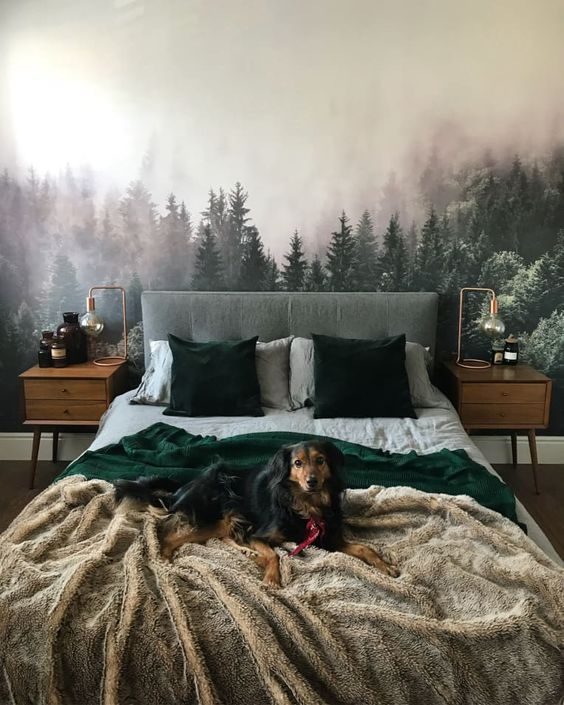 Use Forest Painting to Create Our Sleep's Feeling in The Fairy Forest And Relieve The Stress
We can paint by ourselves to make a fairy forest effect in our bedroom. If we can paint but do not have any inspiration, it's gonna be great to search on the internet to get some inspiration. It can be painted with some color to make fairy forest paintings such as choosing green, white, and black colors. We can make a sketch first with a pencil. After that, it can be started to filling the sketch with the color we have chosen. Be careful with the painting because it wasn't great if we can't erase it immediately. Choosing a combination of green, white, and brown for the color of our bed. The lamp and little table are important to add because it makes fairy forest concept feel more strong.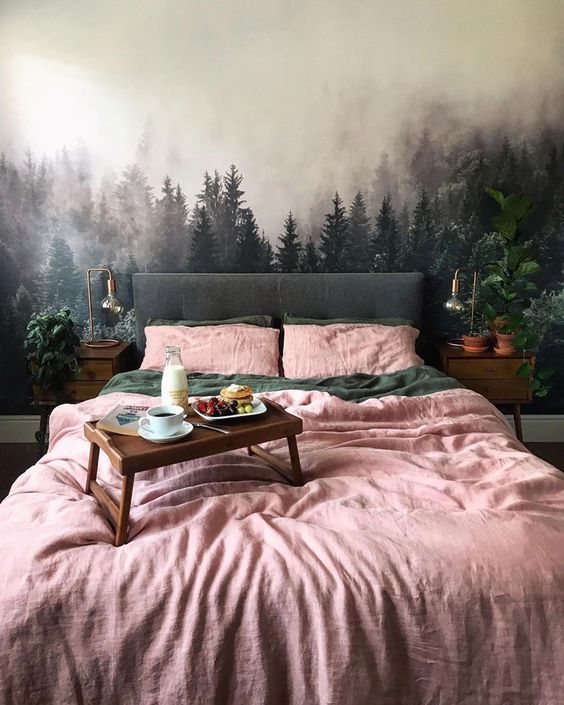 If we don't like the green color for our bed, it would be great to choose a pink and grey color for it. Because that is no make reduce our fairy forest concept into our bedroom also we can add plants or fake plants to add the impression of nature in our room. Green wallpaper is suitable to be applied to create an enchanted fairy forest interior design.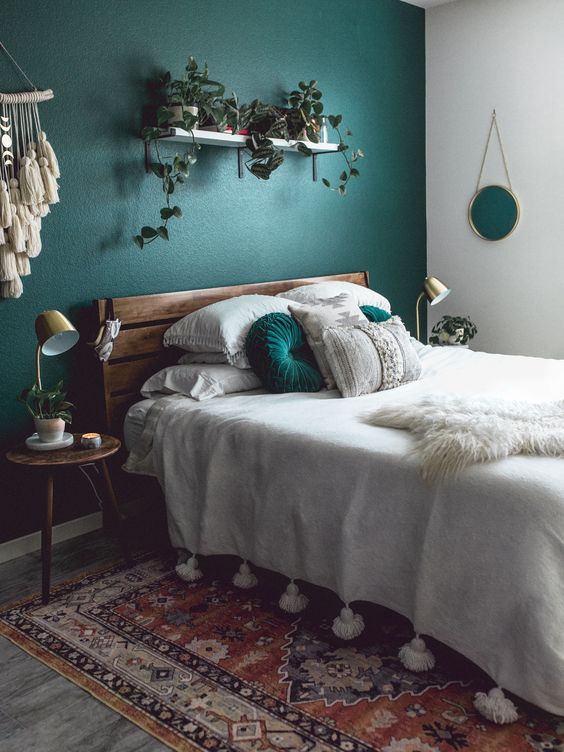 Blue Bedding with Blue Wall and Simple Plant, Give You Simple Fairy Forest Concept
This style will be great for us who like blue! We can choose white bedding and paint our wall with blue color. Also, it will be great to add carpet which has a unique pattern and put it under our bed. We can buy a small shelf and applied on the wall then fill that shelf with plants or fake plants which have a pot. That gives a fairy forest effect to our bedroom and also that it can add a Dream Catcher or our unique bag collection. This style is very simple for those who want to make our bedroom like a fairy forest and feel a different atmosphere. For the wall itself that's gonna be good to paint with a combination of blue and white or use another color combination.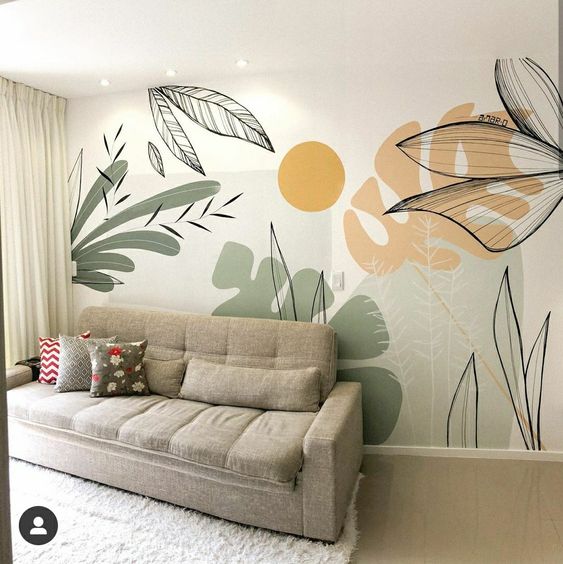 Whitewall in our house doesn't have to change into other colors or have to paint them. The concept of the fairy forest can be applied by using wallpaper as long as it is related. If we want to make our bedroom more like a fairy forest we can search for fairy forest wallpaper and apply it. But, if we want to make a simple concept and still related to the fairy forest, it doesn't matter to apply simple fairy forest wallpaper like big leaf and sun. Don't forget to choose a light brown or wooden floor to support our concept. Put sofa and flurry carpet to make our concept more simple and minimalist but also still feel the forest concept. If we more like the girly fairy forest concept, it can be good to apply big flower wallpaper, a pink sofa, and a white flurry carpet.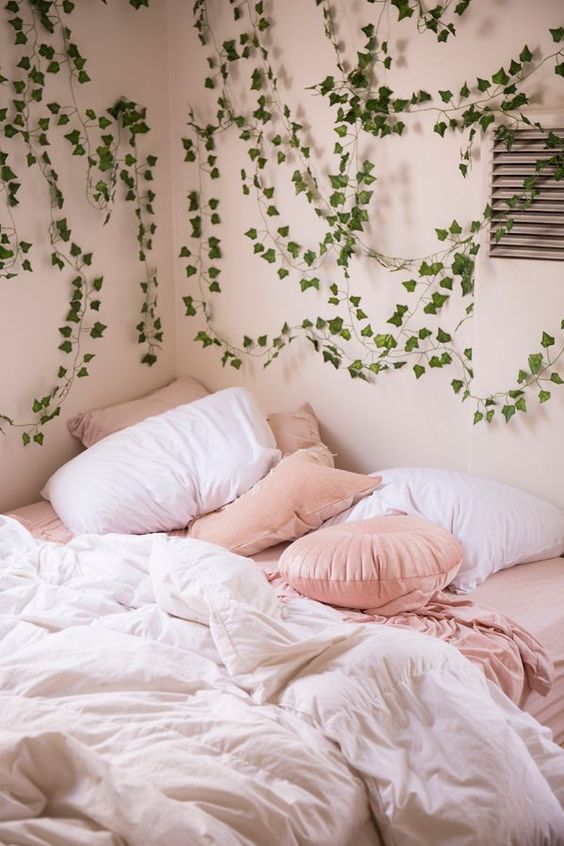 Soft Color Make Our Bedroom More Aesthetic and Still Maintain The Fairy Forest Concept That We Want
Don't want to make our bedroom really like a fairy forest? it would be great if we put on a pink bed and paint our wall to soft pink color. Also, we can paint it in any color and other colored beds. We could choose mixed of pastel and white colors to make our bedroom feel soft and aesthetic. An artificial plant can also be applied if it is necessary. We can also choose white paint for the room's ceiling so our simple aesthetic fairy forest concept is completely done!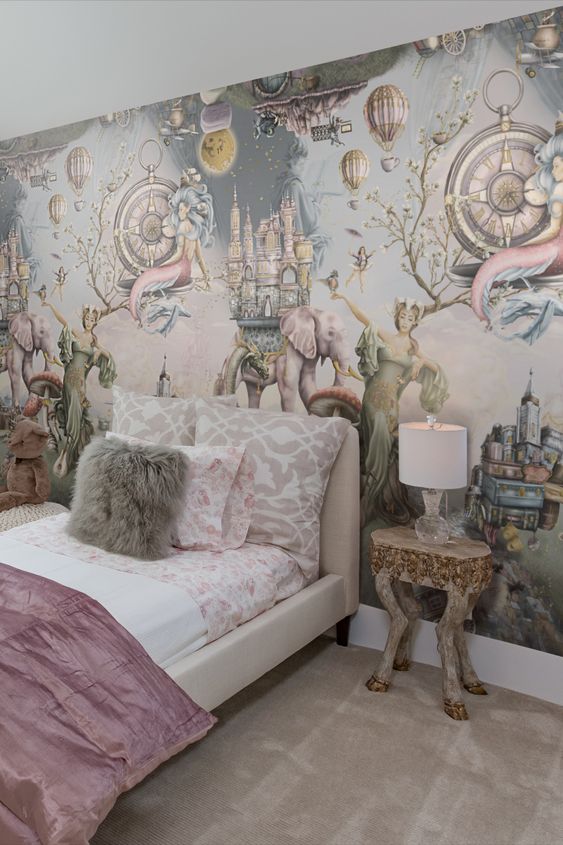 Applying Fairy Wallpaper and Little Wooden Chair to Transform Into a Fairy Forest Inspired Bedroom
Using Fairy wallpaper would certainly transform our bedroom into a fairy's concept. It would be great if we can add a vintage lamp and a little wooden table as a decoration. Also, we can add a pillowcase that has a unique pattern. It is gonna be prettier if we have a beige color bed. Don't forget to choose a flurry pillow for an aesthetic sensation. Besides, giving a fairy concept. It also adds an extra vintage atmosphere too.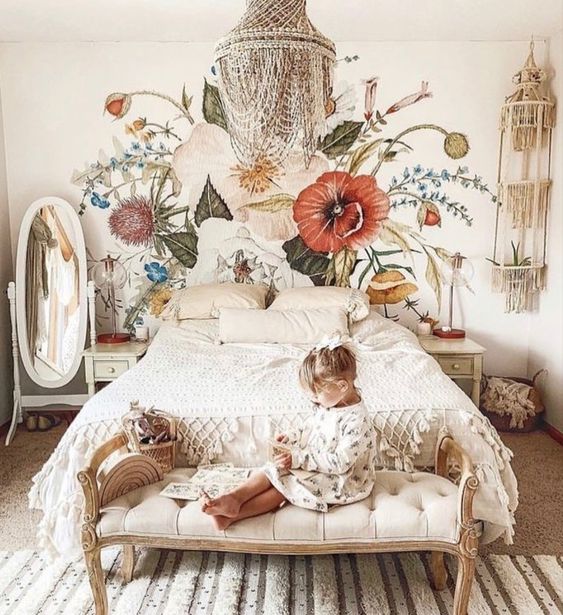 Beige Color, Striped Pattern Carpet, and Floral Wallpaper Give Fairy Concept
If we like beige color and there must be a long mirror this concept will be suitable for us! With floral wallpaper that is give a fairy concept with mini chandelier and striped pattern carpet that make our bedroom looks like fairy's bedroom. Also, we can choose another wallpaper but it will be better if we apply the floral wallpaper. It's better if we installed a long chair with a soft cushion to make a comfort zone in our bedroom so our children may not be afraid if they have to sleep in the fairy forest. This should be an alternative solution for it. This room style makes children feel comfortable in their sleep because the lighting is enough for them.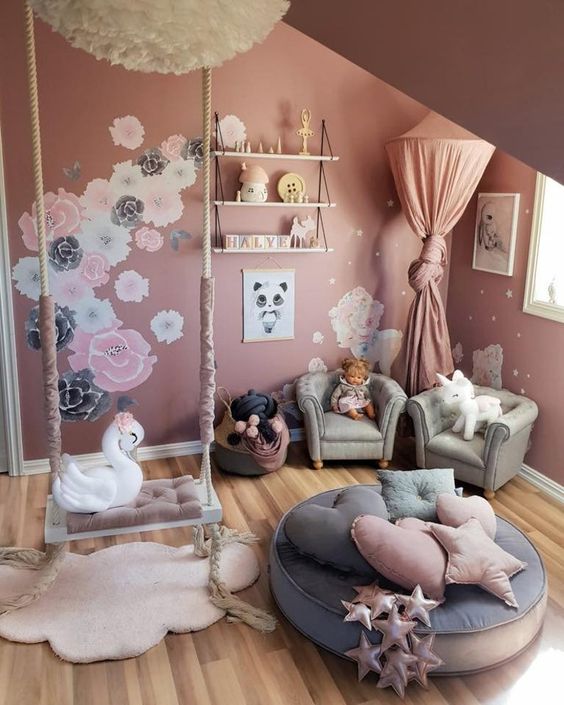 Pink Swing with Swan Doll and Little Bed Will Be Great For Children
Do our children like fairies? Of course, most of them like it. We don't have to use full of fairies wallpaper as it will be good if we apply flower wallpaper that combined with swing and swan doll on it. We can add another doll-like unicorn doll that kids mostly love. Also, we can add a flower soft carpet under the swing for children so they don't get sore if it falls. It's gonna be better if we install a white shelf for cute accessories. Don't forget to stick the star sticker or another shape to the wall where it would be amazing because we have to choose glow in a dark star sticker.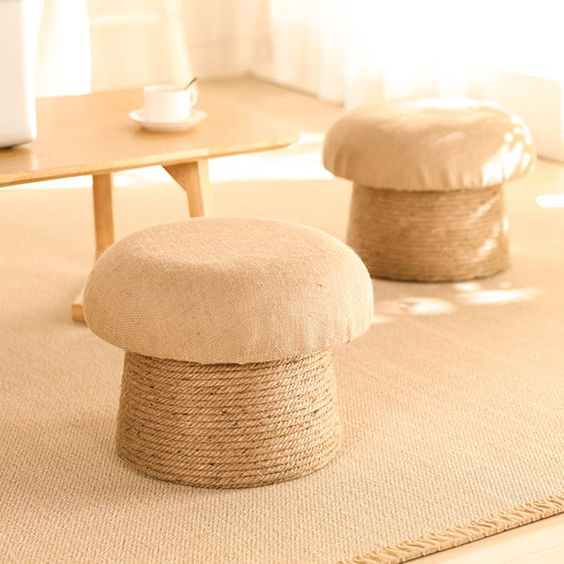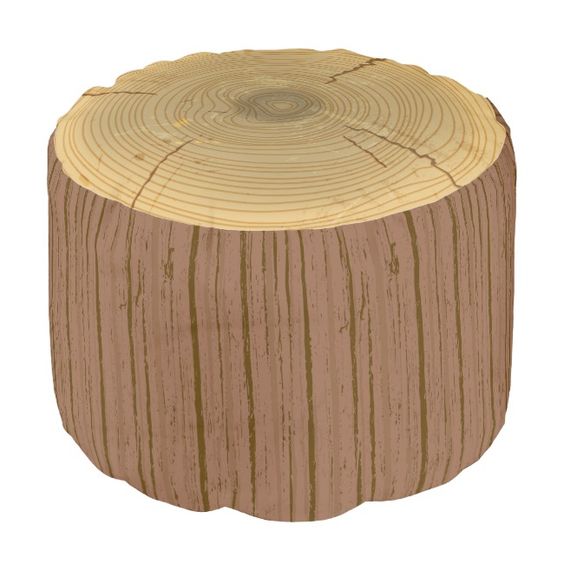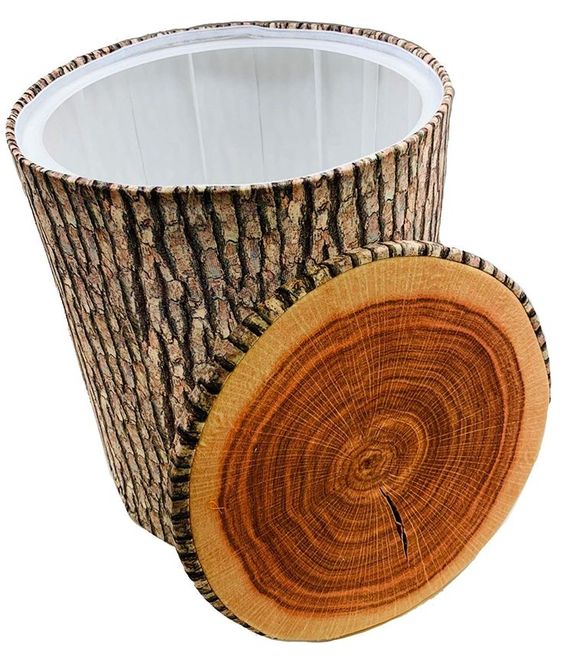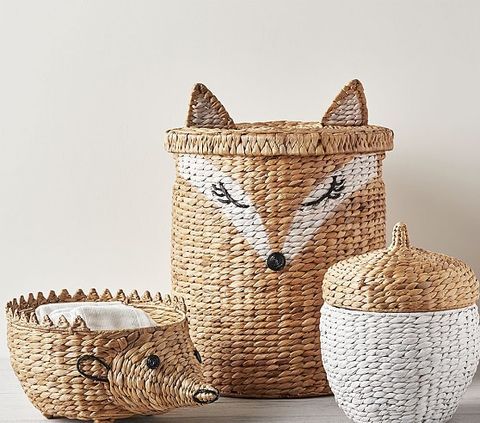 Tips How To Choose Furniture For Our Fairy Forest Inspired Bedroom
Choose wood-based furniture and maintains that original shape. For example, a chair that looks like a piece of wood, or other furniture that looks like objects in the fairy forest.
Don't forget to see the furniture's quality. If we see the furniture that has a cheap price but seems to have less strong material we should avoid it because it will be better to spend a little bit costly than getting a cheap price but it will not have long durability.
Select furniture that is made of wood it doesn't have to be painted with another paint color. Keep the original color of the wooden furniture. However, if we want to have wooden furniture with other colors it will be great to choose a neutral color that is still related to the fairy forest concept.
The shape of the furniture is important too. Choose the furniture that has a shape like twigs or even animals that usually exist in the fairy forest.
If we need a carpet, it should contain a unique pattern such as leopard, zebra, or even batik patterns. Besides supporting our fairy forest concept in our room this will also add an eccentric impression to our room which is our personal room. Of course, if we don't like eccentric things, we could choose a fluffy carpet or an ordinary carpet but with a smooth and simple pattern.
Accessories in our room are also needed. We can choose it as long as it is still related to the fairy forest concept in our room like a rattan chair or a wooden ornament and even a Dream Catcher. It would be better to add our bag collection by hanging it on the wall. If our bag collection is made of rattan or ordinary fabric is better because that makes our fairy forest concept more feels.
Do you like plants? It would be nice if add our plant collection to our bedroom. They also support our fairy forest concept. While supporting the concept it can also be categorized as beautiful plants to and turn our room cooler than before. Not only that one but also to create fresh air in our room. We can select either Aloe Vera, Snack Plant, Boston Fern, and others.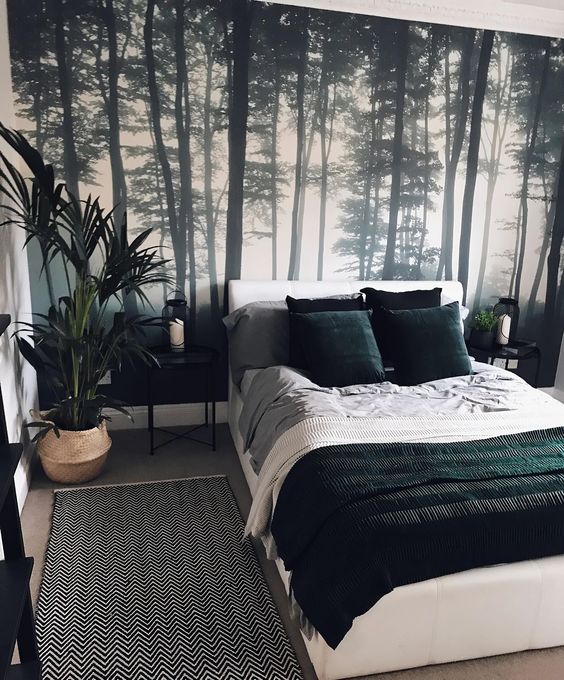 Things That We Get if We Apply Fairy's Forest Concept in Our Bedroom
Our room will feel fresher and we don't have to go outside to feel a different atmosphere. We can just stay in our home and sleep every night in our bedroom to feel a different atmosphere.
Longer stress will take a bad effect on our lives, of course, this is will disturb our health condition. In this covid-19 pandemic, we can't go anywhere and even having a holiday because there are rules that force us to stay at home during unimportant activities outside. The fairy forest concept in our room will help to relieve the stress that we feel.
The air in our room will feel fresher because of using plants for our decoration. Alternatively, we can use an artificial plant because it has a green color where it will give an outstanding feeling to the viewer.
The atmosphere is not monotonous. It would feel like sleeping outside than the house because all the objects that you applied in your room have shapes and materials from nature. In fact, if we go green we can still apply it to our room. Because we can choose furniture from recycling materials such as solidified wood waste usually for making cupboards.
It's gonna be good for kids because this concept makes us sleep in the fairyland.
Focusing on how to choose the furniture, paint color for wall, bed color, and plants that we want to apply in our bedroom. It's not easy to make our bedroom like a fairy forest. However, If we have good-quality furniture, we can apply the fairy forest concept to our bedroom. We include tips for you who want to apply this concept to our bedroom. It would be great if we choose many cute furniture to make fairy's bedroom inspired. Also, this is an alternative for us who can't go anywhere and holiday in a beautiful place. That's it from us, let's start to apply the fairy forest concept in our bedroom to feel a different atmosphere and relieve stress.