1. Overview of the children's play area in the house
Having creative children is the pride of parents. Therefore, children must pay attention to where they play. In addition, play is also an important part of the development process of the child's brain and body. While playing, children develop their cognitive and athletic skills. By playing, their self-confidence is also built and trained to become creative children.
So you as a parent must provide activities that are positive and fun for them. In this way, your child will feel comfortable and feel at home playing at home. Then, it will be easy for you to watch them play. As you know, if children are allowed to play outside the house, of course, you won't be able to fully supervise them playing. For that, we provide a review of the best ideas and inspiration for making a playground in the house.
For those of you who have children, of course, you want ideas and inspiration to create a special room to serve as a place for them to play. With a playroom, your children will be more comfortable learning and playing without making a mess in another room. However, to make it, there are several obstacles, one of which is the limited availability of land in your home. For that, let's look at the idea of ​​a children's playroom for a narrow house that can be imitated. Hopefully, our review below can be useful for you. Welcome to our review!
The benefits of the playground in the house
Making a playground at home does have many benefits for children. The playground is not just a place to play but is able to hone skills and abilities in children. These are the benefits of having a playground :
Children who play freely will have awareness of others in terms of controlling their emotions
Have good behavior because there is free time to play with friends
Making children's movements more active, such as running or climbing if these facilities are available at the Playground
Playing is one of the activities that is very fun and is needed by all children. This is because children are freer to experiment
Playing while learning can improve children's abilities.
Camping in the house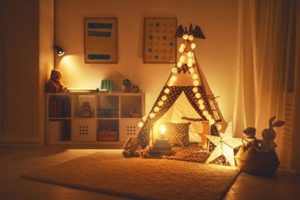 Instilling a sense of independence in children can make them confident. Therefore, teaching camping can not only be done outside the home. You can teach them camping at home by setting up the facilities they need, such as a children's play area.
Besides that, you can make your own tent inside the house as their playroom. You can also add pillows and rugs as well as accessories such as lights and various other decorations that reinforce the camping feeling. They are definitely comfortable inside and camping at home is a great experience.
Playground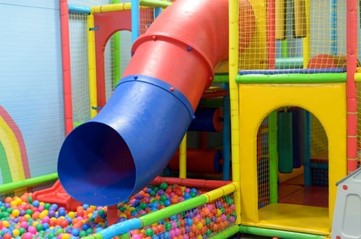 A pediatrician will definitely recommend that children get at least 60 minutes of physical activity. So, in a children's playroom, you can add a beautiful design to your home by making a mini playground or making your own. So that children can do physical activity in their games. Make a game arena that makes them happy and cheerful. That way, you can stay active and move so you have a healthy and fit body.
Cute doll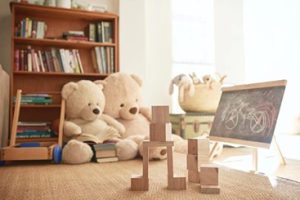 If you have a beautiful daughter like Cinderella, of course, you want to give her happiness to them. For that, you can add dolls to your child's playroom. With this furry friend, your child will never feel alone. The existence of these dolls also trains children to think creatively and always move actively. For that, you can give them some cute dolls that attract children's attention. In this way, your child's bedroom design will feel comfortable and enjoyable.
Mat as a children's playground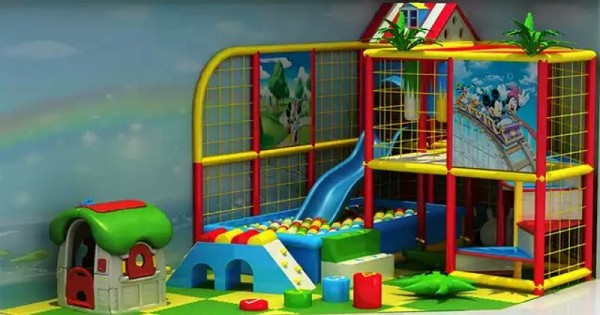 Early childhood children need a good stimulus in the process of their growth and development, namely by playing. Today, many parents make children's playrooms not only outside the room but also inside their homes.
As you can see in the picture above, the children's playroom is also a place to train the cognitive and motor skills of the baby at home. As we know, every parent wants their children to be more cheerful and active. Even so, setting up a children's playground is not as easy as it sounds. For this reason, tips are needed so that the interior of the playroom for your little one is always comfortable and safe.
Beautiful playground design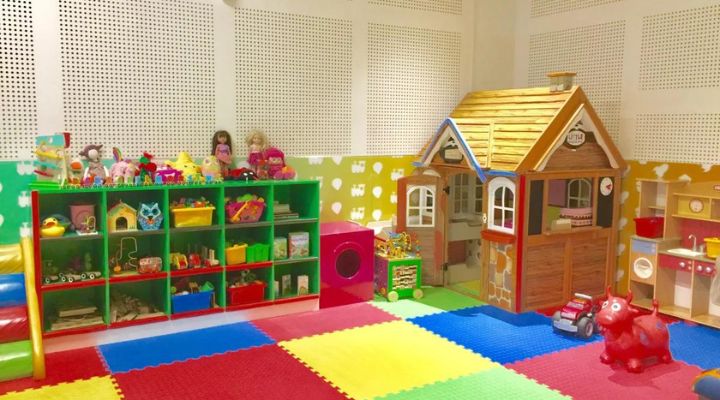 As a parent, you will love to see your child active and having fun playing. Children when playing usually use their imagination by using the toys or tools they have, you can also make a children's playground at home to increase children's imagination and development by utilizing the space that is still available. As you can see in the picture above, playhouse toys, mattresses, and storage shelves can make them happy because they feel like the owner of the house. For those who are more active, this room is equipped with fun games for them. That way, you as a parent will definitely feel happy.
Use mats for playgrounds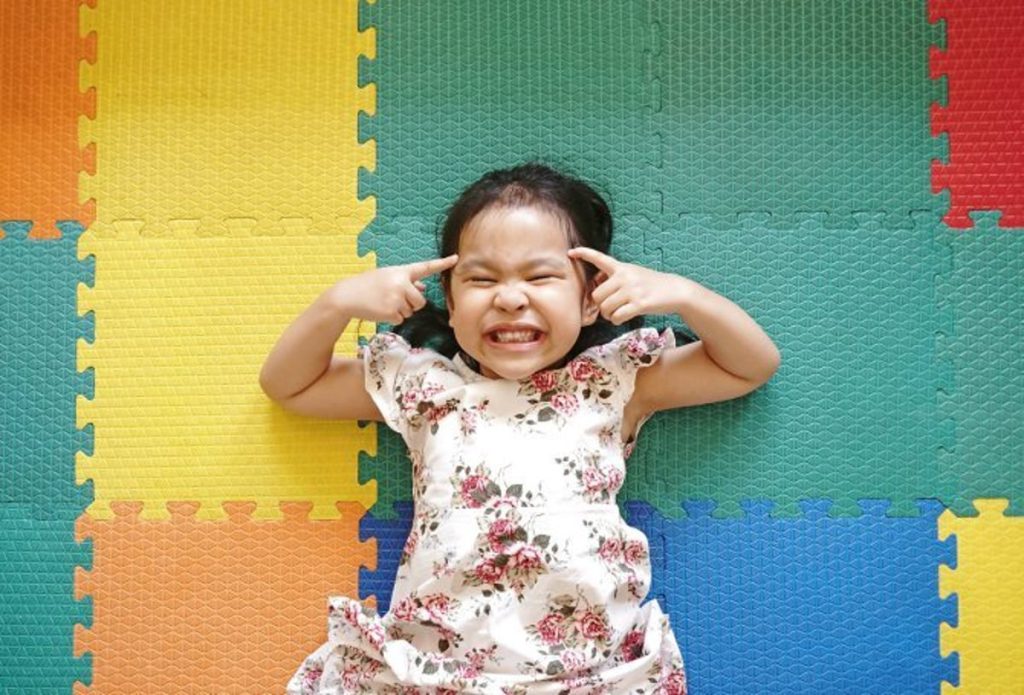 If you've ever heard of the word mat, this tool is a large mat, generally square in shape which serves as a mat for exercising, a mattress pad, and also a mat to protect children from collisions while playing on the playground.
This tool is widely installed in the home playground to protect children if they fall. Therefore, don't forget this tool if you make a climbing or slide-style playground. In addition, if this tool is arranged neatly, it will make the interior design of the house look more attractive. Happy decorating!
Provide a special playground spot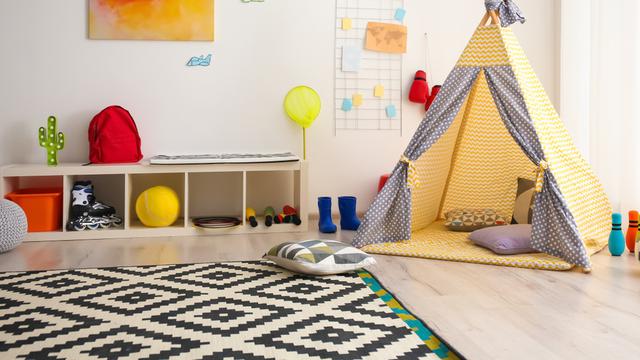 The first step that must be taken to make your little one's playground is to determine a special spot first. If there is an empty room at home, you can use it to become an exciting playground for children. But, what if space is limited? That doesn't mean it can't be circumvented. You can take advantage of the corner of the room or turn the room into a children's play spot.
Beautify with your favorite decorations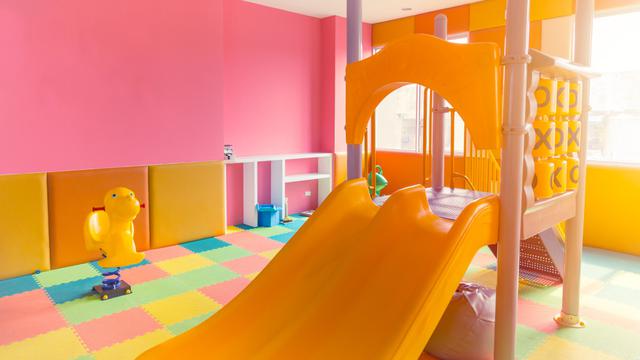 To make your little one really feel like playing in his favorite playground, don't forget to beautify the available room with the decorations he likes. Design it starting from choosing the color of the walls, to pictures of cheerful cartoon characters that are his favorite. You can also create a certain theme in the playground to awaken your little one's imagination while playing. This can support the development of children's creativity from an early age. Then, add a slide game which is their favorite toy. That way, your child will feel at home and happy.
Support the Playground with educational toys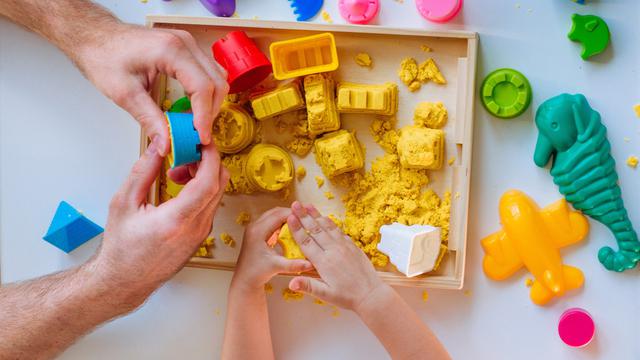 It's not a playground if it's not equipped with a variety of exciting games. But, don't just look fun. You can also provide a variety of educational games for children, so they can learn and play at the same time to support their growth and development moments.
You can prepare kinetic sand which is often your little one's favorite because it can be created and shaped according to your imagination. Through the game of making sand castles, he can practice gross and fine motor skills by building his imaginative castles. Wooden blocks or lego can also be chosen to help children learn to distinguish shapes, and spaces and learn to count. Then, you can guide them to gain a lot of knowledge.
Co-working club for children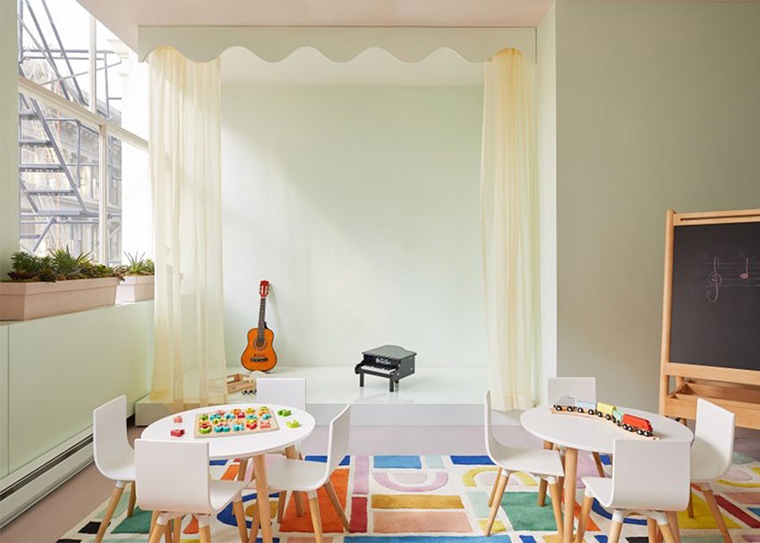 A co-working space for women with the name The Wing has just added a children's playroom for parents to leave their children while working. The children's playroom decoration is colored in pastel colors which, even though it is busy, is visually comfortable. Furniture with proportions and materials that are safe for children is placed carefully in a space that is not only for playing but also for performing music.
Beautiful game arena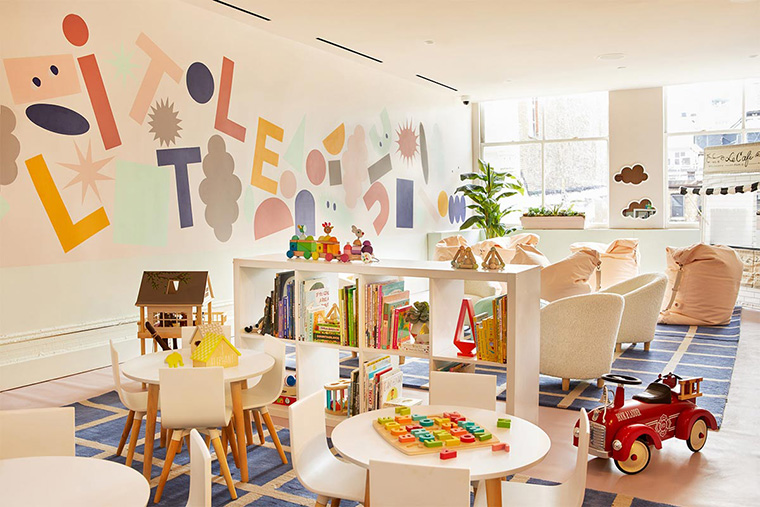 The arrangement of a neat place to play will make children more excited to play in the house. As you can see, there are several games like a small playground equipped with some interesting games. Some furniture that is intended to educate children to have a high enthusiasm for learning can make them grow and be smarter. However, you still have to supervise them so you don't get injured. In this way, your home interior design will look more attractive.
Games with household equipment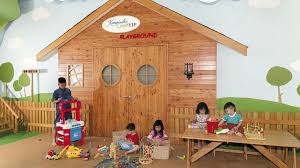 It's great to see children active and having fun playing. When playing, children usually use their imagination by using the toys or tools they have. Apart from that, you can also make a children's playground at home to enhance children's imagination and development by utilizing the space that is still available.
House toys are also recommended to have to complete the playroom. This playground is perfect for mothers who have daughters. To increase their interest in playing, complete with house toys and their contents, such as kitchen utensils or other household utensils.
Multilevel box design playroom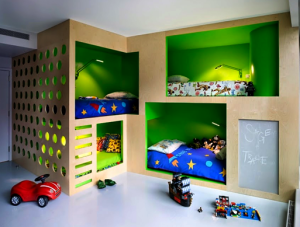 The children's playroom is the favorite place for every child in the house. Playing is a means for him to develop himself, therefore children who actively play and explore will grow to be smart children.
When playing, children need supervision from parents, because they do not know which toys are safe and which toys are dangerous. In addition, when watching children play, you can gradually provide education for children through play activities. Therein lies the role of parents in accompanying children. Then, to make them feel at home you have to prepare games that they like at home. That way they won't ask you to accompany them to play outside the house.
Study room design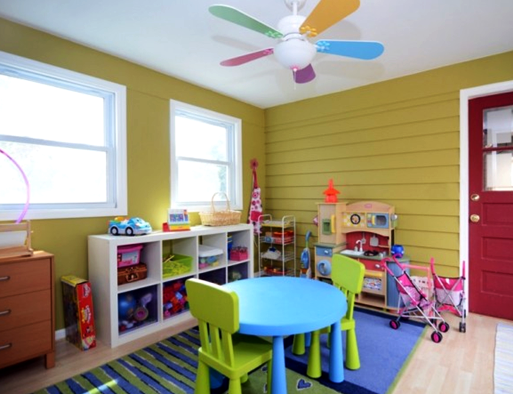 Playing is not only done outside the house, playing activities can also be done inside the house. Inside the house is certainly safer, because parents can accompany and provide supervision at any time, by providing a playroom for children that is safe and comfortable so that playing activities become more enjoyable. But to get your child used to learn, provide benches and study tables for them. Design with the colors they like to make them interested. With this arrangement, your home interior will look good.
Healthy air circulation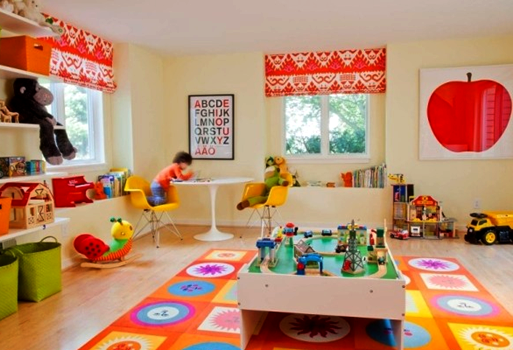 In addition to thinking about the design of a children's study room, it is also necessary to prepare decorations and designs for children's playrooms. The children's playroom in the house doesn't have to be big and luxurious, the most important thing is that the room can be used as a means of playing while learning so that children become more enthusiastic. The playroom must also have good air circulation and be kept clean. Therefore, design a glass window that is easy to open and close so that air circulation enters. That way, their playroom design will be healthy.
Conclusion
Those are some designs of children's play areas in the house that we can recommend. We hope that our review above will suit your taste. Then make your home interior look beautiful, elegant, attractive, and comfortable. But if our review doesn't suit your taste, you can order this design from a home decor company. Hopefully, our review can be useful for you and your family. Happy decorating!