1. Overview of industrial bedroom designs
Minimalist bedroom design is one of the best references today to produce a comfortable atmosphere in improving the quality of rest at home. However, some designs are more attractive, unique, and suitable for millennials. One of them is the industrial-style bedroom design. This design has been trending in recent times because of its aesthetic and unique bedroom design
This design not only prioritizes aesthetic aspects, but functional values ​​can make the bedroom look more comfortable, so you can freely determine the best spatial needs. Then, what kind of industrial minimalist bedroom design is suitable for millennials who always want to be dynamic? For that, see the discussion below. You can also take some industrial minimalist bedroom design references according to your taste..
2. Beautiful design
A beautiful bedroom design can make you much more comfortable than a room without a design. Especially if your bedroom design has been made according to your wishes, you will feel at home in your bedroom. Lately, minimalist bedrooms are trendy because they are considered uncomplicated. However, if you don't like minimalist designs, you can try using industrial-style designs. For your information, industrial design is a concept that creates a semi-finished impression but looks beautiful and pleasing to the eye.
The industrial name itself is taken from several industrial components. Therefore, industrial design is closely related to iron or dark colors. If you need the inspiration to create an industrial-style bedroom, Take a look at some examples below. Hopefully, one of these room designs suits your taste.
A touch of millennial design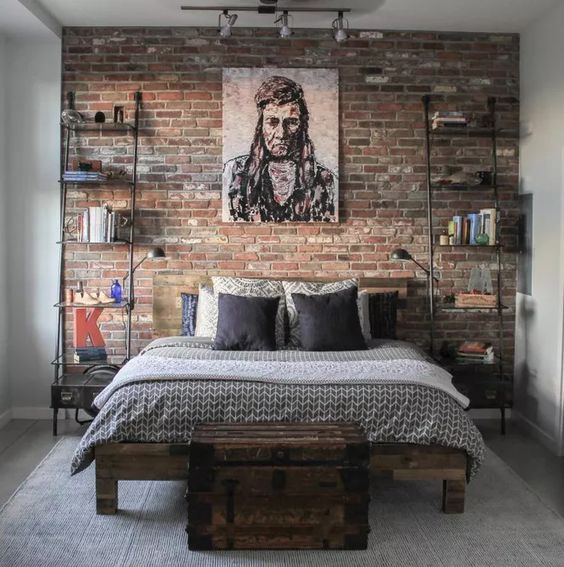 The industrial theme is indeed very close to the millennial group who likes simple designs but still prioritizes aesthetics. One of them is by applying an industrial minimalist bedroom design like the following picture. A unique touch with a combination of beautiful paintings on the walls is the best for your inspiration.
In addition to a touch of painting, the combination of open storage also makes the space more spacious and comfortable. This design is even more attractive with the addition of motif sofa pillows, iron shelves placed on the left and right of the bed, decorative lights, and a classic wooden box. That way, the bedroom design looks aesthetic and artistic.
Design in grayish-blue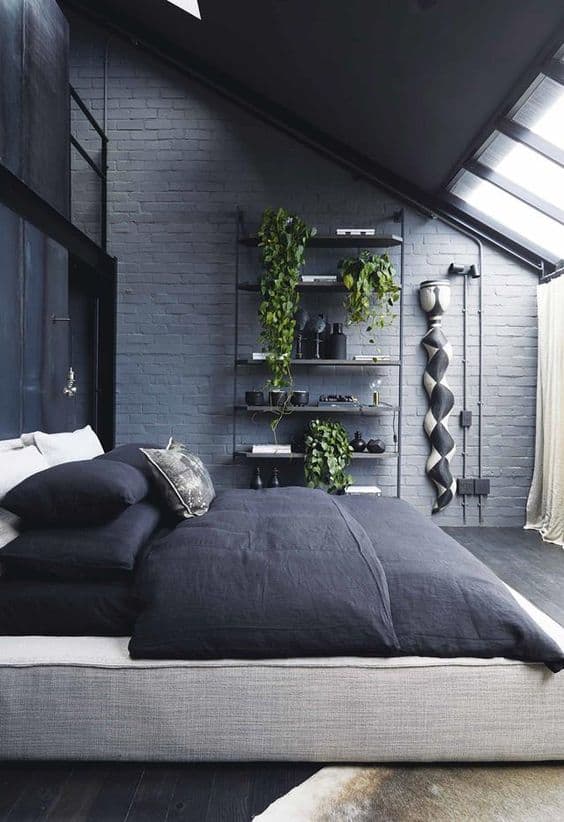 Sometimes we are bored with white rooms. Blue-gray accents can be a unique touch for your minimalist home bedroom design. A touch of blue to gray has a look modern texture and looks eye-catching. The blue and gray elements look very suitable to be combined with white for color gradations with masculine accents.
To make your bedroom design look more comfortable, you can design beds, bed covers, iron shelves, and sofa cushions in colors that match your room. Then, to not look monotonous, you can add ornamental plants. So the atmosphere feels fresher. With a design like this picture, you will be more comfortable in the room to enjoy your rest. Happy decorating!
Artistic bedroom design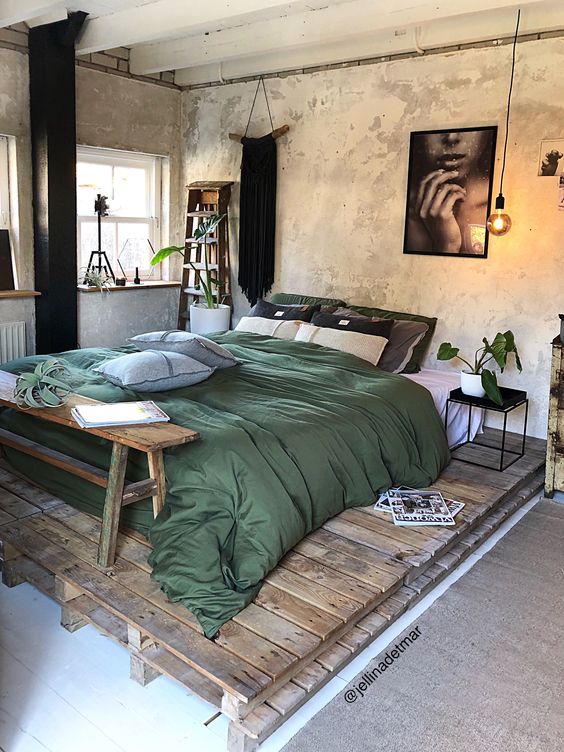 The industrial design looks messy and disorganized. This design, however, looks very eye-catching. Like the picture above, artistic themes can be combined attractively in your minimalist bedroom, especially for you as an art lover. Then, the industrial touch with a combination of photo frames adds to make the bedroom atmosphere looks more artistic. Moreover, if you are combined beautiful and bright green accents.
To add to the antique appearance of the bedroom, you can add a unique chandelier, wooden stilts for the bed, classic wooden shelves, sofa cushions, and ornamental plants beside the bed to add freshness to the space. That way, your bedroom design looks artistic and unique.
Industrial design with wood combination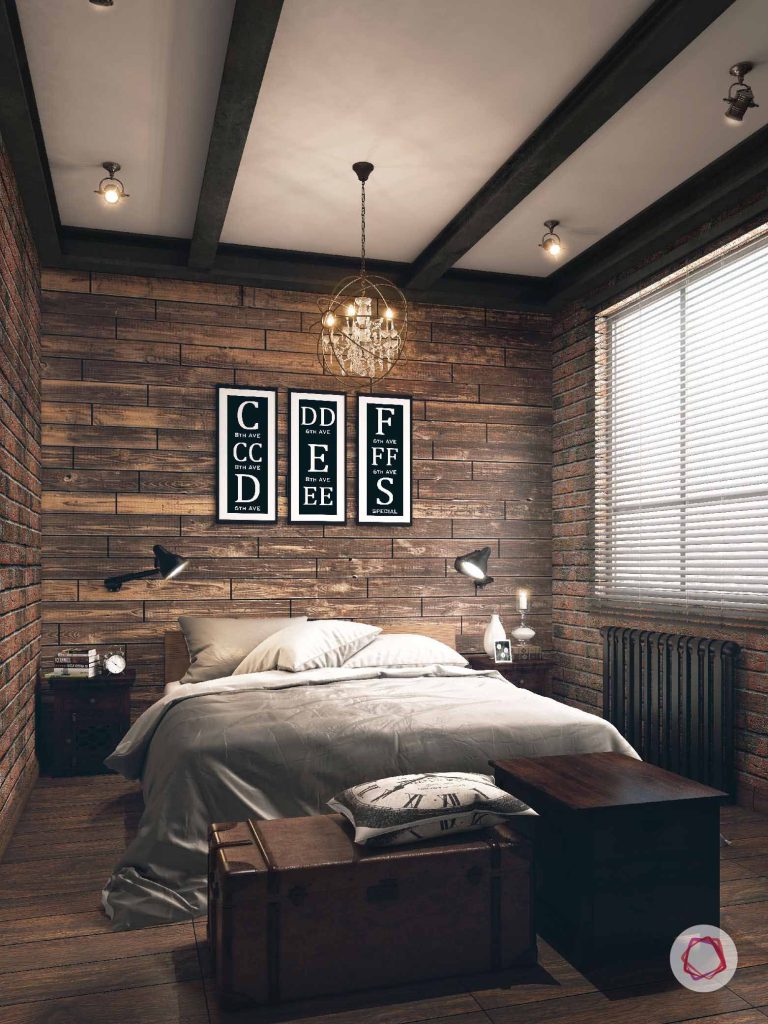 An industrial bedroom with wood designs should be imitated as one of the best minimalist bedroom inspirations. As you know, this design has a luxurious and elegant texture even though it is universally suitable for men and women. Then, the combination of wood with a decorative touch of beige creates a roomy and comfortable.
To look more attractive, you can add black wall accessories, a night lamp mounted on the walls, unique hanging decorative lights, spotlights mounted on the ceiling, wooden nightstands, and classic wooden crates. With this design, the atmosphere of your room will attract people's attention and look classic.
Contemporary industrial minimalist bedroom design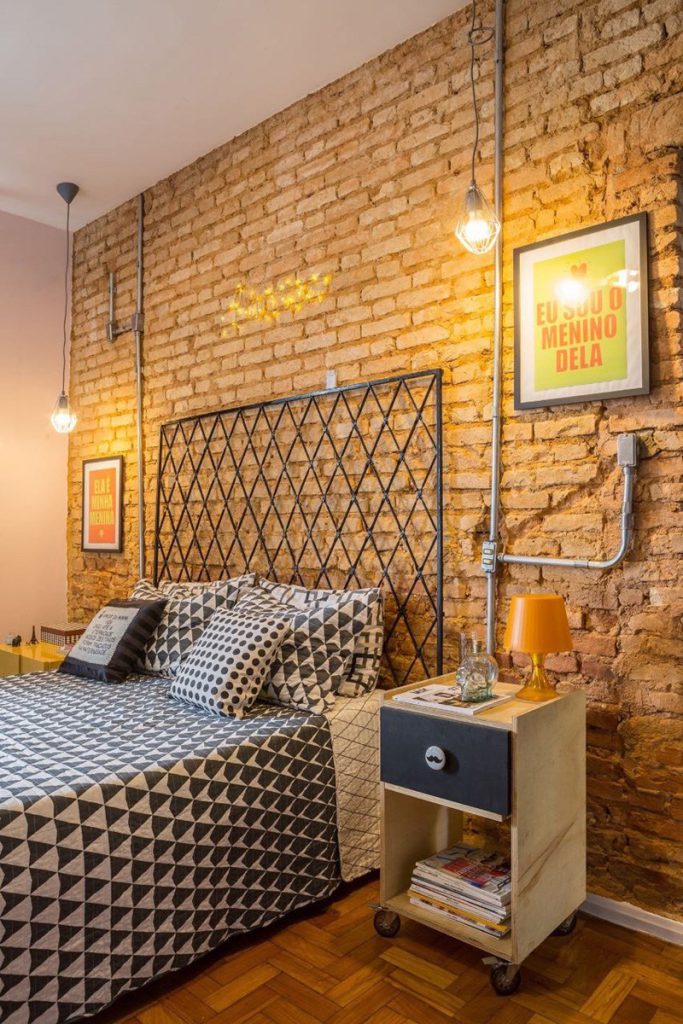 To add the best aesthetic element, an industrial minimalist bedroom design with a contemporary touch is worthy of being applied in your home. The contemporary touch in this bedroom looks unique with several accessories ranging from a bed cot, decorative lamps, and electrical pipes shaped like a network.
In addition to this combination, you can add a minimalist parquet floor to increase comfort while resting. Then you can add a chandelier for lighting at night, a wall painting, and a nightstand in the sampling bed. Then add a bedcover and sofa pillows with a motif that matches the bed. That way, the design of your bedroom will look more attractive.
Simple masculine texture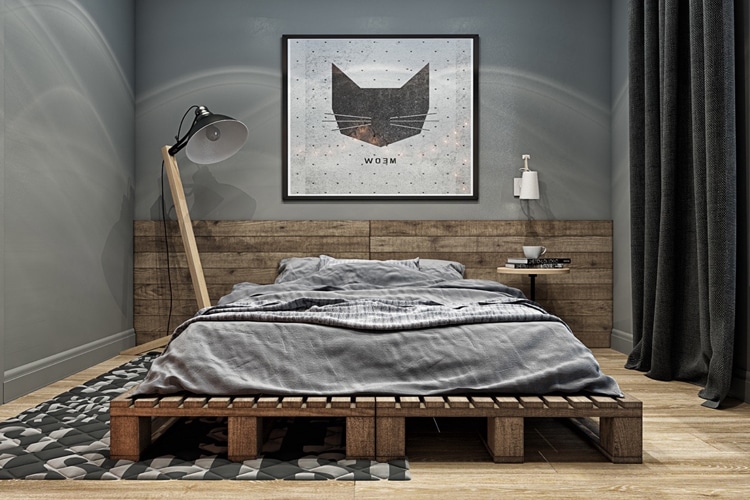 To get a comfortable sleeping atmosphere, you must look for the best design inspiration. A millennial-style minimalist industrial bedroom design like the picture above should be the best example for your dream home.
With a simple masculine touch, it gives a warm atmosphere to your bedroom and makes the bedroom look comfortable. Meanwhile, a minimally ornamented room design like this picture will add to the psychological atmosphere of the occupants of the house which is very good, so that they can feel more comfortable rest. To get maximum comfort, this bedroom has decorated with interesting wall paintings, decorative lights hanging on wooden poles, floor carpets, wooden bed stages, and comfortable beds. With this design, your sleep quality will feel better.
Bedroom with exposed brick wall design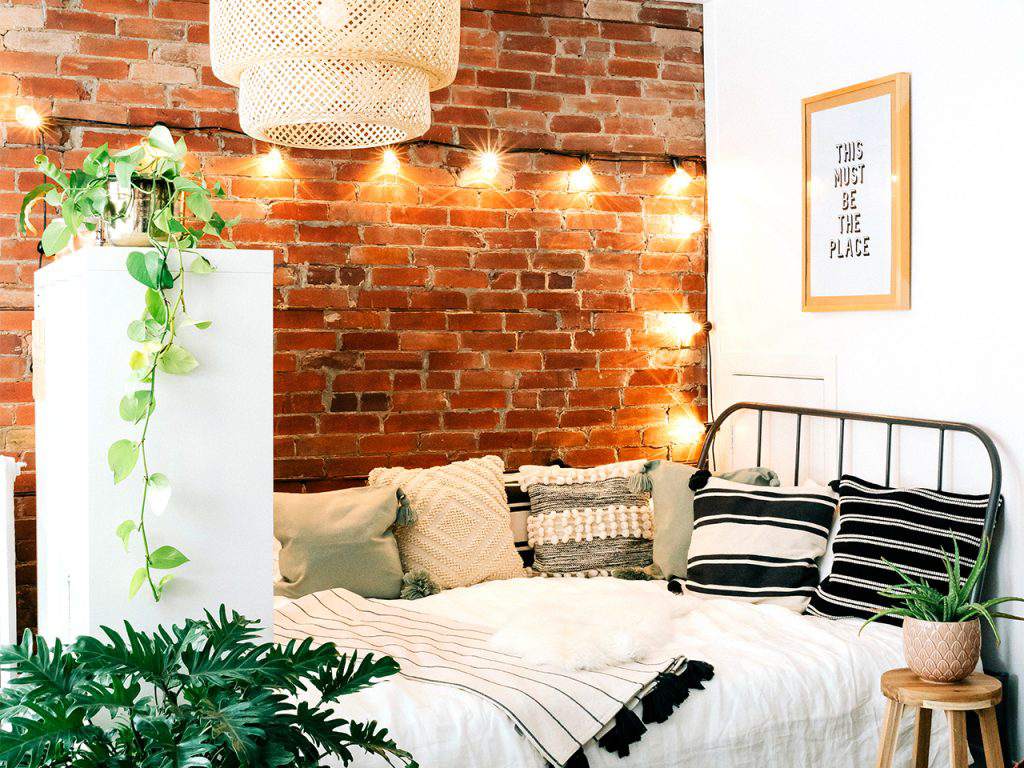 Many exposed bricks are one of the components in industrial-style room designs. The shape of the wall that has not been plastered turns out to be able to give a new, more natural color to your room. With a design like this, an industrial-style bedroom looks cool and fun.
Then, a warm impression can be drawn when you see an industrial minimalist room. Because the industrial concept in the bedroom can be combined with other concepts. Then, You can see in the photo above, the bedroom accentuates a minimalist, and impression as well as an industrial touch through exposed brick components on the walls and the selection of an iron couch..
To make the room look fresher and more colorful, you can add some plants that are specifically for indoors, wall lamps, decorative lamps hung on the ceiling, and sofa pillows with colorful motifs. That way, your bedroom design looks thick with a beautiful exposed brick design.
Timeless vintage style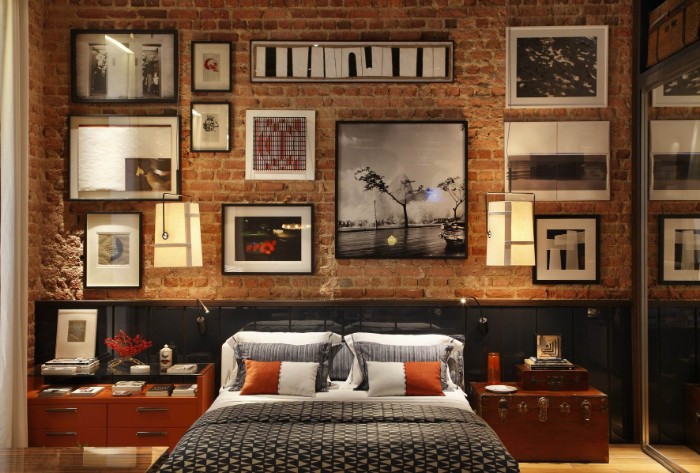 Beautiful room design can make your sleep soundly. Therefore, for those of you who don't like changing styles, this vintage industrial design is perfect for you. In addition to being unique, vintage designs are timeless, so they are perfect for those of you who are simple and need to organize your room.
To look more attractive, you can design the bedroom walls with exposed bricks, nightstands from wooden boxes to the left of the bed, wall paintings, wall decorations, and decorative lights. Then design a bed with a colorful patterned bed cover and add a pillow with an interesting motif. With this design, you will feel more comfortable resting while releasing fatigue.
Modern industrial timeless design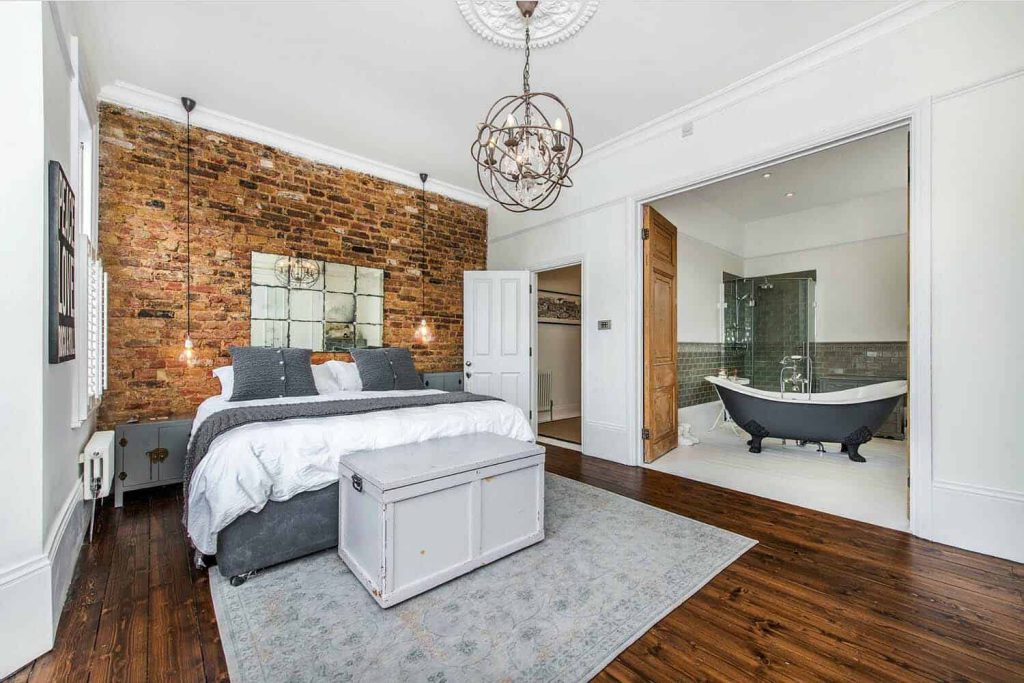 Everyone would want the design of the room to look beautiful and charming. The way is, you can take advantage of modern industrial designs for your bedroom. By utilizing the wall behind the mattress to create an industrial theme, you feel more comfortable and fun.
In addition, you can also use several other components such as iron lamps hung on the ceiling, decorative lights on the walls, floor carpets, boxes to put your feet in while sleeping, and beds complete with soft pillows. That way, your modern industrial design will be pleasing to the eye
Industrial bedroom touch with iron ornaments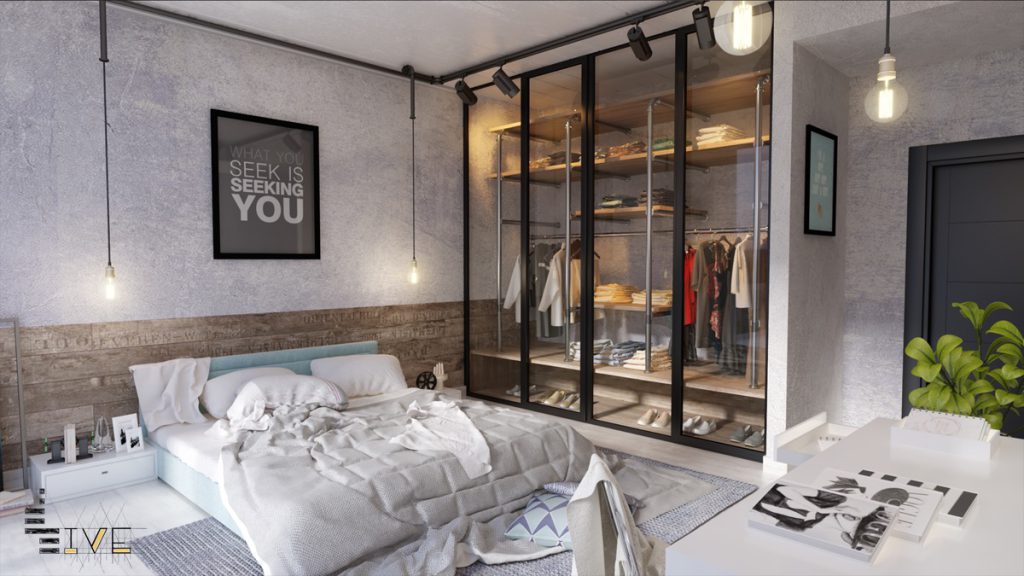 Iron material is one of the most widely used components in factories. However, iron also can be used for industrial room design and not only as a display in the bedroom. But iron also has other functions as lamp hangers, cabinets, and so on.
You can see some examples of industrial rooms that use iron as a component. Iron is closely related to industrial design. In addition, iron is also one of the characteristics of industrial design and is always combined with exposed brick. In addition, you can use iron as the material for room furniture.
Vintage warm impression with iron material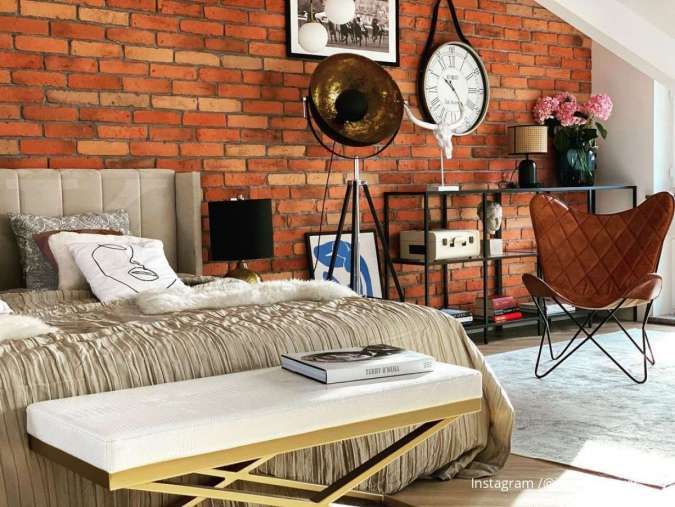 Industrial room designs always irregularly combine various components. You can see it in the picture above. The combination of vintage style and metal furniture, coupled with exposed brick walls, highlight the attractive industrial theme in this bedroom.
Then, to appear more antique and unique, this room is decorated with ancient wall clocks, wall paintings, decorative lamps, metal shelves to put accessories, iron chairs, and footpads on the bed. That way, you can create a design like an industrial-style bedroom with a warm and cozy atmosphere. That way it will make you feel at home in this place.
Industrial with minimalist design
Combining two of the most popular designs at once can make your room stand out. Like this picture, the bedroom above combines a minimalist and industrial design. Then, light-colored wooden furniture with neatly closed compartments depicts a minimalist design with bright color characteristics.
However, this light color still looks industrial because the furniture uses iron. You can see it from the bed, work desk, to display cabinets. In addition, this bright color has made like the color of cement, which is gray. Well, if you want to have an industrial bedroom like this, you can use this design as your bedroom inspiration.
Loft room with an industrial theme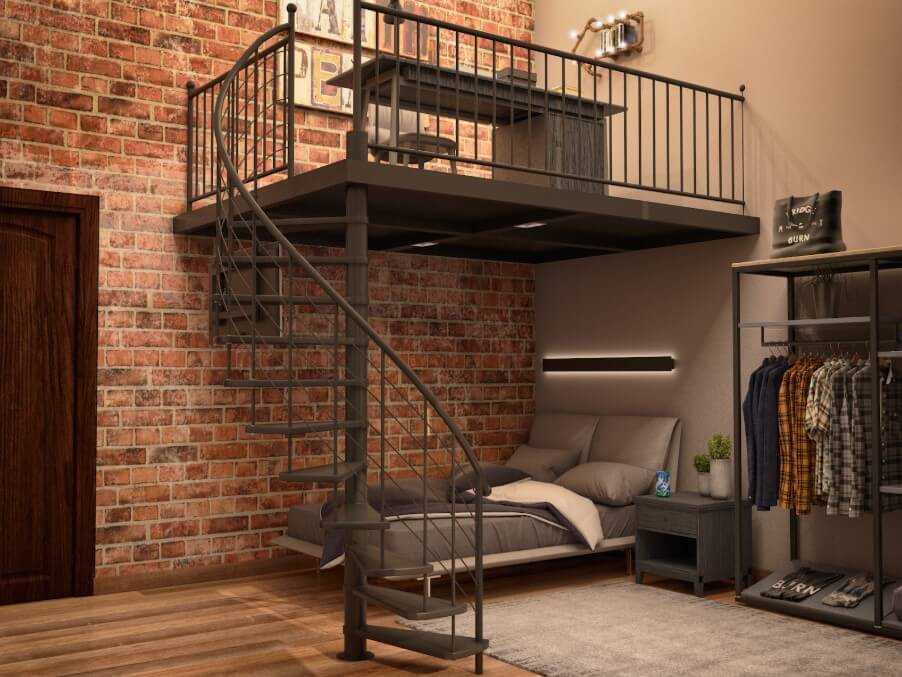 Minimalist homes usually have a limited room area. Therefore, don't worry. You can make your bedroom feel comfortable with an industrial design like the picture above. You can use a loft bed model room, so you are free to move.
Like the picture above, the industrial theme is more visible, starting from the exposed brick walls to the iron on each piece of furniture. Then, the stairs used are simple with circular stairs. Then, the bedroom uses the lower part to rest and the upper part to work. In addition, the cupboard used is also open with the main material in the form of iron. That way, your bedroom doesn't look cramped, and you can save space.
3. Conclusion
That's how many industrial-style bedroom designs you can apply to your room. In addition to exposed brick and iron, you can also use other materials. We hope the bedroom design above can make your bedroom look beautiful, attractive, unique, and aesthetic, so you and your family will be happier. Hopefully, this design can use for your inspiration. Happy decorating!