Making home improvements when you don't own the home can be tricky as a tenant. For most tenants, moving out is inevitable, so you don't want to make any expensive changes. Besides, you also have your lease to consider. However, if you plan on purchasing a house soon, you may consider renovations that increase your home's value. Still, many landlords limit what renters can change about their apartments, and sometimes these policies might seem restrictive.
Are you looking for creative ways to make your rental feel like a home? Do you want to avoid breaking your lease? Here are the top 7 budget-friendly ways to update your rental's living room.
Top 7 Budget-Friendly Ways to Update Your Rental's Living Room
1. Update the Blinds
Transform your living room into a more sophisticated version with a complementary blind. Windows blinds are a great addition to any room and make your house look more modern than its drapery counterpart. They also allow users to exercise greater control over the amount of light that enters their space. In addition, blinds provide crucial privacy and a sense of security in the home. Besides, their easy-to-use design is quite affordable and comes in several durable materials and styles. For instance, while Venetian blinds are the most popular, you can opt for a wooden or faux wood style for a rustic look.
2. Add Some Greenery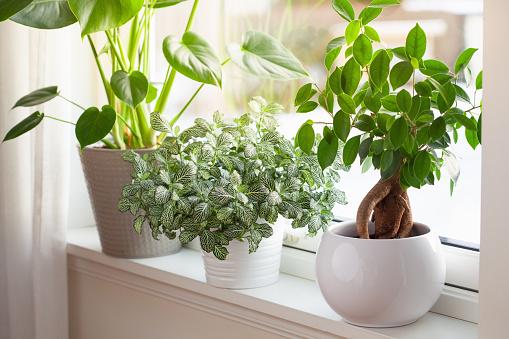 Another affordable way to spruce your living room is by adding some greenery. Houseplants are an easy way to make your home feel more welcoming. Several studies show that plants have a positive effect on our mental health. They can boost your mood, help you focus, and feel more relaxed. Houseplants add an aesthetic appeal to your living room, making it look fresh and vibrant. Professional Property Management of Northern Virginia agrees that a visually balanced living room can improve the appearance of a rental. Some gorgeous, low-maintenance indoor plants include peace lily, asparagus fern, spider plant, and phalaenopsis orchid.
3. Paint the Walls
Repainting your walls can transform a room from dingy to vibrant. It can also be a way to add more personality to the space without breaking the bank. If you want to cut back on funds, you can make it a fun DIY project. That's if you don't mind getting some paint on your hands. However, you must remember to consult with your landlord first or check your lease. Some rental agreements prohibit renters from making such changes. If you find yourself in that position, there are ways around it. Removable wallpapers are a popular alternative that comes in several colors and patterns. Additionally, they're easy to use, and you can always reuse them in your next home.
4. Grab Some Throw Pillows
Throw pillows might be small, but they can considerably impact your home's vibe. A pair of decorative pillows can make your couch less tedious and more inviting. Depending on your choice of fabric, color, and style, they can be great accessories that make your house pop. Besides the visual appeal, they're also quite comfortable. They can improve your afternoon nap if you're prone to falling asleep on the couch.
5. Hang up Pictures and Art
Amplify your living room with some personalized pictures and artwork. Displaying photos and art that have significance to you can give your space more character. It could be a conversation starter for guests in the house. It's also great to make the most of small spaces because you can use the vertical space. If your lease doesn't allow you to put nails in the wall, you can use command strips or velcro tape to hang your frames.
6. Install Better Lighting
Another budget-friendly tip is to improve your lighting situation. Ideally, your home should include a mix of ambient, task, and mood lighting. Ambient lights illuminate the whole room and refer to your ceiling and fixed wall fittings. You can swap the bulbs for LED ones that make the space brighter. Table and floor lamps at strategic corners are great task lights that can help you get things done efficiently. Finally, you can buy string lights to make your living room festive.
7. Buy a New Rug
Finally, buying an area rug can add more personality to your room. A standard rug size can introduce a warm touch to the living room, especially if you have tiles. If that's your goal, you should consider the carpet's material. The texture of wool adds more warmth, but cotton is ideal for summer. Getting one with exciting colors and patterns can also make your living room pop, especially when it blends with the furniture and walls.
Conclusion
That's it! We hope these top 7 budget-friendly ways to update your rental's living room give you some great ideas. There's no reason to break the bank to make your house feel cozy. With these economic ideas, you should be able to spice up your rental without losing your lease.