Nexthomegeneration.com – Tropical decorating ideas give a fresh impression and can relieve our stress after work. It is easy to be applied and doesn't complicate to find related decorations because we can add plants to beautify our room. For those of you who love the green color with a unique impression that won't be found in other designs, a tropical interior style is preferred for you. There are many plants that we can choose as long as it is related to the concept. We can also apply it to our bedroom or living room and even we can make all of our rooms have the same style. If you feel worried about how to apply it, we recommend applying some ideas because it will help you to feel easier while implementing the style.
Generally, some tips for applying a fresh concept are about choosing the right furniture and plants type to create a beautiful room. We can't wrongly choose them because it can ruin our design. Green furniture is suitable to be added to our room to make a stronger accent. Today, we will give you some bedroom decorating ideas with green furniture recommendations.
Tropical Bedroom Decorating Ideas
We can have an amazing bedroom if we choose the right furniture. We can add suitable sofas with a coffee table and apply a wallpaper that has a preferred pattern for our concept. We should pay attention to color and decorations selection to create a fascinating room without a monotonous look. However, how to apply it? We will give you some ideas that might help you to apply the design and we guarantee you will be amazed by the result if you apply bedroom decorating ideas for a tropical bedroom from us.
Simple And Cozy Tropical Bedroom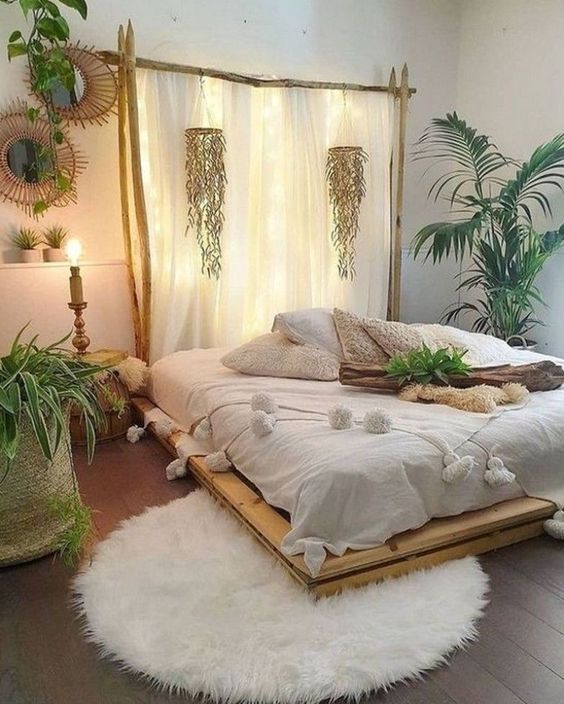 Dark brown wooden flooring is suitable to be applied in this concept then adding a round white fluffy rug. A wooden bed pedestal should be chosen to create an aesthetic impression. A white bed and bed sheet is suitable to make our bedroom look harmonious in color selection. Don't forget to add plants as decorations that will make a stronger tropical accent. We can also install a white curtain and fairy lights to create a bright impression and a warm atmosphere. Some rattan decorations can be attached to the wall to create an unmonotonous look.
Fresh Concept Tropical Bedroom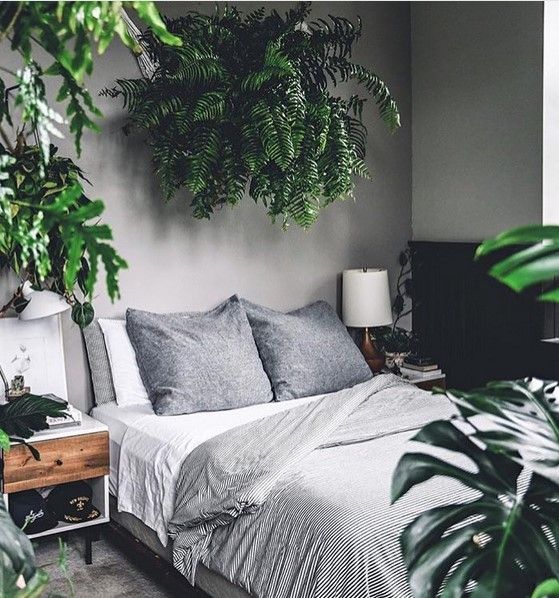 A white bed with a light grey blanket and pillows gives a beautiful impression to our bedroom. To apply tropical decorating ideas for a bedroom, we should add some plants that will make a fresh atmosphere. Dark green leaves are suitable to be combined with light grey walls and flooring. It is preferred for people who love a simple impression but want to have a tropical accent in their bedroom.
Beige Concept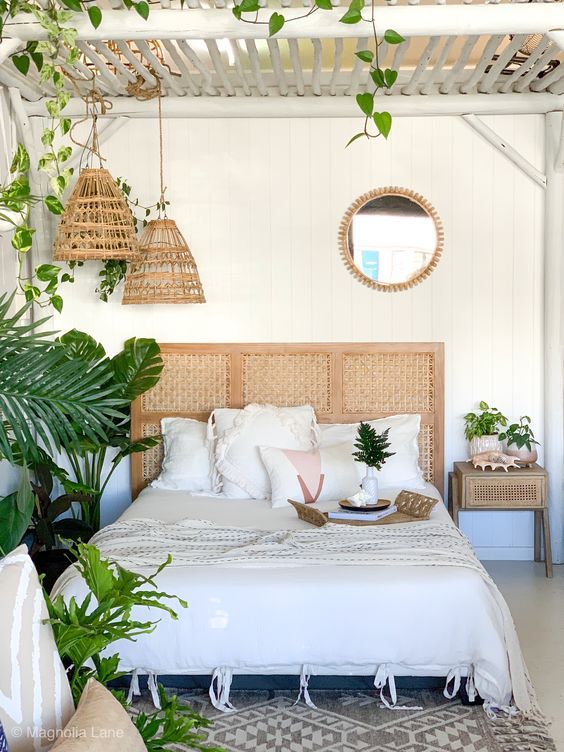 Beige flooring tiles are preferred to be applied in this bedroom concept. Don't forget to add a light brown rug as a pedestal with some plants to create a harmonious concept. We can add a rattan side table that will make us feel comfortable storing our important things. A white bedsheet with a pillowcase can be added to create an aesthetic style. If we want to make it feel bright, we should add rattan pendant lamps because it has the design that is preferred for the style. Tropical ideas for a bedroom decoration should look natural and beautiful at the same time.
Plants Pictures Decorations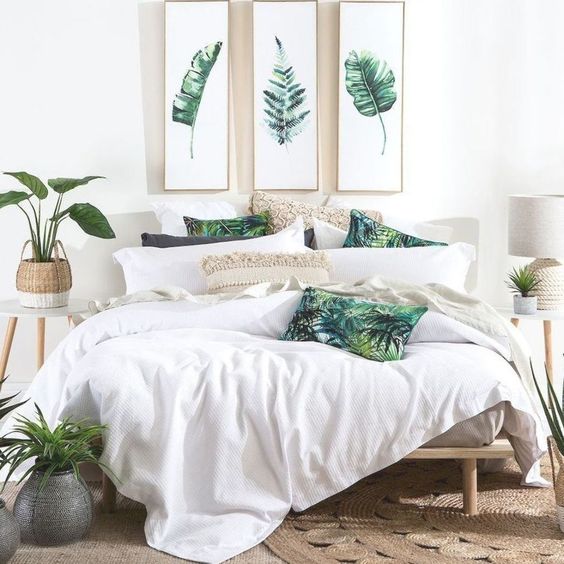 A light brown rug can be added as a pedestal and it looks very suitable for a tropical style. Some plants should be placed as decorations to create a stronger accent that will make us comfortable because it can make us feel fresh. If we don't want to add many plants to our room, we recommend attaching some pictures that will be preferred for this concept. We should paint our wall with beige color to make a harmonious concept.
Big Windows In Tropical Bedroom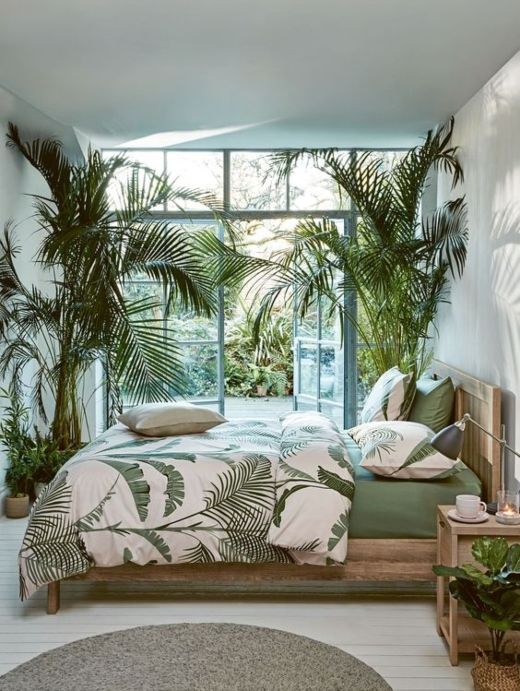 Installing a big window or glass door can give us many effects because it feels relaxing and fresh at the same time. We can see a beautiful view from the outside and create a beautiful interior design. White wooden flooring is preferred to be applied because it can create a pretty look. A light grey rug looks fascinating because it is one of the neutral colors that will be suitable for a tropical concept. Two palm trees with other little plants are preferred to be added as decorations. Light green bed with white plant pattern blanket looks harmonious to each other so it is a good choice to add them.
Tips To Choose Eco-Friendly Furniture
Green eco-friendly furniture is very good because it will keep our environment always healthy. However, we should think smart to choose it because some of them are not always suitable for our tropical room. That's why this time we will give you some tips to choose it so you won't make a mistake while buying it.
Buy Heirloom Quality Furniture
The most quality furniture is that kept out of the landfill. Investing in a quality piece of furniture is necessary to be done to prevent buying the same furniture in a short time. It will make us can have it in a long time and also keep your beautiful moment while using it. By purchasing less and investing a little more money we will save our expenses.
Buying A Little Bit Of Furniture
Making list and buy furniture base on only what we need is important to be done. It will reduce waste so we have to buy a little bit of furniture.
Furniture Should Have Certified Sustainable Wood
Trees are integral to the earth and have a function to maintain balance on earth. Unfortunately, deforestation and unsustainable harvest methods have devastated this natural resource. While looking for eco-friendly furniture, we have to choose wooden materials that have been crafted from sustainably harvested forests, tree farms, and even reclaimed wood. Products that are certified under the Forest Stewardship Council (FSC) ensure that the materials being used have been sustainably harvested.
Find Products Made With Recycled Materials
Choosing eco-friendly furniture should from recycled materials because requires far less processing and fewer resources than what's needed for producing new materials. Buying products that are made from recycled materials will support creating a healthy environment. Looking for products that are certified Cradle to Cradle (C2C), and avoid products that can't to recycled.
Bamboo Furniture
How to choose eco-friendly furniture? If you still feel confused to choose, we recommend choosing bamboo materials because they grow fast, are durable, and are easy to be made. They are versatile materials that can be purposed into flooring and modern furniture but furniture that has bamboo as the main material has chemical elements that can dangerous for us.
Reclaimed Wood
Reclaimed wood recycles is made from old buildings furniture, fences, plenty, and other places. Since wood materials have long durability and are strong especially for a solid type, they can be used to make new furniture even it has been used for a long time.
Conclusion
Bedroom tropical ideas might be suitable for us who love a fresh impression and have a small room. However, we should pay attention and consider choosing eco-friendly furniture to support our green concept. We can also create a healthy environment by using it and hopefully our tips might help you to choose it.