Nexthomegeneration.com – Who doesn't like neutral colors? Almost everyone certainly likes it, right? Generally, this color is always chosen for people who want to create a simple design or a warm bright atmosphere. Some interior styles always used it to create a perfect look. Black, brown, white, beige, are favorites for some people and are often used to create an aesthetic and cozy home. Talking about Scandinavian, it is so popular in the modern era because has a minimalist and modern impression at the same time. It is also suitable for people who want to have a simple home and don't want to apply a complicated interior style. However, how to apply this design?
Scandinavian is beautiful with unique characteristics that give us a comfortable feeling. It makes our home feel warm and bright because the design tends to have much open space. It utilizes natural light from the sun to create an aesthetic and fascinating impression at the same time. The Scandinavian style doesn't use many decorations and furniture then we should choose simple shapes and designs. The design doesn't make our home feel crowded because it has enough size. Although this design looks modern it is different from modern or minimalist style. This time, we will give you all information about Scandinavian characteristics style! Let's get to the list!
History Of Scandinavian Style
The history of the Scandinavian style has been started since 1950 and European homes are built only using wooden materials and a little bit of furniture. This is because of their characteristic is related to building style. However, as time goes by the Scandinavian homes are being built with steel and glass materials. The main characteristic of this home is a minimalist impression with an open-up space that can make our home feel wider than any design. This home more uses natural lights from the sun than using a lamp.
Scandinavian Concept House Design Principles
The main purposes and concepts of Scandinavian design would improve the aesthetic design and make us feel comfortable while staying in our home. To create a perfect style, we should add a little bit of furniture and prioritize the functionality than the design and shape. In the Scandinavian building style, natural materials are related to furniture and decorations usage. This design combines natural, simple, and minimalist interior design at the same time where it is combined with wooden, rocks, or rattan furniture.
Scandinavian Style Characteristics
Before applying a Scandinavian style, we should pay attention to a characteristic that is necessary to make us feel easy while applying it. By knowing it, we can avoid making a mistake and create a perfect design. Every interior design always has it because the characters make every style looks different. This time we will give you some information about it.
Having Much Open Space To Utilize Sunlight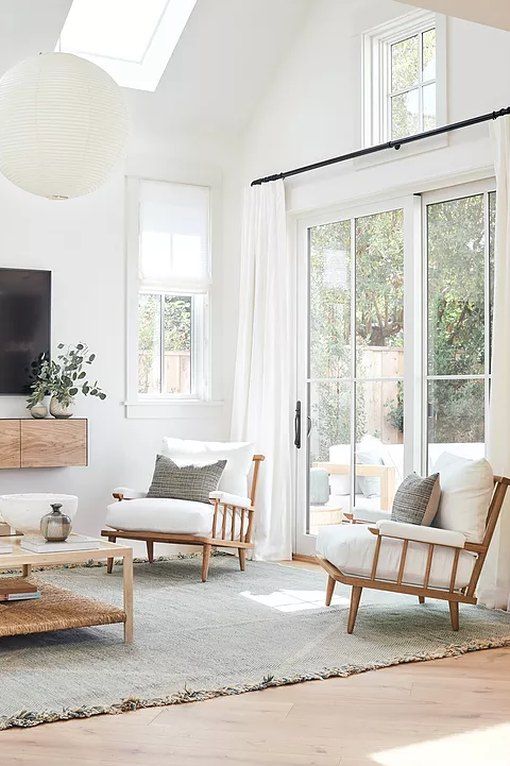 Installing windows in the Scandinavian home design is necessary to do because it can make our home feel bright and comfortable. Much open space with natural lights is the characteristic of a Scandinavian home. Placing wooden tables and chairs where it is combined with wooden flooring creating a harmonious concept. By using it, we can also make a stronger interior design. Sometimes a light grey carpet can be added as a pedestal and makes our home feel warm.
Prioritizing Simple And Functional Furniture
Some people might want to add many furniture because they find many beautiful designs that will be suitable for the style. However, in Scandinavian, we should add a little bit of it and prioritize the functional than the design or shape. Make sure we choose simple furniture and decoration to create a stronger accent.
Using Neutral Colors
White, beige, black, brown, and grey are neutral colors that we can choose to apply a Scandinavian interior design. Actually, making a combination can make the design look prettier than using only neutral colors. However, if we don't pay attention to the color selection we can make a mistake and ruin our concept.
Sleek And Simple Furniture
Other designs might use big and luxurious furniture to create a stronger accent and makes a perfect impression. However, the Scandinavian style doesn't need it and tends to have simple and sleek furniture which creates a wide impression with fascinating looks.
Scandinavian Interior Style Elements
After knowing about the characteristics, history, and principles, this time we will give you some important elements that should be used in the Scandinavian interior style. By knowing it, we can create a fascinating look and don't feel complicated while applying the design. Now, let's get to the list!
Wooden Flooring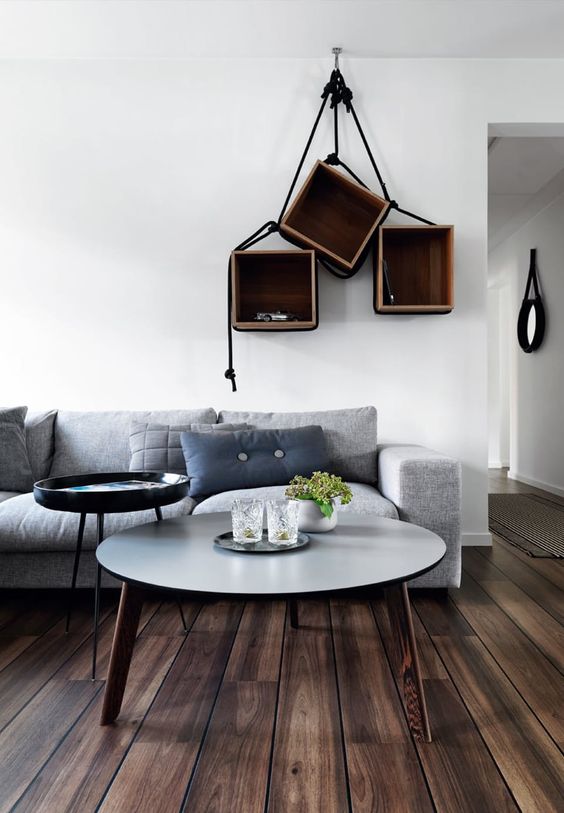 Scandinavian style infrequently using a carpet and tends to apply wooden flooring. It can create a natural impression and sometimes wooden materials are always used in this style. Not only for the flooring, but it can also be used for furniture and decoration selection.
Using Bright Colors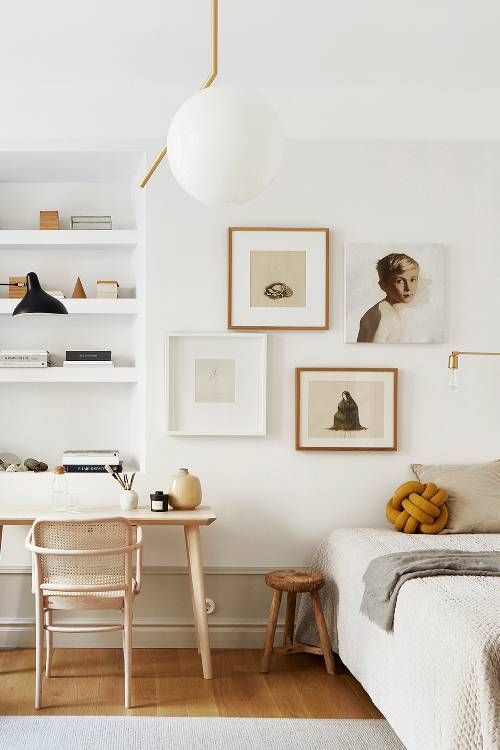 Scandinavian style is related to the bright color where it creates a comfortable and wide impression. Besides beige and white that are often found in the design, sometimes we can find gold color accent is some furniture. We can also apply wooden tiles for flooring and create a stronger interior design.
Minimum Decorations
Some people might love to beautify their home by using many decorations and if you are one of them, a Scandinavian is not suitable for you. The design doesn't use many things because it tends to have a simple impression. We should minimize it and pay attention to function then the display. However, if you want to decorate it, we can use a little bit of decoration to create an unmonotonous concept.
Maximize Natural Lighting
Scandinavian countries have midnight sun and because of it, many people install big windows to maximize natural lighting from the sun. That's why the big window is one of the Scandinavian design characteristics.
Plants Decorations In Scandinavian Homes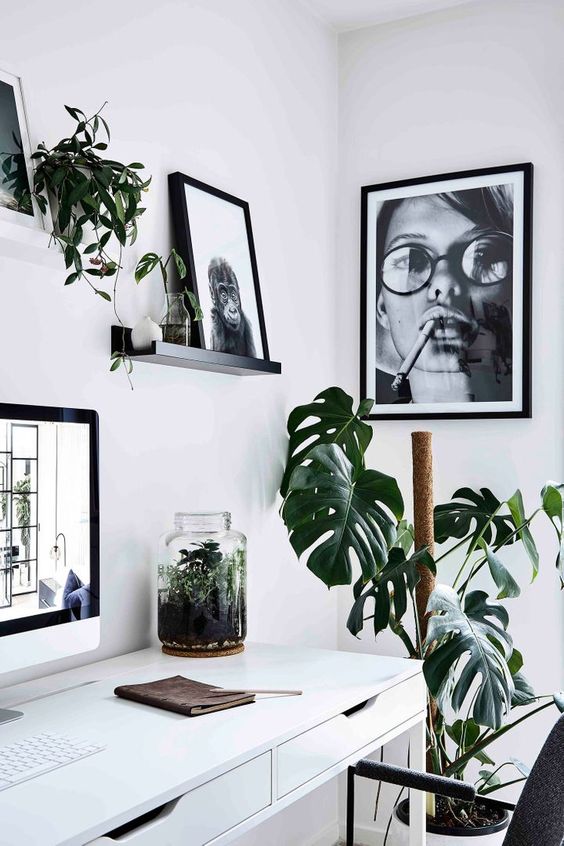 If you want to have a fresh impression with an aesthetic design, a Scandinavian interior design is suitable for you. We can add some plants as decorations to make a perfect design. It can be combined with white furniture and decoration which makes a stronger Scandinavian accent.
Simple And Unique Fabric
We might often see a fabric in the Scandinavian design and actually, it can be used as decorations to create an attractive impression. We can also create a warm atmosphere and comfortable feeling by using it. We should choose a simple but unique pattern to create an aesthetic and cozy style at the same time.
Conclusion
Knowing all information about the Scandinavian characteristic style is important to create a perfect look. We should pay attention to decorations selection and create a beautiful look. Actually, it is not complicated to apply this design except we don't know the characteristics, elements, and even history of the style. Hopefully, by knowing information from us we might help you to apply it.