Nexthomegeneration.com – For new couples certainly are very happy for having a baby in their first life after marriage. We definitely want to create the best room for our baby and want to make everything is perfect. There are many things that we have to consider for making the newborn baby room. If we make a mistake it can affect our baby while sleeping. Good decorations in a house can also make our baby have a good sleep. That's why we have to make sure to add the best decorations in our newborn baby room. Today, we will give you newborn baby room decorating ideas with the best humidifier to help you create the best room for your baby.
Newborn Baby Room Decorating Ideas
A newborn baby room is necessary to make for making our baby feel comfortable while sleeping. It can also make us proud for making the best room for our beloved baby. Sometimes we feel confused about how the first step in making it. Don't worry, because this time we will give you some decorating ideas that you can follow for making a newborn baby room! By using our ideas we can be sure it is gonna look pretty and fantastic! Now, let's get to the list!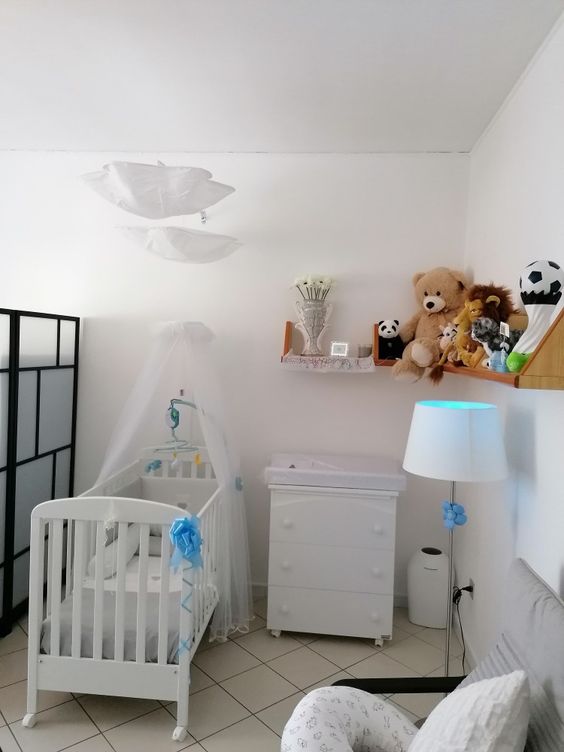 If we have a small space in our home but still want to make a newborn baby room, don't worry about that. A simple concept is suitable for people that don't have enough space to make room again. We can utilize the remaining space in our home by adding a crib in it and make a special room for our baby. To make it look prettier, we can add a transparent curtain to it. Don't forget to add some decorations like dolls on the shelf that stuck on the wall. We should add a humidifier and lamp to make it brighter and have sufficient humidity.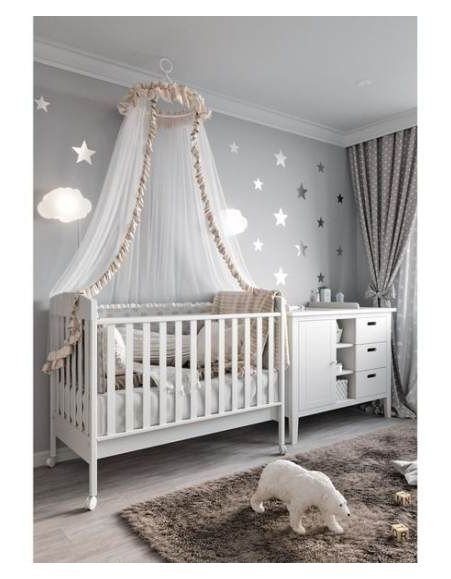 For those of you who want to make an elegant room for your baby, this concept is very suitable for you. It also suits a boy or girl baby because it has neutral colors and decorations where it won't bind to one gender. As usual, we do it while making a newborn baby room, we should add a crib for our baby to sleep. We can choose a white crib and cabinet to make an elegant and aesthetic concept at the same time. To make it prettier and brighter, a cloud wall lamp and star sticker can be added to the wall. A light grey curtain can be installed on our window to make it look fascinating. We can also add fluffy carpet to make our room look gorgeous and aesthetic.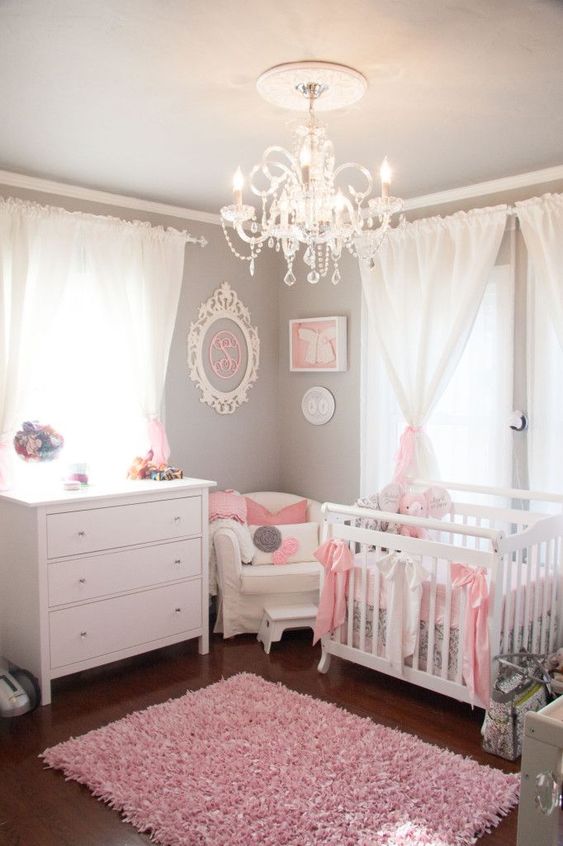 A feminine concept can be made with pink furniture and decorations that will make it look enchanting. We should install a white curtain to make it look pretty and cover our window at the same time. We can paint walls in grey color because it is preferred for pink furniture that we will add later. A white crib is a must to add because it is a place for our baby to sleep. We can add a pink rug to make it more beautiful and won't look monotonous. A white cabinet and chandelier can be added to it for making a brighter and elegant newborn baby room.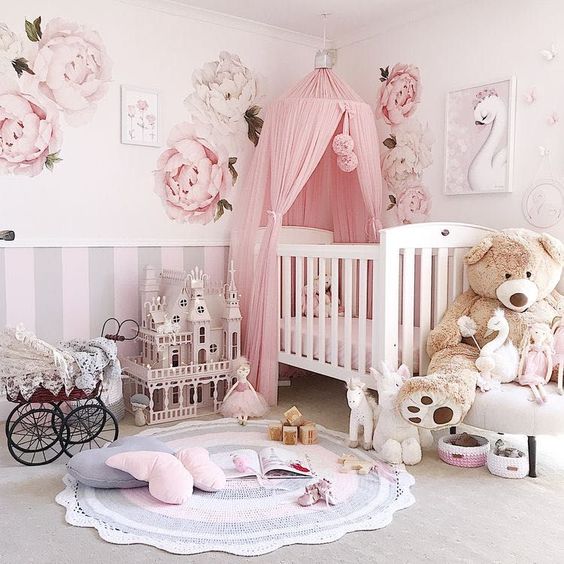 To make a cute concept for our newborn baby room, we should apply a rose flower wallpaper and add some cute decorations. We can add a big bear doll, butterfly pillow, and castle ornament with a princess doll. A simple rug in light grey and pink color can be added to our room to make it look prettier than doesn't use it at all.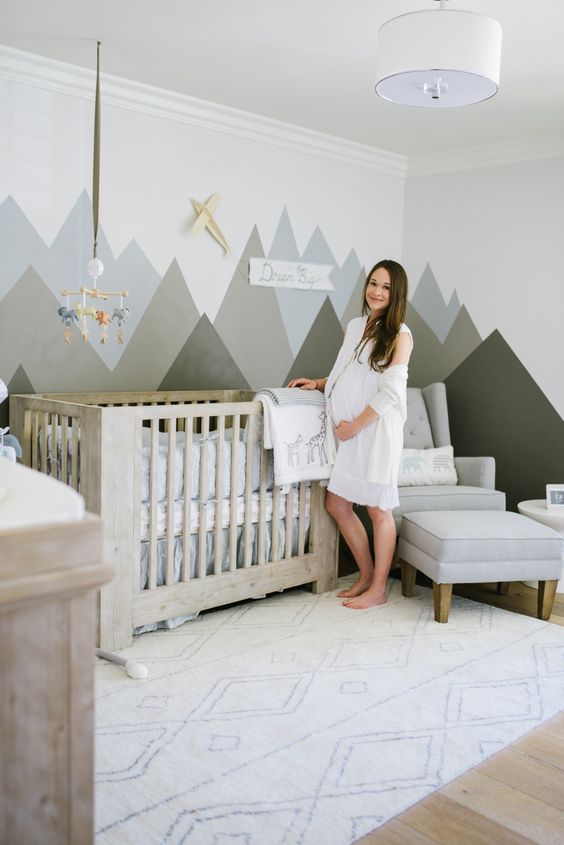 Boy baby rooms tend to have a little bit of dark color like light grey where it can be combined with light blue or white to make it doesn't feel too dark. A wooden crib is preferred to make this concept because it has a simple design and style. We should apply mountain wallpaper to make it look impressive and have a stronger concept. Wooden vinyl tiles can be applied to make an aesthetic look.
Tips To Choose Best Humidifier For Newborn Baby Room
In tropical country using AC (air conditioner) is necessary for making the air keep a little bit cold even in the summer season. But if we use it, our room can have dry air that doesn't good for our health. To avoid from cold or cough that could have happened in a room with ac, we should use a humidifier. It makes our room have balanced air humidity to make us feel comfortable during sleep or do anything. It also important for newborn baby rooms because our baby needs good air in their room.
What Is The Humidifier For A baby?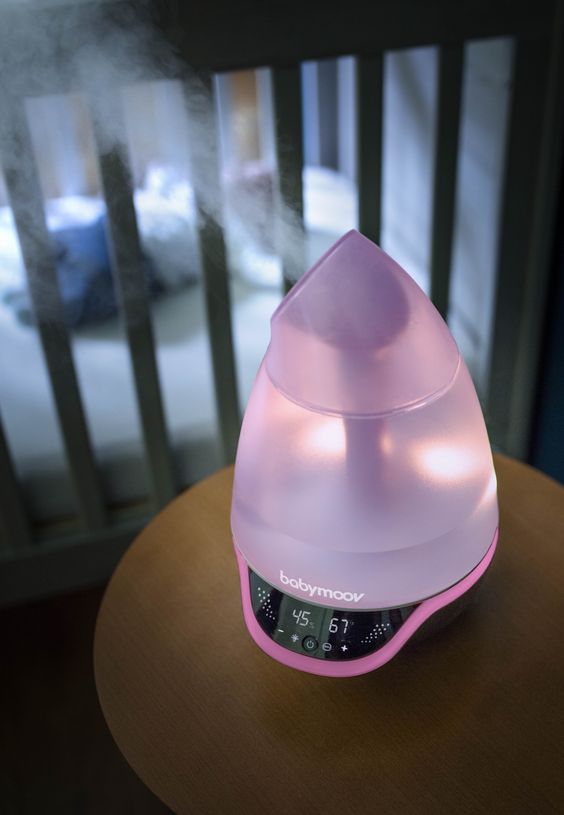 A humidifier for a baby has a function to keep the baby's room have humid air. It should be filled with water to avoid making our baby sick. It is different from an air purifier because it has a different function from a humidifier. An air purifier is keeping viruses and bacteria in the engine filter. So, don't wrongly buy it!
Why Using A Humidifier For Babies?
The baby's breathing is more sensitive than an adult and that's why a humidifier is important to add to their room. Can you imagine if our baby breathing in dry room condition? It certainly makes our baby feel difficulty and pain while breathing.
How To Choose A Humidifier For A Baby
We should choose it that has the newest technology with ultrasonic style to make our newborn baby room have the best humid air. Some brands of humidifiers are not equipped with a humidistat or hygrometer, so it is complicated to control humidity levels. That's why we have to choose the best humidifier to make our baby always healthy.
Conclusion
All people certainly want to create a room for their beloved especially our baby. For you who are still confused about how to create a newborn baby room, you can use decorating ideas from us. It won't be complicated to apply because we also give you how to choose decorations that will suitable for it. We should keep our baby room have a good condition with a humidifier to make our baby always healthy. We also give you some tips to choose it. Hopefully, by using our ideas and tips we might help you to make a newborn baby room.