Fed up of hunting through every kitchen drawer for that one utensil? Overwhelmed trying to keep every kitchen surface clean?
Minimalism is defined simply as living with less. Millions of people have praised minimalism for giving them a new perspective on possessions and helping promote a sense of peace due to a less materialistic, cluttered way of life.
Many people have found minimalism is a great way to help simplify and declutter their lives as well as their homes. Having less possessions to worry about and keep in good condition can be incredibly freeing.
One area of the home where we can be guilty of storing up unnecessary clutter is the kitchen. Extra pots and pans, countless kitchen gadgets that are seldom used, fancy plates for special guest use only.
Who hasn't received a cookbook for a birthday or Secret Santa and barely cracked the spine, leaving it to gather dust on the shelf? Or bought a clever kitchen gadget like a vegetable spiralizer or three-in-one breakfast sandwich maker, never to be used again? If you're a coffee lover like me, you might have a whole counter of dedicated coffee paraphernalia.
If you dream of having a clean kitchen and simplifying your life a little, why not try the minimalist approach? Here's a few tips on how to embrace minimalism in your kitchen design.
Built in Appliances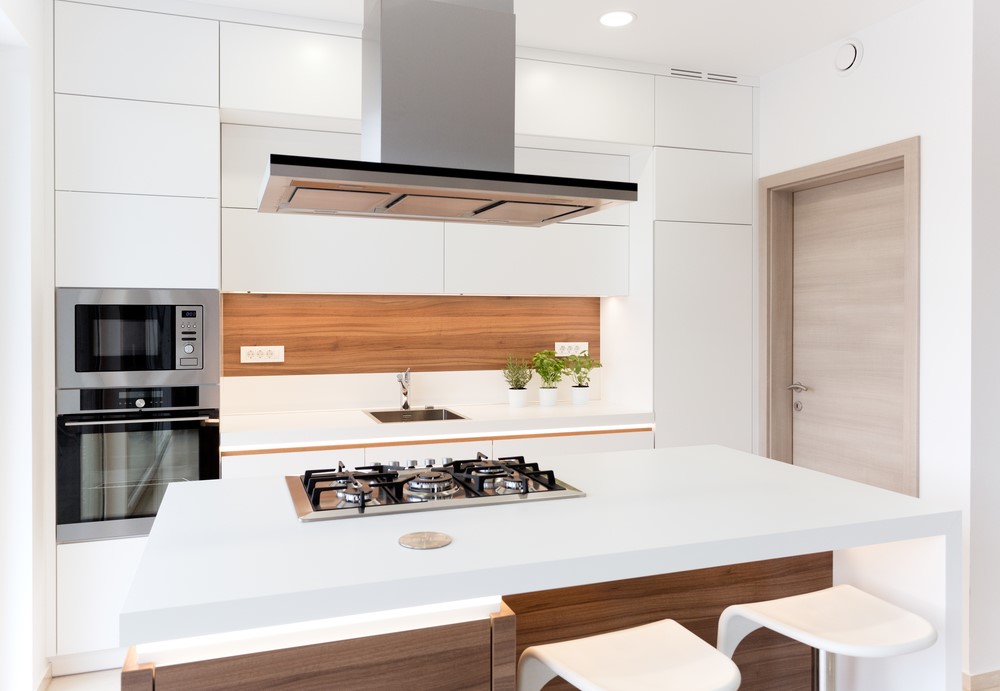 Integrated appliances such as ovens, fridge freezers and dishwashers can help give a kitchen a much smoother, cleaner look. Clean lines, hidden controls and dials make for a sleeker, more minimalist interior. More and more, designers are choosing to use integrated appliances for the stylish impact they make on a kitchen's layout.
Easy to Clean Surfaces
Save yourself the hassle of cleaning wallpaper or between tiles after cooking up a storm by investing in a glass splashback. A clear glass splashback will protect you wall from splashes and stains, while still showing the design underneath. All it requires is a simple wipe clean with a damp cloth. Or, you could go for a coloured splashback to inject a little colour into your kitchen theme.
A truly minimalist kitchen will endeavour to have clear countertops and work surfaces. This can seem like a difficult task to conquer, especially when you have limited space. Organisers that attach to the inside of cabinets to store spices and cleaning products can help make the most of the space while keeping your sides clear.
There are plenty of appliances available these days that come with fingerprint proof coating, making keeping them looking clean and shiny easier than ever.
Everything In Its Place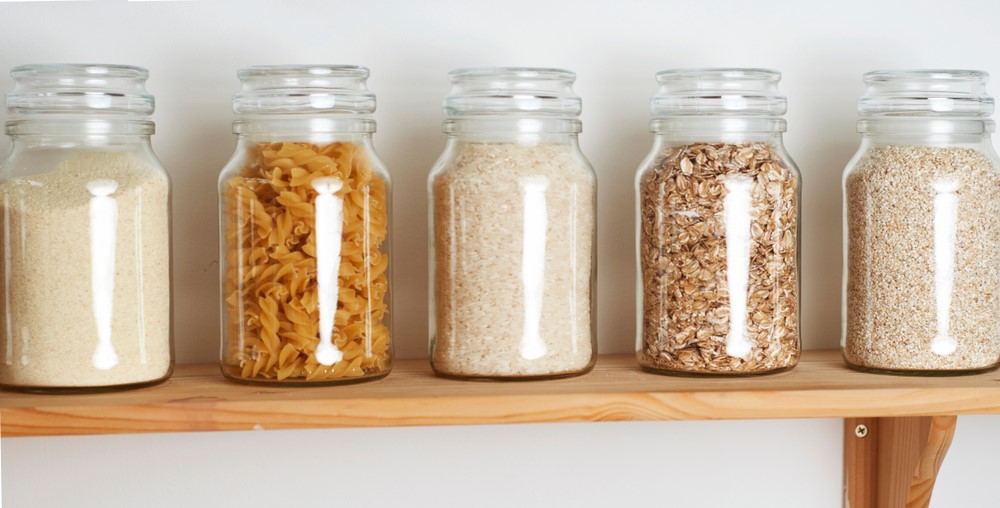 By making sure that everything in your kitchen has a dedicated place to go, you'll find locating the things you need much easier It might be helpful to add labels to things like cupboards and jars to help remind everyone where things should go. This goes for the fridge and freezer, too. Let everyone know the new system so items don't stray into the wrong places.
Don't leave things lying out, if possible. Remember the rule, if it takes less than a minute to do, don't leave it.
Multi Function Tools
Now, I know I just denounced 'handy' kitchen gadgets that take up space, but there is an exception. There are some great multifunction kitchen tools out there that can save space and make life easier. For example, if you love a morning smoothie as well as a tasty soup for lunch, why not invest in a tool that makes both? Or how about a combi microwave oven that allows you to cook, microwave and grill food in one appliance. These gadgets can be a welcome addition, a practical way to help create more space. Only invest if it's something you'll actually use though.
Theme
Having a clear theme in your kitchen design will help you make decisions about how to decorate and get organised. Are you a baker? A coffee lover? A health food junkie? Plan your kitchen around what's important to you and stick to it. Try to go for similar materials to create a more cohesive, flowing interior.
When it comes to colours and patterns, keep it simple. Choose a few colours that go well together and try to not stray from them. Minimalists tend to go for simple colour palettes, such as those inspired by nature. Minimalist style doesn't equal cold or impersonal. On the contrary, minimalists encourage choosing a few key elements that represent your personality to focus your decor around.
Cut Down on Unnecessary Stuff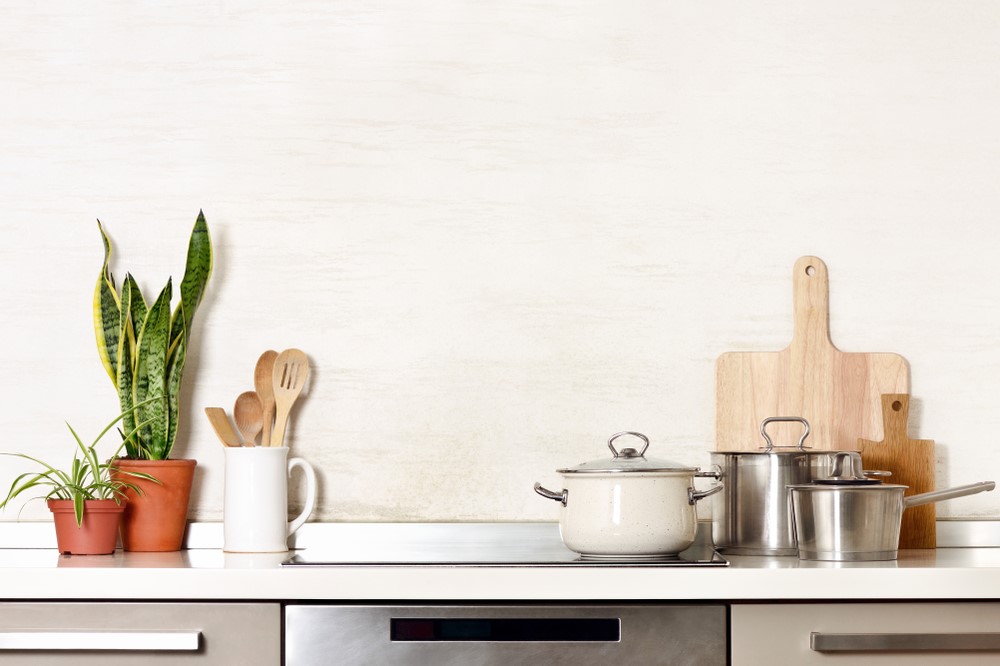 Do you really need that extra whisk? When will you ever need to use two at the same time? Or that stack of twenty plates in the cupboard? If you're a family of five, that's way more than you'll ever need on a day to day basis. It's perfectly okay to keep a few more than you need in case of a breakage or if you need an extra table setting. But, for those rare occasions that you'll be hosting a dinner party or having the extended family over for Christmas, you can always ask people to bring extra plates, glasses and cutlery, rather than holding onto a set of plates worthy of IKEA.
You could even ask to borrow from friends and neighbours like back in the 'good old days'. If you only bake the odd birthday cake, you don't really need lots of baking equipment, do you? Perhaps you have a friend who is a keen baker who would be happy to lend you their tools every once in a while (provided you take care of them, of course).
Hopefully this advice will help you create a minimalist kitchen space you can be proud of. Why not share this post with someone else who might be inspired by these tips?