If you're looking for the perfect flooring choice, an epoxy floor just might be the one for you. Most people within the construction industry as well as even the interior decorating field know of epoxy flooring. However, there is a slightly varied form of your typical epoxy flooring. These are known as the metallic version of and epoxy floor; our article features some general information and advantages of metallic epoxy floors.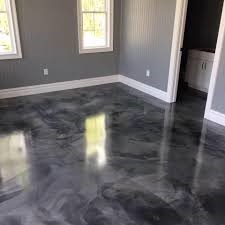 More than often enough, most people come across a breathtakingly beautiful image online of the perfect floor. And little do they know, there staring at an image of a metallic epoxy floor that stands out as being not only unique but also quite elegant and stylish. Additionally, these floors can also be seen at posh showrooms or even classy restaurants. And while beautiful, many are unsure and quite confused as to what type of floor they're looking at.
In some cases, right on the spot they wonder if this is simply the floor or their dreams. And immediately they ponder on the characteristics of the flooring set before them. If you're wondering about what these coatings are, don't worry because we've got you fully covered.
Metallic epoxy floorings are slightly different than your typical epoxy flooring. Simply put, they are just a low toned yellow epoxy with a hint of some metallic pigment incorporate within their mixture. And if you need to know more about it, you can even say that tiny pigments similar to that of glitter is readily added and mixed into the epoxy resin. After being mixed, the resin is then poured onto your porous substrate or floor.
And if you're into being creative, these pigments can be set or rather agitated in a special style in order to create a sparkling reflection of light. The pigments can easily be agitated with the use of any roller brush or even a paintbrush and they turn, twist and even gather as they reflect your ceiling lights. After hardening, the added metallic pigments go on to set and lock into place where they further create a stunning swirly three-dimensional appearance. In essence, it's all about the technique that was used during the initial installation process that creates your finalised floor; and this is easily the most important aspect in attaining the perfect finished look at the end.
Now that you're almost sold on adding an epoxy floor to your space, let's get into the various advantages associated. One of the most important thing is to have a floor that not only feels great but looks extremely aesthetically pleasing. And epoxy coated floors do more than just that for you since they come packed with their own set of highly desired advantages. In essence, your floor can be anything you want it to be and a metallic epoxy floor is extremely durable while being fully customisable.
In addition to its pristine low yellow finish, it leaves you with a seamless floor that is completely slip resistant as well as even chemical resistant. And they will cater perfectly to any and all of your desired performance needs.
As we conclude we have just looked at some general information of metallic epoxy floors. And we have also looked at its advantages. So, if you're working on a specialised place, this just might be the perfect solution for you!