Aside from the living room, the kitchen is another room in the house where many people gather together. Because of this, interior designers and architects have incorporated features to their modern home designs with the purpose of accommodating as many people as possible without hindering kitchen workflow.
When crafting a look for this part of the house, one of the most important features you should think about carefully is kitchen lighting. Since the kitchen functions mainly as a place where food is prepared, it is important that you include ample task lighting in areas where most of the work is done in your design. For dining areas, ambient lighting works best to set the right mood.
Here are five tips you can try to achieve a modern aesthetic while maintaining optimal functionality in this part of the house and, ultimately, achieve the perfect lighting for your next kitchen design:
1. Pendant Lights Work Best Over Kitchen Islands
Some modern home designs include dangling lights placed over kitchen islands, countertops, and other standalone parts of the room called pendant lights.
This type of lighting provides a more scattered illumination that is spread across the room. It can be matched with recessed downlights to enhance the kitchen aesthetic. It is also a great choice for unplanned lighting needs without worrying about ruining the interior design of the kitchen.
2. Use Downlights for Task Lighting
Some parts of the kitchen require more illumination than others because of the heavy focus on food preparation tasks. This is where task lighting comes in.
When designing a kitchen, you should make sure that the kitchen work triangle gets enough light. For most architectural designs, sinks are placed near a window to take advantage of the natural light and are augmented by kitchen LED downlights.
Downlights are installed within the ceiling for a flawless look that best suits most modern kitchen designs. Unlike pendant lights, these lighting fixtures offer well-distributed illumination minus the unsightly wires hanging overhead which many interior designers frown upon. It is also a great way to avoid shadows caused by overhead kitchen lights that may hinder optimal workflow.
3. Add Some Mood Lighting in the Dining Space
Aside from task lighting, downlights also serve as great mood lighting for areas in the kitchen that require more subdued illumination. Mood lighting is recommended for dining spaces in the kitchen since the low-intensity brightness of the lights stimulate relaxation for a better ambiance when eating.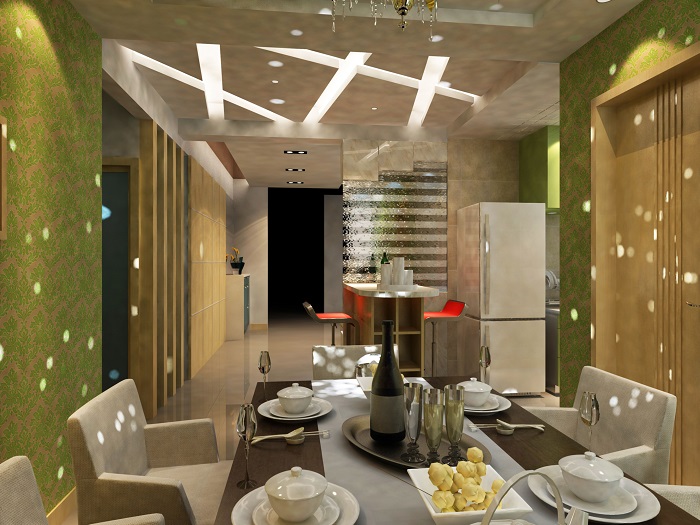 4. Layer Lighting with LED Strip Lights
A good modern home kitchen design should also have layered lighting that not only supports optimal functionality in the space but also adds appeal and depth. While you may opt to add simple task lighting like overhanging pendant lights or recessed downlights, work areas look better with more light fixtures scattered across the room.
Installing flexible LED strip lights under cabinets with different switches allows homeowners to adjust the lighting to set the mood within the kitchen, should the need arise. You can even use RGB color variations of these lights to improve the modern look of your kitchen further.
5. Avoid "Eye Contact" When Using Spotlights
Some interior designers make use of spotlights to boost the aesthetic of the kitchen. Also known as "track lights," these lighting fixtures provide a focused beam directed at a certain direction and is typically used to illuminate exterior parts of the house. However, modern home interior design has seen the benefits of these lighting fixtures in enhancing the beauty of any room, particularly the kitchen.
Kitchen track lighting is often placed at the center of the space where a central island or a standalone work area is located. The wise use of spotlights entails avoiding "eye contact," which basically means that the beam of light should never cause a glare or shadow.
The key is to set the focus of the spotlight to a place where light is needed and angle it away from areas where people usually settle in (like the dining table) while still providing ample light to the space. You can also opt for a directional version of this fixture for flexibility.
Light Up the Kitchen the Right Way
Lighting the kitchen is a critical part of interior home design.
To ensure that the modern homes you design feature both function and aesthetics, you should always consider the different types of lighting fixtures available and how to use them to take full advantage of their specifications and benefits.
AUTHOR BIO
Ajay Awtaney is co-founder of Nakashi General Trading LLC, an electrical lighting company in Dubai catering to the needs of clients and projects requiring quality lighting products and solutions. Nakashi General Trading LLC today is an approved vendor of reputable organisations (Jumeirah, Engineering Office, Meraas, Musanadah and Thumbay, to name a few) for supplying lighting products.