1.
Bedroom Overview
Living in a small place can be practical and comfortable if you are good at organizing it. But you can't arrange the furniture as you like. You have to think about choosing the right type of furniture so that your bedroom doesn't become cramped.
Then, if you want to design a minimalist bedroom, and it doesn't become cramped, you choose a small bed carefully. Therefore, you need to consider so that your bedroom feels comfortable. Then, the furniture to be used must also be right to match the size of the room occupied. However, if you think this is a complicated choice to put a bed, wardrobe, and more into the bedroom, you can check out the bed inspiration below.
Roller bed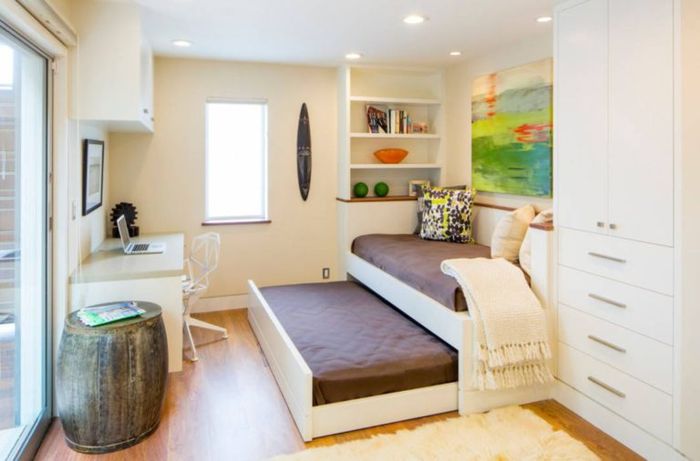 This bed with wheels is mediocre. The advantage is that it uses wheels and can be stored under the main bed. Then, can save space. That way, you can turn this bedroom into a more spacious and multifunctional room.
Then, to complete it, you can decorate it with a work desk and chair, wall shelves for documents and books, wall paintings, and decorative mirrors. That way, your minimalist bedroom will look aesthetic and multi-functional.
Murphy bed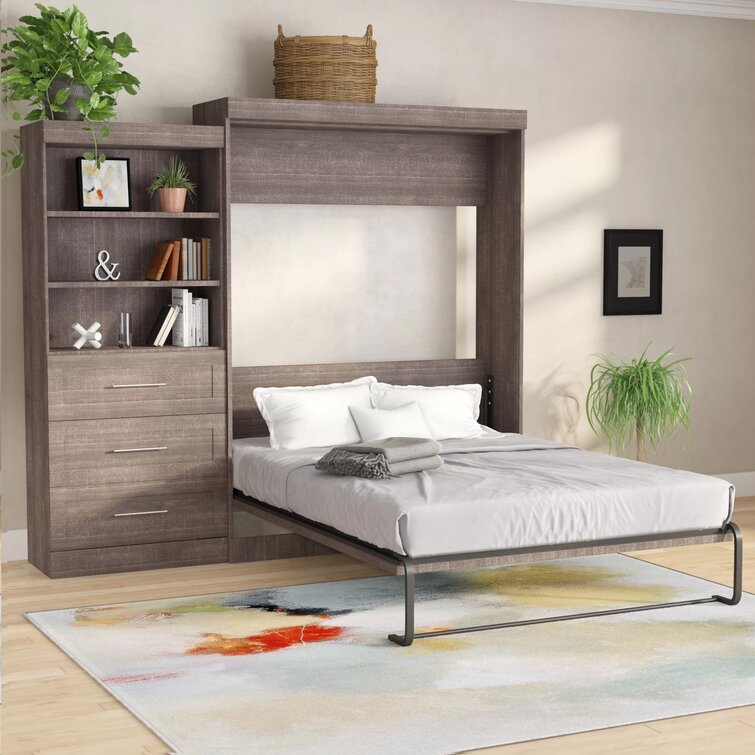 Murphy beds are very practical and popular in small bedrooms and small apartments. This bed is great because it allows to free up a lot of floor space during the day by storing the bed vertically against the wall.
One particular example of how it works can look like the bed above. When the bed is not needed, you can fold it against the wall. When you lower the panel, the shelf turns into a bed that's partly on the sofa. Then to look more beautiful, design the model and color into a set so that your bed looks beautiful and harmonious. Don't forget to add floor carpet decorations, wall paintings, and ornamental plants to the pots. That way, the bedroom will look more attractive.
Bunkbed multifungsi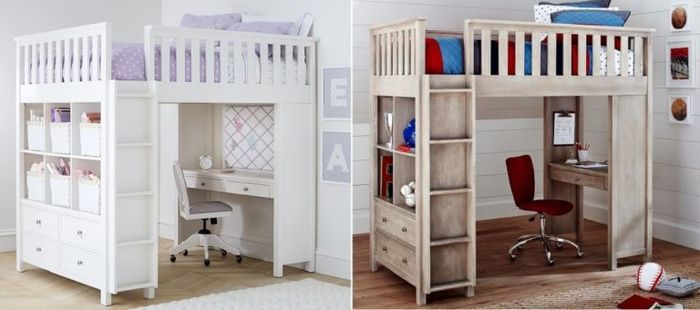 There are several different options when you want to use a bunk bed or bunk bed. One of them is having a furnished unit on a bunkbed. This bed features a desk and storage unit on the bottom and top.
This is the best for kids who need a desk to do their homework. Storage shelves and drawers can use to store all school supplies. Then, the bed is comfortable to sleep in at night. That way, your bedroom does not become cramped.
2.
Ideas and Inspiration
If you live in a minimalist house. Of course, it is difficult for you to arrange where the children will sleep. Even though the minimalist home space is generally limited. Like it or not, every child can't get their room. They must be willing to sleep huddled in a confined space.
Therefore, you should get an idea of how to put them in one comfortable room. Of course, this is a problem for you because we have to provide three beds. It will make the sleeping space cramped and make them uncomfortable. Therefore, if the room is too narrow, the solution is to use a bunk bed. This method will greatly save the child's bedroom space.
3.
Choose a bunk bed design
Choosing a bed design that can accommodate two or three children without taking up much space, it will give them flexibility. For that, you can select a multifunctional bunk bed design equipped with drawers. That way, you can store clothes, books, and other necessities in the bed drawer.
In addition, bunk beds are also suitable for those of you who still have only one child because you can put it at the top of the bed, while the bottom becomes a study table or a place to play. This kind of bed can certainly save a lot of space. With this kind of bed, the bedroom will seem more spacious because they can play and study under the bed.
Natural wood bunk bed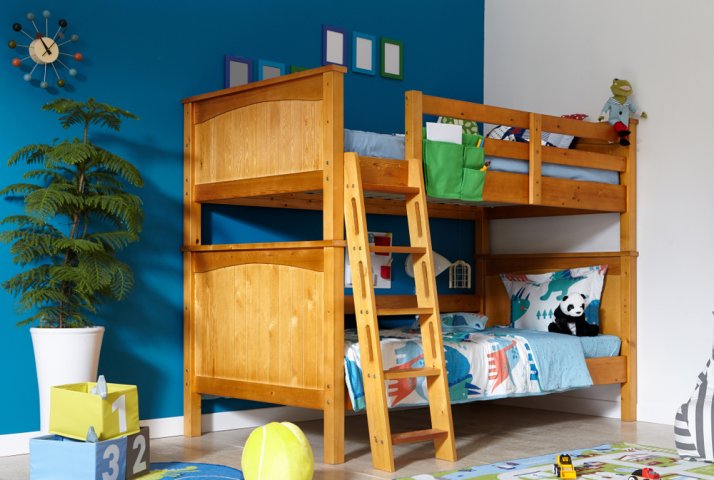 Choosing a bunk bed can not just be random. One thing that must be considered is the material for making the bed. Make sure the bed material is sturdy so that unwanted things don't happen as the bed collapses. Then, the material used must be tested because it will determine the durability and age of the bunk bed.
The materials used to make bunk beds are wood and steel. If the bed has made of wood, then check the thickness of the wood to make it safer. Then, make sure the wood is not easily cracked or broken. Do not forget to choose wood with a smooth finish. So as not to injure the child's body. Meanwhile, if you select steel, make sure strong and sturdy to accommodate heavy loads so it can be used for a long time.
Bunk bed according to height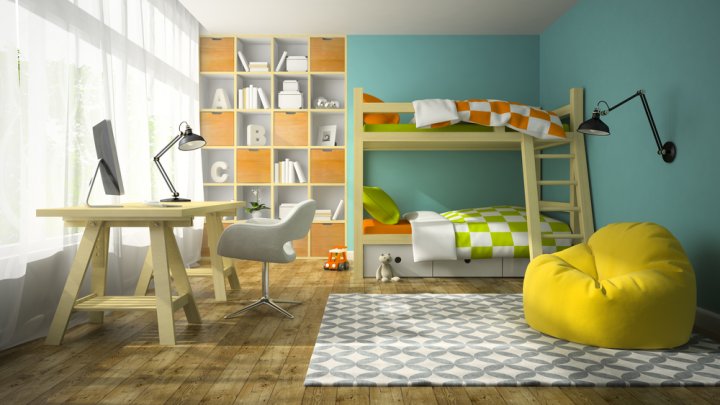 When choosing a bunk bed, it's a good idea to select from the height of the ceiling. If the room ceiling is not too high, you should choose a medium or low bunk bed. So the baby does not easily hit the top and can still move comfortably. Meanwhile, if the ceiling is high, you can choose a high bunk bed. High bunk beds are generally at the bottom of the bed, and have free space for storage.
Sliding bunk bed

For small children, you can provide a Sliding Bunk Bed. It will certainly interest your baby. Your little one must also be brave enough to try sleeping alone. With this bed, your child will feel happy and cheerful.
Meanwhile, to go down, children can use the stairs, or they can also use a slide to make it faster and more fun. The size of the bottom mattress is 120 x 200 cm, the same as the size of the top mattress. This product is made of high-quality solid mahogany wood with a Duco paint finish.
Triple bunk bed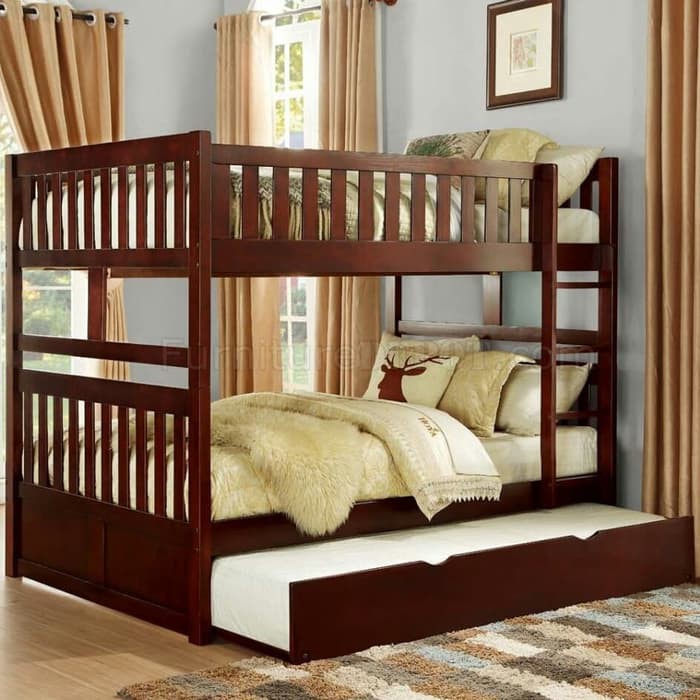 You can select minimalist bedroom design and children's Cots on the three-level model. This bed has made of high-quality teak wood. The wood is sturdy. So you can use this bed for a long time.
To make it look more attractive, decorate the bed with spray, pillowcases, and beautiful bed covers. This bunk bed is suitable for children and teenagers. In addition, the natural finishing makes this three-bunk bed seem elegant. That way, you can arrange study tables and chairs for them and make them more comfortable.
Tufting bunk bed frame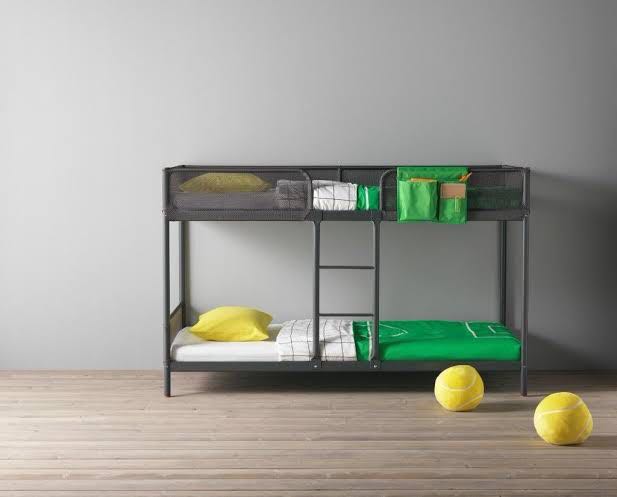 Tufting Bunk Bed Frame. This product has a length of 207 cm and a width of 96 cm. While the height of this bed is 130 cm. This bunk bed can withstand a maximum load of 100
Therefore, this bed can be the best solution for limited space. This bed is lower than the bed in general so that parents can see their children. Then, this bed ladder design is in the middle. So it's easier to go up and down. This bed is suitable for children aged six years and over. Then, the base material for this bed has made of steel with a polyester powder coat.
Wooden bunk bed with duco paint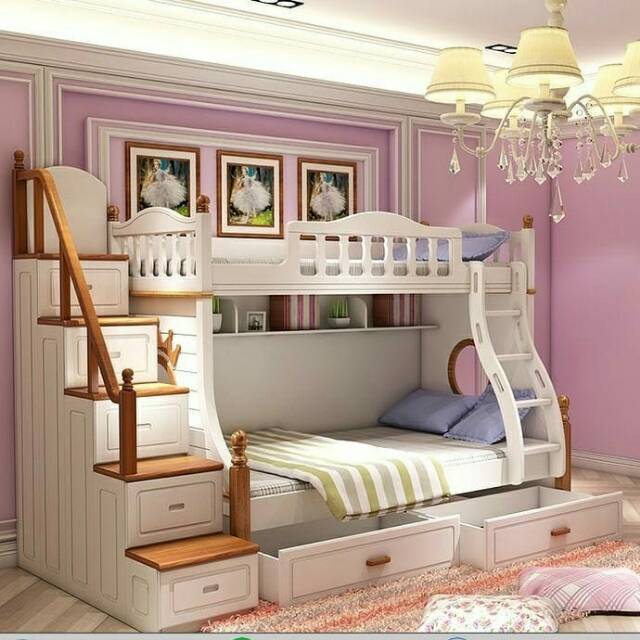 If you want your child's room to look beautiful, neat, and clean. You can design it with Duco Teak Bunk Bed. This bed is perfect for your little one. This bed has made of high-quality mahogany wood and then has been given a Duco paint finish.
This bed has two drawers under the lower bunk. This bed also has a side ladder that can function as a drawer. The upper bed is given a side shield so as not to harm the child while sleeping. To make it look more attractive, you can complement it with beautiful sprays and pillows, wall paintings, and hanging decorative lights as lighting for them at night. Don't forget to provide a floor rug as their protection when playing below. With this design, your child will be happy and cheerful playing in their room. It's easier for you to control them.
Iron Expo bunk bed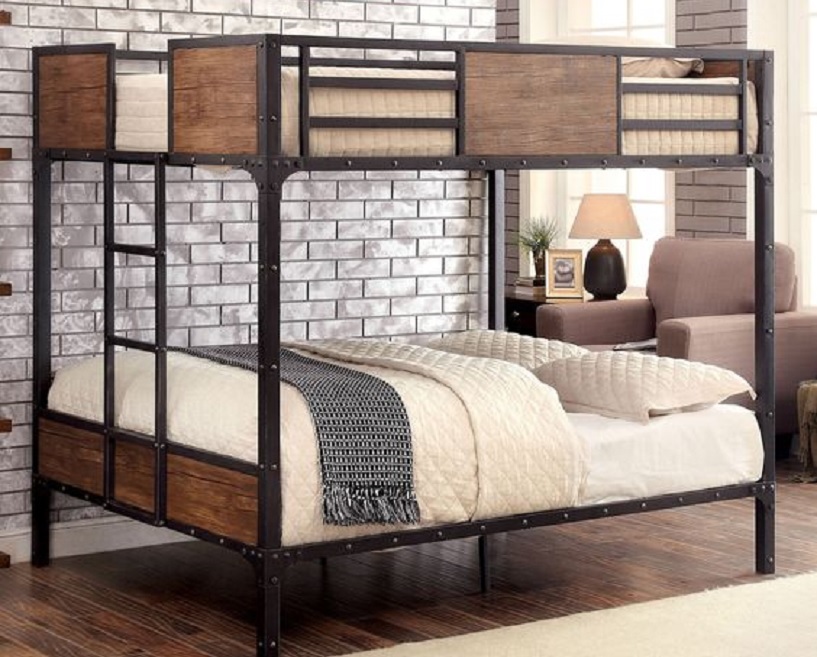 If you are happy with the iron bed. This bed comes with a size of 210 x 130 x 180 cm with a bottom bed measuring 120 x 200 cm and an upper bed measuring 90 x 200 cm. This bed has a choice of various colors according to your taste. However, generally attractive options are white and black.
The advantage of this bed is that it has a knockdown system. So it can be disassembled. With a sturdy iron material, this bed can be strong when holding weight and not rocking. To look more beautiful, you can choose a soft Milano mattress to feel more comfortable while sleeping. Then, decorate this bed with spray, bed covers, minimalist pillows, decorative lights, and lounge chairs to give a comfortable impression. That way, they will feel at home in their bedroom.
Modern bunk bed made of teak wood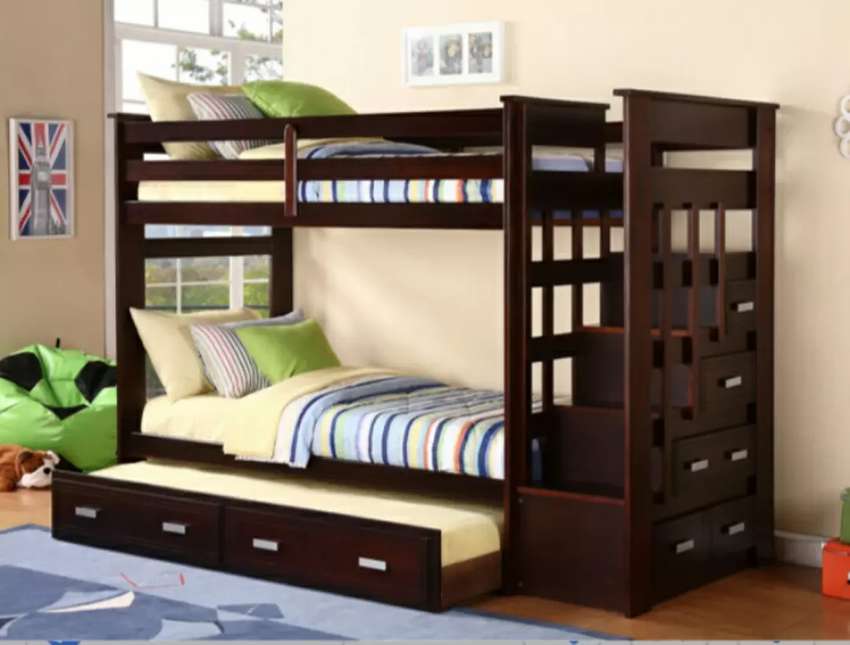 This modern bunk bed design with natural Jepara teak finishing looks more attractive for your child's room. This bunk bed can save a minimalist bedroom space. Then, this bed has made of teak wood which has been tested for its durability.
With the best finishing, this bed has an elegant and beautiful appearance. This bunk bed uses a natural finish with bark or brown skin tones. Then, to make it look cool, this bed is decorated with stairs that have a wide footing, so it is safe to climb. Then, the upper bed has a fence model protector as protection while sleeping. Then, to look more elegant, the lower bed has a classic window protector and can be pushed in when not in use. That way, you will be able to save your sleeping space.
Ladder multi-functional bunk bed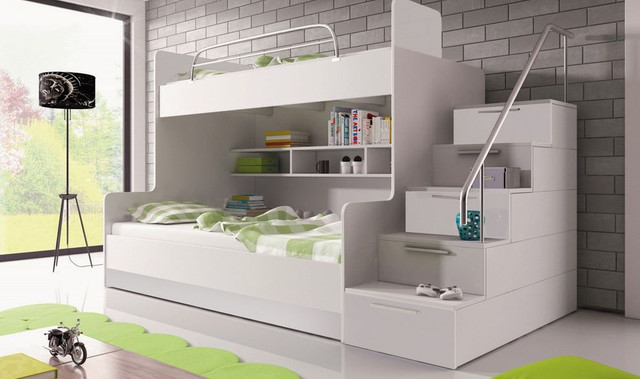 The appearance of a multifunctional bunk bed with a beautiful side ladder can be an option for your child's bedroom. This bunk bed is made of strong and sturdy plywood and has given a white Duco paint, so the minimalist appearance is very strong in this room.
For the size, you can adjust the size according to the location of the room. Then the top of the bed is given a protector on the edges. So it is safe to sleep on. While at the bottom, it is designed as a shelf model and can be used as a storage area for books and other documents. With this model, you don't need to prepare a table for books. Then, you can save your child's bedroom space so they can move freely.
4. Conclusion
Having a beautiful bedroom design for your baby is the dream of all parents. Then. To make it, you must prepare the best design and sufficient budget. By having it, you can make your child's bedroom look aesthetic, beautiful, luxurious, and attractive. That way, your child will be more cheerful. Then, making their enthusiasm for learning. Therefore, please design your child's room according to their taste. Hopefully, this article can use for you.