Corten steel is a trending material for garden design. It's bold and luxurious qualities provide the perfect setting against any backdrop, gaining popularity with landscapers architects alike quickly becoming one of their most preferred choices in recent times.
Stunning, bold and powerful features are just what you need for a stunning outdoor space. The Corten steel water features can turn any garden or yard into an awe inspiring experience with their rustic good looks that will withstand even harsh climates without fail.
What is Corten Steel & how good is it for a water feature?
Corten Steel is an amazing material that develops its own unique appearance over time and exposure. The chemical composition of this type steel causes a very dense oxidization layer to form during weathering, which makes it resistant if exposed again later on in life cycles.
How long does it take for the steel to oxidise?
The weathering process itself is built of stages and can take some time to complete, but once it has fully rusted you will have a most beautiful feature that's sure not only last for your home but also withstands the test of time. Once outside, give it 3 – 6 months and you'll start to see the result of oxidation with its unique colouring. After around 9 months it should start to take full effect.
Corten Steel Water Bowl/Dish
These provide perfect and minimalist symmetry to the surrounding area. A bowl shaped steel water feature looks great when you have clean edges in a minimal garden, providing you have an open area to display it in. It also fits well within smaller areas in more traditional gardens.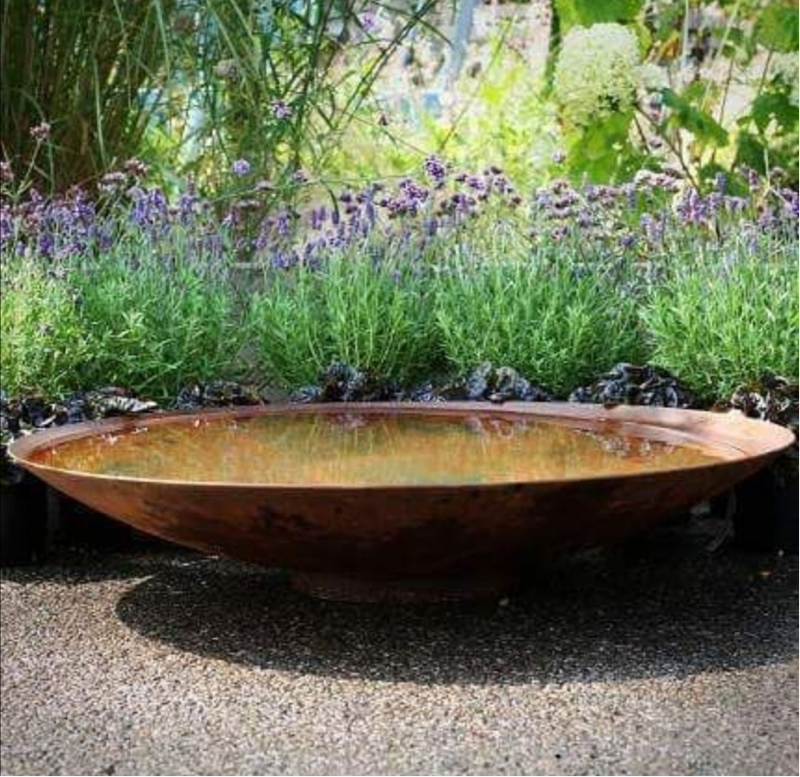 Corten Steel Water Tables
Accent your garden with a striking water feature in the form of an Adezz corten steel square. The sides have been specially designed so that they slope towards each other, giving it that infinity pool feel! Your guests will love watching their drinks ripple across this inviting surface while enjoying themselves on hot summer days or warm autumn nights. This unique ornament bubbles out stainless-steel nozzles from its rounded corners – spreading them evenly into any size hole you put inside for drainage purposes (no matter how large). Only really for the modern, contemporary surrounding unless you nestle it away amongst some plants and shrubs – wherever your secret hide away is.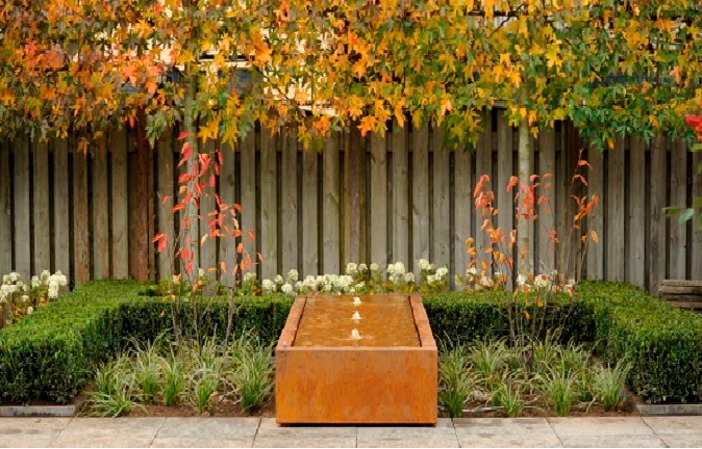 Corten Arc Cascade Waterfall
The Arc is the perfect choice for those who want to bring modern city architecture into their garden. It's sleek and contemporary design will be beautiful against any landscape, but especially well-suited in a minimalist or naturalistic setting like this one!
Architectural features such as arches are perfect for adding a touch of beauty and design to your pond. They will also help prevent algal build up by oxygenating the water, which is great if you want an sparkling clear reflection on its surface! If that's not enough reason alone then consider how luxurious it could be when viewed from around waterfall or spa area.